Fall, Finally?
Though Fall officially started 4 days ago, but it apparently it took until today, at 94°, for Summer's last gasp.
Tonight's low is forecasted to be 67, the first sub-70° since a week or so ago.
And now we're looking at mid-80's, mid-60's for the next week, including a 61 on Thursday.
Yay!
From Our 'See I Told You So' file.
Coffee drinking is associated with increased longevity
And The Future Is Stupid.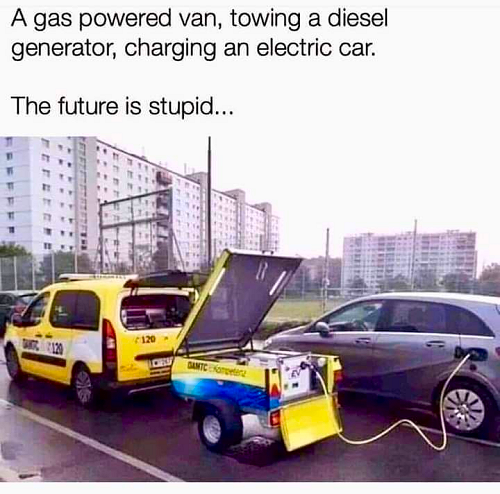 Jan says this is just a way to make Spam worse.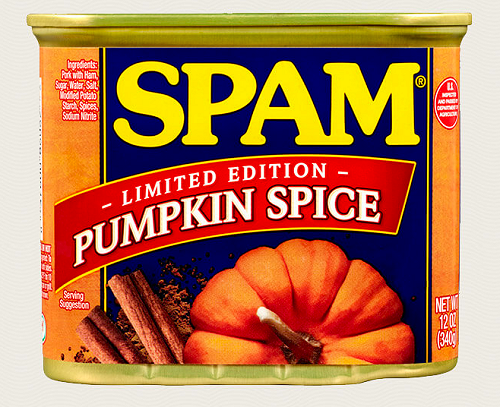 And Now They've Gone Too Far!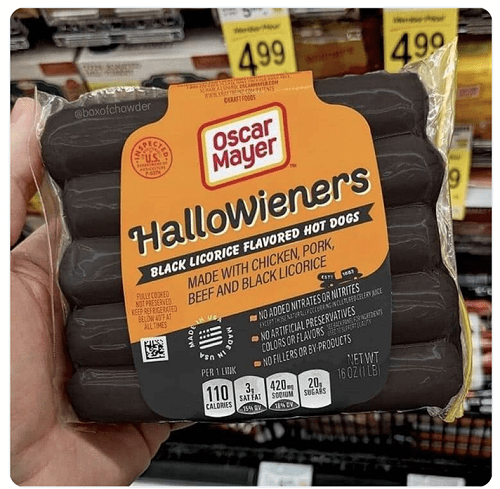 ---
Thought for the Day:
No matter how cynical I get, I just can't keep up.
---
September 26, 2010
They're Here. . .
Today is the day we're expecting Debbie and Jim, Jan's sister and brother-in-law, who are driving down from southern IL to spend a week with us, and get acquainted with Landon.
They called about 12:15 saying that they were just getting off I-10 onto SH 146, so I figured they should be here about in about 45 – 60 minutes.
About 90 minutes later they called to say they were lost. After they described where what they could see, I realized they were just 3-4 miles up the road, so Jan and I jumped in the truck and drove up to meet them.
We decided to go ahead and head over to League City and get them settled into their hotel. After that we all came back to the rig and settled in to talk for a while and catch up on things.
About 5 pm we drove over to Dickinson to Monterey's Little Mexico for supper. Debbie had said she was looking forward to some good Nachos, and Monterey's are really good. Jan gets them all the time.
I know what Debbie means about finding good Nachos. Some places around the country have some very strange notions about them. The most common weird ingredient is BLACK OLIVES. Yech!
And to compound this blasphemy, NO JALAPENOS!
We've also seen lettuce, goat cheese, green peppers, and green olives as toppings.
I'm sorry. That's just WRONG!
Anyway, after dropping them off at their motel, we got back to the rig about 7 pm. Tonight is the premiere of Amazing Race and Desperate Housewives, so Jan's in high cotton.
Me, not so much.
But I am really enjoying the cool fall weather Jim and Debbie brought with them from IL. In the last week the temperatures have dropped from the mid 90's in the day time and the mid 70's at night, to the low to mid 80's and the low 60's and high 50's.
NICE!
Tomorrow night we're all getting together at Cafe Adobe for dinner so Jim and Debbie can see everyone. With all the different work schedules, it's the only night we can do it while they're here.
---
September 26, 2012
Circuit Breakers and Fuddrucker's . . .
This morning started off earlier than I really wanted, but once I was up, I was up. So after coffee I pretty much just sat back and enjoyed the morning. Officially I was waiting for the park repair guy to show up to take a look at my electrical problem. Of course they said he'd be here the first thing this morning. But since by now it's after 11 and he's still not here, so that's not working out too well so far.
But he did finally show up about 12:30pm, and for once, I got a guy who knew what he was doing. But I did have to prove to him that I really had a problem after he didn't see anything wrong on his meter. But once I showed him what would happen when I plug in my coach, he was convinced. And as I had figured, the problem turned out to be in the circuit breaker itself.
A little later the repair guy showed back up with a new breaker, and after installing it, I plugged my coach back into it and everything was now working perfectly. Glad that's fixed.
A little after 2, Jan and I headed to get our Sam's Club/Wal-Mart shopping fix.
And we were all pretty much shopped out by the time we got home a little before 6. But being shopped out doesn't mean we weren't hungry, so after we got things put away we all headed out to have dinner at a Fuddrucker's we'd seen on our way into town yesterday.
---
September 26, 2013
Feast or Famine . . .
First off, Jan and I want to thank everyone for your kind words about Jan's cat, Emma. Your thoughts and condolences were much appreciated.
Well, things have been a good bit busier around here the last few days, ironically I think, because things are winding down. We've had a lot of trucks coming in empty and going out loaded with no-longer-needed equipment. But supposedly there's still a lot of cleanup work to be done, so hopefully we'll be here for a while. But you never know.
On the home (rig?) front, we've run out of food. Or at least free food. After having it delivered almost faster than we could eat it the last couple of weeks, that's come to a screeching halt. And then tonight we finished off the last of what we had.
I guess that means we'll have to start buying our own food again.
Bummer!
I did have a touch of giddiness this afternoon when a truck pulling a big trailer labeled "Coyote Catering Mobile Food Feast" pulled into the gate,. But it turned out they were looking for the drill rig right down the road.
Double Bummer!
Speaking of drill rigs, it looks like the rig we followed for 4 months last year, H & P 458, is right down the road. A guy came through the other night kind of lost, and looking for it. After looking over his directions and getting him back on his way, it looks like it's about 8-9 miles south of here.
Our Gate Guard Services support guy, Austin, came back yesterday afternoon and boy is he fast. He turned off our generator, changed the oil and the filter, and had it back up and running in 6 and a half minutes. A good thing when it's 95 degrees out.
He also changed out our water pump. The pump on our water system is a standard Shurflo RV type, and I noticed last year they occasionally develop a problem. They don't want to start up when you open the faucet. And the only way to reset them is to remove the power momentarily and then hook it back up. But this means going out to the water trailer, which is a pain in the rear when you're just getting ready to take a shower at night.
They start out doing this every now and then, and then it gets more common, so I thought I'd nip it in the bud.
---
September 26, 2014
She's Home . . .
Miss Piper got home from the hospital about 5pm this afternoon and is feeling better. Her mother Linda posted this photo on Facebook, but I'll bet Piper won't be too happy about that.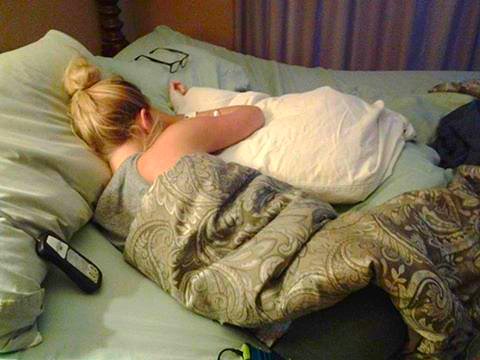 Linda said she's still in some pain, but taking less medication than she was.
One of the sales girls gave Jan a breakfast burrito this morning as she came through the gate. I heated it up and brought it out at noon with our coffee. And it was really good. Though I wouldn't really call it a 'breakfast' burrito, since it was beef fajita meat, pico de gallo, and melted shredded cheese. Not much breakfast stuff in there, but as I said, it was good.
As far as why I'm coming out at noon with coffee, that's the way our schedule works. Jan comes out to relieve me at 7am with something light, a English Muffin, an egg sandwich, etc. Then I go in and go to bed, getting up about 11:30, and then start coffee.
After I bring it out at about noon, I go back in and do client computer stuff until I come back out and relieve Jan at 1pm. Then Jan comes out with dinner at 6pm and after that I go in and go to bed, getting up to relieve her at 11pm. Finally I wrap the day up by working from 11pm to 7am.
Lather, rinse, repeat.
Several people have commented on how I end up sleeping just 3 or 4 hours twice a day. What can I say? It works for me. I don't even use an alarm clock of any kind. I just wake up.
On tech front, Polaroid (Yes, Polaroid) is back in the news with their new Polaroid Cube HD Digital Camera .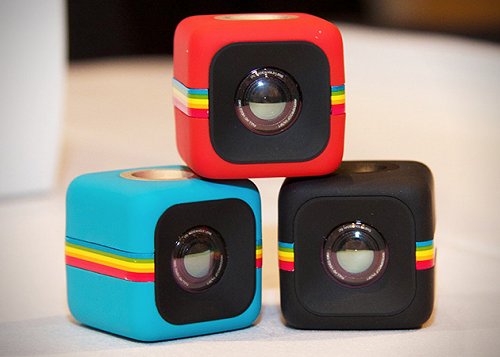 Available October 1st, the Cube is Polaroid's answer to the GoPro Action Camera, but in more of a GoPro lite way.
Although there are a wide selection of mounts available for it, including a waterproof case, you may not need it since the Cube itself is magnetized and sticks to most metal surfaces.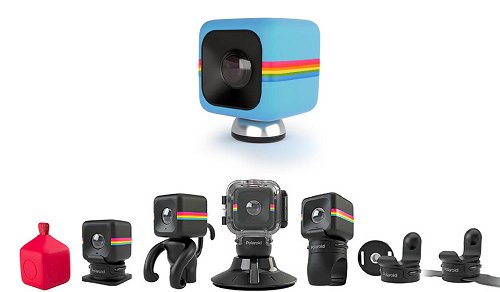 The Cube measures only 1.4 x 1.4 x 1.4 inches and will run for 90 minutes on its internal battery. It will record over 200 minutes of 720p or 1080p HD video and audio on a 32GB microSD card (not included), and will also take still photos.
Online reviews compared it very favorable to the the GoPro in video quality, but the best part is the Cube is only $99. Plus of course, $15-20 for the 32GB microSD card
So if you've been thinking about a GoPro, but wanted something a little cheaper, check out the Cube.
---
September 26, 2015
Alexa . . .
Since the frack was down most of the day (we only had 91 vehicles come in) and nothing much else happened, I thought maybe this would be a good time to talk about my new Amazon Echo.
To say it's my favorite new toy is an understatement. It maybe my favorite new toy ever. Or at least it's in the top three, along with the Lionel train set I got when I was 10, or my first computer, or at least the first one I didn't build, an Exidy Sorcerer I got in 1978.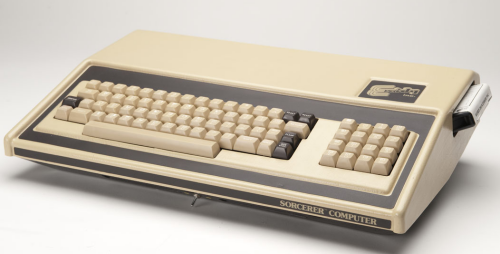 Though when I think about it, my first 'computer' was a Geniac I got when I was 10.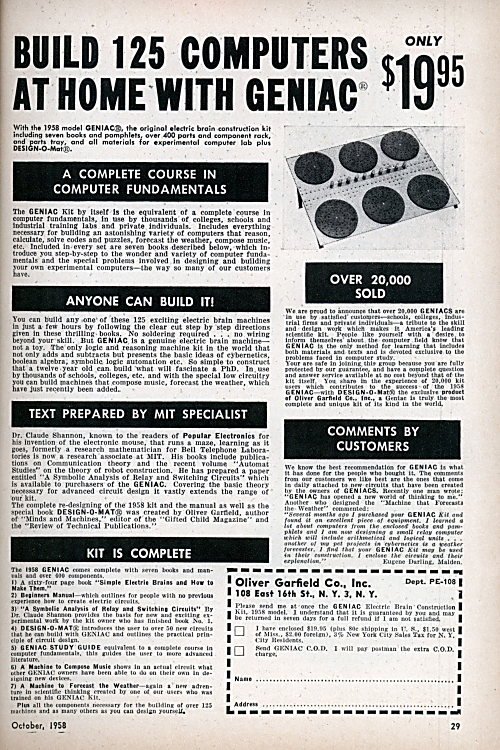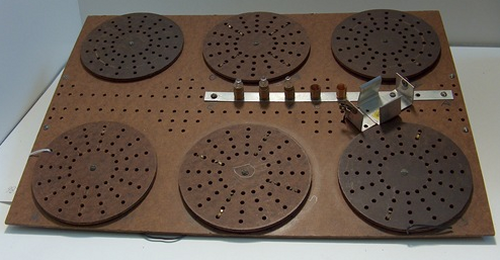 Anyway, I digress.
I'm sure most of you are familiar with at least one of the voice-activated digital assistants, like Siri, Cortana, or OK Google. Well the Amazon Echo is all that, and more. And even better, it's hands-free, kind of an OK Google on steroids.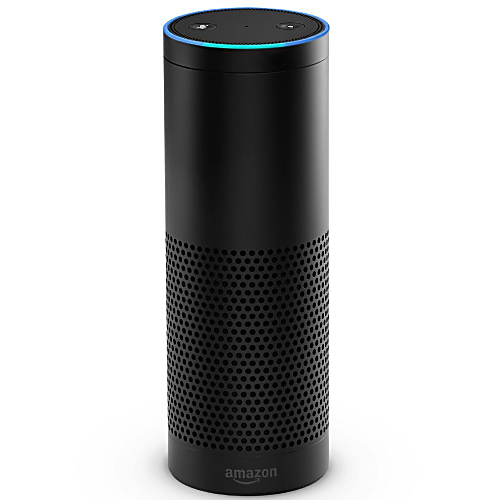 You can ask her any question, and get an answer, even if she doesn't know it.
I say 'she' because she is a 'she'. And her name is 'Alexa'. Or at least 'Alexa' is her wakeup word, like 'OK Google', or 'Siri'. You can also use 'Amazon', but that's no fun.
You can ask her, "What's the weather today in Dallas?" and she will tell you.
And once you set your location, you can ask her "What's the weather today?" or "tomorrow".
You can ask her to set an alarm for 10pm, or set one for 15 minutes.
If you link you Google calendar to Alexa, you can ask her, "What's on my calendar for Friday?" and she will tell you.
A week or so ago when I was replacing the thermostats in our rig's water heater, I was down on my knees in the bathroom and wanted to double-check what the temperature rating was. So I said, "Alexa, what is 60 degrees Centigrade in Fahrenheit?" And she came back, "60 degrees Celsius is 140 degrees Fahrenheit."
Note that she not only gave me the correct answer, but she corrected me with the more modern Celsius, rather than the older Centigrade. And also she was in the living room while I was in the bathroom working and she still heard me.
The Echo has seven microphones spaced around her circumference, so it doesn't matter which direction the question or request is coming from.
And Alexa even has a sense of humor. You can tell her to "Open the pod bay doors, HAL", and she say, "I'm sorry, Dave. I'm afraid I can't do that. I'm not HAL and you're not in space."
Or you can ask her to tell you a joke. "What did the zero say to the eight?
"Nice belt."
Tomorrow I'll have some more info about Alexa, including what has turned out to be our favorite feature. Stay tuned.
Speaking of tomorrow, Jan of course has gone into giddy overdrive because of our upcoming Anniversary Eve afternoon off. We'll head over to Shreveport about 1pm for 6 hours of fun and frolic. Or maybe just dinner, shopping, and a movie.
---
September 26, 2016
But I'll Find It Tomorrow Night . . .
Today was a day of drying out and patching up.
Tonight's blog will be kind of short, its length determined by how long 28% charge will get me on the battery in this 4 year old ASUS laptop.
It turns out that the one casualty in yesterday's rainstorm was my laptop's charger, so after doing last night's blog I don't have a lot of power left.
I thought I had a spare one, but diligent searching didn't uncover it. So I got on Amazon and got a new one on the way, and made the $3.99 Overnight Shipping by 10 minutes. So tomorrow night's blog shouldn't be as hectic or hurried.
But of course I'll find the other one tomorrow night when I'm no longer looking for it.
Of course.
As I said, today was a day of drying out and patching up. Every year's canopy is a work of art, and it always needs to be fine-tuned. Which way the wind blows, the sun angles, etc., but the big one is making adjustments after the first big rain.
What's gonna leak? Where's it gonna leak? What can I do to stop it leaking there next time? All things that I spent a lot of time going over and working out for the next big one.
Jamie, our Gate Guard Services supervisor/service guy, showed about 6 this morning, getting an early start. He filled up our empty water tank and topped off our diesel, and brought me a spare 50amp breaker in case the one on our generator dies again.
He said he'll be back Saturday or Sunday to do our two week service, and he'll probably go ahead and replace the breaker then since he'll already have the generator shut off for the the oil change. Sounds good to me.
A friend of our landowner came through this afternoon and said a rancher right down the road from here measured 4 1/2 inches in 3 1/2 hours on his rain gauge.
I can believe it.
Oops! Gettin' low. Gotta go.
---
September 26, 2017
Mugs and More . . .
Well, I was hoping to sleep in since I didn't have to go down to Clear Lake this morning.
But then I got a early call from my client needing some help with a problem. Luckily for me, it was something I could fix by going into one of the machines using Teamviewer. But then since I was up, I was up.
A couple of more things concerning my blog last night about the Young Sheldon and Big Bang Theory premieres, one I forgot to mention, and the other I didn't know.
Lance Barber, who plays Young Sheldon's father, appeared in the 11th episode of the 5th season of Big Bang Theory as Jimmy Speckerman, Leonard's high school bully.
Someone said on another site that it was strange that Old Sheldon never noticed that Leonard's high school bully looked exactly like his father.
The other thing, the one I didn't know until our friend Donna McCool commented on our blog last night. Zoe Perry, who plays Young Sheldon's mother, is actually the daughter of Laurie Metcalfe, who plays Old Sheldon's mother on Big Bang Theory.
Wow. Talk about great casting.
About 2pm our friends, Ed and Debi Hurlburt, showed up here at Hillcrest RV Park after moving over from Lake Conroe this afternoon. After they got parked and we talked for a while, we all caravanned over to Coldspring to have 'linner' at El Taquito Mexican Restaurant, a place recommended by other friend's Chris and Charles Yust, who ate there last week.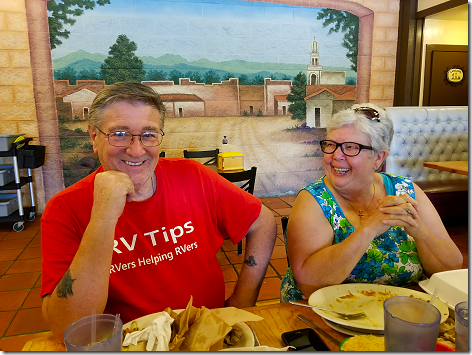 Ed had the Street Tacos which he thought were good, but a little greasy.
Actually I always thought Street Tacos were supposed to be greasy.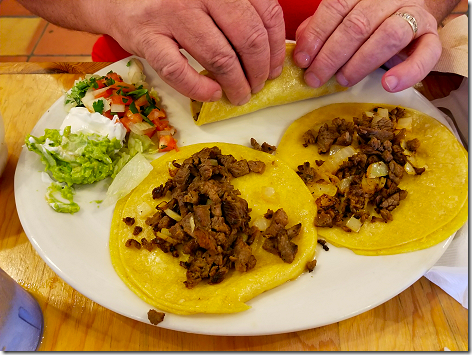 The rest of us had the El Taquito Platter.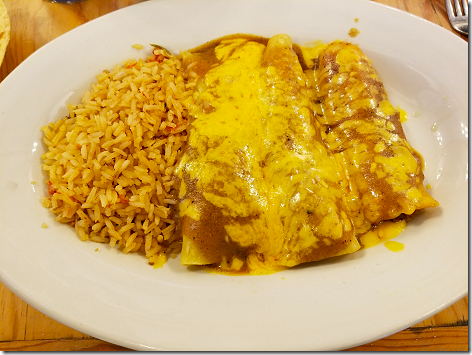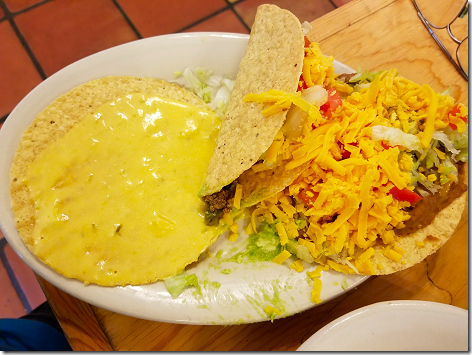 With two beef enchiladas, a soft beef taco, a hard beef taco, a Queso chip, a tostada, rice and charro beans. All for just $9.25,
A great deal for great food.
Finally finishing up, we all ended at the nearby Brookshire Bros. to pick up few things before heading home for the evening. But before splitting up we made a date to get together again Friday night.
This morning I gave Jan a new coffee mug that I found on the Internet and thought she would like.
It starts out looking like this –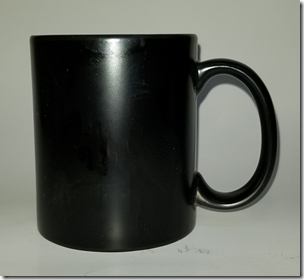 And then when you fill it with hot coffee, in just a couple of minutes it looks like this,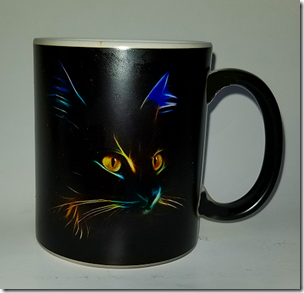 Neat! And Jan really like it.
A number of people commented on my use of 'recalcitrant' in yesterday's blog. That comes from having a mother with Masters Degrees in English, and Guidance and Counseling.
When I was in the 5th grade, I was grading her 8th grade English papers.
So today's Word of the Day is: portentous
---
September 26, 2018
This Doesn't Bode Well . . .
This time next week hopefully we'll be happily ensconced at Poche's Fish N Camp in Breaux Bridge, LA, having just had dinner at Crazy 'Bout Crawfish.
At least I that's the way it goes. I guess we'll see.
With the cooler weather coming in, and the days dwindling down until we leave for Florida, I've pretty much put any more work on the rig's generator on hold. And it raining pretty much every day for the last month hasn't help things either.
But I still find myself checking out some of my backup plans. If my Onan diesel proves to be impossible or uneconomical to get running again, I'm thinking about replacing it with a portal gasoline generator like this Harbor Freight Predator model for $600.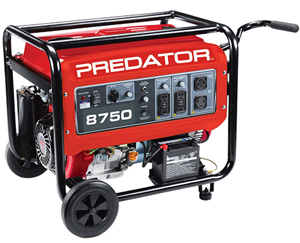 It's 8750 starting amps / 7000 running amps with a 90 day warranty.
But I recently came across this Champion model.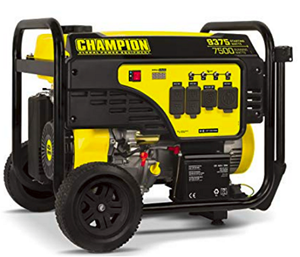 It's 9375 starting amps / 7500 running amps with a 3 year warranty. The only downside is that it costs about $200 more. But that might be offset by the much longer warranty.
I did recently find this Consumer Reports article comparing a Honda EC2000 Inverter Generator and an equivalent Predator model from Harbor Freight. Turns out that CR thought that the Predator compared very favorably to the Honda, and it costs half as much.
My new house batteries that I installed a few days ago, Got'er Done, are perking right along with no problems. I've noticed that my house battery voltage runs about 0.5 volt higher than the previous battery set.
Then a day or so later, I turned off my power converter for an hour or so and monitored the voltage. As expected, the voltage dropped to the normal steady-state of 12.6 volts . . and stayed there. Running several rig lights, the fridge, and the AC thermostats, the voltage never even dropped a tenth of a volt.
I guess that's what 2280 Ah will do for you.
Tomorrow I'll take two of the old batteries back to Lowe's tomorrow and get my $20 core charge back. Then I'll check with NTB to see if they will take the other two.
Also tomorrow I'm going to start working down my list of things that I want to get done before we leave next Wednesday. At least between rain storms.
---
September 26, 2019
A Mish Mash Day . . .
We're in the first week of the new TV season, and so far, we've liked everything we checked out.
Bob

Abishola, another comedy from Chuck Lorre, of Big Bang, Young Sheldon, and Mike and Molly fame. And this new show stars Billy Gardell from Mike and Molly.
Prodigal Son was also very good, and very intense. A NYPD Profiler uses his famous serial killer father to help him solve crimes.
Emergence, a sci-fi type show was also very good, with a great setup. There's a strange 'plane' crash on the beach in a New England town. Government agents show up and take control from the local police chief. And though there were supposedly no survivors, an uninjured 10 year old girl shows up nearby with no memory of who she is. But strange things happen around her when she gets scared.
Stumptown, starring Cobie Smulders, from How I Met Your Mother and Agents of SHIELD, as well as a number of the Avenger's movies. She plays a rough and tumble amateur P.I. in Portland, OR (Stumptown), fighting PTSD from 5 tours as a Marine in Afghanistan, as well as an assortment of local low-lifes.
Very good.
We also enjoyed the very spooky Evil. Is it a demon or is it not?
A woman psychologist, a non-believer, is pulled into investigating the possible demonic possession of a serial killer, and finds herself haunted by her own demon.
And it's good to see back old favorites like Young Sheldon and Bull.
With a few more still to come.
We also really enjoyed the recliners at the movies on Tuesday.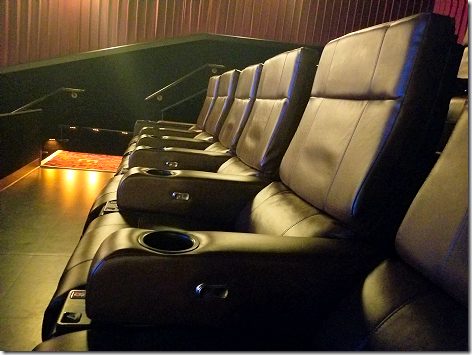 They're very comfortable, and even better, there is enough room for people to walk back and forth in front of you without stepping on your toes, even with the footrests extended.
Very Nice.
We had brunch this afternoon at Snooze once again. We like going there on Tuesday, rather than the weekend, since it's not near as busy and we don't have to wait for a table.
Jan got her usual Bravocado Toast,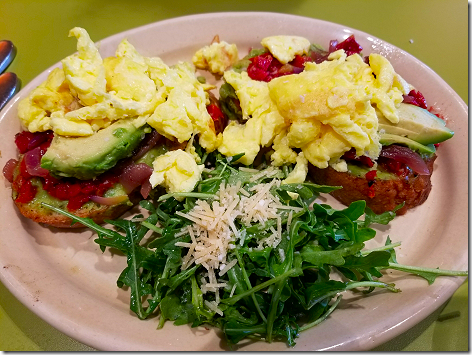 but I tried something new in the Keto mode, with their Peter Paul Rueben Sandwich, without eating the bun, of course.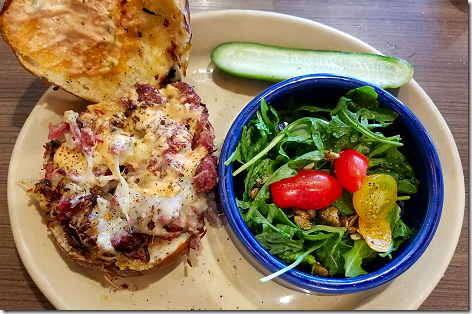 Corned beef, sauerkraut, Swiss cheese, and 1000 Island Dressing, along with a pickle and dressed greens. Really good.
And very filling.
Sunday we're heading up to Katy to get together with Brandi, Lowell, and Landon for a late Birthday get-together for Brandi. She's been so busy with work and traveling this is the first chance we've had.
She just got back from a business conference in San Diego yesterday, but I wonder.
Does this look like a 'business conference' to you?
That's Brandi on the far left.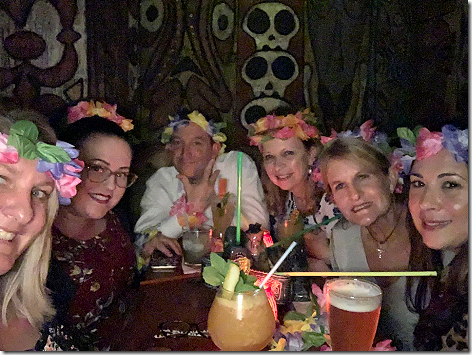 Looks like a little too much fun to me.
---
September 26, 2021
Nessie?
This morning started out with coffee on the patio watching a hummingbird flitter back and forth, but too fast for me to get a photo. These 70° morning temps are really nice for sitting out.
A British man, on a 4 day, 62 miles canoe paddling trip touring Loch Ness to raise money for charity. He often used a drone to get overhead video and photos, uploading them to the Internet.
He made and posted two long videos to his YouTube channel, and after about a week someone alerted him to something they spotted in his drone footage.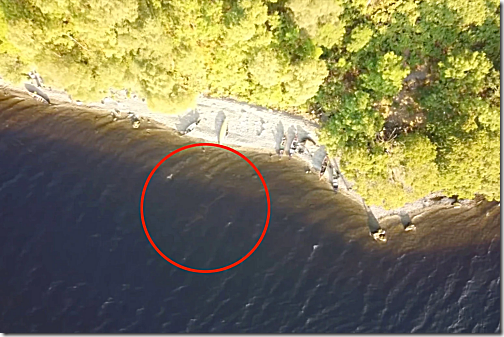 It's right there, in the red circle. Can you see it?
Well, how about here.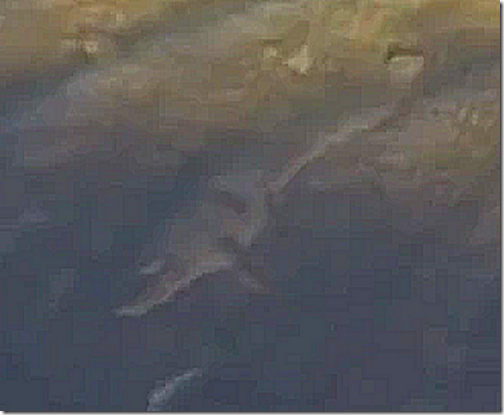 And no, this is not 'artifact' or a log on the bottom. In the video it's moving, and against the wind/waves.
So is this Nessie, the rumored plesiosaur that inhabits Loch Ness?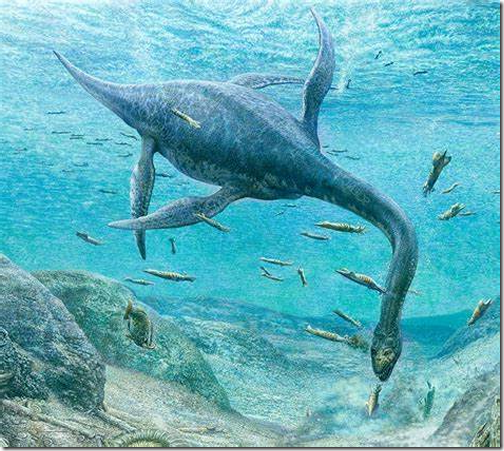 Someone wondered how deep it was that close to shore. Turns out that Loch Ness is known for its steep drop-off right off shore. And based on the size of the boats onshore, Nessie? is about 30 feet long.
And there's plenty of room for Nessie, or Nessie's, to hide. Loch Ness is 23 miles long and averages 150 deep.
Think about it.
Jan and I headed out to have lunch at Gator's once again. Normally we don't even look at the menu, but Jan was tempted when she took a look at their new Sunday Brunch Menu, and right there at the top was Avocado Toast, one of Jan's go-to meals.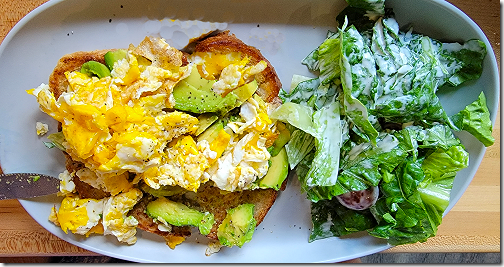 But I wasn't tempted by something new and improved, and went with my old stand-by, the Blackened Chicken Breast Sandwich.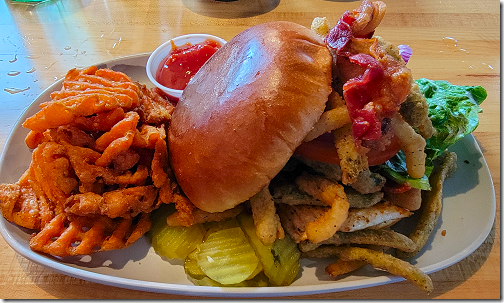 Then it was off to Home Depot for a few things for upcoming projects, and also to check out their Halloween stuff. And they have some of the best. Really neat stuff.
Like this Ferry For The Dead.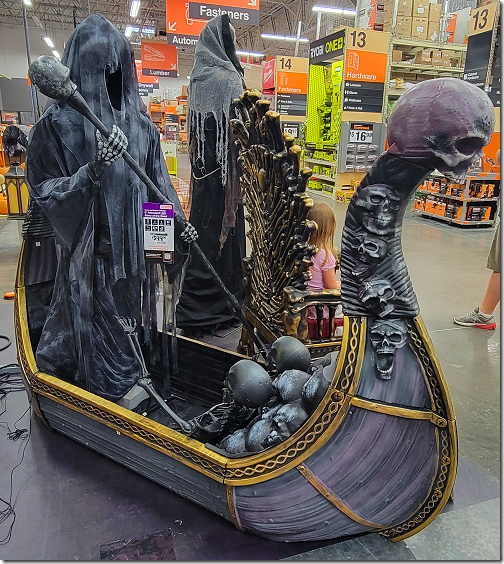 It moves, lights up, and talks. And it's only $399.00
Then it was on over to HEB for a few things before heading home for the night.
A nice weekend.
Lowell sent over this photo of their pool area at night.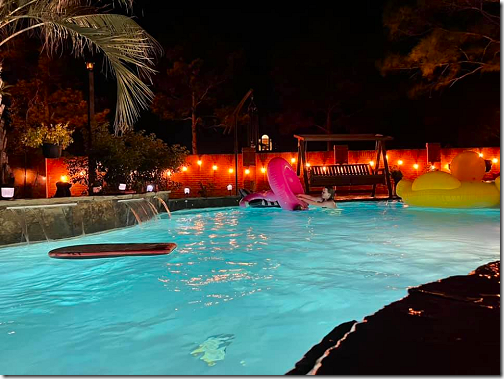 Not sure if the lights are orange in honor of Halloween or not, but they do look nice.