Daily Archives:
November 26, 2022
After raining pretty steadily for the last 4 days, today showed up bright and sunny, perfect for the drive up to Katy to pick up my Jan at Brandi's.
They got back from Colorado about 10:30 last night, saying they had a great time, but Brandi came home with a severe sinus/ear infection, so she's a little under the weather for the next few days.
Loading up Jan and all her baggage, we headed over the nearby Grimaldi's Pizzeria for Post-Turkey Day pizza.
As we always do, we started out with the Small Spinach Salad,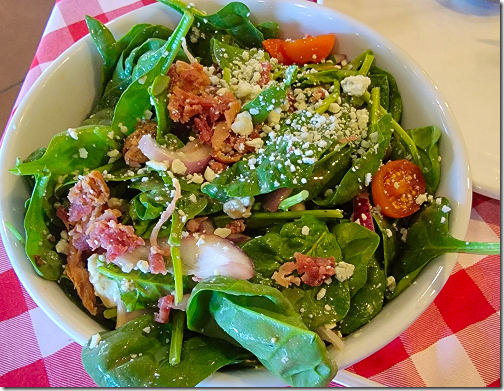 and then segued to an 18" The Don pizza, which comes with Italian Sausage, Pepperoni, and Meatballs. To which we add Bacon and Mushrooms.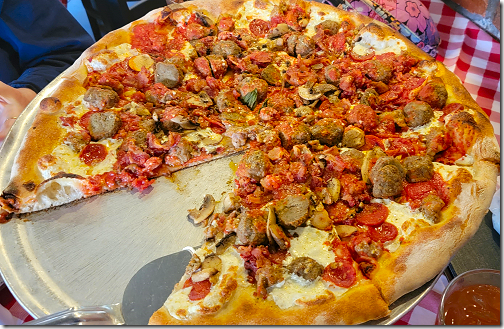 We always get the big 18" one so we have leftovers to bring home.
Then while I read in the truck, Jan had her way with the Trader Joe's right next door.
Then it was finally back to the rig about 4:30.
So glad to have my baby back.
---
Thought for the Day:
Cogito ergo sum. – Descartes
Cogito cogito ergo cogito sum. Cogito. – Ambrose Bierce
---
November 26, 2009
It's Turkey Day… and Ham Day… and Stuffing Day.. and…
We got up about 9 to get Jan's world-renowned squash casserole (made with fresh squash) in the oven before we headed out to Shawna's for Thanksgiving dinner.
We headed out about 11, stopping by Brandi's to pick up the HoneyBaked Ham we left there, since we didn't have room for it in our rig fridge with the other stuff in it. We also stopped at a convenience store for a Houston Chronicle to get all the ads for tomorrow's sales.
We got to Shawna's in Katy, TX about 65 miles away, about 12:30 pm. We have known Shawna and her husband, Jason, for about 15 years. Shawna, my daughter Brandi, and I worked at the same place for a while, and we've been friends every since. For a number of years now, at least once a year, either Thanksgiving, Christmas, or Easter, we all get together for a big meal at Shawna's.
And then we walk in the door and everyone wants to know the sausage balls are. Jan is also famed for her sausage balls, and everyone loves them, and all 8 dozen go fast. There would probably be a mutiny if we showed up without them.
After a great meal and a nap on the sofa (when I fell asleep Green Bay & Detroit were playing. When I woke up it was Dallas & Oakland).
About 4:30 we waddled out (I told you it was a BIG meal) to the truck and headed home with a lot of leftovers, stopping at Buc-ee's for coffee.
It was dark by the time we got back to the rig, so we were in for the night, still so full we didn't even think about supper.
---
November 26, 2010
BRRRRRR!!!!! . . .
When Jan got up about 7:30 it was 42 degrees and raining.
By 11:30 it was up to 43 degrees and raining.
Wheeee! Heatwave!
About 12 the rain had slacked off so Jan went out to reload the bird feeders and I went out to re-align the sat dish. It had been blown slightly off target due to the high winds we had all last night.
Then about 1 I called Direct TV to get our DNS West Coast feed turned back on. What I found out was that to get the West Coast feed turned back on it was going to cost an extra $6 per month, but I would now get 2 new channels, CW and PBS, that I didn't have before. These two extra channels had previously been an additional $5 each, so I didn't get them since this would have increased our DNS service from $14 to $24, almost doubling the cost just for two extra channels.
I'm cheap. What can I say.
So now our DNS is going from $14 to $20, which I'm not crazy about, but at least I'm getting something out of it.
About 4:30 we drove up to La Brisa to meet our friend Maria for supper, after which she and Jan were going to play Bingo again down in La Marque at the Knights of Columbus Hall.
And she did good. She won $95 on a game and she was really happy.
Of course, when I ask her how much she'd spent the last 4 weeks to win that $95, she said she didn't want to talk about it. I don't think she wanted me raining on her parade.
Well, if she had fun, I'm happy.
It's supposed to be even colder here tonight, with a low of 33 degrees, the coldest so far this year. But at least the rain is supposed to be going away.
---
November 26, 2011
Moving Day . . .
After our coffee and a quick drive past the site to be sure no one had come in and parked there overnight, we moved the rig a little before 11 and got settled in at our new home.
Hooking up backwards wasn't as much a problem as I anticipated. I had thought I might need another length of sewer hose, but as it turns out my two pieces were just enough.
Power was no problem since whoever originally purchased our coach ordered the extra-long power cord, and that's been a big help several times.
As it turns out, the only problem was with the water connection. The previous tenant had left one of those silver 2-way hose connectors like this.
The problem was the threads on both sides were so messed up that I couldn't connect my hose to it. And worse, I couldn't get the splitter off, either. It was stuck good.
The pipe is PVC and when I tried to use a wrench to twist it off, the PVC started to bend. Just what I didn't want to do – break off the pipe.
My solution was to call the park office and let them fix it. We'll just stay on internal water till they get it fixed.
Here's a couple of views out our front window. As you can see we're only about 20 feet from the water.
By the time we got parked the thunderstorms were rolling in and the formerly blue skies were turning gray and dreary.
This shot shows Jan's favorite island. A lot of birds make this area home and it's one of her favorite sights.
After we got settled in, a little after 12, we headed up to Seabrook to have lunch at Hooters, our (my) favorite hot-wing place. Really like their XXX hotter sauce.
After lunch our next stop was Wal-Mart for a few things. It looks like the Black Friday madness has subsided to a dull roar. They were busy, but not overly so. We didn't even have to wait in line to check out.
Coming back into the park, we saw our newest resident, a Roseate Spoonbill, hanging around with a paddling of wild ducks.
When we first saw it a few days ago, it was resting on the bank, facing away from us, and we thought it was a Flamingo. But these shots proved different.
It was still pretty cloudy, so he looks a little colorless, but in the bright sun, the pink really stands out. A beautiful bird.
I'll try to get some better shots later.
We still haven't seen the Great Blue Heron that was here our past three winters. Hope he's OK.
Getting back to the rig about 2, the rainy weather made a perfect setting for very nice nap. The rain on the roof of the rig made it very easy to fall asleep.
Supper was leftovers of Mexican and BBQ with cookies for dessert. Nice and simple.
Tomorrow I want to dig out my truck manual and see what I can do about the broken window lifter.
If the weather cooperates, that is.
---
November 26, 2012
Back to the Old Grind . . .
Kind of.
I realize some people might not consider living and traveling fulltime in an RV the "Old Grind", but sometimes it seems we never have as much free time as we did when we worked fulltime.
I guess we've just traded one kind of fulltime for another. But we have a lot more fun.
We did get to sleep in this morning at least, the first time in a week or so. Although we were on vacation, so to speak, last week in Marble Falls, no one slept late. Landon wakes up about 6am and it's pretty hard to sleep after that.
I did get up about 10 and then spent the rest of the morning drinking coffee and working on some client computer stuff.
But it's a lot easier working when this is the view out the front of the coach.
Finally about 1:30 I headed out on some errands and a client visit. My first stop was the bank to make a deposit, and then it was on to the client's office to take a look at that bad computer.
It was an older one and it looks like the power supply died, since it wouldn't power up at all. This computer was one of several office computers that had been replaced a while back. But the client was still using this one because it had Windows XP on it, and he had some old office software that wouldn't run on anything after XP.
He said he still had a couple of others in the back, so I told him to bring one up. My first plan was to swap the power supply module out, but then it occurred to me that it would be quicker and simpler to just swap out the hard drive instead, and that's what I did. So my client was back up and running in about 10 minutes.
My next stop was Brandi and Lowell's to pick up the mail that came in while we were in Marble Falls, and then it was on to a nearby Kroger's to fill up the toad with gas.
What in the world has happened with gas prices the last couple of days? Last Sunday when we got back in Houston I filled up with diesel for $3.53 a gallon. Today it's $3.69 at the same station. And this past Tuesday I filled up the truck for $2.98, today it's $3.09.
It looks like the prices are going up as the stations get fuel deliveries because I found a few stations still selling at $2.99, one of them being the Kroger's here. But the Kroger's about 5 miles away is already up to $3.09.
And it was good to find out that my magic Kroger's Rewards Card still works. Actually it's a Fred Meyer's card we got in Alaska in 2008, but Kroger's owns Fred Meyer's so it works here too.
The magic thing about it is that it ALWAYS gives the $ .10 a gallon discount. Normally you have to purchased $100 of groceries to get the one-time discount, until you buy another $100 worth.
But I discovered when I got back from Alaska that with this card I get the $.10 every single time. Like I said, it's magic.
I got home about 4:30, picked up Jan, and we headed out to La Brisa, a really good Mexican restaurant right up the road, for our usual great meal.
Coming home I got a call from another client, wanting to know if I was back in town, and could I come by tomorrow afternoon.
Like I said, back to the Old Grind.
---
November 26, 2013
A Squash Shortage ?
Well, I was finally able to find a rental car this morning so that problem was taken care of. I did use Enterprise, the "we'll pick you up' people, but they weren't sure how long it would take to get the car out to us, so about 11am I walked down to the office to see about getting a ride, And as luck would have it, the park owners, Tom and Kevin, were heading in to Houston for a meeting with the engineer for the RV park upgrades, and were happy to give me a ride.
By noon I was on my way back to the park to pick up Jan and head off for an afternoon of lunch and errands. And what's better for lunch on a cold, rainy afternoon than a big bowl of Monterey's Little Mexico Chicken Tortilla Soup. And chips. There had to be chips and salsa.
Next up I got to freeze my rear off standing in line outside the HoneyBaked Ham store to pick up our Thanksgiving ham. Originally I was going to pick it up yesterday when the line would have been shorter, but that didn't work out, so today's the day.
And man, was it cold! It was about 40° with a brisk wind that just cut right through you. And to think, last year I was wearing shorts and a T-shirt when I pick it up. But after about 30 minutes I was finally inside the store and the counter was in sight.
Ten more minutes and $77 later I was back in the warm car where Jan had been waiting, waiting in the nice warm car.
I did mention she was waiting in the nice warm car while I stood out in the cold rain, didn't I ?
After I warmed up and stopped shivering, we headed over to Kroger's to pick up some Thanksgiving supplies, but once inside, our first stop was at the Starbuck's for a Pumpkin Spice Latte for Jan, and a Cinnamon Dolce Latte for me. Anything to warm me up.
We found everything on our list except for the frozen squash for Jan's World Famous Squash Casserole. We found the frozen broccoli, we found the frozen chopped onions, but no squash was to be had. Plenty of okra, spinach, green beans, black-eyed peas,and even edamame. But no squash
So heading back toward the rig, completely squashless, we decided to make a stop at another Kroger's on the way, but once again no squash.
What's up with that?
Somebody at Kroger's forgot to order frozen squash? Was there a squash famine this year? Inquiring minds, and all that.
Getting home I made a call to Coach-Net to make an appointment to have my truck towed up to Brock's Automotive tomorrow morning. Then Jan and I will head up to Brandi's where Jan and Lowell's mother Sonja, will help her cook for Thanksgiving.
And I'll probably be out looking for squash.
---
November 26, 2014
Jan and I decided to have breakfast this morning in Livingston before we left, and Lone Star Charlie's had really good reviews so off we went. And the reviews were right. Great omelets, great bacon, great biscuits, and great grits. Everything was seasoned perfectly. And the coffee was good too.
But getting back to Chris and Charles' site is where the Oops! comes in. Jan suggested I back in so I would be heading the right way to hitch up before we pulled out this morning, so I pulled past the driveway, started to back in, lined up the driveway in my outside mirror, and with a quick 'CLUNK', my rear wheel was hanging in midair, just spinning along. With the sun in my eyes, I had not noticed that the driveway passing over the culvert was inset, and I was now hung up on the curb. It's like that on both sides, why I don't know, but I didn't notice it.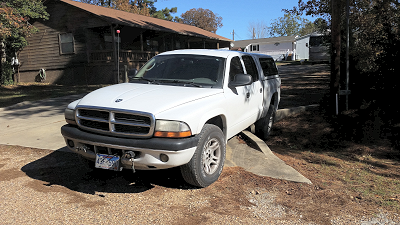 My first thought was that maybe I could get the rig in front of the truck, hitch up and then pull it out. But a quick look showed that I would probably rip out brake lines and the gas tank if I did that. About this time, Dennis Hill drove by on his Harley, and I was busted. No way I could deny this ever happened now.
It was very apropos that to get me out of this situation in her driveway, I called the Good Sam Emergency Road Service that Chris had sold me. Johnny of Smith's Towing, showed up about 45 minutes later, unfortunately not before Dennis did, but pretty quick.
He agreed there was no way to pull it out without damage, so he put a trailer hitch bar into the receiver on my truck, extended his boom, and attached a cable to the hitch.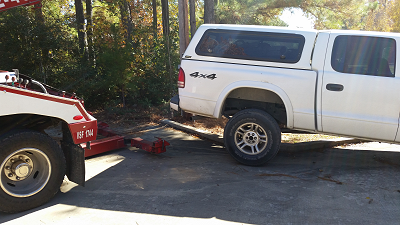 Then he lifted the rear of the truck up to clear the curb, and then retracted his boom to move the wheel back onto the driveway.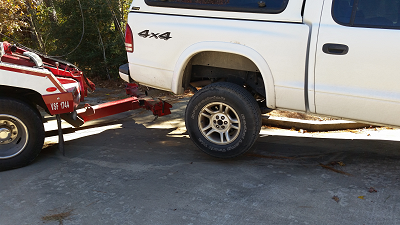 So now I was able to turn my front wheels and back up with no problems.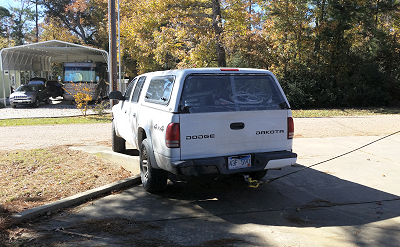 So finally we were on our way a little before 1pm, only about 45 minutes late. But it wasn't like we had a schedule to keep.
After a nice drive through the country, we arrived at the Lake Conroe Thousand Trails about 2:15pm. We tried to find a site in our usual 'E' section, but they were all full, so it was off to wander around the park looking for an open site. We finally found one in the 'F' section, and unlike many in this area, the one we found was very level. And even better, these sites are paved, unlike the 'E' area, which are grass/mud. So we were very quickly parked and set up.
About 5:30, along with Lynette and Mac McHenry, we headed out to The Fish Pond Restaurant, where we ate right after we got here last week.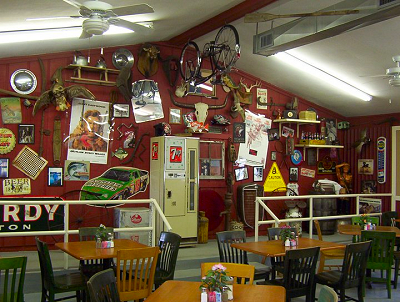 Last time I had a Ribeye and Jan had the Fried Catfish, both very good. But this time I went with the Master Burger Double Cheeseburger and Jan had the Steak Fingers, very good.again.
This is a place that has big enough menu, that you can keep going back and not repeat yourself. Hopefully we'll go back again too.
Tomorrow we'll head down to Friendswood to have Thanksgiving Gumbo with Chris, Linda, and Piper. Then Jan will stay over and puppy-sit for a few days while Chris et. al, are out of town.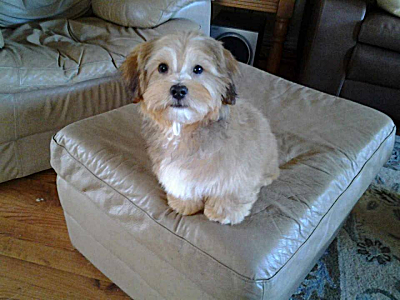 I mean, how could you not want to puppy-sit a face like this.
---
November 26, 2015
Pretty Painless . . .
and Very, Very Tasty.
First off, Jan and I want to wish everyone a very Happy Thanksgiving! We hope you enjoyed your day as much as we enjoyed ours.
After we were up and had our coffee about 8:30, we headed out about 10am, with our first stop the Cracker Barrel right down I-45 in Conroe. I had called them on Tuesday to pre-order our Thanksgiving Meal To-Go that we were to pick up.
The restaurant itself was already jam-packed, but they had the whole take-out process streamlined. Signs first pointed me inside to a special line where I quickly paid the $65 for my order. Then it was back to the truck and around back to get in line to pick up our order. But here's where the process kind of broke down.
The pickup area was a canopy at the backdoor where you could drive up and get your meal, but they didn't have the direction really defined, so some people were trying to pull in from one direction and some from the other. And then while that was being worked out, other people were parking off to the side, and then walking up.
And this resulted in some upsetness (my new word) to the people in the cars who were there first, because the walkups were getting served ahead of them. Finally the lady in the car behind us got out and started complaining, and things quickly got straightened out.
But even with all this drama, it was less than 15 minutes before we were back on the road heading down to the Clear Lake area. As I said, pretty painless.
Traffic was about what I expected for a Thanksgiving morning, with the usual slowdown around the Pierce Elevated, but it freed up pretty quickly. We did luck up on our side of the freeway, because as we came down off the Pierce we saw that there had been an accident on the other side, with two cars having spun around and scattered large pieces of themselves all over the roadway. The result of this was 5 lanes of traffic backed up for several miles down the Interstate.
Getting into the Clear Lake area we were surprised to see how many changes had been done to the Interstate since we were here this past August for a few days. The El Dorado interchange was completely rearranged from before and the traffic flow is very different.
We arrived at Chris' about 11:30 and got the food inside and unpacked, still warm, from the large, heavy cardboard box.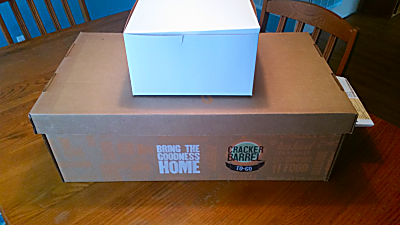 Inside the box everything was laid out, labeled, and ready to go.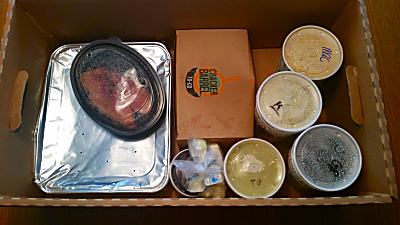 And as I said, still warm.
And following up on our easy peazy Thanksgiving theme, everyone just served their plates from the containers and popped them in the microwave for a minute or so. Then all we had to do was sit down around the table and enjoy our meal.
And it was very, very tasty. We all agreed that Cracker Barrel does a great Turkey Dinner. In fact, we often go to CB on a normal Thursday just so Jan can have their Turkey and Dressing.
As Jan said, "We didn't cook for two days, spend 20 minutes eating, and then two hours cleaning up." When we were done, the containers went in the fridge, the plates and silverware went into the dishwasher, and we were done. Then for dessert we all had some of the pumpkin pie that Chris baked, and some of the Coconut Cream Pie we got from the Fish Pond Restaurant yesterday.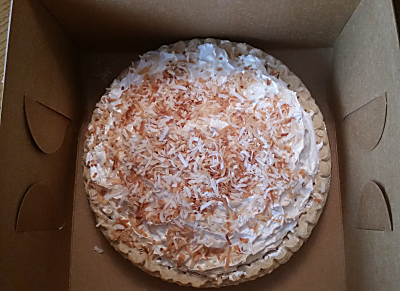 Like I said, pretty painless, and very, very tasty. Easy peazy.
After dinner, while we were watching the dog show, and then the Panthers – Cowboys game (a 33 – 14 blowout leaving Panthers 11 – 0 for the season), I checked online to see what it will entail to replace the broken glass screen on Chris' Galaxy S5 phone. And it looks like there are two different ways to go. A cheap, difficult way, and an expensive, easy way.
The screen itself only costs about $10, but looks be a difficult 2 – 3 hour job, mostly due to having to separate the glass from the LCD screen. And if you accidently crack the LCD in doing this, you get to move on to the bonus round, and have to take the $150 expensive, easy route anyway, $150 being what a new LCD display with glass costs. So we'll have to decide what we're going to do before we're together next time.
---
November 26, 2016
New Toy Update . . .
I mentioned the other day about my new Dash Cam, and our Thanksgiving trip back to Katy was my first chance to really try it out.

I really like the quality (1080p) and the color is good too. In addition I like the 140° view. My other dashcam, the one in the rig, has a 170° angle, which means the view is more distorted.
You can check out a sample below.
A really great deal for only $50.
I also got another new toy recently, a little sister to our Amazon Echo Alexa, an Amazon Echo Dot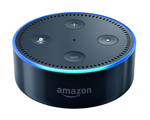 Only about 1.5 inches high, it does just about everything the full-size version does. The only downside is that the speaker system is not as good due to its smaller size. For this reason the Dot is really made to be hooked up to a Bluetooth or external speaker.
But in real world use it seems to work just fine with the internal speakers. Besides its smaller size, the other thing I really like is the fact that, unlike the Echo which is powered by an AC adapter, the Dot is powered by a standard USB-micro HTML cable just like your cellphone or tablet.
What all this boils down to is that that Dot is great for use on the road. We have used our big Echo traveling in the rig where there is plenty of room, but the Dot is much better for use in the truck. And since it's USB powered I can plug it right in rather than having to use an inverter.
Even better, the Dot is only $49.99 compared to $179.99 for the big sister. And even more better, right now through Cyber Monday, the Dot is only $39.99. A great deal.
We used it to listen it to iHeartRadio, our 9000+ songs in Amazon's Cloud Storage, or the 2 million+ songs we get with Prime Music.
Looks like Google has finally come out with their version of the Echo called Google Home. I imagine though it's going to take them a while to catch up with all the things Echo offers.
I've enjoyed all the back and forth on Facebook about whether or not stores should be open on Thanksgiving for shopping. There was a lot of discussion on both sides, citing greedy corporations, angry shoppers, etc.
Hearing this always makes me think of the Blue Laws here in Texas when we moved out here in December 1978. Not only were no big stores open on Sunday, there were a lot of strange restrictions on what you could buy.
Things like the fact you could buy cloth diapers on Sunday, but you couldn't buy disposable ones. You could buy a hammer or a screwdriver, but not nails or screws. In fact there were 100's of these weird differences. Eventually the big stores had enough and many started opening on Sunday, pretty much daring the authorities to punish them. Finally in 1985 the whole thing collapsed. At this point, even the churches couldn't stem the tide.
But what really broke the dam was an article in the newspaper that revealed only about 5% of the working population was employed in retail sales affected by the Blue Laws. The other 95% were police, firefighters, EMT, doctors, nurses, etc. Others worked at refineries, chemical plants, TV stations, and the like.
---
Landon got to tell Santa Claus his Christmas Wish List today at Bass Pro Shop.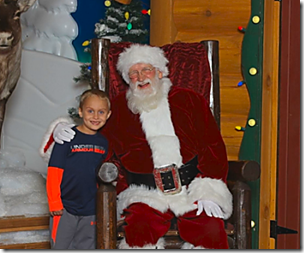 ---
November 26, 2017
In An Instant . . .
We bought a 2+ pound eye of round roast a couple of weeks ago to try out in our Instant Pot, But we got so busy that we ended up freezing it.
So today we decided to try out our IP with Pot Roast and Veggies. We'd seen that we could do the roast frozen so that's how we did it.
I put the roast in the IP and then added beef broth, water, salt, pepper, and heat.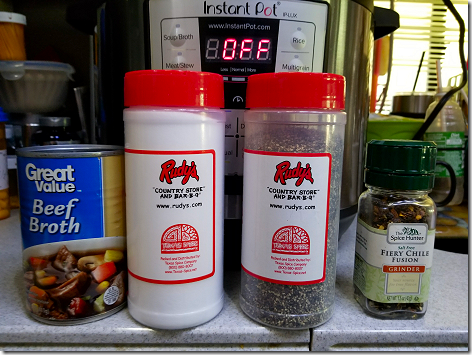 Then I added some of the cut-up onions from our veggies,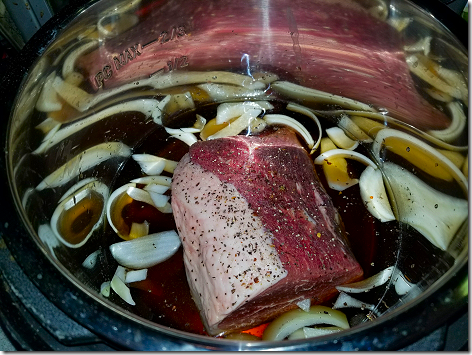 locked the lid down and then set the the IP to Meat and 90 minutes, and off it went. It took about 15 to reach pressure and then the countdown began.
Per the instructions, 90 minutes later I did a quick release and here's what we had.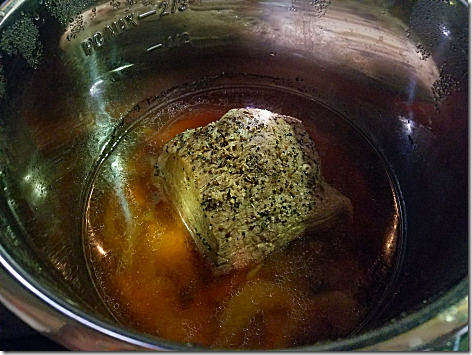 Jan had already prepared the veggies, potatoes, carrots, and onions. The corn I was going to do separately.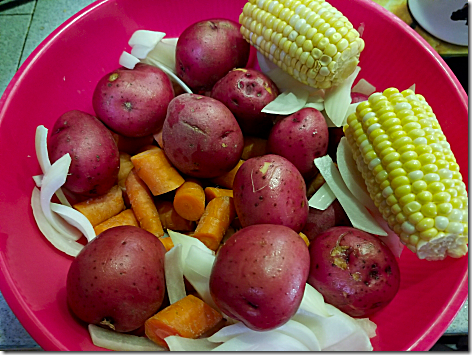 So in the IP they went right into the leftover juices.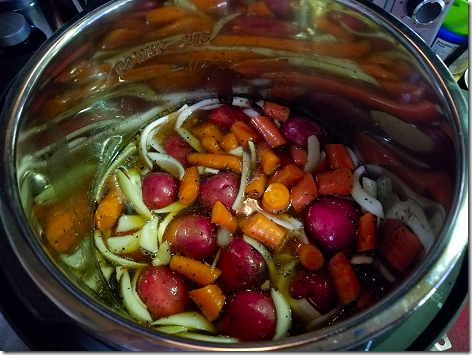 This time I set the IP to Manual and 10 minutes with a 10 minute natural release and then quick release.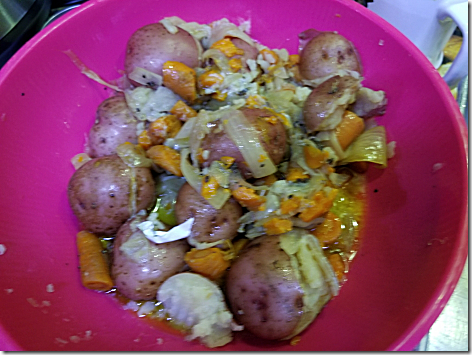 As soon as they were done, I put the corn on the cob in our steamer basket, still using the original liquid, and set the IP for Manual and 3 minutes, and then did a quick release.
And about 10 minutes we were ready to eat. The roast sliced easily and was fall-apart tender.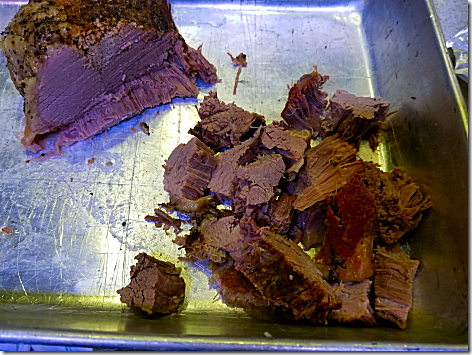 It was delicious, but no heat. We'll add more next time.
The veggies were a little over-cooked, but still delicious. Maybe 8 minutes next time and quick release.
I like my corn on the cob with some bite to it, but next time I'll do it for 4 or 5 minutes, instead of 3.
All in all, it was a good first try with our Instant Pot. Looking forward to more great meals.
---
November 26, 2018
Touchdown . . .
The Mars Insight Lander touched down right on time this afternoon, and seems to be fully operational. But it will be a while until they're sure, and then they'll deploy the solar panels and the test instruments. Hope all goes well.
---
Since I was out sick on Wednesday and we were closed on Friday, today was a catch-up day with a lot of stuff to send out and things on the website and in the catalogs to update with new prices. Busy, Busy.
Coming home I stopped in at Costco to fill up the tank for our trip up to Katy tomorrow. Found the price still at $1.91. How low will it go?
About 4:30 Jan and I headed back out to have dinner at the new Slim Chickens. Just as good as last time. Glad it's close by.
Next up was a stop at the nearby WalMart for a few things for Jan to have for meals during her upcoming Adventures in Dog-Sitting. Then, just by happenstance, we drove by the Marble Slab where the coffee ice cream was calling out to us . . . 'buy two small Coffees to go'. So we did.
Our last stop was the Santa Fe PO for our mail, where we found our new SD license plate stickers had come in. One less thing to worry about.
Tomorrow I'll take Jan up to Brandi's in Katy so she can dog-sit (and cat-sit) Miss Kitty, Baxter, and Mooshe (the cat) while Brandi, et. al., along with friends, Chantelle, Eric, and Maddox, are flying off to Disney World in Orlando where they'll be staying until next Monday. Landon's first trip to the Mouse Kingdom.
I brought home the System Image Recovery Disk and started trying to re-image the laptop hard drive after we got back home. But the first three times I tried it using the latest image I did on the 23rd, it kept failing, so right now I using the one I made back in October. And so far it's working.
I'll let you know how it goes tomorrow.
---
November 26, 2019
Got The Rig Back . . .
But not until about 5pm, so I'm at the River Bend RV Park in Luling and I'll head back toward Santa Fe tomorrow morning.
Happily surprised that the total bill was only about $1,055.00, much less than I expected.
The air compressor problem is definitely fixed, and hopefully the oil leak is too. But I really won't know until I drive for a while.
---
November 26, 2020
Pass The Turkey,
and the Dressing, and the Green Beans, and the Mashed Potatoes, and the . . .(Insert Your Favorite Thanksgiving Dish Here)
About 12:30 I started putting out and heating up our Thanksgiving meal, mostly compliments of Cracker Barrel.
I mixed the chicken broth in with the Cornbread Dressing and put it in the convection/microwave for about 40 minutes while I was prepping everything. And a lot of the prepping consisted of taking the lids off the Green Beans, the Carrots, and the Mashed Potatoes, and putting a couple of big dollops of KerryGold Butter in each dish.
As well as drizzling melted KerryGold over the top on the Yeast Rolls, which went into the toaster/convection oven at 400° for about 15 minutes, coming out looking like this.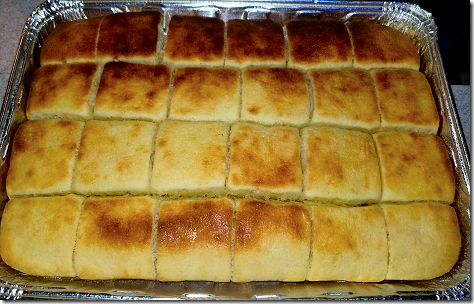 While this was going on I got out the Turkey Breast, cut open the sealed plastic bag, and started slicing.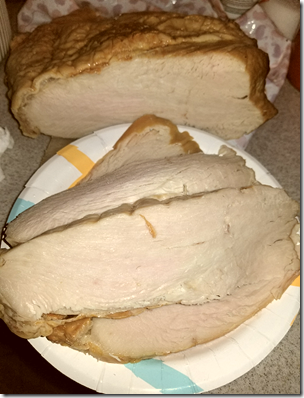 And no, it's not really greenish. It's just the lighting.
Then after cycling all the Veggies and the Turkey Gravy through the microwave,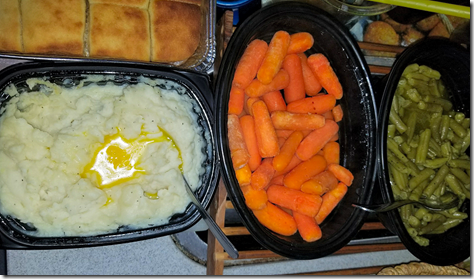 and laying everything else out,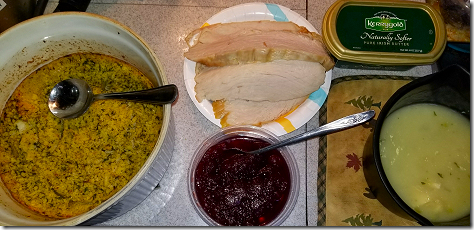 we were ready to eat.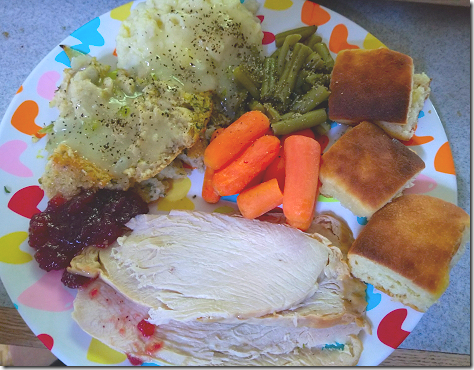 Really, really good. Thanks to Cracker Barrel.
And then for dessert, there was pie.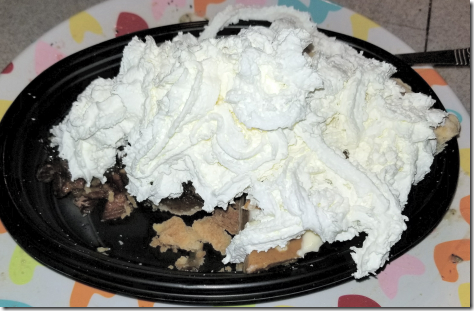 And yes, there's a piece of Chocolate Pecan and a piece of Cream Cheese Pumpkin underneath all that Whipped Cream somewhere.
And the clean up consisted pretty much of just snapping the lids back on the serving dishes and putting them back in the fridge.
Nice!
The only downside to this very nice day, is that we lost the park WiFi Internet about 10:30 am, and as of 11 pm tonight we still don't have it back. The WiFi signal is there, and we can connect to it and get an IP address, but it's just not talking to anything.
Rob, the park owner who's out of town, had his daughter come over and reboot everything here, but it didn't help. And so far it's been impossible to talk to anyone at Xfinity.
Nothing we have will get a signal. The TV, computer, tablets, Kindles, Echo's, all zip. But I can connect to my Verizon MiFi or my phone hotspot, so I know it's not me.
So later in the afternoon I turned our DirecTV DVR back on and we watched stuff we had recorded a while back.
---
November 26, 2021
Black Friday . . .
Jan and I spent about an hour this morning putting together my new Respawn Gaming Chair, a 30 minute job that took about an hour due to old fumble fingers here.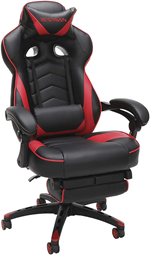 It's amazing how many times I could drop that Allen wrench. Jan, to her credit, kept the snickering mostly muffled.
Then about 1pm, we headed out for our Black Friday event. No, it was not at WalMart or Costco, but at Twin Peaks.
You see, Black Friday at Twin Peaks means Black Lingerie Friday. Much better than fighting the crowds at WalMart, believe me.
Something funny did happen though. We asked specifically for our favorite server, Sylvia, but were told we would have to wait a few minutes for an open table in her area.
When we were being seated, we had to wait a few seconds for the busser to finish wiping down the table. Right about then, the young lady who was guiding us to our table said,
"You asked specifically for Sylvia. Are you her grandparents?"
We both just laughed, and said, "No, she's just a really good server."
And she is too.
In fact, she showed up at our table with our specific drink order, two unsweet iced teas, two iced waters, an extra glass of ice, and a bunch of extra lemons, just a minute or so after we sat down, without us even having to order it.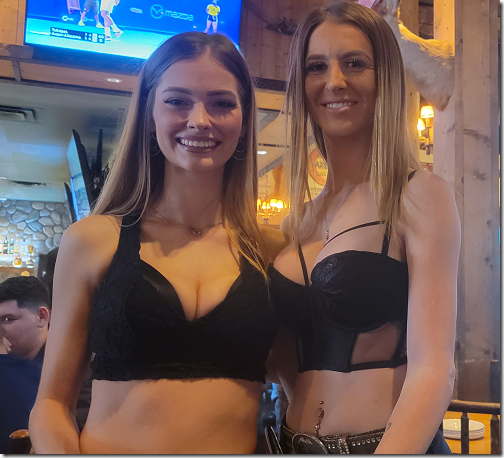 That's Sylvia on the left and her BFF Victoria on the right. Notice I kept the shot from the waist up.
Jan laughing said she didn't know which way to look. There were just 'cheeks' everywhere.
Me, I just kept my mouth shut.