Daily Archives:
November 29, 2022
But then you knew that, didn't you.
Almost exactly 3 years ago we got this SOWTECH Cordless Vacuum after Jan saw them using one at Black Bear Diner.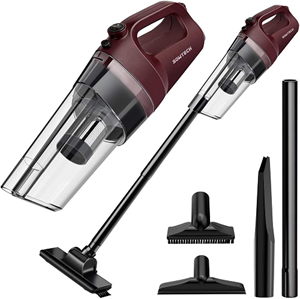 But yesterday it just up and died.
So after checking on Amazon and finding this one is no longer available, I decided to tear into the carcass of this one to see if I could find a fixable problem. And after removing umpteen screws, this is what I had left.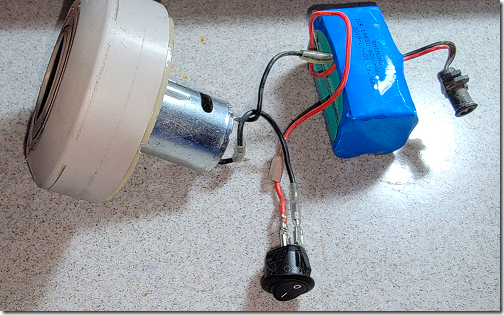 Poking around with my multimeter and a small screwdriver, I first checked the battery voltage and found it OK. Then I turned the switch on and started wiggling wires. And it came to life.
At first I thought that the problem was a bad connection on the switch, but a little more investigation revealed it was the switch itself. I could short across the switch contacts and the motor would run.
Luckily for me, these switches are fairly standard so I was able to find a pair of them on Amazon for $5.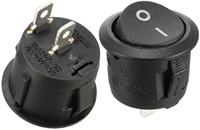 Should be in Friday.
So I saved a $120 vacuum for 15 minutes of my time and a $2.50 switch.
Like I said, I'm cheap.
Though I really prefer Thrifty.
Last night, Jan and I had our ante penultimate Thanksgiving leftovers, and yes. we had cornbread dressing. Not Cracker Barrel of course.
After seeing a couple of good reviews we picked a couple of boxes of Stove Top Cornbread Stuffing. And after adding the Chicken Broth supplied by CB, along with some extra Sage and Thyme, it was really very good.
Not quite CB good, but at least it was here.
Then tomorrow night we'll finish it off.
For lunch today is was back to Dickinson Seafood once again. And as usual we both got the Blackened Catfish with 3 Shrimp, and double Steamed Veggies rather than Rice and Veggies.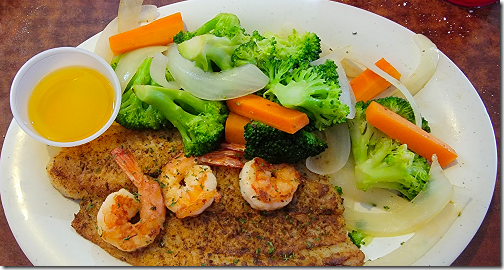 And along with a nice Salad it was really good.
Longtime friend and blog reader Phyllis Schell send Jan these lovely Christmas earrings a few weeks ago.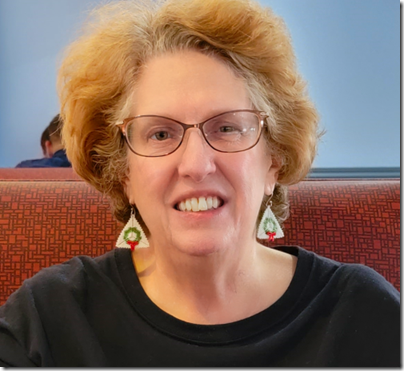 She's going to get a lot of use out of them this season.
Thanks, Phyllis!
---
Thought For The Day:
Apparently this is what you get when you asked your brother to save you a little bit of everything from the Thanksgiving dinner you missed.
But it is very nicely presented.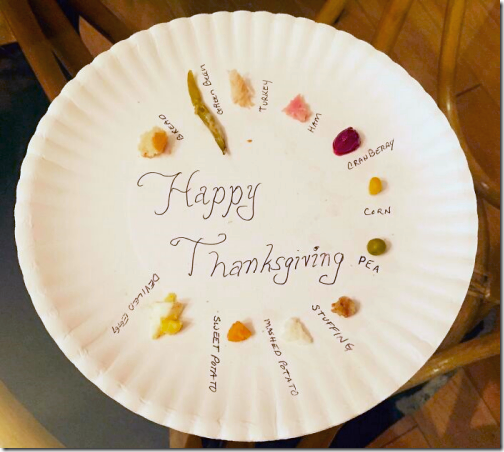 ---
November 29, 2009
Leftovers…
Today was another nice quiet day, complete with sleeping-in, turkey leftovers for lunch, and a nap.
What more could you ask for?
Our daughter Brandi called about 2 pm, during nap time, so we didn't call her back until around 4.
About 5 we headed out for dinner, and ended up at Monterey's Little Mexico again, for their great Chicken Tortilla Soup.
After that it was back home tor Amazing Race and Desperate Housewives, at least for Jan.
I read in the bedroom.
---
November 29, 2010
Monterey's and Monday . . .
Jan and I left the rig about 12:30 heading for lunch at Monterey's Little Mexico, but as soon as I cranked up the engine, I noticed I had a "Check Engine" light, or at least my truck's equivalent, which is the outline of an engine. It wasn't flashing which meant it wasn't immediately serious. I checked my oil level and added a quart, though it wasn't low enough to be a problem.
I then decided to get out my code meter and check what the code that caused the "Check Engine" light in the first place. I keep my meter in the center console so it's always handy, it was just a few seconds to hook it up and check the code.
And the code was . . . P0442.
Well, that tells me a lot. But a quick look in the accompanying guide told me it was: "Evap leak monitor, Small Leak Detected." And that jogged my memory. The last time I saw this code it was a gas cap problem.
One time it was a defective gas cap and the other time the cap was just loose. A quick check showed that my cap was loose this time too. I last got gas about 4 days ago so I guess I just didn't get it tight enough.
While the code reader was still hooked up I went ahead and cancelled the "Check Engine" light. It would eventually go out by itself but it might take 3 or 4 engine starts to do it.
And starting up the engine showed the code was gone, so that was the problem.
Then leaving Monterey's I discovered another problem. I was missing one of the my credit cards. I had not used it at all today, but I had used it yesterday. I thought I might have left it at Mackey's where we ate lunch yesterday, but remembered I had used it later at Wal-Mart.
But since I was already close to my client's office I decided to go ahead and take care of him before heading down to Wal-Mart.
Finishing up with my client and getting down to Wal-Mart, I went straight to Customer Service to see if they had my credit card.
And they did!
I'm still not sure how I lost it. Normally I put in right back in my billfold. The only thing I can figure is that when I was putting up my $40 cash back, either it fell out or I dropped it.
I guess I just lucked out.
Right now as I'm posting this I see it's –30 degrees in Fairbanks, and the high tomorrow is supposed to be a blistering –19.
Isn't Global Warming wonderful just wonderful?
That's about it today.
---
November 29, 2011
Clear Lake and WiFi . . .
Today was another work day (Hey, I thought I was retired) so I was up at 10, and after coffee, worked outside going through stuff in the back of the truck and rearranging things in the bays.
About 1pm I headed into Clear Lake and back to my client from last week They're back from their trip and had some other things for me to look at. While I was there I got them set up on LogMeIn.com so they can log into their computers at home from their iPads and laptops while they're on the road.
I got back to the rig about 5 pm to find we have a new neighbor in the site next door. They're in an older, but nice Rexhall. That means the park only has 2 vacancies out of 82 sites.
Jan and I headed out to the Ryan's in Texas City for our Fried Chicken fix. We were also hoping to see Helen, a waitress there that we've known for years, but it seems like she's moved back to Louisiana.
Right after we got here I happened to check the park WiFi on my Android phone and saw the signal levels were much stronger than last year so stop off at Fry's Electronics last week and picked up a USB WiFi adapter for my desktop.
It's a TL-WN722N and I like the fact that it has an external antenna so I can add a bigger antenna if necessary.
But a bigger antenna is certainly not necessary here. Along with a better signal it looks like they've also upgraded to 'N' routers on their Access Points. This morning when I checked my speed with SpeedTest.net, I was showing 7.59 Mbps download and 5.32 Mbps upload. That's getting into 4G speeds!
In comparison, my Verizon AirCard that works on 3G here normally gets me about 1 Mbps download if I'm lucky.
When I checked the WiFi speed this evening when more people were using it, I was showing about 2.5 Mbps download. Still very good.
---
November 29, 2012
My nose was running and my head was sweating . . .
After our usual morning routine, Jan and I decided to have lunch today at King Food, our favorite local Chinese place, and they really did it up right today.
We always order the Chicken in Hot Garlic Sauce with Jalapenos, and get it XXXXX spicy. And the cook was on his best game today. Readers know how much Jan and I like spicy food, and me more than Jan.
And when a dish is really spicy, my nose starts running and the top of my bald head starts sweating. And my head was sweating so much today I would swear I was back on the gate when it was 116 degrees.
After toweling off, we headed off to a client's so I could drop off my monthly bill and double check that they had received the online orders that I had faxed over.
Then it was on to Lowe's to check out their lumber prices for my upcoming trim project. And it looks like I'll be getting it here as they have a better quality of lumber at a cheaper price. You can't beat that.
Our next stop was Wal-Mart to get some Wal-Mart stuff, and then next door to Sam's Club to pick up Jan's prescriptions. Ended up having to wait for about 20 minutes because they had trouble getting one of them transferred up from the Wal-Mart in Pleasanton, TX that was last filled while we were on the gate.
Then after a stop by Brandi's to pick up our mail, we headed home for the day.
Yesterday I listed the network shows we watch, so Jan said I should also list the non-networks. So here goes.
Shows we both watch:
Haven
Eureka
Warehouse 13
Dr. Who
Leverage
Rizzoli & Isles
And these are shows that just Jan watches.
Sister Wives
Pioneer Woman
The Fabulous Beekman Boys
Welcome To Sweetie Pie's
Trisha's Southern Kitchen
Dallas
Rachel Ray
Paula Deen
Not My Mama's Meals
Home for Dinner with Jamie Deen
---
November 29, 2013
Post Turkey Day . . .
As I said yesterday, today was going to be a do-nothing day. And it was. In fact we never even went outside the rig at all. Just hot coffee and warm sausage balls for breakfast.
Speaking of sausage balls, I posted a couple of new recipes in Jan's Favorite Recipes area. The first one is an update on her Sausage Ball recipe, this one adding cream cheese for creamier, cheesier version of this great treat. As usual yesterday, the first thing everyone ask as they arrived was, "Where's the sausage balls?" And everyone liked the new version.
The second new recipe is Cranberry Christmas Cake. With only 6 ingredients, its tart, sweet, buttery taste is a real treat. Easy to make, with no topping or icing needed, it was a big hit at Thanksgiving dinner, and we had almost none left to bring home. Check 'em out!
I also added some new info under the Gate Guard Info tab. A blog reader told me about another Gate Guard company called Guard 1 Services, and they are presently advertising for Gate Guards.
I also posted under my Other Interesting Blogs a link to Workers on Wheels, a website listing jobs for RV'ers. Looks pretty neat.
Tomorrow all 11 of the us are heading about 70 miles north to the Texas Renaissance Festival, the largest one in the country. The last time Jan and I went was 2007, but we attended many times over the years when the kids were younger. So we're really looking forward to it again.
---
November 29, 2014
Almost Home . . .
but not quite.
I left the rig about 1pm this afternoon, expecting a smooth, easy trip down to the Clear Lake area from Conroe. It was after all, Saturday. But of course, it was after all, Houston.
There were two bad accidents on I-45N coming out of downtown Houston, and of course, everyone on my southbound side had to slow down and gawk. Then south of downtown, my Garmin GPS' Traffic Alert system warned me of a 45 minute delay on the 3.5 mile stretch between Sam Houston Toll Way and FM 2351. But luckily I was able to detour off and bypass the problem.
As soon as I got to Chris', Jan and I headed out for a couple of errands, first to the storeroom to go through some Christmas stuff for the rig. Jan's decided to do a live tree in the rig this year, using a small Norfolk Pine, so she wanted to dig out her moose Christmas ornament collection. She actually has enough moose ornaments to decorate the 9 1/2 foot tree we had in the S&B. Luckily that won't fit in the rig.
Chris has done a great job cleaning out the storeroom, so hopefully we can get rid of it by the end of the year.
Our next stop was to drop off some pants to be hemmed, but it turned out they closed at 3pm, so we'll try again another time.
Our last stop was to check out the new Fresh Market that recently opened across from Baybrook Mall. It looks to be a combination of a Whole Foods and a regular Grocery Store, pretty nice with a lot of fresh-made salads and stuff. We'll check it out further when we have more time, but now we needed a Starbuck's fix. So we headed across the parking lot to the nearby one. And due to an order screw-up, we both have a new favorite Starbuck's favor. But it looks to be short-lived.
I ordered my usual Cinnamon Dolce Latte, but due to the cashier's bad handwriting on the side of the cup, the C dl looked like C pl to the barista, not the first time this has happened, she said. So what I got was a Chestnut Praline Latte, one of their Christmas Special Flavors. The barista quickly realized her mistake and gave me my Cinnamon Dolce, and I got to keep the Chestnut Praline too. And Jan and I both thought it was delicious. At least for as long as the Christmas season lasts.
About 5:45 we met our friends Bob and Maria at King Food for dinner. We've known them since mid-80's when we met in a computer store, so it's always good to get back together when we're in town. And Bob had another batch of his fresh-roasted Peruvian coffee for us. Always great.
I mentioned that Jan was dog sitting here for one of Chris and Linda's dogs, PJ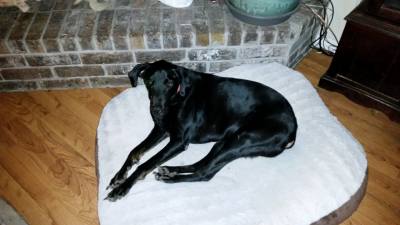 and the two guest dogs, Walker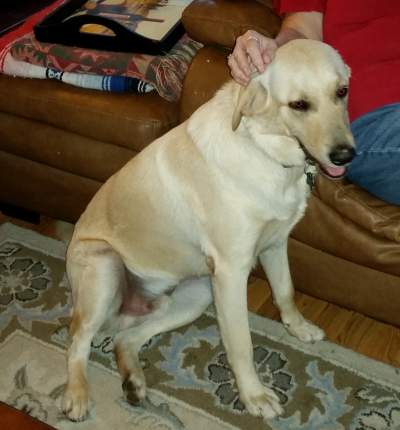 and Coco.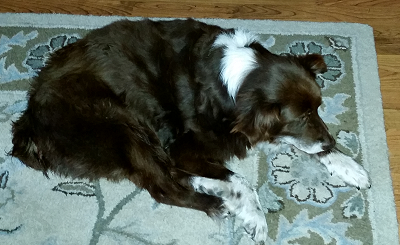 Jan said they've all been pretty good, with no real problems. But apparently Walker's a chewer, so he and PJ go outside when we leave for a while.
Tomorrow afternoon we'll head back to the rig by way of Brandi and Lowell's. Hopefully our South Dakota tag stickers will be there, especially since my current ones expire tomorrow. Here's hoping.
Wrapping up, I just realized that tonight will be the first time I've spent the night in this house since we moved out January 1st, 2007. We moved into an apartment down the street so we could remodel the house prior to selling it as part of our journey toward full-timing that began January 6th, 2008. But plans changed along the way, and we ended up keeping the place with Brandi moving in first, and then Chris, Linda and Piper last year.
Both of them made nice improvements along the way, and the house looks great.
As I was typing this, I realized that I keep calling this place our house, and not our home, even though it was our home for 30 years. But it's not our home any longer.
Our rig is our home, and will be for the foreseeable future. We just enjoy the vagabond lifestyle too much to give it up.
---
November 29, 2015
Crusty's and Cradlepoint . . .
With another cold, rainy day on tap, it was perfect for just staying home, bundled up with the heater going all day. Nice, but still putting a crimp in the outside stuff I want to work on.
I spent a good bit of time working on the new website that I hope to take live in a few weeks. I'll be telling you more about it as the time gets closer.
I do have a couple of things here in the coach to work on. I want to mount a 12v socket inside one of the kitchen cabinets to connect a small inverter to run our Amazon Echo for music while we're on the road, and another at my computer desk for power my Cradlepoint Router/AirCard combo, also while we're on the road.
Our last day at the Verde Valley Thousand Trails this past July we had dinner at Crusty's Pizza down in Camp Verde. While we had pizza, we also got a couple of their Baked Spaghetti Dinners to go.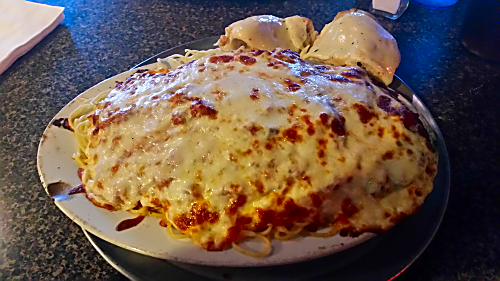 The dinners also came with salads, which we had with our pizza, since those don't store, but back as the rig we divided the dinners in half, and then we vacuum-sealed and froze them for later.
And for tonight's dinner, it was now a 'later'. The nice thing about these dinners that even cut in half, it's enough for both of us, especially when paired with cheese sticks and hot garlic bread. And since it's been vacuum-sealed, it was just like it came from Crusty's yesterday.
Tomorrow we're probably going to drive down to The Woodlands to see "The Martian" movie, and have supper at the Grimaldi's Pizzeria there. On the way I plan on dropping off the defective transfer switch at the UPS store to be returned to the manufacturer.
For some reason after about six months my first one would only transfer to t he rig's generator if we were still hooked up to shore power. Not real useful in most cases. I installed the replacement while we were on the gate, and it worked perfectly, so now the bad one needs to go back to Michigan.
Yesterday I showed Landon working on his Gingerbread Farm House at his grandparents up in Oklahoma.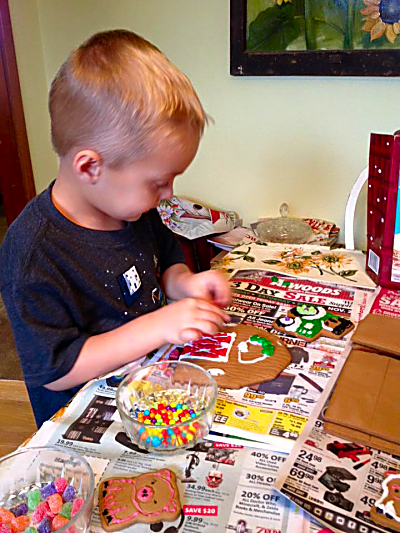 And now here's the finished version.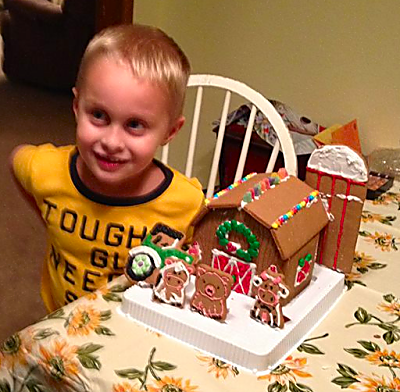 Looks like he did a good job too.
---
November 29, 2016
Patsy and Karma . . .
For Black Friday I did get another new toy, something I've had my eye on for awhile, but didn't want to pay the $70.
It's a cup holder mount for a cellphone or tablet.
iKross 2-in-1 Tablet and Cellphone Extended Cup Mount Holder
Although I really haven't had a chance to try it out, so far I like it. It's sturdy and heavy, considering it's made of plastic.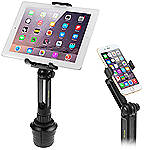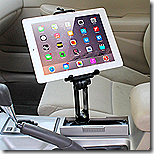 We have a GPS in the truck, but often use my Galaxy S5 phone to find someplace local. Then Jan has to hold it, or I set it up on the dash or down on the console. Plus when we're traveling a longer distance I like to use my Samsung Tab 4 tablet to run Waze to monitor accidents and other problems in front of us. So this looks perfect.
Mounting in the truck, I found that rather than keep up with two different size holders, the tablet holder turned vertical holds my S5 from the top and bottom with no problems.
The base expands to fit pretty much any size vehicle cup holder, even the large ones in our truck. And it's still only $20.
We're going into San Antonio for the day on Thursday so I'll let you know how it works after that.
I mentioned last week that our Dodge Dakota truck was approaching 250,000 miles and that we might hit that mark on our trip back to Katy for Thanksgiving, but we didn't quite make it.
But I did watch it roll over coming back from my gate last night. So 250,000 miles and still going strong. And that 250,000 doesn't include the 75,000+ miles being towed behind the rig, since when it's in neutral tow mode, the odometer doesn't register.
The only real problem is a broken exhaust manifold bolt. When you first start it up you can hear it chuffing slightly due to the exhaust manifold leak. But in about 5 minutes, the leak seals due to the heat expansion and it's fine. When I ask my mechanic how much it would take to fix it, he said between $300 – $800, depending on how many other bolts broke off during the repair, and recommended just leaving it alone until it got much worse. And so far it hasn't changed.
Miss Karma continues to surprise us. She has several different cloth fuzzy mice of diverse colors, including mouse-brown and pink stripes. Although at times she will bat one or more of them around the rig, usually she has them all in a pile on the floor in the kitchen.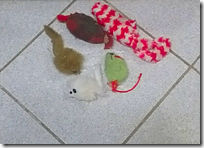 If you try to tidy them up by putting them all in a small box, she will get them all out again.
So this morning right before I left for the gate at 5am, Jan was packing up my lunch and I looked down at the mouse pile and noticed that Karma now had two brown mice.
And one of them was moving.
She had caught a mouse in the rig and apparently decided it should be stored with all her other mice. And she seemed somewhat upset when I threw the no-longer moving one outside. I guess she planned on saving it for a snack later, since she had just been fed. I assume a container of Meow Mix Shrimp and Tuna tastes better than mouse.
Still don't know if I should put out the traps or just let Karma have all the fun.
Today's (and tomorrow's gate) are a little busier than yesterday, but not by a lot. At least right now. A Marathon guy came in about 3pm and said there would be 60! trucks coming in as a convoy and to just let them in without logging so they don't back up onto the highway and for a mile down the road.
Sounds good to me.
I guess I didn't make Todd too mad yesterday getting lost on my way to a new gate, since he texted me another gate for this Sunday. Nice
Unfortunately it's still on Day shift but I'll take it.
Wrapping up, Patsy, my old babysitter, has a new book out that was just released today.
The Whole Town's Talking: A Novel
I call her Patsy, but you probably know her better as Fanny Flagg.
And yes, she was my babysitter when both our families lived in Gulf Shores, AL in the late 50's. Patsy's parents owned a small amusement park there when my parents had their motel there.
She's about 4 years older than me, and when our parents would get together, Patsy (Patricia Neal, her real name) was tasked with keeping me in check. I doubt she was too successful, knowing me as well as I do.
Check it out.
---
November 29, 2017
Lemonade . . .
I spent most of the day at work working on our paper catalog, trying to correct a lot of problems left by my predecessor.
In going through the catalog I found 5 or 6 blank pages scattered through the book. Since they still had page numbers I assumed that products had been deleted, leaving the blank pages.
At first I couldn't figure out why he would leave the blank pages since InDesign automagically repaginates when you add or delete pages. So that shouldn't be a problem.
But after checking a few other things I saw the problem. When the previous guy set up the catalog, he failed to set up Index to also auto-update. Which means that as you delete pages the pages behind that page to change page numbers.
When means the Index would no longer be correct. At this point I don't know if I can convert the Index to auto-update or not. So in the meantime, I converted the blank pages to page-size ads for specific products we have on sale.
Making lemons into lemonade.
A few weeks ago I mentioned that if you had bought $100 of Bitcoins in 2010, it would then be worth $72 million. That was when Bitcoin was worth $6,000. So today when it peaked out at a little over $11,000, your $100 investment jumped to about $130 million.
(November 29, 2022 Update: Though Bitcoin reached a high of about $68,000 in November 2021, it's presently at about $17,000. So your $100 investment would be worth $12.24 Billion!
You can never find a time machine when you need one.
Looks like USPS is slowing down with the Christmas rush. I had two packages that were supposed to be delivered on Monday, but according Tracking Details there were just sitting in the local PO.
Then they finally showed up on Tuesday, but I didn't get the text message that they'd actually been delivered until this afternoon. That's the first time in a long time that Amazon Prime has missed a Two Day Delivery.
Since our pre-Thanksgiving dinner last Wednesday was aborted by our bad tire experience, we're doing the post Turkey Day thing tomorrow night at Cheddar's.
Really looking forward to it.
---
November 29, 2018
The War Continues . . .
I met the beautiful Miss Piper this morning about 10 for breakfast at Snooze, her first time, my second there. There were tables available outside where Jan and I sat last time, but it was just in the high 60's and windy, so I waited about 10 minutes for one inside
And as it worked out Piper showed up just a couple of minutes after I got seated. Actually I was surprised to see how busy they were on a weekday morning, but it may just be the 'new restaurant ' syndrome. We'll see in a couple of months.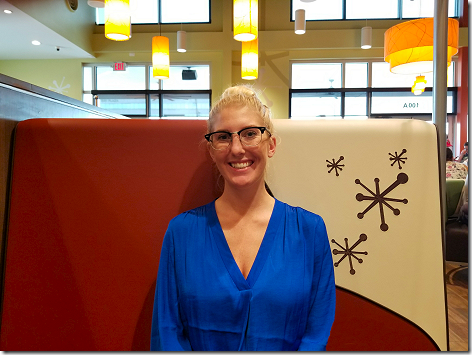 Miss Piper had the Grilled Cheese Sandwich with Tomato Soup,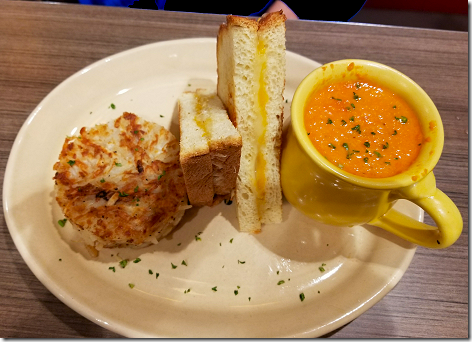 while I again went with the Shrimp & Grits and fruit.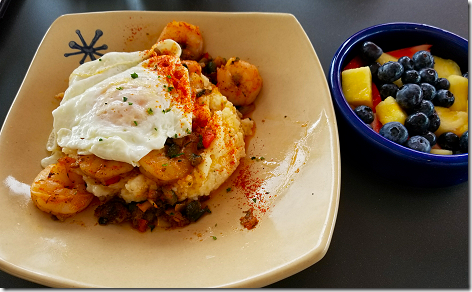 My Shrimp & Grits was as good as last time, with just perfect spicing. And Piper said hers was really delicious. I guess so, since she ate every bite.
I really enjoyed getting together with Piper, since it's been a good while since I had her all to myself.
The gas war continues. Costco and Sam's are now at $1.89, while yesterday our local HEB dropped from $2.12 to $2.01, to match the WalMart across the street.
Unfortunately diesel doesn't seem to be enjoying this drop. It's pretty much at the same price it was back in October when we were last traveling in the rig.
And of course if the price of oil goes too low, then it starts to hurt the drillers/producers. Supply and demand.
Landon got his first ride on the Space Mountain roller coaster today and LOVED it.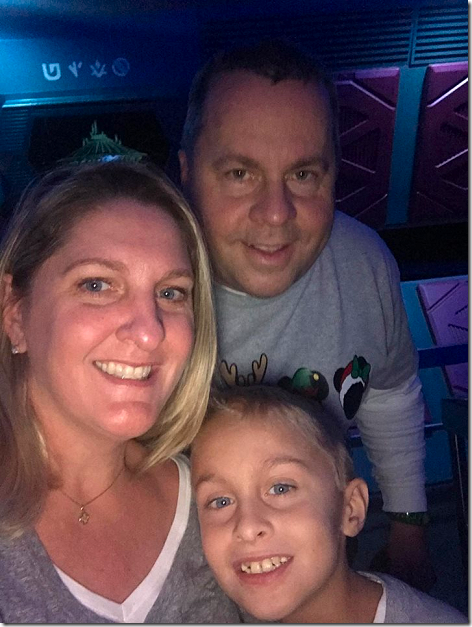 Brandi also remembered that Space Mountain was her very FIRST roller coaster ride back when she was a little girl visiting her grandparents in Titusville.
Finishing up, don't know if this guy disconnected his airbags, or they got used and not replaced, but he definitely doesn't like them.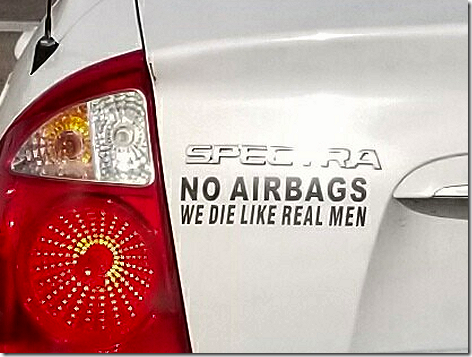 What's kind of funny is how the whole airbag thing came about. First up were seatbelts in the late 60's/early 70's. But people weren't using them enough to satisfy the government.
So they required auto makers to install seatbelt interlocks, where the car wouldn't start if there was weight in the seat and the seatbelt wasn't fastened. So you had to belt in bags of groceries or suitcases. Or even to back the car our of the garage to wash it.
So people started just fastening the belts and tucking them into the seat, or just disconnection the interlock all together.
So then the government had a better idea. Let's set off an explosion in your steering wheel or glove compartment to inflate a canvas bag at 200mph, and hope it won't kill you.
But it did kill people, in many cases by decapitation, especially children and small adults. So now we're back to airbags AND seatbelts, so you can't end up too close to the airbag when it goes off.
And just in case, all small children (in fact under the age of 13) are supposed to be in the back seat. But this causes problems too, especially with mothers of babies. They find it almost impossible to not keep checking the rearview mirror, or even turning around to look at them. So more accidents.
And it's also maybe what's led to the recent increase of babies in the backseat left in hot cars to die. In many cases this seems to be a parent who normally doesn't drop the baby off at daycare, going in to work and literally forgetting that the sleeping baby is back there. And this is possibly acerbated by the high/wide headrests that many cars now have, again for safety reasons.
I know on the 2018 Chevy Impala we recently rented that it was very difficult to see any thing in the back seat due to the width of both headrests. And it was also a problem when I would look back over my left shoulder to double-check the blind spot before I changed lanes. The headrest was wide enough that It showed up in my peripheral vision, making me think for a second or so that there was a car there.
Such is the Law of Unintended Consequences.
And don't even get me started on the 'safety features' that the government has now required on new gas cans.
---
November 29, 2019
A Nice Thanksgiving . . .
As you know, Jan has been at our daughter Brandi's up in Katy since last Sunday. For the first part, until Wednesday, she was Landon-sitting while he was out of school for the week. And now since Brandi, Lowell, and Landon went up to Cleburne, TX to have Thanksgiving with friends, she's been Kitty, Baxter, Jack, and Moshi-sitting, while I'm back at the rig in Santa Fe. But of course we couldn't miss out on Thanksgiving together so I drove up to Brandi's Thursday morning so we could have Turkey Day Dinner at the Katy Cracker Barrel.
We got there early, about 10:30, and I dropped Jan off at the front while I went and found a parking spot in the back. I figured we'd probably have long wait since pretty much all of the front porch rockers were occupied and there was a lot of people milling around.
By the time I got back to the front, Jan was just getting to the front of the line to check in. When we were told 15 minutes, Jan asked again because she was sure the young must have said 50 minutes. But she said 15 again as she entered our info on her iPad.
But then just as we turned around to go back outside, we heard, "White, party of 2". And it was the us Whites, too.
And the kitchen was really pumping out the food, because we had our plates in only about 10 minutes.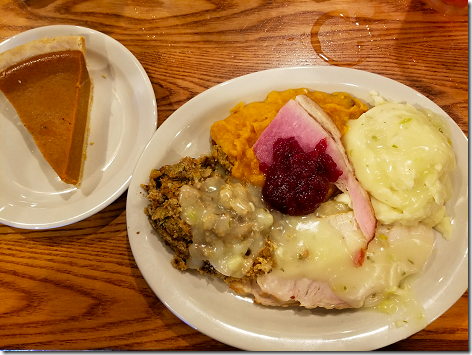 It was as delicious as usual, with of course, the only 'real dressing'. In case you're wondering, that's Cornbread Dressing. And Cracker Barrel's version is so good we occasionally get a couple of pans of it on other holiday's
We were full and done in less than a hour. And it was only $12.99, and that included our drink and dessert. And no dishes to clean up, either.
Brandi and Lowell managed to get their Christmas trees up before they left, though they're not decorated yet. In fact Jan says that there are 8 big tubs of decorations stacked around.
And I did mean 'trees' plural.
There's the big 16' foot version in the living room,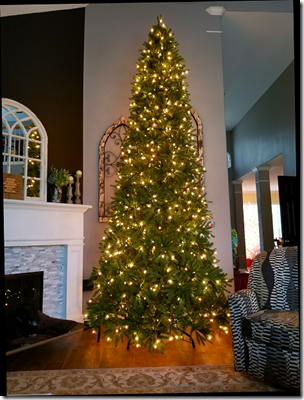 and the smaller, white one in the dining room.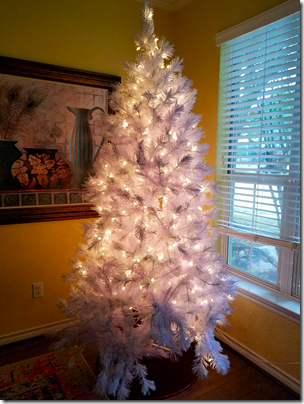 Quite a setup.
---
November 29, 2020
Family . . .
After a quiet, do-nothing morning Jan and I drove over to Dickinson to have lunch at Los Ramirez Mexican.
At that was it for outings, today. However we did get our trips booked for the next couple of months.
Saturday, December 12th Jan and I making the two-day trip up to Athens, AL to visit relatives, mainly my Aunt Virginia, who been wanting us to come for several months. We'll spend the night going and coming in Slidell, LA like we did last time we made the trip.
Coming home, we'll get back the evening of Sunday, the 20th.
Then January 1st, we're all heading up to Kingsland for a big family weekend get-together at Chris and Linda's. And it looks like they're all ready for us.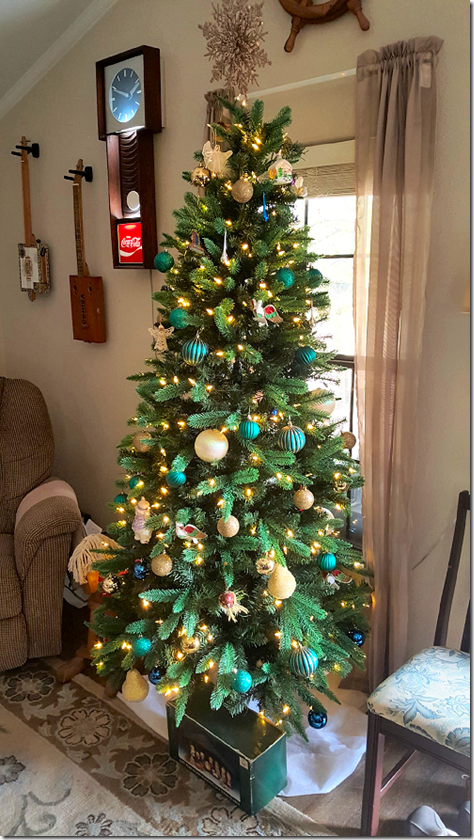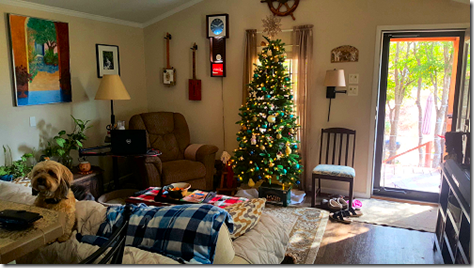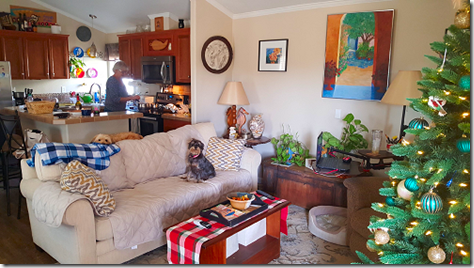 Even the dogs.
And speaking of dogs, looks like Landon has also gone to the dogs.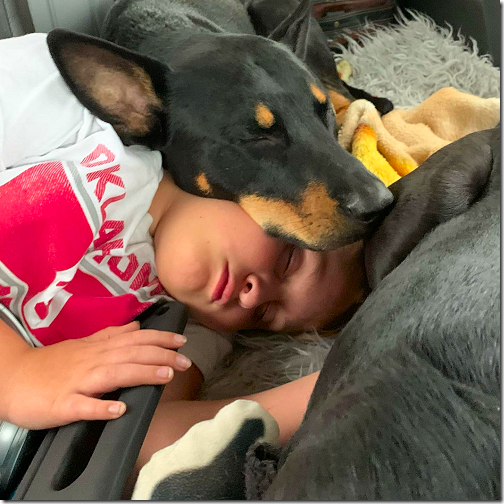 Jack certainly looks comfortable, with Landon laying on Baxter.
Several people have asked how Jan and I like our new 3" mattress topper. Well, we like it a lot.
It's much cooler than our old 2" version, which not only was thinner, but also didn't have the gel-infusion, the thing that is supposed to keep it cooler. And if sure seems to work.
Plus the extra thickness is really nice too. And unlike what some of the reviews said, it's not so thick that it's hard to 'climb out of', as one review said.
Classic Brands 3-Inch Cool Cloud Gel Memory Foam Mattress Topper With Free Cover, Queen
And even nicer, it doesn't 'travel'. Though our old one had 'non-skid' rubber fabric on the bottom, it still would move over time. So much so that we ended up safety-pinning it to the box springs underneath. But this one stays right in place with no pinning.
A great buy. And it was only $68.
---
November 29, 2021
Some Good News . . .
Our daughter Brandi met with my neurosurgeon, Dr. Wang, this morning so he could talk about her neck problems. And the good news is that she doesn't need surgery . . . for now.
He thinks that her problems can be treated with steroid injections and some special exercises. And he also through me under the bus, telling her that she probably inherited the problems from me.
Well, my question would be why did my problems take 73 years to show up, while hers took a lot less time to appear. Seems like she had something to do with it too.
He does want her to get some further X-Rays/MRI's on her lumbar region to get a better look at possible problems there.
That's probably going to be my fault too. Just watch.
Got our Jeep back from the mechanic's this afternoon, and she's ready to go for our Branson trip that starts this Saturday.
When Joe, my mechanic, asked about my limping, I told him about recent surgery, and in just a couple of moments we were comparing scars. He also had a 3-Level Fusion a while back, though his scar is on the left and only about half the size of mine. I think he was jealous.
Tomorrow Jan and I are heading down to Galveston tomorrow to have lunch at Mosquito Café, and check out a possible new client while we're there.