Amazon's Black Friday runs for 11 days this year running from November 17, passing thru Black Friday, and ending up on Cyber Monday, November 27th.
So get those credit cards warmed up.
Pretty much everything in the rig is now controllable by Alexa using smart plugs and smart switches. Fans, lights, the dryer, and even our Fire TV Stick. So why not our rig's water heater?
We had been using one of these spring-loaded mechanical timers for a year or so now.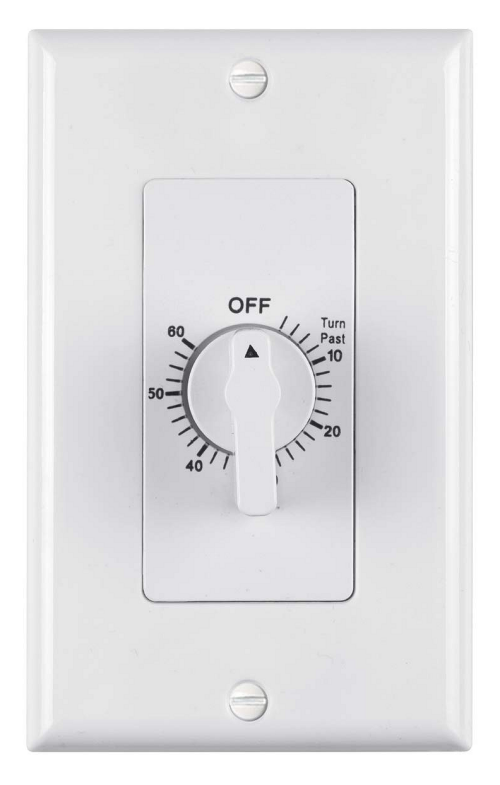 But they seemed to have a propensity to become intermittent after a while, when they turn on, but then don't wind down.
So I got one of these, which ironically, was cheaper than the mechanical one.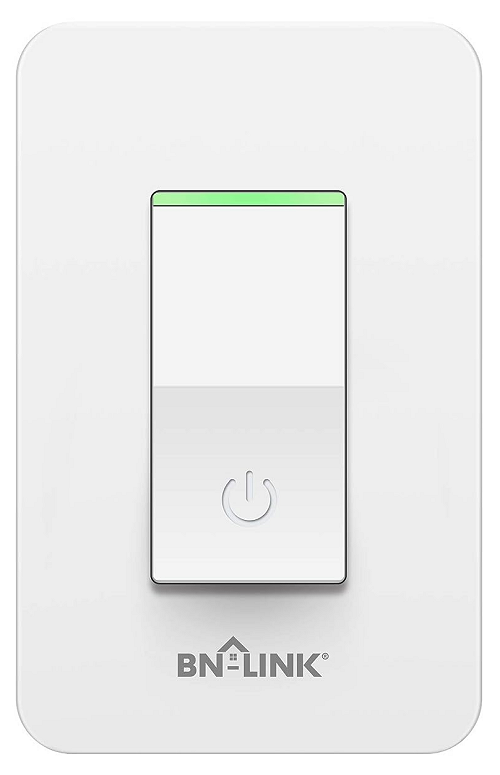 So now we can control our water heater from our phone from anywhere, or by Alexa here in the rig.
Neat!
Neither Jan nor I have an X account, so we don't really have a dog in this fight. But how much longer are we going to keep seeing in the news, "as posted on X (formerly known as Twitter)"?
At what point is it finally just become X?
Or is it going to always be like " 

formerly known as Prince" and just go on forever?
(BTW this was all caused by a contract dispute he was having with Warner Brothers over how they were releasing his music.)
I never thought I'd say this, but . . . Baskin-Robbins has gone too far.
Their new flavor is Turkey Day Fixin's.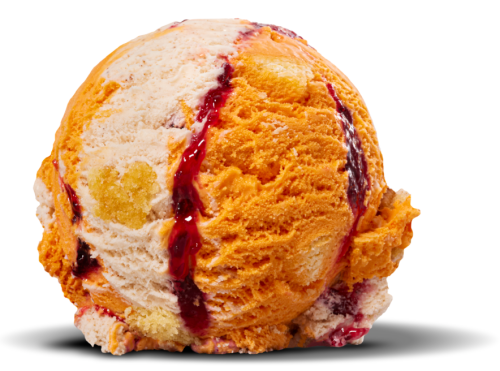 The new flavor, dubbed "Turkey Day Fixin's," features the untraditional ice-cream sensations of sweet potato, spice, cornbread pieces and swirls of cranberry sauce.

No, really.
Of course, early this week, Heinz announced Pickle-Flavor Ketchup.
And Brach's Candies did this a few years ago.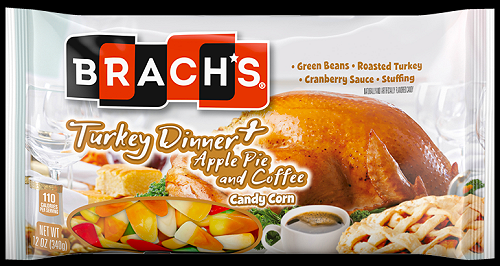 So what do I know?
The Smell of the Day: Marshmallow
---
Thought For The Day:
Perhaps if Brains were described as an App, maybe more people would use them more often.
And Now On To Today's Retro-Blogs.™
---
November 7, 2009
Wonderful weather…
Jan woke up a little under the weather this morning so we decided not to do the St. Louis / Gateway Arch thing.  Instead, around noon we drove up the road a piece looking for a Tractor Supply, a Walmart and a place to eat.
We ended up at a Colton's Steakhouse and Grill, a small restaurant chain with stores in MO, AK, KY, TN and MS.
It was right across the street from a Walmart, so it was certainly convenient,
And it was good too! Kind of like a Texas Road House, or Logan's Road House, complete with roasted peanuts in a bucket on the table.
After lunch we hit the aisles in Walmart for more 'stuff', and then stopped at a nearby Tractor Supply Store to try and find some more neat LED flashlights that I found at a Tractor Supply Store in Decatur, IN.
The weather for our drive was great today!  Mid 70's and sunny, going down to the 50's at night.  Couldn't get much better.
We also spent a few minutes talking to the folks in the RV next to us while we were letting Mister roam around.  They're from Wisconsin, and although they've owned their coach for 7 years, this is the first time they've taken a trip longer than just a few days.  They're heading toward Tucson for a while, then maybe on to California for a while. Hope they have a good trip.
Tomorrow we'll probably head into St. Louis to check out the Arch.
---
November 7, 2010
Baptisms and BBQ . . .
Today was our grandson Landon's baptism, so about 9:30 we headed up to Katy TX out I-10 west of Houston to Crosspoint Lutheran Church where Brandi and Lowell attend.
Sonja and Lendell, Lowell's parents, came down from Oklahoma on Saturday so they were here too.
Here's the proud GrandMa's with Landon.
And here's our granddaughter Piper holding her cousin.
The baptism was held outside in a heated pool, luckily for them, since it's been going down into the low 40's here at night, and I imagine it would be pretty frosty in there otherwise.
Brandi, Lowell, Piper, and Brandi's BFF Shawna were all involved in the ceremony.
There was one other baby baptized at the same time, and then afterward, we all went inside the sanctuary to attend the church service.
This church, like many others, is very high-tech, with multiple large video screens and a great sound system. Before she got pregnant Brandi used to run the sound system at many of the services.
And that sound system is needed because instead of just a plain organ, they have an 8-piece band. The words of the hymns are projected on the screens, along with words of Scripture used during the service.
After the service was over we all headed down the block to a nearby Spring Creek BBQ where we had a great lunch.
Jan asked Shawna if after holding Landon, it made her want to have another child. Shawna, who already has two, laughed and said No, she just likes to hold the babies and then hand them back.
We had a great time and it was good to see Shawna and her family again.
Tomorrow we're having breakfast at Jimmy's Egg with Brandi, Sonja, and Lendell.
---
November 7, 2011
Wally Docking and a Short Post Today . . .
This is going to be a really short post tonight since we're Wally-Docking in Vandalia, IL while visiting Jan's sister and her family.
We had a great get-together and a great time.
Tomorrow we've got a long day, about 375 miles back east (didn't we just come from there?) and then south to Renfro Valley, KY for a couple of nights before heading further south to Athens, AL to visit my relatives.
---
November 7, 2012
On The Beach . . .
Well, when I turned the key this morning about 8:15, the rig started right up. Whewww!
Of course since it was about 35 degrees outside it did help that I let the block heater plugged in all night.
We pulled out of Northgate RV Travel Park for the second time in three days, got on I-65 about a quarter of a mile later, and then headed south for the next seven hours. And except for some rough road through Birmingham, and a couple of rest stops along the way, it was a smooth, easy trip.
We pulled into the Gulf State Park here in Gulf Shores about 3:30 and were parked by 3:45. While Jan ran out the slide and unpacked inside, I got the toad unhitched and everything else hooked up.
Then it was time to check in with our friends Eldy and Jeannie. While we were still up in Athens, we got an email from them letting us know they were down here for the month of November. Since it was dinner time, we decided to meet up at the Canal at Lulu's at Homeport
Lulu happens to be Jimmy Buffett's sister, and has had a restaurant here on the Intercoastal Canal since 2004, and it's one of the most popular places at the beach.
After a great meal, and about two hours of conversation catching up on our respective lives since we last saw each other, we finally called it a night.
On our way back to the park, we stopped by the local Wal-Mart to pick up a prescription that we had called in from Athens yesterday.
Tomorrow will be a rest up, do nothing day, something we're really looking forward to.
---
November 7, 2014
FedEx vs. UPS . . .
Today turned out to be really nice, with a high in the high 60's and a lot of sun. And tomorrow's in the low 70's. But pretty soon after that the temps take a nosedive with high's in the 50's next week as that Arctic cold front moves across the country, and a low forecast next Thursday of 32 degrees. Even now we're having night temps in the 40's, but one thing that's helped is that Jan remembered our Alaskan coats
When we were in Alaska in 2008, we made several trips from Fairbanks down to the Denali area, and on one of those trips we found a great sale on coats at one of the gift shops. They were $35 a piece for a waterproof, fleece-lined, insulated, hooded jacket.
And you can tell they're made for cold weather. The cuffs cinch up and have an extra fluffy lining inside to keep out the cold. The waistband also cinches up, as well as the hood and the neck.
They're not real thick, but they are very, very warm. Much warmer than the hooded sweatshirts and jackets I'd been wearing out here. The other nice thing is how waterproof they are. We actually started wearing them as raincoats during the last few days of heavy rains and they were great. Never leaked.
With all the rain, I've been having a problem with our driveway bell system. Although the road has started to dry out, in some places the water is still draining onto the roadway from the surrounding land, leaving a soupy surface that's like walking around in cake batter. This lets the hoses sink down in the muck so that only the heavy trucks will set them off. So 2 or 3 times a day I walk down to both ends and pull the hoses back to the surface. Hopefully things will dry out soon.
In the never-ending speed bump saga, they brought a road grader in today to change them again. This time they took out the four steep humps and replaced them with two wider-spaced humps that aren't as high. They also lowered the height of the two single ones further on down. Now at least cars can get over it without scraping bottom or getting hung up. Of course they may come up with something else tomorrow.
In the battle between FedEx and UPS, FedEx is still the winner by far. A couple of weeks ago while we were at the GGS yard in Buffalo, I ordered something from Amazon that came by FedEx. They delivered it to an address that was essentially a fence gate with a 3' x 3' sign on it out in the country with nothing around it.
Then last week FedEx delivered a package here at the gate with just my name, the road name, Gate Guard Services Gate, and North Zulch, TX. No problems.
But UPS? Problems.
I ordered something from Amazon last Sunday. With Two Day Prime shipping, it should have been here Tuesday. Then on Tuesday morning, I ordered something Next Day shipping. It should have been here Wednesday.
According to the tracking, they both went Bryan and just sat there. Finally on Thursday morning they called and said they couldn't find the address. I said to just Google the road and North Zulch, TX and it will bring right here. But just in case I gave him exact directions with turns, road names, and distances. He said OK, we'll get it out to you this afternoon (Thursday).
This afternoon, NADA.
Finally, this morning one package shows up, but it's the second one I ordered, the Next Day one. The other one is still MIA. So it's back on the phone tomorrow.
I guess they work Saturdays. Who knows?
---
November 7, 2015
I Made My Own . . .
We probably had more rain last night and early this morning than we've had in total since we've been here. And none of this drizzle stuff. It was heavy and just kept coming.
In fact it was the first time I've seen the small ditch between our canopy and road start to fill up. We have a couple of pallets laid across just for this possibility so it wasn't a problem. Luckily we didn't have any traffic because with all the lightning around, I think the flowback shut down for a couple of hours or more.
The one other thing the storm did was apparently put a real crimp in the first day of deer hunting season. In fact I didn't hear a single shot all day.
Happy Deer!
After my recounting of my ongoing problem with boot laces, and my finding ones made from paracord on Amazon, a blog reader, Lloyd Jackson, suggested I could just get some paracord and make my own.
Doh!
And thinking back I remembered that last year I ordered 50 ft. of paracord from Amazon just to have some on hand. After rooting through a couple of bins, I found it. It's black and my boots are brown, but I'm not trying to make a fashion statement here.
So I cut off a couple of 50" lengths to give it a try. I did 50" pieces rather than the standard 54" lengths because the 54" always seem a little long. I then used a candle to melt the ends to keep the cord from unraveling. But this caused another problem. The ends tended to melt into a big knot that wouldn't go through the boot eyelets.
I also found that the nylon outer braided covering and the seven inner nylon strands didn't like to melt together, but wanted to stay separate. But by melting the ends again and using a pair of pliers to squeeze them into a smaller shape, I was able to make it all work.
For my next pair (50" is a little too short, so I'll try 52" this time) I'll try Lloyd's other suggestion and use a piece of heat shrink tubing to seal the ends. I guess I could make a fashion statement after all by using red or green heat shrink.
That would be snazzy.
I spent a while yesterday afternoon working on getting a warranty replacement for my Progressive Dynamics 50 Amp Automatic Transfer Switch that I purchased last December. It's getting close to the end of the 1 year warranty so I wanted to get a start on taking care of the problem.
It worked great up until we hit the road again after the 2 month blowout repair hiatus that we spent in Prescott, AZ in May and June of this year. It was pretty cool the morning we left Affinity RV and drove over to Prescott Valley to have my new tires put on. But by the time we were finally ready to head on over to the Verde Valley TT park in Cottonwood, AZ, it had warmed up considerably. So once we were out on the main road I fired up the generator and . . .  nothing. It was running, but no voltage was getting to the coach.
It was really too warm to continue without it, so I found a place to pull over so I could take a look. I figured the best place to start was the transfer switch under the bed. So getting to the switch, I pulled the cover off and checked the voltage on the contacts coming from the generator.
And they looked fine, 116v on both legs. Next I checked the output contacts going to the coach.
Nothing.
So the contactor wasn't pulling in for some reason. Getting a large screwdriver, I pushed down on the top of the relay and with a loud snap, it locked in and we had power to the coach.
So we were good to go. And everything worked fine all the way to Verde Valley. Then a few days before we were ready to leave there, I fired up the generator again, and the transfer switch transferred just as it should. So why didn't work before?
I thought about this overnight, and realized I hadn't really recreated the conditions when the problem occurred. So I disconnected shore power to the rig and tried the generator again.
Nothing. No power to the rig.
Put shore power back to the coach, cranked up the generator, and it worked.
Again, no shore power, nothing generator power.
Thinking about it, this didn't make sense. The transfer switch gets its power from the generator when it's running, otherwise it wouldn't be able to pull in the contactor. So why does it suddenly need shore power to pull in?
And when talked with the company tech, he said the same thing. It should be able to do that. Lucky me. In fact he really wants it returned so he can see what's going on with it.
Looks like we're going to have sunny, but cooler weather for the next three or four days, before the possibility of more rain on Wednesday. Not looking forward to that.
---
November 7, 2016
Bazinga !
It was really nice to be able to sleep in this morning. No getting up at 5:30am.
After a quiet morning with our coffee and catching up on conversation, we headed out about 12:30 for lunch and shopping.
On our way we stopped off at Lone Star Real Estate to pick up an Amazon package. It was actually delivered by the PO on Saturday, but the office was closed. So it got delivered this morning.
What it contained was two new watches for Jan and me. And this time we both went old school . . . Analog.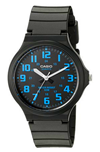 Probably the first analog watch I've bought in 40 years.
My first digital watch, the Sinclair Black Watch, was a kit I built myself in around 1975.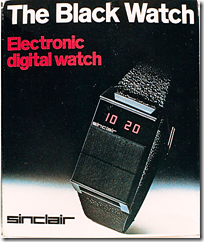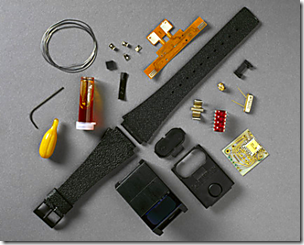 And I've had digital watches ever since.
But digital watches aren't much good at night when you're trying to log in trucks and you need to press the little button so your watch lights up so you can read the time.
But this one has glow-in-the-dark numbers and hands so that problem is taken care of. And it was only $16.
Jan went with pretty much the same thing, for pretty much the same reason, again with a big, easy-to-read face. And hers was only $10.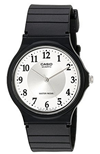 Our lunch destination was once again Barth's Restaurant, where we've been working our way through their daily buffet menu over the last couple of weeks.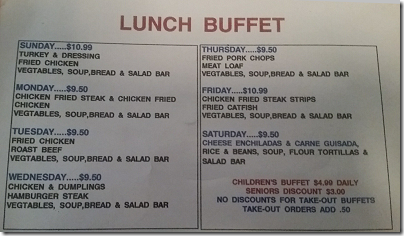 This is number 5, with only two more days to go after today. And today was really,  really good.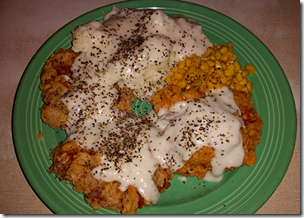 Chicken Fried Steak, Chicken Fried Chicken, Mashed Potatoes, Corn, Cheese Soup, and the Salad Bar. And all for a senior citizen-discounted $6.50.
Delicious and Cheap, a real two'fer. And only two more days to go . . .  Wednesday and Thursday.
Next stop was Wal-Mart for a few things and a big laugh.
After we'd finished with the grocery shopping, I waited down front on the main aisle in front of the registers while she shopped for some clothes.
You may have noticed that there will often be an associate standing along that aisle offering to help people find things. In fact she even has her own place to stand.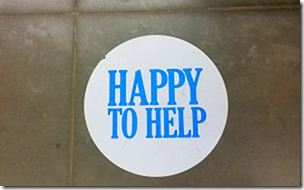 When we walked in, there was a young lady standing there dressed up in Christmas garb. As we passed her, I commented that it was just too early for the Christmas stuff. She smiled and agreed, saying she didn't really have a choice to wear it.
So, waiting for Jan, I was trying to stay out of the way and ended up standing there. A few minutes later the young lady walked back over, and seeing where I was standing, she hesitated, I think, trying to figure out what to do.
At this point I looked up and said, "I'm in your spot." After a couple of seconds, you could see something click and she started to smile.
Then I said, "Bazinga!", and she pretty much lost it, and walked off, still giggling.
Finally our last stop was for a few last things at HEB that Wal-Mart didn't have, and then it was home. Just in time for it to start pouring down rain.
I'm hoping that we get our bank cards in the next couple of days. SiteWatch is putting money in there and I can't get it out. At least not without actually driving to the bank.
And who does that any more?
---
November 7, 2017
That's What I Get . . .
for 'Dream-Solving' a problem. At least without double-checking it.
I've mentioned before that when I've got a problem to solve, quite often I'll 'sleep on it.' Whether it's something I'm trying to fix or build, or a computer or software problem, it's surprising how often it works.
Usually.
I ended up napping during Wheel of Fortune last night and when I woke up, I thought I'd come up with a solution to why our new Instant Pot fails as a slow cooker. At least in comparison to our old Hamilton-Beach slow cooker.
When I'm working on the blog during the day I'll jog down themes or ideas, fleshing them out then or maybe later. And in this case I wrote down my idea immediately and then set it aside.
But something kept nagging me the rest of the evening. However I couldn't put my finger on it.
But then as soon as I  posted the blog and sat back to read some on my Kindle, it suddenly dawned on me. And by the time I checked my email and comments, "Nooo, don't do it" were pouring in. So next time I'll reread everything before I post.
I called in some prescriptions for Jan this afternoon, two transferred down from the Wal-Mart in Conroe, and two from the Sam's Club. And about 30 minutes later I got a text from Sam's saying the two prescriptions were ready, and the cost was $133.92.
WTH!
When I called in the prescription, I told them to be sure to price them under my Sam's Plus card and even gave them the card number. So I called them back and guess what?  They hadn't priced it against my card.
And when they did, the cost dropped to $24. Much better.
I guess they still like me. At least I got an email today from the Escapees wanting to know if Jan and I want to do our Gate Guarding for Fun? and Profit seminar at the upcoming 58th Escapade being held in Sedalia, MO May 27th to June 1, 2018.
Guess we'll have to think about it, since we haven't really talked about attending. We had planned to do FL and some of the East Coast next year, so we'll have to see.
We've got until January 15th to get our application in, so we've got time to decide.
It looks like winter is trying to creep back in. For the last couple of weeks it's been days in the 80's and nights in the low 70's. But it's going down to 60° tonight and 53 tomorrow night. And even better, days' in the 60's and low 70's. Sure hope it holds.
---
November 7, 2018
Commando Cody – Sky Marshall Of The Universe . . .
Not to be confused with Sky Captain and The World of Tomorrow.
I really enjoyed a blog a couple of days ago entitled Sky King's Final Landing. His mention of Sky King, The Lone Ranger, and other Saturday morning stalwarts led me to recall my Saturday favorite.
Commando Cody – Sky Marshall Of The Universe
I mean, he had a rocket on his back!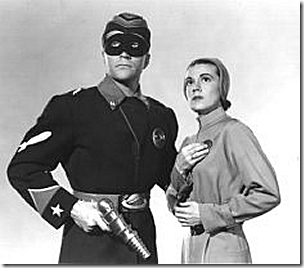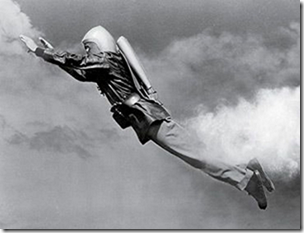 One of my favorite things was the control panel on the front of his suit.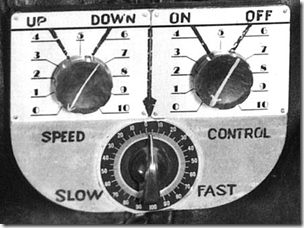 Originally conceived as a syndicated television series, it was first released as a movie theater serial in 1953 before finally being syndicated on NBC in 1955. It also appeared in several previous incarnations as Radar Men from the Moon and Zombies of the Stratosphere in 1952.
But what's really neat is that all the 30+ episodes are available on YouTube. Perfect for my late night viewing.
I  did get my Shipping Program running today at my client's. You enter the Shipping Wt. and the Zip Code and you get this.
The Package Weight is 15 pounds.
The Package Zip Code is 12345
The Package Zone is 7
Flat Rate Envelopes       $ 6.35
Legal Flat Rate Envelope  $ 6.65
Padded Flat Rate Envelope $ 6.90
Small Flat Rate Box       $ 6.85
Medium Flat Rate Box      $12.45
Large Flat Rate Box       $17.10
Regional Rate Box A       $10.29
Regional Rate Box B       $18.47
Cubic Box 0.1             $ 7.28
Cubic Box 0.2             $ 8.22
Cubic Box 0.3             $10.26
Cubic Box 0.4             $12.48
Cubic Box 0.5             $15.39

Priority Mail By Package Weight
Shipping Cost is          $39.76

As you can see there is a large variation in shipping cost depending on how the package is shipped.
Next up is to add in the First Class rates and then pretty it up.
Yesterday I was changing some configuration settings on our 40" Samsung TV and remembered that it can be connected to the Internet for streaming from Amazon Prime, HULU, Netflix, etc. using the Smart Hub function.
I had never set this up before due to the fact that with our Verizon MiFi hotspot and its restricted data limits, but since we've got an excellent high-speed WiFi here, I thought I'd give it a try.
It only took about 5 minutes to connect it to the Internet and set on Amazon Prime. And about 5 minutes later Jan had found Versailles Season 2 and was ready to stream the 4 episodes that she had missed.
Tomorrow Jan and I are meeting Brandi in downtown Houston at the Nutcracker Market. And on the way we'll be stopping off for our favorite meal, breakfast, and at one of our favorite places, The Egg and I, for the second time this week.
Looking forward to it.
---
November 7, 2019
OH HELL, NO!
Back in 2009, our 2nd year on the road, we left Houston about the 1st of March and headed east. Our first extended stop was Gulf Shores, AL, my old stomping grounds, where we spent the entire month of March.
Then it was on east following US98 along the Gulf Coast through Panama City, Apalachicola, and Carrabelle, before getting off 98 in Homosassa and cutting across the state to Bushnell.
All along our Florida travels we had been trying to book a stay at the Fort Wilderness RV Park at Disney World, without any luck. But everyone said to just keep trying every day in case something opened up.
In any case, we figured we had two shots at it, one as we came south and then another as we came back up the east coast. But while we were at Bushnell, all of a sudden they had a bunch of sites open and we had our pick. Turns out that they had taken a bunch of sites offline while they were refurbishing them. And we just happened to check again the day they went back online. So we quickly booked a two-week stay.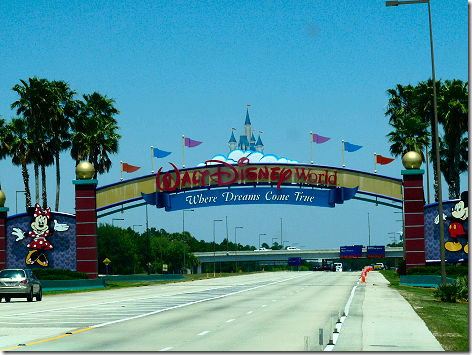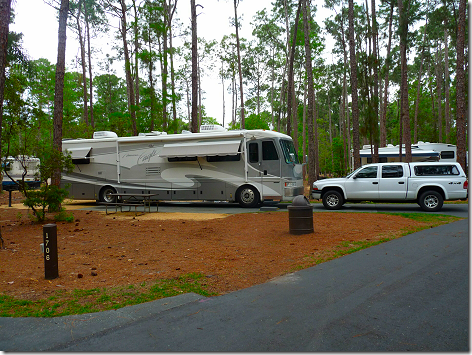 We had already read that it was much cheaper to buy our tickets from one of the independent ticket brokers outside the park. And that was definitely true.
We were able to purchase 10 day All Park passes for only about $25 more than what a 2 day All Park pass would have cost us in-park. We were kind of looking forward to this visit since it was the first time we had been to an amusement park by ourselves since November 1967 when Jan and I visited Six Flags Over Georgia in Atlanta when Jan was pregnant with our son Chris.
And we did have a great time, but we also discovered that no matter what Walt said, DisneyWorld/Land is NOT THE HAPPIEST PLACE ON EARTH. I have never heard more whining, crying, sobbing, whimpering, yelling,  and screaming.
And that was just the parents!
The kids were much, much worse. And it seems like you were never out of earshot of someone 'whining, crying, sobbing, whimpering, yelling,  and screaming'.
But all this leads us back around to today's blog title.
One of Jan's favorite shows is 'OutDaughtered', one of those shows about a family with a bunch of kids, in this case, six girls, five quints, and an older daughter. And one of the real attractions for Jan is that the family lives right in our area, in League City, right down the road. So it's interesting to watch them visit places we know and have visited ourselves.
So recently the entire horde, parents, six kids, other family members, and of course, the camera crew, all flew down to Florida to take a Disney cruise. So since Jan and I have been talking about (and booking) cruises lately, I asked her if she would be interested in taking a Disney cruise. And her answer to me –
OH HELL, NO!
I guess it would be just like DisneyWorld, except we would be trapped on the ship with all of them and nowhere to run.
Yikes!
Today was pretty much called on account of rain. We had a number of errands planned, but as usual, lunch came first, about 1pm. And while we were in Los Ramirez, the bottom dropped out and the wind picked up.
And by 'bottom dropped out', I mean you couldn't see more than about a couple of car lengths in front of you. And with the wind whipping back and forth it was a real mess. so after lunch we just came back home.
So everything gets pushed back to Saturday now.
---
November 7, 2020
It's Really A Hobby . . .
Well, I did plan on working on the rig today, I really did. But life intervened.
Somehow I had forgotten that Jan already had stuff planned for this afternoon. But at least the 'stuff' started out with Baby Back Ribs at Spring Creek BBQ, right over in nearby Victory Lakes.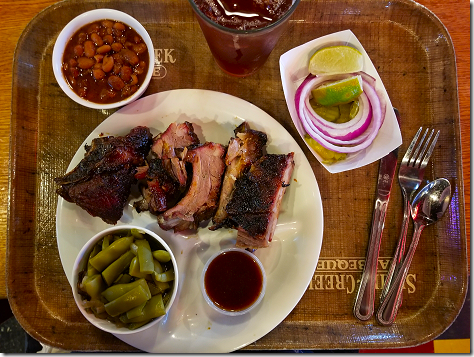 Delicious as always.
So since today was given over to other 'stuff', tomorrow I'll try once again to take a shot at the leak problem.
But as long-time blog reader, Rob, commented, it's no longer a repair job. It's now a Hobby. Unfortunately I think he's right.
---
November 7, 2022
A Picture In The Attic?
Our son Chris is always building, or rebuilding, something.
He took a rotting hulk of a boat abandoned in a field, with a tree growing out of it, and turned it into this.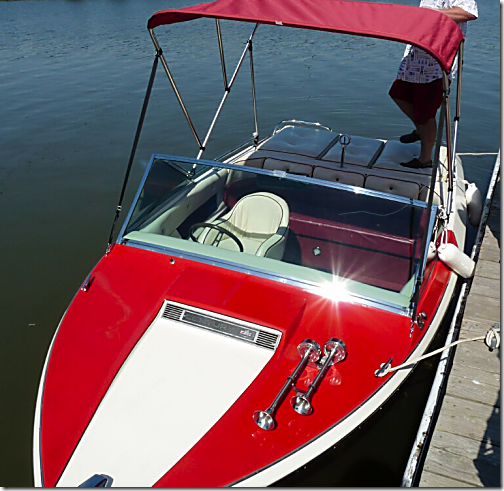 And that includes rebuilding the inboard/outboard motor.
Then he took this,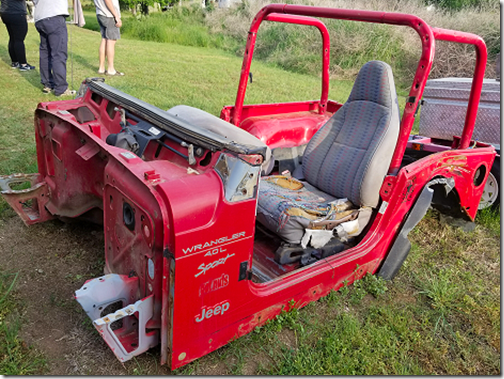 and a lot of parts from other Jeeps and turned it into this.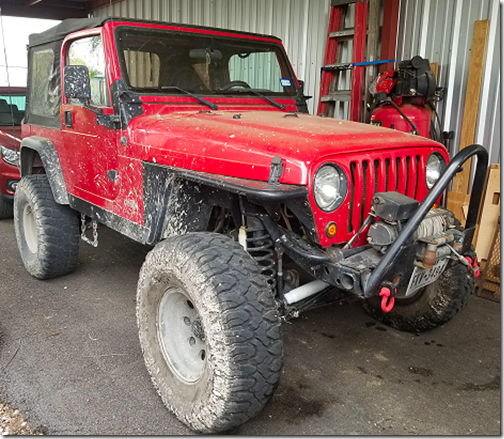 He calls it his FrankenJeep.
Then he built a series of Wind Chimes like these.
These are for his own backyard.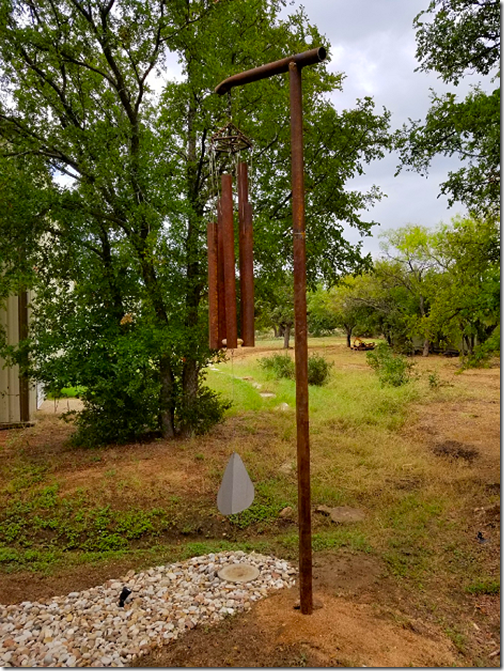 Then these for his sister Brandi's yard.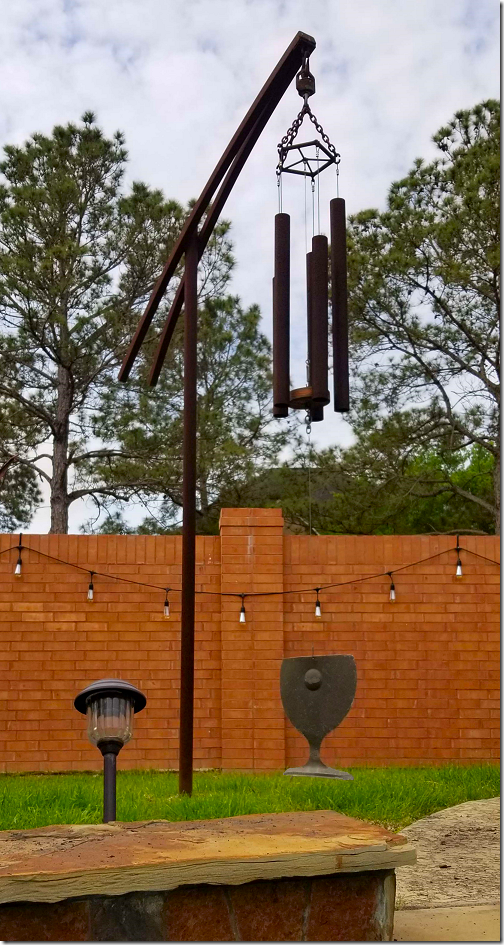 Note that the 'Sail' (that's what it's called) of Brandi's is a wine glass.
And this set for us.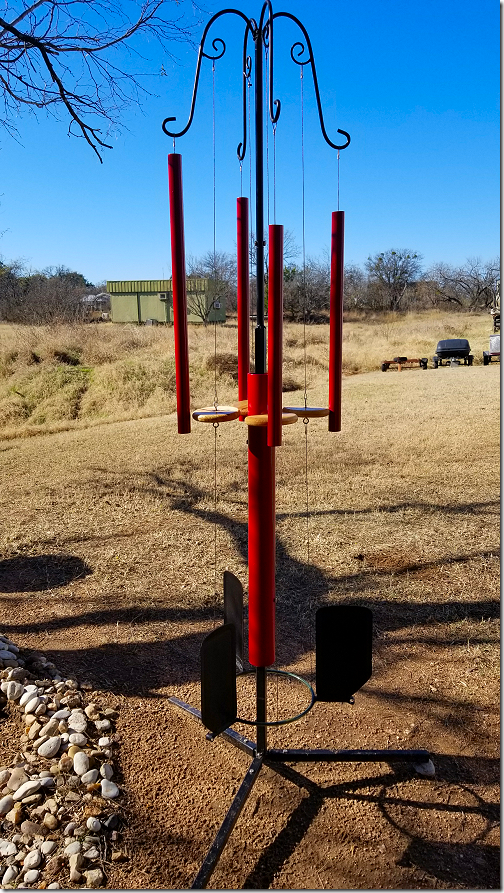 And now he's into Fire Pits.
He recently replaced the fire pit in his backyard with this one.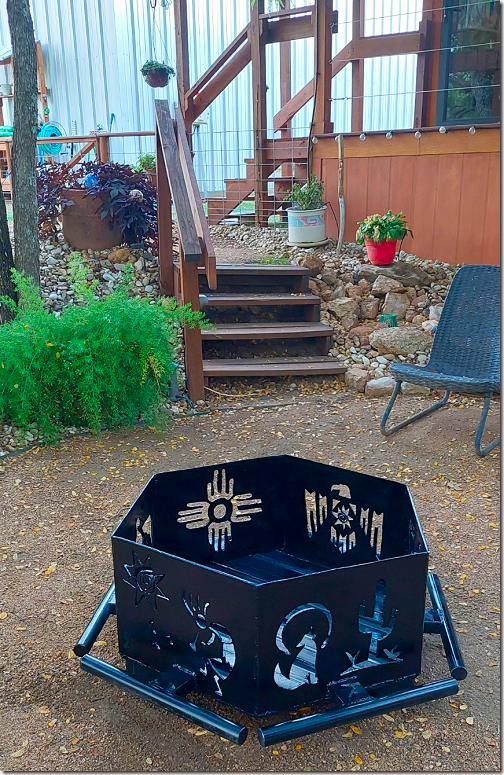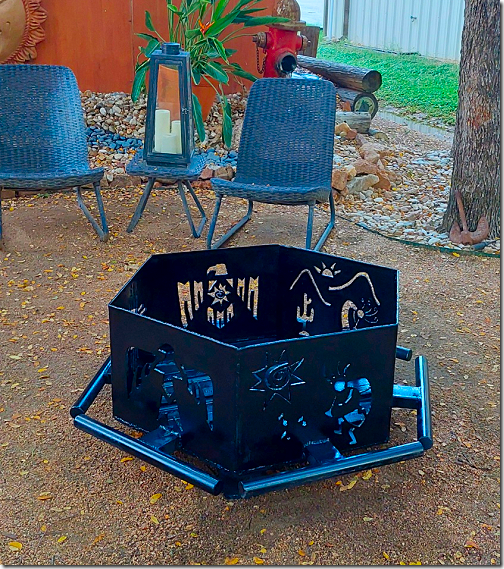 He cut out the silhouettes with a hand-held plasma torch, using only scrap metal. The only thing he had to buy was the fire-resistant paint.
Last month I posted this photo of my Sweetie taken on her 'mumble-mumble' birthday.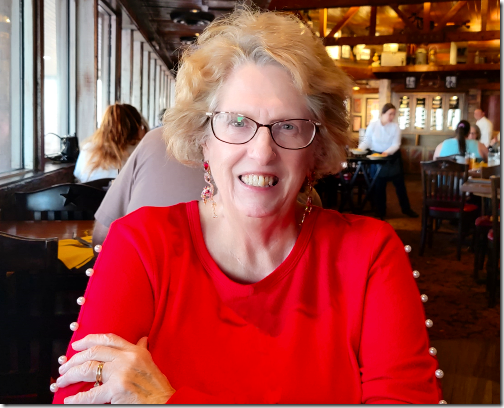 Then I recently came across this photo of her in 1966 about a year before we met. I assume it was her Senior photo.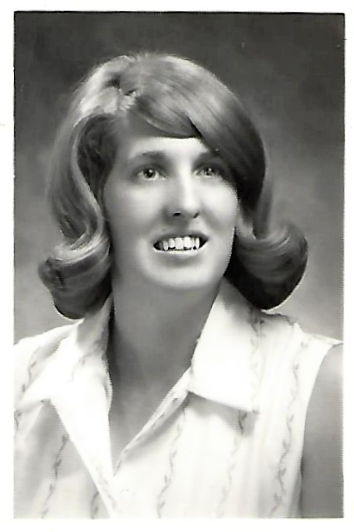 So this evening I spent some time colorizing it.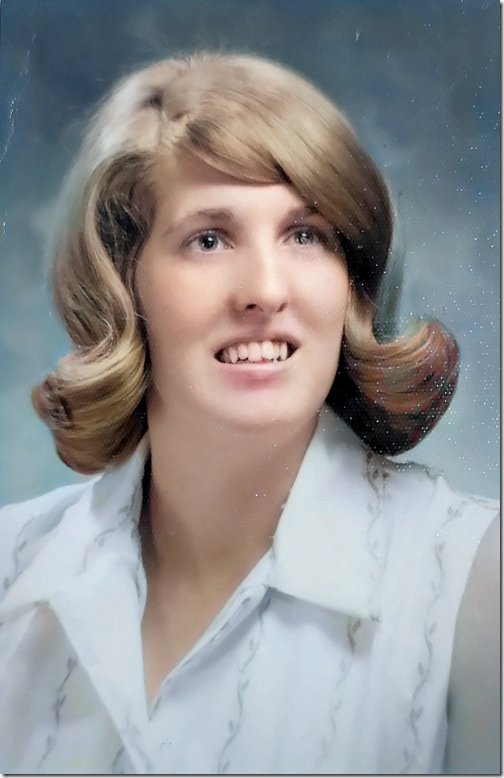 I swear that she's got a picture hidden away in an attic somewhere.
She just doesn't age.