And Yes, We Did Have Mexican Two Meals In A Row . . .
What's your point?
Brandi, Lowell, and Landon left for Castle Rock, Colorado about 6:30 this morning to spend Thanksgiving Week with long-time friends, so I was taking Jan up to their home in Katy so she could Jack and Baxter-sit for the week.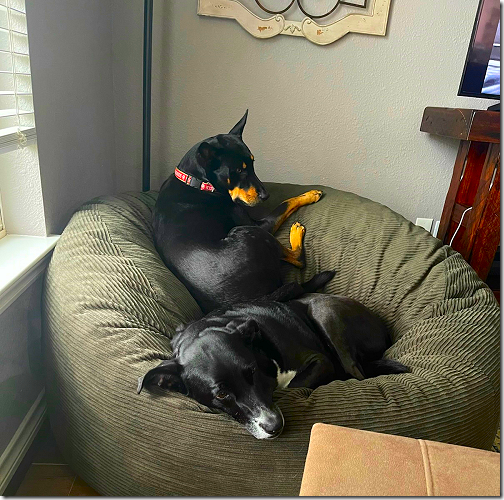 They certainly look like they need a lot of supervision.
Anyway, on the way we're stopping off at the Cracker Barrel to pick up our Heat N Serve Thanksgiving Dinner at Noon. But there was a little bobble.
Getting there a little early, we used the supplied to let them know we were there, what Curbside Pickup Site we were parked in, and what we were driving. But when we haven't heard anything by 12:15, I walked over to Drive-Thru Pick Up area and asked.
And was told, "Oh, we forgot to put the sign up to tell you to come over here instead of parking."
Well, now they tell me. And a few minutes later we finally were on our way.
We had originally planned to have breakfast while we were there, but found a 90 minute wait. So after checking a couple of other places that also had full parking lots, we ended up further up the Interstate at our local Chuy's Tex-Mex. It was busy, but no wait.
It's been a while since we've been here, years probably, but we always both get the same thing, the Tex-Mex Cobb Salad with Chicken Fajita.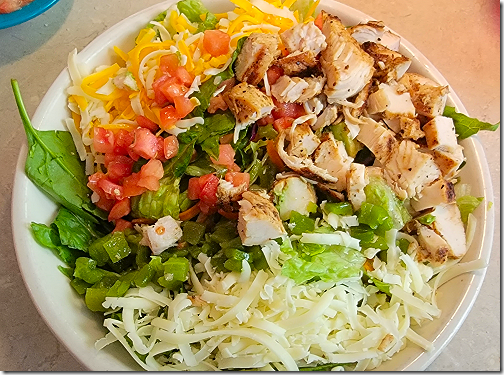 Coupled with their Creamy Jalapeno Ranch, it's delicious.
And Yes, we did have Mexican two meals in a row.
What's your point?
Wouldn't be the first time, actually.
Getting to Brandi's about an hour later, I got everything unloaded, including the big box holding our upcoming Thanksgiving meal.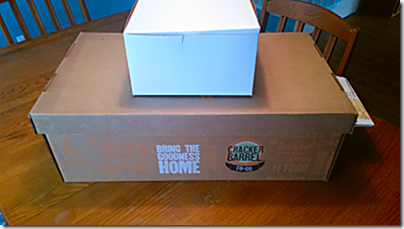 It comes with two Turkey Breasts, Cornbread Dressing, Sweet Potato Casserole, Green Beans, and Mashed Potatoes, along with Gravy, Rolls, and Cranberry Sauce. Oh, and Pumpkin and Pecan Pies.
A feast!
Before she left Brandi decorated the inside of the house for Christmas, with both trees up, and more. But she did leave us a little taste of Thanksgiving on the front lawn.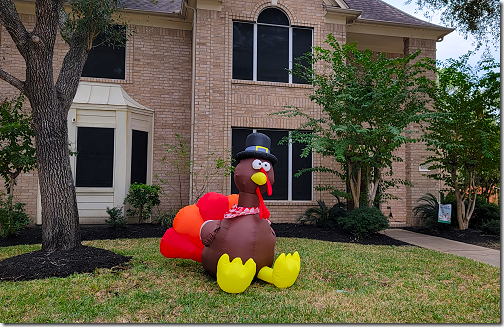 Actually he looks kind of lonely.
Heading home, I got back about 5pm and was done for the night.
Old Faithful made it again.
Brandi et al., are all settled in, and she send over this photo of their friend's front yard.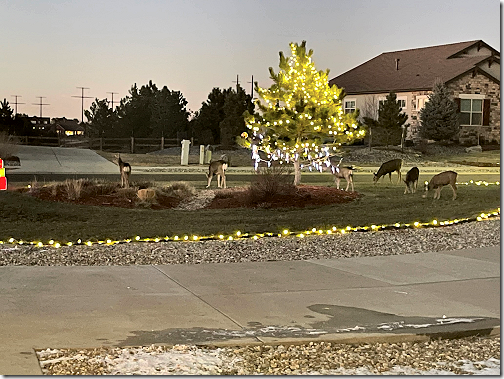 She said there's usually more than this.
And Master Landon's already in Snowman mode, through a small one so far.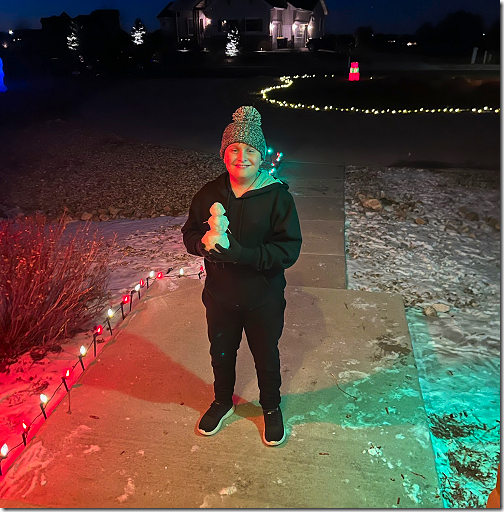 But it's a start, I guess.
---
Thought for the Day:
Ever notice how when you look at an ad for something on one site, more ads for similar products following you around from site to site?
Well now there's the story of the man who complained to Target because his high-school-age daughter was receiving promotions for baby clothes and cribs:
"Are you trying to encourage her to get pregnant?"
Later he apologized. "It turns out there's been some activities in my house I haven't been completely aware of. She's due in August."
---
November 20, 2009
Tallulah's and Throwed Rolls…
Today we got a late start, leaving about noon to drive down toward Orange Beach and Tallulah's, a must-stop gift shop there. It used to be called Tootie's Yellow Broom and we've been going there for years.
Afterwards we drove down toward Alabama Point to check things out. While we were down there I got this great shot.
Leaving the Point we drove up to Foley to have a late lunch at one of our favorite places, Lambert's Throwed Rolls. We both had the fried chicken and had plenty left over to take home.
After lunch I dropped Jan off to get a pedicure while I stopped off at Ace Hardware to get some hot glue sticks and a few other things.
Coming back toward Gulf Shores we took a detour by our old house on the Bon Secour River. My parents built it in 1958 after they sold our motel on the beach at Gulf Shores, and then sold it when we came back from Colombia, South America in 1963. It's right on the river and was a really nice house.
On the way back to the rig we dropped by Books-A -Million to check out the new magazines, and then got cappuccinos at our favorite place nearby.
Getting back home we sat out with the cats while enjoying the beautiful view right beside our rig.
Even Emma came out for a few minutes.
After sitting out a while we headed in for the night.
---
November 20, 2010
Good Soups and Great Pie . . .
We got our 1-1/2 mile walk this morning about 10:30, taking about 35 minutes for the walk. Hopefully not too shabby for us old folks.
Right after we got back, the RV park called and ask if we still wanted our old site, since the guy is finally leaving on the 24th. Jan said we've been here for over two months now, we might as well stay. So I guess we're here for the duration.
About 1:30 we headed up the road to Webster to have lunch at King Food, our favorite Chinese restaurant for a big bowl of Hot & Sour Soup.
Then after dropping off some things at our storage room, and stopping off at the bank to make a deposit, we did some shopping at HEB, a great local supermarket.
Next, Jan wanted to stop at Carter's, a baby clothes store, to pick up some new outfits for Landon, finally, we stopped by Half-Price Books where Jan was looking for some books by a new author she likes, but had no luck.
We got home a little after 5, and that was it for the day.
I did come across this great archive of color pictures. These are amazing. Check them out!
Captured: America in Color from 1939-1943
But in looking thru the photos I noticed a number of them taken in Pie Town, NM. This brought back memories of our stop in Pie Town this past June.
Apparently Pie Town was a lot bigger back in the 30's and 40's. Now there's just a couple of stores there.
---
November 20, 2011
Back in Texas . . .
We were up about 7:30 for our last day on the road for several months. After Wally-Docking in Breaux Bridge, LA we had a 225 mile run back to our winter site at Galveston Bay RV Park in Dickinson, TX.
I started the generator to make coffee, and while Jan microwaved our breakfast sandwiches, I went outside to put some air in my slightly-leaky tire. Normally I wouldn't have bothered since it wasn't down that much, but since I had an extra 750 pounds on the rear tires due to the weight of the trailer, I didn't want to take any chances.
We pulled out of the Wal-Mart about 9 am and headed west on I-10.
After a smooth trip we pulled into the parking lot of Brocks Automotive about 2 pm. Brock's have been my mechanics for about 20 years, so I wanted them to take a look at it. They're not open on the weekends, so we just parked the trailer with the truck still on it in their lot. I'll call them tomorrow morning and let them know.
About 2:30, Brandi, Lowell, and Landon showed up to meet us. They're loaning us Lowell's truck for a few days, while we're having ours fixed, so they were dropping it off.
After getting in our hugs with Landon, we headed down to our park, but our first stop was at a Buc-ee's on SR 96. Having seen diesel prices as high as $4.04 in Louisiana, I was very happy to find it here for $3.65, the lowest I've seen for a good while. And I've seen Unleaded here for as low as $2.99.
It's great to be back in Texas!
I put in 130 gallons, having traveled 1071 miles since we last filled up 10 days ago on November 10th in Bowling Green, KY. But we actually only used about 120 gallons for traveling. The rest was for about 10 hours of generator time.
This means that on this last tank I've average a little over 8.9 mpg. Not bad. Driving 55 mph really works.
One thing that surprised me over the last two days is that pulling the extra 2200 pounds of the car trailer, I was still able to get almost 9.2 mpg on the flat terrain between Gulf Shores and here.
We got to the park a little before 4 pm, and trying to pull into the site we had been given over a month ago, only to find a 5th wheel already parked there. And it looks like they had been there a while.
Making a quick loop around this section, I found site 72 open, and on the bayou side as we had really wanted anyway. And it's right next door to where we were parked last year.
So I took the empty site. After all, someone took my site, so I get to take someone else's.
Right? Isn't that the way it works?
Since the park office isn't open on Sunday, I'll have to hash it out tomorrow.
We did a quick and dirty setup, just power and satellite, since we were meeting some of the kids at King Food, our all-time favorite Chinese restaurant. We met Brandi, Lowell, and of course, Landon there, along with our other grandchild, our granddaughter Piper.
Here's Landon finding out he really likes Lo Mein and Pan Fried Crispy Noodles. He would put the end of the noodle in his mouth and then suck it in just like spaghetti.
We had a great time seeing everyone again, and tomorrow we'll have dinner with Piper's parents, our son Chris and our daughter-in-law Linda who couldn't make it tonight.
More fun!
---
November 20, 2012
Back on the Road . . .
but not in our RV.
Tomorrow morning we leave for 5 days in Marble Falls to spend the Thanksgiving holidays at a rental house on the lake there. So most of today was spent getting ready to go.
I talked to American Coach about my rear airbag problem. They gave me some info on the ride height valve to check. It sounds like it may be my problem, but it will have to wait until we get back next week to check it out further.
Next I went online and ordered my new truck and rig tags from South Dakota, and they should be here next week.
Then it was time for some truck maintenance. I notice the other evening that one of my headlights was out, so I pick up another set at Wal-Mart yesterday. I like to use the Sylvania SilverStar Ultra Halogen bulbs because of the bright light they give off.
About 3pm Laura Lee, the park manager, came by to the rundown on cat-sitting this week. She's going to be feeding our cats while we're gone. We really appreciate her helping out.
About 4:30 we headed up to the Baybrook Mall area to meet our son Chris, wife Linda, and granddaughter Piper at the new Cheesecake Factory that just opened last week.
We got there about 4:45 and still had a 55 minute wait. I can imagine what it will be like during the Christmas season. We really enjoyed our meal, but didn't see Penny. Guess she must have been off tonight. Maybe next time.
---
November 20, 2013
These Lovely Parting Gifts . . .
Not sure if the guys coming through the gate are dropping off "these lovely parting gifts" because they're sad to see us go, or are encouraging us to leave, but for the 3rd time this week we got another food delivery, this time a couple of BBQ dinners.
I guess what makes this special is that this is not a catering truck coming though, dropping off a couple of extra dinners for us, out of the 50 – 60 they're doing for the crew. This is the workers going out for lunch or dinner and then bringing back extra just for us. We've even got one guy, Bobby, who brings us coffee every morning.
It's amazing how involved you can get these guy's lives, people we'll probably never see again (we've not run into any of the people we met gate guarding last year). We know who's got a baby or a grandbaby on the way. We know who's ex is letting them have the kids this weekend, and even who's getting ready to have an ex.
It is nice to be appreciated.
Well, we did our short move this morning and it all went fine. We cranked up "Beauty", raised the levelers, and then backed up about 30 feet so that our rear wheels are up on the gravel area where we park the truck and we're now angled so that come Saturday morning when we leave, I'll be able to just pull straight out onto the road without having to turn my front wheels and possibly getting stuck.
The reason behind this is two-fold. One, there's a big cold front coming our way, bringing heavy rain with it. Friday morning the high is supposed to be 85°, but the low that night is going to be in the mid-40's. Then the high on Saturday is only going to be 49°. And when the hard ground under our RV turns to muck like it does when it gets wet, I don't want to be stuck here when we try to leave.
The second reason is that after 3 months of sitting here, it's always nice to be sure everything's going to work when we go to leave on Saturday, I.e. the engine starts, the levelers come up, the airbags inflate, etc. Unlike other RV'ers I've talked to, I don't regularly crank my engine up when we're parked for long periods of time. The reason being that Cummins says not to, and Spartan (our chassis manufacturer) says not to. Two different Cummins reps at national rallies told us that unless you plan to run your engine for at least 45 minutes, just let it set. My engine manual says this also.
And Spartan says that to regularly start the engine and not bring the transmission up to running is bad for it too. So I don't do it.
Twice we've been parked for 5 months without cranking up, and every winter we go 3 months while we're back in Houston. Never had a problem. I do also throw some Biocide in the fuel tank to prevent algae growth, but that's it.
If you're going to break down, it's always nice to do it in a repair shop's parking lot. It does help to be the right repair shop, however.
Yesterday, I followed Orlyn, the gate guard down the road, into Pleasanton to drop off his truck for repair, and then I brought him back here. Coming home, I noticed my engine belt squealing some when I accelerated from a stop and thought I'd check it out when we get back to Houston.
Then this morning I took Orlyn's wife, Gail, back in to pick up the truck and it happened again. In fact when I went to turn into the repair shop parking lot, the belt was really making noise and the power steering wasn't working very well. So while Gail was paying for her repair I thought I check und the hood, and then maybe pick up a spare belt at the AutoZone down the street.
But raising the hood, I discovered the belt wasn't the problem. It was the coolant squirting on the belt that was making it slip. It looked like it was coming out in front of the engine around the fan, which normally means water pump problems.
So when Gail came out, I told her I was going to ride back with her, and left my key and info with the lady inside, telling her I thought I had a leaking water pump and to check it out and let me know. And a couple of hours later they called and said Yep, you were right, Your water pump's leaking.
They also told me they don't fix water pumps. Huh?
This is a nice 4 bay shop, advertising "Complete Auto Repair". Well, complete I guess, except for water pumps. Heck, my son and I have changed out water pumps in shopping center parking lots, and they can't do one in their shop? They could have at least told me that before I left my truck there, telling them I thought I had a water pump problem.
So now I have to get another ride into town tomorrow to take the truck to another place. I did call them first to be sure THEY fix water pumps. Just in case.
The guy said he won't be able to get to it until Friday, but that it shouldn't be a problem to get it fixed before we leave.
My fall-back position (I ALWAYS have a fall-back position.) if they can't get it fixed for some reason is to stop off on our way home to Houston on Sunday, and just tow it back as is. As usual, we'll see how it goes.
Lately it seems like I'm getting a lot of annoying sales calls on my cell phone, even though I'm on the National Do No Call list. But I've come up with a pretty good fix, especially for repeat numbers.
Most people know that you can assign your own ring tones to specific phone numbers. But did you know you can have a ring tone that doesn't make a sound?
My solution is to use an app like Hi-Q MP3 Rec (Free) to record 10 seconds of no sound. I then assign this MP3 file (called No Sound) as the ring tone for a contact called Annoying Sales Call. Then when I get one of these calls I just add the number to the contact Annoying Sales Call. My phone never rings again from that number. And it only takes a few seconds to add.
For me it's easy to identify an Annoying Sales Call. First off I never answer my phone for a number I don't recognize or expect. If they want me they can leave a message. And Annoying Sales Calls never leave a message. You can also type the number into Google (it's important to use the format ###-###-####) and usually get some idea of who it is.
Wrapping up on this phone theme, ever long for the days of only 3 TV channels that sign off with the National Anthem right after Johnny Carson? For the days of no TV remote so one of the kids has to get up and change the channel? For the reassuring clicking of a rotary dial phone?
Well one of those you can still have today. Well, two if you let the batteries go dead in the remote, or lose it in the sofa cushions. Or a ferret runs off with it and hides it. (true story, He also liked to chew on the little rubber buttons).
Or you can get this Rotary Dialer Free program for your smartphone.
You get your choice of modern,
Or if you really want to rock it old school, how about this jazzy number, quite possibly actually from the Jazz Age.
And it evens makes that ratcheting clicking sound when you dial.
Check it out.
---
November 20, 2014
Crème Brûlée . . .
About 3:30pm Jan and I headed down to Brandi, Lowell, and Landon's in the Katy area. We were meeting them at Little V's Vietnamese Bistro near their house at 5:30, and I wanted to allow plenty of time for the trip due to going-home traffic. Normally the trip only takes about an hour and 20 minutes, but heading out on I-10 from the Sam Houston Tollway is always an experience. And this time was no different. Our 'hour and 20 minute' trip took us an hour and 55 minutes, and the HOV lane was really no faster than the regular lanes.
We had our usual warm reception from the owner, and our usual great food, with Pork Spring Rolls, Shaking Beef Bowls (Chicken for Jan) and the Crème Brûlée spoons for dessert.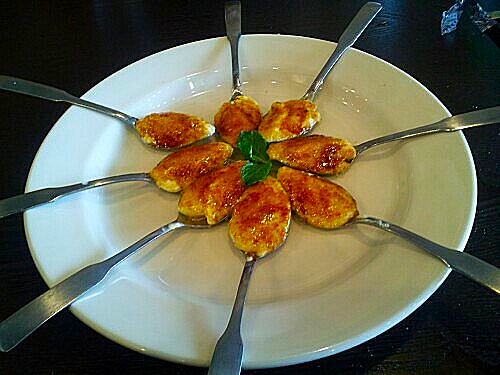 Delicious food, and the perfect amount of dessert.
Before heading home we went back over to Brandi and Lowell's to check out their new Christmas Tree.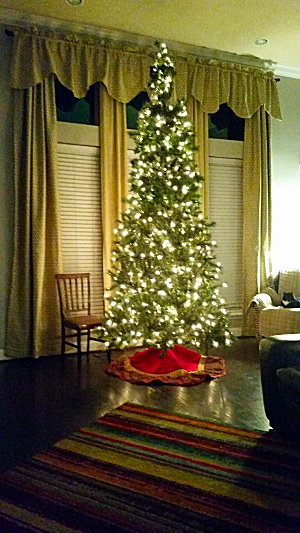 They don't have it decorated yet, but it comes pre-lit. It's 10-1/2 feet tall and really stands out in their high-ceiling living room. Can't wait to see it decorated.
We headed back to Conroe a little before 8pm thinking we would have smooth sailing and no traffic. Yeah, right!
They had 4 lanes of I-45 narrowed down to one, with all the accompanying gridlock, and then when you get there, nothing was happening, just some guys standing around pickup trucks with flashing lights. No work trucks, no construction equipment, no nothing.
We finally got home about 9:30, done for the night. Tomorrow, about 10:30 we'll move a couple of miles down the road to the Omega Farms RV Park. Then we'll head down to the Clear Lake area so Jan can meet with her Dr. about her Tamoxifen side effects. The Dr. told Jan to stop taking it on Nov. 11th, and the bad side effects have pretty much disappeared. So we'll see if the Dr. wants to decrease the dose or change drugs.
Then we're going to have dinner with Chris, Linda, and Miss Piper, and we're really looking forward to that.
Saturday morning we'll be moving over to the Escapees Park in Livingston to get together with Chris and Charles Yust, and Dennis and Carol Hill., and we're really looking forward to that too.
---
November 20, 2015
Winding Down The Gate . . .
It just gets better and better. Today our 10 hour gate, nee our 12 hour gate, became our 8 hour gate, with the Company Man the last one out at around 2:30.
Now exactly why couldn't they have started this months ago, instead of our last few days on the gate?
In fact, between when I came out about 1pm, and when the CM left, I only had two vehicles come in. All the rest of the traffic was just heading out. But this worked out good for me, since it gave me plenty of time to work on my 'Leaving the Gate' list.
After our storm damage this past Tuesday when the squall line with 50 – 60mph gusts came through, it left us with this,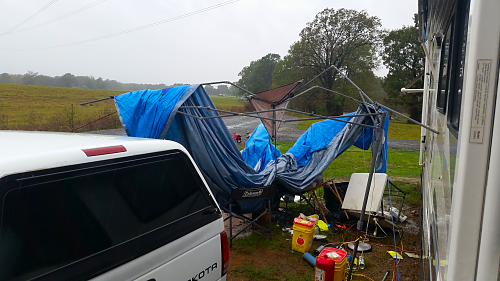 I was able to pop the frame back into shape, although now reinforced with some tie-wraps.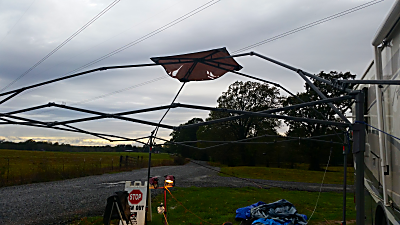 At first I had thought about just going ahead and taking the canopy down for this year and doing without it for our last few days, sitting out in the hot sun with no shade quickly disabused us of that idea. So I came up with this.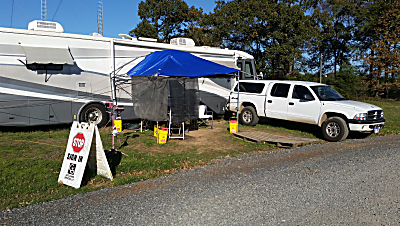 Rather than try to patch together the old main canopy, I just put the small tarp back up, along with the solar screens. That will work fine for our last few days, and won't be as involved in taking down.
Ok, so I'm a little hypocritical. Today being Friday, and apparently officially now Whataburger day for us, I drove into Carthage to pick up lunch. Now all the other 10 times or so we've gotten food from here, it's always been the same thing.
For Jan:
#6 Whataburger Jr. With Cheese – Large Combo
With only:
Ketchup
Mustard
Tomatoes
Grilled Onions
Large Drink

And For Me:
#6 Whataburger Jr. With Cheese
With only:
Bacon
Tomatoes
Pickles
Raw Onions
Mayo on both buns
Large Drink
And it would have been the same order for me again, except for the fact that the guy in front of me was picking up 6 Grilled Chicken Cranberry-Apple Salads to go. And I got an instant craving to graze on one.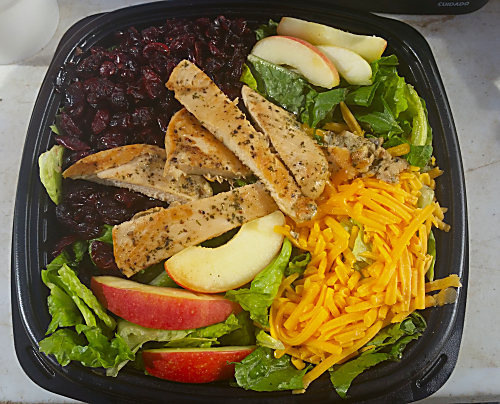 As it turns out, it was as good as it looks.
I think one reason for that was the fact that I watched them make the salad. Not just the Grilled Chicken part, but the salad itself. Most fast food places assemble the salads ahead of time, if you're lucky, that morning, or if you're not, the day or night before. But they put together this one right then, so it was really fresh.
You have a choice of a number of different dressings, including a couple of vinaigrettes, but I went with the Jalapeno Ranch.
So yeah, after I chastised someone for ordering a Chicken Fajita Taco at Whataburger, I get a salad there, possibly an even bigger blasphemy. But what can I say, I succumbed to temptation, and strayed from the path of burger righteousness.
mea culpa, mea culpa,
mea máxima culpa
But at least I didn't have to keep telling cashier, "No, I don't want any lettuce."
While we're on the subject of food, I wanted to post a photo of the delicious Prime Rib I had last night at Longhorn Grille.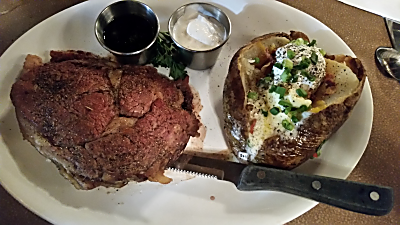 Thursday night is Prime Rib Night, which is served as a complete meal, including a piece of their great Strawberry Cheesecake, which we split. A really great meal.
We'll miss this place.
While we were eating lunch, we had something come through our gate that we haven't seen this year.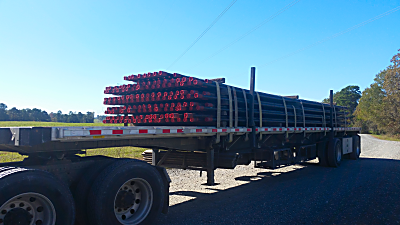 A load of drill pipe for the workover rig. Just one truckload, apparently.
I remember our first year gate guarding in south Texas, we might get 20 loads of pipe in at a time, lined up all way out to the highway. Because of limited space on the pad, we could only let 4 trucks go in at a time. Then when they unloaded, one at a time, and came back out, 4 more could go in.
Well, some of the drivers would get impatient and try to break ranks, or just drive by all the other trucks and come to the front of the line.
But they didn't figure on my beautiful wife Jan, standing in the middle of the road, hands on her hips, mad as hell, yelling at them to get back in line, using words I didn't know she knew, and wait their turn like everyone else.
Now there was no way for them to turn around, so they'd have to slowly back all the way up along the long line of other trucks, with the drivers pointing and laughing at them, for being run off by a girl.
The rest of the afternoon was spent putting away everything that we wouldn't really need again before we leave here on Sunday. I went ahead and topped off the big 500 gallon water tank for our replacements, and then disconnected and stowed away all our hoses, leaving us running on rig water for the next couple of days. Tomorrow I'll go ahead and dump the waste tanks, disconnect us from the sewer system and put away that hose too.
Since we're not expecting any wind for the next couple of days, I went ahead and dumped the water out the buckets we use to help hold down the canopy, and then rinsed and stowed them away too.
My goal is to get everything finished up tomorrow so that Sunday morning we'll only need to unhook shore power and pull off onto the side road. This will allow our replacements to just pull into our spot and hook up.
At that point we'll be able to just hook up the toad and we'll be ready to roll.
At least that's the plan. But you know what they say about plans.
---
November 20, 2016
And So It Continues . . .
Following up on yesterday's blog, Are We Erasing Our Past?, the city of Louisville KY has started dismantling a 121 year old monument.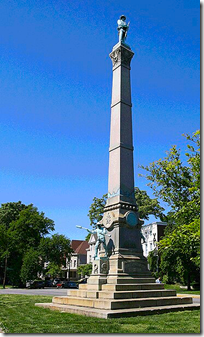 Located right outside the University of Louisville campus, the 70 foot tall statue was given to the city of Louisville in 1895 to commemorate the Kentuckians who fought and died in the 1861-1865 war.
The monument is being moved 40 miles away to Brandenburg KY where a Civil War re-enactment is held every two years. Another Out of Sight, Out of Mind thing, I guess.
Note that the monument honors Confederate dead, not the Confederacy or slavery. It's a burial monument. So do we start digging up graves soon?
And that also applies to Arlington National Cemetery where there is also a Confederate Burial Monument.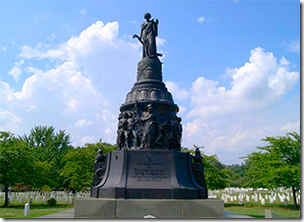 Guess that one will have to go soon. (November 20, 2022 Update: They're trying to get rid of it right now.)
Well today was my last day for a while to be up at 4am and on the gate by 5am. At least I hope it's the last time for a long time. Yesterday we had a total of 119 vehicles in and out of the gate. Today was a little less with only 96 in/out. So not bad at all.
Especially since we didn't have to actually log them in or out. Just be sure they're in the right place and tell them to stay on the road and don't leave ruts in the landowner's pasture. Then on the way out, it's a Marathon rule that I have to ask if they were injured on the site.
Having worked 24/7 gates outside under a canopy when it's 117 degrees, or when it's 26 degrees and sleeting, makes me really appreciate working a 12 hour shift in a guard shack.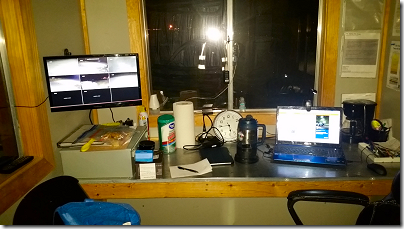 With AC and heat, and a microwave and fridge, it's a home away from home.
Getting home about 5pm we headed back out to have dinner at Taqueria Jalisco, a Mexican place that we first ate at in 2012.
Jan had her favorite Beef Chile Relleno,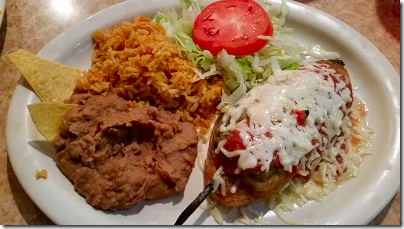 while I tried Gordo's Plate, Beef Fajita Strips topped with Monterey Jack cheese and sprinkled with Chorizo, along with Rice, Pico de Gallo, and Charro Beans.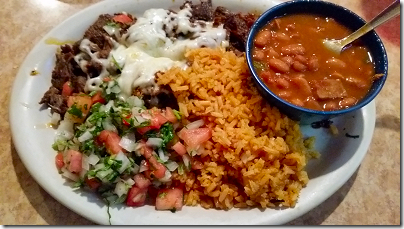 Both really good.
Tomorrow we've got a number of errands to do to get ready for our Thanksgiving trip back to Brandi's in Katy. Really looking forward to it.
---
November 20, 2017
A Mystery Solved . . .
I was very surprised, and happy, to find that the server ran all weekend with no more problems. I guess coming out of the closet was good for it.
Now that I've got the WebServer on my desk, I've started exploring the Zen Cart and the SQL database, trying to get a handle on copying the whole thing off and then up to Godaddy. But it's slow going, trying to track it all down. But I'll get it eventually.
I ordered my new tags, (well stickers, anyway) from South Dakota yesterday, and got an email today that they had been mailed out. Fast service.
I did note that my tag cost has almost doubled in the last 10 years, from about $250 for both our truck and rig in 2007, to almost $500 this time. Seems like we ought to get a discount since we only cause any wear and tear on their roadways every five years or so.
Several times over the years we've heard people right outside our RV talking about their RV. After listening in on a couple of these conversations, I noticed that it was always the same two guys having the same conversation.
They were actually following me around, from park to park, just so they could talk right outside our rig. But I finally figured that that was a little paranoid, even for me. And believe me, that's saying something.
So since it wasn't outside, it must be inside. So I started digging through some storage areas, until finally I found this: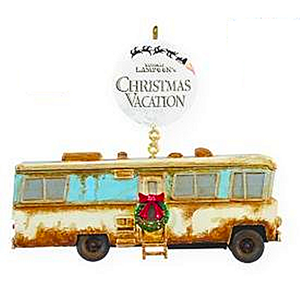 It's Cousin Eddie's RV from National Lampoon's Christmas Vacation.
I don't know that when we bought that we knew it talked. But every once in a while something would set it off. There's a little button on top that gets it going.
Apparently they didn't make a lot of them so it's become something of a collector's item. So it you want one of your very own, you can get one right here on Amazon.
Cousin Eddie's RV from National Lampoon's Christmas Vacation
If you get your order in quick you can have it hanging from your tree this Christmas for only $575.00, plus $4.95 shipping, of course. Order now because they've only got 1 left.
So now that the mystery is solved, I don't have to be paranoid anymore. At least not about that. But of course I still have plenty of other things to be paranoid about.
Like this.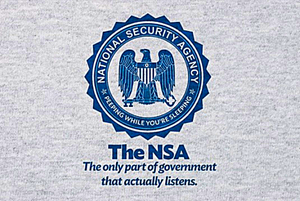 ---
November 20, 2018
I Think I Figured It Out . . .
When I got up this morning I had no data service on my Samsung S8+ phone and only 1 tiny little bar of cell service, which was not enough to actually make a phone call.
I was more worried than I might have been normally because right before I went to bed about 1:30 this morning, I did a System Update on my phone. So I was a little concerned that the update might be the problem. But then I noticed that I had email coming In on the phone until about 8:50 am, so it had been working all night.
Finally, after waiting an hour or so with no change, I enabled WiFi Calling through the RV Park's WiFi. All I really had to do was to turn it on and then give it a street address for the 911 system.
And it worked just fine to call Jan to say, "Good Morning!"
Then gradually as the day passed, everything slowly came back, with first 1X for a while, going in and out, then 3G most of the afternoon, although I didn't seem to be able to get any data through it.
Then about 6pm I was back at 4G, with data, and my usual 3-4 bars of signal.
I spent most of the day playing with Zen Cart, working on figuring out how to load a new client's data file into it and have it all come out in the right place. Not sure how it's all going to fit., but I'll shoehorn it all in somewhere.
I Think I Figured It Out.
Sunday afternoon I went online and signed us for the Movies Extra Package on DirecTV. It gives us 8 additional channels for $4.99/month, including a couple that I might like, C&I (Crime & Investigation) and Smithsonian. But the main reason we got it was because Jan wanted the Hallmark Movies and Mysteries Channel.
It said I should have the new channels, starting at 565 in just a few minutes. But they never did show up. In fact we have no channels at all there, not even on the Guide. And I even tried rebooting the receiver.
So yesterday morning I called DTV and they said I should have it, and they tried to turn it on again. No luck.
I even went online and found out about the 'secret' reboot command CLEANMYBOX. This is accessed by going to the Search function and typing in CLEANMYBOX. Then select ALL and hold down the RED button.
This will cause your DVR to do a full reboot, reloading both the Schedule and the Guide data. I was hopeful about this since it had fixed similar problems for several others. But again, no luck.
Then today while I was looking at the DTV site again, one of the new channel names jumped out at me – HDNet. And it looks like that is the problem.
Although we have an HD DVR, we got it for the increased storage space. We don't actually have HD because our Winegard Carryout dome won't support it. But what's curious is that, unlike other packages of HD channels, the Movies Extra package is not flagged as HD.
Nor did the girl I talked to mention it, strange since our account is not marked for HD. So I guess I'll have to call them back and cancel it. At least until we have to get a new dish for HD next year sometime since DTV will be doing away with all the SD channels.
---
November 20, 2019
Ouch !!!
Well, maybe. I don't really know for sure yet.
After breakfast I put in a call to the parts department at the Cummins shop in north Houston. As in the past when I called them, I just got a voicemail prompt and left a message. And when I didn't hear anything after 3 more tries, I decided to call the Cummins parts people out in Gillette, WY, a smaller shop where we've gotten parts several times in our past travels.
And this time I got right through to a nice young lady in the parts department who quickly gave me the 'Ouch!!' news.
A new air compressor for our Cummins 350 ISC is $1,297.44. As I said, OUCH!
A lot more than the $600-800 total that I found online yesterday. But then I don't really yet know for sure if they had to replace the air compressor anyway. I can only hope not.
When we went by Dix's this afternoon on our way out to dinner, I was told that they were still waiting on a new air dryer cartridge for the air system. Which should be in tomorrow I was told. So we'll see.
I was happy to see that our refrigerator was still chugging along and didn't need to be reset. Which means that Dix's hadn't turned off the Coach batteries during the repairs. Since if even they do turn them back on after they turn them off, the fridge has to be reset before it will restart on propane.
So hopefully it keeps on going.
After dinner this evening we scouted out a nearby RV park in case we need it. River Bend RV Park is just west of us at the next exit on I-10 and looks really nice.
This is my backup plan in case the rig is ready to go late in the afternoon. We don't want to drive back home that late in the day, so we'll just spend the night at River Bend until the next morning.
When we were up in Lockhart for dinner yesterday we took a detour past the beautiful Caldwell County Courthouse on the town square.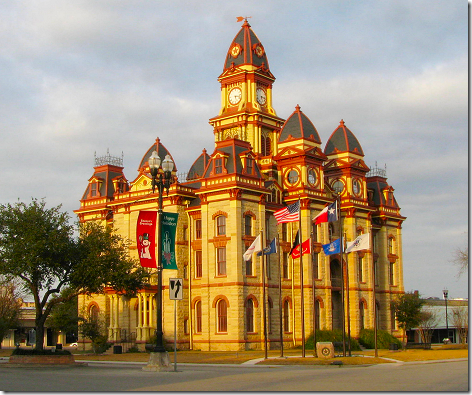 This historic building was constructed in 1894 to replace one that had been outgrown. Built from cream-colored limestone and red sandstone, it has a near identical twin in the Goliad County Courthouse since they were built from the same plans.
---
November 20, 2021
Immersed Again . . .
We were on way over to Gator's in Dickinson about 12:30. We were meeting up with long-time friend Tricia.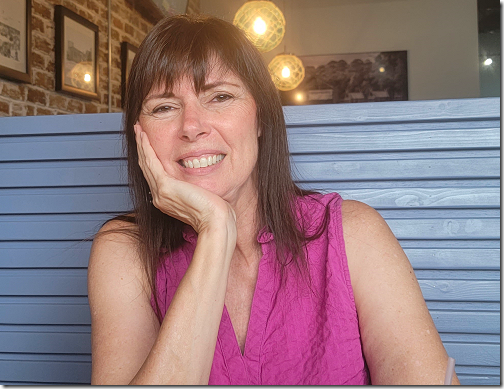 We've known Tricia since I started working on her computers in the late 90's, but neither of us can remember how we got together in the first place.
Back then, besides websites, I did computer support for a lot of individuals and small businesses, all pretty much by word of mouth, and had all the business I could handle.
But we just can't recall who recommended me to her. But we've been friends ever since.
When we got there owner Margie was out front with some of her people decorating the place for Christmas. And by the time we came back out, they had finished and it looked really nice.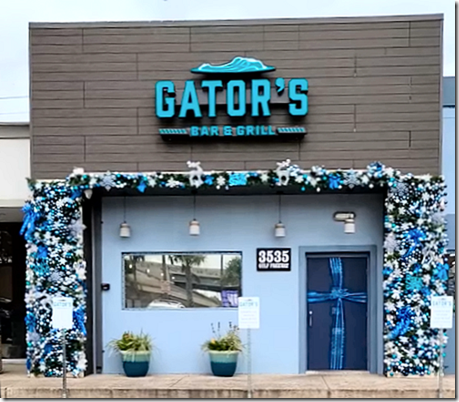 You'll notice that the blue is the predominant color. And that's because Marjorie's husband is the Dickinson fire chief. Margie is also a volunteer firefighter. So they have a lot of both police and fire visiting the restaurant.
Back The Blue
After saying our goodbyes to Trisha, we headed on up the interstate to the American Furniture Warehouse store, an enormous place just south of Webster. And it's been there for a year or so now really big. We'd already checked out their business office chairs online and it looked like they had something we were going to be interested in.
After reading a lot of reviews, I had decided that I wanted to look at one of their gaming chairs, and it turned out that they had the one in stock, so I could do a sit-test and then decide what I was going to do.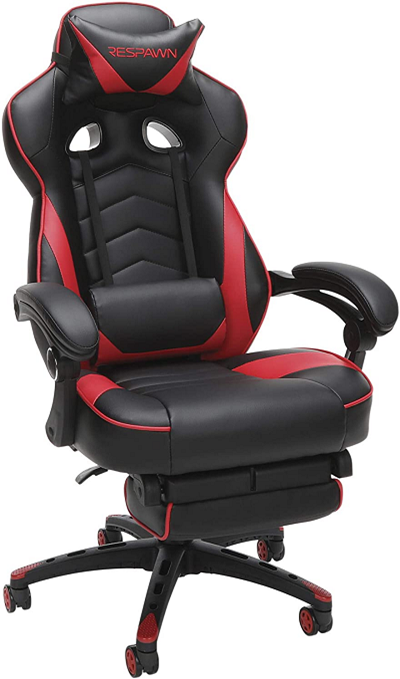 And I think this Respawn RSP-100 gaming chair is what I'm going to order when the time comes. It really feels comfortable, it has an adjustable foot rest and will recline all the way back. So I really looking forward to getting it installed. But I've got to get the old chair and the mounting plate out first.
Tomorrow we're meeting Brandi, Lowell, Landon, and his friend Adam at the Marq'E Entertainment Center, first for lunch at Russo's Pizza, and then our second Van Gogh Immersive event.