The Nutcracker Market . . .
Or as I call it, 'Jingle Bell Hell'
Jan and I were on our way this morning about 10am for our Christmas Adventure, with our first stop at Katz's Deli up in the Montrose area. It's kind of a tradition for us to eat lunch here before the Nutcracker Market.
Jan got the Open-Face Tuna Melt with their home-made Kettle Chips.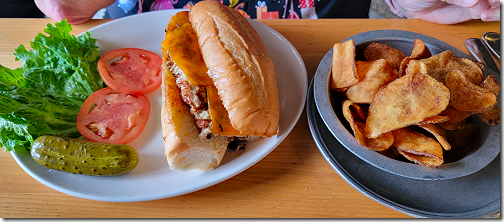 The chips are hand sliced and cooked to order, and are delicious. But I'm not sure why an 'Open-Face' sandwich still has a top bun.
I can't come to Katz's with getting one of their Rueben's. Also with the Kettle Chips.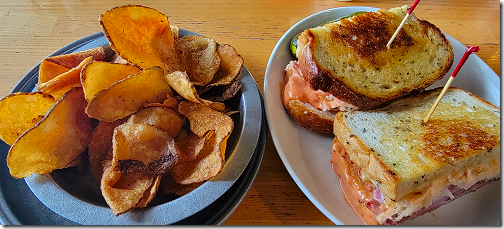 This is the Skinny version which I got.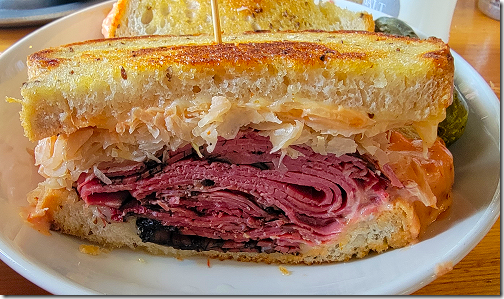 This is the Klassic one.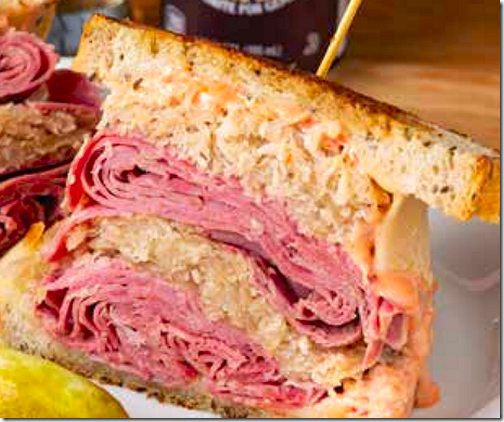 And the biggest one, the New York, is twice as big as the Klassic.
Yike's!
They also give out complementary plates of their Cole Slaw and Kosher Pickles, but we skip the pickles, since they come with our sandwiches. But the Cole Slaw is delicious.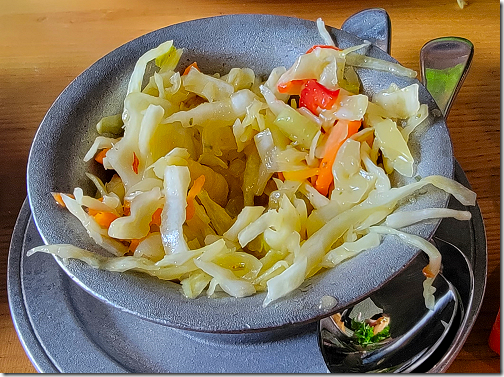 And we always get dessert to go. Jan gets a Chocolate Dipped Coconut Macaroon,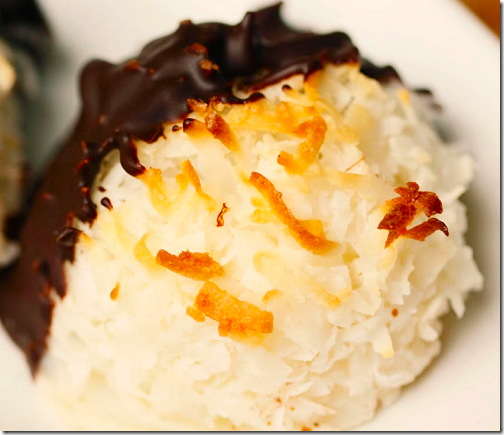 while I always get one of their famous Black & White Cookies, both to take home.
Next we were on our way to the NRG Center for our Christmas Overload. And despite my using the official map of the NRG area, the first two supposedly-open entrances were not. But we finally got parked about 1pm
And it should tell you how busy it was since even with Handicapped Parking, it was over 200 yards to the entrance into the Market.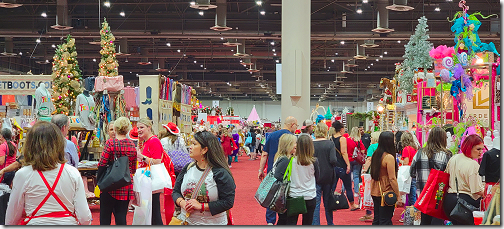 The place has seven rows, each about 200 yards long, chockfull of anything and everything you might want for Christmas or Christmas-adjacent. Jan got a number of Christmas gifts for people on her list, and a couple of very beautiful rings for herself.
Finally, by about 4 we were both pooped, and headed back to the car. But this time we took a pedicab to get there. And even with the Houston going-home traffic and a stop at Cowboy Coffee for Sugar-Free Pumpkin Spice Lattes, Jan's Cold-Blended, and mine Hot, we were home by 5:30pm.
And we were pooped.
---
Thought For The Day:
It's very simple to be wise. Just think of something stupid to say and then don't say it.
---
November 10, 2009
Spiders and Snakes…that's not what it takes…
Today we headed out about 11am to try and get tickets for the shows we wanted to see while we're in Branson. Yesterday while we were eating at Famous Dave's BBQ at Branson Landing, we saw a store that sold discount tickets, so we decided to start there.
We knew we wanted to see Jim Stafford, and probably wanted to see Yakov Smirnoff. After that we weren't sure.
We ended up with tickets Jim Stafford's 3pm show today, Yakov Smirnoff 's 3pm tomorrow, and the 8pm show tomorrow for a group called SIX. We were lucky to get the SIX so quickly, because this show stays sold out.
After getting our tickets, we walked down the boulevard looking for a place to eat lunch. Branson Landing is a new shopping area that has over a 100 shops, 10 restaurants, and 2 hotels, and includes a water, light, and fire show on the river.
We just wanted a light lunch so we found a wine shop that also served soups and sandwiches. Jan and I split a turkey panini, and each had a bowl of soup.
After lunch we walked around the Landing for a while and then headed out to drive around. I wanted to be sure I knew where the theaters were located.
We took MO-76 also know as "The Strip" where most of shows are located. The guy that sold us our tickets said while we were at the Jim Stafford Theater, we should pick up our tickets for the SIX show tomorrow night. He said the box office would get very crowded if we waited till the last minute.
The Jim Stafford Show was great! We've liked his music for a long time, and it was our first time to see him in person.
The show stars Jim,
his band,
a couple of Russian ballet dancers/ Russian folk dancers,
his 12 year old daughter, GG (Georgia Garland) who plays piano,
his 16 year old son who plays piano and fiddle,
And his wife Ann, who also performs.
GG also plays the harp and dances.
Her mother, Ann, also plays the glockenspiel.
The first half of the show was Jim's songs, jokes, and stories, and the second half was a Christmas show. He also did a number of instrumentals on the guitar and the harmonica. Many people don't realize that Jim Stafford is considered one of the finest guitar pickers in the world, and his performance showed it.
I also liked the fact, that as you can tell from the pictures above, there is no problem with taking photos during the show.
After the 2 hour show we stopped for supper at El Portal, a Mexican restaurant we had heard about and it turned out to be really good.
We got home about 6 and got settled in. We're really looking forward to our two shows tomorrow.
---
November 10, 2010
Boats and Bentley . . .
Today, the 10th, is another anniversary as well. 35 years ago the ore freighter SS Edmund Fitzgerald broke in two and sunk about 17 miles off Whitehorse Bay in Lake Superior. All 29 men aboard were lost and no bodies were ever recovered.
Over 700 feet long, the Fitzgerald was merely another one of almost 6,000 wrecks and 25,000 casualties on the Great Lakes since 1878. In fact the SS Carl D. Bradley went down in November 1958 with the loss of 33 men, 4 more than the Fitzgerald. At 639 feet long the Bradley, like the Fitzgerald, was the biggest ship on the lake at the time of the sinking.
The difference was that Gordon Lightfoot didn't write a hit song about the SS Carl Bradley. Released in 1976, "The Wreck of the Edmund Fitzgerald", written, composed, and sung by Lightfoot, engrained the story of the Fitzgerald's sinking in the American consciousness. This song, with its haunting melody and lyrics, is hard to forget, but in case you have, you can listen again here.
The Wreck of the Edmund Fitzgerald
We woke up this morning to heavy rain, that except for brief periods of a little sun, continued pretty much all day.
Unfortunately this meant we still have some water coming in around the slide, since I haven't been able to look at the problem since it rained heavily a couple of days ago.
But, despite the leak, it was nice to just sit around the rig, listening to the rain on the roof and drinking a mug of hot coffee.
About 1 pm during a break in the rain I went out to dump the tanks. A couple of days ago the black tank was getting full, so I closed off the grey tank to be sure I'd have plenty of dump water to flush.
But it was not to be, at least at first. When I pulled the black tank valve I got a mini fountain of poo water about halfway down the length of sewer hose. I quickly slammed the valve closed and took a look.
My hose had cracked between the coils in about 6 places. It was fine about 10 days ago, the last time I dumped. My first thought is that the yard people got it with their string trimmers, but I don't know.
Luckily I had another length of hose so I could still finish the dump. The only thing I could do about the spill, since it was in deep grass, was to squirt Dawn over the area and then hose it down good.
About 2 pm we headed up to Seabrook to have a late lunch at Hooter's. After we had ordered our wings, we noticed they have a new hotter sauce called "XXX", so we asked for a small bowl to try it out.
We had ordered our wings with "Bentley" sauce which is the hottest one on the menu. They have another one, "Elvis" that's off the menu, but available if you know to ask for it.
We both like the "XXX", which is supposed to be even hotter than "Elvis", and we'll probably get our wings that way next time.
While we were at Hooter's, one of my clients called with a printer problem. Their UPS printer had stopped printing out the reports, though it still would print shipping labels. I told him I'd be by after lunch and got back to my hot wings.
After Hooter's, and fixing the client's problem, we headed over to Wal-Mart for some shopping, including a new length of sewer hose.
It was clear when we went in Wal-Mart, but it was pouring down rain when we came out. Thus we decided to skip our next stop at Kroger's and just head on home.
That's about it for today.
---
November 10, 2011
Sweet Home Alabama . . .
Since we had another 300 mile trip today, we wanted to get an earlier than usual start at 9, so I was up at a little before 6:30 (this is getting to be a really bad habit.) to get things started.
After I got the coffee started, I went outside (it was 35 degrees!), stowed away the satellite dish and cables, and plugged in the engine block heater, then it was back inside to thaw out my frozen hands. I thought about warming them up by holding them to Jan's feet, thus waking her up, but on second thought, I decided I wanted to live another day.
I hadn't hooked up the toad last night because it would have stuck out in the street since our site was just long enough for the rig.
But after coffee and a breakfast sandwich, I went back outside to hook up and also add some air to a couple of tires. Also by this time Jan had had her shower so I disconnected and stowed away the water and sewer hoses.
After letting in the awnings, we were ready to go outside, except for disconnecting shore power.
And so, a couple of minutes after 9 we were on our way. We had a brief bobble coming through Somerset, KY and getting on the Cumberland Pkwy when we found that they had torn up the old road and built a completely new interchange without telling Margaret, our GPS program. She was just positive we were driving off the ends of the earth and should turn around and go back.
But we soldiered on, and about 100 miles later we met up with I-65 and headed south. Then just south of Bowling Green, KY we stopped for diesel at a Flying J.
Pulling into the RV diesel pumps I was happy to see a sticker on the pump saying that if you used a MasterCard you could pump $100 in one transaction, and if you used a Visa Card you could pump up to $495 in one transaction.
Great! No more having to go inside and stand in line. So I used my Visa Card, and my Flying J RV card, and started the pump.
Which almost immediately stopped at $75. Huh?
So it was off inside, where I stood in line, and when I asked about the $495 sticker, the young woman (blonde) said, 'Oh, we don't know anything about those stickers, or who put them there. People just keep asking us. But all the pumps stop at $75 no matter what card you use."
Later checking on the Pilot-Flying J website, it also says you can pump $495 on a Visa Card.
What we have here is a failure to communicate.
We pulled into Northgate RV Travel Park, just off I-65 north of Athens, AL about 2:30. The park is owned by my uncle and his son, so it makes it very convenient when visiting all my relatives here.
We'll be here for 3 nights before heading down to Gulf Shores on Sunday, and hopefully we'll be able to get together with everyone while we're here.
---
November 10, 2012
There's a New Champion, or It's a Two'fer . . .
About 11:30 we headed out for Pensacola about 30 miles away. We always try to visit here when ever we're in the area, and we always eat at Sonny's BBQ, which is where we ended up for lunch about 12:15.
Along with Famous Dave's BBQ, Sonny's is pretty much our favorite BBQ chain. And the reason is that unlike many BBQ places, Sonny's has sliced pork, as well as pulled pork.
Growing up in Alabama, BBQ was pork, and usually sliced. And if it wasn't sliced, it was chopped, not pulled. Pulled pork was mostly found in the Carolinas and northern Georgia. But in the last 30-40 years pulled pork seems to have migrated south, and now it's getting harder to find sliced pork, especially in north Alabama.
And sliced pork is pretty much unknown out in Texas. When we first moved out there in 1978 when I tried to order sliced pork, I often got ham.
Well, I guess it is sliced, and it is pork.
But it's not 'sliced pork', OK.
After a great meal at Sonny's, we drove over to near downtown to visit Artesana, a high-end gift shop we've been visiting since the mid-70's.
We first visited it when we came down from Montgomery for a kidless weekend in Gulf Shores at the family beach house. Jan had asked a friend for a nice shop to visit that you wouldn't want to take kids.
And Artesana certainly filled that bill. It's a really fun place to just wander through, and Jan always finds something she just has to have.
Our next stop was about 6 miles away at the Rave 18 movie theater to see Cloud Atlas, the Tom Hanks/Halle Berry movie. It was an interesting movie, but I think I'd have to see it a couple of more times to really figure it out.
Taking place in 6 different time periods, ranging from 1849 to 2321, the movie covers 6 different interrelated, interwoven stories. Here's how it's described.
An exploration of how the actions of individual lives impact one another in the past, present and future, as one soul is shaped from a killer into a hero, and an act of kindness ripples across centuries to inspire a revolution,
Jan and I both agreed that Cloud Atlas is our new champion movie that asks the question, "What the heck was that all about"?". To give you an idea, the previous champion was "2001: A Space Odyssey". I was intrigued enough by the movie that I think I'm going to get a copy of the book that came out in 2004.
If you like movies that make you think, you might want to give this one a try.
Since this movie was almost 3 hours long, it was dark when we got out and time for supper.
And being in a Two'fer mood, it was back to Sonny's BBQ once more, although this time we just had sliced pork sandwiches instead of dinners.
It was about 7:30 by the time we got home, and very windy. It looks like we've got a front coming though that will bring us some rain and bad weather.
---
November 10, 2013
Counting Down the Days . . ,
Well, we're into our last two weeks on this gate, and it still looks like we'll be able to finish out our time here.
Things have really slowed down with only 30-40 vehicles through the gate each day. But we're getting a lot of different crews through who stay a few days and then move on. Not exactly sure what the problem is on our frack site, but they still haven't gone back into production yet, so I guess what ever it is, they still don't have it fixed.
There are new pads going in just north and south of us, so things are still booming around here. Plus at night when you look around you can lit-up rigs in every direction. I can count more than a dozen, and a bunch of flare stacks too.
As an interesting update, I added a list of oilfield jobs and what they pay to the Gate Guard Info tab. Although the pay rates are really specific to North Dakota, they're not much different here.
We've got a cold snap coming up the middle of the week, with a low Tuesday night of 41 degrees. Then on Wednesday the high / low is 59 and 35 degrees. BRRR!
But this time I'm ready. Actually the only part of me that gets really cold are my hands. The gloves I have (and I've got several different pairs) just don't cut for spending hours outside.
So I ordered these from Amazon.
Thinsulate Battery Heated Gloves
I also found a really good deal on this WORX Power Screwdriver. Top-rated by Popular Science and listing for $50, Amazon had it for $37.
My Coleman model is about 6 years old and the batteries no longer hold a charge very long. And a replacement battery cost as much as this new WORX model. So it's a win/win.
Two weeks from today we'll be back at our Houston area home, Galveston Bay RV Park , and we're really looking forward to it. Even the sunrise/sunsets are great.
Here's a photo posted on Facebook recently by the park manager, LauraLee.
And here's a couple of mine.
We can't wait to get back.
Wrapping up, here's another photo of our son-in-law Lowell's sister's daughter's daughter, Zoe. A real red-haired cutie.
---
November 10, 2014
Wrapping Up Soon . . .
The last of the frack equipment pulled out today, but was quickly replaced by more of the flow-back stuff, as well as additional workers. In addition, our drilling rig is starting to finish up and getting ready to shut down with a lot of trucks coming in and going out as a part of that. So it ended up being a pretty busy day with almost 10 pages of vehicles logged in.
My missing Amazon package finally showed up this morning, but only because I called their distribution center in Bryan a little after 7am. When I gave the guy the tracking number, he said, "Yeah, it's here. You want us to send it back to Amazon?"
Me: "No, I'd like you to deliver it to me like you did my other package last week."
UPS Guy: "Well, I guess I can pull it off the shelf and send it out today if you want."
Me: "Yes, I want."
UPS Guy: "OK. Bye."
After that I was really surprised it actually showed up today at all.
Tomorrow Jan and I are taking a few hours off to spend the day over in Bryan/College Station, with our friend Charlotte taking care of our gate for us. Since we don't have a lot of other stuff to do, we may try to take in a movie, but haven't decided what we want to see. But we're leaning toward either "St. Vincent", with Bill Murray and Melissa McCarthy (Molly), or "Big Hero 6", an animated movie. We saw a preview of this at our last movie and it looked good. As a matter of fact, many of our favorite recent movies have been animated, especially the two Despicable Me movies.
And one of our all-time favorite movies from 2005 is an animated retelling of Little Red Riding Hood called "Hoodwinked". Done in Rashomon style, it tells and retells the story several times from the viewpoint of each of the major characters, all having wildly different views of the same events. Really good and worth seeing.
Brandi texted over the latest Landonism this evening. She was fixing dinner, apparently not fast enough for Landon, and he wanted to know where his dinner was. Brandi told him it would be a few minutes, whereupon Landon said, "I want it now!"
Brandi told him he needed to learn to be patient, and Landon replied, "My patience went on vacation!".
Out of the mouths . . .
After several nice days of low 70's in the daytime and 50-60's at night, it's getting ready to get cold . . . and colder. After a high forecast of 61 tomorrow (Tuesday) we're supposed to get 6 days of highs in the low 50's, and lows in the low 30's. Then Sunday we're looking at a high of 55 and a low of 28 degrees, in what would be our first below-freezing night on the gate. But we won' be here to enjoy it.
Normally we leave the gate each year on the Sunday before Thanksgiving and head down to Galveston Bay RV Resort for the winter. But this year's a little different, so we're going to leave a week early, on Sunday the 16th instead of the 23rd.
Jan has been having some bad side effects from the Tamoxifen that she's taking as part of her post-breast cancer regime, and she wants to see her doctor next week, so it'll just be easier to take care of after leaving the gate.
Since our site at Galveston Bay is not ready yet, and may not be for a while due to construction delays on the new area of the park, we're going to head down to the Lake Conroe Thousand Trails for six days before heading over to the Escapee's RV park in Livingston to stay with Chris and Charles Yust on their lot for few days. After that we'll have to see how things work out.
---
November 10, 2015
The Siren Call . . .
"The legend lives on from the Chippewa on down
of the big lake they called "Gitche Gumee."
Today, November 10th, marks the 40th Anniversary of the sinking of the Edmund Fitzgerald on Lake Superior.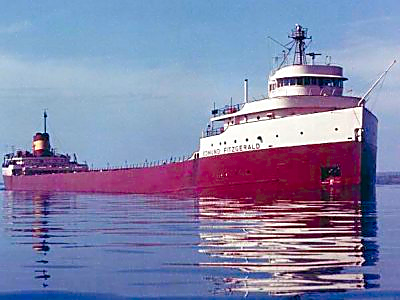 After her launch in 1958, at 728ft (some articles say 729ft) she was the largest freighter on the Lakes, and is still the largest to have ever gone down there.
Sunk during a gale carrying 75mph gusts and 35ft waves, she was in communication with a nearby ship only minutes before she disappeared from radar a little after 7pm.
Ironically as the song says "The searchers all say they'd have made Whitefish Bay if they'd put fifteen more miles behind 'er." And at her top speed that would have only been another hour.
There were no survivors from her crew of 29, who ranged in age from a 22 year old deckhand to the 63 year old captain.
Her wreckage was discovered a few days later by the Coast Guard, and later surveys found her broken in two pieces, lying in a little over 500ft of water, her bow standing upright in the mud.
Despite numerous dives, surveys, and commissions over years, there is still no definite finding to the cause of her sinking. But structural failure during the storm, possibly due to problems with her original design, seems to be the leading suspect.
Gordon Lightfoot, reading this article in Newsweek magazine a couple of weeks later,
"According to a legend of the Chippewa tribe, the lake they once called Gitche Gumee 'never gives up her dead.'" — Great Lakes: The Cruelest Month, James R. Gaines with Jon Lowell in Detroit, ©1975 Newsweek Magazine
decided to write a song about the wreck to honor the ship and the crew who lost their lives that night.
In 2010, based on new findings about the wreck, Lightfoot changed the lyrics in one line of the song, at least in his live performances.
"At seven P.M. a main hatchway caved in; he said,"
became
"At 7 p.m., it grew dark, it was then he said,"
Yeah, it doesn't seem to scan right to me, either.
He said that he always felt bad about that line because he was afraid that it put the blame for the sinking on crew members who had not fastened the hatches down correctly.
And this was thought to be a real possibility at the time, but recent findings had pretty much eliminated this as a cause.
Jan and I visited the Great Lakes Shipwreck Museum on Whitefish Bay in July of 2013 and you can check that out here.
https://ourrvadventures.com/2013/07/240-miles-today-and-still-mooseless/
Although focusing on the Edmund Fitzgerald, it also details the many wrecks on Lake Superior going back hundreds of years. Well worth a visit if you're in the area.
---
The smell of pizza must have been in the air, wafting on the breeze, because about 11:30 I headed into Carthage so we could try out the new Little Caesar's Pizza.
We got the Ultimate Supreme (is there a penultimate, or antepenultimate Supreme?) which had Pepperoni, Italian Sausage, Mushrooms, Green Peppers, and Onions. We dropped the Green Peppers because Jan's allergic, and added Bacon. Hmmm, Bacon!
This is the first time we've ever had Little Caesar's, and it turned out to be pretty good. Not Grimaldi's Pizzeria, of course, but then what is.
All the ingredients tasted fresh, the cheese was good (the box says it's 100% Mozzarella and Muenster) and the sauce was good, not too sweet like some. The crust was a little thicker than we really like, but still had a good taste and 'bite'.
They only have one size, 14 inches, but it was big enough that we'll get another meal out of it. Not bad for an $8 pizza, not bad at all.
Today was another nice day, but tomorrow the rain is supposed to return. But then it looks like Thursday is suppose to be nice again. But we know how that goes.
---
November 10, 2016
Not A Surprise . . .
Jan whipped up a delicious batch of her famous Chicken Vegetable Soup in the crockpot today.
And I had to smell it cooking all day long. That was just cruel.
The weather was really nice today. We had the door and the windows open. And that, with the fans going, meant the AC's never turned on.
The park owner's son came by late this afternoon and helped me move a picnic table from across the road over to our site. This will make it a lot easier to cut down the piece of 1/4" plywood for the dolly platform. So hopefully tomorrow I'll be ready to pull the Splendide out and take a look at the dryer problem.
As I said, if I'm lucky it will be a blown thermal fuse and I'll be ready to put it back in the cabinet in 10 or 15 minutes. Hopefully.
Jan's soup was delicious, as usual, perfectly seasoned, with lots of great veggies.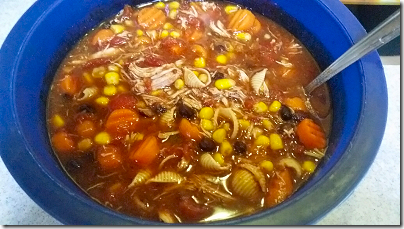 I had two bowls! And there's still plenty left.
---
November 10, 2017
The Gales of November . . .
Come Calling.
First off, I want to thank everyone for their kind thoughts about the death of my Uncle Ed this past Wednesday. One thing I forgot to mention is that Uncle Ed and his wife Janis were instrumental in Jan and I first getting together in 1967.
Ed had a large veterinary practice in Sanford, FL at the time, and when my mother mentioned to Janis that I was thinking about coming down to FL to find a job for the summer, Janis invited me to stay with them. And later, after I had been there for about a week, I saw an ad in the Florida Today newspaper looking for someone to do the animal show at the Florida Wonderland amusement park over in Titusville, where, as I've mentioned before, Jan was working as a Saloon Girl in the Miss Kitty's Pleasure Palace & Soft Drink Saloon.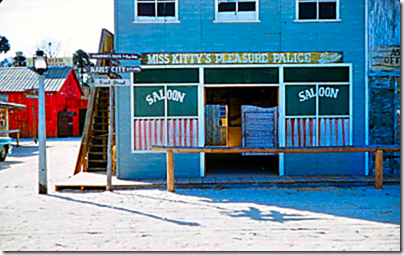 And so it all began.
I never got around in last night's blog to talking about our get-together with Chris, Linda, and Miss Piper.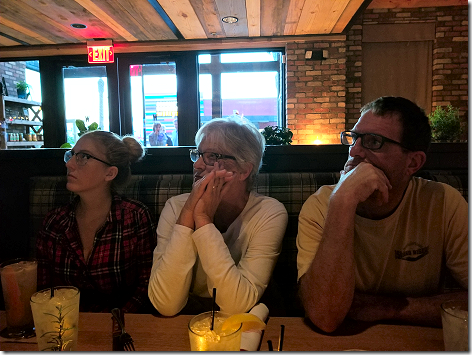 We ended up at Whiskey Cake, a restaurant located in the new area of Baybrook Mall Complex.
We started off with an order of their Goat Cheese Fondue,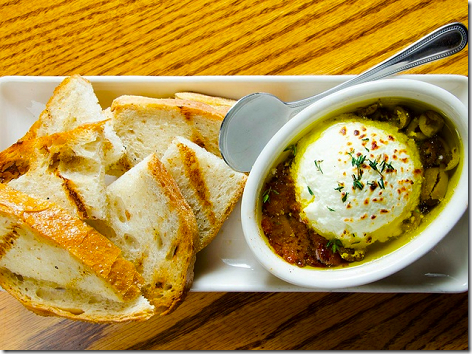 with olive oil, Greek olives, roasted tomatoes, fresh herbs, and grilled sourdough bread.
Jan had the Crispy Fried Chicken Salad, with spinach, gem lettuce, Vermont White Cheddar Cheese, spiced pecans, apples, red grapes, and buttermilk-Greek yogurt vinaigrette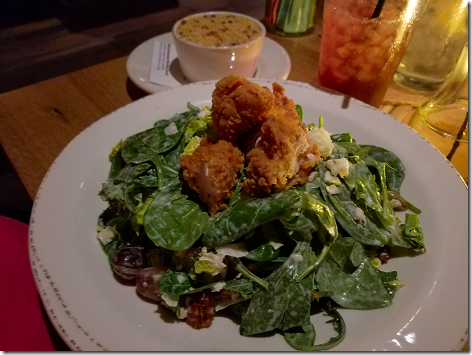 For my part, I had the Wood Grilled Pork Brisket Steak, with Poblano White Cheddar Grits, and topped with a local peach and tomatillo salsa.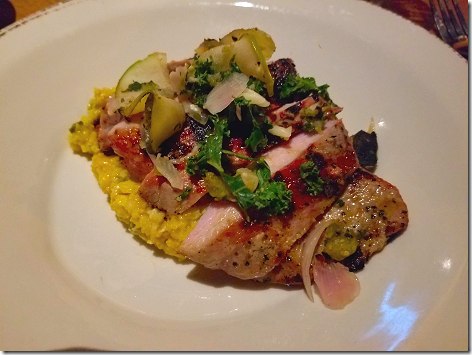 Finishing up, we had end it with Jan and I sharing an order of their namesake Whiskey Cake.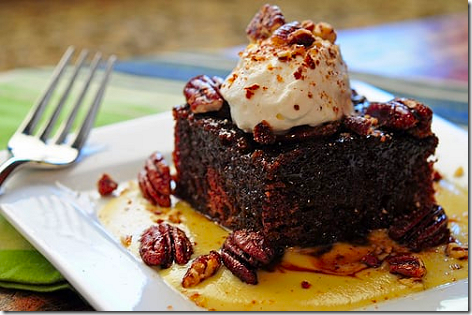 A toffee torte with a bourbon anglaise, spiced pecans, and fresh whipped cream.
Really good, and probably the best part of the meal, even though it was all good.
My new Camco LED Bulb came in today to we now have good light in the bathroom again.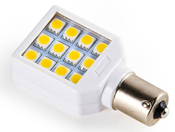 And for those of you watching Young Sheldon and wondering about his father's heart attack in last night's episode, according to the timeline given on Big Bang, his father doesn't die for another 5 years.
Wrapping up, today, November 10, 1975, is when the gales of November came calling and took the Edmund Fitzgerald, as well as 29 crewmembers, to the bottom of Lake Superior, 530 feet down. In 1995 a dive team brought up the Fitzgerald's bell which now resides in the Great Lakes Shipwreck Museum at Whitefish Point, MI, where we visited in July 2013.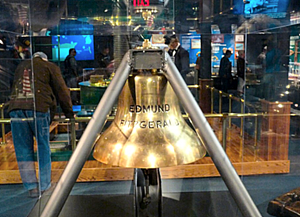 And of course the whole incident led to one of the most haunting songs ever written, "The Wreck of the Edmund Fitzgerald" by Gordon Lightfoot.
---
November 10, 2018
There's A War Going On . . .
Today is the 43rd anniversary of the sinking of the SS Edmund Fitzgerald. And a month later it gave birth to one of the most haunting songs ever written.
The legend lives on from the Chippewa on down
Of the big lake they called 'Gitche Gumee'
The lake, it is said, never gives up her dead
When the skies of November turn gloomy
For a little more about this, check out our visit to the Great Lake Shipwreck Museum at Whitefish Point, near where the Edmund Fitzgerald went down.
---
After a nice quiet morning Jan and I left the rig a little before 12:30 on our way up to King Food in Webster to meet up with long-time friend's Bob and Maria. And when I say 'long-time', I mean the mid-80's when Bob and I were both into Commodore Amiga computers.
We had a great time spending the next couple of hours catching up. We had a lot to talk about since we haven't gotten together since last December. Too long.
After saying our goodbyes, our next stop was the nearby WalMart for some things. We must never have enough things since we keep buying more.
Then it was right next door to Sam's to pick some prescriptions. These were the renewals that our Dr. sent over to WalMart by mistake, and then I had to transfer them over to Sam's.
When I got there and asked how much the 4 (for 90 days each) were and they said $137. I said that's too high. Turns out that once again they had lost the fact that I have a PLUS membership on my account. And when they repriced them accordingly, the cost was now $60.69. Much better.
This afternoon as we passed the WalMart in Victory Lakes, I noticed that regular gas had fallen to $2.22. This is a drop of 10 cents in the last week. Nice, but it still doesn't match the $2.17 I paid at the new Webster Costco last week.
But as we were leaving the Sam's Club today, they were now down to $1.99 for regular. Even Nicer!
And the new Costco was the same $1.99. I have a feeling that we might a gas war going on, spurred on by Costco.
I was reading recently that they're known for keeping their gas prices really, really low, event to the point of losing money on each gallon, because it draws people in.
Works for me.
This was our second visit to Costco, and our first time to really take a good look around. We had gotten a sale flyer in the mail last week and wanted to check out a few things.
The first thing we did was to try and sign up for Costco's discount drug program. Turns out we couldn't because it only is available to people with health insurance prescription programs, not Medicare.
Score 1 for WalMart/Sam's.
As we wandered through the food area, Jan was horrified.
She likes octopuses, but not like this.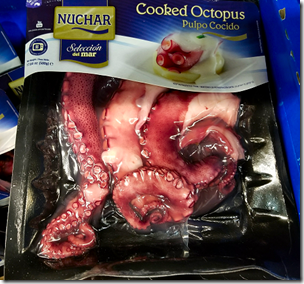 But more like this.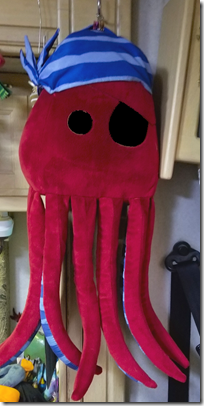 And she also likes chickens, but it's apparently OK for them to be like this.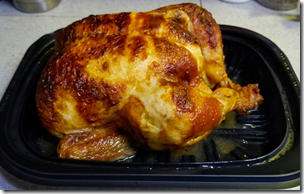 This is one of Costco's famous $4.99 Rotisserie Chickens. Looks and smells delicious. When we got home, Jan immediately ripped it to shreds for soup later in the week.
I guess better the chicken than the octopus.
And since we're looking at high temps in the 40's next week, and low temps in the low 30's we decided to take advantage of another good sale.
This Lasko Ceramic Heater.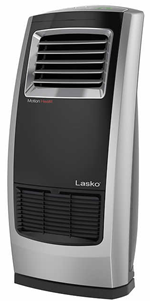 It has a remote control, it oscillates side to side, and the front louvers move up and down also. And maybe even better it has a removable filter. A great deal for only $47.
I did bring home the security bit set to get our old Lasko heater apart and see if I can fix it, but with the really cold temps coming on, I didn't want to be left 'out in the cold' in case I didn't get to it, or couldn't fix it.
We also have a couple of small Sunbeam heaters as backups, but they're in the back of the Dakota at the transmission repair place.
Tomorrow we've got an early morning (8:45am) breakfast get-together with friend's Tom and Barb over at the IHOP in Seabrook. It tells you how good a friends they are since there's not many we'd get up this early for.
---
November 10, 2019
Getting Ready To Roll . . .
Today I got outside early, well, at noon, but early for me, to start doing the prep work for our RV trip to Kingsland this coming Thursday for a family get-together. When you've been parked for about six months like we have, it seems like a lot of stuff just accumulates around the rig.
My first job was to take down our OTA Digital Antenna that we use for picking up the many local channels.
But really, all I had to do was cut a bunch of heavy-duty tie-wraps and lower it down. Then I removed the antenna head, folded it up and stowed it away. I'm just going to leave the pole laying next to the patio while we're gone.
Then I pulled out my Craftsman (now Porter-Cable) Air Compressor and topped off all my tires, rig and truck. All of them were down by above same among, most likely due to the cooler temps since I last topped them off.
When I replaced our rig tires back in 2015 after our blowout (due to road debris), I once again when with truck tires, not 'RV' tires. When we bought the rig the end of 2007 I had the tires replaced before we even picked it up.
At that time I went with Sumitomo tires, another 'truck' type tire. And they lasted us for 8 years with no problems. I was planning to replace them when we got home later that year, but since I had to replace one, I decided to go ahead and replace all 6 while I was at it.
And I once again I went with 'truck' tires, but since Sumitomo's weren't available without ordering them, I went with Hercules Ironman I-601 tires which they did have in stock. And one reason for this is that while we gate guarded over the years, I saw a lot of oil field trucks using them. So I figured if they're good enough for the oil field they should be good enough for us.
We did manage to finish up our Christmas decorating, at least inside. And we went all out this year.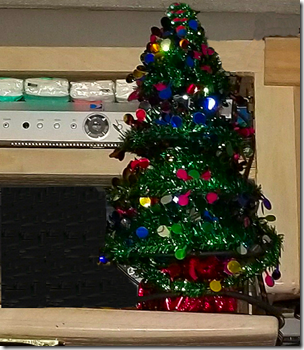 Merry Christmas Everyone!
---
November 10, 2020
Bringing Our New Baby Home . . .
Yesterday's blog title teased,
Well, today was the day, so we drove up to Conroe to pick up our new baby.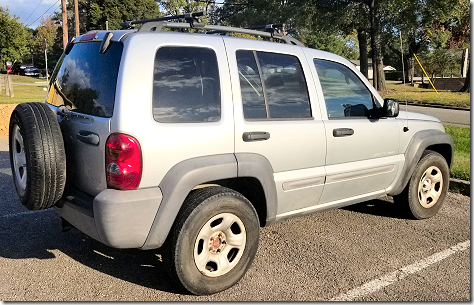 She's a bouncy 2003 Jeep Liberty Sport 4×4 with only 129,369 miles on her.
And, though she's a year older than our 2004 Dodge Dakota, she only has a little over 40% of the 307,500 miles on our Dakota. So, as I said, she's just a baby in comparison.
Even better she's all set up with a Blue Ox baseplate for towing, wired up for our BrakeBuddy braking system, and can be easily towed 4 Down.
And even better than that, we bought her from our good friend's Debi and Ed Hurlburt.
We made the deal last Thursday when we got together at El Bosque up there in Conroe and then drove back up there today to pick her up. So we met up about noon at another long-time favorite of ours, China Delight.
Jan had the Chicken Volcano,
which as I've mentioned before, is sorely lacking in the whole 'volcano' thing. Not only is it not hot at all, even those little red peppers have not heat whatsoever.
For my part, I went with the Triple Delight, a stir-fry of Fresh Shrimp, Chicken, and Beef, along with mushrooms, carrots, and onions. Really good, especially when liberally sprinkled with my Carolina Reaper/Ghost Chili Pepper flakes.
Then after a great meal, we followed Ed and Debi over to their RV lot right off Lake Conroe in Willis to pick up our new baby.
We headed home about 3pm with Jan driving the Jeep and me following in the Dakota. No problems, except for the fact that we hit a lot of the going-home traffic, finally getting back to the rig a little before 5pm.
Jan had been worried about driving a new vehicle through downtown Houston traffic, but she did great with nary a bobble.
And no, we're not getting rid of the Dakota, so we're now a 3 vehicle family.
Due to today's date, you're going see a lot of blog stuff today about the Edmund Fitzgerald.
Now try to get that tune out of your head.