Monthly Archives:
March 2023
Our Saturday in the Texas Hill Country started early, with a 9am breakfast at The Dam Grill, one of our favorite spots. And since Brandi, Lowell, and Landon got in last night, we had a bigger group this morning.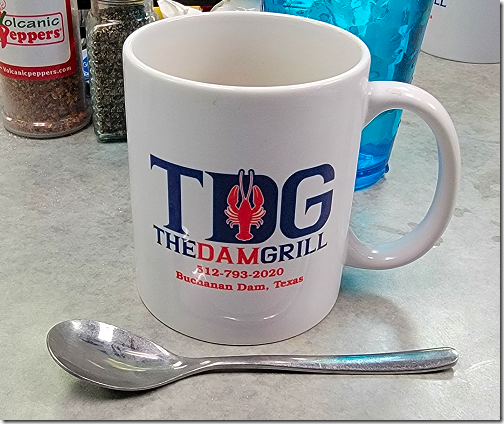 Jan and I both got their 3 egg omelets, differing only in the ingredients. Mine was the 'Kitchen Sink' version with 9 different things inside.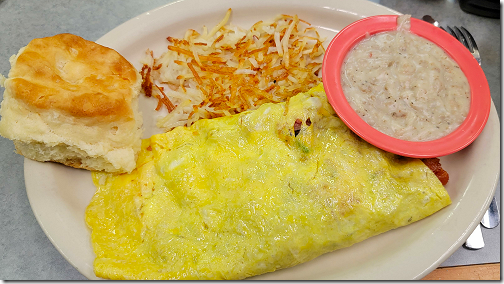 And along with Hashbrowns, Biscuits, and Sausage Gravy, of course.
While Jan and I also shared a Blueberry Pancake too.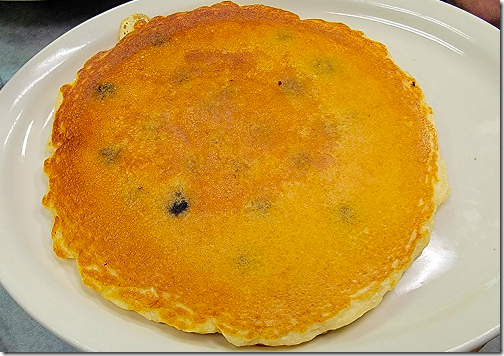 And, as always, it was DAM good.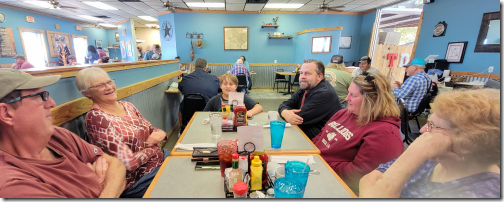 (By the way, it's called The DAM Grill because it's near the Buchanan Dam.)
And leaving a little later came across this neat Pontiac, I think.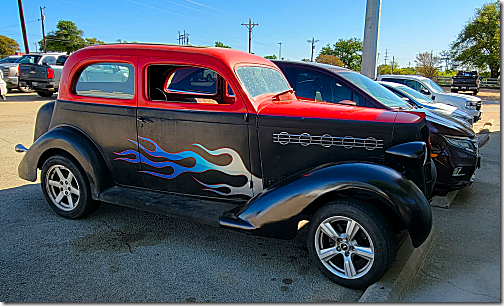 Getting back to Chris', and after resting up, a rousing game of Pickle Ball broke out in one area,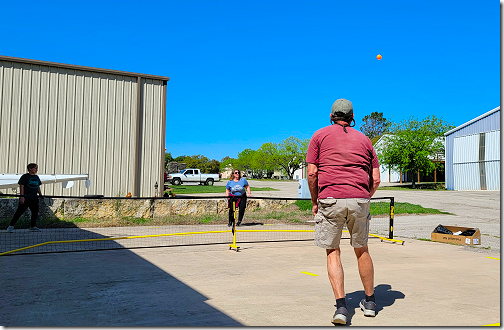 while Derek and Piper were playing Beerless Beer Pong.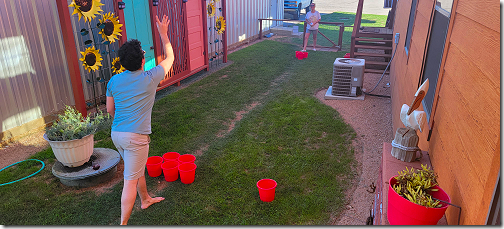 Landon, for his part, just looked cool,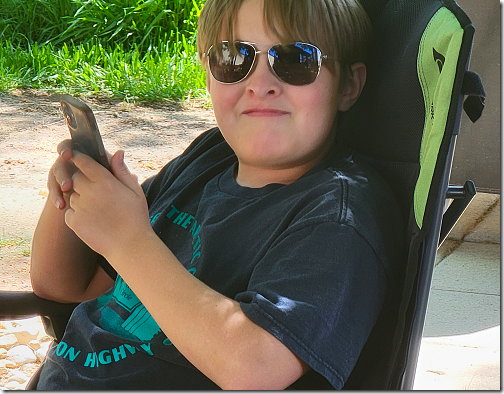 while Bob the Cat look on warily.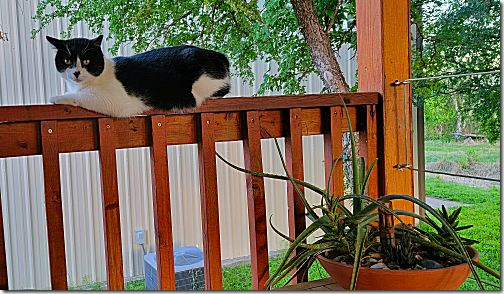 BTW he's call Bob because somewhere along the line, he lost most of his tail and just has 2" stump.
Later in the afternoon Linda fixed us a delicious meal of Stacked Enchiladas, Bean Taquitos, and a Bean & Corn Salad.
Really great.
Then after the sun went down we sat around Chris' firepit while Linda served us dessert, Sopapilla's and BlueBell Ice Cream.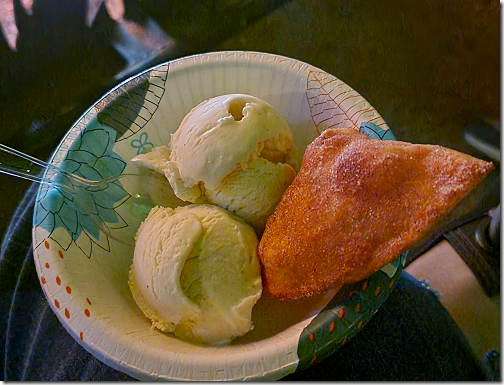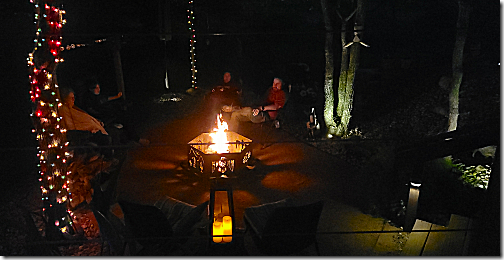 Another great day with family.
---
Thought for the Day:
If we're ever in a situation where I'm the 'Voice of Reason', then we're in a very, very bad situation.
---
March 31, 2010
Fremont Street Redux and a New Throne…
Last night we went back down to the Fremont Street Experience because we wanted to see both the Queen and the KISS videos on the overhead screen.
In between the two videos we had supper at Mimi's Café, a restaurant we first tried in Yuma, A good choice for our last meal, so to speak.
Jan and I went to an early lunch at IHOP before heading back to the rig. On the way back I stopped off at the RV park office and paid for another week.
Then it was time to get back to work on replacing the toilet, a job I started last week. But it was more fun running around Las Vegas than working on the toilet. Who knew?
About 4:30 pm we went out to Pepe's Tacos right down the road from our park to check it out. Not bad.
Then it was back to the rig and the toilet.
Finally about 8:30pm I had the new toilet in and working. I've still got some buttoning up to do on it, but at least we don't have to walk down to the bathhouse to use the restrooms now.
Life is good.
---
March 31, 2011
Home in Verde Valley . . .
This morning began way, way too early, 6 am too early to be exact. I got up and let Jan sleep while I went outside and started disassembling our RV site. We plan on leaving the Pima County Fairgrounds here in Tucson this morning and heading about 230 miles north to the Verde Valley Thousand Trails RV Resort near Camp Verde, AZ
A little before 7 I went in to wake up Jan to get ready to go meet Al & Adrienne for breakfast at Poco & Mom's. Although she was feeling a little better when I talked to her about 3 am, she definitely was feeling worse now.
So about 7:30 I headed out alone to meet Al & Adrienne. We had a great meal and talked about our mutual plans for the next few months.
They plan on spending the summer working in Cody, WY near Yellowstone National Park and we're going to try to stop in and see them when we're in the area later this summer, probably in June.
After saying our goodbyes and getting Jan a cheese quesadilla and iced tea to go, I got back to the rig about 9:15 to find Jan up and about, but without a lot of energy to do anything, but she was trying. I told her to stay on the couch and I would get us ready to leave.
By about 10:45 we were hitched and heading out. But the cats were very confused. They couldn't figure out why we were moving, but Jan wasn't in her chair for them to sit with. Finally Mister apparently decided he'd just climb up there and wait on her. Then a little before Phoenix, Jan was feeling well enough to leave the sofa and join me up front.
After some steep grades, but a smooth trip overall, we arrived at the Verde Valley TT gate right at 3 pm. And they had all our check-in stuff waiting for us, smooth as silk.
The Verde Valley TT park is really nice. It's out in the country, kind of carved out around the hills and valleys. And it's got a really strong 30 amps. With everything else turned off except the frig and the water heater, we were able to run both A/C's during the afternoon to cool the coach down quicker.
We didn't do much for supper, with Jan having the rest of her quesadilla, and I had my spaghetti leftover from Argenziano's on Tuesday.
Jan seems to be on the mend. Hopefully she'll feel even better tomorrow.
---
March 31, 2012
You can never have enough Chachi's . . .
After everything that's been going on, today was a pretty quiet day. I was up about 10 and got started on making coffee the first thing. We both missed having our morning coffee while we were staying in the hotel. And even when we did have coffee, it wasn't very good.
And to make things even better, Jan discovered two Cinnamon Buns in the freezer, and along with the coffee, made for an excellent brunch, and a nice start to the day.
Then a little before noon, we headed out on a couple of errands. Our first stop was the park office to re-up through Tuesday. Next we headed back over to the La Quinta after Jan realized she'd left some clothes in the dresser, and luckily they were still there.
Getting home I worked on some projects around the rig for a couple of hours, before finally deciding to take a nap about 3:30.
About 5pm Jan and I headed over to Chachi's for more great Mexican food. They're closed on Sunday, so we wanted to get our fix in for the weekend.
Tomorrow we hope to Skype with Brandi, Lowell, and Master Landon. Because of either traveling, or not having a good Internet signal, this will be the first time we've been able to Skype since we left Houston about 6 weeks ago, and we're really looking forward to it.
---
March 31, 2014
Makeup Se . . . er . . . Makeup Blog . . .
Yesterday we left the rig about 10 am, heading down to the Clear Lake area to visit our son Chris.
And leaving the park we came across a trail ride, coming in to camp after a weekend ride.
This is the Colorado River Trail Riders Group, and they do regular weekend trail rides out through the countryside. It looks like they have a lot of fun. Before the start of the Houston Rodeo every year, they may spend a couple of weeks on the road.
Getting into Columbus, we stopped at the Jack in the Box for a quick breakfast. But it wasn't quick, and more importantly it wasn't very good. Normally we really like the breakfasts there but this was an exception. It took over 10 minutes to get our Supreme Croissant breakfast sandwiches. So we figured since it was after 10:30, they were making them from scratch. If that was so, then they made them fresh and them put them in the fridge for a while, because when they finally came out, they were lukewarm at best. And that was being generous.
The only positive was that the coffee was good.
Getting into Webster, our first stop was one of our favorites, Floyd's Cajun Seafood. But it wasn't for us. Our son Chris had stomach surgery last week, and is still on liquid meals. And what he really wanted was some of Floyd's famous Crab Bisque. So we picked up a large order and headed over to his house.
Then after spending an hour or so with Chris, we headed over to a client/friend's house to repair their wireless printer setup. They had recently changed Internet providers from Comcast to Verizon and this disrupted the network that the printers worked on.
Getting this fixed, Jan and I headed over to Pearland about 6pm to meet our friend's Bonnie and Richard for dinner at Los Cuco's. a Mexican restaurant that we like in the area. Then, after a nice, leisurely meal, we headed over to Bonnie and Richard's for coffee and dessert, and more conversation. So by the time we got home, it was almost midnight. A long, but nice day. But, thus, no blog.
Unlike yesterday, today was pretty much a lay-about, easy day. Jan read her Kindle and napped, and I did computer stuff.
Later in the afternoon, I noticed that the AC wasn't working very well. Today was the first day it got hot enough to really use the AC, so I hadn't noticed it before.
My first thought was to check the filters on both units and that turned out to be the cause. Both were pretty clogged, and in thinking, I realized I hadn't cleaned them since last fall when we were gate guarding, so it was about time. But in my defense, we really haven't used them much this past winter
And cleaning them with the vacuum took care of the problem. I'll have to put them on my maintenance list to look at more often.
For dinner, I fixed our version of Skyline Chili's Chili Five Ways, which is made with spaghetti, Skyline Chili, Beans, Shredded Cheese, and Onions.
Actually, Jan has hers Four Ways, because she doesn't like onions on hers. We also added Ground Habanero for a little spiciness.
Also, FWIW, if you sprinkle Oyster Crackers on top, it becomes Chili Six Ways. Never had it that way.
On the Landon front, Brandi's boss gave Landon this puppet show. It's up in his room and he loves it.
He spends a lot of time putting on his own shows.
Hopefully tomorrow will be a quiet and laidback as today. But you never know.
---
March 31, 2015
Wide Open Spaces . . .
No, not the western plains, but the many RV parks around Apache Junction. Every time we drive around here at Countryside RV Park, we see more and more empty spaces where yesterday sat RV's. And a growing numbers of the park models have obviously been closed up for the summer.
The annual northern migration of snowbirdus rves has begun in earnest.
Jan had been wanting some way to have her favorite earrings easier to find than digging through her jewelry case, so I mounted these hooks on either side of the bathroom cabinet to make it a little simpler.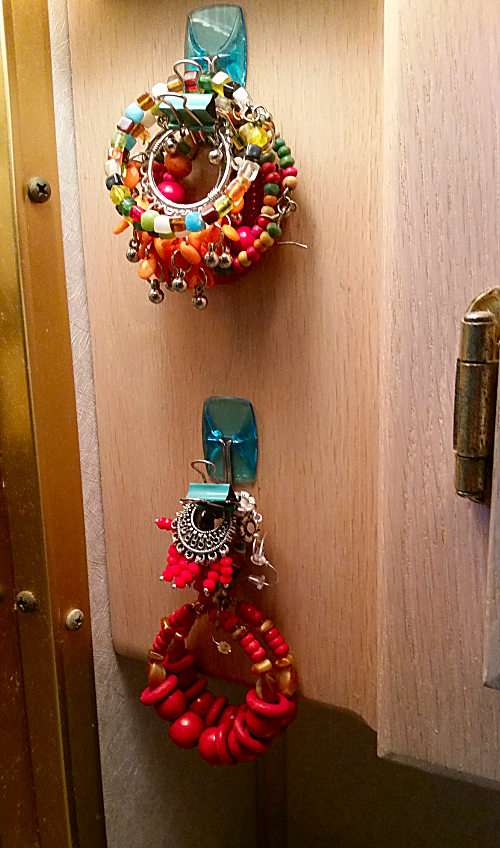 Around 5pm we headed over to the Golden Corral about 7 miles away for dinner.
Later coming home, we made a PO stop to drop Landon's Easter card in the mail.
---
March 31, 2016
Cool Again . . . for Now
First off, the link for the Funeral Potatoes got messed up and was pointing to my old Our RV Adventures website, so no recipe there. But it's here on Jan's Favorite Recipe page now.
After coffee I got back on my air conditioner problem. Based on what I found yesterday, I've come to the conclusion that the problem is not with the AC itself, but with the missing control signal, I.e. the one that turns on the compressor.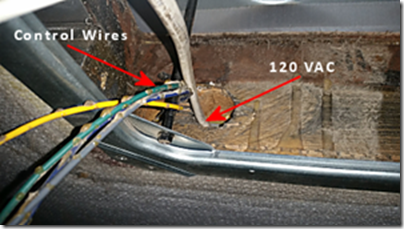 Obviously there is some sort of junction box somewhere, because the yellow wire that comes out from the side of the coach roof to the AC unit is a slightly different gauge and has a different type of insulation than the yellow wire that ends up at the thermostat, plus it has to pick up the 12v from somewhere. So that's what I need to locate.
So my next step was to put in a call to American Coach to see if they had any insight on my problem. But unlike most times, they weren't any help. They kept trying to tell me about the control box inside the old AC unit, and how it was located in the duct.
Well, it's not.
I'll probably call back tomorrow and hopefully get another tech, and another idea. So my next task was to post my problem on RV.net and the Yahoo American Coach group to see if the Cloud Mind can be of any help.
With all this done, and no more things to check, it was time to put my theory to the test. The theory that this is all a control signal problem, and not a AC unit problem.
My thought was that the 12v fan signal is working and will turn the fan on. So I figured that all I need to do is bridge the fan voltage over to the compressor contact, like this.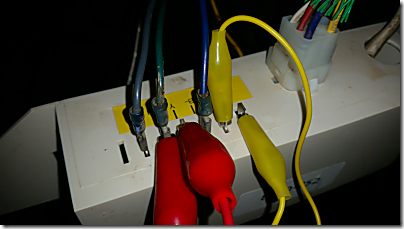 The red test clip jumps from the fan connection to the compressor connection, so that when the thermostat sends voltage to turn on the fan, it also turns on the compressor. The yellow clip lead is just a temporary jumper for the freeze sensor.
So I turned to the thermostat to Cool, and about 30 seconds later I had this.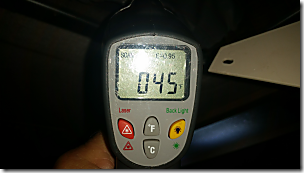 Not bad for an 85 degree day.
So we're cool again, but I still need to figure out what's causing the problem to start with. But that's for tomorrow.
Brandi, Lowell, and Landon went up to the Dallas area to visit friends over the Easter weekend.
Looks like Landon got in some fishing,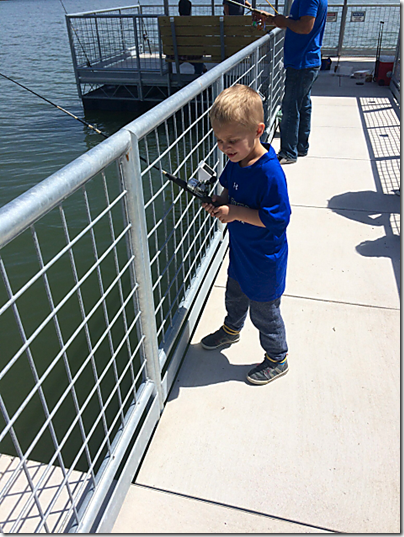 and some drumming.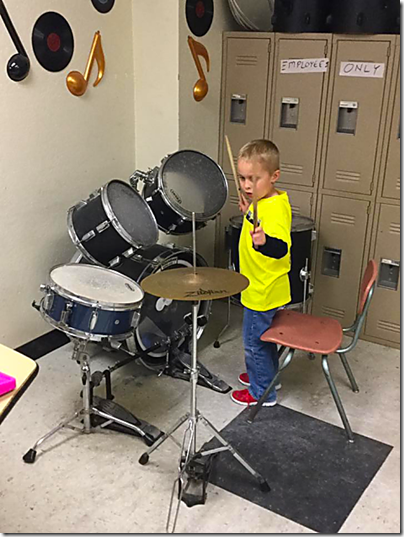 He may be taking after his mother, Brandi, who played drums, both in the marching band and a trap set like these.
Finishing up, our granddaughter Piper, has moved down to Galveston to be closer to her job. She an Emergency Room Tech at UTMB Hospital, while working toward her R.N. degree.
She's got an apartment 3 blocks from the Seawall, near the Bishop's Palace, and only 5 blocks from work. A lot better than the 60 mile round-trip commute from Friendswood she had before.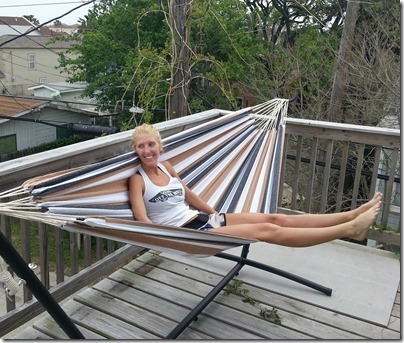 Looks like she's got a nice place.
Saturday we're meeting up with Brandi, et al, and heading down to Galveston to check out her new place. Really looking forward to it.
---
March 31, 2017
Dead Shoes Walking?
Today turned out to be a mostly do-nothing day, just puttering around and enjoying the nice cool weather.
With a high of 66 today and a low of 47 tonight, it's a nice respite from the upcoming 100° temps that will be here soon.
Later in the afternoon I went outside to use up my daily flower garden watering allotment to finish cleaning the rig's aluminum wheels.
After the first pass a couple of weeks ago, I ended up with this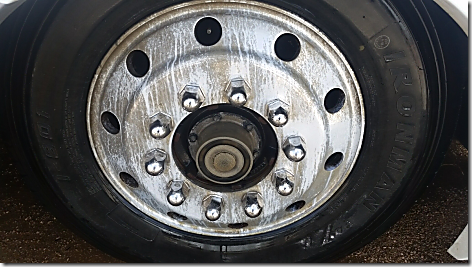 due to a bad nozzle on the spray bottle. Blotchy, but it shows the possibilities.
So today I poured the solution into a new spray bottle and tried again. And this is what I got.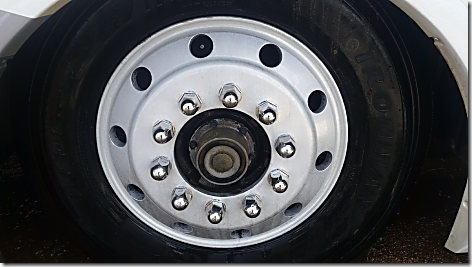 Looks great.
So next I tried it on one of the rear wheels, starting with this,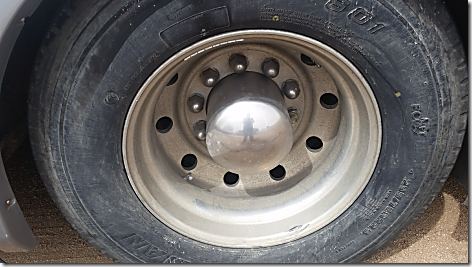 and then ending with this.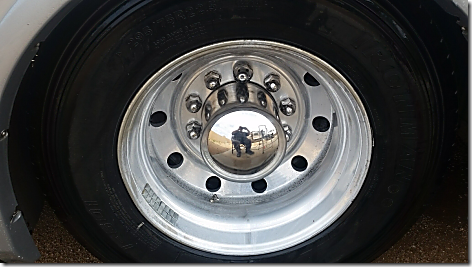 Again, really good.
Leaving the coach looking like this.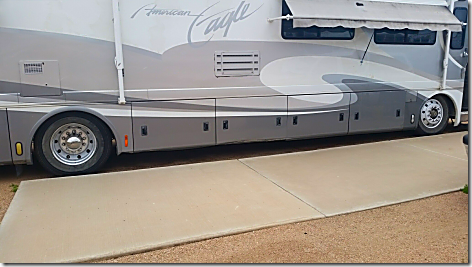 At least on the passenger side anyway. However I ran out of the spray before I did the driver's rear wheel. It's almost done, but needs another coat and rinse.
But since the primary ingredient is phosphoric acid, I may just get a bottle of it at the hardware store or Home Depot and make my own. Or maybe just spray a can of Coke on it.
Yesterday, before I dropped my garbage at the park dumpster, I did my usual survey of the contents, looking for anything interesting. And there, sitting right on top, was a pair of black New Balance shoes, looking almost brand new. So they came home with me. Of course the first thing I checked was the size, which was 10-1/2. Now, ideally, I wear a 9 EEEE or maybe EEE, if I can find shoes in that size. And yes, I have snowshoe feet, which I inherited from my father.
So I usually end up buying 10 to 10-1/2 shoes to get them wide enough. And getting these home later, they fit really well.
Free shoes!
Of course Jan said the reason a perfectly good, little worn pair shoes got thrown away, is that the guy died.
Dead Shoes Walking!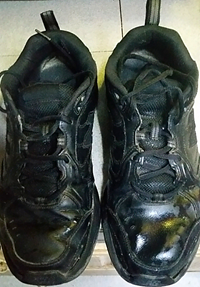 And it's not the first time I've gone dumpster diving. Well, not 'diving' as it were, more like dumpster 'reaching', since I never actually get into the dumpster, but just reach in.
So far over the years I've found a 6ft pre-lit Christmas tree, still in the box, a couple of nice paintings, a brand-new pair of Crocs, still fastened together, and my big score, a Winegard Carryout Satellite dome, in working condition.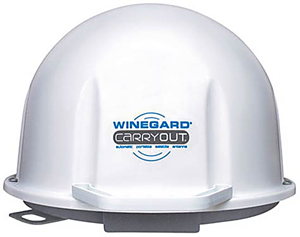 Except for the lack of a power cord, don't know why it was thrown away.
Tonight was the final episode of one of our favorite TV shows, Grimm, and we're really sorry to see it go. But it least it was a great ending, although it seemed to be touch and go there for a while.
In fact about half way through, Jan said, "I hate this show!" But it got better at the end.
Grimm R.I.P.
---
March 31, 2018
The Place Even Smells 'Shrimpy' . . .
After talking it over about where we wanted to eat this afternoon, we finally decided on Pook's Crawfish Hole. I think it was me more than Jan, but she's was willing to give it a try.
Pook's is located on FM646, just a few block's east of Hwy 6, and only about 5 minutes from the rig.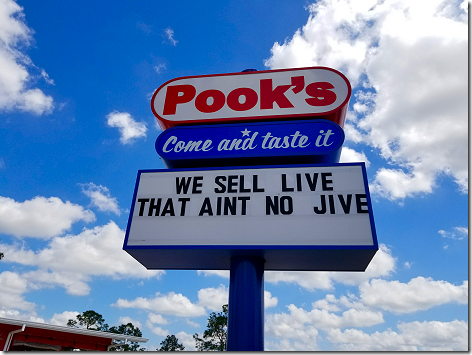 We drive by it all the time and it's always busy. So busy that sometimes the parking lot is full and people are parking out along the street. So it must be good.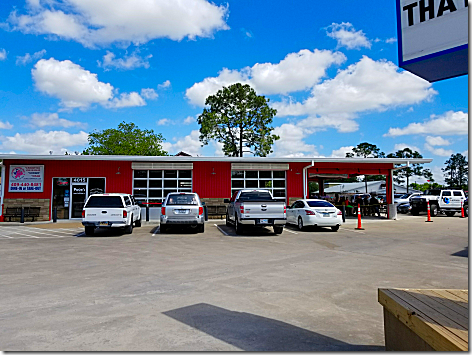 But we lucked out today because when we got there about 2pm, the place was only about half full, with most diners sitting the open outside area.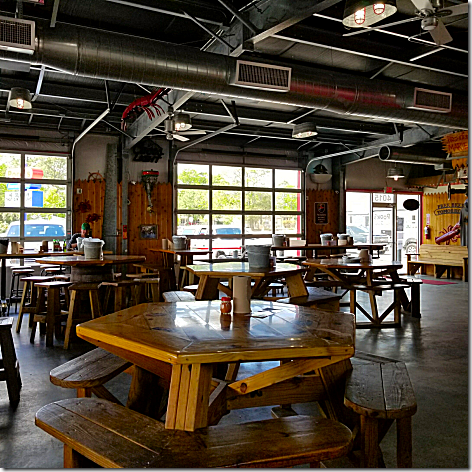 Pook's is unusual in that it's only open about 6 months a year, pretty much from January to June, I.e. crawfish season. And boiled crawfish, boiled shrimp, boiled snow crab, and a few sides, are pretty much the entire menu.
Now growing up in South Alabama, shrimp was king, but crawfish (crawdads, mudbugs, etc) were considered just bait. So we ordered a pound of hot boiled shrimp, an order of boiled mushrooms,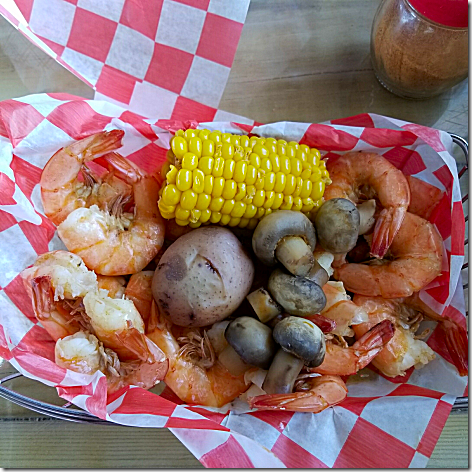 and just to stay in the spirit of things, a crawfish pie.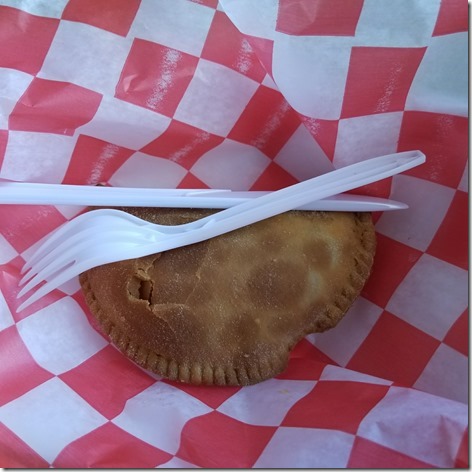 Jan and I split the pie, with Jan really liking it, but I found it kind of bland.
There were 16 shrimp in this pound, making them 16/20's or Extra Jumbo, bigger than most places around here.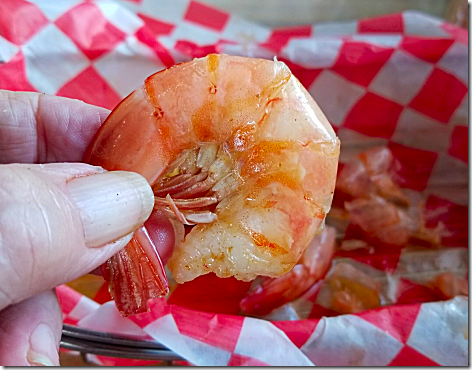 For example Floyd's sells a dozen shrimp for $13.99, ones that look like they're 21/25's, and on the high end at that.
Word to the wise, buy your shrimp by the pound, not by the dozen.
In this case the shrimp were deveined, hot and delicious. And each pound comes with a corn and a red-skin potato, all boiled in the same water as the shrimp. As were the mushrooms, which Jan said were very tasty as well.
Just about everything here is 'finger food', so your fingers, hands, faces, get kind of greasy, so this wash station is handy for cleaning up.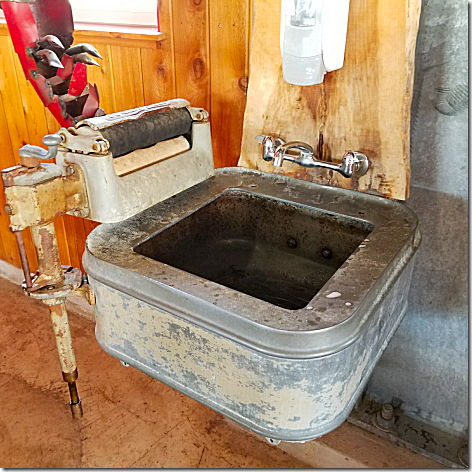 I think my grandmother had one just like this, complete with the wringer.
And like the sign out front says, they sell the crawfish live too, in these 30 lb. sack's in case you want to roll your own.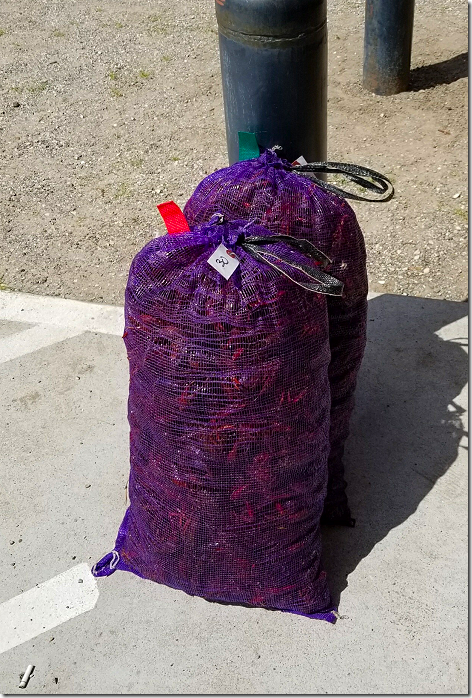 We'll go back. Really, really good.
Not sure what's on the schedule for tomorrow, so we'll just have to see how it goes.
---
March 31, 2019
Nothing Caught Fire or Fell Off . . .
And no leaking oil was seen. So we declared today's rig test drive a success. So we're all ready to head up to Kingsland on Friday.
Thought today's test drive was about 50 miles instead of last year's 35, I'm not sure the extra 15 miles would have shown up any oil leak anyway.
Last October we didn't see any oil leak on our test drive, but then it showed up when we headed out for Florida. So I guess we will see for sure on our upcoming trip.
We ended up taking the I-45 route today, since they had finally opened the northbound side, so we left the park heading south on Hwy 6 before looping back up on I-45. That took us all the way up to FM528 in Webster, where a left turn pointed us toward Hwy 35 and on back onto Hwy 6 and south back to Santa Fe and home. As I said, about a 50 mile loop.
That's about it for today, with a busy week coming up. But more about that tomorrow.
---
March 31, 2020
I Can't Resist Any Longer . . .
Back in the mid-late 90's, I dabbled in stocks, and I made some decent money. I probably could have made more, but unfortunately stock trading wasn't like it is today.
Back then it was hard to find a brokerage that would handle small accounts >$1000. And if they did, the commission rates made it hard to make money on small trades.
However today, with companies like E*TRADE, Ally, and Charles Schwab, etc., offering $0 trades, as well as $0 to open an account, as well as all the good quality companies with severely depressed stock prices, I know where our Stimulus checks are going to go.
Probably my best trade was back in late 1996, after reading about a number of clinical studies showing the efficacy of zinc in treating colds, I bought $100 of ColdEze when it was basically a penny stock. Then 18 months later I sold it for about $5000, which paid for our Holland America Alaskan Cruise in May 1998 with a good bit left over.
But most of my profits came from short term trades (3 – 6 months) for maybe $500 profit on a $100 buy. So we'll see how it goes now.
Jan and I went out this afternoon and put some more time in on the shed, ending up with this.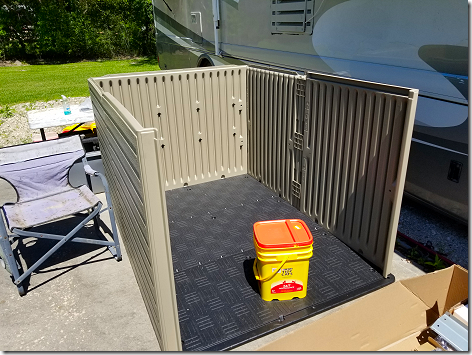 I'm using the full Kitty Litter bucket to help hold it down in case the wind comes up.
And like before, there was a couple of problems with the instructions. The latches that hold the wall sections together were labeled 'Q' in the manual, but the parts I had were labeled 'WC'. Plus some of the photos didn't really match the parts that I had. But we got it figured out.
Thursday we'll start working on the roof, including the front part that slides back and forth to make access easier.
We're putting it together on the patio to be sure it's level and square. Then when it's done, we'll slide it onto a raised frame behind the patio concrete.
Back when I booked our upcoming September 2020 Alaskan Cruise I didn't book our flights at that time, because we weren't quite sure about the dates. We already planned to fly into Fairbanks a week early so we could spend some extra time there, but we weren't sure what we wanted to do when our cruise ended in Vancouver, B.C. on September 13th, 2020.
So Jan and I were talking the other day, about the one time we'd been to Vancouver was on our first Alaskan cruise in 1998, and then it was only to ride a bus from the airport to directly inside the cruise ship, and how we've like to spend some more time there.
We disembark from the Noordam September 13th, about 7am, then rather than get on the bus to the airport, we'll take an Uber to whatever hotel our friend/travel agent, Chantelle Nugent, finds for us. Then we'll fly back to Houston on the 17th.
So yesterday I went back to Expedia to check flights and prices, and boy, was there a difference. When l looked at flights/prices back in October, a One-Way ticket from Houston to Fairbanks was between $550 – $650 per person. And a One-Way ticket from Vancouver to Houston ran about $400 each.
But today, the same ticket to Fairbanks was now only $188. And the Vancouver ticket was only $147. That means that all 4 tickets totaled only $670, only a little more than one ticket to Fairbanks.
Of course, it's all because of the WuFlu situation, and I wish the money we saved wasn't for that reason, but of course there's always a chance that Delta and Air Canada will be out of business in September and I'll lose the money anyway.
Jan and I headed out about 3:30 to make a Kroger stop and then pick up dinner at Los Ramirez on the way home. Kroger wasn't especially busy, and Jan was able to score some baby wipes for the first time, so she was happy.
And our Los Ramirez was as delicious as always.
---
March 31, 2021
Boats and Jeeps . . .
Well, I remembered last night go outside and confirm that I had a good site line for Elon Musk's Starlink satellite Internet system, so this morning I went online and signed up for the service and paid my $99 deposit.They're saying mid to late 2021 to receive my system.
Really looking forward to 300 Mbps! And maybe a lot faster.
I mentioned a couple of days ago that Jan and I were going up to Brandi's on Sunday for an Easter get-together. Well, that's been expanded to all weekend.
Now we're going up on Saturday afternoon to spend the day in the headed pool and the evening around the firepit, and then have our Easter dinner on Sunday. And probably some more heated pool time.
In the meantime, I mentioned that Miss Piper had to work this weekend, so she wouldn't be at Brandi's, and now it looks like Chris and Linda are off on their own adventure.
They're off with a bunch of fellow Jeep enthusiasts on a week-long road trip out to Utah. But Chris is probably the only one on the trip who pretty much built his Jeep.
It started like this.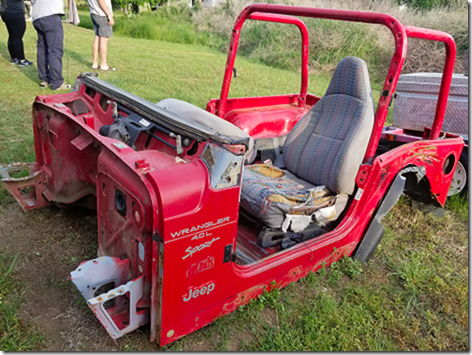 And then he ended up like this.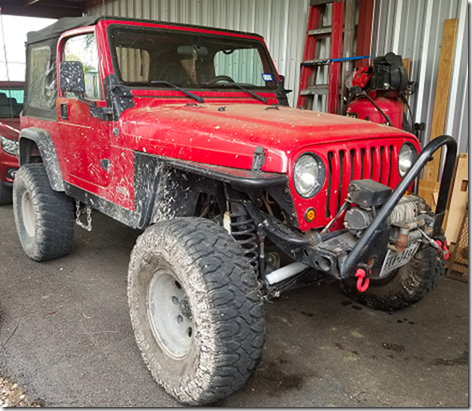 Of course, he once took a rotted-out boat that was out in a field with a tree growing out of it, and turned it into this.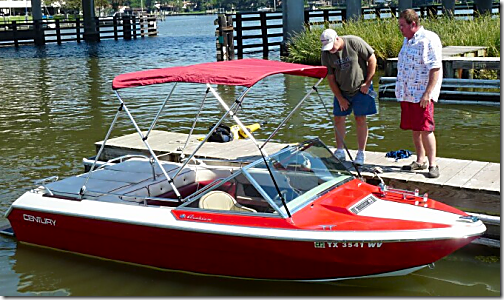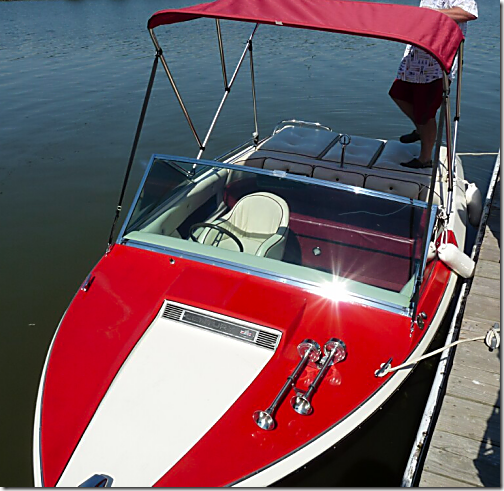 And not only did he rebuilt the boat, he also rebuilt the Ford 351 Windsor (Mercruiser) engine, and a Velvet Drive inboard/outboard drive unit.
Hopefully we'll get some photos back from the trip soon.
A few days ago I decided to upgrade the soundbar on our TV system. I wanted something with more bass, I.e. a subwoofer, and the ability to individually adjust the bass, and the treble, especially the treble.
I mentioned before that some reason the treble on CuriositySteam seems muted compared to other streaming channels, so putting all this together, I ordered a new soundbar system from Amazon.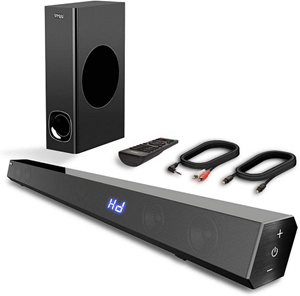 It came in today, and once I got it home, it only took a few minutes to substituted it for the old one. The only thing new was the placement of the subwoofer, which I placed behind the TV itself.
And it sounds great!
The remote has pre-set equalizer buttons for Music, Movies, News, and a really neat 3D mode,that simulates Surround Sound. And then of course, separate bass and treble adjustment buttons.
All in all, a really nice unit.
Tomorrow we're getting an early start, leaving the rig about 7am. We've both got our annual physicals with our family doctor starting at 8am.
Here's hoping for good numbers.
---
March 31, 2022
Good Food . . .
And A Clean Bill Of Health!
When I gave Jan a list of suggestions on where she might want to eat today, she picked Twin Peaks.
Note: She picked it, not me.
I just made sure it was in my list of suggestions.
Jan started off with a cup of the Tomato Basil Soup,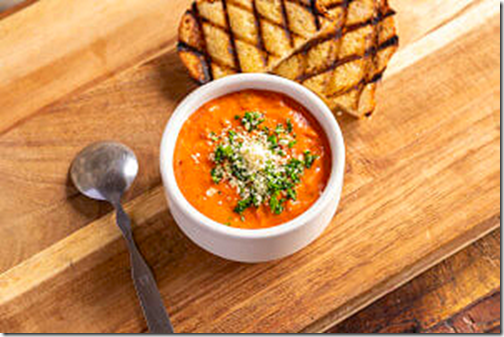 and move on to her usual Spicy Chipotle Chicken,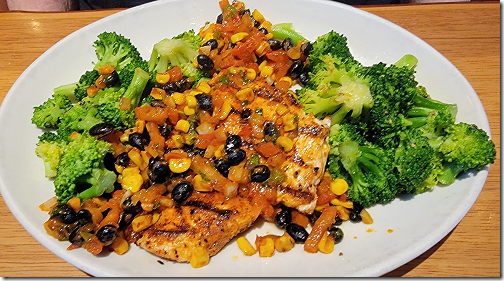 but with two broccolis, rather than the normal mashed potatoes.
I had the Soup and Half Sandwich, with the Brisket Chili and their Old Fashion BLT, along with the Green Beans, instead of Fries.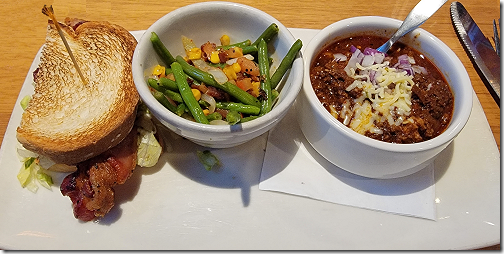 The Chili was Texas Style, with No Beans, but very good. The overall taste reminded me of their late-lamented Venison Chili.
One thing I like about the TP version of the BLT is that they don't skimp on the B part.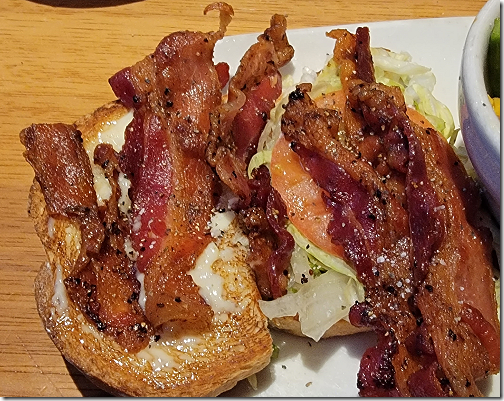 There are six! slices of bacon on this 1/2 Sandwich.
They weren't real busy today so we had some extra time to talk with Sylvia, our favorite server.
We were talking about the outfits they wear, and Sylvia said management has had to crack down on some of the girls for being a little too 'cheeky'. Not on the standard outfits, but on the 'special' holiday ones, where it seems pretty much anything goes.
Sylvia said that the only things TP gives them are the plaid tops, the socks, and the belt pouch. The girls have to furnish everything else, including their 'special' outfits.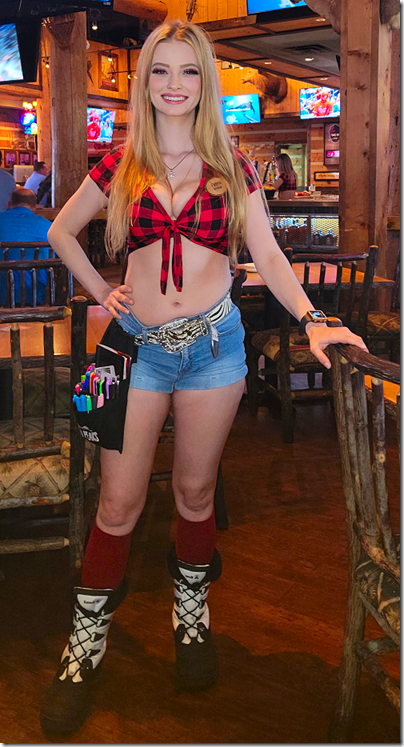 Sylvia is a real sweetheart and always has a big smile for us.
That was the Good Food.
---
Next up is the Clean Bill of Health.
After lunch Jan had her yearly Mammogram and everything came back clean. Since she had breast cancer back in 2014 she's always very anxious about it.
One thing Jan really likes is that her mammograms are immediately read by a physician, so she knows the results before she leaves. And even better this year, she didn't have to have the additional 3D Ultrasound that they've done every year since 2015. After looking at the mammogram this year, the physician said it was identical to last years, so no ultrasound was needed.
Jan also wants me to pass on her insistence that every woman of a certain age needs to get a yearly mammogram. After getting them for years with no problems, when 2014 rolled around, she almost skipped it that year. And of course, that's the year they found her cancer.
In her case, it was a Stage 0 lump and had not spread. So just a lumpectomy was required, with no additional treatments needed, like Chemo or Radiation.
And almost certainly not the result if she had waited another year before it was found.
And ironically I was diagnosed with a Squamous Cell Carcinoma on my head several months later. Luckily I also came up clean after it was removed, though I still have a large dimple on top of my bald head.
Tomorrow night we've got another visit to the Alvin Opry. Looking forward to it.
Today was an easy one, just lunch at Kelley's Kountry Kitchen once again and then home.
Jan got her usual Grilled Fish and Veggies,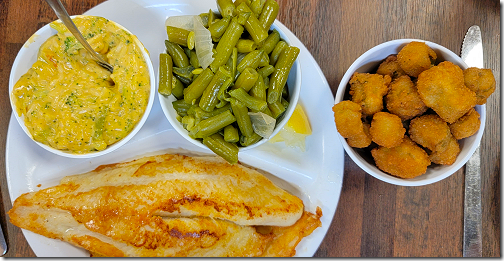 while I got their Chili & Eggs with Grits and Wheat Toast.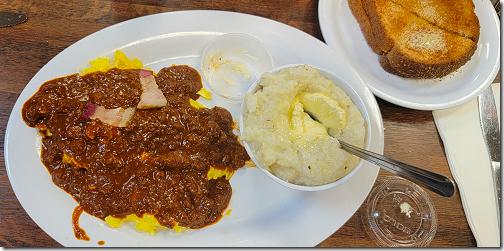 Yum-Yum!
So far so good with my unwanted Windows 11 upgrade. It just looks a little different, but doesn't seem to be any better, or faster. More like just coder make-work to justify their salaries.
Now back to the remainder of our Friday in Kingsland.
After our Bluebonnet drive out in the country,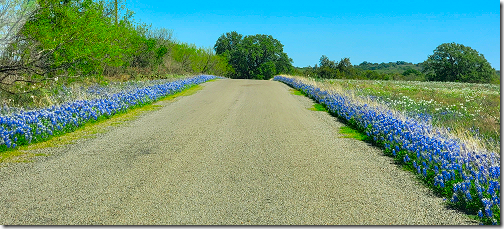 we had lunch at one of Chris and Linda's favorite places, The Potato Shack.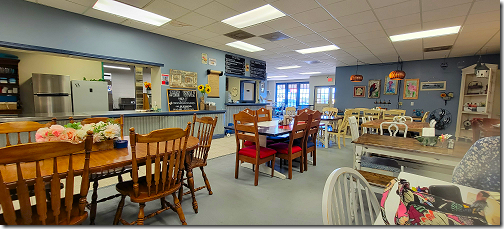 Jan had the Strawberry Chicken Salad,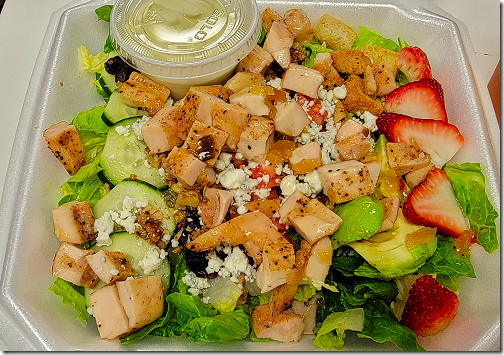 while Chris and I had the Rib/Potato Combo.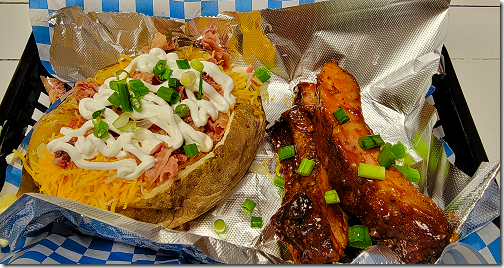 Really good.
And you know it's got to be good when they only serve breakfast once a month and have to take reservations because it's so popular.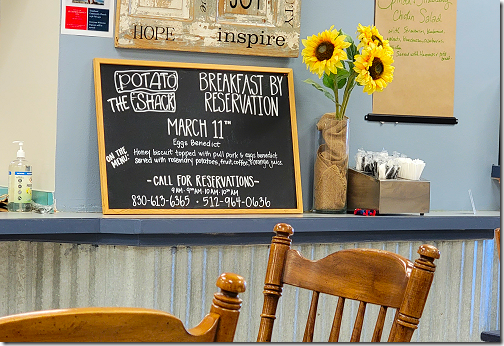 Getting back to Chris' we sat around outside just enjoying the view, including the resident animal life.
And that includes Bob.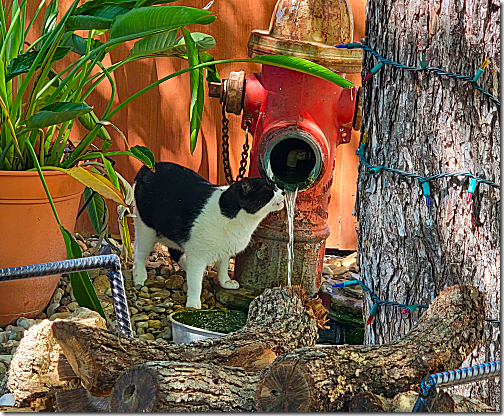 Bob is a mostly outside cat who roams the woods, apparently not afraid of the coyotes and foxes that inhabit the area. He will come inside to eat, or if the weather is bad, but he soon wants back out.
Jan and I stayed around until after sunset, wanting to get a good photo of the backyard with the lighting that Chris had installed.
Unfortunately the camera in my Galaxy S21 Ultra is just too good taking low light photos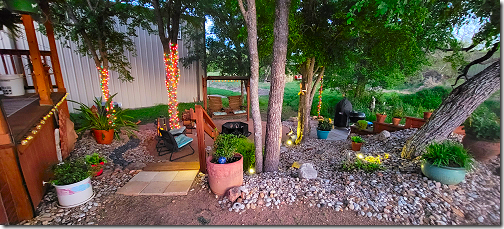 This was taken about 30 minutes after sunset, with the only real light coming from the trees.
Brandi, Lowell, and Landon will be coming in later tonight, with Piper and Derek arriving tomorrow afternoon.
Looking forward to seeing everyone together.
---
Thought for the Day:
29 percent of Americans believe that "cloud computing" involves an actual cloud. And 51% believe that bad weather could interfere with their 'cloud computing'.
---
March 30, 2011
We leave tomorrow–Yea! . . .
That's the good news.
The bad news is that Jan is really under the weather. She woke up this morning with a headache, and then later in the morning started feeling queasy. And it just got worse as the day went on.
By the evening she still had her headache, queasy stomach, and maybe a little fever and joint aches. Basic symptoms might indicate flu, but she has no cough or runny nose. And to the best of my knowledge we've not been around anyone with the flu. The normal incubation period is 1 – 4 days.
We got up about 9 this morning and had coffee before I put in a call to Thousand Trails to see if the TT computer had spit out our membership number. And lo and behold, it had.
We were now officially Thousand Trail members. So I immediately tried to make a reservation at Verde Valley. And found out that you can't make a reservation without a PIN number, and you can't get a PIN number online, even though it says you can generate a new PIN, you must already have one to get one.
So after calling TT Membership Services and being given one, I went back online and made a reservation for tomorrow.
We're on our way.
About 3 I drove over to Ace Hardware to pick up some 3' #10 wood screws to use with the EZ Anchors I already had.
I was trying to remount the grab bar mounted under the dashboard at the entry door and the original holes had enlarged too much when the bar came off. But these anchors will hold 50# a piece, so we'll see if they hold.
About 5:45 Al & Adrienne called to say they were ready for supper, but Jan was just too sick to go, so we made a date for breakfast tomorrow morning at 8am at Poco & Mom's. Hopefully Jan will be feeling better by then.
Later in the evening I decided it was time to finally install Service Pak 1 for Win7 that came out a few weeks ago. And I also installed Internet Explorer 9 at the same time. I've learned over the years to never install an update when it first comes. It's much safer to wait a couple of weeks to MS to get the bugs out.
But luckily everything went fine. I'm still trying to get IE9 configured like I like it, since they moved some things around and hide others.
More from Verde Valley tomorrow.
---
March 30, 2012
Living in Las Cruces . . .
Today was the day we would finally get our coach back and be back on the road.
NOT!
We had a breakfast of coffee and muffins at the hotel about 8:30. OK muffin. Bad coffee, BAD.
Then about 10am I took a load of stuff from the hotel room back to the rig and checked in with the repairs. Found out our new exhaust manifold had not come yet, but was expected shortly.
Getting back to the hotel I asked the front desk if we could stay a couple of hours past checkout time and they said 'no problem". About noon Jan and I headed over to Carl's Jr. for a lunch of burgers and fries. Really good. We've always like Carl's since we first ate at one up in Fairbanks, AK in 2008.
Returning to the shop, I found that the exhaust manifold had finally come in and the tech was hard at work on it, but didn't think he'd be finished up until between 2 and 3, too late for us to head out for Balmorhea. So it looked like we'd be spending another night in Las Cruces, but this time in our rig.
About 3pm Jan and I headed out on our test drive. We did about 6 miles including a couple of miles on I-10 with no problems. I did notice the increased power on acceleration, and the better working Pac Brake, both a result of replacing the leaky exhaust manifold.
However I did notice a problem with my air pressure. It was varying a lot, and dropping way down at slow speeds. This was not normal. Before I left on my test drive, the tech had mentioned my purge valve was venting air, and I said it seems to do that when it's been parked for a while. But when we got back from the test drive, it was still venting, wide open apparently. In fact it kept venting after the engine was off until there was no pressure left in the system.
Again, not normal.
While we were on our test drive, I noticed that Coachlight RV Park where we planned to stay was pretty full, so as soon as we got back I called and found out they only had a couple of sites left, so while the tech was looking at the purge valve, I drove the truck over to the RV park and got us a site for the night.
When I got back, the tech had run another coolant pressure test on the engine and again found no problems, or coolant in the oil. Finally, some good news.
He took the purge valve off and tried to clean it, but to no effect, so I told him to just replace it. And few minutes later he came back and said they didn't have one in stock and would have to order it. I said OK and told him to overnight it.
Then came the bad news. It was too late on a Friday afternoon to get an order in so it would have to be ordered on Monday, and so even overnighted, it wouldn't get here until Tuesday.
CRAP!
But I didn't want to head out across West Texas and have the purge valve fail and leave me with locked-up brakes at the side of the road.
The tech then said they might have the complete kit in stock that would include not only the valve but all the filters and parts to basically rebuild the air system. He said the valve by itself was $28, but the kit was $160. I told him let's go with the kit. Of course he came back a few minutes later and said they didn't have the kit either.
DOUBLE CRAP!
I told the tech we would wait until Tuesday, and to go ahead and order the full kit and get it fixed right.
At that point I told him I'd check with him Monday afternoon, and with Jan following me in the truck, started to drive the rig to right down the road to Coachlight.
Note, the operative word is "started". As in the engine would start, but the rig wouldn't go. The air system would not build up enough pressure to release the brakes. So I tracked down the tech and told him the problem, and after a few minutes of work, he managed to bypass the valve temporarily and get us on our way.
So it now looks like we'll be here until Tuesday, at least.
A little before 6 Jan and I headed over to El Comedor for another really good meal of Mexican food, That's one good thing about staying here a few extra days. They've got some great Mexican restaurants here, and the way things are going, we might get to eat at all of them.
We got back to the rig about 7 and settled in. We've still got some stuff to put away after living in the hotel for 5 days, but it's good to be home.
---
March 30, 2013
Wrapping Up . . .
here in Tucson.
Today is our last full day in Tucson for this trip. It's been a great time, but we're really looking forward to moving on, especially since we're heading up to Apache Junction, where we've never spent any time.
New is almost always good. Usually.
We decided we needed one more Brushfire BBQ fix so we headed out about 10:30, but this time we just split a Rib-Brisket Combo Plate. Even that was a lot of food. But it was as delicious as before.
Getting home, I got back to work wrapping up my two electrical projects. First up, I redid the grounds on my truck taillights, and that seems to have fixed my problem once and for all. I hooked the truck up to the rig and tested all the lights. And now everything works.
Next up was my dash lights/Headlights-On Alarm. I decided not to do anything about the headlight switch problem that's causing the dash lights to work intermittently. I can make them work by fooling with the switch, and I don't want to try to get it out/repaired and not have it working when we travel tomorrow.
So I went ahead and installed my Headlights-On Alarm, got it tested and the dashboard put back together, so we're ready to roll tomorrow morning.
We don't plan to leave here tomorrow before about 11 because it's only about 150 mile trip to Apache Junction, and TT parks sometimes get fussy if you arrive before the check-in time of 2pm. So we're probably going to go up to Bruegger's Bagels for coffee and a breakfast sandwich before we head out.
---
March 30, 2015
T-Ball and BBQ . . .
Our daughter Brandi sent over some photos of Landon's first T-Ball game this season.
Pre-Game Huddle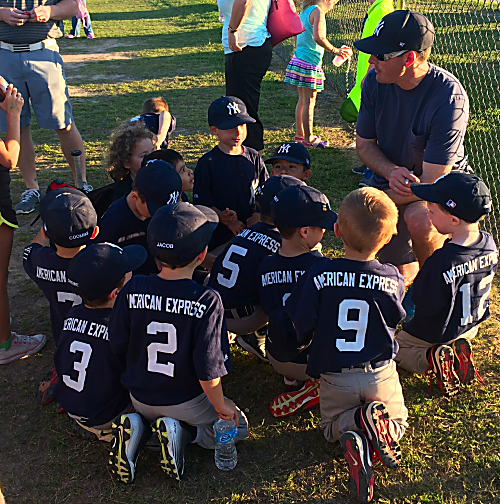 Who's on Third?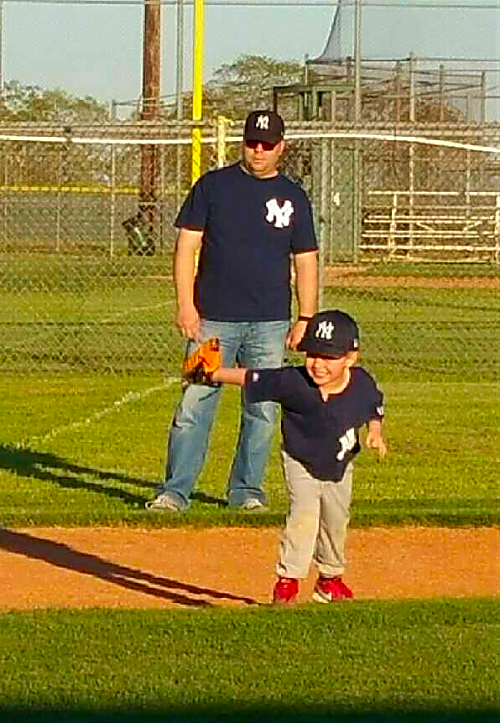 Heading for home.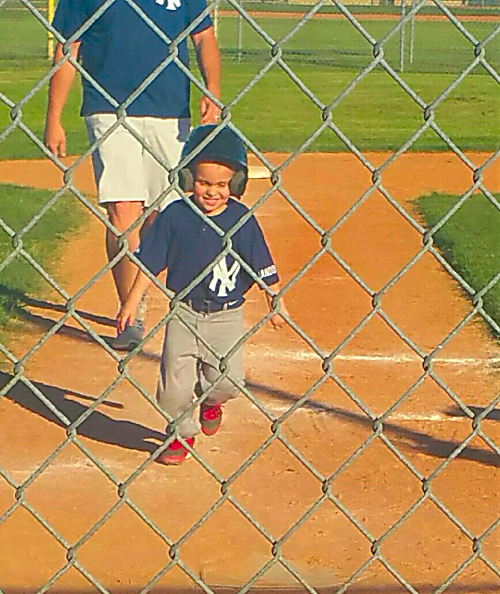 Later in the afternoon I went outside and installed the new Camco EVO Premium Water Filter that I bought on closeout from Wal-Mart yesterday. It was very easy to install and set up, and replaced the smaller type of blue Camco filter that we've used for years.
Per the instructions, I hooked it up to the faucet and let the water run for a couple of minutes to flush out the filter before I connected it to the coach water intake. The box said that this filter is high-flow at 5GPM, and it seems to show up in the water pressure inside the coach.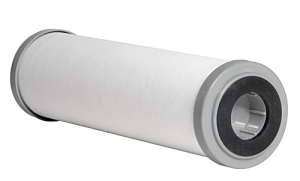 The instructions say the filter will last an 'entire camping season'. Not sure exactly what that means, but I'll check it in a month or so and see what it looks like. A replacement filter seems to be less than $15 so that's not bad.
Our daughter-in-law Linda posted this pic of some new patio furniture that our son Chris repurposed out of scrap wood. It's also nice to see some of our ornaments, the piranha and the lizard, are still on view.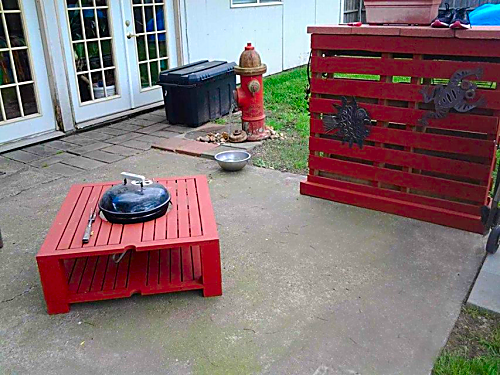 About 6 Jan heated up some leftovers for dinner. She had her chicken pasta dish from The Tilted Kilt while I finished up the rest of my BBQ Combo Platter from Famous Dave's BBQ last week.
---
March 30, 2016
Still on the Trail . . .
After coffee this morning, I got back to looking at my AC problem, this time starting to run tests at the control box from inside the unit.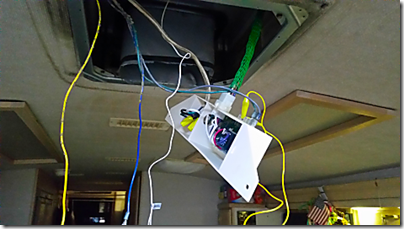 The first test was to look for 12vdc between the 'Y' terminal and the 'B' terminal on the control box, and there's where it went off the rails.
Instead of 12v, I found 0.77v, not quite enough. This voltage is what pulls in the relay that turns on the compressor. So if it's not right, then no compressor, no cooling.
Looks like I'm on the right track.
Since this 12v signal is supposed to be coming from the thermostat, I thought I'd next eliminate the thermostat itself by swapping out the control heads between the front and back units..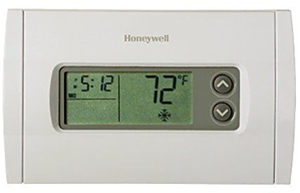 I was hoping this might be a quick fix, but no. So next I measured the voltages on the thermostat base plate.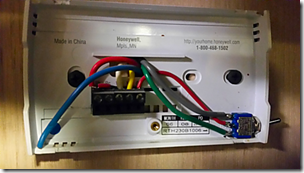 To get a baseline on a working unit, I measured the voltages on the unit in the bedroom, and found that from the red wire connection on the left, I had 12v on the White, Yellow and Red wires. The switch is something I added a while back to let me manually switch between HIGH and LOW fan speeds.
But when I measured the unit up front, I got 12v, 5.9v and 12v. And the 5.9 volts is on the Yellow wire which is the compressor signal. So I'm still on the trail.
OK, but why when I measure the voltage on the yellow wire at the control box I get .77v, but when I measure it at the thermostat base, I get 5.9 v. It's supposed to be the same wire. I mean, according to the diagrams, it is.
But, next, when I checked the continuity between the two yellow wires, I get nothing. It's completely open. But it couldn't have been this way to start with. Otherwise it wouldn't have worked . . . ever.
Then in looking over the Coleman diagrams again, I suddenly realized something. I don't know where the 12v is coming from that feeds all this. On a home system there's a 24VAC transformer that provides the power to the thermostat and to the relays. But this thermostat runs on 2 AA batteries.
Thinking maybe it was coming from the AC unit somehow, I switched off the breaker feeding the AC, and still found the 12, 5.9, 12 voltages at the thermostat base. So next I checked the rig's12 volt fuse panel, but found nothing there either.
So the 12v must be coming from the rig somewhere, but where? The wires just feed out the side of the opening where the AC unit mounts and into the area between the roof and the ceiling, and the 120vac wires do just the same.
At this point I called it a night, and I'll call American Coach tomorrow to see if they can help me out.
A number of you ask about Jan's Funeral Potatoes recipe. First off, Jan will be the first to tell you it's not hers, it's Ree Drummond's, from The Pioneer Woman cooking show. But if you want to try it out, I've posted it on Jan's Favorite Recipe page.
Bon Appétit !
---
March 30, 2017
Chili Today, Chilly Tomorrow . . .
Well, the cold front started moving in this afternoon, announced by the strong, gusting winds that really rocked the coach. Glad we're not on the road today.
After a high of 85° today, we're looking for a high of 66° tomorrow, but still sunny. And then it's down to 48 tomorrow night. Very nice.
I again spent the morning and early afternoon doing some website work, before heading out about 2pm for some errands, with my first stop at the park office for our mail and to ask permission.
The park has a firm rule against any vehicle washing, rig, toad, golf cart, whatever. But I noticed a lot of people here have gardens that they water every day, So I ask the manager lady if I could use my flower garden water allotment to finish cleaning off the rig wheels.
A while back at an RV Rally I bought a spray bottle of Busch's Aluminum Wash that was supposed to clean off the corrosion on the rig's aluminum wheels.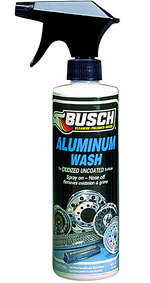 I tried it a couple of weeks ago while we were at Cochise Terrace RV Park in Benson, but the spray nozzle was defective and it just kind of spritzed out, but after waiting the required two minutes and then hosing it off, it was easy to tell that it was really working. It went from this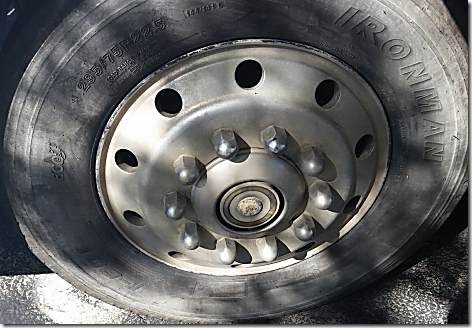 to this.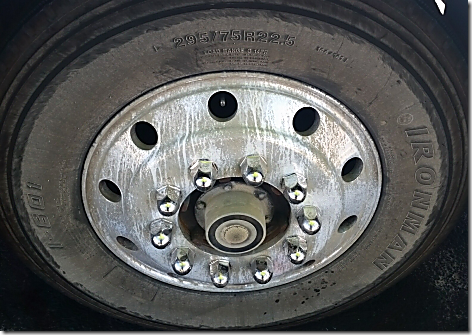 Streaky, but it's obvious it was working. So now I can do all the wheels.
Leaving the office, my next stop was the Chase Bank on Apache Trail to get a $60 money order to mail in with my Arizona CCW application tomorrow. Then it was on to the Fry's right down the road to pick up few things before finally heading home.
One of the things that came in the mail was the replacement Moen cartridge for our rig shower. I requested a new one under Moen's Lifetime Warranty, but it didn't come in until after we left for Tucson. So as soon as we were in one place for a while our daughter Brandi sent it on out to us.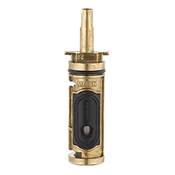 So it's now on my repair list. Glad that I got a free one under warranty since a new one is about $50.
About 4pm Jan served up big bowls of Jan's Famous Chili, which was as delicious as usual. This time, rather than adding corn tortillas, we crumbled up tortilla chips in the bowl along with the shredded cheese.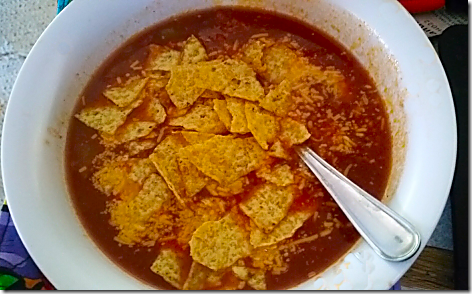 Gives it a crunchy bite. And yes, it has beans in it. I don't want to hear about it.
And this time we got to try out the padded bowl holders Jan bought at the recent Escapade.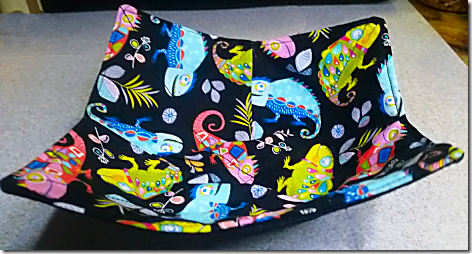 They not only keep your hands cool, they also help hold in the heat in the bowl. Very useful.
Tomorrow? Shiny Wheels and a Non-leaking shower?
---
March 30, 2018
Soup!
Not much new at work today. Set up a new Canon laser printer and got it working on the network. It's a high-speed duplex printer and will be used to print out our catalogs.
Getting home about 4:15 I put together a batch of quickie vegetable soup. I start with chicken broth, spiced (salt, pepper, minced garlic, minced onions, thyme, and oregano plus ground habanero for some heat) to taste. Then I dump in a large package of Birdseye Frozen Mixed Vegetables (Broccoli, Cauliflower, Carrots, Squash, and Zucchini)
And after about 7 minutes in the microwave it's all hot and bubbly.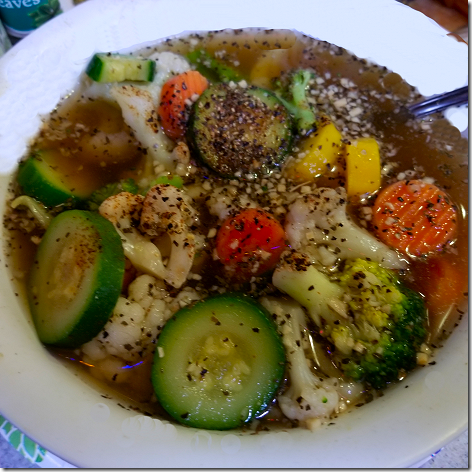 And delicious.
---
March 30, 2019
No Hikes, Bikes, or Hills . . .
Jan and I went back through the possible Added Cost Excursions for our upcoming Viking River Cruise, trying to nail down which ones, if any, we wanted to tack on to the trip.
The first pass was easy. Jan said we were eliminating any with the words, Hike, Bike, or Hills in the title. And that got us down to about 15 out of 40 or so. Even though this is only a 15 day cruise, some days have 3 or 4 different ones available.
Then we went though them again checking of conflicts with the free excursions that we've already booked. Luckily Viking makes this easy by listing any possible conflicts for us. So then we had to decide if we wanted to do the Included one or the Added Cost one.
By the 4 or 5th pass through the list, we'd narrowed it down to 3 add-on's, and not a hike, bike, or hill in sight. So now all we have left is a couple of possible tours during our stay in London.
With that done Jan and I headed out for lunch and some errands about 1pm. Before leaving the park, we dropped off some garbage at the dumpster and checked out the changes going on.
It's always nice to see park owners putting money back into a park, and this is a nice upgrade. Over the next few months all the sites are being updated to have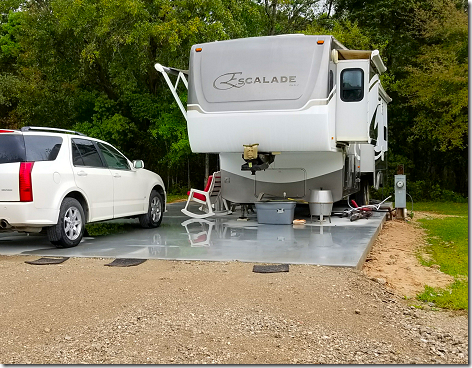 Looks like what's going to happen is that we're going to play musical rigs as they do one site at a time and we move around.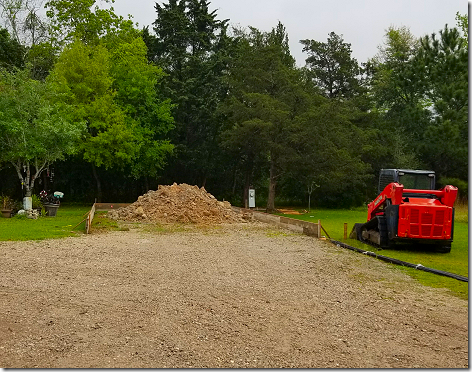 One thing we wanted do at lunch was to check out the traffic changeover at I-45 and FM646 scheduled for this weekend. The southbound side of I-45 was to be shutdown, but the northbound side was supposed to be routed over part of the new overpass. But, apparently they lied.
Both sides of the I-45 were closed and traffic was backed up for miles. We got out of it by driving back up an entrance ramp onto the feeder and following Google Maps out into the countryside for a while.
We finally got to our lunch stop, Crazy Alan's Swamp Shack, about 2:30, an hour after we should have gotten there, but it was certainly worth the delay. We had received a coupon in the mail giving us a free appetizer with an entrée so we thought we'd give it a try.
We started off with the Crab-Stuffed Mushrooms as our freebie,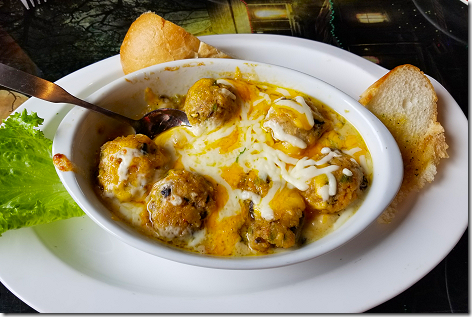 made with fresh mushrooms stuffed with crab, green onions, garlic, sherry wine, bread crumbs, and topped with white wine cream sauce. One taste and we knew we had made a great choice, both the appetizer and the restaurant.
While Jan followed up with a really good Side Salad with Ranch,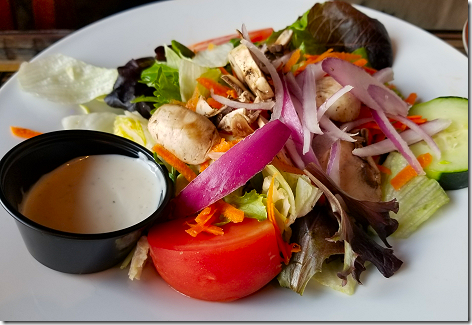 I couldn't pass up checking out their Shrimp and Crab Gumbo.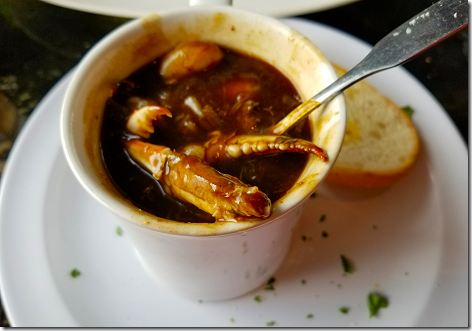 It is a Cajun place, after all. And it too, was really good. A little thicker, darker roux than my other fav, Floyd's Cajun Seafood, but with a slight burnt aftertaste that made it great.
For our entrée's, Jan got the Grilled Shrimp Tacos with Grilled Veggies,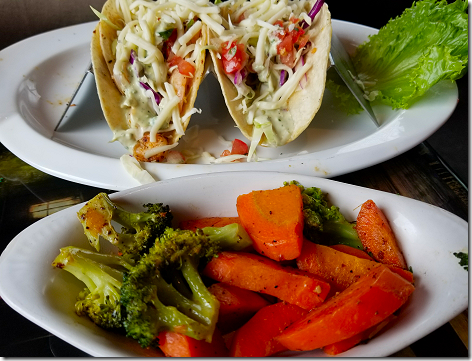 while I got the Spicy Shrimp Boil.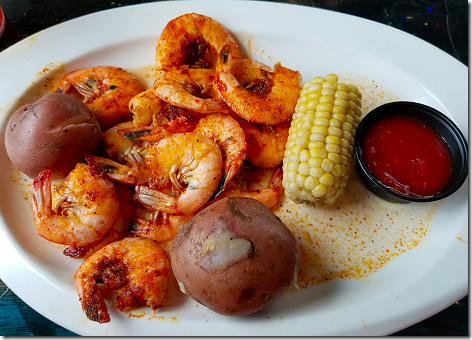 All I can say is that we have a new favorite place, and it's close by, too.
And we didn't even get to try the Crown Royal Whiskey Bread Pudding. We were too full. So next time, no to the appetizer, and yes to splitting a Bread Pudding.
After that great meal, our next stop was right up the mall to the Verizon store to find out if I my Galaxy S8+ phone is unlocked so that I can use a European SIM card on our trip to get phone, text, and data while we're over there. They couldn't tell me, but gave me a number to call that would know.
Then it was a little further up the road to one of Jan's favorite spots, The Container Store, so she could check out their travel section for packing stuff.
Finishing up, we made Sam's Club/WalMart stops to pickup and drop off prescriptions, and then headed home via the long way down Hwy 6 to avoid the Interstate shutdown.
And now I'll have to plot a new route for our rig check ride tomorrow to avoid I-45.
---
March 30, 2020
What's the End Game?
After our successful AC repair on Saturday, Sunday seemed like a good day to get started on our Rubbermaid storage shed. I had already opened the box to get out the manual and some of the parts bags,
So, following the manual I pulled out the 3 floor pieces and laid them out on the patio. But before I could screw them together I first had to use a screwdriver to punch out the holes in two of the panels.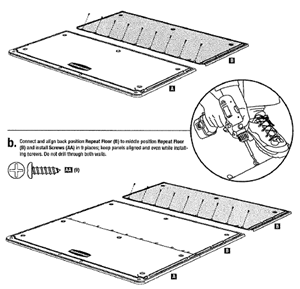 After I put the first couple of screws I could tell my battery-powered screwdriver wasn't going to hack it for all 16 screws, and it was going to be a lot easier if I drilled some 1/8" pilot holes in the planks. And it did make a big difference.
I was pleasantly surprised at how sturdy the flooring was, with not sags or give when I walked on it. Next I laid out the side and roof panels in place to see how it all fit together.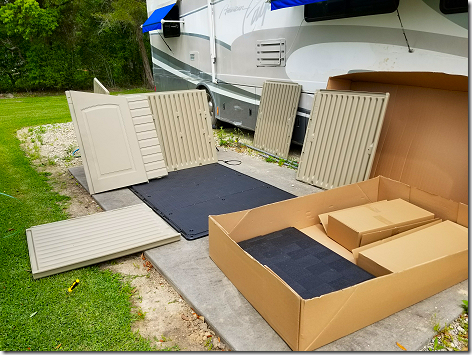 Because of the emphasis on keeping the shed level as it's being assembled, so we decided to put it together on the patio and then slid it over to the plywood platform we're setting up on the rocks behind the patio.
I sometimes wonder if the people wrote this manual ever had an outsider put together a shed using it. For example, the manual tells you to punch out the screw holes in the left rear wall panel,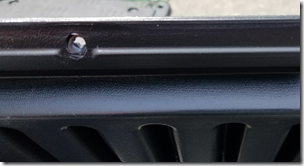 and then snap the panel into place on the floor. But the panel has to be held upright by one person while the other one is told to punch out the holes in the rear wall and then set it in place.
OK, why not just tell you to punch out ALL the holes in ALL the panels before you start putting it together, rather than have someone just stand there holding a panel up.
We decided to just as much prep work as we could on Sunday and then start the actual assembly on Tuesday. Hopefully we'll be able to get all the walls up and fastened together, and maybe a little of the roof done.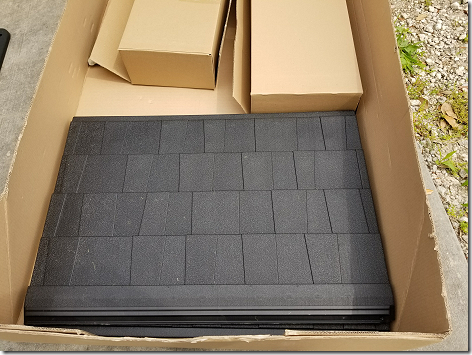 ---
March 30, 2021
She's All Clear!
After lunch at Dickinson Seafood once again, I dropped Jan off at the Solis Mammogram Center up in Webster a little before her 2pm appointment. Then I was off up the feeder to pick up some stuff at the nearby Lowe's. Next I headed over to the office for what I thought would be a couple hours before Jan was ready to be picked up. At least that had always been the time in the past.
But I was only able to get a couple of things done, when I got a call from Jan saying she was ready to be picked up, and it had not even been a full hour yet.
And even better, she had the All Clear signal for another year.
Yay!
Picking her up at the Mammogram Center, we drove back down toward Santa Fe, with a stop by the HEB for a few things before getting back to the rig about 4pm.
All in all, a Great Day!
Well, as usual, Texas weather can't make up its mind. Today we had a high of 81° and are expecting a low on 70 tonight. And tomorrow we're looking at a high of 77. But then tomorrow night it all changes.
Tomorrow night we're looking at a low of only 46° AND Gale Force winds. And Thursday and Friday night, its supposed to be 48° and 52°.
'Gale Force Winds?'
---
March 30, 2022
That's Twice Now . . .
You'd think I'd learn.
I worked on a number of projects yesterday, but wasn't able to finish any of them.
First up was to replace my leaking water tank fill valve with a new one. I couldn't find an exact replacement, since it's now only sold in Europe.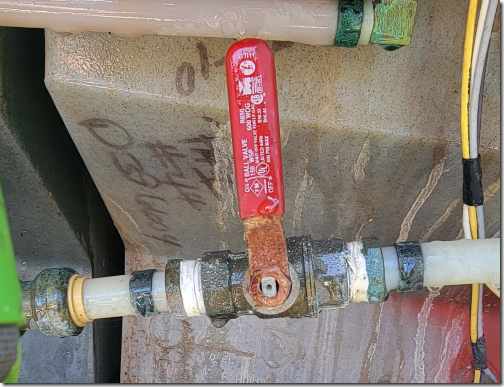 But I did find this one on Amazon.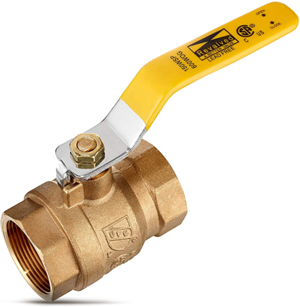 It was a little shorter than the original one, but I thought I had enough slack in the tubing to make up the difference.
I was wrong.
My first task was to remove the water line connecting to the left side of the old valve. Although it took a little work, I finally got the 23 year old joint loose and pulled it apart. At this point, water started running out of the open line, draining from our 100 gallon fresh water tank. Prepared for this, I immediately screwed the new valve onto the line to stop the flow. Leaving me with this.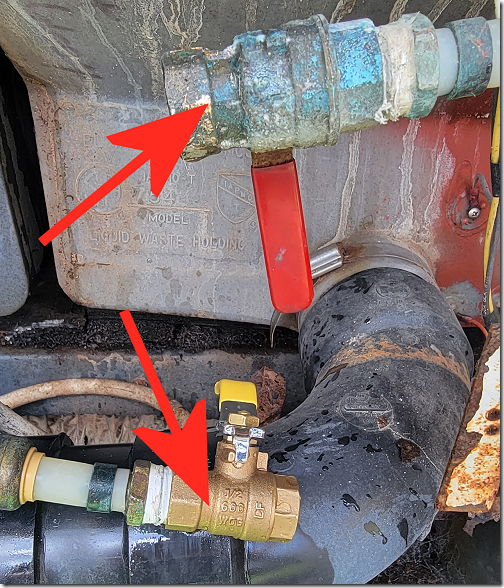 Then I removed the line going to the other end of the valve, a little more difficult since it was hanging free. But it finally came loose.
So now I switched the old and new valves, using the old one to keep water from running out of the fresh water tank. Next I screwed the new valve onto the open line and tightened it down. But when I removed the old valve and tried to hook the line up to new valve, it wouldn't quite reach.
Bummer!
So I put the old valve back in place and tightened it all down, done for the day. I was going to have to find a short extender piece to make it work.
Moving on, I wanted to change out my rusted 2 hose splitter with my new solid brass 4 spout one like this.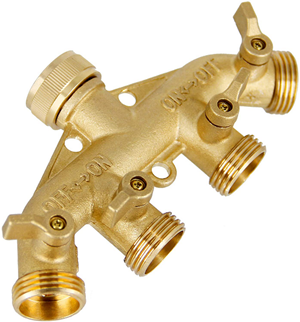 Using my water pump pliers (nee Channellock's), I started loosening the connector. At least I thought I was loosening it. But then I realized that the outer yellow plastic ring was all that was turning, not the actual inner metal connector. It was not turning at all.
And then, suddenly, I had a bad feeling about this. It was déjà vu all over again.
I had been here before.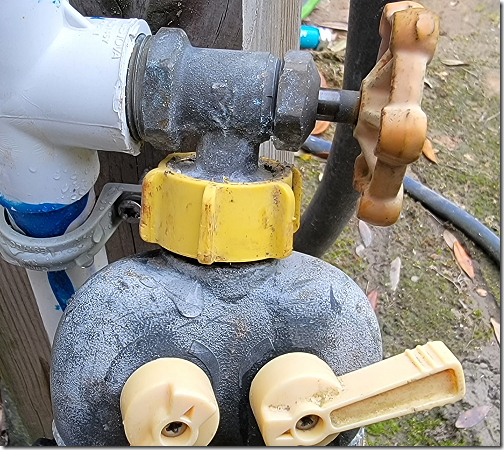 And the last time I actually to cut both the plastic ring and the metal connector off, using my oscillating multi-tool. This, because I couldn't really force the connection since it was all mounted on a PVC pipe, which I did not want to break off.
And I also remember that to forestall this happening again, I used both Teflon tape and plumber's grease on the connection.
Which apparently didn't work very well.
So now I've got to dig out my multi-tool and cut this one off too.
Done for the morning, we headed up to Webster to have lunch at Snooze for brunch.
Jan had her usual Bravocado Toast,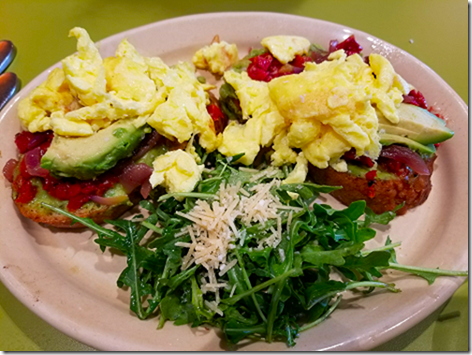 while I got the Goldilocks' Porridge, a mix of steel cut oats, quinoa and millet simmered in almond milk and topped with strawberries, blueberries, blackberries, bananas, toasted almonds and hemp seeds.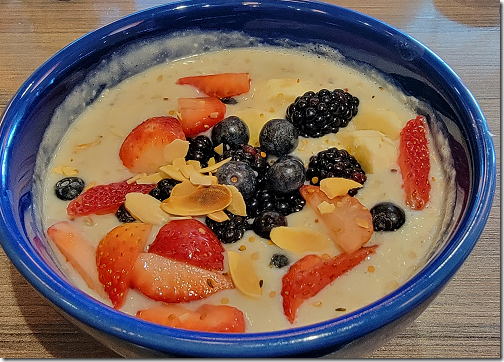 Really very good.