Daily Archives:
March 5, 2023
Jan and I went outside this morning to do some yard work around the patio and the Flamingo Flamboyance, and I got a real chance to try out my $20 Weed Eater.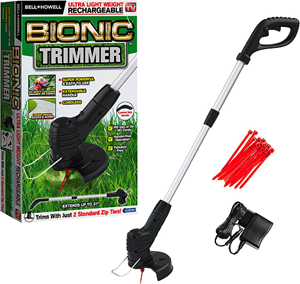 And I was very pleasantly surprised. I had worried about how long the battery would last, and also how long the tie-wraps would last. But I was able to edge both the patio and the Flamboyance with no problems.
I noticed no slowdown with the battery, and the tie-wraps showed no wear whatsoever, even against the concrete patio. The only problem I found was that I had to go slow because it was easy to bog it down in heavy stuff.
But hey, it was only $20.
Good buy.
We left the rig about 1pm planning to eat at Dickinson Seafood once again. But plans change.
Especially our plans.
When we got there the place was busier than we've ever seen it. Almost every table/booth was full and there were two groups waiting to be seated in front of us. Plus there only seemed to be one waitress taking care of things.
So we quickly decided to adjourn to Gator's Grille right down the road. And as usual it was really good.
Jan had the Strawberry Walnut Salad with Blackened Chicken,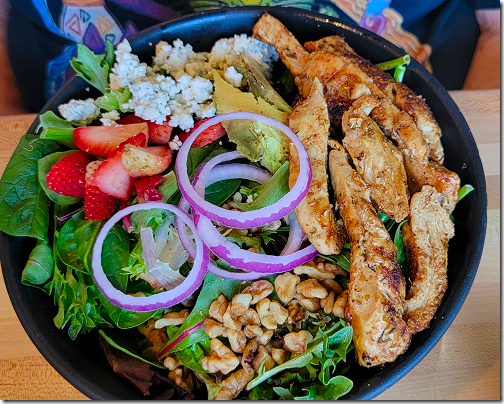 while went similar, but with a Side Salad, also with Blackened Chicken.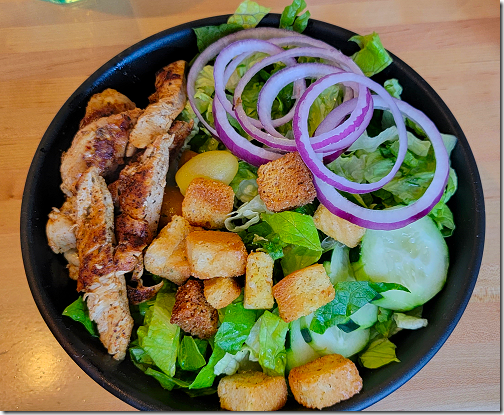 Both really good as always.
And of course we had to finish our meal by sharing one of their warmed, Keto Blueberry Muffins.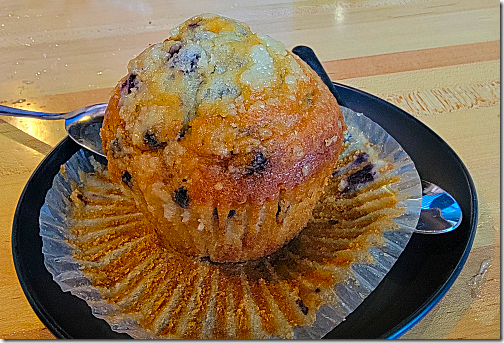 Then it was on the feeder for our weekly HEB stuff and then home.
One of the yards that we pass close by the RV park has a bunch of Blue Bonnets in the front yard, so i guess Spring is getting close. After all Spring Forward is next Sunday.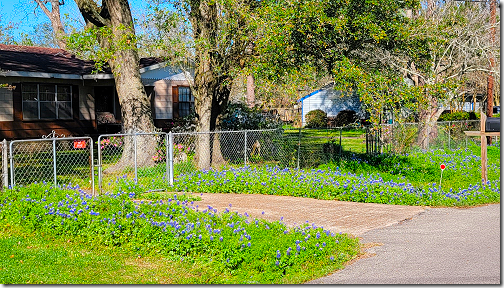 Of course they may have just planted them so they don't have to mow it.
This evening I finally gave in and ordered a Roku 4K streaming stick from Amazon to go with our Amazon Firestick.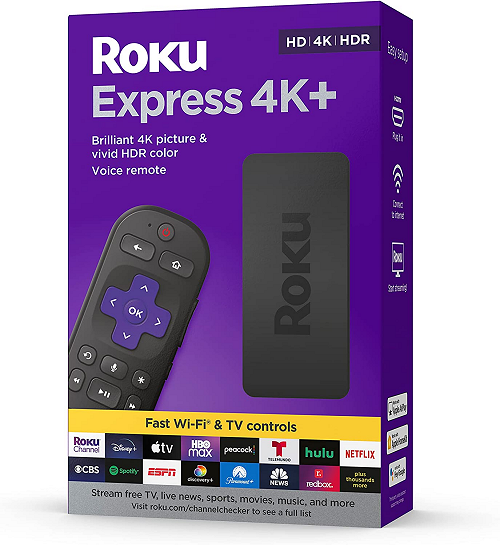 Turns out that there are some shows that I can get free on Roku that I would have to pay for on my Firestick. A prime example is the latest season of Murdock Mysteries which is on Ovation, which is only available on the Roku or through your local cable provider. So Roku it is.
Next week we've a couple of things going on, with a Saltgrass Steakhouse get-together with our Alvin Opry group and then Friday night we have the Alvin Opry itself, featuring Jan's crush, John Mark Davis.
And Monterey's Mexican before hand, of course.
---
Thought For The Day:
If a woman tells you that you're right, that's called sarcasm.
---
March 5, 2009
You can't go home again…
Today Jan and I had lunch at one of our favorite seafood places here in Gulf Shores called Tacky Jacks. It's on the bayou at Alabama Point that connects the bayou to the Gulf of Mexico and has some great views.
It's also right across the bayou from SanRoc Cay, a resort area that's built on property that my parents once owned.
$ure wi$h we $till owned it.
t's kind of hard to drive around and see all the new condos and buildings that have gone up. Gulf Shores used to be a sleepy little town with mostly Mom and Pop businesses. Now it's Fort Walton Beach/Panama City redux.
---
March 5, 2010
More of the Same…
Jan and I headed back out this morning to try and garner more door prizes.
I'm having pretty good luck as long as I can get to talk to the manager. Otherwise, its "Come back tomorrow"
We stopped and had lunch at a Mexican restaurant called Mi Rancho. It was good, and hopefully they'll have some gift certificates for us tomorrow. We'll see.
About 5pm we headed back to the Fairgrounds to meet up with Tom and Barbara for supper at Outback. And hopefully they will have some gift certificates for us on Sunday. Again we'll see.
---
March 5, 2011
'Hot' BBQ and Chocolate . . .
This morning started off with a big surprise. Our first Skype video call from our daughter Brandi and our grandson Landon. We didn't have our webcam hooked up yet so they couldn't see us yet, but we could see them.
We talked for about 5 minutes before we lost the connection. It's only been about a month since we've seen them. It just seems like longer.
Jan came up with a great description for living on 20 amps. She called it the "electrical dance". Something must be turned off before something else can be turned on. Very apt description.
About 11 Jan and I headed back out to the Fortuna area for a last pass on door prizes. While we were in the area we had a quick lunch at McDonald's and then headed out to the Foothill's area for the real reason Jan came with me today, our visit to the Chocolate Crafter's store.
Lorena, one of the owner's was there and handing out samples. When I visited yesterday, her father Bob had said he would have Lorena bring in some gift certificates for us to give out as door prizes at the rally that starts on Monday.
And they really came through for us. Thanks Bob and Lorena.
It's hard to believe that they make all this great tasting chocolate right here in this small shop.
Mmmm, Mmmm, Good!
On our way home we stopped off at Fry's Supermarket to pick up some things so Jan could make her twice-baked potato casserole for our parking crew get-together this evening.
About 3pm much of the parking crew had arrived and was set up in the field across the street from us, so we had strategy session on the early bird parking tomorrow.
We can't start until about 1pm since we have to wait for the Good Sam Rally people to leave. But it looks like we'll have much better weather this year. Last year it was cold, and rained all day Sunday. But it changed on Monday.
Well, it did rain Monday morning, but then it cleared up around noon. Then in the afternoon we had rain, lightning, sleet, and hail.
I mean, that's a change, isn't it?
About 5pm we all gathered around and had some of Dennis Hill's delicious slowed-smoked pulled pork BBQ. Dennis is the owner of the RV Driving School, and a great cook too.
Everyone brought a side dish, with Dennis supplying the BBQ and the buns.
Dennis said he had two types of BBQ . . . a dry-rubbed pulled pork, and 'much hotter' version with BBQ sauce on it. He even warned everyone that it was 'really, really hot'.
It was all delicious, but personally, I think Dennis should be ashamed to say he's from Texas if he thinks that BBQ was 'really, really, hot".
Like I said, it was delicious, but I mean we didn't even have to sign a waiver like I did for the Devil's Breath Buffalo Wings at the Cypress Creek Café in Wimberley, TX last month. Made with Naga Jolokia (Ghost Pepper) peppers, one of the hottest peppers in the world, they will show you what 'hot' is.
After dinner we all set around and swapped stories and wild tales of the open road, maybe a few of them even true.
After we broke for the evening, Jan, and I made a DQ run to round out a really nice day.
More tomorrow from the Parking Wars . . .
---
March 5, 2012
Five Guys and Nose Skids . . .
Since parking and registration started at 8 am this morning, Jan and I were up at 7.
Ugh!
After wakeup coffee and muffins, Jan and I headed over to the main hall to get things started. She was selling pizza party tickets, and I would be parking RV's again.
As it turns out, I really wasn't that busy. We had maybe twenty more rigs all day, and never more than two at time, so I spent most of my time trying to find a shady spot to stay cool while I was waiting for a walkie-talkie call to come park someone.
About noon Jan and I met up and had some really good hot dogs / polish sausage dogs for lunch from the food truck that is here at the rally. They have a 9 year old daughter named Jessie who's a great order taker and keeps the line moving.
We wrapped the parking up about 3 pm, and then about 3:30 started off the festivities with the Welcome Get-together in the main hall, which then segued into the Ask the Experts panel that finished up a little after 5 pm.
For dinner, Jan and I, along with Al and Adrienne, and Tom and Barb, all drove over to Five Guys Burger and Fries. They had a really good Bacon Double Cheeseburger that's hard to beat, and some of the best fries around.
Then at 7 we had our first door prize giveaway, consisting mostly of restaurant coupons so the winners will have time to use them before they leave on Friday.
We finished up about 7:30 and headed back to the rig for the night, just to start again tomorrow.
But at least no more parking.
One another note, Landon had a slight disagreement with his backyard plastic slide, and apparently did a header, complete with skid marks on his nose.
Probably won't be the last time he does something like this.
---
March 5, 2013
Bandera and Pipe Creek . . .
Today was a combo drive through the country/shopping afternoon.
About 2pm we headed out to drive over toward Bandera, TX, the self-proclaimed "Cowboy Capital of the World". We took a couple of back roads on our way just to enjoy the countryside.
The centerpiece of the town, like many small towns, is the courthouse. In this case it's the Bandera County courthouse. Built in 1890 from locally-quarried white limestone, it was crafted by the many Polish stoneworkers in the area.
One that I found interesting was the fact that besides the many Poles settling in the area, a group of 250 Mormons arrived in 1854. After first settling in Austin, and then Fredericksburg, set up 'Mormon Camp' on the Medina River where they grew vegetables and made furniture for sale in the area.
Heading out of town on SR 16, we stopped off at feed store so Jan could get some more deer food. You'd think that with all the money I'm spending on food for them, I'd get a little venison out of the whole thing.
Passing through Pipe Creek on our way to Boerne, we stopped off and got gas at the local Shell station. Paying $3.46 a gallon, I used Gas Buddy to help me find the cheapest place. Other stations nearby were charging as much as $3.65.
Getting into Boerne, our first stop was Home Depot for some more project things, before driving next door to have dinner at the local Chili's. As usual, Jan had her Margarita Chicken and I had a Soup and Salad combo with their Spicy Chicken and Sausage Soup. Hey, if it's got 'Spicy' in the name, I'm all for it.
Wrapping things up with a quick stop at Wal-Mart, we headed back to the rig with a loop through the HEB gas station to be sure we can get in and out to diesel up when we leave here next Monday.
Tomorrow it's a two-fer. First we'll headed up to Fredericksburg to have lunch at our favorite German restaurant, Der Lindenbaum, before heading back over to the Canyon Lake area to check in with our friend Gina. We'll take Gina a plate of her favorite JagarSchnitzel on our way.
---
March 5, 2014
Heavenly Hash . . .
Although we never really saw the sun, we awoke to much better weather this morning. In fact the temp made it all the way up to 56 degrees. And tomorrow they say we'll see the sun and 60 degrees. We'll see.
About 11am I went out and connected us back to shore water. I disconnected it Monday night before the big freeze, and didn't even bother to hook it back up yesterday at all. We just stayed on our internal fresh water tank and waited out the weather.
Today, with the weather better, I was able to work both inside and out, going through and organizing bins. I want to get two bins filled and ready to take with us when we head down to Webster on Saturday to visit our son Chris and his family. That way we can drop stuff off at the storeroom at the same time. Slowly, but surely.
About 5:15 Jan and I drove over to the park office for the Wednesday Night Potluck Supper. Jan fixed her wonderful Heavenly Hash Fruit Salad yesterday so it could mellow overnight, since it's always better that way.
And it so popular that I didn't even get a chance to get a picture before it was partially gone. In fact I've learned not to wait and come back to get some for dessert, so I always get a scoop when I first go through the line.
And when I went back afterwards, it looked like the bowl had been licked cleaned. But at least I got my spoonful.
We got together at the potluck with Ed and Debi Hurlburt on the right side, then Janice and Dave Evans, and new friends Janice and Rick, and then my Janice. So we had three Jan's and a Debi.
We had a great time with old friends and new, once again
---
March 5, 2015
What's in the Devil's Spit, anyway?
Today was kind of a goof-off day for us, so after talking it over we decided about noon to head down to the northern outskirts of El Paso for dinner and a show, well, lunch and a museum.
It's been a good while since we've eaten at a Famous Dave's BBQ, and even though there's one in Tucson, we couldn't resist going now. We first ate at one in Billings, MT in 2008 on our way to Alaska, and have been hooked ever since. I grew up on pork ribs basted in sauce as they cooked, not on the dry rub version you get in Texas, so eating at Famous Dave's is like going home.
Jan and I decided to try the 2 for $20 menu, since for once a 2 for $20 menu had something we both wanted on it.
We started off with a really good salad, with fresh-cooked bacon crumbles, homemade croutons, and homemade dressings. A great salad.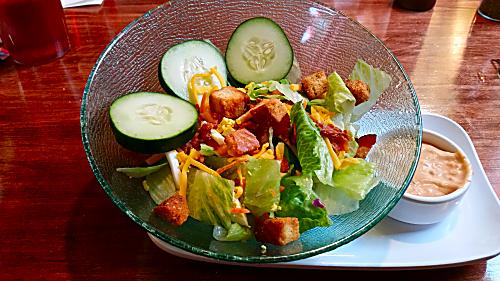 Then I had the 3 Rib Plate with Wilbur Beans and Firecracker Green Beans,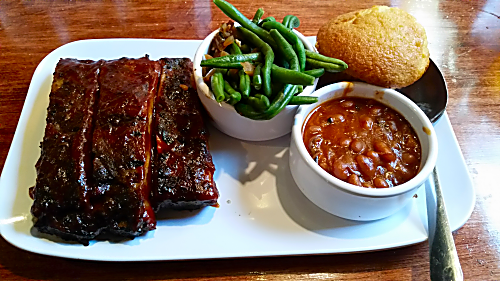 while Jan went with the Brisket Sandwich and Fries.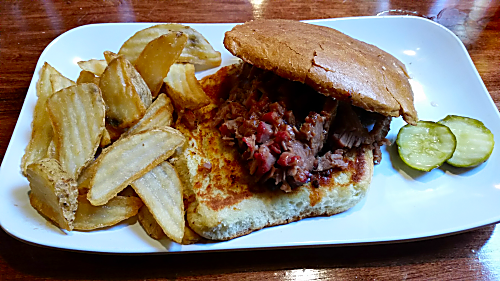 Of course the BBQ slathered in their Devil's Spit BBQ sauce, with a mixture of their Sweet & Zesty sauce too. And just because we ate at this one, doesn't mean we won't eat at the one in Tucson.
Our next stop was a visit to the War Eagle Air Museum. We seen the signs for several years, and even tried to find it once before with no luck, so we thought we'd give it another try.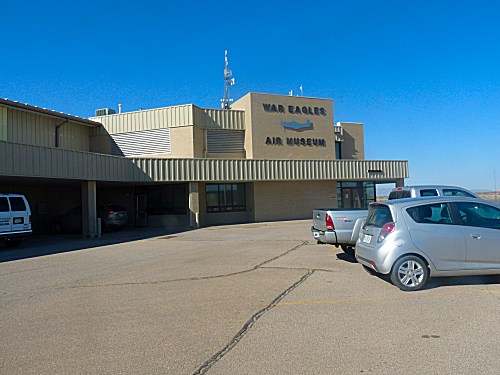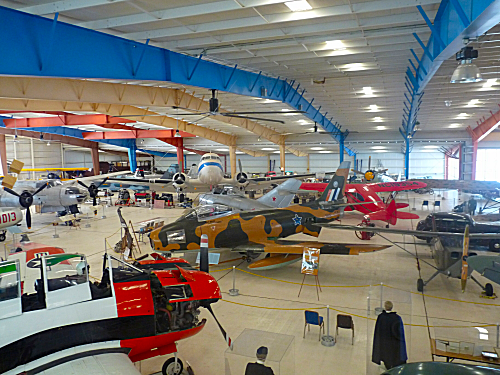 I'll tell you more about it in the next couple of days when I have more time, but it's a great little museum.
Coming home a little after 4pm, we made a Wal-Mart stop for a few things. By the time we were finished it was 5pm, so we decided to go ahead and have dinner before we headed back to the rig.
Our choice was ChaChi's Mexican Restaurant over by New Mexico State University.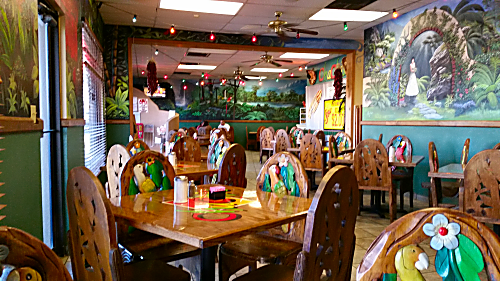 When we were having some repairs done here in 2012, the shop manager recommended it, and he wasn't wrong. It's really good.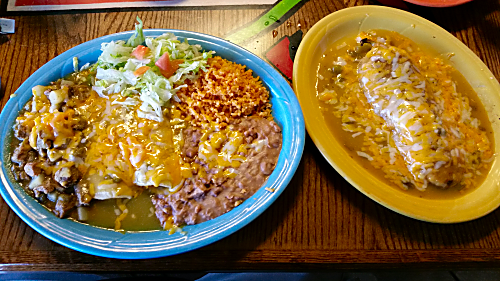 And really big.
We had forgotten how big their combo plates were, so we had a lot to take home. It'll make a good lunch (or two) during the Escapade next week.
We're going to head out early tomorrow, between 6:30 and 7am, to get to the Pima County Fairgrounds and get parked as early as possible on the first day of Early Bird parking. (that's a lot of 'early's)
---
March 5, 2017
A Comedy of Errors . . .
Since it was already sprinkling when I got up, and was supposed to continue all day, it seemed like a good time to pressure wash the rig to finally get all the caliche mud off hat we accumulated on our trip down to Kenedy last October for our gate guarding stint.
Caliche mud forms a hard crust and will not wash off with rain, but must be scrubbed off with a brush or car wash, or in the case of the rig, pressure washed with Awesome as a detergent.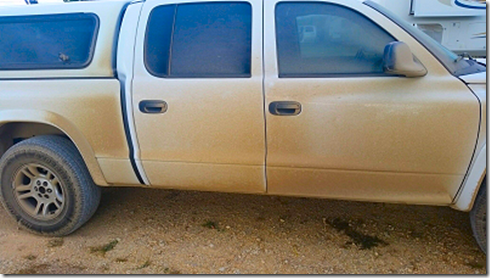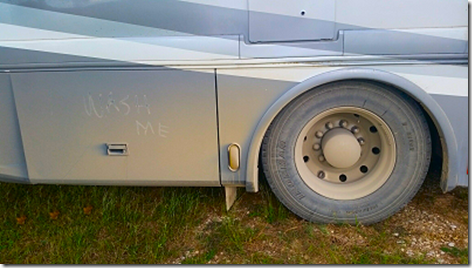 It took me a little over two hours to go over the coach, first soaking it with water and letting it set for a few minutes. Then I soaked it again, this time with an Awesome solution, and also let it set too. Finally I went back over the coach with the high pressure spray, rinsing off the Awesome and getting all the debris from the nooks and crannies.
If I have time in the next couple of days I'll go back over the coach with a spray wax to give it some shine.
After a hot shower to warm up, Jan and I headed out about 4:45 to meet Ed and Debi Hurlburt at El Bosque for some of their great Mexican food.
And as usual the food was great, but the service left something (much?) to be desired. We figured we were going to have a problem when our waiter took our orders without writing anything down, and then kept coming back to the table to double check things.
He got Ed's order completely wrong, and it took us forever to get plates for our fajitas, flour tortillas, and Jan's refried beans. Turns out it was the guy's very first day.
But at least the food was good, as well as the company.
Tomorrow morning I'm dropping the truck off to have the headliner replaced. The glue has dried out so it's falling down in places, and when you touch the edges it just disintegrates, so they'll do a full replacement and have it back in a few hours.
Then tomorrow evening it's back down to the Clear Lake area for dinner with some old friends, Bob and Maria, who we've known since the mid-80's. Really looking forward to it.
---
March 5, 2018
Ginger Peach Sriracha . . .
After letting Miss Kitty and Baxter out one last time, Jan and I headed out about 6pm, with a quick stop at the nearby HEB for gas. It's still at $2.05, while gas down in our area jumped 6 cents last week, up to $2.19.
Out on the Westpark Tollway and then the Sam Houston Tollway on the way home, it was my first chance to see how my new LED headlights were working.
The answer is "Great"!
The pure while light really lights up the roadway, much brighter, with a wide beam that gives me a better view of the roadsides. And although they lit up the roadway further out in front of me, they didn't seem to be too bright for the on-coming vehicles since no one flashed their lights at me.
We got to Plucker's down in Webster about 7:15 and found ourselves with a 25 minute wait to get a table.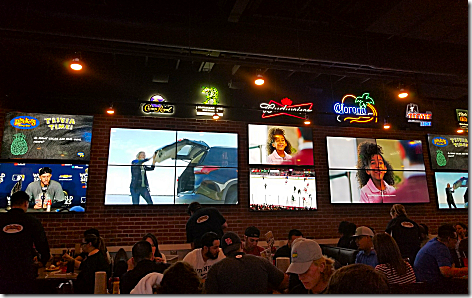 Really didn't expect them to be this busy this late on a Sunday night.
I started out with a side salad, but went a different direction with the dressing.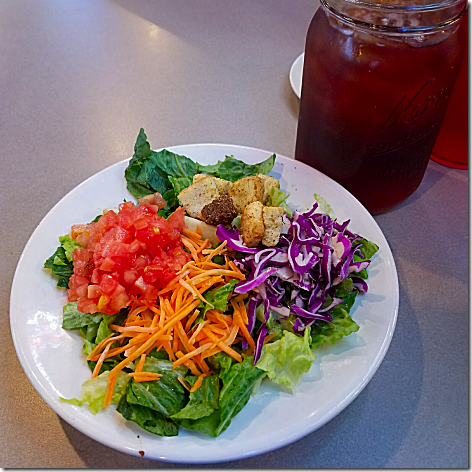 I asked for some of their Ginger Peach Sriracha, the same sauce that I get on my drums. Really good, and a perfect match for the salad. And I really like their quart Mason jar tea glasses.
Jan bumped up her salad a bit and got the Blue Cheese Chicken Cobb version, with the homemade Ranch.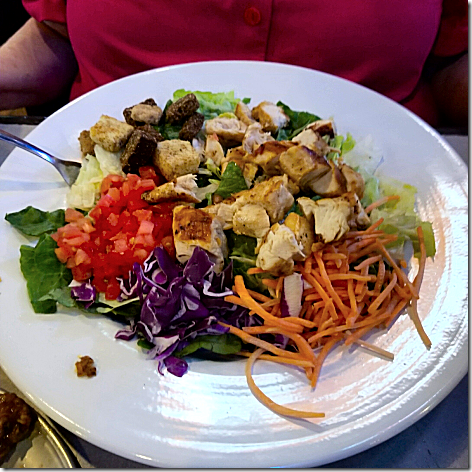 In fact all their dressings, sauces, and dry rubs are made in-house, and are really great.
For our wings, we got 5 each, both with the Ginger Peach Sriracha sauce. As usual I got all drums with the Ranch dip and some extra sauce.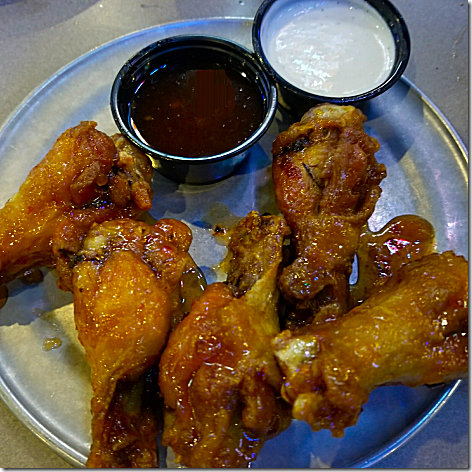 I don't know what it is about weird flavors of things, but I think it may have started with the Bertie Bott's Every-Flavour Beans from the Harry Potter books/movies. And when they say every flavor, they mean it. You know, flavors like earwax, liver, sardine, booger, and vomit.
But now the strange flavor concept has been extend to more common household items. Like these at Brandi's –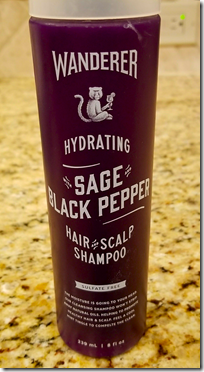 Sage & Pepper Shampoo
or maybe this –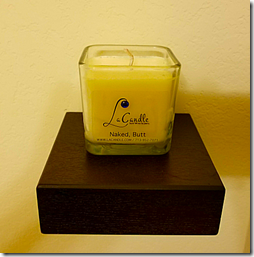 a 'Naked, Butt' candle.
Makes sense that Brandi's never lit it.
I certainly wouldn't.
---
March 5, 2019
Taking It For Granite . . .
It was 37° at 5am this morning and down to 32° at 7am. And it didn't start actually warming up till about 11am, all the way up to 40. And that was about it.
Jan and I spent the morning looking at luggage for our trip. Someone recommended this set,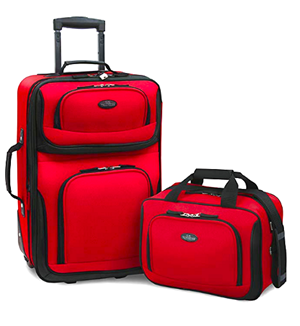 and the reviews look pretty good. Though it is always kind of funny to see 50 people say how tough the luggage is, and how they schlepped it all over Europe or Africa with no problem, and there's usually one review that says that it's a piece of crap and it broke the first time they used it.
The set comes in 4 other colors, black, dark blue, orange, and purple. I guess the black and red set are the most popular, since they are $10 –$14 higher in cost. But even they are only about $50 for the set.
Turns out that even the larger piece is sized for carry-on, as of course is the smaller one. Turns out that Lufthansa allows us 1 piece of checked luggage and 1 piece of carry-on luggage, plus of course a shoulder bag, purse, or laptop bag. And that's for each of us.
So what we're thinking about is two sets of these, and then borrow a larger piece from Brandi to check in.
We'll probably wait until the first of April to order since we've got to store it somewhere, probably in the storeroom after we do some trial packing.
And speaking about the first part of April, looks like April 5th – April 8th is the date for everyone's visit up to Chris and Linda's in Kingsland, along with Brandi, Lowell, Landon, and Miss Piper. And we're taking the rig up there, leak fixed or not. I don't want to let it sit for longer than about 5 months without taking it on the road.
Hopefully the weather will cooperate and I'll be able to get the filter replaced and local test drive done before than, but I've already got reservations at the Granite Rock RV Park in Kingsland, so the rig is going up there one way or the other.
As I had figured, a couple of hours after UPS picked up my defective Brother FAX machine return to Amazon this afternoon, I got notice that they had already refunded the $140 to my card. Nice.
---
March 5, 2020
R.I.P. Miss Kitty . . .
Brandi called us today with some sad news. They had to put Miss Kitty, Landon's long-time companion and protector, to sleep.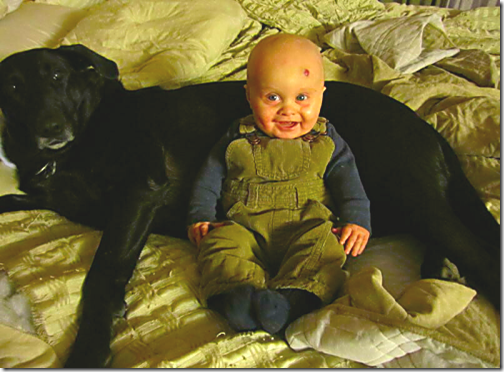 She was 13 years old, a good run, since the average for a Black Lab is a little over 12 years. She'd been going downhill for a good while, but finally got where she couldn't not even walk.
Landon and Kitty were more brothers than anything else. They would fight over toys, play together, and roughhouse around.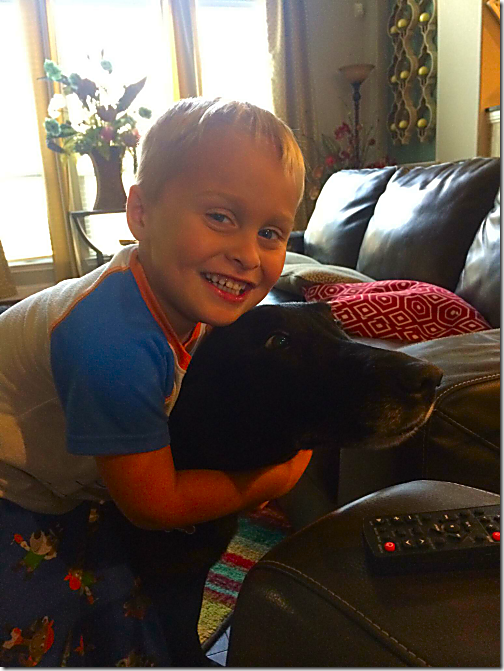 Kitty was also very protective of Landon. So much so that when Jan and I first visited Landon when he was just a few days old, Kitty got between us and Landon and blocked us with her body, easy for a 120# dog, not letting us get close until Lowell told her we were OK. Then we were her best friends.
She will be missed by all.
I did get some good news today though. I got the renewal docs for my National General RV/Auto policy this morning, and was happily surprised that not only did my rate not go up, but actually went down about $25 per month. WOW!
But actually they've always been pretty good with my rate. We've been with NG for about 10 years since our friend Chris Yust signed us up at an RV rally and saved us about $100 per month over our Progressive policy. And even more amazing, when we had our $20,000+ rig blowout in May 2015, I think our rate went up about $4 per month the next year.
Thanks, Chris.
32# is apparently a lot heavier than it used to be. Personally I blame a recent increase in the earth's gravity. Or something.
Jan recently wanted some dumbbell weights to exercise with. She already had a couple of 2# ones, but wanted some heavier ones. So I ordered her these.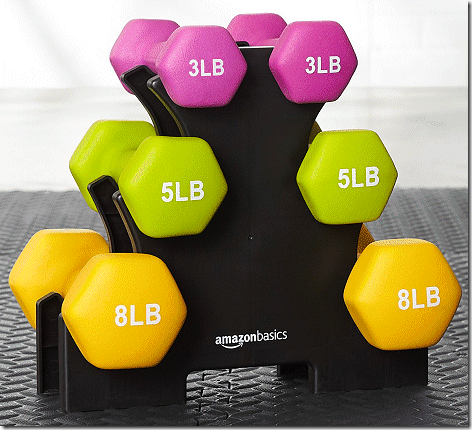 So the shipment came in at the office this afternoon, so while we were out and about, we went by to pick it up.
But maybe 'pick it up' isn't really the right right phrase. Maybe 'tried to pick it up' would be better.
There was a day when I would have been able pick up a 32# box under both arms and head off. But today it took both hands and a lot of straining to get the box out to the truck.
This whole 'growing old' thing is not quite working out like I wanted, but I guess it beats the alternative, as they say. Of course it still could just be gravity's fault.
Yeah, let's go with that.
---
March 5, 2022
An Uber Day . . .
Well, the day started out really good, with lunch at Yummy Yummy, our favorite Chinese Buffet. And then after our usual great meal, we were on up the Interstate to make a WalMart stop for a few things. However, though that was idea, it didn't quite work out that way.
And it was all the fault of a dead battery.
No, not the 12 volt version in the Jeep, but the little 2032 one in the Jeep's key fob.
It died last week, and, after checking my battery stash with no luck, I was planning to get one at the WalMart today. But apparently this wasn't soon enough.
Though normally we don't lock the Jeep, I did today at Yummy's because I had two HP OfficeJet Printers in the back seat.
One was going up to Landon tomorrow and one was coming home with me.
But when I locked the Jeep, it slipped my mind that sometimes it's very difficult/impossible to get the Jeep door unlocked with the key
Most of the time it's no problem, but other times like today, it's impossible. It's not the key, because I tried two different ones. The key turns and starts to raise the lock button, but it just won't pop up all the way and unlock the door.
So after banging, pulling, and pushing on the door for about 15 minutes, I called for an Uber to take me up the Interstate a few miles to the nearest CVS. But there weren't a lot of Ubers working in our area, so it took about 20 minutes before 'Fidelis' showed up. When we got to the CVS I tried to get him wait the 5 minutes for me to run inside and get a battery, so I could just rebook a ride back down to Yummy's and he would already be there and ready to go. But he said No, and lost out on a bigger tip.
And, as it turned out, he was just turning out of the parking lot when I came back out with my new battery.
Tiffany, the Uber driver who showed about 30 minutes later, said she would have waited. And she got a really GOOD tip.
And when I got back to Yummy's, it was 'Click-Clunk', and we were ready to go. But by this time, it was after 3:30 so we decided to call it a day.
WalMart will still be there next time.
Tomorrow we're heading to Katy to meet up with Brandi, Lowell, and Landon at the Pho Barr in their area.
Really looking forward to seeing everyone.