Daily Archives:
March 10, 2023
So just the Retro-Blogs. More tomorrow.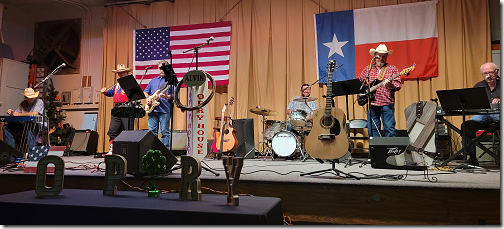 ---
Thought for the Day:
Be the kind of person that when you get up in the morning, the devil says, "Oh crap, they're UP !!"
---
March 10, 2009
Lunch at Lulu's…
Today, Jan and I had a late lunch at Lulu's on Homeport. Lulu is her brother's name for her. Her real name is Lucy Buffett.
And her brother is Jimmy Buffett, the singer/songwriter.
Lulu's has become one of our favorite places at Gulf Shores. It's on the Intercoastal Waterway or Canal that divides Gulf Shores from the mainland. Most people don't realize that Gulf Shores is an island, but actually an artificial one, since the Canal is man-made.
Besides the great food, the view of the Canal is always entertaining. There was a pod of dolphins playing in between the boats passing by.
In the background above, you can see the bridge that crosses the Canal to Gulf Shores.
We also got to watch a number of tugs, barges, and fishing boats traveling by.
After we left Lulu's, Jan got a pedicure while I picked up some parts for another project.
By the time we got home we had a beautiful moonrise waiting for us.
Just another day in paradise…
---
March 10, 2012
Arizona Sunsets and Camp Chairs . . .
Jan and I didn't get up until about 9:30 this morning. Not unusual for me, but very unusual for Jan as she's normally up between 7 and 8. But we both had a lot of early mornings and long busy days to make up for, so sleeping in really hit the spot.
Around 11 we all started talking about our plans for the rest of the day. Jan wanted to do the Yuma Indoor Market Place, and Chris Yust decided to join us, and followed us down to Mi Fajita to have lunch.
We spent several hours walking up and down the long rows of everything from jewelry to custom golf clubs, and remote control helicopters to tools.
Jan and I bought a couple of new camp chairs to replace our 5 year old bag chairs that recently bit the dust. And I found a new water filter that I was looking for, while Jan picked up some books from the used book store.
We finally headed home about 4pm, all pretty pooped. But Chris Yust and I still had work to do.
She wants me to get their website up and running to advertise the GMAC insurance and Good Sam products they sell, so we spent several hours going over the particulars of the new site.
Then about 6:30 everyone started getting hungry so we headed out to have dinner at La Fonda, a local Mexican restaurant that we wanted to try. But when we got there about 7:30, it was CLOSED.
What kind of Mexican restaurant closes on Saturday night? According to the sign on the door, their Saturday hours are 10am to 3pm.
Huh? So we decided to take our business down the street to Burgers & Beer, a well-regarded local place.
The food was good, but the conversation was even better. We laughed and talked, teased the waitress, and then laughed some more. In fact it was almost 10pm before we got out of there.
But we sure had fun.
Tomorrow Jan and I will head for Tucson for a couple of weeks, with a stop-over at Sofia's in Gila Bend for lunch along the way.
We've really enjoyed the hospitality of Daryl and Cheri Lawrence who let us park on their lot for a couple of days here in the Yuma Foothills. And hopefully we'll all meet up again in Celina, OH for the next rally this fall.
Earlier in the evening before we left for dinner, I did get this great Arizona sunset shot.
Perfect end to a great day.
---
March 10, 2013
No Bones About it . . .
Today is our last full day here at the Medina Lake Thousand Trails. We've been here for two weeks and it's time to move on.
Tomorrow we'll make the 350 mile run to Balmorhea, TX where we'll be for about a week. On the way we'll stop off in Boerne, about 30 miles away, to fill up on diesel.
But today was a lunch and shopping day in San Antonio, and the lunch was really special.
In July 2009 we were visiting New York City, and while there, we flew our daughter Brandi, and our granddaughter Piper up to spend a week with us. And while we were there we checked out the two places that claim to be the inventor of New York's pizza.
The first one we visited was Lombardi's down in SoHo. Here's Brandi and Piper there.
BTW Soho stands for South of Houston, which is a major street in the area. But they pronounce it HOW ston.
But if you ask them who the street is named for, they'll tell you it's named for Sam HU ston, of Texas fame. Those Yankees are strange sometime.
We thought that Lombardi's was really good . . . until we ate at Grimaldi's. Grimaldi's is located in the DUMBO area of NYC. DUMBO stands for Down Under the Manhattan Bridge Overpass and encompasses the area in Brooklyn between the Manhattan Bridge and the Brooklyn Bridge.
Grimaldi's is really just a small neighborhood pizza place, and as you can tell from the photo below, not very big.
And Grimaldi's pizza was fantastic, the best I've ever eaten. It's a thin crust, but not cracker crispy like some. It's still a little chewy, but with a slightly crispy bottom.
Delicious!
Well, about a week ago our friend Lynn Cross sent us an email detailing good places to eat in the Lakehills/San Antonio area . . . and she mentioned Grimaldi's Pizzeria. A quick check of the website told me that this was the real deal.
Apparently a few years back they started expanding and now have a couple of dozen stores around the country, including 2 in Houston, and 2 in San Antonio. And they did it right. To keep the quality of the original, they duplicated everything, even the water.
It's always said of New York City bagels and New York City pizza dough, that the secret's in the water, the New York City water. So every store has a system that starts with distilled water and adds the correct amount of different chemicals and minerals until it is chemically exactly the same as New York City water.
The other secret is said to be the coal-fired handmade brick ovens. So it's the same oven, built the same way, using the same bricks. And fired with the same Pennsylvania coal from the same mine. In every store.
And of course, they use the same flour and other ingredients. One unique thing on their pizzas is the cheese. Unlike most places that use shredded aged mozzarella, Grimaldi's uses fresh sliced mozzarella which adds a different taste and texture to the pizza.
What it all boils down to is that the pizza we had Sunday in San Antonio was just as good as what we had in New York in 2009.
And since they have locations in AZ and Las Vegas, we'll try to eat at those too.
The nice thing about the San Antonio location is that it's a good bit bigger than the original in New York.
Because it has the same line of people outside waiting for a table.
But they do have these nifty pagers for you.
But the way to really tell you how good this pizza is, is because we had no pizza bones left over.
You know, pizza bones, those pieces of crust that you've sucked all the sauce and goodies off of. Those things.
Well, no bones about it, we had no bones left. The crust is so good that you want to eat every last bite of it.
Check out the link, track one down and try it. You want be disappointed.
---
March 10, 2014
Sometimes it's good to be a Guinea Pig . . .
This morning Jan fixed us some of the Chocolate Croissants that our daughter Brandi gave us for Christmas. They're shipped frozen and come from Williams-Sonoma. You set them out for about 9 hours to defrost and rise, and then they're in the oven for about 15 minutes.
They also have them in Butter flavor. And they go great with our coffee.
We've got a really nice site here at the Lake Conroe Thousand Trails. I was surprised to see how far apart the sites are. It's nice to not be looking in our neighbor's windows. Or them ours, I guess.
I called American Coach this morning and ordered two of the roll pins, coil pins, or shear pins, depending on what you call them. They were $2.45 each with $3 for First Class Postage. Not bad at all.
Of course getting them installed may be 'fun'.
I also called Fantastic Vent about a new motor for our kitchen vent fan. The bearings are going out in it and you have to start it spinning by hand and then it rumbles and makes a lot of noise. And then it quits after about 30 minutes. The price turned out to be about $55 + $13 postage. Not as bad as I had imagined. The kit includes a new motor, a new fan blade, and mounting bracket. I'll order it in the next couple of days.
About 1:30pm Jan and I headed over to Livingston, TX to visit Dennis and Carol Hill at their lot at the Escapees park there. He was looking for 'guinea pigs' to test out his new baby back ribs recipe. And having tasted his pulled pork, we were happy to volunteer.
Since we knew we wouldn't be eating until after 5, we stopped at the Chick-Fil-A in Willis for a Spicy Chicken Sandwich. Jan's blood sugar goes haywire if she goes too long without eating.
We arrived at Dennis and Carol's about 3pm, and first off, got the full tour of their new Winnebago coach. The size of the basement bins and slideout trays was just amazing.
When we got there Dennis already had the smoker going for a couple of hours and the smell was fantastic. I'm surprised people weren't showing up from all over the neighborhood.
And the finished product tasted even better than it smelled.
The babyback's were moist and juicy, and didn't even need sauce. And along with the beans, macaroni salad, and steamed asparagus, it made for a really great meal.
Sometimes it's good to be a guinea pig. Or make pigs of ourselves.
One or the other.
Or both.
---
March 10, 2015
Poco and Omar . . .
After Jan attended a couple of seminars, and I finished up my Gate Guarding seminar handouts and slides, we headed out for lunch. Jan and I have been hearing a lot of good things about Omar's Highway Chef Restaurant at the TTT Truck Stop a few miles up the road, so we headed up that way for lunch.
This sign shows why we're hearing such good things about the place.
My Club Sandwich on toasted Marble Rye was one of the best I've had in a long time. And their steak fries are really, really good – Crispy crunchy on the outside and soft on the inside. Just great.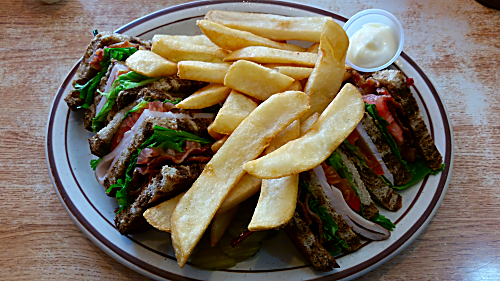 Jan had the Tuna Salad on Toasted Wheat which she said was great, as was the cup of homemade Broccoli Cheese Soup she had.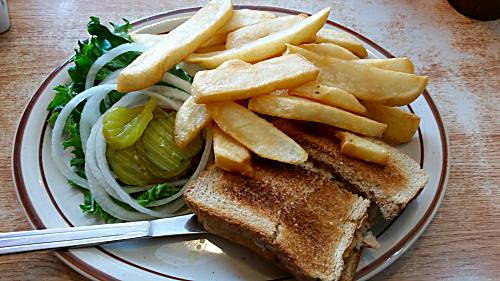 I had a cup of their homemade Chili, also very good.
We'll definitely go back, not only because it was good, but because we forgot to take the coupons for a free pie and a 20% discount that came with our Escapees Info Pack.
In our travels the last 7 years we've encountered one other truck stop gourmet restaurant, and that was in Houlton, ME in 2009. Houlton is about 2 miles from the Canadian border, and is where we entered Canada on our way out to Newfoundland.
Not only did this truck stop have a gourmet chef, but also a gourmet pastry chef. Not only was the food delicious, but people came from all over to buy their cake, pies, and pastries.
After lunch we spent some more time walking around the market and catching up with old friends, and making some new ones. All part of attending an RV rally.
Then about 6:30 Jan and I headed up Kolb Ave to have dinner at the new Poco & Mom's on Tanque Verde. We've eaten at the original one on Kolb and 22nd for a number of years and always enjoyed it. It's a small little hole-in-the-wall place with maybe 20 tables, but always busy, and with really good food.
But the new one is a full size restaurant with a bar. There was a 15-20 minute wait when we got there a little after 7, but we were finally seated in the bar area. After looking at the menu, we quickly knew what we wanted. Because it's pretty much what we always get – The Combo Plate.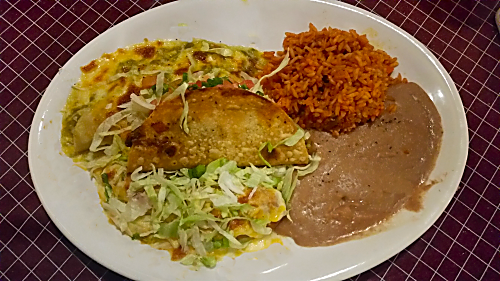 With a Chile Relleno, a Shredded Beef Taco, and a Green Chile Chicken Enchilada, it's hard to beat. We were even too full for their fresh hot homemade sopapillas, with warm honey.
After that delicious dinner, our next stop was a couple of blocks away at the FedEx Copy Store. I didn't get my seminar confirmation in time for the Escapees to print my handouts, so Jan and I did it ourselves.
Only took about 20 minutes to make a hundred copies of the 3 page handout and then staple them together. With a hundred, I don't know if I'm wildly overestimating the attendance, or wildly underestimating it.
We'll have to see tomorrow.
---
March 10, 2016
Old Friends, New Rigs . . .
Although it rained a good bit overnight, it pretty much died out today, except for on and off drizzling. And that's supposed to be it for the next 4 or 5 days. Or at least until we leave for Lake Conroe on Sunday.
After goofing off most of the morning, I went outside to check out the 'under the rig' access to see if I could install my slobber tube collection can, but no luck. If I had tried it, Jan would have had to hose the mud off me before I could come back inside the rig.
So maybe tomorrow.
About 3:30 we got a surprise phone call from our friend, Chris Yust of C and C RV Insurance, and she and Charles were coming our way. They had planned on staying at Happy Oaks RV Park, a Passport America park nearby. But when I checked the Passport America website, I found that the Colorado River Thousand Trails park where we're staying is also a PPA park.
Which is kind of strange since there's nothing posted at the office that mentions PPA. And as it turns out, Colorado River is also an Encore park. Who knew?
Sign up for Passport America before 4/30 and get 4 extra FREE Months!
Chris and Charles got parked and set up in one of the two pull-through transient sites located at the entrance to the 'A' loop. They're right out on the main road with 50 amps and water, but no sewer. Perfect for overnighters.
Chris and Charles showed up at our site a little later, and we all headed in to Columbus to have dinner at Los Cabos Mexican Restaurant, our favorite local Mexican place.
Jan had her usual Fajita Beef Stuff Avocado,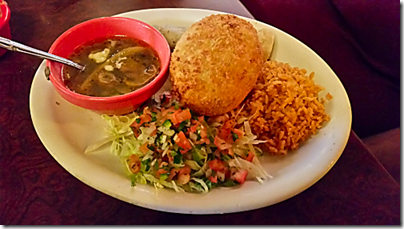 while Charles and I both had the Relleno Combo, with a cheese-stuffed Relleno, a cheese enchilada, and a Chicken Taco al Carbon.
Chris also had a combo, but I missed what kind.
It's always dicey when you take someone new to a restaurant you really like and have recommended, but Los Cabos came through as usual.
And also as usual, not having seen Chris and Charles in over a year, we had a lot of catching up to do. So much in fact, that after a couple of hours at the restaurant, we headed back to the park to check out their Entegra Anthem. They've had it almost a year but it's our first time to see it. Boy, is it a beautiful rig. And it seems like everything has a remote control, even the dishwasher!
I'm not sure why you would want to wash your dishes remotely, but you can.
---
March 10, 2017
Baaaaaa!
I had planned for us to get up about 6:30, but we ended up sleeping in for an extra hour.
So finally up at 7:30 we got ready to roll before we headed out for breakfast at around 8:30am. As we did last week before leaving for Lake Conroe, we had Schobel's in Columbus, and once again Jan had her Veggie Omelet while I had the Chicken and Waffles.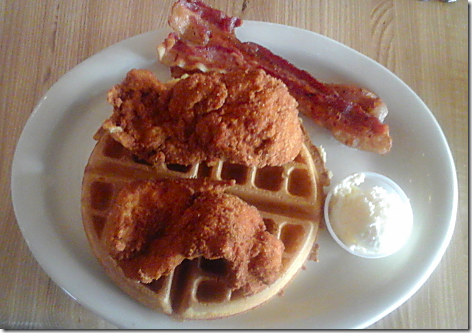 Getting back to the rig, we were hitched up and rolling by 10:30 heading for Junction, TX about 250 miles away.
About an hour later, we made our usual Buc-ee's stop at the Luling. Before going inside we filled up with 90 gallons of diesel at $2.19/gallons, the lowest in the area.
While we were filling up, we were watching the travelers right across from us walk their dogs, even little ones,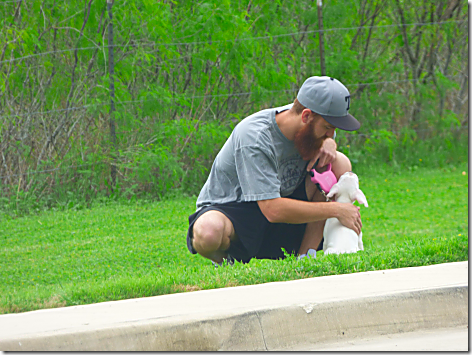 while others walked their . . .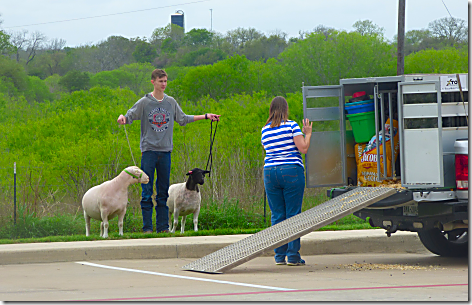 sheep?
You never know what you'll see in Texas. Guess they're on their way to the rodeo in Houston.
Unlike our past San Antonio pass-throughs, today's seem to take forever, whether from the obvious construction zones, or those 'phantom' slowdowns. You know, those several miles of creeping along, that suddenly just disappears when everyone just speeds up.
We got into Junction and the Pecan Valley RV Park about about 3:30 and were given a nice, long pull-through site.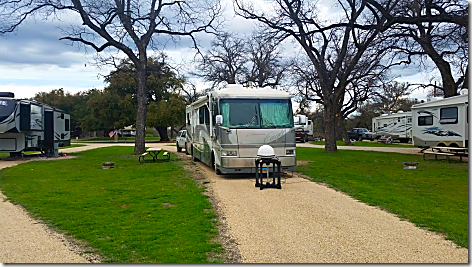 They even furnish leveler pad blocks if you need them. A first for us.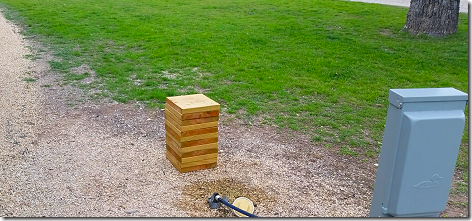 As it turns out Pecan Valley RV Park is in an actual pecan grove.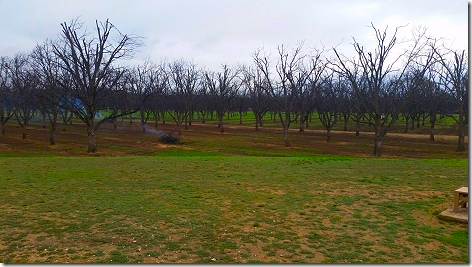 They were trimming and pruning the trees, and then burning the branches, making for a great smoky smell in the air.
The Junction area is known for bad cell/data service, no matter who your carrier is. Which is why I thought that posting a blog last night was questionable.
So I was happy to see a very strong park Wi-Fi signal. BUT . . . There's always a BUT, right?
The park uses the OpenDNS content filtering service, which restricts your access to sites that are on a black list, I guess like porn sites, movie download sites, and other like places. However it doesn't explain why I could access the New York Times website, but not the Washington Post site. In fact about half the stories on Yahoo News were blocked.
And so was our OurRVAdventures.com and RV sites. Why I don't know, but it kept me from posting the blog last night.
Tomorrow's trip will be 310 miles to Van Horn and the Southern Star RV Park, where we stayed in 2015. And it has a really good steak place right next door.
---
March 10, 2018
Lou No More . . .
I spent most of the morning getting a handle on my next big project at work – bundling up the two website/shopping carts on our in-house Linux server and moving it all up to Godaddy in the cloud.
---
---
There seems to be two schools of thought on how to do it. The first is to do a complete Zen Cart installation on the new server and then copy all the MySQL files from the old server, and move them over.
The second is to zip up the entire website and move it over lock, stock, barrel, and database to the new server. Both have different pros and cons, so I've got a lot of research to do.
I've mentioned that I'm reading a book entitled Nomadland, about itinerant RV'ers traveling from job to job around the country. One of them, a guy named Don who travels in the his 1990 Airstream with his Jack Russell terrier, Rizzo, was once a highly paid software executive making millions a year.
Retiring in 2002, he indulged his lifetime passion with fast cars and racing, ranking third overall in the U.S. Touring Car Championship pro series. But by 2008 he had lost it all. Between a divorce and the 2008 market crash taking his savings, he was broke. So he hit the road in 2010, joining the workcamper force.
I found his description of workcampers to be fascinating.
"Workcampers are modern mobile travelers who take temporary jobs around the U.S. in exchange for a free campsite—usually including power, water and sewer connections—and perhaps a stipend. You may think that workamping is a modern phenomenon, but we come from a long, long tradition. We followed the Roman legions, sharpening swords and repairing armor. We roamed the new cities of America, fixing clocks and machines, repairing cookware, building stone walls for a penny a foot and all the hard cider we could drink. We followed the emigration west in our wagons with our tools and skills, sharpening knives, fixing anything that was broken, helping clear the land, roof the cabin, plow the fields and bring in the harvest for a meal and pocket money, then moving on to the next job. Our forebears are the tinkers. We have upgraded the tinker's wagon to a comfortable motor coach or fifth-wheel trailer. Mostly retired now, we have added to our repertoire the skills of a lifetime in business. We can help run your shop, handle the front or back of the house, drive your trucks and forklifts, pick and pack your goods for shipment, fix your machines, coddle your computers and networks, work your beet harvest, landscape your grounds or clean your bathrooms. We are the techno-tinkers."
Really insightful.
About 2pm Jan and I headed into Webster to have lunch at our favorite King Food. Jan got the fan-favorite Chicken with Hot Garlic Sauce and Jalapenos lunch plate,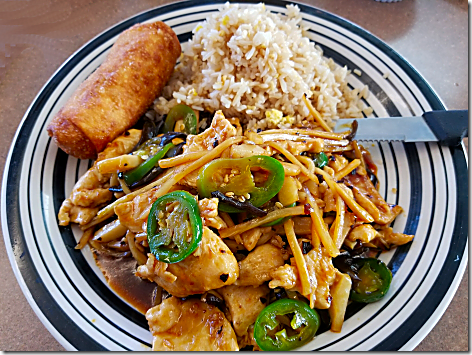 while I again went with the big bowl of Hot & Soup Soup.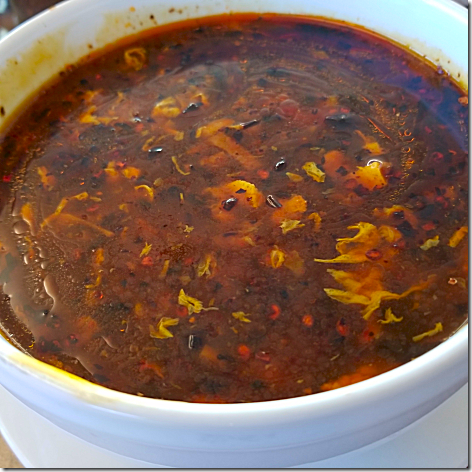 One thing I really like at King Food are these roasted red pepper flakes. Most places, including Italian restaurants, have them in this form.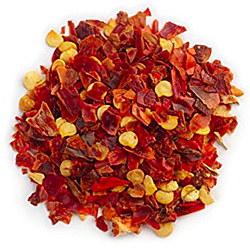 But King Food roasts them in a skillet with a little oil with gives them a smoky taste and a crunchy texture.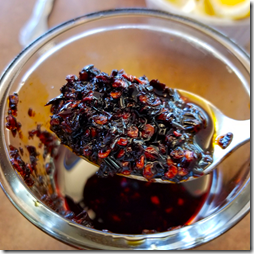 Really good, so I always add a few spoonful's to my Hot & Sour.
After a great lunch we drove over to Baywood Plaza on FM518 so I could get my hair cut at Lou's Barber Shop. I've been going to Lou for more than 30 years, since he first opened there.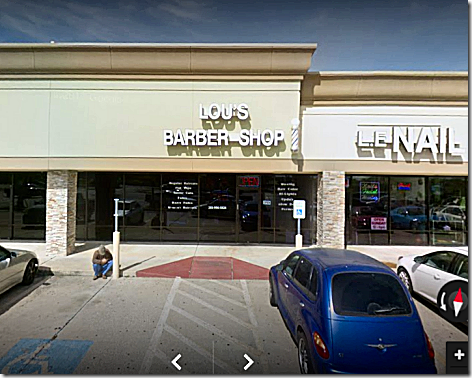 So I was very surprised to not find Lou there behind his chair, the first time that's ever happened. When I ask the guy who was behind the chair if Lou was taking the day off, I was very surprised when he said that Lou had retired, and that he and his wife, Esthela, had bought the shop from him. And that the shop would soon be called Esthela's Barber Shop.
Well I guess I can live with going to a barber shop called Esthela's. My only problem is that Lou apparently forgot to give my haircut records to the new guy.
---
March 10, 2019
Godaddy's Having A Problem Tonight . . .
And keeps truncated my posts.
So I'll catch up tomorrow . . . Hopefully.
So all you're getting tonight is this photo of Miss Karma perched on Jan's chair watching me through the windshield as I worked on the wipers.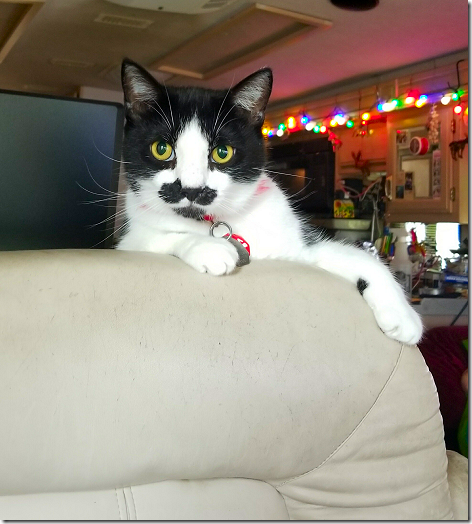 ---
March 10, 2020
All Alone Am I
STOP SELLING!
This is today's basic economic lesson.
STOP SELLING!
I was on a financial forum the other night and one guy was complaining how much money he had lost on his stocks. When I ask him why he sold his stock as it was going down, he fumbled a bit and said because the market was going down and everyone else was selling.
I said that really it was that everyone was selling, causing the market to go down. I reminded him that he didn't lose any money until he actually SOLD his stock. Who cares if it went down 20%-30% if he hadn't sold it.
He reiterated that, well, the market was going down and everyone else was selling. I then asked him, so did he think that the country was finished and the stock market was never going to come back up, even after this flu thing was over?
He said No.
So then I asked him did he need the cash from the stock sale right now?
He said No.
So I again asked him why did he sell when the market was going down?
He never replied to me.
So here's your Financial Tip of the Day:
STOP SELLING!
You don't lose money until you actually sell!
As for me, I'm buying stock in Charmin.
Risking the virus and death, I … wait for it … I ate lunch at a CHINESE restaurant this afternoon. So now I've decided to self-quarantine myself.
At least until I have to into work tomorrow morning.
---
March 10, 2021
And Now It's 'Jimmies?
Since we've got an extended daytrip tomorrow (Up to The Woodlands, back down to Katy, and then home), I stopped off at Costco to top off the Jeep tank and found gas up another 6¢ since Monday, and at $2.29, it's up 84¢ since November 1st.
---
Like a lot of their customers, I have my Amazon account set up to use the Amazon Smile program. A part of every Amazon purchase goes to the charity of your choice, in my case, St.Jude Children's Hospital.
A couple of days ago I received an email from Amazon saying that the Amazon's quarterly gift to St. Jude's was $981,247.96.
And this is a grand total of all contributions.
AmazonSmile's impact:
$11,035,205.12 to St. Jude Children's Research Hospital*

$241,928,506.19 to all charities in the US

$266,896,659.48 to all charities worldwide
And even better, there's no extra cost to you.
---
Jan and I have started watch another new show called Debris on NBC. With a distinct 'X-Files' feel, it follows two agents, one CIA and the other MI6, who are tasked with tracking down 'debris' falling to earth from a wrecked alien ship traveling through the solar system. And the 'debris' has very strange properties and effects on people. Two episodes so far, but very good.
And speaking of good, Jan and I are running into the problem of Too Much of A Good Thing, as least as far as TV is concerned. With all the channels available for streaming, and so many different programs, it's getting harder and harder to keep up.
But I guess it's a good problem to have.
---
First it was Aunt Jemima, Uncle Ben, and the Indian maiden on the Land O' Lakes box, and now it's Jimmies, though you may known them as Sprinkles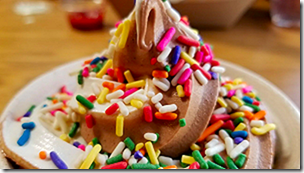 New England ice cream brand quietly drops name after cancel culture takes aim … Some say regional name for sprinkles has racist history
BTW the Indian maiden, and the Land O' Lakes logo was designed by …wait for it … an Indian artist using his Indian daughter as a model.
---
March 10, 2022
'Q and more . . .
After a quiet morning, we were off to Gator's Bar & Grill a little before 1pm.
Jan got her usual Strawberry Walnut Salad,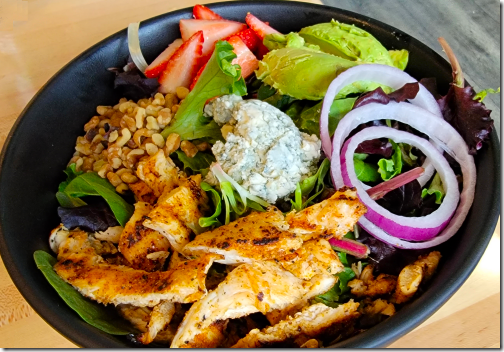 while I got my favorite Baked Potato Soup, but this time I added a Side Salad.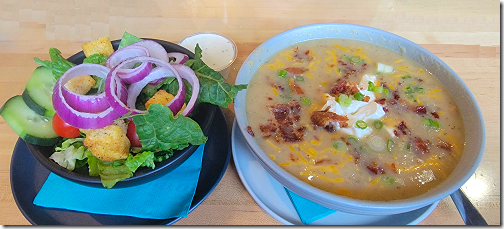 We had planned to split one of their Keto Blueberry Muffins, as we often do. But this time it turns out we were too full.
Maybe next time.
Next up, we stopped off at our storeroom to go through things, and bag up a lot of the small, loose stuff. We wanted to make it easier for things to be moved when we switch storeroom companies in the near future.
We used these large Ziplock bags that even have carrying handles.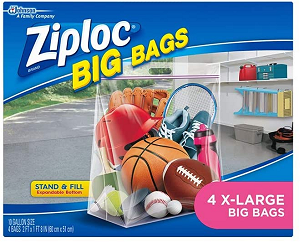 Most everything else are in large and small bins so they won't be hard to move.
Finishing up, we made an HEB stop for a few items, followed by Cowboy Coffee for Sugar-Free Hazelnut Lattes, Jan's with Almond Milk, and mine with regular milk. Always great coffee.
And then after a PO stop, we were back at the rig by about 3:30pm.
If I didn't stir people up enough with Beans or No Beans controversy, how about the 26 best BBQ places in Memphis, TN?
And Jan and I have eaten at 3 of them, numbers 8, 5, and 2.
#8 Jim 'N Nick's Bar-B-Q
#5 Charles Vergos' Rendezvous
and
#2 The BBQ Shop
And though it's not actually in Memphis, TN, but in West Memphis, AR right across the Mississippi River, Ray's World-Famous BBQ is at the top of a lot of people's lists, including ours.
I'll give you more details about our visits to all these in tomorrow's blog.