Daily Archives:
March 6, 2023
Kelley's over in Alvin for lunch, and then the several-times-delayed PopShelf.
Maybe. But we'll see.
And now on to the Retro-Blogs below.
---
Thought For The Day:
When you truly don't care what anyone thinks of you, you have reached a dangerously awesome level of freedom.
---
March 6, 2009
For old times sake…
As I mentioned earlier my parents and I moved down here to Gulf Shores in January 1951 to build a motel on the beach.
My father was a police detective with the Birmingham Police Department and mother was a Public Health nurse with Jefferson County. They had discovered Gulf Shores after flying their plane down here for a weekend.
They sold their house in Birmingham and borrowed from my father's mother. They had 6 cottages ready to go in time for the 1951 summer season which then lasted only 3 months, June, July, and August.
Me and My Dad – January 1951
This is my father and me right after we moved here.
White's-by-the-Sea
They called the motel "White's-by-the-Sea". Original, huh? Note the cowboy suit. It was my favorite.
David Duddy and me
This is a shot of my best friend David Duddy and me with some of the cottages in the background. Probably the summer of 1954. The cottages were very nice for the time with 2 bedrooms, 1 bath, kitchen, dining area, and living room. There was also a porch on the side facing the Gulf. A couple of years later they put window airconditioners in the units, the first place on the beach to have them. Note I'm still wearing the cowboy suit. I probably slept and bathed in it, too.
Me and my firetruck
Based on the car tag, this picture was taken in the summer of 1952. Don't you just love my shorts. Since my hair was all slicked down and I was dressed nicely, I would think this was before or after we had been to church.
If you look carefully you can see chicken wire around the pilings on the left side of the picture. This was my 'playpen'. I considered it my prison. I was very bad about wandering off when my parents were busy with the motel and it was hard to keep an eye on me. One time I ended up almost a mile away, so my father enclosed a large area under our house to keep me corralled. I don't think it ever worked as well as he had hoped.
I, however, viewed it as a challenge to my escape artist skills.
I very quickly learned to undo the door latch he had installed. So my father put a padlock on the door.
I promptly climbed up the chicken wire and squeezed over the top edge (I was a lot smaller then).
My father extended the chicken wire all the way to top, so I proceeded to tunnel out thru the sand underneath the wire.
Another time my father found me with a saw trying to cut my way thru one of the pilings. I think I got a spanking for that one.
---
March 6, 2011
Early Birds, No Worms . . .
I'm stiff and sore in places I didn't remember I had places.
Starting at 1pm, we spent the afternoon parking RV's. Lots and lots of RV's. And all I did was ride around in a golf cart all day. And of course, jump out, then back in, then out, then . . . you get the picture.
Today was Early Bird Day for the rally here in Yuma. Early Bird Day normally is for a few rigs to come in a day or so early to get settled in.
But this is just ridiculous. We had 145 rigs show up today, out of the 175 to 200 that are supposed to attend the rally.
Apparently some people just haven't figured out that if everyone shows up on Early Bird Day, it's no longer Early Bird Day, it's just the first day of the rally. If everyone's a Early Bird, there is just not going to be enough worms to go around.
Somewhere during the day, lunchtime came and went, and I never even noticed it was gone. Suddenly a little before 6pm there were no rigs in the front lot, and we were done. I parked the golf cart, stepped out . . . and almost fell on my face, I was so stiff.
Finally about 6:30pm, Jan and I headed out for supper. We had originally been going to Famous Dave's BBQ, but they had a line out front, so we went next door to Logan's Roadhouse and got seated in about 5 minutes.
We were so thirsty we just told our waiter to bring water and iced tea, and keep it coming. Unlike Houston's 95%, the humidity here in Yuma is around 30% and it really sucks the moisture right out of you without you realizing it, and suddenly your throat is so dry you can't talk and you're feeling lightheaded from dehydration.
I think I had a steak, and I think it was really good, but I'm so tired I not sure.
I think this blog is coherent, but I'm not really sure, but hopefully this is enough, so I'm going to bed.
So more tomorrow . . . if I survive.
But first, here's a new Landon pic for your viewing pleasure.
Landon finds out he has toes. Now if he can only figure out what to do with them.
But he's working on it.
---
March 6, 2013
Mushrooms and Wild Seeds . . .
Today was a busy travel day, just not in the rig, but in our truck. We left the park about 9:30am, heading for Fredericksburg 60 miles away.
The reason was to eat lunch at Der Lindenbaum, probably the best German restaurant we've ever eaten at.
It's pretty much a given that if we're in the area, we'll eat here at least once. Or more.
Jan had her favorite Jager Schnitzel, which is a pork cutlet, breaded and pan-fried, and then covered in a fresh mushroom gravy, along with hot German potato salad and red cabbage.
I had the Burgermeister Platter, which consists of bratwurst, knockwurst, and wienerwurst sausages, along with warm sauerkraut, spicy German mustard, and of course, red cabbage. It's not really German food if you don't have red cabbage.
Before we left we got an order of the Jager Schnitzel to take with us to Gina's since it's her favorite too.
After lunch we headed out for our friend Gina's about 50 miles away. But about 8 miles out of town we made at quick stop at Wildseed Farms
Wildseed Farms is another place Jan always wants to stop when we're passing though this area.
It's a combo gift shop, plant nursery, seed farm, landscape supply, and cat store.
Not cat house, cat store.
There are always 3 or 4 cats sleeping on the long checkout counter, just waiting for a passing customer to lavish some attention on them.
Then it was off again to Gina's, getting to the ranch a little before 2pm, and I was glad to see my Amazon packages waiting for me. Would hate to have them sent after us if they didn't come in on time.
After getting Jan settled in and getting my hugs in with Gina, I headed off to a nearby Subway to stock them up on sandwiches.
Jan will be staying with Gina until Saturday, while I come back to the rig and take care of things on this end.
So after checking out a problem with Gina's color laser printer, I headed back to the rig about 4pm. Right outside of Boerne, I stopped at a Valero to get a coffee, and then another stop at Home Depot to pick up a couple of things.
Getting back to the park about 5:30, I tried to track down a UPS package I was expecting, but all the offices were closed, so I'll try again tomorrow.
---
March 6, 2014
Idiots and Frostbite . . .
With the nice weather and the sun, I got a lot of bin work done outside. Even got a start going through some of the basement bins, not sorting stuff yet., but making a first pass throwing stuff away.
Looks like I'll have a couple or three bins ready to go to the storeroom on Saturday. Don't know how much, if any, I'll get done on Sunday because there's a 60% chance of rain. And then on Monday, we're moving to the Lake Conroe Thousand Trails for two weeks, so I'll start back up when we get there.
I got a couple of requests so I've posted Jan's Heavenly Hash recipe over in her Jan's Favorite Recipes area, so you can check it out there.
This is about all I've got for today, with not much else going on.
But I did add a story to my What Were They Thinking? file. Check out what happens when a 14 year old girl is made to stand outside in 5 below weather in a wet bathing suit.
Idiots!
---
March 6, 2016
Slobbering . . .
We had our coffee and breakfast inside this morning, so we wouldn't have to worry about being blown away. The wind picked up during night, prefacing the front coming through tomorrow, bringing 3 or 4 days of forecasted rain. But, as usual, we'll see.
I spent the morning working on some internet stuff before heading outside to look for my slobber tube. But first I crawled back under the passenger side of the engine again to check for any more leakage around the oil pan drain plug.
I had wiped it off the other day to see if it was leaking around the plug, but found no new wetness. So I was out and back under on the other side to check out there. And after a quick look, it was obvious where it was.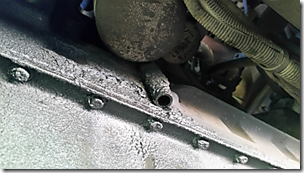 Based on what I'd heard about the location I was expecting to find it hanging down a little further, but it's actually above the oil pan gasket area.
And it was obvious from the surrounding wetness that it had been leaking.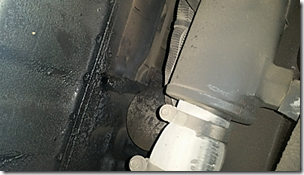 So now, again based on what I've read about it, my next step is to come up with a way to hang a bottle or can under the slobber tube to catch the outflow. One, to contain the oil so it doesn't end up on the toad, and two, to check that that is actually where the oil is coming from.
So hopefully, I'll be able to come up with something before we leave here next Sunday.
While I was under there, I also noticed another oil leak, coming from the hydraulic line that feeds the engine cooling fan. So I'll keep an eye on that too.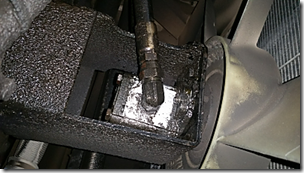 And also I was able to see the oil filter that had been changed out last February by RV Mobile Lube.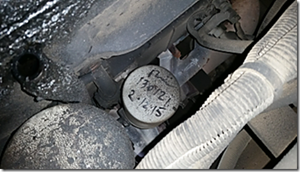 it's nice to see that they sign and date them to keep track of them.
Finishing up, and coming back in to find Jan napping on the sofa, I decide that was a good idea too, so I headed back to the bedroom for my share of nap time.
When I got up I got back on my pantry organization project using Alexa on the Amazon Echo to record and print out the list as I sorted through the items and consolidated them on the various shelves.
By the time I got finished later tonight, it looked like this.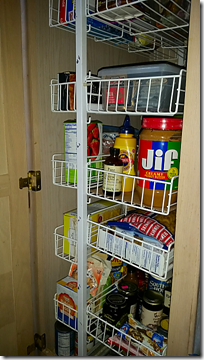 And here's what my list ended up looking like.
sixth shelf left side splenda raw sugar
sixth shelf right side medicine and cough drops
sixth shelf right side calcium chews
fifth shelf left side hazelnut coffee
fifth shelf left side jim & nicks cheese biscuit mix
fifth shelf left side mini moo half and half creamers
fifth shelf right side captain's wafers
fifth shelf right side drinking straws
fifth shelf right side hot tea packets
fourth shelf left side bacon horseradish dip mix
fourth shelf left side corn starch
fourth shelf left side onion soup dip mix
fourth shelf left side splenda brown sugar
fourth shelf left side stevia sweetener
fourth shelf right side campbell's slow kettle tomato & sweet basil bisque
fourth shelf right side cheesy bacon potato soup mix
fourth shelf right side chicken enchilada soup mix
fourth shelf right side creamy broccoli soup mix
fourth shelf right side jif peanut butter
fourth shelf right side mango habanero sauce
fourth shelf right side minestrone soup mix
fourth shelf right side pam olive oil cooking spray
fourth shelf right side pasta fagioli soup mix
fourth shelf right side penne pasta
fourth shelf right side pure vanilla extract
fourth shelf right side roasted raspberry chipotle sauce
fourth shelf right side spicy brown mustard
fourth shelf right side starkist chunk light tuna 5 packets
fourth shelf right side strozzapreti pasta
fourth shelf right side tortilla soup mix
third shelf left side chicken rice a roni
third shelf left side lemon bar mix
third shelf left side slow cooker seasoning hearty beef
third shelf left side slow cooker seasoning homestyle chicken herb
third shelf left side spanish rice a roni
third shelf left side uncle ben's brown wild rice medley
third shelf right side fideo noodles
third shelf right side large elbow macaroni
third shelf right side multi color twirl pasta
third shelf right side spaghetti
third shelf right side whole wheat elbow macaroni
second shelf left side baking soda
second shelf left side bisquick buttermilk biscuit mix 2 packages
second shelf left side bisquick cheese garlic biscuit mix 1 pkg
second shelf left side carnation dry milk powder
second shelf left side jiffy blueberry muffin mix 2 boxes
second shelf left side jiffy corn muffin mix
second shelf left side lemon poppyseed scone mix
second shelf left side martha white blueberry muffin mix
second shelf left side sweet potato biscuit mix
second shelf left side sweet potato muffin mix
second shelf left side table salt
second shelf right side bacardi rum
second shelf right side balsamic vinegar
second shelf right side bisquick mix
second shelf right side confederate marmalade
second shelf right side extra virgin olive oil
second shelf right side huckleberry jam
second shelf right side jalapeno orange jelly
second shelf right side marion blackberry preserves
second shelf right side new orleans scorpion hot sauce
second shelf right side nutcracker spaghetti sauce
second shelf right side prego Italian meat sauce
second shelf right side protein bars 5 each
second shelf right side rachel ray extra virgin olive oil
second shelf right side soy sauce
second shelf right side tabasco sauce
second shelf right side wild maine blueberry syrup
second shelf right side worcestershire sauce
bottom shelf left side cheese wiz
bottom shelf left side cream of mushroom soup
bottom shelf left side hunt's tomato paste
bottom shelf left side ro-tel hot tomatoes
bottom shelf left side skyline chili 9 cans
bottom shelf right side black beans
bottom shelf right side bush's country style baked beans
bottom shelf right side bush's grilling beans bourbon & brown sugar 2 ea
bottom shelf right side canned beef cooked
bottom shelf right side cut green beans
bottom shelf right side extra hot alaskan umami sauce
bottom shelf right side ginger wasabi sauce
bottom shelf right side reeses magic shell chocolate peanut butter
bottom shelf right side sliced peaches
bottom shelf right side smuckers magic shell chocolate fudge
bottom shelf right side steel cut oatmeal
For dinner tonight we had the Chicken Tortilla Soup that I put together yesterday, and let simmer all day. Really good, if I do say so.
And Jan does too.
I've now done the magic six loads in my repaired washer, so hopefully, it'll keep on working.
---
March 6, 2017
Old Friends . . .
This morning was my 8:30 appointment with Junior's Upholstery in Conroe to have the headliner of our Dodge Dakota replaced. II had started coming loose and fraying around the edges, and even disintegrating in some places.
So about 8:15 my friend and next door neighbor, Ed Hurlburt, followed me down to the shop so he could bring me home. They said they'd try to have it done by 2-3pm so we could head down to Clear Lake on time for our dinner with old friends.
Getting back home I got on the phone to try and solve another credit/debit card problem. Whenever I tried to use the card for our Karnes City / SiteWatch account as a credit card where it ask me for my Zip Code, I.e. gas pumps, it would reject the card for an incorrect Zip Code. But when I called the bank they couldn't find any problem. The Zip Code on my bank account was correct.
Then yesterday I was trying to set up the Uber app on my phone and had the same problem. When I entered the card number, exp. date, CVV, and Zip Code as requested, it said there was a problem. And since I double and triple-checked the card stuff, it had to be the Zip Code.
So I again put in a call to the Karnes County National Bank once again, and after going through three people, finally found a nice young lady who figured out the problem.
The bank account there uses our Friendswood, TX Zip Code of 77546, which is the one I had been entering. But, because I had requested that the cards be sent to the bank for us to pick up there, instead of sending them to our Friendswood bank account address, the bank's Zip Code is what got entered into the computer with the card info.
She said she would correct the problem and then a little later I tried setting up the Uber app again, and this time with no problems. So this problem is solved.
Still working on the iDrive credit card problem.
BTW the Uber app is pretty neat. It shows you where you are on the map, and also shows several free vehicles in your vicinity. Look forward to giving it a try.
Later in the afternoon, our friend Debi Hurlburt took Jan and I down to the upholstery shop to pick up the truck so that we could leave from there on our way to Clear Lake. They were running a little late finishing up due to the rain, so we didn't get on our way until about 4pm.
Turns out that because of the glue fumes they try to do as much work as possible outside, and the intermittent rain caused a problem.
But the job was worth the wait. It was perfect, even down to the color match of the original to the side trim strips on the truck.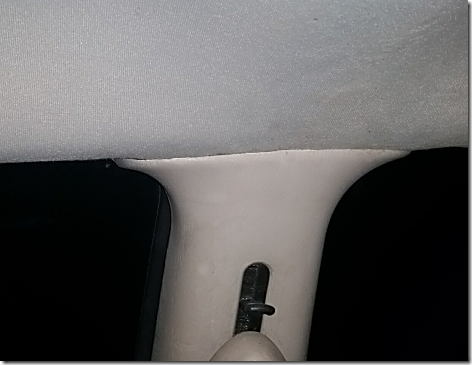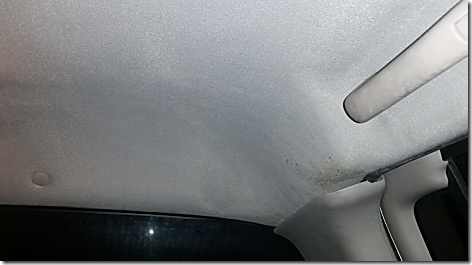 Great Job! And Junior's Upholstery is very well recommended.
Though we got a later start than I had hoped, wanting to avoid the Houston going-home traffic, today turned out to be one of those rare Houston traffic days with no accidents or major construction slowdowns, so we were able to make the 70 mile trip down to Dickinson in only 90 minutes, a new record I think.
Having known them since the mid-80's, Bob and Maria are our oldest Houston friends, so we try to get together whenever we can.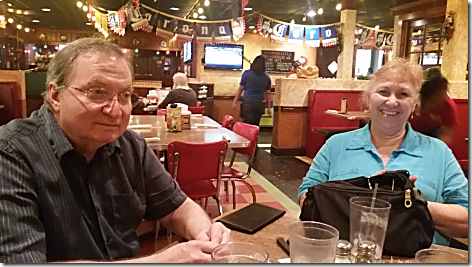 Maria even got a good picture of Jan and I. Well, Jan anyway.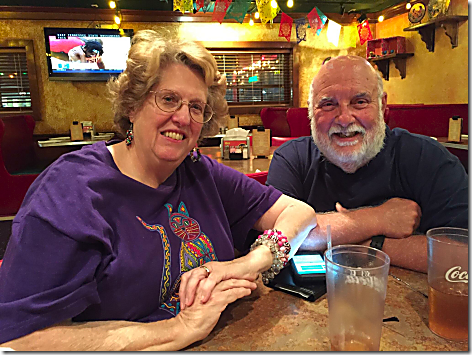 And as is usual for these things, we once again spent about 3 hours catching up with each other's lives. And we look forward to doing it again as soon as we can.
After a potty stop at the Flying J, we got back to the rig a little before 10. Finally remembering to do it, I brought our Garmin GPS in from the truck to check it for map updates.
Turns out there were several small ones, an FM traffic info provider update and a Time Zone data update, and one big one, a 2.66 GB map update. The small ones only took a couple of minutes, and even the big one only took about 45 minutes. Pretty good for 2.66 GB on 3G.
So that's done for another year.
Tomorrow? More last minute chores before we hit the road for Colorado River on Wednesday, and Tucson on Friday.
---
March 6, 2018
No Goofing Off . . .
Being an off-day from work today, you'd think I could have goofed off some, but noooo.
As soon as I got into work yesterday, the office manager told me she was getting calls from customers saying that the website's credit card checkout was no longer safe to use. Turns out our SSL (Secure Socket Layer) certificate had expired this past Saturday. News to me.
But it was news I should have gotten about a month ago, but my boss didn't forward the renewal notice from Godaddy to me. But I was able to catch up by tracking down the replacement certificate and downloading it from Godaddy.
Bu then things came to a screeching halt as I spent the rest of the day trying to figure out where the previous (dead) IT guy had installed it. As I've mentioned before our website is hosted on an in-house Linux server, in this case running CentOS. But the certificate is not installed where it normally would be. And not any of the other places that it could possibly be either.
So I spent today here at doing a lot more research and making a couple of phone calls, trying to figure out what he had done. But no luck so far, but I'm back on it tomorrow.
Right now there is a notice on the website inviting customers to call in their orders.Hope this will hold things for a short while until I can get this fixed.
I did take a few minutes this afternoon to go outside to fix a broken spade connector on the driver-side turn signal on the rear of the truck. Recently I noticed that often the left turn signal would fast-flash and then work the next time. Checking it out while we were up Brandi's, I found that there was a cracked connector on one wire, but I didn't have a replacement with me.
So it was just a couple of minutes today to crimp on a new one.
For you Camp Verde/Cottonwood/Verde Valley devotees, there's a new, large RV park coming to the area later this year. The 425 site, high-end park will be located just a mile or so north of the I-17/SR260 interchange at Camp Verde, between there and the Verde Valley Thousand Trails park.
---
March 6, 2019
It Was Venerable . . .
My venerable HP 2520 color inkjet printer died on Monday. It is no more, it has ceased to be, it is bereft of life, it rests in peace. It is an ex-printer.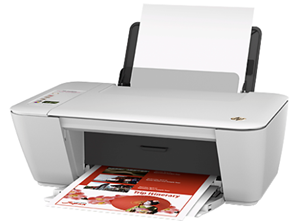 But I originally bought it in 2013 while we were on a gate down in south Texas, so I've certainly gotten my money's worth I guess. I replaced it last year with a new HP 4650 because it was bigger, better, faster, and since it was still working OK, I took it into work for my desk, just so I'd have a printer.
But then I started printing out a lot of color labels, and mail-out postcards, heavier stock stuff. And Monday when I was printing out some cards, the printer went 'snap, crackle, pop' and stopped pulling in paper. Any type of paper.
So this morning I stopped off at our WalMart to pick up a new one, a HP 5252 this time, which is the newer model of my 4650.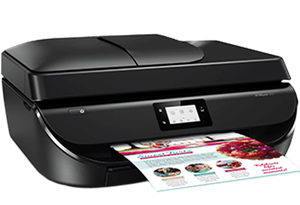 I also picked up an XL B&W and XL Color cartridge since the starter cartridges in these new machines are always small, even smaller than the standard ones, much less the XL ones.
Getting to the office, I set the printer up and started to print out a dozen page sized postcards, and I was amazed to see how much faster than my old 2520. The 12 cards that would have taken me 15 minutes on my old one, took only about 4 minutes on the 5252.
Nice.
Once I got the printer set up, the size difference between the old and new printers meant it didn't really fit in the old spot so I ordered this printer stand.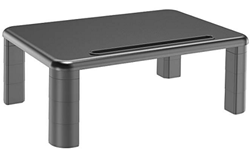 And then since I was on an Amazon ordering roll, I ordered the office manager a new chair.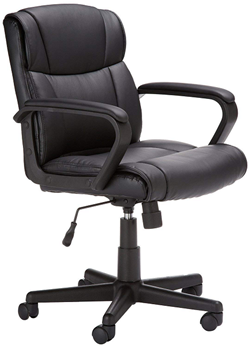 Her old one broke a wheel off this morning, so she'll have a new one Friday, along with my new printer stand.
It's supposed to be almost 70 tomorrow, but with a 50% chance of rain I'll have to see how conducive it is to crawling under the rig and doing a trial loosening of the oil filter.
I'll let you know.
---
March 6, 2020
Do Only Old People Buy Sausage?
I'm sure you've all heard the Jimmy Dean Sausage commercials recently on TV using his voice. So my question is, does anybody but people our age know who Jimmy Dean is?
Though he sold the company to Sara Lee in 1984 for $80 million and didn't die until 2010, he was essentially fired from his spokesman job in 2002.
Why? They told him he was too old! But now he's back from the grave.
So it's been at least 18 years since anyone has heard his voice, and now they've brought him back (or his voice, anyway), and they're advertising to who?
Who under the age of 30 even knows who he is?
Our long-time friend and fellow RV'er, Debi Hurlburt, of Debi and Ed Hurlburt fame, has long had a Facebook area called Debi's RV Kitchen. But now she's venturing into the video field. And here's her first video.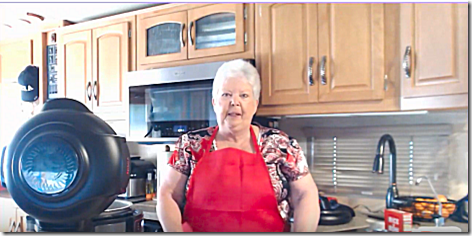 Dirty Rice – Cooking in the RV
Looks like our upcoming storage shed project will be a true do-it-yourself project. Turns out Home Depot, where we're going to get the shed, doesn't offer any assembly assistance, and it looks like using one of the online services like TAKL would cost me about twice what the $269 shed is going to cost me.
And that's just for one guy helping me, not me getting watch two guys doing it all. So it's just going to be me, with Jan helping out as needed.
We do want to get it all done without too much delay, so I'm going to take off work on a Friday and a Monday so we'll have Thursday, Friday, Saturday, Sunday, Monday, and Tuesday, if necessary.
---
March 6, 2021
Prince of Darkness . . .
Jan drove into work with me yesterday morning so she could spend the day getting her nails done, and then some shopping at Baybrook Mall for a while.
In fact, she's decided to do it again once a month or so.
This afternoon we left the rig about 12:30 heading up to the new Eggcellence for brunch.
Jan tried something new this time, the Avocado BLT.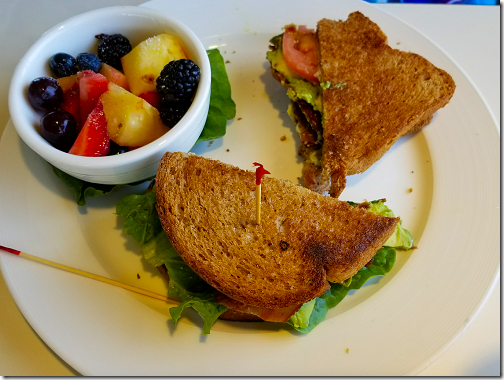 But I stuck with my favorite, the Texas Sampler.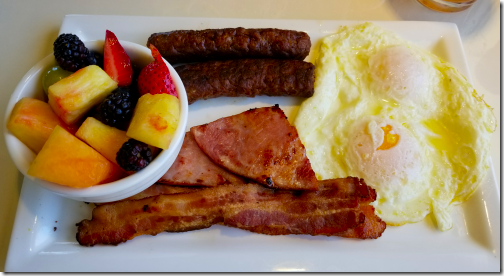 We both get Fruit instead of the Hashbrowns, and I get an English muffin rather than the buttermilk pancakes that's supposed to come with mine. Every calorie helps.
Then it was on up the feeder a bit to one of Jan's favorite places, Harbor Freight. Yeah, I know. She's weird, but then she does love me. So I guess it works.
Our next stop was back down at FM646 where Jan got her hair cut while I picked up a few things at the HEB next door. Then it was home for the night.
Tomorrow it's up on the roof for me. I'm going to replace the motor/fan unit for our rear Fantastic Vent Fan on the rig. Then I planned to take a look at the overhead AC unit to try and find where the problem with it is.
It seems I've been coming across a number of neat cars in parking lots lately, And today it was this really nice 1955 Chevy.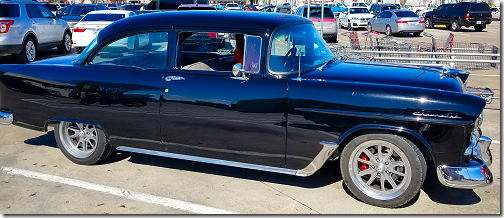 For some reason it doesn't look as nice in the photo as it is in real life. But it's spotless. The owner, who walked up while I was taking the photo, and told it was a 150 model, without all the chrome trim of the Bel Air.
And the he showed me the engine,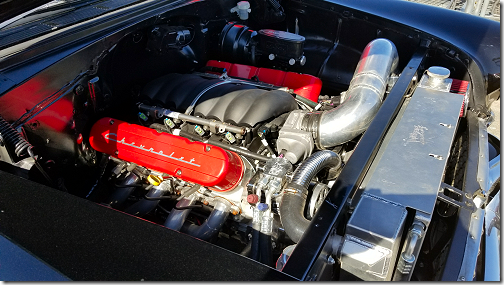 He said it's a LS series Corvette engine that he put in after burned out the original one. And when he cranked it up, you could hear the 3/4 grind cam's 'lump, lump' idle. And the dual glass pack mufflers.
Another really neat ride.
And on the subject of cars, anyone who ever owned a British sports car, or any British car, really, will appreciate this.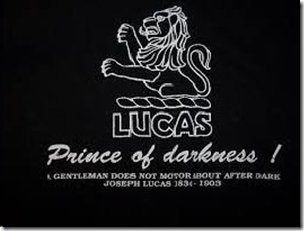 In 1967 I bought a 1965 Triumph Spitfire like this one, except mine was race-prepared for SCCA racing and had a roll bar.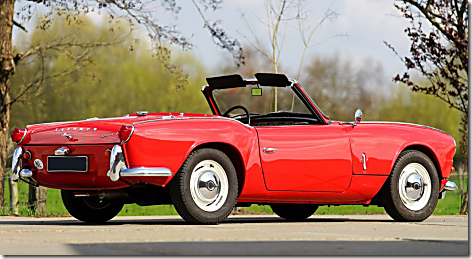 I bought it from the brother of an ex-girlfriend (it did not end well). And in hindsight this should have been a warning. But the brother did warn me about some of the car's, let's call them 'electrical idiosyncrasies'.
'Idiosyncrasies' like the left turn signal also turned the radio on and off. And turning on the radio would sometimes honk the horn. And there were a number of other intermittent ones. I'd fix one and another one would pop up.
Finally out of patience, I spent a couple of weeks pulling an entire new harness thru the frame and fixed it once and for all.
---
March 6, 2022
Pho Barr and Family . . .
We were on our way up to Katy a little before 11, to introduce Brandi, et al, to their Pho Barr location. which is only a couple of miles down the Westpark Tollway from their home.

Like our Webster location, this Katy location is located in a strip mall, and strangely, right next door to a Thai restaurant, the same as ours down here.
First up, they brought us a couple of orders of their Grilled Pork Spring Rolls with their Spicy Peanut Sauce.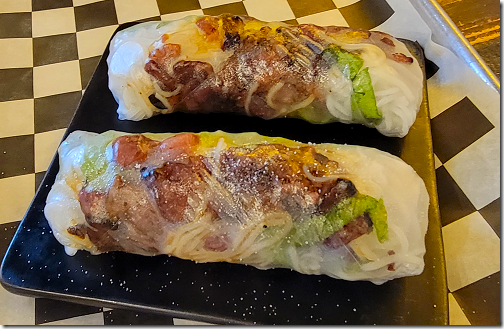 Really crunchy and delicious as always.
Jan got her usual Grilled Chicken Vermicelli Bowl, but in this case, it was done with white meat chicken, rather than the dark meat they use down in Webster. Jan likes both, but white meat a little better.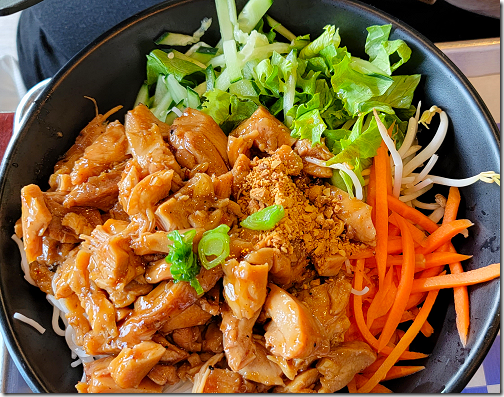 Brandi had the same thing, but with the Grilled Ribeye instead.
Lowell went in a different direction, with the Grilled Chicken Rice Plate, complete with a Sunnyside Up Egg like this.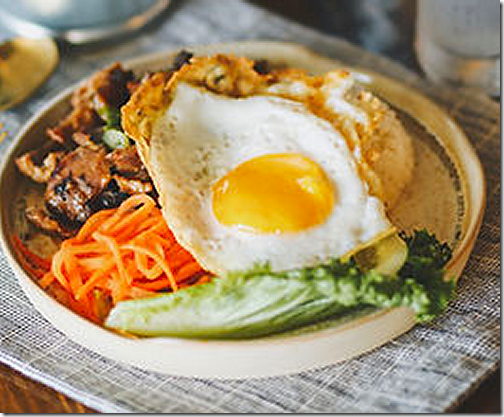 For my part, I stayed the course with my usual Pho Ga, which means white meat chicken.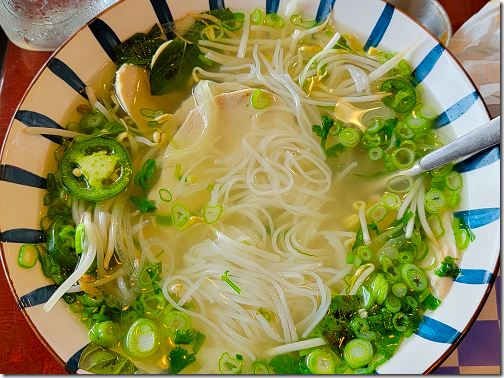 Everyone agreed it was all really good, and that we'll probably eat here again when we're back in the area.
All the dishes here were the same as our local Pho Barr, but a little different, I guess due to different chefs.
Then it back over to Brandi's so I could install the HP 4650 printer/scanner that I was giving Landon. I'm upgrading to a HP 6978 which should be here this Wednesday.
Later, heading home, we made a detour by the Katy Trader Joe's so Jan could pick up some of her favorite stuff. Hopefully they'll get one down in our area someday soon.
After that, and almost home, we made a HEB stop at our local one for a few things for dinner next week, finally getting back to the rig about 4:30.
A really nice day.
We've gotten a lot comments and questions about Streaming so I thought I give you some more information about it.
Starting at the Home screen you can choose which app you want to use to stream.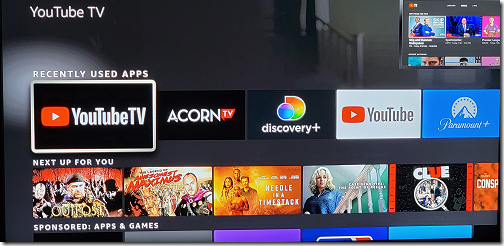 Then, in the case of YouTubeTV you can chose to watch Live TV, selecting from a list of channels.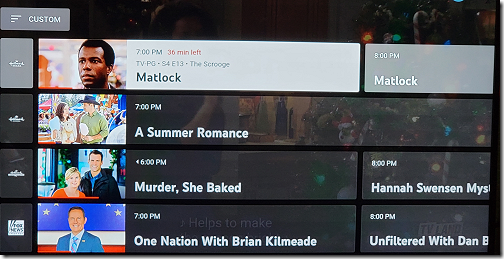 This list is customizable, showing only the channels you want to see, and in the order you want to see them.
And when you do select a show to watch, you get this choice.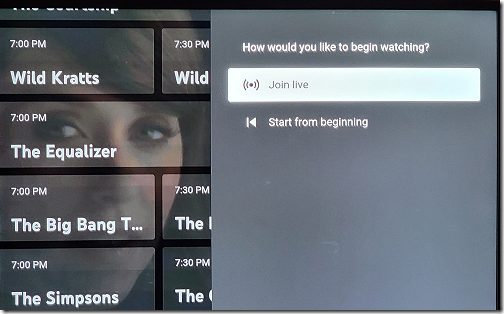 If the show is already on, you can select 'Start from beginning' and do just that.
Or you can join it live and in progress.
If you go to the Library, you can see all the shows you have selected to DVR. And you can set an unlimited number to record, even at one time.
In our case we're recording 176 shows right now.
And as I mentioned, when you set a program to record, you get every season it was on the air.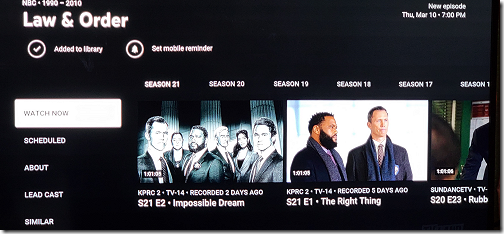 As you can see, when you set Law & Order to record, you get all 20 seasons of reruns, plus the new 21st season of first runs.
Let me know if you have any more questions.
A few days ago I posted this photo of Jan's Flamingo Flamboyance, showing the two new additions.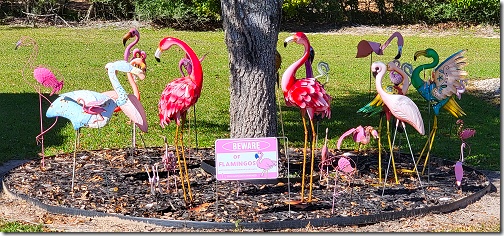 But as I mentioned, you can't really see all the flock hiding in the back, so I took this one from the side.
Some of them flutter, some spin, and some light up at night. Though the effect of that is somewhat lost because of the streetlight right out in front of us.
But if Jan's happy, I'm happy.