Easier Than I Thought . . .
but it still doesn't work . . . Yet.
When we got here Sunday afternoon I noticed that we didn't have a picnic table for our site, and looking around, we were the only site that didn't. And the guy directly behind us on the other side of the 'E' ring had two picnic tables.
I guess he saw me staring over at him later that afternoon because the next day it was suddenly back.
Kind of. He had just pulled it out in the open space about half way between our two rigs. You'd think he would have brought it all the way, but No. So I had to drag it the rest of the way myself.
Normally I wouldn't care about a table, but I want to use it to assemble the new armrests that my son Chris made for me.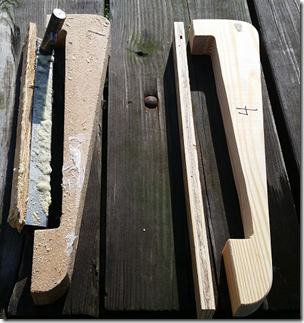 Later in the afternoon I took another look at my microwave problem, based on some more info I found by Googling. One guy said he removed what looked like a wooden trim strip and found the two bolts that held his microwave in place.
And that was exactly what I found.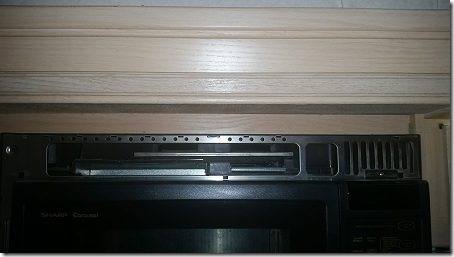 asdfadfa
And when I pulled it out, (it was held in place by Velcro) I found the two bolts.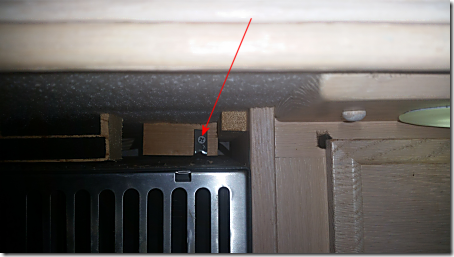 At this point I could see that the unit was just hanging from the two bolts, and not mounted in any kind of cabinet. So, weighing 70#, it wouldn't be easy to get in and out.
But looking around, I found another screw that had been revealed when I removed some of the trim strips.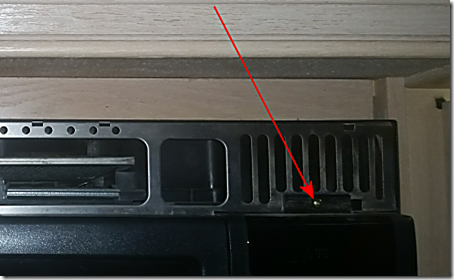 And removing this screw and unplugging the power, led me to this.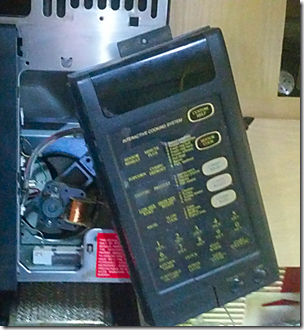 And sticking in a ball point pen in here and lifting a little opened the door.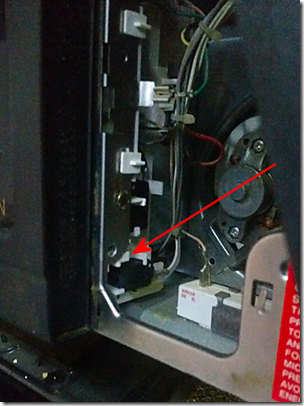 And then I could see what the real problem was.
The left of the two hinge pins on the open lever had broken off. allowing the open lever to fall away.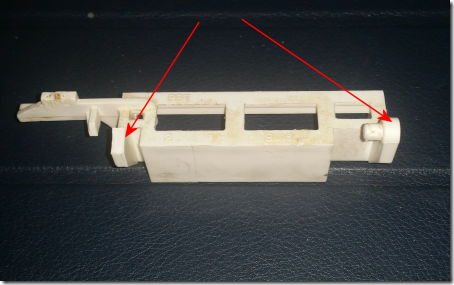 Having already researched parts, I went online and ordered the open lever for $6.80, and matching door hook part, just in case. The total with shipping was about $25.00. And it shipped today. Nice.
But while we were waiting on parts, I wondered if we could still use the microwave by manually opening the door when we needed to. So I put cup of water in the oven and turned it on.
The first thing I noticed was that the turntable wasn't rotating, and then I found that the water wasn't getting hot either. But it did look like it was working, the light came on and fan started, but no heat. Just to be sure, I also tested it in Convection mode, with no better luck.

Looking inside the mechanism, it looks like there's another microswitch that the open lever would be pressing on if it was in place. So I suspect that switch is what confirms the door is really locked and lets the microwave work.
Later this evening I received confirmation that the parts had shipped so I guess we'll just have to wait . . . and eat out more.
I know Jan will just hate that.
I had noticed that over the last couple of days we were started to tilt a little, and checking things out I found that my right rear leveler was sinking about 4 inches in the ground. Since I was parking on what looked like hard packed gravel, I had decided to not worry with putting down my pads.
So I cranked up, raised the levelers, put down my pads and then releveled.
Hopefully I learned my lesson.
---
Thought for the Day:
If you're wrong and you shut up, you're wise.
If you're right and you shut up, you're married.
asdfadfa