Daily Archives:
May 22, 2023
This is our first stay at a Key West Inn, and we really like it. The room is nice, the towels are thick, and the shower is scalding hot.
Even the breakfast bar is very well stocked.
Six different flavors of creamers, three flavors of coffee syrups, two different flavors of waffles, hot chocolate, grits and oatmeal. Really good.
About 10:30 we drove over to Claudia's to pick her up for our day of fun and frolic over in Foley/Gulf Shores/Pensacola, with our first stop at a long-time favorite, Tallulah's, nee Tootie's Yellow Broom, a combination gift shop/dress shop. We've been coming her for years, and in fact Jan was wearing a top that she bought there last year and they recognized it.
Then we took the road out to the area on the beach where my parents used to have their rental cottages.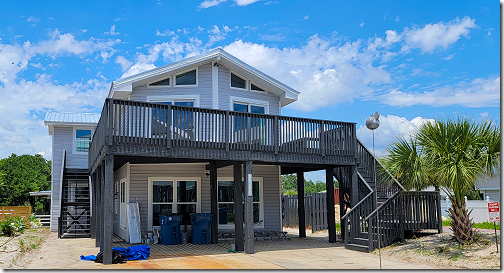 This is the only remaining one of the two.
Originally both of them were located down at the end of this row where the blue house is now.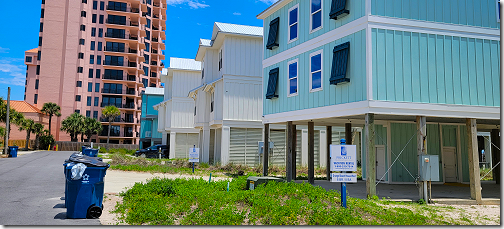 Still looks good.
Next up we took the bridge over Alabama Point to Florida, ending up at everyone's favorite Sonny's BBQ, the 4th leg of our Southern BBQ Tour.
Jan and Claudia both got versions of the Pulled Pork Sandwich.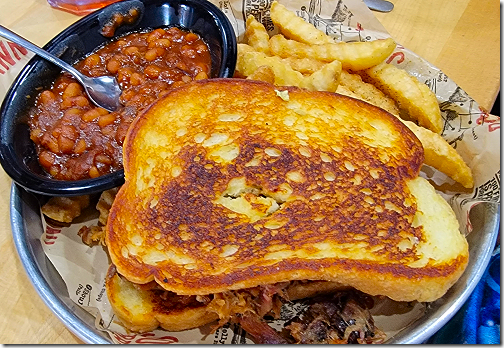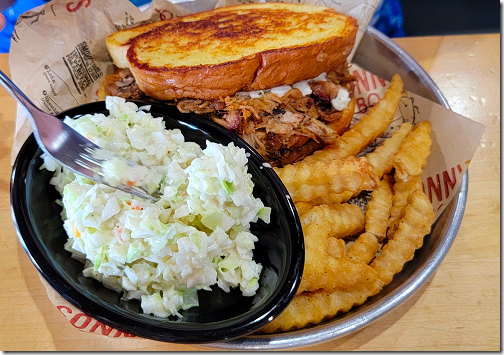 I got the Two Meat Combo Plate, with Pulled Pork and Baby-Back Ribs, and Beans and Beans.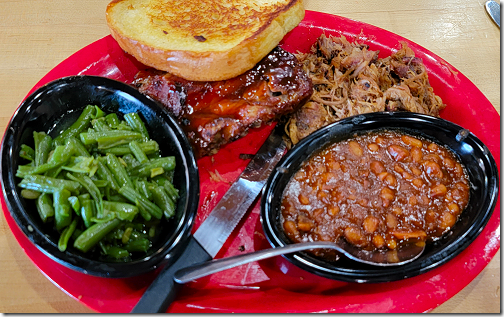 Turns out that Sonny's is one of Claudia's favorite place too.
Then it was into Pensacola to visit Artesana, another of Jan's long-time favorites. We've been coming here for 25 years, but it was Claudia's first time.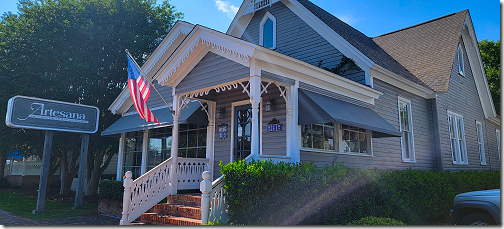 Finally, with everyone full and giftshopped out, we made the 90 minute drive back to Fairhope to finish up a very nice day.
Tomorrow Claudia is grandson-sitting, so Jan and I will be heading back over to Gulf Shores to have lunch at Lulu's and more gift-shopping.
---
Thought For The Day:
Life Happens. Coffee Helps.
---
May 22, 2009
Palm Beach
Well, we did make to West Palm Beach today with no problems except for a lot of rainy weather.
We got an early start (for us) about 8 am since we knew it would take us about 3 hours just to get off the Keys since so much of the drive is at 45 mph speed limits and even 35 mph.
We got back into Homestead about 11 am and parked the coach in the WalMart parking lot.
After unhooking our toad, we headed over to GoldCoaster RV Park where we stayed last week to pick up some mail that hadn't made it before we left for the Keys.
After that we had lunch at Sonny's BBQ before heading north to West Palm Beach. The rains really picked up after we left Homestead and followed us all the way to West Palm. But luckily it slacked off just as we arrived at the park so I didn't get soaked setting up.
We pulled into the Palm Beach Gardens RV Park about 3:30 pm and got things plugged in and set up.
The friends we were here to see (the same ones who met us in Key West last weekend) showed up about 6:30 pm and we headed out to Riviera Beach to eat dinner at a restaurant at the marina.
After that we came back to our coach and visited for a while.
---
May 22, 2010
Bloody Mary's and Northern Exposures
Be sure and check out yesterday's post which I didn't get posted until this afternoon due to a bad Internet connection in Westport, WA
Also forget to mention in yesterday's post about the Bloody Mary's that Al and I had at The Half Moon Bay restaurant last night
First off, they use peppered Stoli Vodka so it's really hot and spicy. And they also include all the 5 basic food groups. In addition to the normal stalk of celery, we got a piece of Slim Jim, a piece of cheese, two steamed green beans, a pearl onion, a green olive, a cherry tomato, a boiled shrimp, and a lemon slice. By the time you finish the drink, you're almost too full for supper.
We left the American Sunset RV in Westport, WA about 9 am after saying our goodbyes to our good friends, Al and Adrienne Cox. We first met them in Fairbanks, AK two years ago and have kept in touch ever since.
We only went about a quarter mile down the road where we stopped and got diesel at a local Chevron station. The station canopy said the height was 12' 4". Since the coach is 12' high, I didn't want to take a chance on scrapping it, so I dumped the air bags which dropped the coach height about 6".
The only real problem I had is one I've had before. Slow fuel pumps. It took about 20 minutes to take on 115 gallons.
Finally we got back on the road and headed toward Cle Elum, WA, 195 miles away, our stop for the night.
About 11:30 am we stopped for lunch at the Super Buffet Chinese Buffet in Du Pont, WA, about 15 miles west of Tacoma. We saw their sign along the Interstate and decided to give it a try. We were just hoping we would be able find a place to park the rig. And we lucked up. We found a place right beside the restaurant.
And the buffet was really good. Maybe the best one since Yuma.
About 40 miles before Cle Elum we started seeing the mountains of Snoqualmie Pass, complete with a lot of snow.
We got into Whispering Pines RV Park in Cle Elum about 2:30 pm and got set up.
Well, everything got set up, except the satellite dish. There were a lot of trees and I just couldn't get a good sight line.
So I gave up for a while, and about 3:45 pm we headed about 5 miles away to Roslyn, WA. .
Roslyn's claim to fame is that it was the town of Cicely, AK in TV's Northern Exposure.
And it's all still there.
Ruth Anne's store is still a store.
Dr. Joel Fleischman's office is now a gift shop. We came here because Jan wanted to replace some of her Northern Exposure T-shirts that she wore out since we were here two years ago
And the iconic Roslyn Café is…still a café.
And of course, Chris' KBHR studio, which still seems to be a TV show set.
And the Brick is still the Brick, although it looks completely different inside from what it did on the show.
We got back to the site about 4:45 and I started working on the satellite again. Finally I found a place about 50 feet out in front of the coach where I could get a signal through the trees.
Now Jan's happy, so all's right with the world.
Tomorrow we will head out for Coeur d" Alene, ID for a couple of days.
---
May 22, 2011
Fresno and Landon . . .
I got up a little early this morning, about 9:45, because we weren't sure exactly what time we'd be Landon-Skyping.
While we were waiting I fixed coffee and had a muffin for breakfast, then about 11:30 I went down to the office to re-up here at the park until the 31st.
I got back just in time to answer our Landon-Skype call.
Landon was his usual rambunctious self, showing how he could pull himself upright with no problems. The way he's going he'll be walking soon.
Brandi said Landon said "Mama" yesterday, but this morning he mostly just squealed and laughed a lot. He always seemed to react to us on the screen when we talked to him, so hopefully he'll know us when we see him in August at our family reunion in Illinois.
We spent about 20 minutes online with Landon, Brandi, and Lowell before setting up our next call in two weeks and saying our goodbyes.
A little later Jan fixed us a lunch of cheese toast using some great bread, and Salt & Cracked Pepper potato chips. Really good.
About 2 pm we headed down to Fresno about 35 miles away for some shopping. Our first stop was Sam's Club for some staples. Next up was World Market where Jan did some shopping, before repeating the thing at a Bed, Bath, & Beyond right done the road.
By this time it was about 4:30 and we were getting hungry so we decided to try the New China Buffet, listed as one of the best Chinese buffets in Fresno. It turned out to be very good . . . and also very busy.
Leaving the buffet, our last stop was at a nearby Wal-Mart before heading back to the Park of the Sierras. But we did stop off and get cappuccinos before getting home about 7:30.
---
May 22, 2012
A New, New Record . . .
I've been trying to upload this blog for about 3 hours now with no luck. I don't know if Verizon is working on things or what. But every night a little after midnight, I lose data service on both my Droid and my aircard. Normally I get it back between 3 and 4am, but not tonight. Here it is 5:30 and still no service. Hopefully it will come back before I knock off at 7.
Today (Tuesday) was pretty laidback with only a normal amount of traffic (70-80 vehicles), but yesterday was a madhouse.
For some reason the pad for this site is apparently smaller than normal, and yesterday they had so many big trucks coming in carrying casing pipe, drilling mud, water, and other fluids, that they didn't have enough room on the pad, and so had to start restricting access to 4 rigs at a time.
Believe me, truck drivers do not do "waiting patiently" very well,
In fact, not at all.
At one time, I had nine rigs parked along side of the road waiting their turn to get in. And it really didn't help things when the Company Man called me and said to send in a couple of the rigs from the middle of the pack, because their drilling mud was needed NOW.
I thought I was going to have a riot on my hands. The drivers were yelling and jeering at the two trucks that got to jump line, and the two drivers were yelling back. Finally about 6:30pm we got caught up and things settled down. I should have gotten extra pay as a traffic cop/anger management consultant.
Our previous vehicle record was 128 vehicles as our old site was shutting down before moving here. Our new record is now 148 for this past Monday. Still don't know yet if this is normal for a new rig starting up.
They do seem to be making good progress here. The hole is down to about 4800 feet, but the computer said the bit was at about 200 feet. Don't know if they're putting down casing, or just changing bits. I'll try to find out tomorrow.
Looks like our days are now permanently in the 90's. It helps that the humidity pretty much stays in the 20% range. Tractor Supply sells some misting units that I'm going to check out for when it gets hotter.
It's still very comfortable at night though, with temps in the low to mid 60's. In fact I usually wear a long sleeve shirt at night for a little warmth.
---
May 22, 2013
. . . just to watch him die.
We headed out on our 150 mile daytrip about 8:30 this morning, but our first stop was only a few miles up the road for breakfast at Denny's.
Back on the road by 9:30 we drove up the west side of Lake Tahoe on SR89 for about 30 miles until we came to Tahoe City. Along the way we passed a lot of spectacular scenery overlooking Lake Tahoe.
At one turnout near the head of Emerald Bay, we looked down on Vikingsholm, a Scandinavian castle built by Lora Knight in 1929.
One of the first summer homes built on Lake Tahoe, it welcomed celebrities such as Will Rogers over the years.
Besides the castle, Mrs. Knight also had built a rustic 16 x 16 ft. teahouse on Fannette Island, the only island in Lake Tahoe.
Located at the highest point on the island, all of the stone had to be ferried by boat over to the island.
It seems like every turn just brought more great scenery into view.
A little way before we reached Tahoe City we encountered these two really neat old cars.
Don't know what they are.
Reaching Tahoe City, we turned away from the lake and headed north to I-80 and Truckee. Reaching Truckee, we turned west for a few miles and ended up at Donner Pass State Park.
The museum covered not only the Donner party, but also the many emigrants who passed through here on their way to California.
Unfortunately, because of the way the many displays were lighted, I wasn't able to get any good photos. But they did have this model Conestoga wagon loaded up with typical supplies.
And this was something I'd never seen or heard of before. It's a snowshoe made for horses.
Leaving the museum, we headed down the nature trail that lead toward the area where some of the Donner party wintered over from November 1846 to February 1847.
None of the cabins survived, but this rock was the wall and fireplace of one of them.
This monument, near the museum, commemorates the hardships suffered here, and also marks the spot of another cabin. The height of the monument base, at 22 feet, marks the depth of the snow in the area that winter.
Leaving the area and heading east toward Reno, we thought about the irony of the fact that the Interstate I-80 now runs along the route that the Donner party was trying to take.
Getting into Reno, we turned south toward Virginia City, climbing about 2000 feet up into the mountains, with another set of great views along the way.
Coming into Virginia City, we found a quaint, old fashioned town clinging to the mountain side. Most of the town buildings date from from after the big fire of 1875, when most of the town burned to the ground. Only one partial block was left standing.
Over 2000 buildings were lost, leaving 10,000 people homeless. But the entire town was rebuilt in less than a year.
Our first stop was "The Way It Was" museum. Housing thousands of artifacts from Virginia City's heyday, it details many facets of the townspeople's lives.
Home of the fabled Comstock Lode, the many mines around the area yielded up over $400 million dollars of gold and silver. That's billions in today's dollars.
One of my favorite exhibits was this scale model showing only 250 miles of the interconnected 800 miles of mineshafts underneath the town.
Sorry for the so-so photos, but the sunlight coming through a skylight washed it out.
Next we took a tram ride around town, with our tour guides pointing out the many mansions in the area, and also the many brothels. Unfortunately a number of places we wanted to see were still closed for the winter, and won't reopen until this weekend.
One thing I did see was a new personal record for a mountain grade. My previous best had been 12% going through Canada, but that was in the RV.
But 15%, even in the truck was pretty good.
Leaving Virginia City, and getting back to Reno about 4pm, we stopped off at Famous Dave's BBQ for dinner. And as usual, really, really good. But Jan and I were both somewhat disappointed that this franchisee doesn't the Firecracker Green Beans as a side dish. Bummer. They're really good.
After dinner, Wal-Mart, and Sam's Club, I stopped off at a Home Depot to pick a new drinking water faucet for our kitchen counter.
Hopefully this one will last as long as the first one did.
Getting home about 8:30, we were both pooped after a long but very fun day. But tomorrow will be a do-nothing day, let me tell you.
When we got home, we found Landon's school class photo that Brandi had sent over. That's him on the upper left. Love those plaid shorts he's got on.
---
May 22, 2015
Anything But Goodyear . . .
Wednesday 5/20
Jan and I were on the road by 6am, heading for Vandalia, IL 1534 miles away. We didn't want to miss a long-scheduled family reunion with Jan's sister Debbie and her family, so a road trip was in order. We planned on making it in two days, stopping for the night in Amarillo, TX.
But about 10 miles south of Flagstaff, our journey came to a halt with a big BOOM! But with not as much resulting excitement as our blowout on the rig a few weeks ago. So, yes, my second Goodyear tire, the driver's rear, blew out.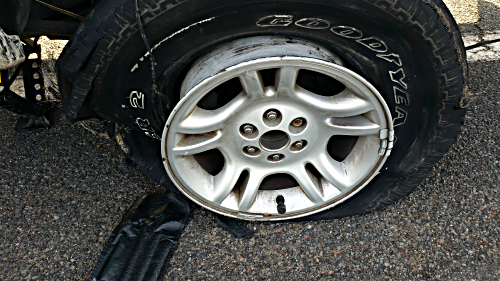 The day before we left, I'd had replaced my passenger front tire because the Goodyear on that wheel had popped open along a sidewall seam and had also developed a wobble. The tire guy at Big O checked my other tires and said they looked good.
I had just started to jack up the truck when an Arizona Highway Patrol officer pulled in behind me. He was kind of worried because we were parked just past an entrance ramp onto the Interstate, but he put out some cones to help guide the traffic entering the Interstate around us.
After getting the truck jacked up, I lowered the spare tire from underneath the truck bed, and quickly discovered that Goodyear had struck again.
Last February, my son Chris had swapped out my right front tire with my spare because it felt a little funny, like it was out of balance, or something. I figured it would still be a good spare for a few miles if I needed one.
But when I looked at the spare I found that it had blown out while it was underneath the truck. It looked like it had exploded from the inside, blowing several large chunks of rubber out of the sidewall. You might think that this might have been caused by road debris, maybe even from something thrown out from our rig blowout, but no. The damage was on the topside of the tire where it was shielded up against the bottom of the bed. The tire had just blown out all on its own.
I called my Good Sam ERS and told them I needed either a new tire, or a tow. But when I was told 45 minutes to an hour, the Highway Patrol officer said he would have to call the Patrol's tow service because they could be there in 20 minutes, and he wanted us off the road as quick as possible. And of course I would have to pay for that tow. But Good Sam said I might be able to get reimbursed.
So, 55 minutes later, the OFFICIAL tow service shows up.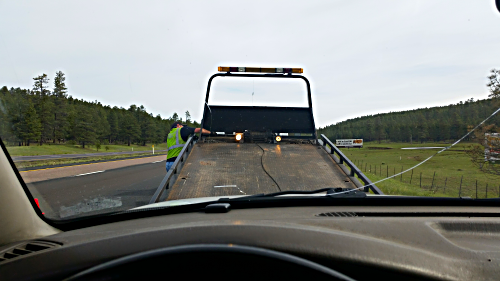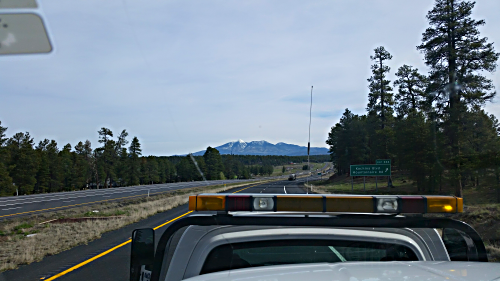 And an hour later, and $143 poorer, we were sitting in the waiting area of a Big O Tire Store on the east side of Flagstaff having two new tires ($273) put on our truck. Finally two and a half hours after the BOOM we were back on the road.
We had planned to have lunch in Gallup, NM, but ended up at a Carl's Jr. in Holbrook instead. I tried their new All-American Burger that has a little of everything, including a hamburger, a hot dog, and even kettle-fried potato chips.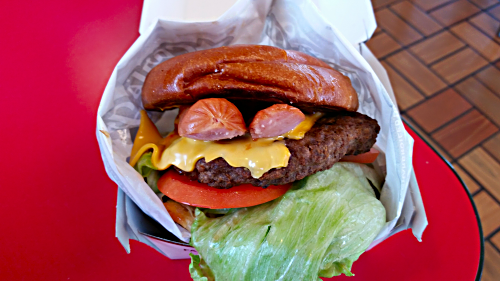 It was good, but confusing, with the taste of both a hamburger and a hot dog.
Mister of course was with us, but couldn't settle down, going back and forth from the front seat to the back. This is the first time he's traveled more than a few miles in anything other than the rig, and he couldn't figure out what was going on. He just knew something wasn't right.
What Jan and I missed most was our bathroom in the rig, especially with signs like these at the rest areas.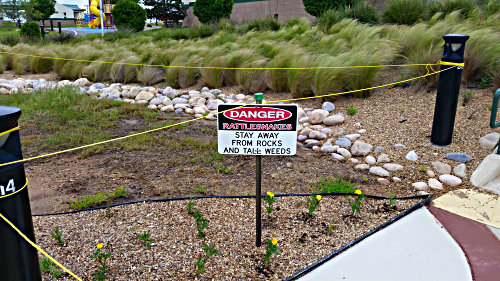 It was a real pain keeping track of upcoming rest areas, figuring how far to the next one, and then finding it closed. It's much more convenient to just pull over when you have a wide shoulder and take care of things.
For dinner, we ended up at another Carl's Jr., this one in Santa Rosa, NM. But this time I just ordered a Double Bacon Cheeseburger which was really good.
We finally pulled in to the Quality Inn in Amarillo about 10:45pm, very tired after a long day. Besides our tire delay, we lost two hours changing from Arizona's non-Daylight Savings Time (the equivalent to Pacific Time) to Texas' Central Daylight Time.
I'll catch up more tomorrow.
---
May 22, 2016
Happy 48th, Chris!
I was up about 6:30, with Jan following about 7 to get ready to roll this morning. We didn't have breakfast or coffee because we planned on grabbing something at the Flying J.
We hoped to pull out by 8:30, but beat that by 15 minutes, and were out on I-45 by a little after 8:30. And about 30 minutes later we were pulling into the RV lanes at the Flying J on I-45. And although it was faster than last time, it still wasn't exactly speedy.
Last time, the first pump I used was flowing about a gallon every 30 seconds, so it would take about an hour for 120 gallons. This time it was twice as fast, at 4 gallons a minute, but still that's slow. I've often seen pumps flowing a gallon every 4 or 5 seconds. Here's what happened that time.
https://ourrvadventures.com/2016/01/rv-checklists/
Normally this is a clogged filter on the pump, so I told them about it while I was inside getting our coffee, as well as a couple of very tasty Sausage, Egg, and Cheese Biscuits.
We were back on the road a little before 10 for our trip down to Brandi's in Katy. After taking the Beltway around, rather go out I-10 and take the winding FM 1463 to Brandi's, we went straight across I-10 and down to the Westpark Tollway and took that out to the Shell station at the corner of 1093 and 1463 where we were going to park for the afternoon.
We got there a little before 11, and as I was leaving the rig, Brandi and Landon pulled up next to us. I told her that was perfect timing, since I had planned to call and have them pick us up.
She said she was on her way back from the grocery story and just happened to see us pull in. But even more coincidental, as I was walking over to the convenience store to ask permission to park for a few hours, we saw Chris, Linda and Piper there picking up something for our dinner.
Getting to Brandi's we had a great meal and an even better family get-together.
Chris got a Cheeseburger Ice Cream Birthday Cake with Star Wars characters on it.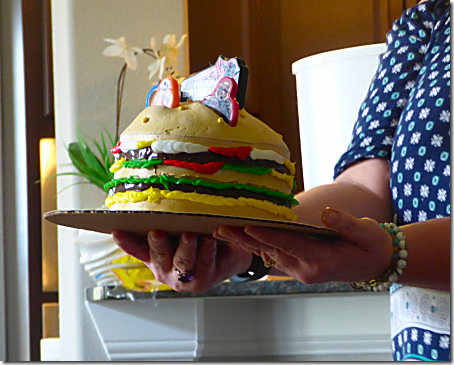 And of course, here's the obligatory family portrait.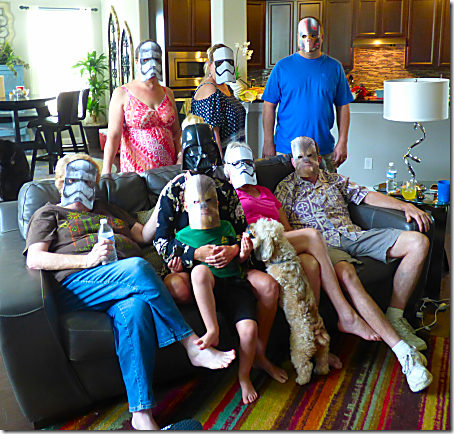 Is that a great looking family, or what?
We were back on the road by a little before 3pm, head for the Colorado River Thousand Trails about an hour away. Coming down from Brandi's we'd just been running the fans, since as forecast, the weather was very overcast and about 75 degrees. And it was supposed to be the same this afternoon.
But as we got back to the rig, the sun was coming out and temps were rising. So we turned off the fans, closed the windows, and cranked up the generator to run the A/C's.
The generator was being a little cantankerous, however, at least at the start. The first time it ran for about 5 minutes and quit. The second time it ran about 10 minutes and shut down. But the third time it ran all the rest of the way. I'll have to check the generator error codes to see if it shows anything.
We were checked in and set up at Colorado River by a little after 4pm, after a busy, fun day.
---
May 22, 2017
HuHot and Old Cars . . .
Beautiful weather here in Billings today, with temps in the high 60's and a lot of sun. But since it's supposed to be in the low 40's tonight, I plugged my engine's block heater once again for a toasty engine tomorrow morning.
We've stayed here a number of the times over the years and you can't ask for a nicer park.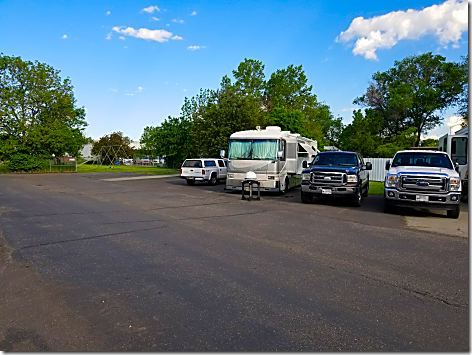 There's even parking for two vehicles if you need it.
For breakfast this morning we had our Wheat Montana treats from yesterday's visit.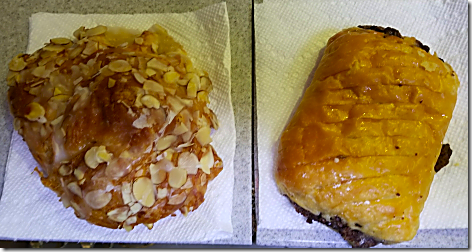 She got a Chocolate Croissant while I got an Almond Bear claw. Both really good. Too bad we didn't buy more.
Jan spend an hour or so at one of the two nearby park laundries doing our heavy floor rugs, the only thing she doesn't normally do in our rig's Splendide Washer/Dryer combo.
About 4pm we headed out to have dinner at our other favorite Billings' eatery, HuHot Mongolian Grill.
Like the Genghis Grill, HuHot gives you an empty bowl and you go down a cafeteria-type line filling your bowl up with all the meats, veggies, and sauces you want.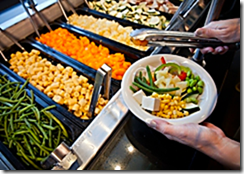 Then you give it to the grill guy who tosses it on a big circular grill and cooks it up for you while you watch.
And what starts out like this,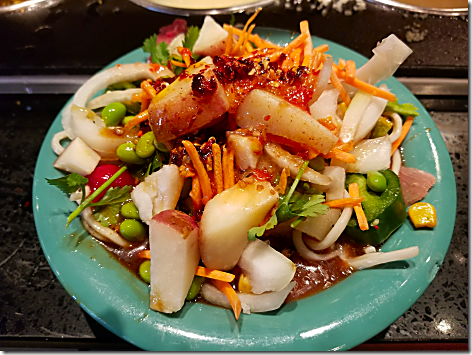 ends up like this.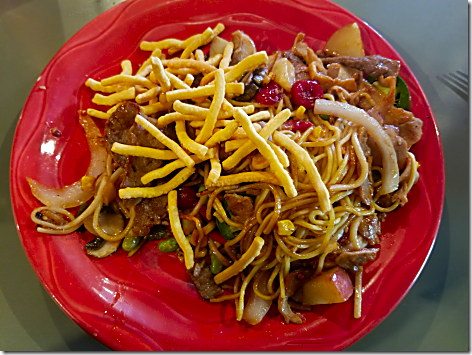 One thing kind of funny was the grill guy's reaction when he tossed my bowl on the grill. I had loaded it up with all of the really hot and spicy sauces, so when the steamy vapors hit in the face, he jerked back saying :"WOW". When he looked over at me, I just smiled.
As we were leaving HuHot I saw this really nice 1937 V-8 Ford in the parking lot.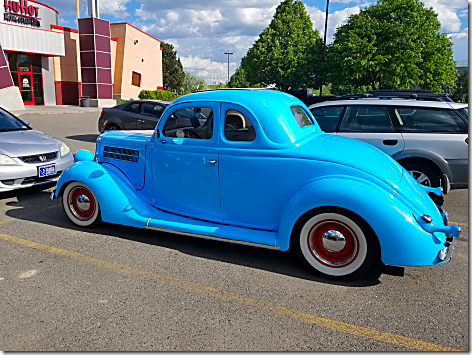 I really like those taillights, but I don't think they're original equipment. Note the gas cap in the nearest one.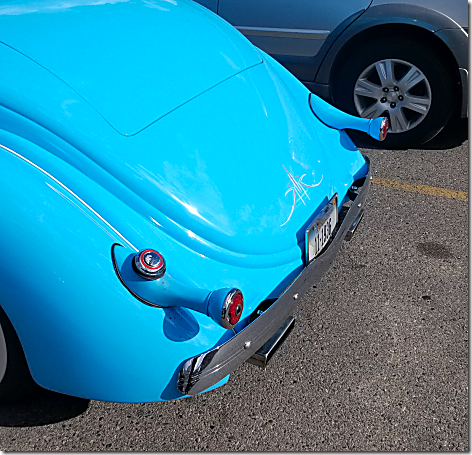 Then it was off to the nearby Sam's Club to pick up a prescription for me and a case of Joint Juice for Jan. We also scouted out the gas station to get some diesel tomorrow morning before we leave town.
Besides being close by and an easy in and out, at $2.37/gallon, it's the cheapest in the area by about $.20 a gallon.
Later, coming home from Sam's we passed another bunch of old cars.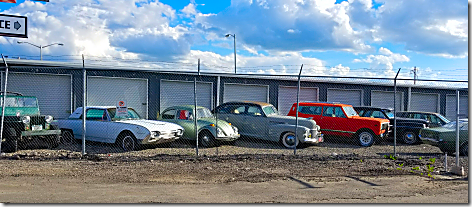 Don't know why they're stored there, but they run the gambit of really old to fairly new.
One of our blog readers noticed the helper springs on our wiper arms in the photo of Karma sleeping on the dash yesterday..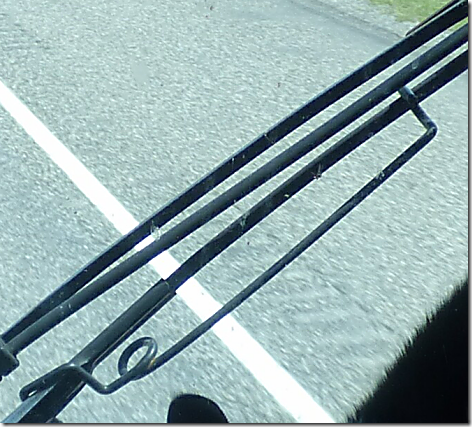 I found these at a truck stop a few years ago, but you can get the same ones here on Amazon.
They work great to keep the blades firmly against the glass, and even better, here on Amazon they're half the price of the truck stop ones. Check 'em out..
Looking at our route to Rapid City tomorrow, I noticed that if I take US 212 past the Custer Battlefield, it makes a 50 mile shorter route around to connect back up with I-90 right above Sturgis, turning our 363 mile trip into only 313 miles.
So off we go.
---
May 22, 2018
What A Burger . . .
I spent the morning and early afternoon mostly working on website stuff, both the Knife website and the the Big Huntsville Storage website.
Around noon our power went off here at the park. It seems to happen every couple of weeks or so, and usually comes back on pretty quickly. And it was back on in just a couple of minutes . . . and then back off again. And then off again. And then back on.
This raised my suspicions so I got up to check the LED that monitors our shore power voltage and found it, not at the normal 122-124 volts, but showing 131 volts. And as I watched, every so often, it would bounce up to 132 and then back down to 130. But then it momentarily hit 133 and our Progressive EMS (Electrical Management System) disconnected us from shore power to protect the coach
I took my new 50 amp tester out to the pedestal to check things out.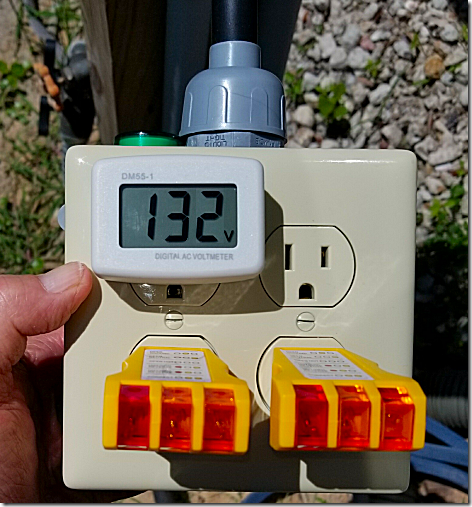 And I had 131-132 volts on both legs so it wasn't an unbalanced voltage situation. I watched it for about 15 minutes without it ever going above 133 volts, so I switched the EMS into bypass mode so we'd get power back in the coach. I did keep monitoring the voltage in the coach, and about 15 minutes later it was back down to normal. So a little later I switched the EMS back into the circuit.
I don't what the problem was, but it seems to have been a power company problem. I'll keep an eye on it.
But I did get another plastic tub filled up which we took over to the storage room a little after 4pm. Then it was on up to Whataburger for dinner. #6's for both of us. Plus I got an Apple & Cranberry Salad to bring home for dinner tomorrow night.
---
May 22, 2020
A Lot of Pent Up . . . Well, Something
Going into the Memorial Day Weekend, traffic coming home was pretty much back to the pre-Wu normal. And maybe a little more, since the traffic was heavy heading down toward Galveston for the weekend.
But the real indication that things were finally opening up, was that the Heartbreaker's Gentlemen's Club right along the Interstate was open again. And it was more crowded than I've ever seen it. Not only was the huge parking lot full, but people were parking out along the feeder.
Like I said, a lot of pent up . . . something.
One thing funny about this club is that every few years some do-gooder in League City decides to shut down this den of iniquity. But that only lasts until the first City Council meeting when they present their petition. And then they're told that their taxes would more than double, since that club is the largest single tax-paying business in the city, by a wide margin. And then it all fades away until next time.
This past Tuesday we once again had lunch at Saltgrass Steakhouse, the second time since they reopened. And then yesterday we had supper at Los Ramirez Mexican Restaurant, our local favorite, and where we last ate back in March the day before everything shut down.
Every other table was taped off, and the waitstaff were all wearing masks, but the food was as delicious as always. And like a look of places, they used their dine-in downtime to repaint the place. Really nice.
---
May 22, 2021
End Of School . . .
Thought first I'd catch with our Thursday get-together up in Huntsville with Debi and Ed Hurlburt, and Janice and Dave Evans at the Farmhouse Café.
We were beginning to get a little worried with the route our Garmin GPS was taking us through the backstreets of Huntsville, but we finally found the place tucked in behind Sam Houston State University. And it turned out to be just as good as advertised.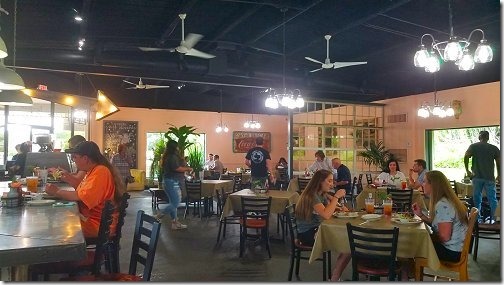 Jan got the Grilled Chicken Breast with Fried Green Tomatoes and Green Beans,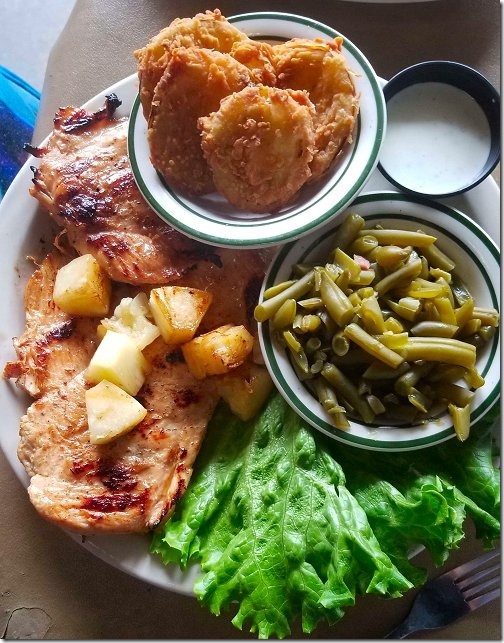 while I got the Chicken Juarez with Turnip Greens and Green Beans.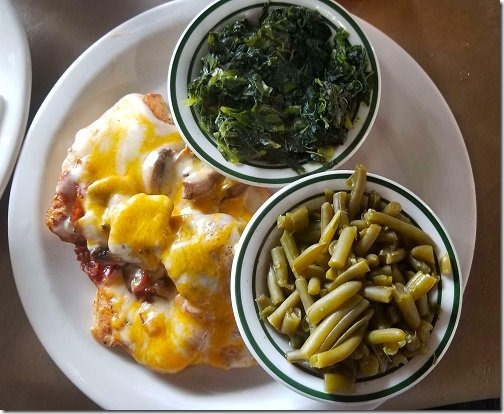 Ed Hurlburt also got the Grilled Chicken Breast like Jan, but with a Loaded Sweet Potato and Fruit.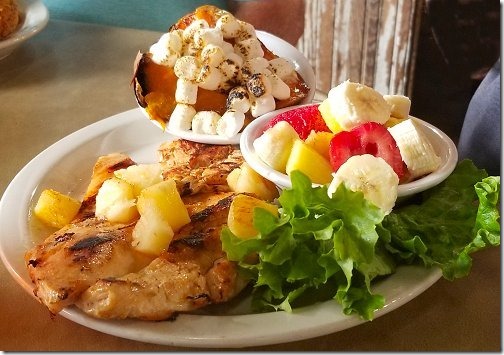 Dave Evans, however,went in a piscatorial direction, with the Fried Catfish, Fries, and Hushpuppies.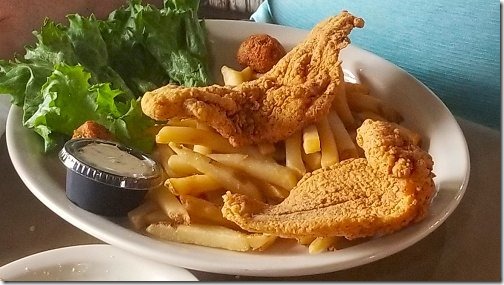 I never got a look at what Debi and Janice had since they were on the other sided of the table, but I didn't hear any complaints.
Already looking forward to our get-together in July, since we'll be gone in June.
Finally broke down today and subscribed to AppleTV+ so Jan and I could watch For All Mankind, the alternate history of the U.S.- Russian Space Race. A lot of family/friends have been recommending it.
As I always do, I registered using one of the Privacy.com limited credit cards so that I can easily drop my subscription at any time without worrying about continuing charges.
For lunch today we went to Los Ramirez once again and it was delicious as always. Plus you know you've been to a place a lot when the lady getting our drinks tells us what we want, and also that we want no chips but two green sauces, and only one straw. And the waiter taking our order walks up and just repeats our order to us without any prompting.
Our daughter Brandi and several other mothers got together and had an End of School party for the kids, including a BIG water slide and a Taco Truck.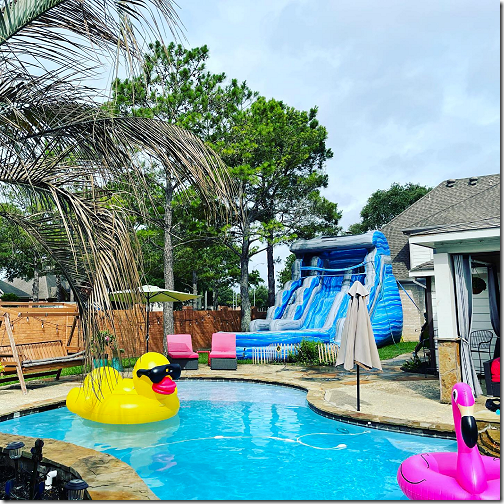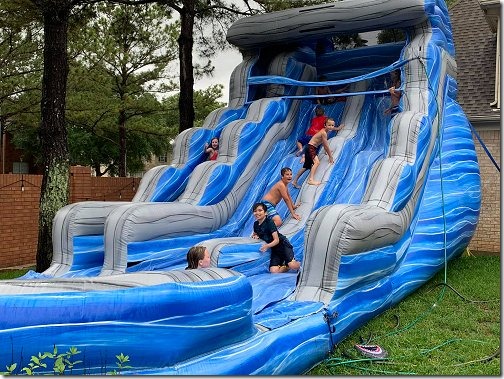 Looks like they had a lot of fun, and managed to dodge all the rain and lightning.
Though I doubt if the kids would have minded the rain under the circumstances.
---
May 22, 2022
It's Finally Set Up . . .
I think I finally got GoDaddy to make the changes I needed, and several readers have said that they're seeing the blog now when they weren't below.
So if you're seeing it now, please let me know.
Lunch today was King Food once again, always delicious.
We both got the Chicken in Hot Garlic Sauce with Jalapenos, along with Fried Rice and an Egg Roll.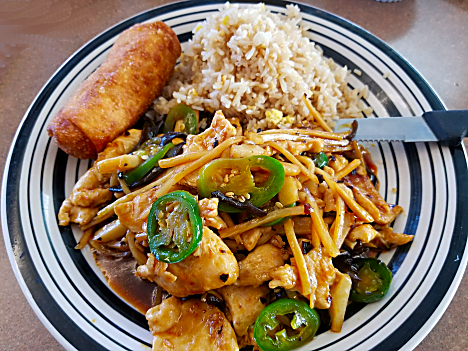 And of course starting with their Hot & Sour Soup.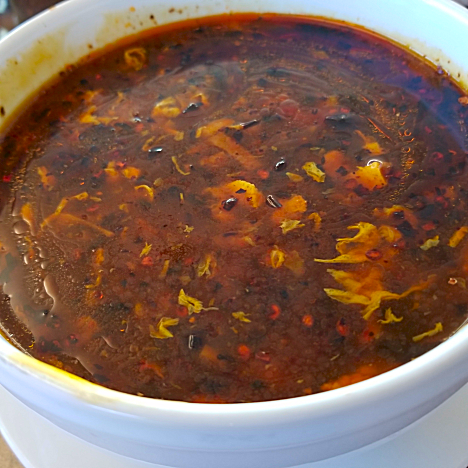 And as I noted the last time we were here, they have a perfect way to keep from having to reprint their large menu to keep up with the rising prices.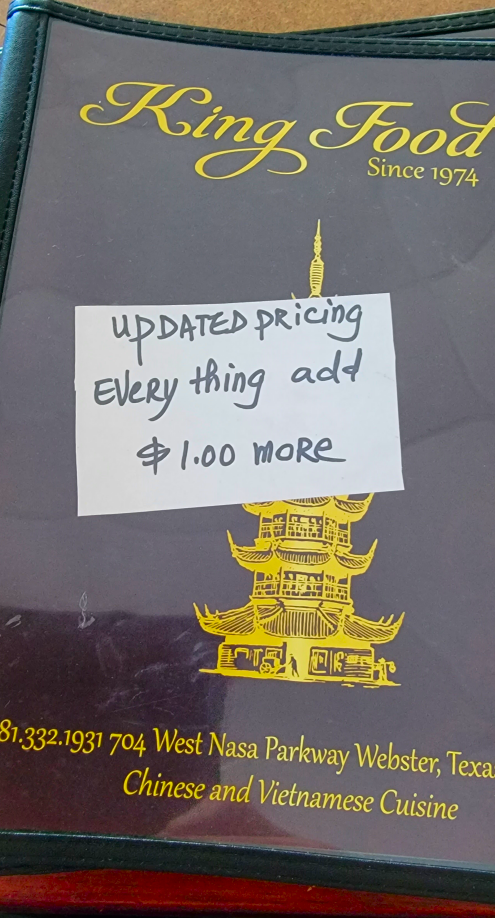 After lunch we headed over to the office so I could finish setting up the UPS Remote Station connected to the new Shipping computer without having to work around people during the day. And with no interruptions, it only took about 30 minutes to finish up.
And that completes everything that needs to be done in setting up the new Shipping computer.