Daily Archives:
May 31, 2023
Since I'd been gone from work for two weeks, I had a lot of stuff piled up waiting for me.
One of our biggest vendors decided that every photo of their 40 odd products needed to be updated.
Today.
And that was just the start.
But it did make the day go fast.
I've run into a broken with the broken strut on my Jeep rear window. Besides the problem with the strut, the ball that the strut is supposed to connect to has broken off.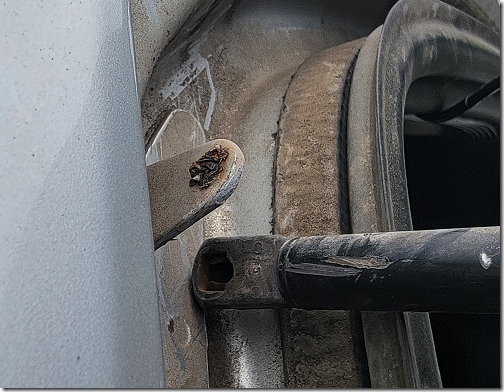 So I figured I'd just order a new ball stud to screw into the mount. But as it turns out they're not available.
You can only buy the entire piece, and then you're supposed to grind off the old one and weld the new on in its place.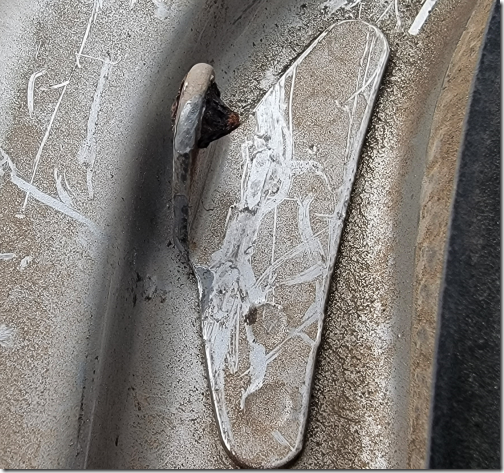 Too much trouble and expense.
So I found these on Amazon and I'm going to try and improvise something.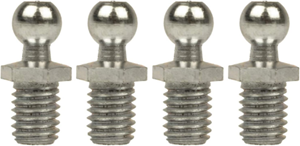 We'll see how it goes.
---
Thought for the Day:
There is no such thing as idiot proof. There is only idiot resistant. The ingenuity of idiots knows no bounds.
---
May 31, 2009
Breakfast Buffet & A Lot of Gators…
Today we headed out about 9:30 am to have the breakfast buffet at Whistle Junction where we had lunch with Carol and Joe on Friday.
Then it was off to Jungle Adventures Nature Park, about 15 west of Titusville, on the way to Orlando.
Although we haven't been here since 1997, we looked forward to going back.
They have a lot of animals here – Florida panthers, deer, coatimundi's, lemurs, bears, spiders, lizards, scorpions, turtles, tortoises, and of course, hundreds of alligators, crocodiles, and caymans.
Is It Dinner Time Yet?
Just a Big Putty Tat!
The trainer said he had raised this panther since he was about 3 weeks old. The cat came up and started rubbing his head all over the trainer, marking him as his property.
Duckweed-covered Gator
Feeding Time
Feeding Time Too
They sell you hotdogs to feed the baby gators. I just want to be sure they can tell the difference between the hot dogs and fingers.
Hot Dogs or Fingers!
Jan Makes a New Friend!
Who's scaring who here?
Jan wouldn't hold this one!
We headed back to the coach about 2:30 pm after a great time.
A complete change of subject here. Jan and I are big Ice Road Truckers fan. That's the show on the History Channel that depicts the truck drivers driving supplies into northern Canada mining camps and oil exploration sites on ice roads that only exist in the winter time.
During the rest of the year, the road isn't there. It's open water!
Anyway, on tonight's 3rd season premiere episode, we were surprised to see that instead of running in Canada this year, they're running the Dalton Highway from Fairbanks, AK to Prudhoe Bay.
We've been on this road. Or at least part of it. We took a tour that takes you from Fairbanks to the Arctic Circle, a trip of almost 200 miles. But this is not your average 200 mile trip.
Because of the bad roads and the hilly, curvy terrain, it takes about 16 hours roundtrip. You leave at 6:30 am and return around 10:30 pm.
You stop for lunch going up and dinner coming back at the same place, the Yukon River Camp at the Yukon River Crossing.
Yukon River Camp
Yukon River Crossing
Surprising the food was very, very good. They bring a chef up from the Lower 48 every year to work the season.
The Dalton Highway was built to support the Trans-Alaska Pipeline and the pipeline parallels the highway for a good part of the way.
Yukon Pipeline
They have a marker at the Arctic Circle to get your picture taken.
The Arctic Circle
This is Jan and I with our granddaughter Piper when she came up to visit us in Fairbanks last July.
At least when we did this trip it was in the summer, and not in January.
Anyway, the show is bring back a lot of great memories.
---
May 31, 2010
ACA Rally Recap
First off, let us all remember what day this is, and the many that have given their lives for this country. I think this picture say it all.
---
By the time we left for lunch this morning, the campground had really cleared out.
This what it looked like for the past 4 days.
And this is what it looked like this morning.
There's about 8 coaches plus us still here, and we'll be gone Wednesday morning.
It was interesting to compare this, our first American Coach Rally, with the other rallies we've attended.
We've also attended two other "kind of' rallies. They were the two 'Life on Wheels' Seminars we attended in Tucson, AZ in 2007 and 2008. I say 'kind of', because, although it was a bunch of RV'ers getting together, it was more of an educational experience for people who were fulltime RV'ers, or who wanted to be full-timers.
We attended our first one in March 2007 in a rental Class C RV when we were still trying to learn about RV'ing. The second one we attended was in March of 2008 after we'd already been on the road for a month in our own coach.
And we certainly learned a lot from these events.
The only thing the ACA rally won on was food.
With 3 breakfast buffets, 1 Burgers & Brats lunch, 1 'heavy' hors d'oeuvres, 1 BBQ dinner, and 1 Prime Rib dinner, it would be hard to top. But you definitely pay for this. The price of the ACA rally was $335.
I think we do just fine with the coffee and doughnuts each morning.
Anyway, now back to today.
We decide to have lunch at Humphrey's Bar & Grill, a place that came highly recommended.
The place has a very eclectic atmosphere, with old toys, signs, crocodile heads, and other 'junk' hanging on the walls and ceiling. It seems like every time you look around, you see something different.
Right off the bat we knew we were in trouble when we saw the menu. It's about 18 x 24 inches with 6 pages. There must be 300 items on it, including these.
MMMMM MMMM Good! (No, we didn't have any)
But what we had was really good.
After lunch we stopped off at Walgreens before heading over to Walmart. Then it was off to Ace Hardware to pick up a new foam filter for one of our coach A/C's.
Heading home we took the long way around, driving out in the country a bit before turning back.
Coming home we encountered this momma antelope with her two fawns. By the time I got stopped to take a picture, momma had headed down into the gulley with her fawns in tow. But when she reappeared, the fawns weren't with her. She had left them in the gulley and was heading out away from them, hoping I would follow her and leave the fawns alone.
But apparently one of the fawns didn't get the message. About 15 seconds later one of them came running up out of the gulley, and through the brush right toward us.

Then it was like he realized he wasn't where he was supposed to be. He looked around, and then hunkered down in the grass and pretty much disappeared to the naked eye. All this time momma was keeping a close eye on us from about 200 yards away.
Also, along the way we noticed a few of these strange looking power poles.
They're flat, not round, and appear to be laminated out of numerous smaller boards.
We saw several of them. There didn't seem to be any rhythm or reason as to their placement. I'm wondering if they are not some type of test poles being evaluated to see how they work.
We got home about 3 pm and were in for the night.
For dinner we had our left-over Famous Dave's BBQ from Billings last week. It think it gets better with age.
---
May 31, 2011
Lakes and Lumberjacks . . .
After getting up way too early (7 am) I went down to the park office to settle up, and then we headed out a little after 10 am, pointing our coach towards the Lake Minden Thousand Trails RV Resort in Nicolaus, CA, about 25 miles north of Sacramento and about 200 miles from here.
We pulled out a little after 10, hooked up our toad in front of the park office, and hit the road, heading first south, and then west to meet up with SR99 which took us another 170 miles thru Sacramento to the small (almost nonexistent) town of Nicolaus, CA.
We did have a small blip in trying to actually get to the park. It turned out that a new 4 lane road had opened, replacing the old two lane. And also removing the turnoff where we were supposed to exit. But luckily our GPS system finally figured it out and got us to the park, although from the other direction.
We were quickly checked in, given our paper work, and found our way to our site. We had picked up some rain on the way in, but it had slacked off by the time we parked, and was just a light sprinkling.
Our daughter Brandi called while we were getting parked to give us the latest Landon news. Apparently since he got his first two teeth he wants to try them out on new foods, especially anything that Mommy and Daddy are eating. Whatever it is, he want's some.
Around 4:30 we headed out to get something to eat for us. We were unsure whether to drive north to Yuba City, or south to Sacramento, as they were both about 25 miles away. But the nice young lady at the gate said we would find plenty of places to eat in Yuba City without the rush hour traffic of Sacramento. She also mentioned Lumberjack's Restaurant, where they had really big platters of really good food.
I said "Say no more. You had us at 'really big platters'", and after thanking her, off we went.
It took us about 45 minutes to get there due to all the traffic in Yuba City. Who knew Yuba City had a rush hour too? But when we pulled into the parking lot, I knew we were home.
The sign out front said "Lumberjack's Restaurant – Where the BIG boys eat!
Hey, what can I say? Our kind of place.
And the platters were really big, and the food was really good. Jan had the Roast Turkey and Cornbread Dressing and I had the Chicken Fried Steak.
We raved over how every thing was perfectly seasoned and perfectly cooked. The salad bar was great, the dressings homemade and delicious.
We finally got home a little before 7 after a nice travel day.
---
May 31, 2013
Back in Bend, OR . . . but
no post today.
Struggled all afternoon and evening trying to get a satellite signal.
No trouble two years ago, but now it's hit or miss.
I have a compass and 3 Droid apps, and they're all telling me the satellite is in a different direction.
---
May 31, 2014
He wants his Pic-A-Nic Basket . . .
Today was going to be a daytrip day so I was up about 8:45, too early, since I didn't get to sleep until about 3am.
Jan and I started out with cheese toast made with fresh-baked bread.
Our first stop was the Indiana Welcome Center in Hammond, IN.
Besides being a very nice Welcome Center, its real claim to fame is the fact that it houses the John Dillinger Museum. You've gotta like a place whose motto is "Crime Doesn't Pay…But It Does Charge Admission".
They have an really amazing amount of Dillinger memorabilia, including the wooden gun he carved from a broomstick for an earlier jail escape, and the pants he was wearing when he was killed.
He was killed in front of the Biograph Theater in Chicago after being 'fingered' by Anna Sage, the infamous 'Lady in Red'. In reality, she actually wore an orange dress, but I guess 'Lady in Orange' just doesn't have the same ring to it.
This is an example of Dillinger's favorite escape vehicle, a 1933 Essex Terraplane 8, renowned for its power and speed.
They also had a very nice display of the many types of weapons that Dillinger and his gang liked to use.
Like Willie Sutton, the famous bank robber, who really did not say "I rob banks because that's where the money is", Dillinger and his cohorts DID rob police stations because that's where the guns were.
One of his real favorites was the .45 cal. Thompson Submachine Gun, as displayed 2nd and 3rd from the top in this photo.
Strangely enough, it's also Jan's weapon of choice as well.
Though Jan prefers the magazine-fed model, rather than the drum-fed, because it's less likely to jam.
And while we're being picky, this not a Thompson 'clip'. It is a Thompson Drum Magazine. Unclear about the difference between a Magazine and a Clip? This should make it clear.
But for what it's worth, Willie Sutton also carried a Thompson on many of his bank robberies, because he said, "You can't rob a bank on charm and personality,"
He further said that none of his weapons were ever loaded because "somebody might get hurt."
---
Leaving the Welcome Center, we headed east to the Indiana Dunes National Lakeshore Welcome Center to get our National Park Passports stamped and to look around.
About 5pm we headed back to Elkhart and had dinner once again at King Wha, a really good Chinese place. I'm gradually working my way up their hot sauce scale. This time they used two extra hot sauce amounts when cooking my Hunan Chicken. Next time I'm going for three.
Either they'll run out of hot sauce, or my head will explode. We'll see which one comes first.
---
Apparently Yogi was wandering around Daytona Beach, FL looking for Boo Boo and his Pic-A-Nic basket, but decided to take a short nap in a hammock in someone's yard.
Those short naps are so refreshing.
---
May 31, 2015
Four Weeks and Counting . . .
Today marks the beginning of our 5th week here in Prescott, not exactly how we planned to spend our spring/early summer. But if you RV very long it's almost a given that you'll end up going in directions you hadn't planned on.
But maybe that's part of the attraction of this lifestyle.
Anyway, I hope we'll know more tomorrow about our fate. Before they broke our windshield on Friday, we were only waiting on the new airbag, but now I don't know. When we had the windshield replaced last year in Elkhart, it took about a week to get the glass in. So with that, and the airbag, I suspect we're looking at another two weeks here. But who knows, they may surprise me.
For dinner, I just went across the street and picked up some Taco Bell. We've been surprised how good their stuff is.
* * * * *
Continuing with my post from last Saturday, May 23rd:
A Lost Afternoon
After our abortive attempt to visit to Grant's Farm in St. Louis, we all headed over to the St. Charles area where our niece, Tana, her daughter Gwen, and Tana's fiancé, Curt live. In a log cabin built in 1862.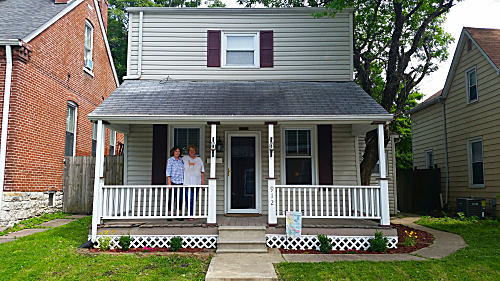 Though it has been updated a few times!
It was nice to see that Tana had one of her grandfather's chess sets on display.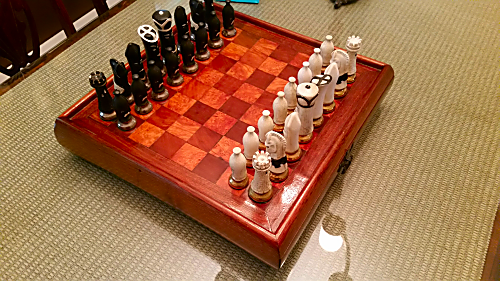 He not only made the chess board, but the ceramic chess pieces as well. And the base has drawers that hold all the pieces.
We had dinner reservations at the Trailhead Brewery down on Riverside Dr. so we spent some time checking out some of the neat shops in the area.
Out in front of one of them was this nice 1934 Ford Cabriolet Convertible.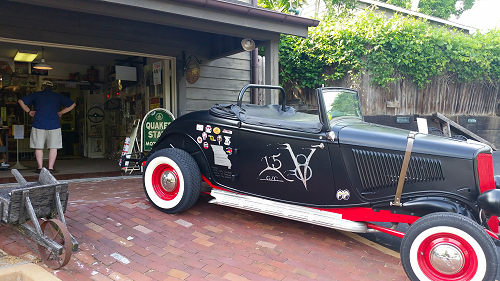 And it can yours for only $30,000.
Then it was on to dinner at the Trailhead Brewery. The place was very busy, so it was good we had reservations since we were a party of 18.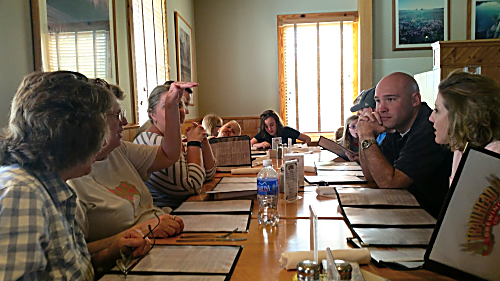 The food was very good, as were the many different beers we sampled.
---
May 31, 2016
Sprinkles and Drizzles . . .
Another overcast, rainy morning, very nice for Jan's reading and my website work. Although we really don't need any more rain around here, it's certainly nice to keep the temperatures down. So no more power outages. Yet.
About 1:30 Jan and I headed in Columbus to have the lunch buffet at Schobel's Restaurant. We regularly have the breakfast buffet, usually on the Sunday morning before we head back over to Lake Conroe after our two weeks here at Colorado River. But we've only had the lunchtime version a couple of times before, so it was time for another visit. And it was well worth it.
The menu rotates regularly, with today's offering Fried Catfish, Roasted Chicken, Meatloaf, Green Beans with Bacon, Carrots, Squash Casserole, Black-eyed Peas, Corn, Broccoli, Mac N Cheese, and a couple of other veggies, plus a delicious salad bar. A really great meal.
Heading back home we made a Brookshire Bros. stop for some fresh salad fixings and a few other things. Then after a stop at the PO to drop off some letters, we headed back to the park just as it started to sprinkle.
Then as the afternoon went on, the sprinkles became drizzles, and the drizzles turned to showers. Then the showers morphed into thunder, lightning, and the bottom dropping out, which pretty much took care of the rest of the night.
About 9:30pm I drove over to Barbara Spade's rig to pick up her laptop to do a clean-up/speed-up on it, cleaning the gunk out, so to speak..
Should only take me a day or so.
We have three remotes for our DirecTV DVR, all over 8 years old, and all having 1 or more flakey keys.

So I decided to take them apart to try and clean them, but then realized I was out of Strike-Hold, the amazing magic electric elixir that has worked its magic on many of my electrical devices.
While not conductive itself, Strike-Hold is perfect for preventing rust, dry-lubing firearms, and cleaning electrical contacts.
So I put in an Amazon order for a 16oz spray can of the stuff, which should be here later this week.

Several blog readers have reported good results from my Never10 download page, blocking the installation of Windows 10 and deleting already existing files. And our friend Tricia said that her computer just started installing Windows 10 while they were using it. So she used my suggestion of refusing to accept the Terms and Conditions. When you click 'Don't Agree', it uninstalls Win10 and puts everything back like it was.
Then run Never10 so it won't try it again.
---
May 31, 2017
Pills and Pie . . .
Again it was down in the mid-30's last night, but made it into the mid-70's today. But tomorrow we've got a one-day spike into the mid-80's, and then back down into the 70's again.
With Jan still on the 3rd day of her 3 day migraine wind down, we put off our Bear Country USA,/Alpine Inn/Reptile Garden/Dinosaur Museum day until tomorrow.
Jan's migraines normally cycle through 3 days. On the first morning when the migraine hits, she takes a Sumatriptan and by the afternoon, she feels better, but kind of washed out. Then on the second morning, the migraine returns, but not as strong, so she takes another Sumatriptan. And finally on the third day, one more time, but even less pain, and another Sumatriptan.
Every now and then though, the migraine only lasts for two days, which is why we were hoping for a respite today. But tomorrow will work just as well.
A little before 3pm I went into RC to pick up some things from Lowe's for a couple of projects I'm working on. Next up was an oil change for the truck, and then on the way home I stopped off at a Perkins for a couple of slices of pie, Coconut Cream and Chocolate Silk, for Jan. Migraines are always better with pie.
For me, I got Lemon Meringue and Banana Cream.
Coming back to the park I stopped off at the office to pick up my Samsung Wireless Charger that had come in. Getting home, I unpacked it, plugged into the wall socket, and set my S8+ on it, and it started charging. Neat.
But my old Galaxy S5 doesn't work on it. I know later ones do, but mine was a very early one, so not unexpected.
I also moved my 12volt digital voltmeter down onto the lower dashboard where it is more visible.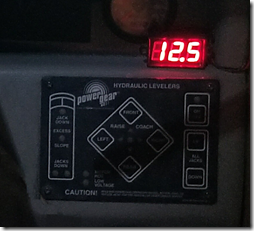 This meter monitors the engine battery voltage, while I have another one that monitors the house battery voltage. And I also have one that monitors the shore power voltage/generator voltage.
For dinner tonight we had our leftover Famous Dave's BBQ from last week. And of course, pie.
All delicious.
---
May 31, 2018
Three Weeks From Today . . .
And We Can't Wait.
I spent the morning wrapping up some coding on both websites, but I've gone about as far as I can until I get the new content back from the clients.
So now it's just hurry up and wait.
After yesterday's blog several people asked about the problems we had with our Progressive EMS (Electrical Management System) while we were at the Anvil Campground about 5 miles from Colonial Williamsburg.
As it turned out the power problem at the park had blown a board in the EMS. I put in a call to Progressive and he told me how to bypass it so we once again had power into the coach, and said he'd get a new board in the mail to me on Monday. Pretty good since this was July 3rd, and of course, the holiday weekend.
Long-time friend John Huggins, of LivingTheRVDream.com fame, wanted to know if I had given up on my remote dump valve project, since I hadn't mentioned it in a while.
I told him that No I hadn't. It just got pushed down in the stack a little bit due to my trying to get the two new websites up and running, get stuff moved to the storage room, being really busy at my client's, AND getting prepped for our trip.
In fact, as I mentioned before, I already have my next project in the planning stages. But I'll save it for later.
Friend and blog reader Boots Gibson commented on Landon's artwork for a class poetry project. She said she has a friend who helped her 8 year old son write and publish an Amazon book about 'farts', yes, 'farts'. The book was a best-seller, and now at age 11, his college is fully paid for from the sales of the book.
Farts, who knew. So what bodily function can Landon write about?
Three weeks from today, June 21st, we'll be back on the road for the first time in months. We're heading up to Illinois to get together for a family reunion with Jan's sister, Debbie and her family. Brandi, Lowell, and Landon will be there too, but unfortunately Chris and Linda will be moving up to Kingsland, and Miss Piper has to work.
Then coming home, we'll make a stopover for a few days in Athens, AL to visit with my relatives, before finally getting back to Santa Fe on the 9th of July.
We're really looking forward to it.
---
May 31, 2019
Bowing To The Inevitable . . .
This is one of those blogs that results from the intersection of several recent events – Our recent time in London, and President Trump's upcoming visit there.
The subject is bowing.
There's been several articles about whether President Trump will/should bow to the Queen. For the record, he shouldn't and won't. And neither will the First Lady.
To start with, our President doesn't defer to any other leader, and we're no longer British subjects, anyway. There was that little dustup back in the late-1700's that took care of that.
Last week as we were passing Buckingham Place, we saw a lot of fancy dressed women wearing big hats, getting out of limos, and Jan wondered if Sam was among them.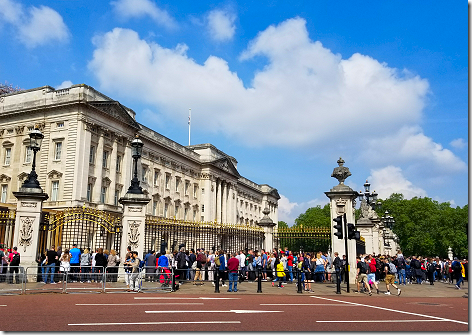 I've talked about Sam, though not by name, a couple of years ago in a long blog post called The Pixelization Of Memory. This part is about halfway down.
The whole idea started when we were visiting my old hometown in north Alabama a few years ago, and I mentioned to Jan, that I had been checking out people around us, wondering if I would run into one of the several old girlfriends that I had back then. But as I told Jan, I realized that I was looking for them like they looked back when they were 16 or so, not in their 60's like they are now.
And that's why Jan brought up Sam as we passed Buckingham Palace.
It all started here.
Beginning when I was 13 we lived in South America for a couple of years, mostly staying at a large old hotel that had both nightly guests, and also residents like us.
Turns out there was a very cute British girl, about 14, also living there. Soft red, curly hair and bright green eyes. Since we were the only English-speaking kids our age around, we naturally ended up hanging out together. She told me her name was Sam (Samantha) and that her father worked for the British government.
After we had been together for a month or so, one day she showed up to where we usually met on the large landscaped grounds, all dressed up for a party, filly dress, hair pileup on her head, the works. A big change from the shorts and T-shirts she usually wore.
She told me her mother wanted to meet me for afternoon tea at 4pm. Told me in no uncertain terms that I was to dress nice, wear long pants and a nice shirt, and comb my hair. (Yes, I had hair back then)
And "DON'T BE LATE!"
As she left, I ask what suite she was in, and she said, "6th floor". And when I ask what room, she smiled slightly, and said, "You'll figure it out." And I did.
When I got off the elevator, there was no hallway, just a vestibule and a set of ornate double doors with a pull rope for a door bell.
A few seconds after I rang the bell, there stood a butler in full regalia, but young and very fit looking, and about 6'6" tall. Looking down at me, he said, "Ah, Master Gregory, right on time, thank you."
Then, after he closed the door behind me, he said, "Please follow me. The DUCHESS and LADY Samantha are waiting for you in the library."
Wait, What?
When I followed Andrews into the library, I found Sam standing behind her mother who was sitting at a writing desk. And I could tell from the look on her face that she was terrified that I was going to screw this up. And knowing me, she had good reason to worry.
After Andrews introduce me, I said, "I've never met a Duchess before. Am I supposed to bow, or curtsy?"
Sam blanched white as the proverbial sheet.
Her mother looked at me very seriously, and said, "In this informal situation, neither is required. Then with a big smile she said, "But I would like to see your curtsy sometime."
With that the ice was broken, and Sam started breathing again.
After that I was regularly invited for tea. The only time the Duchess ever got mad at me was when I made the mistake of referring to Sam as 'Sam' instead of Samantha in front of her.
Her eyes flashed and her voice got cold as she said, "Sa Man Tha"
Turns out that Sam's stepfather was Consul General, and Sam would inherit her mother's title someday, a title that had been in the family since the late-1600's. And with that title came, not one, not two, but three ancestral estates.
And if that's not bad enough, it turned out that both Samantha and her mother were actually royalty, and in line for the throne, though in the double-digits position.
So, was Sam among those limo passengers at Buckingham? I'll never know, and I don't want to know. I prefer to remember her when she was 14.
And I never did learn how to curtsy . . . or bow.
---
May 31, 2020
What's Old Is New Again . . .
I had originally planned to take another try at my oil filter oil leak problem but a bunch of things converged to grind that to a halt.
First off, when I gathered up all my needed tools yesterday, I couldn't find my torque wrench. I must have stashed it away somewhere safe, but apparently I put it aside so safely that I forgot where. And getting increasing the torque on the bolts is a primary reason for doing this.
And it didn't help that the 10% chance of rain today morphed into a 100% downpour. Of course, since I'm working under the rig you would think that rain wouldn't be a problem, and it's not. It's getting under the rig without getting soaked crawling through the lake that heavy rains leave surrounding the raised pad that the rig sits on.
But the main reason was that last night I was looking over the Cummins manual detailing the oil cooler/filter assembly and noticed that of all the things I've replaced, the oil filter, the oil filter adapter head, and the gaskets, the one part I haven't replaced are the four bolts that hold in adapter head in place.
So maybe they've stretched or warped in the intervening 20 years, so as a last ditch effort tomorrow I'm going to order 4 new bolts from Cummins.
And based on several recommendations, I'm going to use two gaskets this time, hoping to take up any possible warpage in the oil cooler side of the adapter base. But I'm still deciding between several recommendations on what kind of sealer to use on the gaskets.
But for now I'm on hold until the new bolts come in.
Under the heading of what's old is new again, CBS is looking at revving two old shows, and possibly a third. And, unlike several other recent retreads, these at least. are ones we liked, and would like to see again.
Both Person of Interest for Season 6 and Big Bang Theory for Season 13 are on the slate for coming back. And all with the original cast. Well. at least the ones still alive on Person of Interest.
The third one, still up in the air, is Two and A Half Men, also for Season 13, but without Ashton Kutcher. Or Charlie Sheen, apparently.
And FWIW, there is a new show being talked about that neither Jan nor I can gin up much excitement about. In the vein of Young Sheldon, but in this case Young Howard. As in Howard Wolowitz.
Not sure about this one.
I'm sure most of you watched the very successful SpaceX launch yesterday. I now Jan and I were hanging on every second until they made it to orbit. And we watched the docking today.
Really great to see the U.S. back in space again on our own rockets. Go, Elon.
I sure a lot of you remember the scene from 2001 A Space Odyssey for the Pan Am Shuttle docking with the Space Station,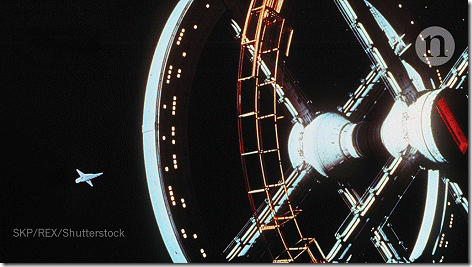 all done to the Blue Danube Waltz.
Well, it didn't take long this afternoon until someone posted a YouTube video of the SpaceX docking, also done to the Blue Danube Waltz. Very well done.
I don't know if any of you used the link I posted a couple days ago for the GoFundMe account for the black firefighter who lost his life savings when his bar was burned down in Minneapolis, but as of a little before 9pm, the account is up over $916,000 and still climbing.
Personally I'd like to see it hit $1 million.
---
May 31, 2021
What Will He Think Of Next?
Between PayPal, Tesla, The Boring Company, and of course, SpaceX, Elon Musk is known for thinking outside the box, even to coming up with another whole box altogether.
For years now, SpaceX has been landing and reusing Falcon 9 boosters on barges positioned out in the ocean, because some launch paths don't allow the boosters to return to the Cape or Boca Chica down in Texas.
But now Musk has purchased two almost new ocean-going oil rigs at a bargain basement price, not to go into the drilling business, but to use as launch and landing platforms for his Super Heavy Moon and Mars Missions, like shown in this graphic below.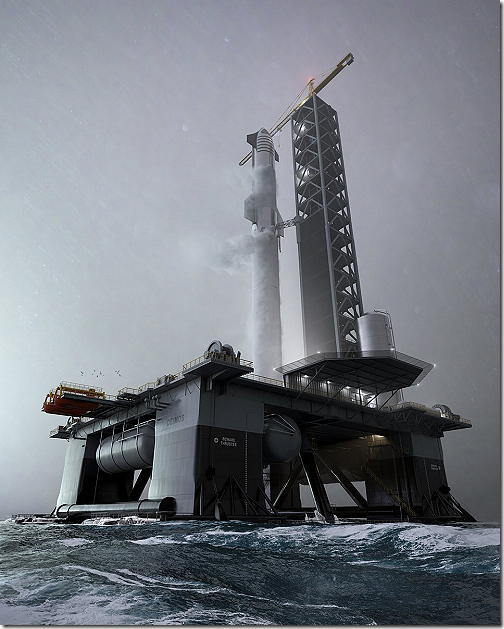 Here's the first one being retrofitted now down in Brownsville.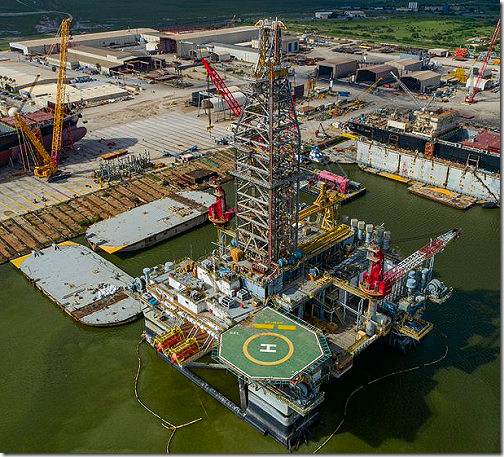 It's called Deimos, and that almost certainly means that the other one is going to be called Phobos. That's because Phobos and Deimos are the two Martian moons, Musk's ultimate goal.
What will he think of next?
I went outside this morning to pull out the solar screens out of the back of the Dakota and lay them out to reinstall tomorrow. We took some of them down last fall to take advantage of the sun warming up the rig on cold days.
I also configured the timer to keep the hibiscus watering system bucket filled. It will come on once a week and run for 1 minute, which testing shows me it will completely fill the bucket in that time.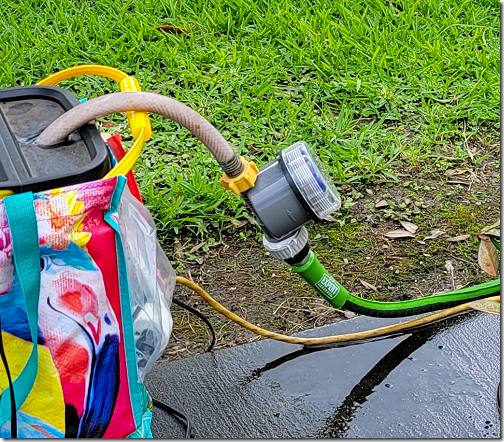 Then the computer-controlled pump will water the hibiscus every day at 9am for two minutes without my worrying about the water bucket going empty.
Later, about 2pm we headed over to Gator's Bar & Grill for lunch. Jan was happy to find out they again had the Blackened Redfish back on the menu, since the last time she wanted to try it, they were out.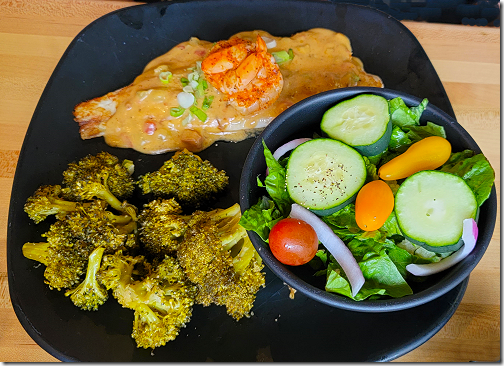 It normally comes on a bed of rice with an Andouille Sausage Cream Sauce. Jan didn't get the rice, and she said next time she won't get the cream sauce either. Though it was good, it kind of overwhelmed the delicate taste of the fish.
But other than that, she said it was delicious, get-again delicious.
I went right back to my usual Blackened Chicken Breast Sandwich with Bacon and Texas Toothpicks, and Sweet Potato Waffle Fries.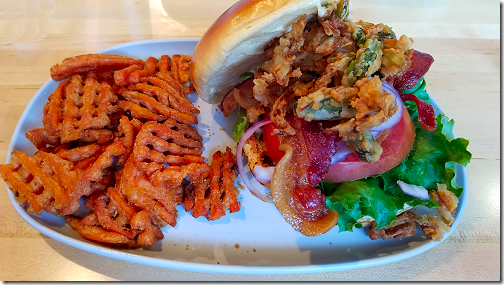 The owner and our old friend, Margie, to say Hi and talk for a while. She said they planned on having their Grand Opening next Saturday, so we'll plan on being there for it before we leave a couple of days later.
Coming home we made a quick stop by Walmart to pick up some more concrete pavers for our walkway.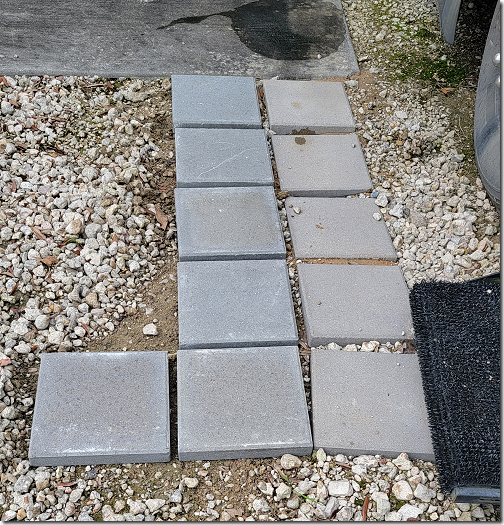 The six on the left are the new ones that I just sat into place for now. I'll straighten them out and bed them in sand after we get back from vacation.
We also made a Cowboy Coffee stop and then sat out on the patio with our cold coffees and just enjoyed the view.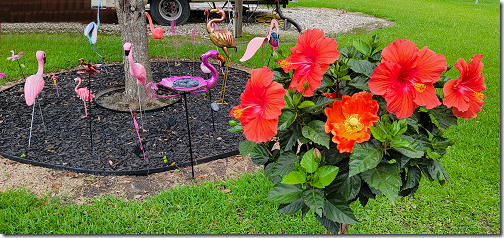 Not sure what's on the schedule for tomorrow yet, but I'm sure it will be fun, interesting, or both.
---
May 31, 2022
Last Day In Athens . . .
Today was our last full day here in Athens so we headed over to Huntsville for lunch and a Costco stop.
I knew that I was going to need gas before we leave here tomorrow, so I had been checking prices around Athens, with the cheapest being $4.22 at the local WalMart, with the highest being $4.49 at a number of places.
So I was interested to see if it was any better in Huntsville. And it wasn't.
At first.
Every station we passed was higher than the ones in Athens, until we passed the Sam's Club, which was $4.13. So I decided to stop there on the way back by. But when we got to the Costco, I found them matching Sam's cost, so I filled up there.
Finishing up at Costco, and heading back toward Athens, we made our lunch stop at Rosie's Cantina, a really great Mexican place where we've eaten for years. And it's always delicious. Kind of reminds me of a Ninfa's back in Houston,
Jan had a Chile Relleno with rice and beans,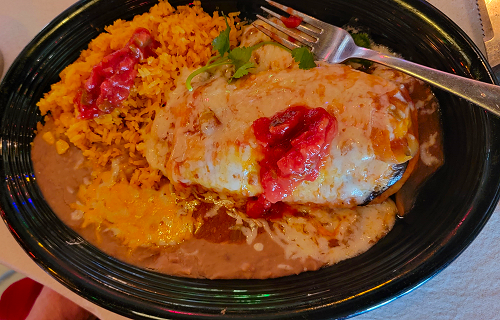 while I tried their Beef and Spicy Sausage Fajitas with Charro Beans.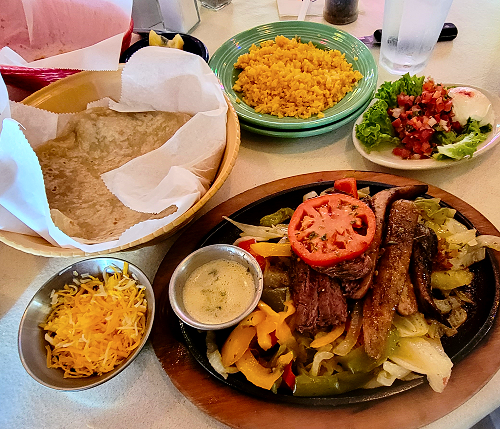 Really great as always, and enough leftover for a light dinner tonight.
Tomorrow we're back on the road again, driving about a 100 miles south to Birmingham.