When Did We All Get So Old . . .
Jan and I were on the road for the 2 hour trip down to Seabrook, TX by 10am to meet up at T-Bone Tom's for a reunion of Taft Broadcasting's NASA group employees.
Our last reunion was in 2007 at the Outpost in Webster (that doesn't even exist anymore) so it's been a while since most of us had gotten together. And before that, it had been 20 years since some of us had seen each other. So it was good to see so many friends again. We had almost 20 people there, so it was a good turn-out.
And what was even better was how quickly we seemed to pick right back up regaling each other with almost-forgotten tales of wild times out at White Sands, and stories about people and things at JSC here in Houston.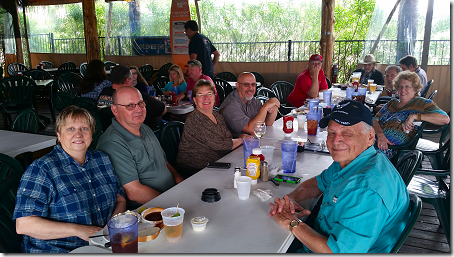 But the biggest thing was the fact that we all got OLD! I mean I had just turned 30 when I started at JSC in December of 1978, and now I'll be 68 in October. And when we moved here our son Chris was 10, but he just turned 48 a couple of weeks ago.
After a really great time, and the great food at T-Bone Tom's, the party started breaking up around 3:30. For some reason we just can't party all night like we used to.
I want to give a big shout out to Perry and Molly (Quintero) Kuhns for putting all this together again. Thanks guys.
Don't wait too long to do another one. There might not be too many of us left.
Finally heading home we made a Buc-ee's stop for gas and Cranberry Walnut muffins, before our next stop at our son Chris' to pick up the new Captain's Chair armrests he had made up for us.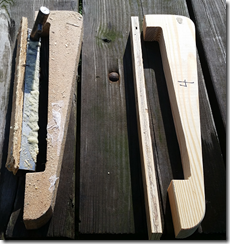 The old ones on the left were made from OSB board and they started coming apart as the glue broke down and the screws wobbled out. Another case of old age taking its toll.
So Chris made up these new ones out of 2 x 4's and plywood. I'll take the metal pivot arm off the old ones and install it on the new wood. Then I'll put the foam back on with the leather cover. And they be good for another 17 years. Or more.
Getting back home about 6, I packed up Barbara Spade's laptop and took it over to her rig. After de-gunking the computer, I increased the memory from 2GB to 4GB, which will speed things up considerably.
I had left the MemTest86 running for over 36 hours to be sure she wouldn't have any problems. And nothing showed up.
But when you run a long-term test like this, you have to be aware that you may get an occasional random error caused by cosmic rays
An article by Berke Durak calculates that your probability of having at least one bit error in 4 gigabytes of memory at sea level on planet Earth in 72 hours is over 95%.
Of course that assumes you are using non-error-correcting memory (non-ECC). With ECC, he figured, you can wait 2.7 million years before you get an uncorrectable bit error at a probability of 96%.
And since Barbara's Toshiba laptop uses non-ECC ram, I guess it's lucky no errors showed up.
---
Thought for the Day:
On a recent forum, people were discussing kids being punished unfairly by teachers for disagreeing with them, and I said that it was nothing new.
When I was in 3rd grade, 1956 or so, I got a spanking, when the teacher told another student that he would get lead poisoning writing on his arm with a pencil, i.e. pencil lead.
When I told her pencil lead wasn't really lead, but carbon like charcoal, she said I was wrong, I said, "No, you're wrong."
That got me a spanking and 30 minutes standing in the corner. Then at the end of class, as we were leaving, she overhead me mumbling "She's still wrong", and I got another spanking.
I guess that was my version of Galileo's "And yet it still moves."
Unfortunately two spankings in one day was not my record. That would be three.
And now don't you feel sorry for Jan for having to put up with me for almost 49 years.
adfasdfasdf