Daily Archives:
October 22, 2020
No, not my oil leak. But back to that later.
As I mentioned the other day, our Absentee Ballots that had been mailed out to us on Sept 28th from Sioux Falls, SD. had never shown up over 3 weeks later. So Jan and I were thinking about checking nearby Dumpsters and ditches.
So this past Monday I put a call in to the Minnehaha County Auditor to see about getting replacements. And a very nice lady didn't seem to be surprised at our problem, and said new ballots would go out to us that day. So this afternoon coming home from Spring Creek BBQ we stopped off at the Santa Fe PO, and, what do you know?, our ballots were here.
And, according to the postmark, they were the ones that were just mailed out. The lady said to just tear up the second set, and use the first ones.
So they will go back out via Priority Mail tomorrow.
This afternoon I pulled the oil filter back off the rig, and was surprised to find that it was not full of oil like I expected. I loosened the 4 bolts on the oil head adapter and then retightened them to a little higher torque. Finally I refilled the filter with oil and got it installed.
Then after I got cleaned up we were off to have linner at Spring Creek BBQ over in the Victory Lakes area, our favorite local BBQ place. And as usual we both had the Baby Back Ribs with Beans and Beans.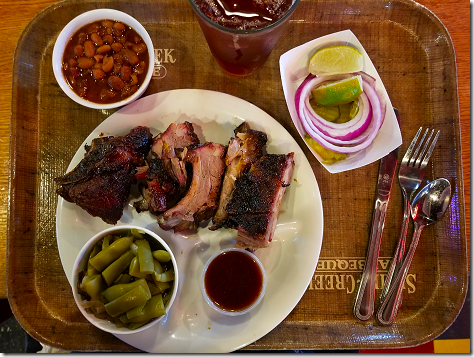 Really, really good.
Then it was on over to the WalMart right next door for a few things. Well, actually a lot of things. And by the time I got home, it was kind of late to do the 1 hour high-idle test run, so we'll do it tomorrow after I get home from work.
Maybe.
---
Thought For The Day:
When I say, "The other day," I could be referring to any time between yesterday and 15 years ago.
---
October 22, 2009
Amish Food and Amish Craftsmen…
About 12:30 pm we drove down to Middlebury to eat at Das Essenhaus, which in German is 'The Eating House", or 'The Restaurant'
Very original name, huh?
They have great food, especially the fried chicken. The last time we ate there, we ate family style, where they just bring great food to your table until you explode.
This time we had the lunch buffet of fried chicken, mashed potatoes and gravy, corn, muffins, salad, and dessert. Once again, it was really good.
Leaving the restaurant we stopped off at a nearby Dollar General to stock up on more Awesome Cleaner. This stuff is well known in the RV world for cleaning RV's. It is fantastic for cleaning the bugs off the front of our coach.
Just spray it on, wait about 10 seconds, and then the bugs just wipe right off.
It's Awesome!
I guess the Amish in the area also like the Dollar General, because there's a hitching post right out front, complete with horse poo.
Leaving the DG we drove over to the American Countryside Farmer's Market.
This place is amazing.
It's a 3 story, 51,000 square foot building, entirely built by Amish craftsmen.
And it is beautiful inside.
And even more amazing is the fact that there is not a single nail anywhere in this building! It is all pegged together.
And here is one of the Amish carpenters working during the original construction. Only hand tools were used.
Coming home we stopped off at Martin's Supermarket for more of the delicious Honey Crisp apples that are very plentiful right now. And while there we stopped in the Starbucks for a Pumpkin Latte and some pumpkin muffins. MMMMMM Good !
Coming back to the park we saw another great foliage view.
And here's what it looks like in the summer time.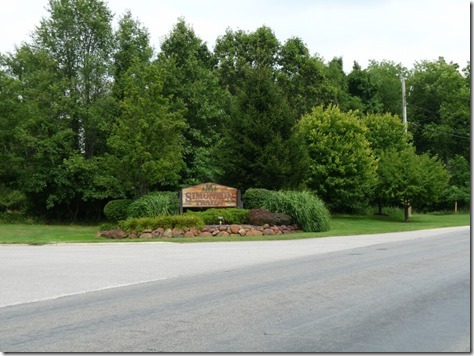 Another really nice day…
---
Thought For The Day:
Telling a woman to calm down works about as well as baptizing your cat.
---
October 22, 2014
Steak and Eggs . . .
For our first full day of freedom (temporary, we hope) we headed over to Bryan/College Station for the day. Our first stop was the IHOP on Hwy 6 for breakfast. Along with the obligatory coffee, Jan had Blueberry Pancakes, with Eggs and Bacon, while I went with the Bananas and Cream Waffle, and of course, bacon too.
It was really nice to just sit and talk, and enjoy a leisurely meal without jumping up at the sound of a bell to check a vehicle in or out. In fact we probably stayed longer than usual just because we enjoyed it so much.
Next up was a haircut for me and a trim for Jan at the Great Clips right down the street. And since they offered the service I went ahead and had her trim my beard, saving me from having to do it.
Then it was off to Wal-Mart for some shopping. And because it was so convenient, we dropped the truck off at the Tire and Auto area to get a new tire for the truck, something I'd been delaying doing so I wouldn't have to leave Jan alone on the gate for too long. But today seemed the perfect time to take care of it while we were shopping.
Besides the usual stuff, Jan and I needed some new shoes. I wanted a new pair of black boots because my old pair of Red Wings finally started coming apart after about 5 years. You just can't get good quality anymore. NOT!
One of the reasons I've usually bought my boots at Red Wing and paid a high price, $200+, is that they carry the larger widths. In my case I wear a 9 EEEE. In other words, I have snowshoes for feet. And it's my father's fault, as he had the same ones. In fact he said that he never had a pair of shoes that fit until he joined the Navy during WWII, as they had all the bigger widths.
But I recently noticed that Wal-Mart has also started carrying wider widths so I thought I'd give them a try. I found a nice pair of Brahma's, Wal-Mart's house brand that fit me great. They have a Goodyear sole, leather uppers, AND they're Steel-Toed. All for only $35. If they only last a couple of years, I'm still way ahead.
For her part, Jan picked out a new pair of Dr. Scholl's sneakers to replace the pair that started coming apart last week while working the gate. So we both left happy and re-soled.
When we got finished with our shopping, we headed back to the Tire area to find our truck all ready to go. Very convenient.
I mentioned a week or so ago that one afternoon while Jan was working the gate, the drill rig blew a seal and showered her and our rig with a mist of drilling mud. Luckily she was partly shielded by our canopy, but I didn't find out how bad the front of the rig got hit until I pulled back the windshield curtains as we got ready to leave the gate yesterday. The windshield was almost entirely opaque with the mud spray. And the wipers and washer fluid wouldn't touch it. Finally I ran the washers long enough to thoroughly wet the glass and then sprayed Awesome on it and let it set for about 10 minutes. Then the wipers gave me this.
Good enough to go. Luckily we had already planned to stop off at a Blue Beacon truck wash on the way back to Houston.
And the truck had similar problems, but not as bad since it was parked facing away from the rig. So we wanted to get it washed while we could. I finally located a carwash that uses brushes instead of just water pressure because I've found they do a much better job on a dirty, grimy vehicle. And that was really confirmed today.
Turns out this carwash had the side brushes, but not the big horizontal brush that comes down and does the roof and the hood. Instead it has the squiggly octopus arms of fabric that come down and gently caress the truck, rather than actually cleaning it.
So while the front, sides and rear of our toad are spic and spanned and shiny, the hood and I assume the roof, still has a very visible film of drilling mud on it. So now, break out the Awesome again.
After stopping off at Sam's Club for a prescription, and their gas station for gas ($2.79), we started back toward Buffalo.
Coming in, we'd been talking about where we wanted to eat dinner tonight. Going through Madisonville, we saw a sign for Legend's Steakhouse on the Courthouse Square. Steak sounded good, so while we were at IHOP, I checked Yelp and found 4-1/2 stars, so we thought we'd give it a try on the way home. And are we glad we did.
Everything was delicious, starting with the fresh, hot rolls, and large salads with their homemade dressings.
Jan then had a 10oz. sirloin with baked potato, while I went with the 14oz Ribeye with onions and mushrooms, and a baked sweet potato. Really great!
The portions were huge, and neither of us could, or really wanted, to finished our steaks, because we'd seen on the menu that they had bread pudding with Jack Daniels sauce as one of their desserts. So we couldn't pass this up.
We also couldn't eat it all either, even as delicious as it was too. So a 3rd takeout container was in order. We both agreed that this is probably the best bread pudding we've ever had. Better than the Bread Pudding with Bourbon Sauce at the Pont Breaux (nee Mulate's) in Breaux Bridge, LA, and even better than the Krispy Kreme Bread Pudding at Lulu's (Jimmy Buffet's sister's place) in Gulf Shores, AL. It was that GOOD!
And now it looks like we'll be able to repeat the entire meal again tomorrow night. YUMM!
I always enjoy reading some of the negative reviews people write on Yelp. In the case of Legends, someone 'complained' that the food was great, the prices were great, but since they'd showed up without reservations on a busy night with a party of 12, and still got a private dining room, they thought it took them too long to get their food, She seemed kind of incensed that she had to ask for some crackers for her son while they waited.
So for great food, and great prices, she gave Legends 3 stars. Which is probably what kept them from getting a full 5 stars overall. Some people!
Leaving Legends, but before getting back on I-45, we had to stop in at the Madisonville Buc-ee's to check it out. At one time, it was the largest one in the chain, but has now been outclassed by the ones in New Braunfels and La Marque. We normally would have gotten some of their great Cranberry Nut muffins, but what they had left looked like they had been baked earlier in the day and been sitting too long.
Maybe next time.
_________________________________________________________________
Thought for the Day:
"Life is not measured by the number of breaths we take, but by the moments that take our breath away."
---
October 22, 2015
Well, that was a letdown . . .
The big inrush of trucks for the flowback didn't . . . inrush, I mean. Between 1pm and 6 pm, I had four vehicles come though the gate. And one of those four came in twice. So just three, really.
Jan had a few more, but two of them were at the wrong gate, and the rest were just the frack water guys running the pumps at the pond for the new frack up the hill.
Well, there's always tomorrow. Or not.
So far we've dodged all the bad weather here with most of it staying to our northwest. And from the radar it looks like that was a good thing. We're forecast for 40% to 80% to 100% rain for the next five days so we'll see how that plays out. I know the farms around here really need the rain, but it sure makes our job a lot messier.
* * * * *
In what's too perfect to be coincidental, for each of the last three days, and today's on track to be a fourth, there have been exactly 100 failed logins each day. And it looks like the hackers are spreading out.
Where most attempts used to be almost all from Russia and Eastern Europe, now they're more diverse, also coming from Sweden, Denmark, France, Spain, and other Western European countries
I'm looking at a couple of plugins that would allow me to block IP addresses by country, if necessary. But I would have to block wide areas since in most cases, login-attempt IP addresses are identical only at the first octet.
I'm sure most of you, (some of you?) have come across a reference to your IP address on the Internet somewhere along the line. Something like 31.22.48.0 (Albania), or 5.79.68.161 (The Netherlands). Every single computer on the Internet has an individual IP address, and in most cases, unless you're trying to hide, that IP address can be traced back directly to you, or at least, your household.
So by 'first octet', I mean the first set of numbers of the IP address.
More than you really wanted to know, right? At least that's what Jan usually tells me.
* * * * *
Well, then, let's talk about something more fun: Gate Guard Sewer Systems.
Todd, our GGS service guy, should be coming by tomorrow afternoon to bring us more diesel, and a new sewer pump.
The sewer pump is the small green barrel that sits out on the ground, and is where you hookup your rig's sewer hose. It contains a macerator pump controlled by a float valve that shreds and pumps the waste up into the big green tank. The whole thing is pretty much a portable septic tank system.
IP address discussions are starting to sound better right about now, aren't they?
Anyway, about a week ago, the GFCI on the 20amp outlet on our generator was popping every couple of days, and not for any reason I could find. Then it escalated to every day, and several times a day.
Two things are plugged into this outlet, the sewer pump, and the light stands. And I quickly discovered that if I left the sewer pump unplugged, the GFCI didn't pop anymore. For now I plugged the sewer pump into the 30amp outlet on the generator which doesn't have a GFCI on it. This should be OK since there's nothing electrical exposed on the pump housing as it 's all inside the fiberglass tank. So no shock hazard.
Tomorrow's Wal-Mart/ bring home lunch day, and she says 'surprise her'.
Think she'd be 'surprised' if I didn't bring home anything.
No, me neither.
_____________________________________________________
Thought for the Day:
---
October 22, 2016
Watch Where You Sit . . .
We were both up early this morning so I could finish all the paperwork we needed for SiteWatch.
The last thing I had to do was to get photos of myself and Jan as part of our application.
Here's Jan's great looking photo.
Mine I won't post. I look like a homeless drug addict. Of course my excuse is that Jan took my photo and I took hers.
We were finally out the door a little before 10 to meet up with Tam, who was going to go over our duties at a SiteWatch gate. We spend a little over 2 hours checking the gate and the equipment.
The potty is on a separate trailer and has a flush toilet and a sink.
It even dispenses medical advice.
And or course being a potty out in the wild, it even warns you to watch where you sit.
The guard shacks (apparently they're referred to as 'shelters'. Maybe 'shack' sounds too low class) are really nice.
They've got 3 big windows, and as advertised, a refrigerator, microwave,and a color TV. And of course, they're heated and air-conditioned. There is a desk running all the way across the narrow end opposite the door with plenty of room to lay all your stuff out.
About 12:30 we headed back into Kenedy, stopping to have the noon buffet at Barth's, a local family dining place. Jan had the Chicken Strip Platter, while I had the Mexican-styled buffet with Beef Enchiladas, Carne Guisada, Rice, Beans, and Tortillas, as well as the soup and salad bar. Very Good.
And it got even better when Jan noticed that the Sunday buffet is Turkey and Dressing, and Fried Chicken, two of Jan's favorites.
Guess where we're eating lunch tomorrow?
Back at the rig, we both took naps, maybe our last ones for a while, before heading back out for a Wal-Mart run. And while we were there, Todd texted us with our first gate assignment.
Sunday, Monday,and Tuesday from 5:30pm to 5:30 am at the same gate we trained at today. How convenient.
For right now, we'll both be working the gate at the same time. After that, who knows?
When we got back to the rig, Todd had left our SiteWatch red shirts and yellow safety vests on our rig step so we're already to go for tomorrow evening.
---
Thought for the Day:
If you understand English, press 1.
If you do not understand English, press 2.
– Heard on an Australian Tax Help Line.
---
October 22, 2017
Guess We Should Watch the Local Channels More . . .
We didn't do much of anything today except just lounge around the rig.
About 2pm I did go down to the Ranger Station to checkout / check back in. Of course we'll be leaving for Santa Fe on Thursday so we'll only be here for 4 more days. But if we were to be staying up here we'd almost certainly be doing our week out staying here under Passport America.
As long as we're in Texas we usually can get the local Houston channels on our DirecTV spotlight, but it seems like we usually end up mostly watching the East Coast / West Coast network channels. And because of this we missed out on the fact that this weekend was the 2017 Wings over Houston Air Show at Ellington Field down in the Clear Lake area.
Before we started RV'ing in 2008 we went to the air show just about every year. With Jan being an Air Force brat, and my work for the DOD and NASA, we're both really enjoy air shows. But due to not knowing when it was coming, and of course the fact that we were both under the weather this year, we missed out.
The last time we did make the Wings Over Houston Show was in October 2010 when we came home early due to Landon being being born. We got to see the Air Force Thunderbirds that year, who were also the Demonstration Team this year too.
Before that, the last air show we went to was at Eielson AFB near Fairbanks, AK in 2008 when we were up there. Since this was an Air Force show, of course we saw the Thunderbirds then too.
Of course over the years, we've also seen both the Navy Blue Angels and the Canadian Snowbirds.
Of course there's always next year, I guess.
Concerning the Powerball drawing last night , (no I didn't win. Nobody did.) several blog readers asked if I planned to live another 30 years since I would take the 30 annual payments as my payout. Well, actually, Yes. Yes I do.
I do plan to live a lot longer, if only based on genetics. My grandmother, my father's mother, died at 89 after suffering a stroke while on a ladder painting her ceiling. My father died at 83 from a brain aneurysm caused by a known condition that I don't have.
My mother died at 88 from an infection she got in the hospital after a hernia operation. All her brothers, her father and her mother, all lived to be in their late 80's – early 90's.
And Jan's mother lived to be 86, so there's long-livers on both our sides of the family.
But if I don't quite make to the full 30 payments, it wouldn't make any difference. If the winner dies before then, the rest of the money goes to a beneficiary or to the winner's estate. So it still gets paid out.
Call me stubborn, but I plan to hang on until the very end.
The Word of the Day is: Perlocutionary
---
Thought for the Day:
Self-respect: the secure feeling that no one, as yet, is suspicious.
---
October 22, 2018
It's Good To Be Home . . .
We pulled out of Poche's RV Park right at 10am, and were back out on I-10 about 15 minutes later.
Except for the really rough roads leaving Breaux Bridge, and then coming into Texas, it was pretty smooth sailing for the entire trip.
As I've mentioned before, from 1994 to 2005, I drove back to Birmingham once a month to check in on my mother. And I swear some of these same roads that were under construction back then, are still under construction now. They're just never done.
And the section of I-10 leaving Lake Charles to the west is just as rough and potholed as it was back then.
Since we are going to be parked for a while, I wanted to top off the diesel tank before we got home,so we detoured down to La Marque and the Buc-ee's there to fill up. As I was doing that, I also added a bottle of Diesel Kleen and a dollop of Biocide to keep the algae at bay during the cooler, damper winter weather.
After we unhooked the truck, Jan followed me back to our home site at the Petticoat Junction RV Park. Then after we got plugged in, we headed back out in the truck to have breakfast / dinner at the nearby Denny's. Coming home, we stopped off to get our mail at the Santa Fe Post Office, before settling in for the night.
It's Good To Be Home
Even though Tuesday's not normally a client work day for me, I'm still going in tomorrow since I've been gone for almost three weeks, and I'm curious to see what cratered while I was gone.
---
Yesterday, after getting to Poche's, we drove into Breaux Bridge to have dinner once again at Crazy 'Bout Crawfish once again. And as before, Jan had the Grilled Catfish and Grilled Veggies,
while I had a cup of Seafood Gumbo,
and the super spicy Shrimp Boil.
And of course we had to finish it off by splitting an order of their Bread Pudding with Rum Sauce and Ice Cream.
---
Thought for the Day:
"Those who can make you believe absurdities, can make you commit atrocities." – Voltaire