Daily Archives:
October 27, 2020
About 2pm Jan and I headed up to the Webster area, first for lunch at Cheddar's, and then on to the office to pick up an Amazon order that came in earlier this morning, and then finishing up at the HEB down in League City, before getting home a little before 5pm.
Jan got her new favorite, the Grilled Catfish with Veggies,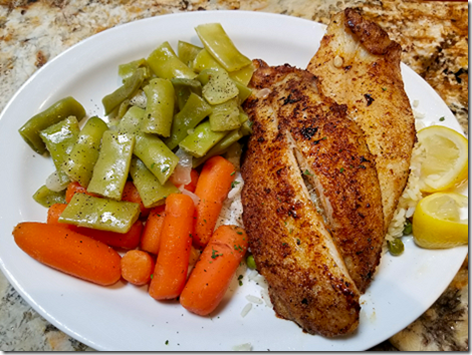 while I got the Veggie Plate.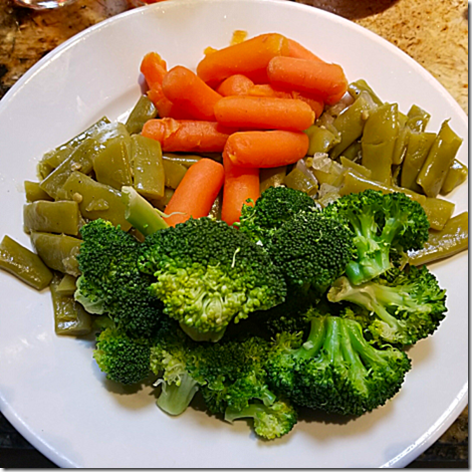 along with a House Salad.
Delicious as always.
I've been checking the Voter Information Portal on the South Dakota website, looking to see if our Absentee Ballots have shown up, but no luck so far.
As far as our rig's oil leak problems, I'm taking a break right now while I think about how to approach things again.
As I mentioned a couple of days ago, talking about us moving down to the Petticoat Junction RV Park in Santa Fe, TX, and saying we'd probably be here for a couple of months at least.
Today we're starting our 4th year here.
Who knew!
It looks like the time has come for me to stop off at our storage room and pick up our two electric heaters. This past weekend when I checked the upcoming temps for the next week or so I was seeing lows in the low 70's and highs in the high 70's to mid 80's.
But then when I checked today, there was a radical change coming. Tomorrow night's low is supposed to be 43 and then Thursday night it's 48. And then lows in the 50's out for the next week.
---
Thought For The Day:
"Taxation WITH representation ain't so hot either."
At The Indian Lakes Thousand Trails Park near Batesville, IN
---
October 27, 2011
Not Much Happened Today . . .
and it was really nice!
All in all, a nice quiet day. Quiet, cold, and rainy. A perfect day for just staying in the rig, and enjoying hot coffee and each other's company.
As it is, we probably won't leave the park until Saturday when we make the drive into Cincinnati for shopping and dinner.
Leaving Elkhart yesterday started our three week journey back to Houston for the holidays. But leaving Elkhart is like leaving home just to go to another home. Bobby and Gita at the Elkhart Campground have always made us feel right at home. Well worth a stay over if you're in the area.
Jan and I spent a large part of the day just reading and catching up on some of the programs we'd DVR'd.
As it stands right now we'll leave here on the 7th, then it's on to Vandalia, IL to visit Jan's sister. Then after stopping off to visit relatives in north Alabama, we hope to spend about a week in Gulf Shores, AL where I grew up. We plan on being back in the Houston area the Sunday before Thanksgiving, and stay for a couple of months before we head back out for the year.
But who knows, our schedule can always change.
---
Thought for the Day:
"There is an old saying that if a million monkeys typed on a million keyboards for a million years, eventually all the works of Shakespeare would be produced. Now, thanks to the Internet, we know this is not true."
Visiting Old Haunts in South Carolina
---
October 27, 2012
Forts, Chapels, and Churches . . .
After Hazelnut coffee, we headed out about noon to visit Beaufort, SC, home of the Marine Corps' Parris Island, and also their Marine Corps Air Station.
Jan and I lived here in Beaufort from late 1969 to late 1970 when I was working as a DOD contractor at MCAS on F-4's and A-7's.
We were able to found the two different houses we lived in while we were here. This duplex was the first one,
and this single family home was the last one.
After checking out our ex-homes, we spent some time driving around Beaufort, checking out the large, beautiful trees,
along with the many old homes.
Next we took the bridge over the Beaufort River that leads out of downtown Beaufort and headed over to Ladies Island.
Then after a short snack stop at McDonald's, we drove on down the St. Helena Island. Our main destination was Fort Fremont, the remains of a Spanish-American War era fort.
The original fort covered over 170 acres, but these concrete gun emplacements and the attached hospital building are all that remain.
The other buildings, made of wood, have been destroyed or torn down since the fort was deactivated in 1921.
Driving back toward Beaufort we stopped off at these church ruins that we had passed on the way to the fort.
We discovered it was called the Chapel of Ease. It was built around 1740 as part of St. Helena's Church for planters that had problems traveling to the main church parish in Beaufort.
It became a separate church after the Revolutionary War, and was burned out in a forest fire in 1886.
There is also a partially-destroyed mausoleum on the grounds which may have led to the stories of strange lights and ghosts in the area.
Next we headed back through Beaufort and up the road about 25 mile to the Yemassee, SC area to visit the remains of another church.
Built between 1745-55, the Church of Prince William's Parish, also known as Sheldon, apparently was a magnet for destructive military attention.
It was first burned by the British Army in 1779. Then after being rebuilt in 1826, it was burned again by the Union Army in 1865. Sometimes you just can't catch a break.
We didn't want to get any closer to the building because there was a wedding ceremony going on at the time.
Leaving the church, we drove on into Yemassee to check out a nearby Mid-Atlantic/Encore/PassPort America park called The Oaks at South Point. Turned out to be a nice park, but with all the tall trees, it would be sheer luck if you could get a satellite signal.
Finally it was time to head back to the park and dinner. We had decided to check out The Pink Pig.
Serving BBQ and seafood, they've been mentioned on the Food Network and written up in Southern Living magazine. And we really enjoyed it.
For their BBQ they have both tomato-based sauces, and the mustard-based sauces, typical to Georgia and South Carolina, including a hot Gullah sauce.
I had a shrimp and rib combo platter, and the ribs were really good. meaty and moist.
We'll go back.
Since The Pink Pig was only about a mile from the park, it was a short trip. Which was a good thing, since we were all so full.
Tomorrow it's on to Fort Pulaski.
---
Thought for the Day:
If you believe in yourself, you clearly haven't calculated the odds against you.
Gate Guarding in North Zulch, TX
---
October 27, 2014
Never Bite a Bee . . .
He might bite back.
After a fairly quiet weekend, things picked up today, with a little over 200 vehicles coming in. They're bringing in the equipment to start fracking at the next pad about 200 yards down the road, which should bump up the vehicle even more. But hopefully, less than the 325+ we had during our double-frack period last month at the other gate.
About noon I headed into North Zulch to drop a letter in the mail and also to pick up some chicken from the gas station there for lunch. Strange as it may seem, gas stations in oil rig country have some of the best food.
And they do a booming business. The one here is open from 5am to 10pm, seven days a week, and have a menu bigger than most restaurants.
Unfortunately the one thing they don't have that we enjoyed last year, was the seasoned potato wedges. So along with our chicken strips, I got Jan an order of tater tots, and I got a red beans and rice. All good. And I got enough chicken so we have leftovers.
After being at this new gate for a couple of days, it seems the prevailing wind is mostly from the south, or behind us, so last night/this morning I reconfigured the canopy so we have a windbreak behind us, and it also cuts down on the afternoon sun.
I got some idea of how much it helped when later I went back in the rig to get something to drink, and found out how cold it really was out in the wind. Makes a big difference.
We have a light tower here for our use, and it really helps.
In fact, Jan is now a fully certified light tower operator, i.e. she started it up and shut it down twice while I watched.
If you forget to turn the lights off before you shut the generator off, you can burn it out. Who knew. Now she starts it up at night and shuts it down in the morning after she relieves me at 7am.
Forgot to mention yesterday that Scotty, our GGS support tech, brought us a couple of pieces of Pecan Cheesecake for Jan's birthday. Really nice of him.
As far as biting into the bee, it was the bee's fault. He shouldn't have been in my bottle of Lipton Diet Citrus Green Tea. I got busy after lunch, and when I finally got to sit down again, I took a big swig and bit down on something crunchy that suddenly burned like HELL, and I quickly spit out.
I don't think he stung me. I think I just bit into his poison sac. I ended up with a big lump on the inside of my bottom lip that hurt for a few minutes before fading away. But 12 hours later the bump is still there.
That'll teach him.
__________________________________________________________________
Thought for the Day:
The Pleasure You Get From Life Is Equal To The Attitude You Put Into It.
Waiting For Flowback
---
October 27, 2015
Fried is Fried . . .
Well, the rain finally let up overnight, but the heavy cloud cover stayed around until later in the afternoon, before blue sky and sun finally began to show through.
The frack up the hill finished up this afternoon, and the water guys left for the night, saying they'd be back tomorrow morning. Don't know what comes next for them. It seems like every frack is different, at least in how they wrap things up.
We're still waiting for our Flowback crew, and every day Jan's certain they'll be here tomorrow. But it just seems to always be 'tomorrow'. Which is fine with me.
I mean we're spending our days, reading, watching TV, and playing on the computer. We've got full hookups and we eat out pretty regularly. In fact we're probably going to eat out tomorrow again.
So how is this different from being parked in a RV park somewhere?
Oh, yeah. There is one difference. We're making $150 a day. And that's a really nice difference.
I got an email this morning from the Escapade Seminar Coordinator asking if Jan and I want to do our Gate Guarding for Fun? & Profit seminar at the 56th Escapade being held in Essex Junction, VT next July. We had a lot of positive responses from the one we did in Tucson this past March, so we'll probably do it again.
We're really looking forward to doing the East Coast again next year since we haven't been back there since 2009 when we went all the way out to Newfoundland. Probably won't do that again, but there's still a lot we didn't see last time.
A little after 11am I headed into Carthage to pick up lunch at Chicken Express. And of course what did I get at CE, why, the Fried Catfish Fillets, of course. And the Fried Okra. You can't forget the Fried Okra.
A few weeks ago I made a comment about someone liking the Chicken Fajita Tacos at Whataburger. I said that you should always go to a restaurant's strength.
You don't order steak at a Red Lobster, you don't order seafood at Texas Roadhouse (though I might give you a pass for Steak & Lobster. I said 'might'), and you don't order Chicken Fajita Tacos at Whataburger.
Then one of our blog readers pointed out my 'hypocrisy' in going to 'Chicken' Express and ordering 'Fish'. But I pointed out that 'chicken' wasn't the operative food here. It was 'Fried'. As in 'Fried' chicken, 'Fried' catfish, and 'Fried' Okra.
Their strength is 'Fried' stuff.  I wouldn't order the Chicken Fajita Tacos from there either.
It's Grilled, not Fried.
_____________________________________________________
Thought for the Day:
I don't care what the UN says. Bacon Is Good For You.
Next Gate?
---
October 27, 2016
Closed Down . . .
Todd, our SiteWatch supervisor, and JM, the SiteWatch maintenance guy, showed up about 5:15 this morning to close down our gate and tow the shack and the generator trailer away.
I still wonder about all the equipment left on the pad. There is no physical gate to close along the way, so I guess they're hoping the pad's isolation will protect all their stuff.
But it meant that I was back home at the rig about 5:45am, 30 minutes or so earlier than normal. Nice.
Jan was already up, but I went right to bed, trying to stay on our night sleep schedule. I don't know what our next gate will be, but I think Jan's even coming around to liking night shift. Day shift sounds nice until you consider that a 5:30a to 5:30p shift means getting up around 4 in the morning. Even she's not crazy about that.
I forgot to mention in last night's blog that about 6:30 last night, Cole, of the father/son duo that own SiteWatch, showed up at the gate. He wanted to drop by to introduce himself, since we'd only talked by phone. He said we should have another gate ASAP.
While he was there he also went in to talk to the Marathon Company Man, I guess hoping to drum up some more business.
I was up about noon, and soon after we were off for lunch and shopping. Our lunch stop was another visit to RJ's Burgers, a local place with great burgers. Unfortunately it's only open for weekday lunch. So we get it while we can.
And as is usual with us, we find something we like and stick with it. So Jan got her Cheddar Mushroom Burger, this time adding Grilled Onions, as well as an order of their great homemade onion rings.
I stuck with the Grilled Ribeye Sandwich with a order of their hand-cut fries. Love their grilled buns.
While we were finishing our burgers, I looked up and there was Cole again. He'd been having lunch with a Marathon guy, and came over to say Hello, so now Jan got to meet him as well as me. He again said they hope to get us on another gate very quickly. I gather that SiteWatch was surprised that the gate closed so abruptly.
Like  us, they had been led to believe that the guards would stay until the next crew moves in.
Our next stop, of course, was the local Wal-Mart for some supplies. Jan also wanted to see if they carried the steel-toed sneakers like the Wal-Mart in Huntsville, TX that we saw a couple of years ago. But they didn't stock them, and neither did the Tractor Supply that we also checked on the way home.
There's a big place here in Kenedy called Cadillac Jack Boot City that looks like they might be a possibility so we'll check them out soon. Of course, we've still got the Sketchers we can get from Amazon, but Jan would like to try them on first.
So we'll keeping looking, Of course it all depends whether she actually ends up needing any to start with.
We kept waiting to see if we'd get a text from Todd about another gate, but nothing so far.
But soon.
---
Thought for the Day:
If two wrongs don't make a right, try three.
---
October 27, 2017
Renaissance Man . . .
and Woman.
This morning's ~30 minute drive into work was really nice, almost over before I knew  it.
And because I cut two hours off my round-trip I was able to spend a little extra time wrapping up some projects.
While I was at work, my new LaCrosse Remote Weather Station came in. Several readers already received theirs, and so far the reviews are very favorable.
I'll let you know.
Getting home about 4:45, we turned right back around and headed over to Victory Lakes to have dinner at Whataburger. Delicious as usual.
Then it was a stop by the next door Chase Bank for some cash before hitting the across the street Wal-Mart to get rid of some of it.
Under the heading of "I Warned You."
Check out this Denver TV Anchor take the Carolina Reaper One Chip Challenge and then proceed to throw up on-air.
A Person Gotta Know Their Limitations.
Blog reader Brenda Brown passed this on about Sears.
Sears just went into bankruptcy in Canada last week.  They are having their liquidation sales for the next 12 to 14 weeks and then they are gone. Over 15,000 employees out of work and many of them that have worked there for over 30 years have lost their pensions.
Drip, Drip, Drip.
Coming next year the GPS in your new smartphone will be much more accurate, from over 16 feet down to 1 foot. Plus it will work better in the city canyons and use only have the power. Super Accurate GPS
Earlier in the month when we didn't know we were going to be moving south, I went online to get us tickets to the Texas Renaissance Festival near here in Magnolia. Of course now that we're down here, it's time to go.
So tomorrow we're going to be at Brandi's by 9am, and then we're all going up there. Really looking forward to it.
The Word of the Day is:  Guisard
---
Thought for the Day:
"Trust in GOD, but row away from the rocks."
---
October 27, 2018
It's Push and Release . . .
We were out the door a little before 10:30 heading up to Webster to meet Miss Piper at one of our favorite breakfast places, The Egg and I.
Jan tried the Avocado Toast with a side of Greens,
while I got my usual Two Egg Breakfast.
But what I want to know is how someone this slender,
can eat like this.
Piper's working at M.D. Anderson Cancer Center, where her Nana worked back in the early 80's right after we moved out here from Alabama and I went to work for NASA..
She's close to finishing up her B.A. in Psychology and then she's going right into an MBA in Medical Administration, all while working full time. Pretty much like her Nana and PaPa did about 45 years ago.
While Jan and Piper went out to do the Mani-Pedi thing, I went by her apartment to pick up her bike and take in down to the Bike Barn to have a rear flat tire repaired. While I was there I told them to go ahead and do a Basic Tune-up while they've got it.
We all met up back at her apartment and got introduced to her new dog, Violet. Then Jan and I headed off to Sam's for a prescription pickup and then WalMart for stuff. A lot of stuff, since we hadn't really shopped since before we left for Florida on the 3rd of this month.
Finally heading home, we made a stop at the new Costco to fill up our Malibu. At $2.29/gal it's the cheapest place around. But I ran into a problem. I couldn't get the gas door open.
I first tried to push on one of the edges to 'rock' it open. No luck. Then I search all over inside for a remote release, checking in all the usual places, like beside the driver's seat, inside the glove box, etc. Then I checked all the dash panels and hidden locations. Still no luck.
Then I double-checked the key fob. Also no.
Finally, and reluctantly, it was RTFM time. And . . . there was not one in the vehicle. So finally giving up, we headed on down to Dickinson for a storage room stop, before headed home for the night.
Tomorrow we're going up to Brandi's in Katy for an afternoon pool party/cookout. Miss Piper is coming up too,  but separately since she'll probably have to come home earlier.
Really looking forward to some pool time, especially since Lowell is heating it up just for the occasion.
Brandi sent over a photo of Landon's prize-winning Halloween costume.
And it lights up, too.
Later a little Googling told me the secret of the Malibu's gas door. You have to push in on the left edge in just the right place and then immediately release it. And then that edge pops open.
If you don't push in the right spot, or don't release it quick enough, it won't open. Live and Learn.
---
Thought for the Day:
"True Love Is Being Stupid Together."
Words That Jan and I Have Take To Heart.
---
October 27, 2019
Sunday Mish-Mash . . .
I mentioned the other day that, based on a blog reader's suggestion, we might consider doing a Mississippi River Cruise after our Alaskan Cruise next year, and our possible Yucatan Mayan Ruins tour the year after.
But when I checked them out I was surprised how expensive they were, especially compared to our Viking River Cruise and Holland America Alaska Cruises.
A 22 day Complete Mississippi River Cruise, 7 days longer than our Grand European Viking cruise, is $13,600 PER PERSON, over $17,000 more than our Viking cruise. That's almost $2500 per day extra.
YIKES!
As I mentioned the other day, we've booked a Larger Inside Room on our Alaska cruise, but the size is relative, I guess. Because at 233 sq ft, it's 28 sq ft LARGER than the largest room on our Viking cruise ship.
NICE!
As usual Brandi's family goes all out on Halloween decorating in their yard. It looks really good in the daylight,
and even scarier at night.
BOO!
Jan and I will be puppy-sitting at Brandi's while they're out of town for Thanksgiving with friends up in Cleburne, TX. So when we were up at Brandi's last  weekend Jan started getting in  some practice.
Looks like Jack and Baxter are already breaking her in.
---

Thought For The Day:
"It is dangerous to be right in matters where established men are wrong." – Voltaire