Daily Archives:
June 8, 2022
Today everyone kind of did their own thing, scattering hither and yon. Jan and I stayed homebodies, just enjoying the deck, the ocean view, and the nice breezes.
But everyone was back at the condo for the big spaghetti dinner. Made from Jan and Debbie's Mom's recipe, it was a big hit as usual. Probably because their mom, Trudy, got the recipe from an Italian war bride after WWII.
Something new on the horizon was this big oil tanker parked offshore, with other, smaller vessels coming alongside it for a while. I suspect the smaller ships were transferring oil from the many rigs in the area to the big tanker for transport. Possibly back to Houston for refining.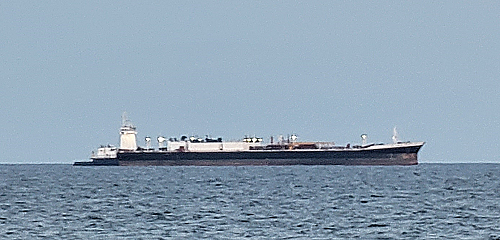 Later after dinner, another volleyball broke out, with a lot of trash-talking being bantered about.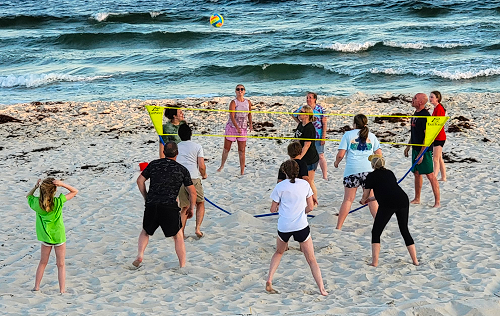 Sitting outside, Jan and I just enjoyed watching the action, as well as the moon high overhead,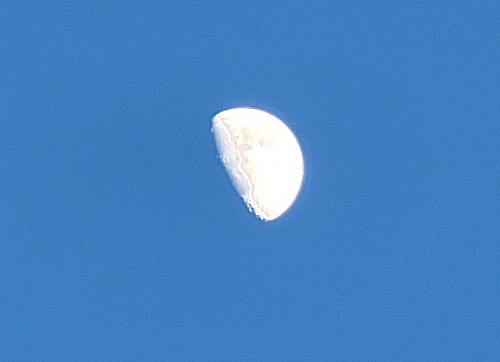 This was taken with my Galaxy S21 Ultra's 10X lens, and you can even see craters on the surface. Even though I've had it for a year, it continues to amaze me.
Another thing that has amazed me here is the speed of the WiFi in the condo. I noticed it seemed pretty zippy, and running Speedtest.net on it confirmed it. I assume it's fiber because it showed the highest WiFi speed I've ever seen,

And I tested it several times to be sure.
WOW!
Later, after it got dark, the kids went out with flashlights and caught a bucket full of crabs.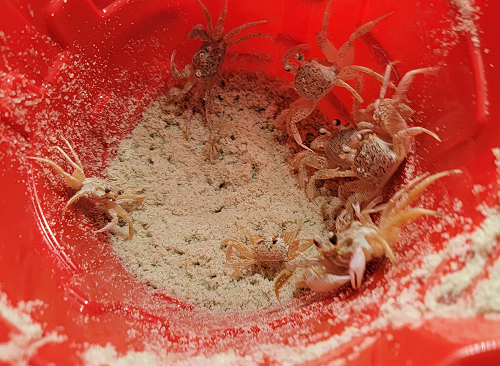 They come out on the beach after dark and the kids have fun catching them. Then, of course, they let'em go so they can catch them again the next night.
On The Gate
---
June 8, 2012
The Big Three . . .
or Snakes and Scorpions and Tarantulas, Oh My!
After first seeing a 4-foot long black snake (but no rattlesnakes, yet), and a two-inch scorpion,
Jan now has the Trifecta of gate guard animal sightings.
A big black tarantula!
She saw it a little after 8pm last night (Saturday) coming from around the front of the RV and heading out across the road. Said it was about the size of her hand and scurrying pretty quickly. Once it got to the rocks along the roadside, it stopped to groom itself before heading off into the woods.
Jan was so proud of herself. She said she didn't scream once.
---
Under the heading of Why won't Chase Bank take my Money?
You know that Chase Bank commercial where the guy gets all dressed up to go make a bank deposit, then holds his check up in the air and takes a picture of it with his cellphone, and he's done.
Well, it doesn't work quite like that. First off, you can't just hold the check up like that. It has to be on a flat surface, and it usually takes me 2 or 3 tries before I get one that the app likes.
But it usually works pretty well and it's very useful while we're gate guarding, since the nearest Chase Bank is about 60 miles away, and unfortunately Gate Guard Services doesn't do direct deposit. But up until now I've been able to pick up my check at the office and then upload it right there before heading home.
But not this past Friday. I tried it three times and each time it told me my deposit was too large. Huh? The check was for the same amount as always, and in one case it was larger.
So what gives? Heading back home I called Chase, and after being told by two different people that there was no limit on QuickDeposit deposits, finally one person went away for about 10 minutes and came back to say there is no limit on individual deposits, but that there is a limit on how much money you can deposit in any one 30 day period. Again, huh?
Apparently, you can deposit no more than $5000 in any 30-day period. I then pointed out that despite what she said, there is a limit on individual deposits, since I assume the system would not let me deposit $5001 all at one time, even if I had never deposited anything before.
She hesitated, and then said "Yes, that's true, but there's still no limit on individual deposits, just a limit on deposits in a 30-day period.
Whatever!
She then noted that I could make another deposit on the 15th of June and that would solve my problem, but she was stumped when I reminded her that a week later I would have another check that I couldn't deposit.
And it looks like the way the 30-period rolls through the calendar, at one point I could end up with as many as 3 paychecks that I can't deposit.
Bummer!
Pizza Meetza
---
June 8, 2013
Pizza Party . . .
After a nice, quiet morning Jan and I headed out about 2pm up to Bend to have "linner" at Boston' The Gourmet Pizza, which along with Grimaldi's Pizzeria is one of our favorite pizza places.
We first ate at a Boston's in Dawson Creek, B.C., Canada in 2008 on our way to Alaska. Since then we've eaten at them everywhere from Jacksonville, FL, to Antigonish, N.S., Canada on our way to Newfoundland. And from Tucson, AZ to Fairbanks, AK, and a number of places in between. And it's always good.
We both love their crust. It's made in-house every day and is dusted with cornmeal that gives it a crispy crunch on the outside and a slightly chewy inside. The perfect mix.
We always get the Mama Meetza with pepperoni, spicy Italian sausage, ham, and ground beef, and cheddar and mozzarella cheeses. Very good.
We got the big Family size so we'd have plenty of leftovers, and to finish it off, we each had one of those 'mini' desserts that many restaurants now serve. Jan had the Strawberry Cheesecake and I had the Hot Apple Crisp, the perfect end to a very nice meal.
Heading back toward the park, we stopped off to check out a couple of RV parks along the way. One of them, Crown Villa RV Resort, was very nice. Every site had a lockable storage building, as well as a shielded area for the hookups and a garbage can with on-site garbage pickup every day. Very classy. Guess they don't want you to have to look at your neighbor's sewer hose.
Getting back to our park area, we stopped off at the hardware store so I could get some more compression ferrules to redo a couple of the tubing connections on my new water filter install.
Then afterward we went next door to the Shell station for cappuccinos. I had noticed the other that they had Jan's favorite Pumpkin Spice flavor, so we decided to finish off the night that way.
Colorado River Thousand Trails
---
June 8, 2016
Easier Than I Thought . . .
but it still doesn't work . . . Yet.
When we got here Sunday afternoon I noticed that we didn't have a picnic table for our site, and looking around, we were the only site that didn't. And the guy directly behind us on the other side of the 'E' ring had two picnic tables.
I guess he saw me staring over at him later that afternoon because the next day it was suddenly back.
Kind of. He had just pulled it out in the open space about halfway between our two rigs. You'd think he would have brought it all the way, but No. So I had to drag it the rest of the way myself.
Normally I wouldn't care about a table, but I want to use it to assemble the new armrests that my son Chris made for me.
Later in the afternoon, I took another look at my microwave problem, based on some more info I found by Googling. One guy said he removed what looked like a wooden trim strip and found the two bolts that held his microwave in place.
And that was exactly what I found.
And when I pulled it out, (it was held in place by Velcro) I found the two bolts.
At this point I could see that the unit was just hanging from the two bolts, and not mounted in any kind of cabinet. So, weighing 70#, it wouldn't be easy to get in and out.
But looking around, I found another screw that had been revealed when I removed some of the trim strips.
And removing this screw and unplugging the power, led me to this.
And sticking in a ballpoint pen in here and lifting a little opened the door.
And then I could see what the real problem was.
The left of the two hinge pins on the open lever had broken off, allowing the open lever to fall away.
Having already researched parts, I went online and ordered the open lever for $6.80, and matching door hook part, just in case. The total with shipping was about $25.00. And it shipped today. Nice.
But while we were waiting on parts, I wondered if we could still use the microwave by manually opening the door when we needed to. So I put a cup of water in the oven and turned it on.
The first thing I noticed was that the turntable wasn't rotating, and then I found that the water wasn't getting hot either. But it did look like it was working, the light came on and the fan started, but no heat. Just to be sure, I also tested it in Convection mode, with no better luck.
Looking inside the mechanism, it looks like there's another microswitch that the open lever would be pressing on if it was in place. So I suspect that switch is what confirms the door is really locked and lets the microwave work.
Later this evening I received confirmation that the parts had shipped so I guess we'll just have to wait . . . and eat out more.
I know Jan will just hate that.
I had noticed that over the last couple of days we were started to tilt a little, and checking things out I found that my right rear leveler was sinking about 4 inches in the ground. Since I was parking on what looked like hard-packed gravel, I had decided to not worry with putting down my pads.
So I cranked up, raised the levelers, put down my pads, and then releveled.
Hopefully I learned my lesson.
Rapid City, SD
---
June 8, 2017
Which One Is President Rushmore?
Off to do Mt. Rushmore again, we were out the door by 10am, with a stop in town at Wendy's for a little early lunch since we wouldn't be eating dinner until about 5pm.
Our first stop, a little before 11, was the Mt. Rushmore Monument itself. Although the monument admission is free, parking is $10, but for seniors, it's only $5. Nice.
Walking up to the memorial area, the view down the Avenue of Flags is really impressive, framing the mountain perfectly.
And it's interesting to see all the talus that was left over from the carving.
A couple of days ago, I thought to ask Google who Mt. Rushmore was named for. Was it already named, or was it named for someone after it was finished?
Turns out it was named for Charles Rushmore when he visited the area in 1885. A New York lawyer, he was in the area checking titles for mining claims. When he asked his guide, Bill Challis, what the name was of that mountain, Bill said that it didn't really have a name, but from now on, they would call it Mt. Rushmore.
Here's what it looked like at the time.
And over the following years when Rushmore returned on hunting trips every year, everyone kept calling it Mt. Rushmore, until the US government finally recognized the name in 1930, 3 years after the carving had begun. And later, Rushmore made the first large donation, of $5000, to help fund the carving.
But because of this name, apparently the most asked question of Park Rangers at Mt. Rushmore is, "Which one is President Rushmore?" It would have been a lot better I guess if his name had been Charles Washington rather than Charles Rushmore.
I was interested to find out that a lot of things changed along the way during carving. Originally Jefferson's head was to the right of Washington, but during the carving, it was discovered that the rock was in bad shape, so the partially completed head of Jefferson was dynamited and restarted to Washington's left.
I guess this kind of answers a question I had about the order of the heads. I mean it's not alphabetical, and it's not by order of presidency. Otherwise it would be Washington, Jefferson, Lincoln, and then Roosevelt. So now it sounds like it may be because of what face would fit in what area.
And I was also surprised to learn that originally the figures were supposed to be carved from the waist up, not just the heads, but they ran out of money, Guess they were glad they were working from the heads down, and not the waists up. Otherwise we might have ended up with something like this.
Yesterday, in the middle of dark storm clouds and occasional heavy rains, we drove many of the roads in the area.
We also got this side view of President Washington
Later we headed south down to Custer State Park to drive the Needles Highway, including several more tunnels.
Along the way we pass through the most famous of the tunnels, the Needles Eye Tunnel
Today after leaving the monument, we headed east on 16A to drive Iron Mountain Rd. Along the 18 miles, there are 314 curves, 14 switchbacks, 3 tunnels, and 3 pigtails. In case you haven't encountered a pigtail before, it looks like this.
It's a complete loop, and in fact turns back under itself.
At the bottom of the Iron Mountain, we turned south on the 18-mile Wildlife Loop. Very scenic, but for a long while this guy was all the 'wildlife' we saw.
But finally coming over a rise we found hundreds of buffalo, so many and so spread out, that I couldn't get them all in the frame.
And as you can see there were a lot of new calves.
Then a few more miles down the loop we came across these fellows, though I'm not exactly sure you can call them 'wild' life.
They seemed to be used to being fed.
And except for some whitetail deer, that was about it for the wildlife on the Wildlife Loop.
Coming back toward Mt. Rushmore, we drove back up Iron Mountain Rd., enjoying the highlighted view of Mt. Rushmore through two of the three tunnels.
But the third one, the most impressive, I didn't get because my camera focused on the windshield so the monument was blurry. Sorry.
Finally heading back toward Rapid City, we made a stop at Dinosaur Park, located on the highest hill/mountain? in Rapid City. Built by the city in 1936 to capitalize on the tourists coming to the area to see the carving in progress, it's been a landmark ever since.
In fact Jan remembers coming here when she was 7 and her father was stationed at Ellsworth AFB, and she was looking forward to seeing it again.
Al least until she saw the stairs leading up to the top.
She said, "I don't remember any stairs like that."
I told her, "You were 7. You probably just run up them like they weren't even there."
She then retorted, "Well, they're there now so I'm staying here."
So I made the trudge to the top.
The things I do so you blog readers don't have to.
Leaving Dinosaur Park we headed over to the nearby Famous Dave's BBQ to meet Wil and Cyndy Olsen.
Wil and Cyndy work with Adventure Caravans helping guide RV'ers around the country so we've bumped into them at a number of rallies along the way. But this is the first time we've really had a chance to sit down and spend some time with them.
And what better way to do it than over Famous Dave's Ribs. Cyndy got the Chicken, while Jan and Wil both got the full rack of St. Louis ribs.
I stuck with my usual three meat combo, with St. Louis ribs, Hot Link Sausage,and Burnt Rib Tips. And as you can probably tell we all had plenty to take home.
It's hard to beat Famous Dave's, especially with friends like Wil and Cyndy.
And what's funny about this photo is that the people at the table behind them are also RV'ers, though we didn't know each other.
Saying our goodbyes and safe travels, they headed to Safeway while Jan and I made a Wal-Mart stop before finally getting back to the rig a little before 8pm.
A really nice day.
We had originally planned to see the South Dakota Air & Space Museum but ran out of time. We'll see how tomorrow goes.
---
Thought for the Day:
Beauty is in the eye of the beholder and it may be necessary from time to time to give a stupid or misinformed beholder a black eye. – Miss Piggy
    ……