Daily Archives:
June 24, 2022
I spent most of today updating prices on the website and our paper catalog. In fact recently, it seems that every time we get something in from a supplier, our price has increased 15-20% from the last time we ordered.
Since it looks like we'll be driving 'Ole Smokey', our 2004 Dodge Dakota for a while until we get our Jeep back, tomorrow morning I'm going outside to work on the driver's side front window. It will only come up about halfway before it jams. It will go down, but only halfway up.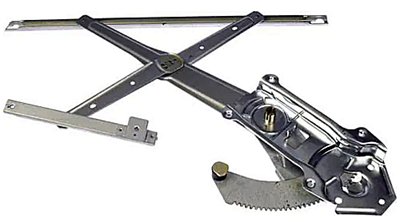 I've already got the side panel off so that will make it go faster. I actually replaced this same regulator back in 2009, when the truck was 5 years old, so the replacement lasted 13 years. Hopefully this next one will last at least as long.
Hopefully I can at least get it all the way up since for the first time in about a month, we're looking about 4 days of rain starting Monday. Plus with the temps in the high 90's the AC works a lot better with all the windows up.
---
Thought For The Day:
Remember, "the cloud" is just a fancy way of saying all your data is stored on "someone else's hard drive."
---
June 24, 2010
Last Day in Burnet…
Today was our last day with the family here in Burnet.  Lowell, Brandi, Chris and Linda all head back to Houston this morning.
But first we all had lunch together at Brother's Bakery in Marble Falls. Brother's is the bakery that made Brandi and Lowell's great wedding cake.
But today we wanted to have lunch at the café that's part of the bakery. They have great soups, sandwiches, muffins, and breads.
Some of us had breakfast, others had soup and sandwiches, All good. Linda got a loaf of Multi-Grain bread to go, and Jan and I got a couple of muffins for breakfast tomorrow.
After lunch we all got in our last goodbye hugs, and we headed back to the rig, while everyone else started back to Houston.
After lazing around the rig in the afternoon, and even getting in a short nap, about 5pm we drove over to The Maxican restaurant where we all ate the other night. Jan and I both had the same thing, Marsha's Plate, a Chili Relleno stuffed with shredded chicken and Monterey Jack cheese, with 3 Angels on Horseback. Angels are jumbo shrimp stuffed with jalapeno strips and Monterey Jack cheese, then wrapped in bacon and grilled.
Fantastic!
On our way to the restaurant we stopped by the park office to check some of our upcoming reservations.
Coming back to the rig we stopped by Walgreens to get some ant traps. Apparently the local Formicidae have found our rig attractive and some have moved in. Hopefully this will take care of them.
Back at the rig I started putting some things away, getting us ready for hitting the road tomorrow.
Tomorrow morning we leave here for Lake Pointe RV Park in Canyon Lake about 80 miles south of here near New Braunfels.
---
June 24, 2011
Lightships and Goat Cheese . . .
Jan woke up with a migraine this morning so we took things kind of easy with coffee for breakfast, and then about 11:30 she fixed us grilled cheese sandwiches for lunch.
But by 2 pm she was feeling better so we headed over to the Columbia River Maritime Museum.
Located right along the Columbia River, the museum tells the history of the river starting from its official discovery in 1792 to the large container ships making passage today.
Astoria was once the home of over 30 canneries, and fishing has played an important part in its history. Built in 1945, this sturdy boat, or troller, was used for salmon fishing up until 1998, when it was donated to the museum.
Something I found really interesting was this photo of the USS Missouri firing its 16 inch guns during Desert Storm. At the far left in this shot you can see a black speck.
That is this 2700 pound shell leaving the gun barrel at Mach 2 and traveling over 20 miles before striking its target with deadly accuracy.
They also had many displays of sailing tools and equipment,
including this 1944 Diving Suit. Note the hand-pumped compressor in the box on the left. Better not make the guy running the pump mad at you when you're on the bottom.
The museum even had a large display of tattoo art, but no pictures were allowed, so you'll just have to take my word for it.
We next went outside to tour the Lightship Columbia. A 'lightship' is a floating lighthouse, used where a land-based lighthouse can not be used.
There was a lightship on station at the mouth of the Columbia River since 1892, and the Columbia, last of its kind, was replaced in 1979 by the LNB (Lighted Navigation Buoy) shown in the forefront of this photo. At some point this buoy was replaced with something else, although I wasn't able to find out what.
As we were leaving the museum, we saw the Old Riverfront Trolley trundle past. What was unusual was the little wagon it was towing behind. A closer look showed it was a diesel generator!
A little research gave me the answer. This trolley, the only one on the line here, was built in 1913 for the San Antonio Traction Company in San Antonio, TX. It ran there until 1933 when the trolleys were replaced by buses.
Since then it was passed around by several museums until it was obtained by the city of Astoria in 1998. Originally its electric traction motors were powered by pantographs that reached up to overhead wires.
However Astoria decided that rather than wire up the city with overhead electrical wires, they would just tow along a diesel generator behind the trolley to furnish the power. Kind of neat when you think about it.
Leaving the museum, we drove about 10 miles away to Warrenton, OR for some shopping.
Then coming home, we stopped off at Fultano's Pizza for dinner. But the first thing we saw pulling into the parking lot was a goat.
I guess this means the goat cheese pizza will be really fresh.
And although the reviews were good, the food was so-so. The salad bar was really good, but it went downhill from there.
---
June 24, 2013
Wild Horses and Banana Cream Pie . . .
After an easy morning we pulled out of Yellowstone Valley Inn & RV Park about 9:30 heading for Billings Trailer Village RV Park in Billings, MT about 120 miles away. But our first stop was at the Wild Horse Café about 15 miles away on the western outskirts of Cody.
We were meeting our friends Al & Adrienne for one last get-together breakfast before we headed out. We decide to wait to hook up the toad until we left the restaurant so Jan followed me in the truck and we park the rig right down the street and across the road in the parking lot of a microbrewery that didn't open until 5pm.
Wild Horse Café was a two'fer. Our breakfasts were delicious, especially the Huevos Rancheros. And for Jan, it even had a gift shop where she found a moose necklace that she just had to have.
By the time we finally said multiple good-byes, it was after noon before we got hitched up and back on the road. But it was worth it to spend some more time with them.
Back on the road we came to the town of Belfry about 10 miles inside Montana and ran into a problem, or at least a detour. The road ahead was blocked, and I could go right or left. But this was a detour without being told which way to go. And I went left, which turned out to be the wrong way, but turned out to be the right way.
We ended up heading west toward Bearcreek and Red Lodge with no way to turn around. on the two lane road.  Coming into Bearcreek about 8 miles after our wrong turn, we saw signs for The World Famous Banana Cream Pie served at the Hungry Bear Café. So I stopped.
Turns out I'm wasn't the first person to show up lost. The husband and wife owners said I would be able get turned around by taking one of the dirt roads around the block in town. But if I continue on to Red Lodge and then turned north on US212, it would only be about 2 miles farther to get to Billings then if we hadn't had to detour at Belfry.
So I not only left the Hungry Bear Café in Bearcreek with good directions, but also with a couple of slices of their World Famous Banana Cream Pie. So it was all good.
We pulled into the Billings Trailer Village RV Park about 3pm and got set up. We've stayed here 5 or 6 times and this is the fullest we've ever seen it. Glad we had reservations.
We both ended up napping for awhile before heading out for dinner. Neither one of us really had any place in mind, but then we came across Café Rio and decided to give it a try.
It turns out that the place is kind of like a Chipotle Mexican Grill, where you chose what you want, I.e. taco, enchilada, burrito, salad, etc., then you chose what what meat, and what other fillings you want.
And it turned out to be very, very, good. They advertise that they make everything by hand, fresh every day, including their tortillas. We both agreed that we'd eat at one of these again.
On the way home we stopped off at a CVS Drugs and a NAPA Auto Parts before getting back to the rig for the night.
Tomorrow we'll be having dinner with our friend Linda who lives here now. Jan and Linda used to work at the same hospital back in the Houston area before Linda moved up here to Billings.
---
June 24, 2014
Just in Time . . .
Well, we were up about 6:30 this morning, way too early. I mean, this, and I have to have a hole drilled in my head too?
Anyway, we headed out about 7:15 with a stop for breakfast at a nearby McDonald's, before getting to Dr. Roger Moore's office about 7:45.
I was taken back to the treatment room a few minutes before 8, and the doctor came in about 5 after. A very nice guy, he had me carved up in about 15 minutes, and then I went back out to the waiting room to wait for the results. It apparently takes about an hour to freeze the carcinoma, section it, and then look at it.
In my case, he didn't quite get it all the first time. He needed to go a little deeper.
So it was back into the treatment room for another 10 minute session, and another hour wait. But when I got called back in the next time, the doctor said they got it all that time, and he was now ready to stitch me up. Which again took about 15 minutes.
I never felt the slightest bit of pain from the beginning to the end, even from the local anesthetic needle.at the start. All I could feel was a dull pressure.
They take digital photos along the way, and I got a look at how my head looked after the stitches and it's really puckered where the skin was pulled together over the hole.
But right now it looks this this.
We were out of the office about 11:30, which meant the entire procedure took about 3 and a half hours, which is about what they said it would be. I will not have to go back since the stitches they put in are dissolvable.
So hopefully, this will be the end of it.
As far as the Just in Time part, we were really lucky that there was a cancellation so I could have the procedure done today. As we were walking into the office there was a sign on the door saying they would be closed all next week for the 4th of July Holiday, so we would have had to delay our leaving on July 7th as scheduled.
To reward myself for being such a good patient (after all, I didn't get a lollipop or anything.), and since it was lunchtime, and we were hungry, we stopped for lunch at the Steak and Shake near the RV Park.
We both wanted to try their version of Cincinnati's Chili 5 Ways, so we got one and split it.
Jan actually liked their version a little better than the Skyline version we buy.
Jan had the Garlic Double SteakBurger with a bun topped with, what else, garlic butter, and then toasted.
I had the Bacon Lover's Double Steakburger.
It's been a while since we've eaten at a Steak and Shake, just like Taco Bell the other day, and like Taco Bell, this was really good today. We'll have to go back.
I do want to thank everyone for their good wishes and prayers this morning. It's always nice to know you have friends who care.
---
June 24, 2016
Batteries Minus . . .
or the computer lied.
Since we had a two hour plus drive to Seabrook, we left the rig about 10:40 and headed for Outrigger's Seafood Grill to meet our son Chris, daughter-in-law Linda, and granddaughter Piper for lunch.
We made a pit stop/fuel up at the Shell station at FM-1493 and then another pit stop at the Buc-ee's on SR96. And we would have been on time for our 1pm get-together except for the bumper-to-bumper traffic going over the Kemah Bridge. But we did make it by about 1:15.
As with our other trips to Outrigger's, the food was really good, as was the views.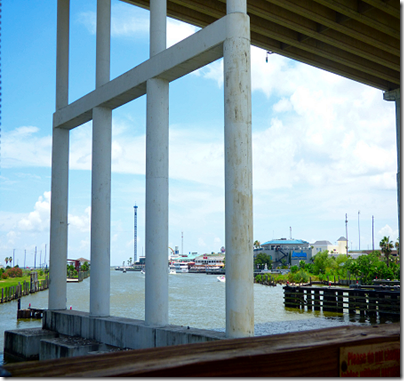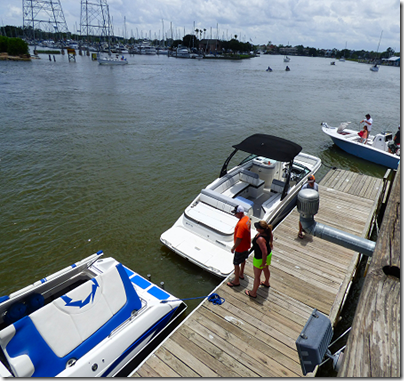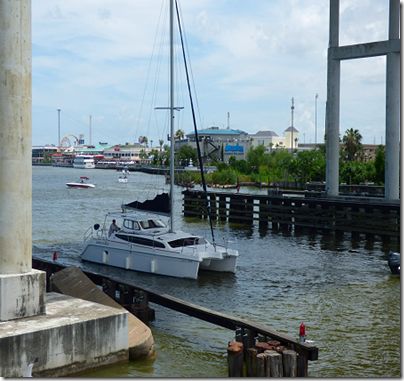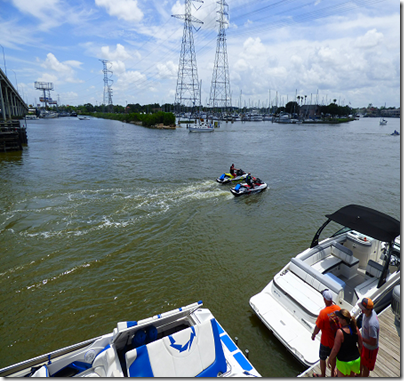 It was great to see every one, especially Miss Piper, who's usually working.
After hugs and goodbyes, we drove back into Webster to the Batteries Plus on Bay Area Blvd to get a new battery for my truck installed, but that didn't happen.
The guy who was there yesterday, but not today, and told me they had one in stock, was wrong. Or at least, he believe the computer inventory which said they had one in stock. So the computer was wrong.
At least that seems to be the story they're sticking with.
So after that disappointment, we headed out for a few more chores. Our first stop was at a Chase ATM to activate Jan's new VISA Chip Card before I dropped her off at the SuperCuts in Friendswood to get her hair done. Then I was off to Lou's Barbershop to get mine cut.
What I can't figure is why Jan's haircut costs $1 dollar less than mine. I mean, have you compared our respective heads of hair?
With that done, we headed over to our friend Connie's so I could take a look at her entertainment system problems. She just got a new Yamaha Audio Amplifier/Receiver and was having trouble integrating it into her setup, including a DirecTV receiver, a DVD/CD/VHS player, and a Karaoke machine.
Whenever I'm faced with something like this, I've found the best way to handle it is to just unplug everything and start from scratch. And that's what I did.
Then I started with the DirecTV Receiver, patching the video to the TV, and the audio to Line 1 on the Amp. Unfortunately this amp doesn't also switch video like some do.
Then I went down the line, doing the DVD/CD/VHS player on Line 3, and TV Ch. 3. Last up was the Karaoke machine which went on Line 2, and video 2.
Doing it this way makes it a lot easier than trying to dive in the middle and figure out what was wrong to start with.
We next spent some time trying to program the DirecTV remote to operate the Audio Amp on one of the AV function keys. But although there were 13 codes available, none of them allowed us to control the Yamaha.
So unless Connie wants to buy one of those expensive Logitech Harmony remotes, she's going to have to use more than one remote to control her system.
By this time it was after 7:30 so we headed off to Cheddar's for dinner. Since Jan and I had a big lunch, we split a appetizer and still had some to bring home.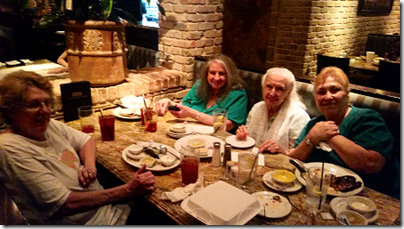 That's Jan on the left, of course, then Connie, her mother Hazel, and our long-time friend Maria, of Bob and Maria fame. Unfortunately Bob was AWOL. We had a great time, and great food, but we finally had to get on the road, especially since it was 9:30 by the time we left the restaurant.
We made a pit stop at the Flying J  in Brookshire and then hit one of those phantom slowdowns. Just 3 or 4 miles past Brookshire, as we made the big curve there, I could see police lights speeding out in front of the traffic.
Then after a couple of more miles everything came to a dead stop. After 5 minutes of no movement whatsoever, I checked Waze on my phone and 3 people said they thought it was a big accident up ahead.
Since it looked like we would be there for a while, I told Jan I was glad we'd just gone to the bathroom.
But then after about 10 minutes total, all of a sudden the traffic started moving, quickly reaching the 65mph speed limit. And there was never any sign of police, or an accident. Or anything.
POOF!  It all just disappeared.
We finally got back to the rig about 11:45, and found a loud and complaining Miss Karma, upset that she didn't get her dinner of canned food at her usual feeding time.
I sat her down and carefully explained that she always had Meow Mix on tap, so she shouldn't be complaining if dinner was a little late. I also reminded her that just a few months ago she was living outside in the cold, wet weather and only eating what she could catch. And it probably didn't taste as good as Meow Mix. And it could be that way again if she wasn't nice.
Then I gave her a squirt of  Whipped Cream and she was happy again.
---
June 24, 2017
Y'all Don't Understand Me . . .
About !:30pm Jan and I headed up to Huntsville about 15 miles north of here. We were going to meet up with Tom and Lynn Conner, long-time friends since 1979 when we lived on the same street for a number of years and our daughter's were best friends.
And later our son Chris worked for Tom in his motorcycle businesses.
Regular readers will remember months back that I asked readers for things they'd like to see in an RV Park, for a friend that was building one. And that was for Tom.
Well, the project is starting to come together up in Crabbs Prairie, a small community just north of Huntsville,
The first part, 25 RV-sized storage units is just about ready to go in the next week or so.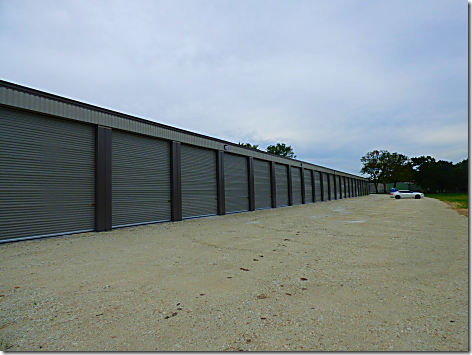 At the same time they're starting the layout and grading for about 30 50amFHU sites, both pull-thrus and back-ins, many of them around the small lake.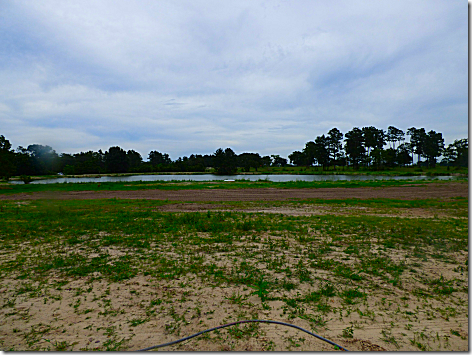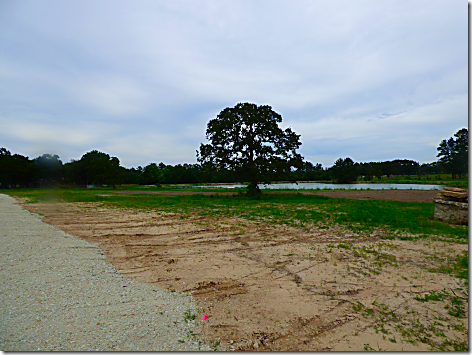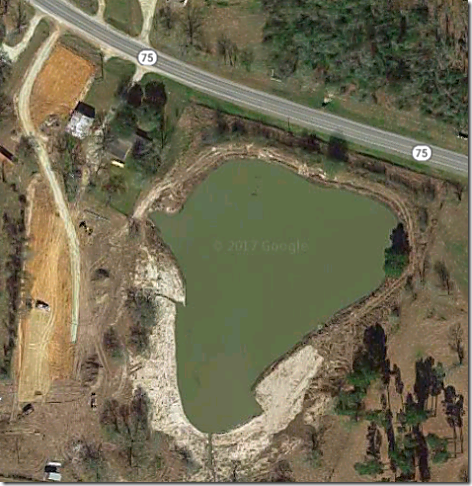 The park is located just over a mile off I-45 on a good paved road with easy access, a really nice layout.
I'll keep you updated as things progress.
---
I got a lot of  emails and blog comments wondering why we're traveling around in an RV that I'm constantly working on.
Y'all just don't understand me.
First off, remember that I'm cheap. Our rig is 18 years old (old enough to vote) and our Dodge Dakota is 13. And both are paid for. And I know both of them from top to bottom, and side to side. And I can, and have fixed pretty much anything on the rig, or even the truck
So we can keep RV'ing and not spend half our time waiting for an RV repair place to fix our rig. And honestly, based on what I read on FB and other places, newer rigs spend a lot of time in the shop, waiting for parts, or waiting for the repair.
But here's the part you probably really don't understand.
I really enjoy fixing things, anything at all. Whether it's computers, electronics, cars, RV's,etc. It's the challenge that interests me. It's a puzzle that I want to solve.
So if I'm not working on our rig, I'm working on someone else's.
What can I say? It's just me.
Tomorrow we move over to the Colorado River Thousand Trails in Columbus for two weeks. ramping up to our big family reunion.
---
June 24, 2018
Catching Up . . . Kind of
As I said in last night's abbreviated blog, we had a smooth trip up from Byram, MS yesterday, and stayed pretty comfortable.
We left Swinging Bridges RV Park about 8:15 to stay ahead of the heat, and it worked. Of course, as Jan said, it was kind of 'overcasty' which helped a lot.
Pulling into the Tom Sawyer RV Park in West Memphis, AR, we got settled and just enjoyed the view out our windshield, at least while it lasted. Those two open sites will fill up pretty soon. In fact I think the park stays pretty full all the time.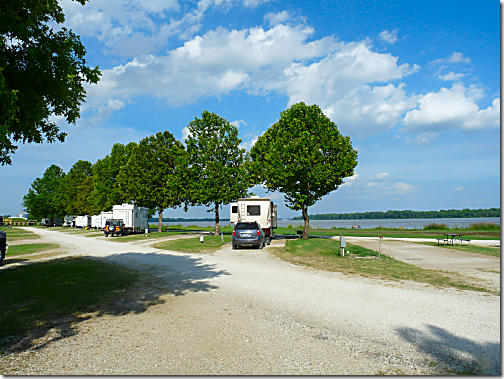 I know I made our reservations on May 3rd, so 7 weeks ago, and still could not get on the front row right on the water. So plan accordingly.
It's a beautiful park, with friendly staff, free laundry, hiking/biking trails, and garbage pickup 3X a day right at your site. And did I mention it's right on the Mississippi River, close enough that you can faintly hear the tugboats going by, pushing long strings of barges.
Of course when the Mississippi floods it's a whole 'nother story. Here's where the water came to in 2011.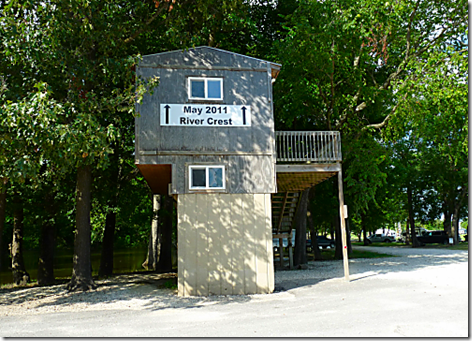 'How long can you tread water?'
Later, about 3:30, we headed into downtown Memphis to have dinner at one of our all time favorites, Charlie Vergos Rendezvous. Located on an alley, it's been a Memphis tradition since 1948.
They're known for their ribs, and one taste will tell you why. These are not your slow-smoked over mesquite type. These are grilled over charcoal, not wood, and not slow smoked, or anything like that. They're grilled 30 minutes on a side about 18 inches above a blazing charcoal fire.
This produces a delicious crust on the ribs that is then mopped with a mixture of vinegar, water, salt, and barbecue spices. Then before serving, the ribs are sprinkled with the secret Rendezvous seasoning.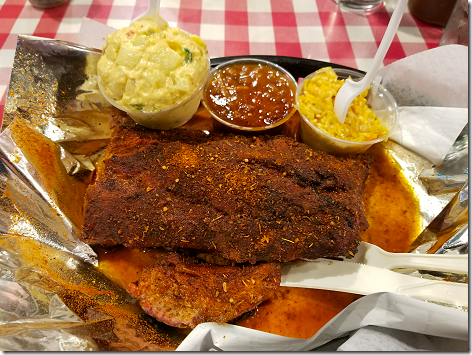 Jan and I both got the same thing, the small order of ribs, with beans and slaw, and we split a side of their potato salad. Everything was delicious, and had a unique taste, unlike anything else.
For example the BBQ beans have a Smokey, slightly burnt caramel taste, probably the best beans I've every had.
The only strange thing is the tea. While I was parking the truck, Jan had already been seated, and she ordered our usual two unsweet ice teas. And was told that they only have sweet tea, not unsweet tea. So why?
I mean, don't you have to start with unsweet tea before you can get to sweet tea?
I've got a lot more to tell you about the last couple of days. But I just realized that it's almost 10pm, and we have to be up at 5:30 so we can hit the road by 6:15.
I want to get diesel at the Flying J here before we get on back on I-55, and we want to get an early start to beat the heat as much as possible on our 320 mile run up to Mulberry Grove, IL and the Timber Trails RV Park, where we'll be for the next six days.
---
June 24, 2019
Road Trip!
And it's going to be a Four'fer.
And in case you're counting, that's two, count'em, two, Two'fer's.
First up, we're driving up to Waco on Thursday morning to have lunch with our long-time friend's, Bill and Carol Alverson.
Bill and I both worked for the Alabama Educational Television Network back in the early 70's, as well as for a local radio station, as Broadcast Engineers. And we've kept in touch ever since, as well as visiting with them several times when we were back in Alabama.
That's One.
After spending Thursday night there, on Friday it's something on Jan's Bucket List, and that is checking out the Silo's and Magnolia Market area from Chip and Joanna Gaines of TV's Fixer Upper fame. Hopefully we'll be able to have breakfast at their Magnolia Table Brunch place, even if we have to wait in line.
That's Two.
Then coming back toward home, we'll take a detour over to the Marble Falls/Kingsland area to meet up with Chris, Linda, and Miss Piper for dinner, hopefully at the Kempner Brick Over, a great local German place.
That's Three.
And after spending the night in Marble Falls, and having breakfast with the kids the next morning, we'll head on down to Katy and meet up with Brandi, Lowell, and Landon for a late lunch before finally heading home Saturday evening.
And that's Four.
And it also completes Jan's Big Three Trifecta, with Paula Deen's place, Ree Drummond, The Pioneer Women's place, and now, Joanna Gaines' Magnolia Market.
Since I haven't had a chance to get the truck's brakes and plugs working yet, we're going to pick up a rental car from Enterprise Wednesday afternoon.
Hopefully an Impala, and not a Hyundai Tucson like last time.