Daily Archives:
June 13, 2022
Catching Up On Sunday, the 12th of June:
After an OK breakfast at our Sleep Inn Hotel in Baton Rouge, we were on our way back to Santa Fe at about 9am, with our first stop being the Pilot in Breaux Bridge about an hour away, for a bathroom stop, as well as topping off with gas. Though we filled up yesterday before we checked in at the hotel, the trip home is about 300 miles, and our Jeep Liberty will only go about 270 miles on a tank full.
Next up was our usual stop at the rest area at the LA/TX border. But even before we crossed the Sabine River, which is the border, the traffic had slowed down to a crawl. And it continued to crawl when we rejoined the traffic.
And about 45 minutes later, we found that the problem was that they had the Interstate closed about 2 miles ahead, with the traffic going down to one lane, and then crawling off onto the feeder for a few more miles before rejoining I-10.
Finishing up, our last stop was about 90 minutes later at the Baytown Buc-ee's for a final bathroom stop. And while we were there, I had a rare sighting of the mythical Buc-ee himself.
So, of course, I had to get a photo. I mean it's almost as rare as getting a shot of Nessie, right?
But after I ask for a photo, this lady photobombed my shot by running up and hugging him.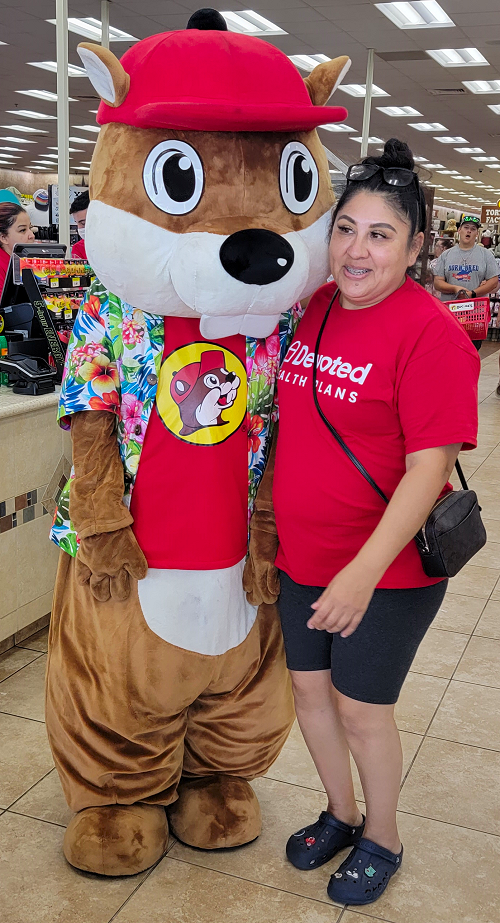 We finally got back to the rig a little after 3pm, but only stayed for a few minutes. I had left the AC set back to 82°, so we took in a couple of bags, while I turned the thermostats down to 75°. Then we headed back out to have dinner at Denny's, and then pick up some stuff at HEB. And by the time we got back home, we had a nice cool coach.
Then this morning, I put a new Flamingo Door Mat that we found at a Gift Shop in Gulf Shores. It adds a nice touch.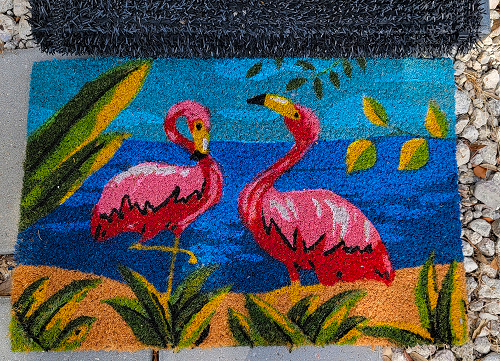 Tomorrow it's errands and X-Rays before my 6-month checkup next Monday, after my surgery back in November.
---
Thought for the Day:
Two roads diverged in the wood and I, I took the one less traveled by, and now . . . now I'm lost as hell.
Gate Guard Stuff
---
June 12, 2012
But it's a Dry Heat . . .
or, It's Summer in South Texas!
When someone talks about the summer temperature in Yuma or Tucson, they always end by saying "But it's a dry heat". At which time I always say "So's the inside of an oven".
But the humidity does make a difference, believe me.
This was the temp here yesterday (Sunday). I actually saw 105 degrees for a few minutes but it was gone before I could capture it.

But note the humidity is 24%, not the 95 to 100% you'd see in Houston. And because of this low humidity, our misting system works to really cool things down. If you tried to use a mister in Houston you'd just end up hot AND dripping wet.
Sometime in the next few days, I may try adding two more mister nozzles to my system for a total of four and see how that does. It did make a difference when I went from one to two nozzles.
And of course, no blog is really complete without a Landon pic.
Although we just saw him less than two weeks ago, we already really miss the little guy. It's amazing how fast he's growing up.
I've been trying to get more info on our next drill site location. I know the lease name, and supposedly those leases are back on the east side of I-37, somewhere between Karnes City, where we were last time, and the Gate Guard Services office at the Whitsett exit. Hopefully, this will mean we'll have 3G cell service again.
Jan got in a baking mood yesterday and whipped up a big batch of her Oatmeal Walnut Chocolate Chip cookies.  Hmmm, Hmmm, Good.
And then this morning when the Company Man, Juan, and the Company Safety Man, Ryan, made a run to Tita's Taco Stand, they brought us back 4 of Tita's delicious breakfast tacos.
Life is Good. Thanks again, guys.
That's about it for now. Things have been kind of slow for the last few days. We only had about 30 vehicles a day through the gate for the last several days.
Good for reading and napping, especially for napping.
---
June 12, 2013
It's Cinco de Mayo!
The Restaurant, not the Holiday. And boy, was it good.
---
First up, I thought I let you in on how I plan our trips, and since we leave here in Bend on Friday, I figured it was about time to figure out where we're going. Actually, I know where we're going, more like how we're going to get there and where we're going to stay along the way.
Between now and the 29th of June for the Escapade in Gillette, WY, we plan on staying 4 nights each in Jackson, WY, Cody, WY, and Billings, MT. And it will take 3 nights on the road to get to our first stop in Jackson, WY.
The trip to Jackson is only 720 miles, and normally we would do it in three days, two nights of travel. But when I started looking for parks every 240 miles or so, either there were none, or if there were some, the reviews were awful. But by keeping our day's travels to 170 to 200 miles, we found 3 nice Passport America parks,
But the first park I looked for was the one for our 4-day stay in Jackson, WY. And at first it didn't look too promising. They were all in the $60-$80 range and RVParkReviews didn't have good things to say about any of them. But looking at the map, I saw another park nearby in Victor, ID, only 22 miles away. And even better, the park, Teton Valley Campground, had excellent reviews, And even more better?, it's a Passport America park.
So instead of $250 – $350 for 4 nights in Jackson, I'll be paying $49 for two nights at the PA price, and $89 for two nights at the Good Sam rate for a total of $138. A savings of $112 to $212.
Not bad for a $45 a year Passport America membership. For this reason I don't understand why some RV'ers say that a membership will never pay for itself. We usually get our money back on our first couple of nights at an RV park.
Once that was done, I was now able to lay out our overnight stops along the way. So our first stop Friday night will be at The Narrows RV Park in Princeton, OR. Saturday night will be at Garrity RV Park in Nampa, ID, right outside Boise, with the next night at the Village of the Trees RV Park in Declo, ID. All of these are Passport America parks and have good reviews.
And we end up with 4 easy days of travel, with 168 miles, 196 miles, 179 miles, and 177 miles. Nice.
Now since these are parks we've never stayed at, I always like to double-check the park's location and entrance using Google Maps and sometimes Google Street View.
I really hate driving down some country road looking for an RV park based on an address that maybe 1/2 mile off one way or the other, as country road addresses are wont to be. So I use Google Maps to find the park on the satellite view. Then I get the Latitude, and Longitude coordinates for the entrance and plug them into my Delorme Street Atlas GPS program, so it takes me right to the park entrance.
In some cases, the park entrance may be obscured by trees or other obstructions, so then I'll use Google Street View to find the park entrance from street level.
Obviously this street view shot wasn't taken at the same time as the satellite view.
Once we stay at a park, I enter the park name, address, and GPS coords into a master park file that I can display like this. These are all 284 parks we've stayed at for the last 5 and a half years since we started RV'ing.
When we're back in an area we've been to before, it's easy to see where we want to stay if we liked the park, or where to avoid if we didn't.
I also have similar files, one that shows all the Thousand Trails parks we can stay at, and another where we store places that we want to visit as we travel around the country.
---
About 3:30 Jan and I headed about 12 miles south of here to the small town of La Pine to have dinner at Cinco de Mayo, a local Mexican restaurant that came highly recommended, by both Yelp and more importantly, our friend CoolJudy, who was visiting the area recently.
And once again, the reviews were right. (Thanks, Judy!) We knew it was going to be great when we first tasted the three different homemade salsas that came out with the chips. A mild sauce, a hot, spicy, chunky style sauce, and a hot green sauce, were all great. At least we figure the mild sauce was too, but we never tried it because the two hot ones were so delicious.
And it just got better when our food came. We both had the "Pick Your Own" Combo Platter, with Jan having the Chile Relleno, Ground Beef Enchilada, and a Ground Beef Taco, while I had the Chile Relleno, Ground Beef Enchilada, and Pork Carnitas Burrito.
We both agreed that this was some of the best Mexican food we've had since we left the Houston area in February. And we're in Oregon!
The only unfortunate thing about this place is that we didn't discover it earlier, since we're leaving on Friday. But we'll definitely be back the next time we're in the area.
---
Our grandson Landon has been a little under the weather the last few days with his asthma, so we sent him this set of Jumbo Dinosaurs from Amazon to cheer him up.
And it looks like it worked.
Tomorrow we'll start getting ready to travel on Friday with a visit to Wal-Mart and a final dinner at Baldy's BBQ, and maybe the last try at driving to the top of Pilot Butte.
We'll see how it goes.
Squamous Cell
---
June 12, 2014
And Now It's My Turn . . .
As regular readers will remember, Jan had her brush with breast cancer a few months ago. And after some ups and downs, and an excisional biopsy/lumpectomy, everything turned out fine, with only more frequent mammograms needed in the future.
And now it's my turn.
A couple of weeks ago I noticed a sore on my head that wasn't going away, so about a week ago I took this head selfie.
Some internet research confirmed my suspicions that it was almost certainly skin cancer. and based on how it felt, I.e., a raised edge and a depression in the center, I was pretty sure it was a squamous cell carcinoma, one of the two skin cancers that are eminently curable. The other one is a basal cell carcinoma. Melanoma is the really bad one.
So this past Monday, I made an appointment with a local dermatologist for an appointment at 2pm today. We met with a Physician's Assistant named Mariah who checked me over carefully, looking for any other lesions other than the ones on my head.
To Jan's relief, she did confirm my squamous cell diagnosis (well, the internet's diagnosis, anyway) as much as she could until a lab confirms it. And she also confirmed my thought that the white area in the lower left of the photo is a keratosis, an area that sometimes can evolve into skin cancer.
Then after checking me over, Mariah first used a freeze spray to burn off any slightly suspicious areas, including a couple on my nose. It stung a little, but wasn't bad at all. She also took care of the keratosis at the same time.
Next, using a syringe with a very short needle, she deadened the area of the lesion, and using a scalpel, she removed a small section to send to the lab. Although I didn't feel anything at the time, I did feel a burning sensation for a couple of hours after the anesthetic wore off.
Mariah said that in a week or so, after the lab confirmation, they will go in and do MOHS surgery on the lesion. MOHS is kind of a computerized freezing and sectioning of the carcinoma, looking at each sample until they no longer see any sign of cancer.
I then asked Mariah how deep they would go, and she said, "Until it's all gone."
Gulp.
The reason they didn't do anything today is that Medicare will not pay for it until there is a lab diagnosis.
So here's how I left the doctor's office looking.
So now we just wait to hear from the doctor in the next week or so.
Coming home, Jan and I stopped at Martin's for a few things before heading back to the rig.
Jan said after everything today, she needed an alcoholic beverage, so about 4:30, we headed over to Texas Roadhouse for dinner.
Jan got her a Long Island Ice Tea (really misnamed because there is not tea in it.) And I had a Hurricane Rita with an 1800 Tequila Shooter. Both very good.
And about halfway through my 'Rita is when the burning on my head stopped.
Coincidence? I think not.
Tomorrow, were are going to do a walk-in at the combination FMCA GLAMARAMA/Fleetwood Rally down in Goshen to check out the vendors and check in with old friends.
Checking In At The Asylum
---
June 12, 2015
Road Trip to Jerome . . .
Today we decided to make a road trip over to Jerome. We've been there a couple of times, most recently when we were staying at the Verde Valley Thousand Trails a couple of months ago. But we've never done it from the Prescott side, and the trip is supposed to be much more spectacular.
But before we left about 10am, I checked in with the service manager here at Affinity RV to see if we were still on schedule for Monday, and I also had a list of things that still needed to be done on the rig.
Besides the obvious windshield and airbag installations, the wheel well trim strip, wheel well guard flap, and the grab bar wiring, as well as a few other things, still need to be finished up.
Stan said that the glass guy wouldn't be here until about 10am, so we don't have to be up too early. And as it stands right now, they probably won't have to move the rig into a repair bay.
But we'll still have to go to a hotel for a couple of days, since we won't have a front windshield for a day or more, plus Mister always wants to supervise like he did when the windshield was replaced last year.
The approximately 30-mile trip to Jerome takes about an hour because of all the twists and turns. Lots and lots of turns,
but a lot of nice scenery along the way.
Our first stop was at the top of the hill to have lunch at The Asylum. A number of friends had recommended the place so we had to try it.
The Asylum, and the adjoining Grand Hotel, are located in what used to be the United Verde Hospital. In operation from 1927 to 1951, it was abandoned for 44 years before reopening as The Jerome Grand Hotel in 1996.
Though called The Asylum, the restaurant is not located in the asylum, or as they say now, the Psych Ward, but in what used to be the Nurse's Quarters.
We both had sandwiches for lunch, with Jan ordering the Mesquite Bacon, Lettuce, and Tomato, with Avocado, Garlic Mayo, on Marble Rye
while I had the Chipotle Turkey Sandwich.
Made with turkey, (of course) Chipotle Apricot Chutney, red onions, watercress, cream cheese, and lettuce on a toasted specialty bread, it's maybe one of the best non-hamburger sandwiches I've ever had.
Both our sandwiches came with their hand-cut fries, perfectly cooked. All in all, a really good meal.
Walking around the grounds after our meal, we came across this 1928 Rolls-Royce Springfield Phantom I.
Strangely, it's not done up as a show car, but looks like it's driven every day
We had planned to check some of the many shops in downtown Jerome, but after driving around the loop a couple of times without finding a parking spot, we headed down the hill into Cottonwood. Our first stop here was at the Clemenceau Heritage Museum, a place we'd tried to visit before, but found it closed.
Built in 1923, and used as an elementary school until 1947, when it also became the Cottonwood High School. We spend a couple of hours checking out the many exhibits.
This diorama illustrates the typical kitchen of the early 1900's.
And this is the height of a 1920's home entertainment center.
Housing an AM + Shortwave Radio, plus record player and record storage. it was what families did before TV.
We both found this classroom interesting.
The same teacher taught 1st grade in this classroom from 1923 to 1961, 38 years! And she didn't die until 1996 when she was 100 years old. Wow!
Even more interesting, one of the volunteers at the museum, who looked to be in his 80's, had gone to 1st grade in that very classroom, under the same teacher.
One thing I was really interested in was the model railroad diorama. Set the early 1950's it details the railroad lines crisscrossing the Verde Valley that served the many industries here at the time.
It's even got RV'ers.
Nice Airstream.
It even details the city streets and businesses of that time period.
Very neat, and very well done.
Finally leaving the museum, our next stop was the Irish Rose Tea Room in Old Cottonwood.
But we weren't here for the tea, but some of their delicious cupcakes. We'd discovered them when we were in Cottonwood a couple of months ago. We mentioned when we were up in Las Vegas last month, we checked out the famous cupcake place, Sprinkles, and found they were nowhere near as good as Irish Rose.
Our last stop was right down the road at Hog Wild BBQ, our favorite local BBQ place. But we weren't here to eat, but to get some to take back with us to Prescott, since we haven't found a good BBQ place here yet.
Finally heading back to Prescott, and taking the regular route, we finally got home about 3pm, just in time for a nice nap.
All in all, a perfect day.
Torchy's
---
June 12, 2016
Love and Freindship . . .
And no, that's not misspelled.
I had planned to work on rebuilding my rig armrests today, but got rained out.
I wanted to work outside at the picnic table since I needed to drill holes in each piece, and then use spray-on adhesive to hold the surrounding foam rubber in place as I install the leather cover. It's supposed to rain again tomorrow, so maybe later in the week it will work out.
Around 4pm Jan and I headed down to The Woodlands for a movie and dinner. The movie we wanted to see was Love and Friendship, a Jane Austen story.
Well, kind of.
Jane Austen did write a story called Love and Freindship when she was 14. And yes, that's the way she spelled it. But the story that Jane Austen wrote, was not  the story that ended up in the movie called Love and Friendship.
That story, not published until 54 years after her death,  was originally called Lady Susan. But I guess the movie people didn't think Lady Susan screamed out Jane Austen period piece, so they borrowed the title from Love and Friendship, spelling it correctly, and echoing her other novels like Pride and Prejudice and Sense and Sensibility. And then there's Pride and Prejudice and Zombies.
Lady Susan Vernon is a recent widow, almost destitute, and now dependent on her husband's well-to-do relatives, moving from one to another as she wears out her welcome.
Lady Susan is scheming to find both herself and her teenage daughter, Frederica, a rich husband.. The story swirls around the rumors of Lady Susan's scandalous private life as she uses her charms and wit to seduce and beguiled her way through the cream of English society.
It seems like Susan's plots are being stymied at every turn with Susan breaking up with her younger suitor, Reginald, and her daughter Frederica spurning her older, somewhat daffy suitor, Sir James.
But with the end of the movie, it all wraps up nicely, when you realized that this is all part of Susan's cunning plan, with a happy ending for everyone involved. Well, almost.
One lady starts out unhappy and stays that way throughout the movie.
Jan and I figured that the best way to describe the movie is that it has the manners and dresses of Downton Abbey and the backstabbing and morals of Desperate Housewives.
Check it out.
After the movie, we drove right down the road to Torchy's Tacos for dinner. Since we had popcorn at the movie, we only ordered one taco each, but couldn't pass up an order of their Chips and Green Chile Queso.
Jan had her usual Brushfire Jamaican Jerked Chicken Taco, and I had my Jalapeno Sausage Taco. All delicious, as usual.
Leaving Torchy's, I wanted to get gas and then we were going to stop at the Kroger up in Conroe, but looking around we found both a Kroger and a Shell station right across the parking lot.
So that sped up our trip home, wrapping up a very nice day.
More Choo-Choo's
---
June 12, 2017
Only One More To Go . . .
After sleeping late, we had our coffee, OJ, muffins and a quiet morning, talking about what we wanted to see while we were here, and also our schedule for the rest of this trip.
We did some shifting around, dropping a couple of stops, and adding to a couple of others. The main one we dropped is a stop in Waco for a couple of days so Jan could visit The Silos and Magnolia Market of Chip and Joanna Gaines of HGTV's 'Fixer Upper'. But we decided to do that as a day trip up from the Colorado River TT when we're there.
I also got our reservations for the Riverside RV Resort in Bartlesville, OK so we can visit Ree Drummond's Mercantile in nearby Pawhuska, OK.
About 1pm we headed out to visit the Golden Spike Tower and the Bailey Yard, something that I've wanted to do for a good while. And Jan was looking forward to it too.
But on our way, we first scouted out the station that I found on Google Maps Street View yesterday, and it looks like we're good to go when we leave here on Wednesday.
It has separate diesel pumps on the right side and plenty of room to get in and out, as well as hitching up the toad. Even better, as I said, they also have the cheapest diesel around at $2.25 a gallon.
The 100ft, Golden Spike Tower is visible from a long distance on the flat countryside so it was easy to find.
There are two observation decks here, an open balcony on the 7th floor, at 83 feet, and on the 8th floor, an enclosed deck at 95 feet. Admission was only $6 each for us seniors, so a nice deal.
The stats for this place are amazing. With over 315 total miles of track, the Bailey Yard stretches over 8 miles from end to end and covers over 2,800 acres.
The yard handles about 155 trains a day, with over 70 of them coal trains, totaling over 10,000 railroad cars.
The Diesel Repair Shop handles over 750 locomotives a month, with each doorway leading to an area for a different type of repair.
And here are the finished locomotives lined up and waiting to be assigned to an outgoing train.
This is the Sand Tower, where sand is loaded into the locomotive's hopper. The sand is sprayed on the rails right in front of the wheels in cases where, due to rain, ice, or snow, the rails might be slippery.
This is the fueling area, going through over 14 million gallons of diesel a month. Now I don't feel so bad about my 150-gallon tank.
One of the most amazing things here are the two Hump Yards, one for east-bound trains and one for west-bound ones.
A string of cars are pushed to the top of the hump, a 34ft high hill.
Then one or two at a time, the cars are released at the top and start to roll downhill.
As the car(s) come down they are automatically routed through multiple switches and slowed down as necessary by 'retarders', I.e brakes along the rails.
At the bottom of the hump, one of over 3000 cars a day, they end up being routed into the correct train, ready to be assigned a locomotive.
And all that magic is done from this building, the Bailey Yard Control Center.
In this building, every one of the 985 switches in the yard can be controlled remotely. Even more amazing is that many of the locomotives moving cars around the yard are also under remote control.
When is why you see signs like these around the yard.
Leaving the Golden Spike Tower we drove around to the backside of the Bailey Yard to get a side shot of the East Hump and the cars rolling down the hill.
Later, after driving around town for a while, we stopped off at Fort Cody, a combination Buffalo Bill Cody Museum and Gift Shop.
After it was right up the road to have dinner at King Buffet, a Yelp 4 Star Chinese Buffet.
And the reviews were certainly accurate.
A good selection, with small portions, constantly changed out, so everything was fresh and hot. Our favorite Hot & Sour Soup was really good, as well as the iced tea.
Even better, with our 10% Senior discount, it was only $7.50 each, plus our drink. If we were going to be here longer, we'd certainly go back.
But tomorrow night's Italian.
With our stay here in Nebraska, we can now mark that state off on our 'RV'd In' list, leaving only Kansas, which we'll be able to mark off on Thursday.
Of course, that still leaves Hawaii, which we'll do as soon as I can find a dry route.
---
Thought for the Day:
If you're not part of the solution, there is good money in prolonging the problem.
    ….