Daily Archives:
June 6, 2022
Everyone is enjoying the beach, which of course is why we're here.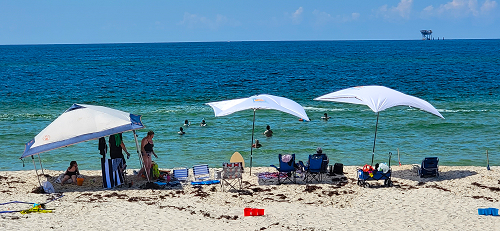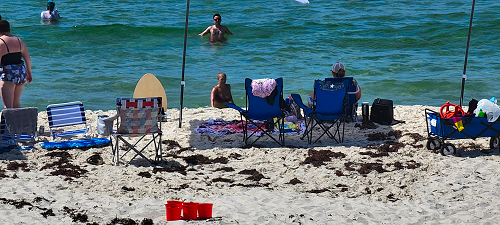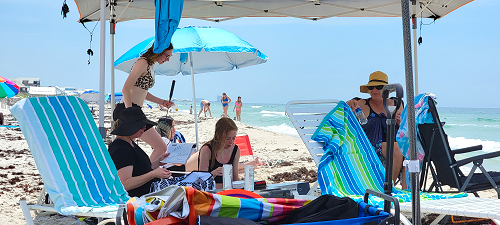 And a bunch of them are trying their hand at surfing using Boogie Boards.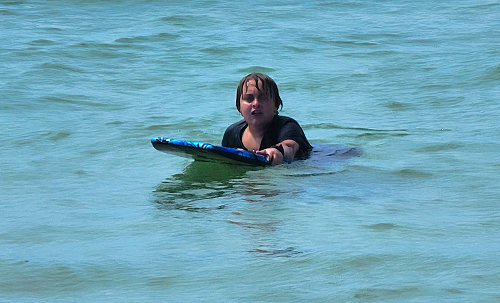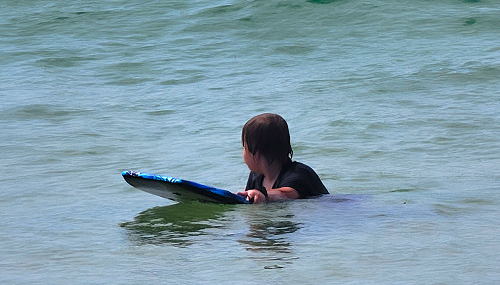 Luckily it's easy to see where the deep water starts here. The dark blue line is where the shallow water drops off, going from walking depth to as much as 30-40 feet in just a few steps.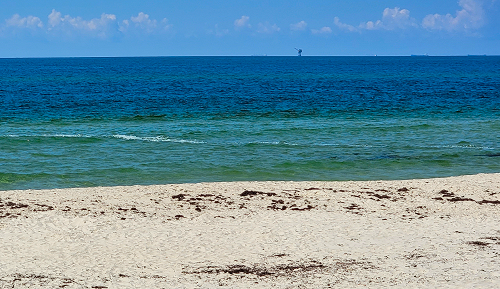 And down the beach in one direction we've got someone riding a giant Scoobie Doo,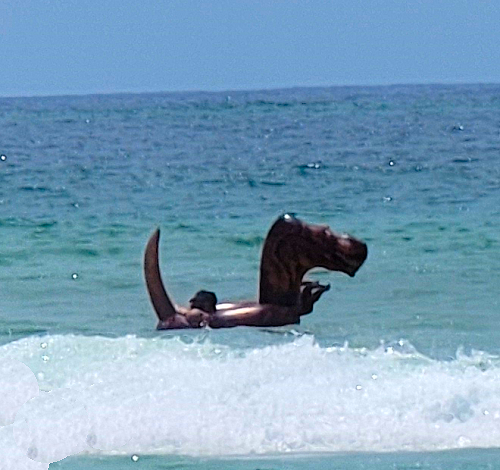 and in the other direction, we've had people flying big kites all afternoon.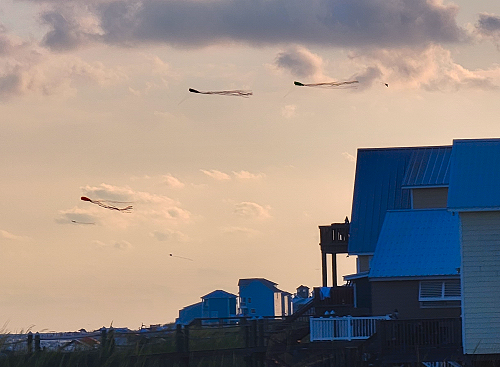 We even saw a Carnival Cruise Ship heading out of Mobile and out across the Gulf.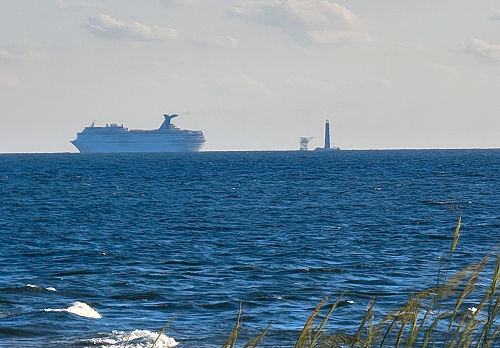 I was surprised to see the big oil rigs offshore.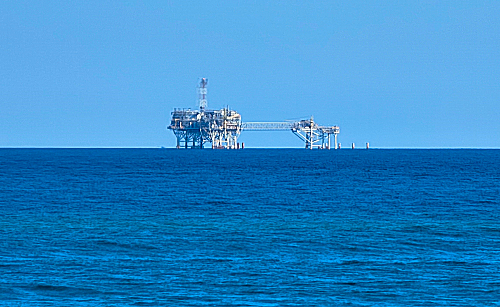 They look like they're pretty close, but according to Google the closest one is 9 miles out.
And they're even pretty at night.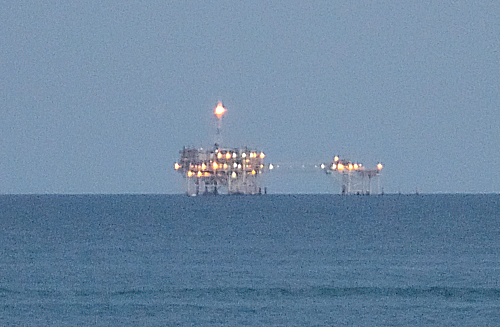 When it gets dark you can see a lot more rigs are out there.

And when they're not swimming, there's volleyball . . .  or I guess that's a group version,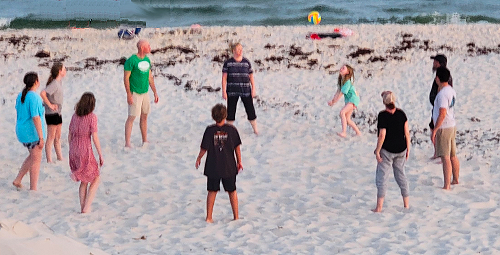 puzzle-solving this 1000 piece puzzle,
or even a game of cutthroat bingo.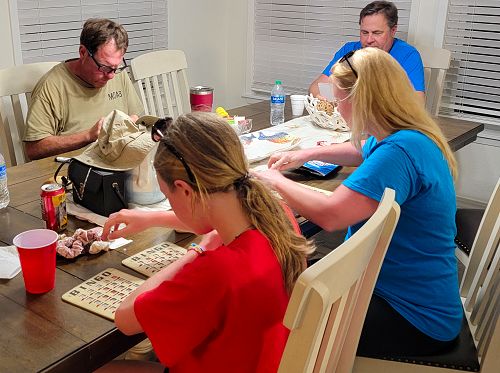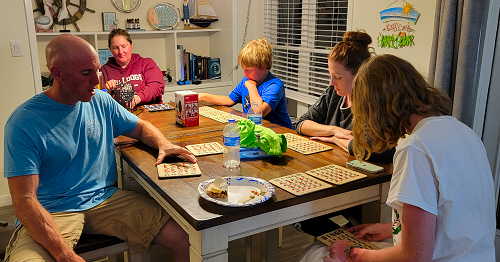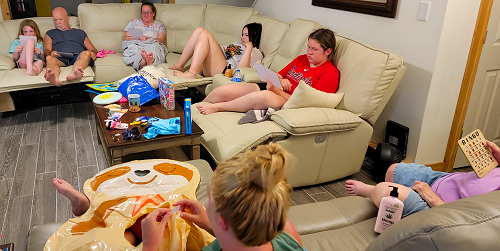 Tomorrow Jan and I are getting together with a childhood friend of mine, and having lunch at Throw'd Rolls.
---
A Sign Of The Times:
Two Buck Chuck is now $3.99 Chuck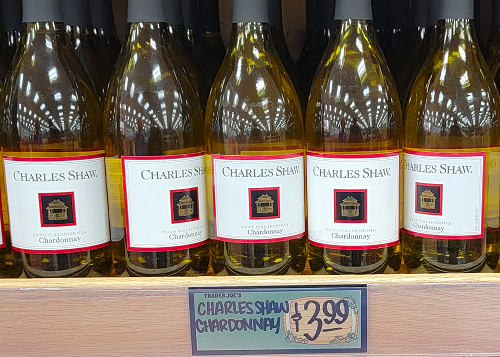 ---
Thought for the Day:
Remember, a big man with a big knife and a scowl isn't nearly as scary as a little man with a big knife and a big grin.
---
June 6, 2010
Last Day in Salt Lake City…
We headed for lunch at Sweet Tomatoes about 11 am, but first we drove thru a Holiday gas station right down the street. I wanted to check out access since I want to fuel up tomorrow morning before we hit the road south.
Diesel is down to $2.91, a pleasant change from a few weeks ago where I paid $3.69.
Sweet Tomatoes (also known as Souplantation in some areas) is a really good soup and salad buffet place we first discovered in  Ft. Myers, FL last year, and we try to eat there went ever we find one.
After lunch we drove over to Walmart to do some shopping, and then Jan wanted to get her hair done for our daughter Brandi's wedding in two weeks.
Then, heading home we stopped by Camping World so Jan could look at some of their recipe books.
Getting home I worked on some stuff around the coach.
I repaired a connector on the wires that connects the tail lights on our toad to the coach. Then I installed a video camera in my engine compartment so I can monitor the operation of my PacBrake exhaust brake.
Then a little before 5 pm we drove over to Famous Dave's BBQ to have a last dinner with our good friends, Pat and Judy Benson.
We got back to the rig about 7 pm and started getting ready to travel tomorrow.  Then about 8:30 a bad thunderstorm, complete with hail, roared thru the area, but I don't think it was bad enough to do any damage, at least not here.
Tomorrow we head south to Monticello, UT, about 270 miles away, on our way to Arizona.
---
June 6, 2011
Almost as Good as Bears . . .
This morning started off with a call from our daughter Brandi just checking in and talking about Landon's latest antics.
About 10:30 we headed out on our Bear Hunting day trip, but our first stop was for breakfast at the Hi-Lo Diner where we ate dinner last night. Jan had eggs, bacon, hash browns, and biscuits. I had Eggs Benedict with country fries, and it was more than I could eat.
One thing we had noticed last night was this inscription on their coffee cups.
Now I would have sworn that Dawson Creek, BC, Canada thinks that they are the beginning of the AL-CAN highway. At least they thought so when we were there 3 years ago.
So this morning I thought to ask, and their answer kind of makes sense.
The cashier said that US 97 originates in Weed, CA and goes all the way up to Dawson Creek. And checking it out when we got home shows they're right.
US 97 runs up to the Canada border at Oroville, WA and there becomes PH (Provincial Highway) 97 and, poof!, 1400 miles later you're in Dawson Creek. And actually PH 97 runs all the way up to Watson Lake in the Yukon as the AL-CAN along with PH 1.
But when you get Dawson Creek, it's still another 1500 miles to Fairbanks. A long trip.
For our bear hunt, we left Weed and headed south on I-5 to Mt. Shasta where we got on CA-89 and drove west.
All on a rumor.
A lady at the RV park that someone told her that someone had seen bears out around Dana, CA, so off we went.
And it was a beautiful drive.
Dana is about 50 miles away and about 10 miles before we got there we came down out of the mountains into a wide, flat valley that, although at about 3300 feet, looked like the Kansas prairie.
This beautiful little church is in the small community of Glenburn.
Still bearless and heading home, we saw a sign for a Wildlife Viewing area in the Shasta National Forest so off we went. Most of the road was really good, but we kept going until we were on a road like this.
Still finding no bears we turned back to the campground we had passed and stopped to stretch our legs. Hearing running water Jan and I walked over to the river and found these beautiful falls.
Called Lower Falls, it has been fished since the early 1800s. Salmon and trout run through here still today, and if it was the right time of the year there would be bears here.
A day late, a dollar short.
I also did this short video.
Looking around we noticed that there were chipmunks everywhere, zipping around like hummingbirds. Of course Jan just had to feed them.
Who knew chipmunks like Rold Gold Pretzel's?
They had obviously been fed before because when people show up, they come running . . . or zipping, as it were.
Jan said seeing all the chipmunks running around was almost as good as seeing bears.
Getting back to I-5 in Mt. Shasta, we decided to head about 35 miles north to Yreka, CA, and the nearest Wal-Mart. While we were there I stopped in at the Radio Shack, and then it was on to the Wal-Mart next door.
By the time we left the Wal-Mart it was after 4 pm so we decided to have dinner at Black Bear Diner before heading home so we could compare it with the Hi-Lo Diner.
And it was quickly obvious that these two places had the same origin. The menus, made up to look like newspapers, were almost identical, as was most of the menu items. And the food was just as good, too.
As we pulled in, we noticed an Ambassador Motorcoach towing an SUV on a trailer. Jan and I play a game in these cases and try to identify who in the restaurant are the RV'ers. But in this case it wasn't hard. It turned out to be someone we knew, Ray Kannada. And he was also at the Lake Minden Thousand Trails in Nicolaus, CA about a week before we were there.
It's really amazing sometimes how small the RV world is..
Coming back to Weed, we had some really scenic views. Here's another shot of Mt. Shasta still partially covered by clouds. Hopefully it will clear before we leave on Saturday.
You could also see the clouds rolling into the valleys as the day
You can also see the fog in how Black Butte looked yesterday,
And how it looked today. It's hard to tell it's even there.
We got home a little after 6 after a 200-mile trip and a lot of beautiful sights. Tomorrow will probably be a nice stay-at-home day.
---
June 6, 2012
Blinded By The Light . . .
With apologies to Bruce Springsteen (or Manfred Mann's Earth Band, as your taste may run) I think that's what happen to this armadillo who wandered into the area the other night. He came out of the trees and grass across the road and seemed to be doing fine until he came into the glare of all the lights. Then he couldn't seem to figure out what to do, or where to go.
He bumped around the fence for a while, then managed to crawl under the gate, but then turned around and started bumping into the gate again. Finally he got out of the glare of the lights and continued on his way into the darkness.
And if that wasn't strange enough, about an hour later, I see something moving off to my right on the road leading up to the gate. It's a bunny rabbit, and unlike the armadillo, he seemed to know exactly where he was going, and wasn't bothered by the lights.
He got directly opposite where I was sitting, stopped, looked over at me, and then continued hopping through the gate. When he got to the crossroad, he stopped again like he was checking for traffic, and then, making a left turn, hopped on down the road and off into the darkness.
If I didn't know better, I'd think he was hippity-hopping down the bunny trail.
Sorry. I just couldn't help it.
---
As a follow-up on some of my recent gadget evaluations, the cooling mister is still working great.
Since we're starting to see a few days in the upper 90's, I added a 2nd nozzle to the water line this morning, about two inches below the first one. According to the thermometer, this immediately dropped the temperature another two degrees, and the difference was noticeable.
The Vehicle Sensor alarm that I recently purchased is also working out great. Once I saw that, I ordered a second sensor, and now have one at each end of the approach roads. Each one is located about 150 yards from our rig and does a great job giving us a heads up on approaching vehicles.
Lastly, an update on the Kindle Fire tablet we got a few weeks ago. Jan uses it at night to read books, play games, and surf the Web. She's really kind of taken it over. Because of the glare, it's pretty much useless outside in the daytime, but then she just switches to her regular Kindle.
---
Ryan Etheridge, the Marathon Safety guy here just came back from his two weeks off and brought us back some great boudin direct from his hometown of Lafayette, LA. Thanks again, Ryan.
And speaking of food, this afternoon we had another great meal dropped off by a rig catering company. Steak, potato salad, green beans, and banana pudding for dessert.
Yum!
A guy could get used to this.
---
On a final note, if you're a Beach Boys fan, they've got a new album out called "That's Why God Made the Radio". With 12 new, mostly Brian Wilson songs, the album really has that vintage Beach Boys sound. Backed up by studio musicians who played with them in the 60's, the guys, most of them in their 70's, can still hit those harmonies just like the old days.
It's a $4.99 MP3 download on Amazon, so check it out.
---
June 6, 2016
It Was Late And I Was Tired . . .
or Do We Have Too Many Friends To Keep Up With?
In yesterday's blog I tried to marry Judy Mott off to someone named Ed. But it seems she wants to stay with her present husband Dick. So much for my matchmaking ability.
I'm not sure where Ed came from, except as it said, It Was Late And I Was Tired. Jan and I both think we know another couple named Ed and Judy, but couldn't put a last name to them.
Blog reader Rick Rousseau identified the motor in yesterday's trike as a GM product.
Rick said that the fact that the two inner exhaust ports were spaced very close together confirmed it.
Here was my reply to Rick.
Rick,
Well, I had it narrowed down to GM, Ford, or Chrysler, LOL.
The last time I fooled around with this stuff was in mid to late 60's, with Hemi's, 427's, 428's, 429's etc. If it wasn't at least 400 cu.in, it wasn't a real motor, just a hamster in a wheel.
All these high-output small blocks came around after my time.
In 1965 I did shoehorn a Buick aluminum V-6 into my Triumph Spitfire along with two Judson Superchargers, one on each bank, when I was racing in the SCCA Unlimited class.
Ran like a bat out of hell, but for some strange reason I kept blowing out rear-ends. Who knew? LOL.
Greg
Today being the 72nd anniversary of the D-Day landing on the beaches of Normandy, France, got me to thinking about my late Uncle Theo.
And that got me thinking about his wife, my aunt Virginia, who still lives up in north Alabama. So I put in a call to her to check in and let her know we expect to be up there around the middle of August to visit.
I didn't find out until years later that he had landed on Omaha Beach during the first day of the attack. But Omaha Beach was just his third campaign. He was also part of the Torch landings in North Africa and the Husky Landings in Sicily.
All in all, he fought across Europe in 7 campaigns, ending up at the Battle of Bulge in Belgium. Dug in near Bastogne, Belgium, he said it was so cold nobody wanted to fight. "We could see the enemy, but we didn't shoot at them, and they didn't shoot at us." 
Here's what I wrote last May after he died. Check out the rest of the story.
Around 3pm, I got the ladder out of the truck and went up on the roof of the rig to check out my leaking rear AC. The first thing I noticed was that there was no water running off the sides of the rig on this one, but plenty from the front unit.
And as usual in a simple job like this, one that should only take about 15 minutes, it took me almost an hour to just to get to the problem. It took me about 30 minutes to get one of the four bolts loose that holds the cover on the AC unit.
Then I started taking the sheet metal cover off the evaporator unit. And of course two of the 30 odd screws that hold it on were also stuck. So out comes the big screwdriver and the hammer.
Getting the cover off and moving the evaporator coil aside, it was easy to see the problem.
That white plastic tray is the drain pan and that round hole is the actual drain. There's one on each end of the pan and they were both stopped up with all the gunk that was floating around in the pan, and the pan was full and running over and into the intake filter below and dripping down onto the bedroom floor.
I was able to unstop the drain holes enough to get things flowing for today. But I'm going to have to come back tomorrow to finish up by cleaning the evaporator coil, cleaning out the drain pan gunk, and then putting in some bleach to really clean out the drain holes. But I was wiped out for today. I'd been up there for almost two hours and the heat and sun were really starting to get to me. So I covered everything back up and came down.
Jan had been setting outside keeping an eye on me and could tell I wasn't feeling well.  When I went up on the roof it was overcast and about 80. When I came down the sun was out, and it was 88. Unfortunately it's going to be even hotter the next few days so I may wait a few days to finish up.
But for now, the problem is fixed and it's no longer leaking into the bedroom.
---
June 6, 2017
Dead Man's Hand . . .
After yesterday's 91°, today's 75 and partly cloudy was a nice relief, especially since we didn't get the also-promised rain showers this morning.
---
Today we thought we drive up north to Deadwood, so after a quiet morning we left the rig about 1pm. Getting into Deadwood about 30 minutes later, our first stop was the Visitor's Center to pick up some brochures and make a restroom stop.
Then it was on to a recommended place for lunch, Harry's Spaghetti Western Restaurant
We each got one of their dinners, starting with a salad.
After that, Jan got the Fettuccine Alfredo with Chicken, while I got the Spaghetti with Meat Sauce and Meatballs.
For dessert I had the Spumoni Ice Cream that came with the meal,
while Jan upgraded to the Tiramisu Cake.
And after a very good meal, we drove up the hill to the Mt. Moriah Cemetery, where both Wild Bill Hickok and Calamity Jane are buried . . . as well as over 3,600 other unlucky people. The place is enormous
We would have walked around a bit, but as you can tell it's pretty steep and hilly, and since my knee has been acting up, we took a pass.
A friend of ours, Jim Dean, has, I think, his grandparents, buried here.
Coming back down the hill, we drove down Deadwood's Historic Main Street.
Hence the sign 'Historic Main Street'.
Leave it to me to sniff out a model train layout, and there was one right on Deadwood's Historic Main Street.
The layout of the Northern Hills Railway Society is in the basement of a gift shop, and admission is free, though it costs $1 to run the trains for 10 minutes.
The layout is 80 feet by 16 feet with over 1200 feet of track, 54  engines and 400 cars.
One thing I liked is all the small details and dioramas.
Note the yellow biplane flying under the bridge below.
Coming back up to street level we were just in time for one of the scheduled gunfights.
When I saw the poker table set up I thought that they were reenacting the shooting of Wild Bill Hickok, but it was some other famous gunfight.
As it was the whole thing took place right in front of the saloon where Wild Bill Hickok was shot August 2, 1876.
Playing Five Card Draw, the hand Hickok was holding consisted of black aces and black eights, now known as a "Dead Man's Hand". He had discarded the fifth card, and supposedly the replacement had not been dealt. At least that's the way the story goes.
What does it tell you about a town when they have so many saloons that they just number them, rather than name them.
Heading home about 4:30 we drove on into RC for a quick stop at the Harbor Freight for a couple of things. Then it was back to the rig with a stop at the office to re-up until Saturday.
Tomorrow, the Dinosaur Museum and Mt. Rushmore.
---
Thought for the Day:
Remember, what happens over the rainbow stays over the rainbow.
   …..