Daily Archives:
March 28, 2017
The weather the last few days has been really nice, with highs in the mid-70's and low's in 40's/50's.
---
---
In fact at noon, it was still only 69° here. Just about perfect. And even better, on Friday the high is supposed to 68° and sunny.
I'm still waiting to hear back from the RV Glass people, and really hope we can get this taken care of before we leave for Las Vegas on April 8th
I also put in a call to Arizona RV Awnings down in Wellton, AZ to get some info on replacing our rig's Carefree window awnings. Before that Jan and I went outside and measured our present ones to see what we needed.
Based on their website we should be able to get heavy duty Sunpro replacement fabric for all four for around $430, which includes free shipping. But our thought is to pick them up ourselves on a day trip down to Gila Bend and Yuma. So maybe we can get a discount since they won't have to pay for the 'free shipping'.
---
---
I'm still waiting to hear back from 'Eric' who's supposed to answer my questions and take my order.
Later I stuck my phone camera underneath the rig's Kwikee step so I could get the part numbers for the step (It's a Series 28) and the motor I need to replace.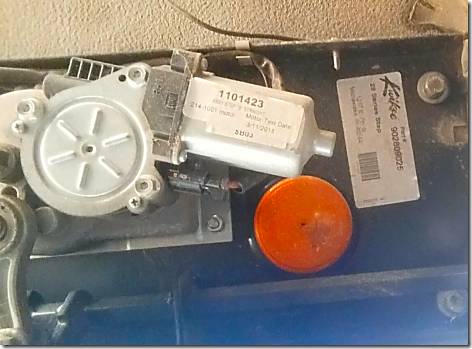 Blog reader Steve Mesz clued me in on the fact that many of these step motors are Ford power window motors, so I'm going to follow up on that.
For an early dinner we finished off our leftover Famous Dave's BBQ from yesterday, along with some Bush's Brown Sugar and Bourbon Grilling Beans. Then tomorrow Jan's doing a big slow cooker batch of her world famous chili. Really looking forward to it.
---
---
Tomorrow we'll run some errands and take care of a few other chores, and hopefully I'll hear back from my windshield glass and awning people.
---
Thought for the Day:
"Everything is funny as long as it is happening to somebody else." ― Will Rogers
ghfgjhfgjh