Monthly Archives:
April 2017
With a 345 mile trip ahead of us on Saturday, we left the Soledad Canyon TT about 8:15am and headed south on the Antelope Valley Fwy about 17 miles until we got on I-5 and headed north toward Lodi, CA.
---
---
And then it was up one mountain and then down the other side. and again, and again, and again. About 75 miles worth.
The fabled Grapevine. Which pretty much ends at Grapevine, CA where things started to level out.
When they replaced the diesel tank on our rig after our blowout in 2015 the fuel gauge has been very squirrely, not that it wasn't kinda squirrely before. But now when it gets to half tank it pretty much just falls to the empty peg.
But since I have the very accurate fuel monitor on my Silverleaf Computer Display, I haven't had a problem. Until now.
My tank holds 150 gallons, and the last time I got diesel in Tucson, the Silverleaf said I had 30 gallons on board and I was able to put 120 gallons in the tank. And it's always been very accurate. Until now.
So about 250 miles into our trip, and with 28.8 gallons on the Silverleaf, I ran out of diesel.
Long story short, by the time we got 15 gallons of diesel in the tank (Cummins says you need 15 gallons for priming and restart) and FINALLY got it started, it was going on 9pm and we still had 95 miles to go.
---
---
Even using the priming instructions that I had gotten from Cummins years ago it took a long time to get the engine started. Long enough that the battery was dragging. We finally got it started with the Good Sam's RV mechanic jumping the rig batteries and then using a squirt of starting fluid.
It's kind of funny about the use of starting fluid. Everyone, including Cummins tell you not to use it because it can damage your engine, including blowing it up. But everyone uses it, including Cummins dealers. And it definitely worked in our case.
I knew the office at Flag City RV Park in Lodi closed at 9 so I called ahead and they said they already had our site info in a envelope taped to the door and I could settle up in the morning. Great!
We finally pulled in the park about 11pm and found a very nice Sikh gentleman waiting for us with a golf cart ready to lead us to our pull-thru site, long enough that we didn't have to unhitch. Much appreciated after our long day.
We slept in this morning, not getting up until after 8, and not getting on the road until about 10, OK since we only had a 245 mile run up to Weed, CA this morning.
Heading out we stopped at the office to settle up and then it was back on I-5N just a couple of blocks away. And this time rather than hills, we had miles and miles of fruit and nuts . . . and olives. Well, olives are fruit, so just fruit and nuts.
Jan and I both agree it should be a law that farmers have to put signs along the highway telling you what they're growing. I mean, I can recognize corn, soybeans, cotton, alfalfa, and a few other crops, but fruits and nuts, not so much.
---
---
We had grapes, pistachios, walnuts, cherries, and olives. Now grapes we recognized, and I assume the cherries were the ones that were covered with nets. But the rest are just trees to us.
We want signs!
We first started seeing Mt. Shasta rising above the horizon about 140 miles out, and got these photos at 100 miles.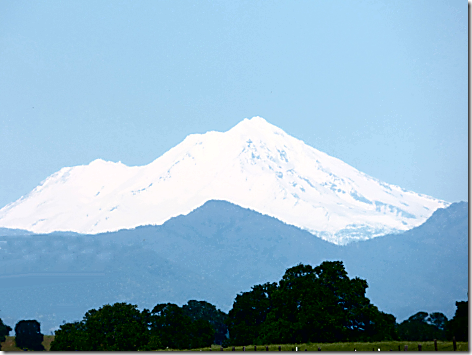 After a long climb back up into the mountains, we pulled into Friendly RV Park in Weed, CA about 3:30 and got parked and set up. And this is the view out our windshield.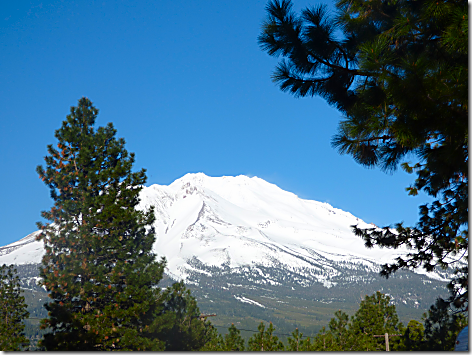 Tomorrow we'll spend some time driving around before heading up to the Bend/Sunriver Thousand Trails on Tuesday for a two week stay.
---
Thought for the Day:
"I have an inferiority complex, but it's not a very good one." ― Steven Wright
ghdghdh
No Blog Today.
---
---
It's been a long, tiring day, and we didn't get to the park in Lodi until almost 11pm
More Tomorrow.