Monthly Archives:
May 2017
Again it was down in the mid-30's last night, but made it into the mid-70's today. But tomorrow we've got a one-day spike into the mid-80's, and then back down into the 70's again.
---
---
With Jan still on the 3rd day of her 3 day migraine wind down, we put off our Bear Country USA,/Alpine Inn/Reptile Garden/Dinosaur Museum day until tomorrow.
Jan's migraines normally cycle through 3 days. On the first morning when the migraine hits, she takes a Sumatriptan and by the afternoon, she feels better, but kind of washed out. Then on the second morning, the migraine returns, but not as strong, so she takes another Sumatriptan. And finally on the third day, one more time, but even less pain, and another Sumatriptan.
Every now and then though, the migraine only lasts for two days, which is why we were hoping for a respite today. But tomorrow will work just as well.
---
---
A little before 3pm I went into RC to pick up some things from Lowe's for a couple of projects I'm working on. Next up was an oil change for the truck, and then on the way home I stopped off at a Perkins for a couple of slices of pie, Coconut Cream and Chocolate Silk, for Jan. Migraines are always better with pie.
For me, I got Lemon Meringue and Banana Cream.
Coming back to the park I stopped off at the office to pick up my Samsung Wireless Charger that had come in. Getting home, I unpacked it, plugged into the wall socket, and set my S8+ on it, and it started charging. Neat.
But my old Galaxy S5 doesn't work on it. I know later ones do, but mine was a very early one, so not unexpected.
---
---
I also moved my 12volt digital voltmeter down onto the lower dashboard where it is more visible.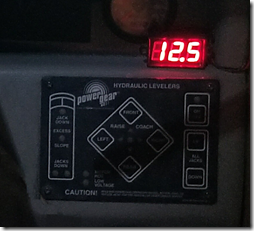 This meter monitors the engine battery voltage, while I have another one that monitors the house battery voltage. And I also have one that monitors the shore power voltage/generator voltage.
For dinner tonight we had our leftover Famous Dave's BBQ from last week. And of course, pie.
All delicious.

---

Thought for the Day:
"We have always known that eternal vigilance is the price of freedom. It's worse now, because capture of government is so much more important than it once was. There was a time when there was enough freedom that it hardly mattered which brand of crooks ran government. That has not been true for a long time — not during most of your lifetimes, and for much of mine — and it will probably never be true again." – Jerry Pournelle
sdfgsfg

It went down to 36° last night, but was up in the mid-70's today. All in all, very nice.
---
---
About 5pm we headed out to meet Dave and Jeanne at the local Buffalo Wild Wings for dinner. They had been doing Deadwood today, a destination for us in the next few days.
Jan and I went with the same order as last time, traditional wings, hers with Asian Zing, and mine with Mango Habanero, as well as an order of Potato Wedges.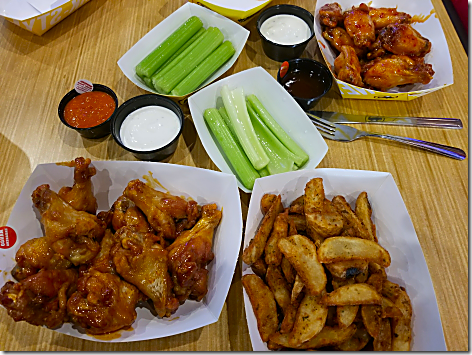 As we got to talking, it was almost scary how many likes we have in common besides RV'ing, like Dr. Who, murder and historical mysteries. drones, computers. and more.
---
---
As usual when RV'ers get together, we spent more time talking than we did eating, probably a good thing on my part. In fact we had been there almost 3 hours before we left. Had a really great time.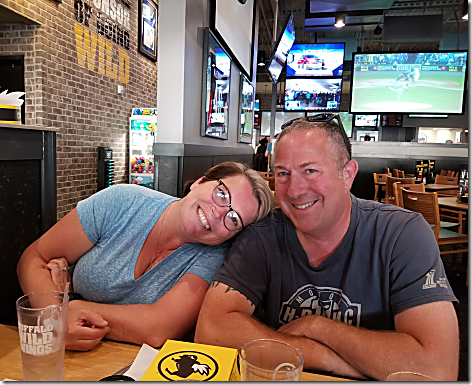 Hopefully we'll be able to get together again before they leave on Saturday.
Jan has been nursing the remains of a migraine for a couple of days, so tomorrow is up for grabs. If she does feel better, then we'll head out about 9am, first heading down to Bear Country USA, a drive-thru wildlife park down near Mt. Rushmore. Then it's right next door to Reptile Gardens for a visit there.
---
---
For lunch we'll then head back down to Hill City to get our German food fix at the Alpine Inn, Then maybe back to the Dinosaur Museum nearby, before heading back home.
Supposedly I have an Amazon order coming into the park tomorrow afternoon. I ordered a Samsung Wireless Charger for my Galaxy S8+.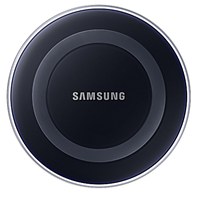 You plug it into a power source and then all you have to do just lay your phone on the circular pad. No connecting it up. And even better it charges faster than the regular way. And it should also work on Jan's S5 too.
And it's only about $17.
---

Thought for the Day:
"The bravest are surely those who have the clearest vision
of what is before them, glory and danger alike, and yet
notwithstanding, go out to meet it." – Thucydides
kljljlkj