Daily Archives:
May 2, 2017
There's a reason this is considered a Chinese curse, though apocryphal in its origins.
---
---
And today was very 'interesting', though it started out nice.
First up though, I've fixed the photo problem on yesterday's blog, so you can scroll down and see all the pretty pictures. I don't know what happened, but I'm pretty sure it had something to do the WordPress database problem I had last night.
Wanting to get to bed a little early, I had the blog ready to go about 11pm, but it wouldn't . . . go, that is.When I tried to upload it, it kept telling me it couldn't write to the database. Now weird things happen sometime, maybe Godaddy updating the WordPress software at the same time, etc. But after waiting about 30 minutes with no luck, I put a call in to Godaddy.
Talking to the support guy, and trying some things, I found I couldn't make ANY changes to the blog at all. I could read old posts just fine, I just couldn't write new files to it.
The support guy suggested I restore from backups back to yesterday's blog, basically just overwriting the entire blog, over 3000 posts,and1000's of photos and comments..
So with a loud GULP I hit the Restore button.
The progress immediately jumped to 70% and then stayed there, never moving. So after about 30 more minutes, I went to bed.
When I got up at 6:30 I found the restore had finished and the blog was still functional, so I click the Publish button and away it went. And a minute or so later it was done.
BUT . . .
being in a hurry I neglected to look over the new blog post, so I didn't notice the photo problem. That became apparent when I started getting emails while we were at breakfast, but I had already shut down the computer at the rig, so it would have to wait.
Now back to this morning.
We were up at 6:30am, got everything pretty much ready to roll, and then were out the door about 7:30, heading to the Hi-Lo Café a couple of miles away in downtown Weed.
The Hi-Lo Café, opened in 1951, was the pattern for the Black Bear Diner. The first one was down the road in Mt. Shasta City and started by the original owner's daughter and her husband. Then when they got divorced, she kept the Hi-Lo and he got the Black Bear Diner. Which has grown to over 100 locations since then.
But still only one HI-Lo. And last year the 3rd generation of the family took over.
Jan and I pretty much had the same thing for breakfast. This is my version, a Bacon Belgian Waffle, two strips of bacon, and two eggs over medium.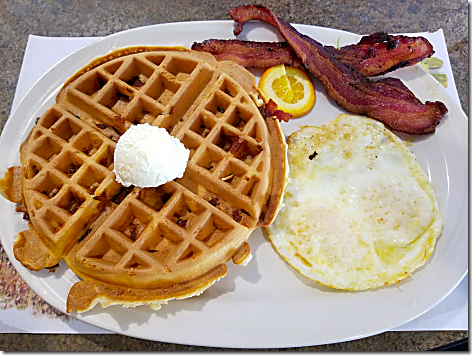 Jan's had a plain waffle, two strips of bacon, and eggs hard scrambled. Both delicious.
Heading home I got a couple of good shots of a lenticular cloud over Mt. Shasta.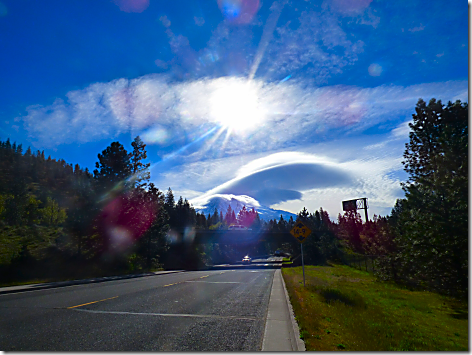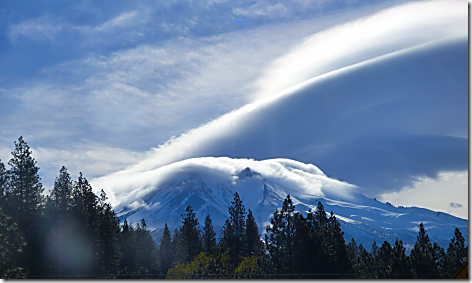 In the second one, the clouds are rolling down the sides of the mountain like water over a dam. Stunning.
But Mt. Shasta is famous for its clouds. Here's a couple from the Internet.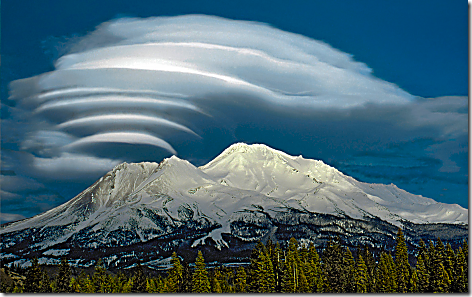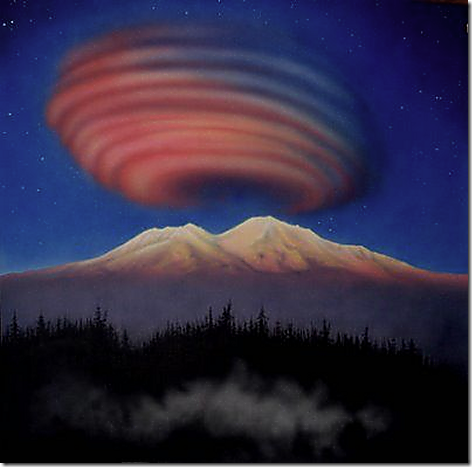 Just WOW!
Getting back the park I finished getting us ready to go. As you can tell I had pulled into the site backwards so we could see Mt. Shasta out the windshield.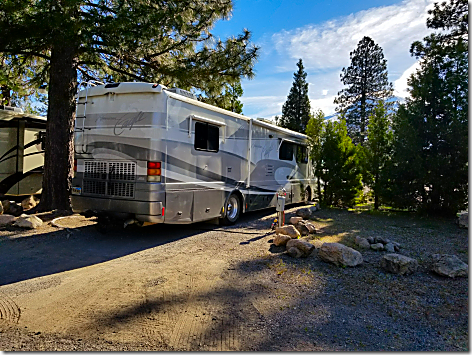 Due to our rig's first owner ordering the 'extra long power cord' this is never a problem for us.
---
---
We were out of the park by 9:15 and heading for the Flying J a few hundred yards away. Across the road we could see the burned out remains of Silvas BBQ.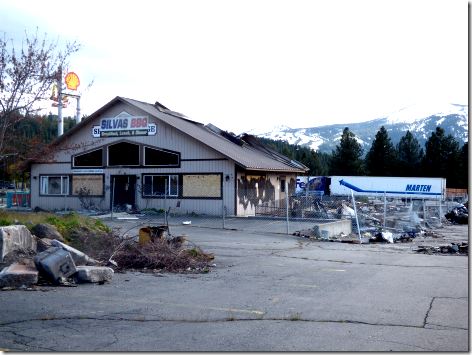 We've eaten here several times and it was always good, so it's a shame it's not around anymore. They had a grease fire in a vent hood back in Nov. and that was it.
We were dieseled up, hooked up and pulling out of the Flying J by 9:45, a little ahead of schedule for a change. But that didn't last long.
As we started to turn on the I-5 entrance feeder, I noticed the rig was kind of lugging, not accelerating like it should. It was quickly evident that problem was that the transmission was stuck in 1st gear and wouldn't upshift to 2nd. Then I happened to move my head a bit and saw a Check Trans light on the panel. I didn't see it at first because it was blocked by the steering wheel.
No other alarms, no Check Engine light, no nothing. Just the Check Trans light. It was obvious that I was stuck in the 'infamous' Limp Mode.
So I tried the simplest thing first. I shut the engine off, let it set for a few minutes, and then started back up.
OK, no warming light. That's good.
But as soon as I was moving a few miles per hour, the light came back on.
Bummer!
Jan however, said some other words.
---
---
So next I checked the transmission fluid. It was at the lower part of the OK range, but I added a little TransSyn to be sure.
And again, no luck. Still stuck.
I did use my Silverleaf Computer Display to check for any fault codes, but nothing showed up.
So now I was on the phone to Spartan, my chassis manufacturer, to see what they might have to contribute. But not a lot, but they send me on to Allison Tech Support.
Now I have known for a while that my rig's Allison transmission is kind of an oddball. I think it kind of straddles a model revision, or something. For example, according to my transmission's serial number, I should be able to check the transmission's fluid level from the console, but I can't.
I've had several techs tell me I must not be doing it right, and proceed to show me how. But apparently they weren't doing it right either.
The Allison tech told me to check for transmission fault codes by turning the key on, and then pressing the upshift/downshift buttons together, twice.
And I got nothing. So I turned the key off and back on, and then did it again.
Again nothing. But I did notice that something flashed in between the first and second presses. So I turned the key off and on, and pressed just once. And now I had the code display.
But no error codes were showing.
As we were talking and checking some other stuff, he had me crank the engine up, and for some reason I decided to try the code thing again.
And this time I had an error code, a 2-5-1-1.
So between the number of presses needed and the fact that the engine has to be running to read codes, are just two more weird things about my transmission.
The tech told me that the code meant that the rig was getting no output speed info from the Output Speed Sensor. And I was VERY glad to hear this, because a bad sensor was something I could possibly replace or fix myself.
The tech was kind of surprised I wanted to crawl under the rig and work on this myself. He doesn't know me very well, does he.
He suggested I check the sensor physically to see if it was still connected and didn't look damaged from road debris, etc. So under the rig I went with my work pads.
And this is what I found.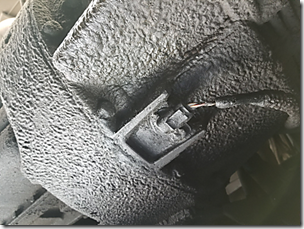 It looked OK, but I wanted to pull it apart and clean it, in case it was just bad connection. So I sprayed the area with Awesome and wiped it down, and then unsnapped the connector.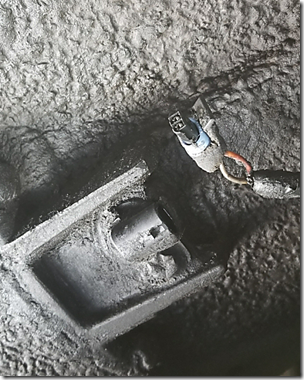 The wires looked good, so I sprayed both the socket and the plug with Strike Hold, let it sit for a few minutes, and then put it back together.
Now I was really confident I had fixed the problem. I mean Strike Hold will fix anything and everything, right? So I rolled out from under the rig, eager to give it a try.
Since I was working on the road side of the coach I set my step ladder along the side of the road to deter any close shaves. They might not have a problem running over me, but they probably don't want to scratch their paint.
And yeah, I've got some cones somewhere, but they just run over those too. I mean, look at all the dead cones you see, the life crushed out of them, their faded orange carcasses littering the highway.
But back inside and moving out, I still had the problem. So Plan B. We'll limp along the shoulder until we get to the next exit, for downtown Weed, and then park in a large lot that I had seen, and then I'd regroup. And that's what we did.
And along the way I noticed something new. I had no speed information on either my dashboard speedometer or my Silverleaf. And I had no odometer readings either.
So getting parked I was back on the phone with Spartan. I called them because they know both systems. Allison knows the transmissions, Cummins knows the engines, but Spartan knows both, or at least how they interface. And I wanted to know if the dashboard speedometer got its data from that the transmission sensor.
And yes it did.
Now I was on the phone to the nearest Allison shop, which was down in Redding 65 miles south. And yes, they did have the part in stock for $85 plus tax. So after unhitching, and parking the rig in the far corner, we were off for Redding..
I figured that replacing this sensor was my last shot at avoiding a 65 mile tow and a very large repair bill. If it's like most of these sensors, you just unplug the wire, remove the bolt, pull out the sensor, stick the new one in, then bolt, then wire. Easy Pesy.
The trip down to Redding only took a little over an hour because it's just that . . .down. Just about the entire way. And a lot of fun curves that make Jan hiss.
Getting to the Allison parts counter, I had the same oddball problem again. The sensor that the computer said I needed, did not look like mine. That one had the plug sticking straight out, but mine is at a 90° angle.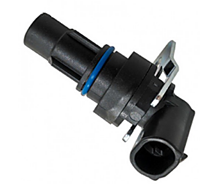 But they finally found the right one, and $91 later we were on the way back to Weed. Getting there about 4pm I called the Bend TT to let them know we wouldn't be coming in today and I'd let them know about tomorrow.
The above-mentioned Hi-Lo Diner, which was only about a block away, also has a motel and RV park attached, I figured I'd putt-putt down the hill and we'd spend the night there and I'd replace the sensor there. So after getting a site, off I went with Jan following in the truck.
And before I got out of the large lot, I noticed something. I had speed info on both the dash and the Silverleaf. Could it be?
And yes, out on the street, the rig upshifted smoothly to second, with no lights or other problems. I made the 1/2 mile journey to the park with no problems, evening hitting a large pothole that I held my breath, thinking the problem might return. But it was all good.
So did Strike Hold just take its time to fix the problem? Did gremlins figure that they'd had their fun at my expense? Did fate just want me to waste $91?
So what to do? My good friend Nick Russell thought I should go ahead and replace the sensor anyway, but I guess I'm going to just roll the dice and go for it. He's says he'll definitely say he told me so.
I guess it's about time he got to do it to me.
But we'll see.
---
Thought for the Day:
"I'm writing a book. I've got the page numbers done." ― Steven Wright
hjndghjfh