Daily Archives:
May 4, 2017
After trying a couple of more times this morning to get a satellite signal on our Winegard dome, I gave up and checked out a couple of open sites down from us.
---
---
And one of them D3, looked perfect for us. But there was another RV lurking nearby, looking like they wanted to park in the space I was now standing in. So I quickly called the office and told them we wanted to move from D24 to D3 and she said she'd switch our sites.
But not wanting to take a chance on losing the site to a squatter even though it was now assigned to us, I called Jan to walk over with the tag that goes on the pedestal.to hold the space for us.
But as it turned out the lady was not trying to steal my site, but was afraid that I was trying to steal her site right next to ours that she had already reserved at the office. We had a big laugh about it and I helped her back in her 36ft Class A coach.
Moving two sites over to our new space, I again decided to pull in straight rather than back in, giving us a windshield looking out over the open field, rather than looking at the Jayco right across the road.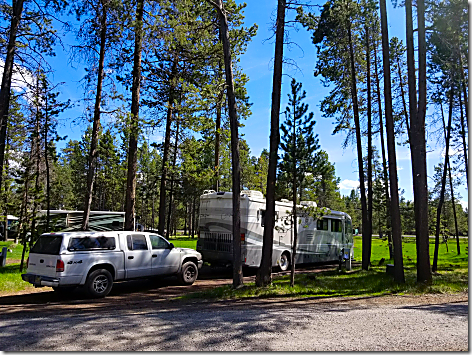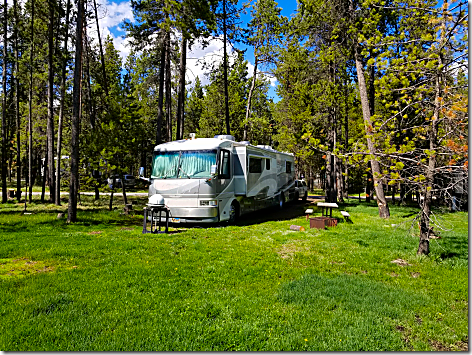 A great view, and now we have DirecTV again. Jan is giddy.
Because we got here a day late on our reservation, I'm going to add a day at the end so we'll be here for a full 14 days, and then readjust our schedule down the road.
---
---
Now to a recap on our recent mechanical unpleasantness.
No, Nick does not get a full "I Told You So."
He said Tuesday evening that I should go ahead and replace the speed sensor that night rather than have to change it out on the side of the road the next day.
First off, by the time we got back from Redding with the part and, moved the rig down to the Hi-Lo RV Park, and then had dinner, it was getting dark enough that I would have had to have some sort of lights under the rig to work.
Second, I figured that if it was going to die again it would do it very quickly. And it did. Remember as I said yesterday, I always play the odds.
I did however award Nick the coveted "You Were Right" accolade, since he did say that it was going to die again. But that's as far as I'll go.
Several readers commented, wondering why I don't have diagnostic software/hardware for problems like this.
Well, I kind of do. My Silverleaf display lets me see fault codes from our Cummins engine, but it showed no codes from the Allison transmission problem.
Of course I was able to get a fault code from the transmission at the console. That's what gave me the 2-5-1-1 code that indicated that the problem was the Speed Output Sensor.
Now as far as the full computer diagnostic package that the dealer uses, the one that everyone thought I should be hooking my rig up to before I tried to fix anything. Well, that one starts at $3200 and goes up from there depending on how many bells and whistles you want.
So, no thanks.
I can throw a lot of parts at a problem before I come anywhere near that amount.
---
---
BTW When you leave a blog comment, please leave your real email address. No one can see them but me, and I don't do anything with them. I do however often use them to reply to your comment via email, as well as on the blog itself. I regularly email someone back and it bounces with an incorrect address.
A few days back, I posted this photo from Truck Village just south of Weed,
CA.

As I said these are in-service fire pump truck that are assembled on site for CalFire. The owner just likes bright colors.
But it's kind of hard to get a good look, so I thought I post this Google Satellite View.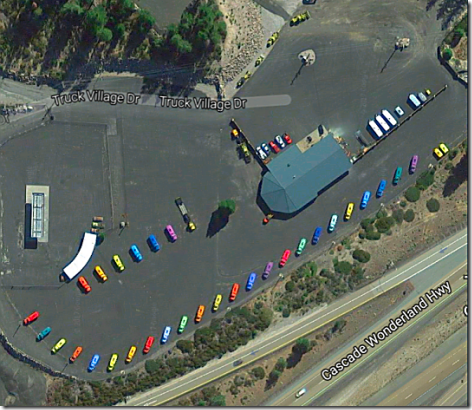 A lot more colors from this angle. Supposedly there are not two trucks exactly the same color.
We've got some wild weather coming up while we're here. Yesterday and today's high was in the low 80's, but tonight it's going down to 47°.
Then for the next two weeks we've got most days in the 50's and 60's and nights in the high 20's and low 30's.
And a chance of snow later in the week.
---
Thought for the Day:
"Sometimes by losing a battle you find a new way to win the war."

gsdfgsfdg