Daily Archives:
May 8, 2017
OK. Despite what yesterday's blog said, it's Karma, not Emma.
---
---
I guess my only excuse is that for the first year we kept calling her Emma out of habit, and she wore one of Emma's old tags, because it did have our phone number on it.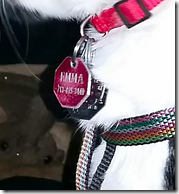 And of course, both names end with 'ma'. Yeah, that's the ticket.
We finally did get Karma her own tag at the Escapade back in March, when we had the Two Crazy Ladies make one for her.
Later in the morning our next door neighbor came by with some delicious homemade Gingerbread Banana muffins.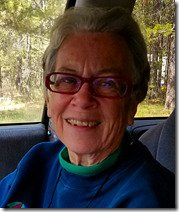 And we know they were delicious because we each had one for lunch. While she was here we made plans to have dinner down in La Pine at the Cinco de Mayo Mexican Restaurant sometime later in the week.
Next up was to see if I could get the bracket down that holds our Sony rear camera monitor. And by taking the TV and the DirecTV DVR I was able to finally get that last screw out.
---
---
And in doing so, I may have discovered where the noise is coming from. The bracket was cracked through two of the five screw holes which may be causing the 'popping' sound as we drive.
But I thought I'd go ahead and try to shockproof everything by cutting up a large rubber washer and placing it between the bracket and the overhead panel.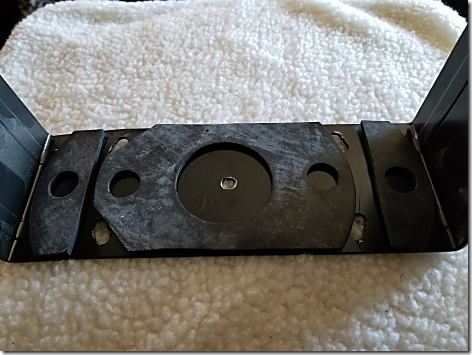 Then I put smaller rubber washers between the monitor and the bracket.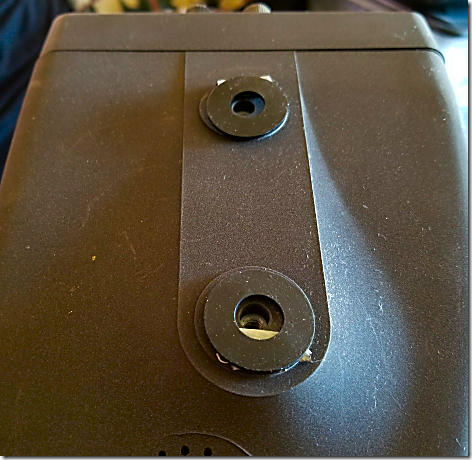 Then I put it all back together. But of course I won't know if my fix works until we're back on the road on May 17th. If doesn't work I'll probably have to have the bracket cracks tack-welded. But we'll see.
About 3:30 we headed into Bend to have dinner at Baldy's BBQ, another of our favorite local places. But first we made a detour by the local Dodge dealer to try and get a new coolant recovery tank cap, but no luck. They didn't have them in stock.
---
---
Getting to Baldy's I was planning to order their delicious ribeye, so I was disappointed to find out that they no longer offer it on the menu.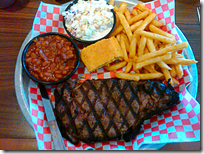 So Jan and I went to their strength. It is a BBQ place after all.
Jan got the full rack of ribs with Fries, Beans, and Mac N Cheese.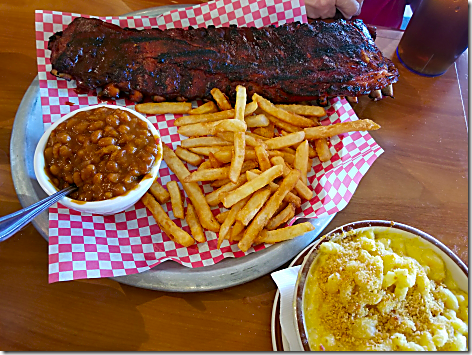 I went with the BBQ Combo with Beef Brisket, Pulled Pork, and Smoked Ham, along with Salad, Beans, and Corn Pudding.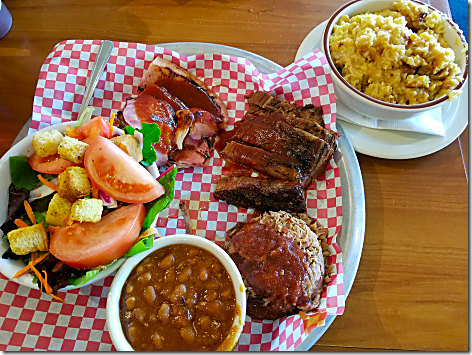 All really, really good, and of course, plenty of leftovers.
Coming home about 6:30 we stopped off in Sunriver to get a car wash. As usual when we're in the mountains and are using the PacBrake we got a fine mist of oil on the truck due to blow-by. Unfortunately the car wash didn't do a very good job so I guess I'll have to redo it by hand.
Tomorrow I'm going to pull the motor out of the rig step and see if I can figure out what the grinding noise is, and if I can fix it.
---
Thought for the Day:
"Get your facts straight first, then you can distort them as you please." – Mark Twain
sdfasdfasdf