Daily Archives:
May 24, 2017
By 'Back Home in South Dakota', Jan and I have been official South Dakota residents since March 28, 2008.
---
---
We bought our 2004 Dodge Dakota toad in Pearland, TX on December 15, 2007, and our 1999 American Eagle coach in New Braunfels, TX on December 28, 2008. But we didn't register them in Texas, but in South Dakota.
I had already established an SD address with MyDakotaAddress in Madison, SD so all I had to do was to send them my bills of sale and other paperwork, and a week or so later I received my tags in the mail.
At that point we had 90 days to actually get to South Dakota to get our Driver's Licenses, which we did on March 28th on our way to Alaska. And to do this, we drove from Billings, MT to Sturgis, SD on the afternoon of the 27th.
Unfortunately we had to make the trip in the middle of a snow storm. In fact it got so bad that I think the only way we made to Sturgis was that we were able to follow a snowplow into town. We spent the night in a motel, planning to got down to the community center the next morning to get our licenses.
---
---
But the next morning, we came out to this.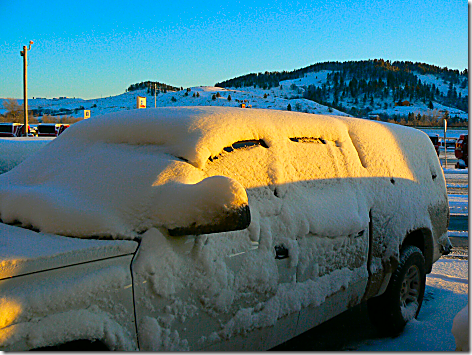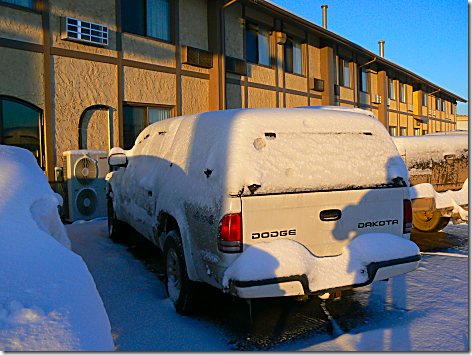 That's ice, solid ice. It took me almost an hour to chip my way into the truck.
Because they have so many small towns out in the middle of nowhere, South Dakota has traveling licensing offices that move around the state on a regular schedule. And in this case they were in Sturgis on Friday, March 28th.
The traveling office consisted of two ladies and six big equipment cases, about 3' x 3' and about 18" high. The cases contained everything they needed to process and check your old licenses, administer the vision test, and then print and laminate our licenses. So 45 minutes later, after filling out our voting registration forms, we were on our way back to Billings, early enough that we thought about detouring out to see Devil's Tower, but the roads out there had not been plowed yet.
---
---
Around 4pm we drove into Rapid City to have dinner at Buffalo Wild Wings. Our last visit was in Las Vegas a month or so ago so it was about time. Unfortunately we missed Half Price Wings Tuesday, but it was still delicious. Just a little more expensive.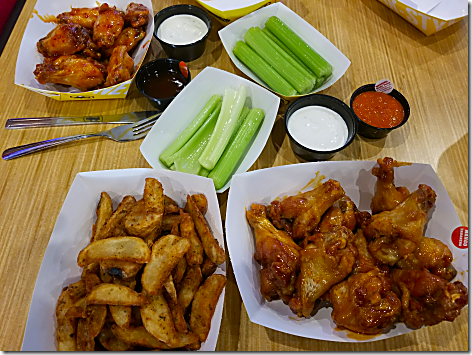 Jan got her wings with Asian Zing Sauce and a side of Mango Habanero while I got mine with Mango Habanero and a side of Blazin', their hottest sauce.
One thing I like about BWW over Hooter's is that they don't nickel and dime you. I got my wings all drums, and also asked for an extra Ranch dressing. Both would have been extra cost at Hooter's, but not at BWW.
Tomorrow we're driving down to Hill City to ride the 1880 Train from there to Keystone and back, a two hour round-trip. Leaving at 1:15 and back at 3:30, we'll then have linner at the Alpine Inn, a well-known German restaurant in the area.
We chose to ride one of their steam locomotives rather than the diesel models.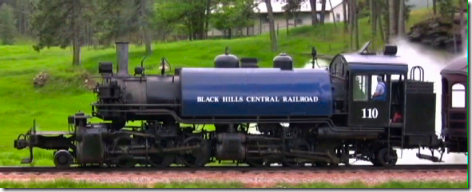 It will be interesting to see if they're still using the original link-and-pin coupler, or the Miller hook & platform on the passenger cars. But it will probably be the Janney coupler, since they also have to hook up to the more modern diesel.
---

Thought for the Day:
The Road To Hell Is Not Paved With Good Results.
dghdghdgh
.