Daily Archives:
May 27, 2017
It was really nice to sleep in this morning, snuggled in with our heated mattress pad. We both sleep a lot better when the bedroom is really cool, which works well with 40°-50° nights we've been having.
---
---
A number of other rigs starting moving in yesterday, I guess for the holiday weekend. There were only about six rigs when we got here, but a bunch more now.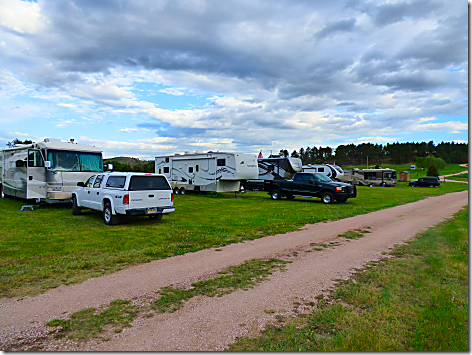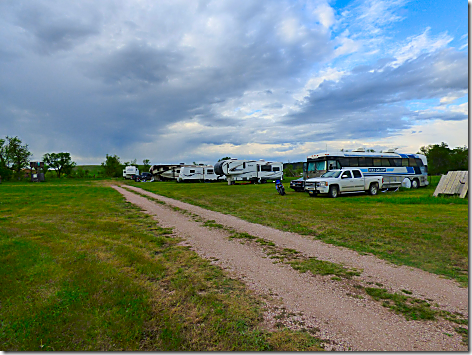 And there's more rigs here than what you can see in these photos.
---
---
In addition, when we got home we found a note on our wipers from Dave and Joanne, a couple who were parked next to us a week or so ago when we overnighted at the Pioneer RV Park in Hermiston, OR. They're here in the park so we'll try to hook up with them tomorrow.
A little after 3pm Jan and I headed in to RC to have linner at local Fuddruckers. We did stop off at the park office to re-up for our second week here. Then it was on to the Fuddruckers in Rushmore Mall. It's been a couple of years since we've eaten at Fudd's. Don't know why it's been so long, since it's always good.
My favorite is their 8 oz. Ribeye Sandwich, a tender, juicy cut of meat. I got mine with bacon, and then added mayo, tomatoes, sliced onions, and pickles. And we split an order of potato wedges.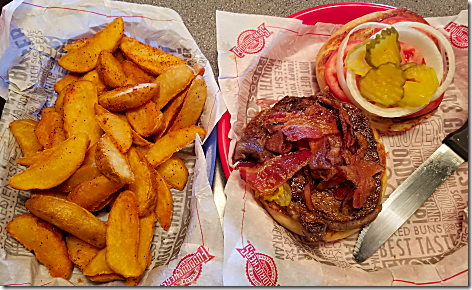 ---
---
Jan went with a 1/2 pound burger, with grilled onions, grilled mushrooms, and guacamole, as well as other fixing's.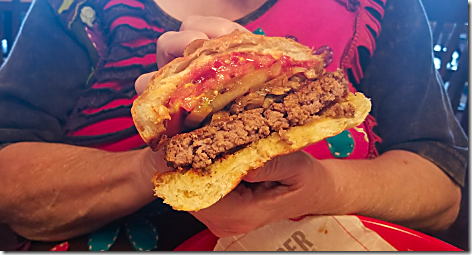 Very good, but the service was a lot slower than we've experienced in the past.
Our next stop was a nearby Books-A-Million so Jan could look for a couple of magazines she wanted, but no luck. Our next stop was supposed to be Lowe's, but we decided to save it for another day, and head on over to Wal-Mart for some groceries.
Then it was home for the night.
One thing I noticed kind of funny is that there is only a Lowe's here in RC, but no Home Depot. Seems like usually they're located within sight of each other.
Tomorrow we'll stay home and try to avoid all the holiday hoorah. Jan fixed up a big batch of her famous chili so we'll have that tomorrow and maybe Monday,

---

Thought for the Day:
"You know, the very powerful and the very stupid have one thing in common. They don't alter their views to fit the facts, they alter the facts to fit their views. Which can be uncomfortable if you happen to be one of the facts that needs altering." – Doctor Who
asdfads