Daily Archives:
May 7, 2017
Well, with 20° last night, we survived our 3rd lowest temperature since we've started RV'ing. But it was sunny and 52 today. So, nice.
And tonight's supposed to be 29 with a 66 tomorrow.
---
---
The lowest temp we've encountered was in April 2008 when it was 6° while we were at the Riverfront RV Park in Garrison, MT. Not unexpected, as just a couple of days before we had this in Billings, MT.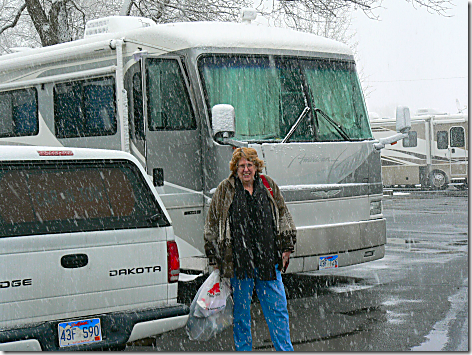 Our 2nd lowest was 17° a few winters back when we were staying at Galveston Bay RV Park down in Dickinson, TX south of Houston. But with all these, we've never had any problems with anything freezing.
---
---
About 1pm I walked over to the park office to pick up our revised car tag and pedestal tag reflecting our one day extension to make our stay here a full two weeks. We lost a day due to our transmission problem down in Weed, but we had enough slack in our schedule to make it up.
The other thing I was trying to find out if they had any suggestions about how to receive Amazon packages here. The park itself will accept nothing, no mail or packages of any kind. And there are no Amazon Lockers in this area either.
Bend/Sunriver TT is completely at odds with the Las Vegas TT, which accepts any kind of packages, and even calls you when they come in.
I'll check some of the mailbox stores in Bend tomorrow, but I've never had much much luck with that. It seems like they want you to get a PO Box for mail, but Amazon won't ship to a PO address
And many of the mailbox stores are affiliated with either UPS or FedEx and won't accept packages from the other one. So we're stuck until I work something else out.
I do know that when we were here in 2011 and 2013 that they did accept packages, but don't know when it changed.
---
---
Later in the afternoon I tried to take down the bracket that holds Sony rear camera so I could remount it using rubber washers to hopefully eliminate the rattle when we're on the road. But as seems to always happen, out of 5 screws, only 4 would come out.
The remaining screw either came pre-stripped from the factory, or a previous owner had wallowed it out for me. So tomorrow I'll have to take down the TV so I can get a better angle at it, or drill it out if necessary.
Friday I called Jay with Allison Transmission to thank him for all of his help, and to tell him that replacing the sensor had fixed the problem. He was really patient helping me work through the problem, and more importantly, didn't question my sanity because I wanted to replace the sensor without hooking the transmission up to their diagnostic computer first.
I also made a couple of more reservations for our upcoming travels, all of them under Passport America. By the end of this segment of our trip finishing up back in Houston toward the end of June, we will have saved over $1000.
Not bad for $44 a year.
Several readers have asked for an Emma update.
She's really mellowed over our last few months of travel. When we first took her in, she would run and hide as soon as she heard the rig engine start up.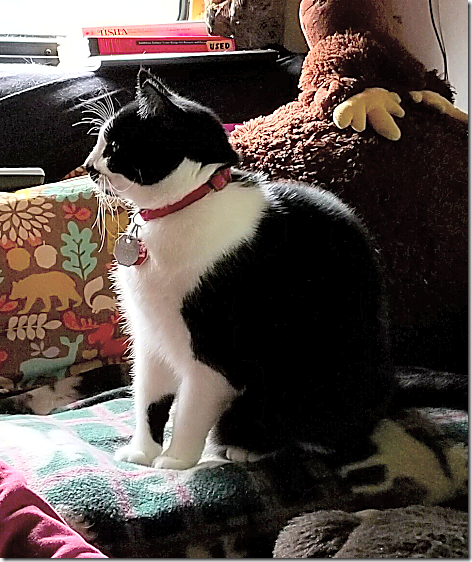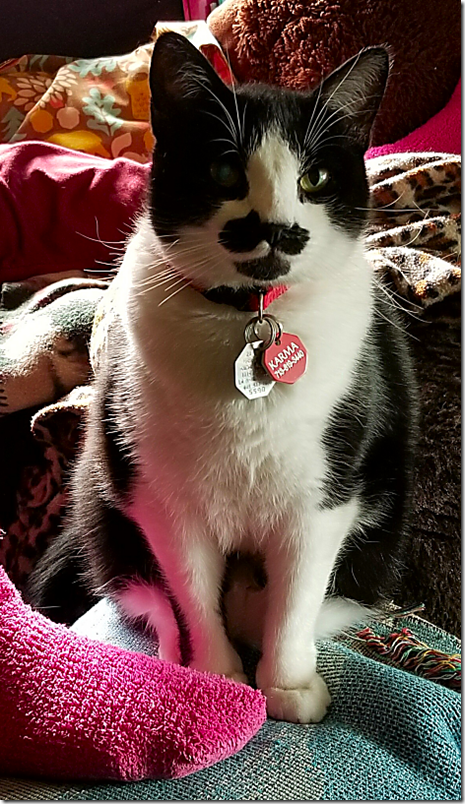 Now she is normally out and about when we're on the road, sometimes sleeping on the rug on the floor between our chairs.
---
Thought for the Day:
AOL News Headline Yesterday –
"Horse Wins Kentucky Derby!"
And they were expecting maybe, turtles?
dghdgh