Daily Archives:
May 30, 2017
It went down to 36° last night, but was up in the mid-70's today. All in all, very nice.
---
---
About 5pm we headed out to meet Dave and Jeanne at the local Buffalo Wild Wings for dinner. They had been doing Deadwood today, a destination for us in the next few days.
Jan and I went with the same order as last time, traditional wings, hers with Asian Zing, and mine with Mango Habanero, as well as an order of Potato Wedges.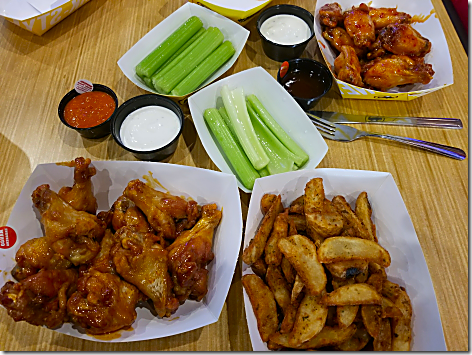 As we got to talking, it was almost scary how many likes we have in common besides RV'ing, like Dr. Who, murder and historical mysteries. drones, computers. and more.
---
---
As usual when RV'ers get together, we spent more time talking than we did eating, probably a good thing on my part. In fact we had been there almost 3 hours before we left. Had a really great time.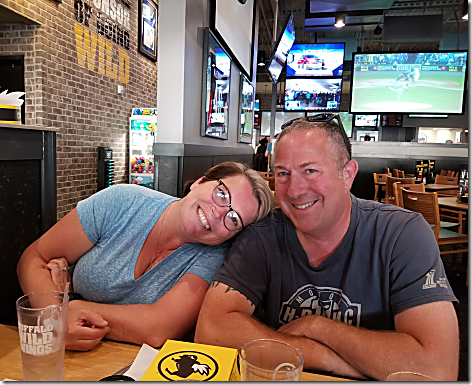 Hopefully we'll be able to get together again before they leave on Saturday.
Jan has been nursing the remains of a migraine for a couple of days, so tomorrow is up for grabs. If she does feel better, then we'll head out about 9am, first heading down to Bear Country USA, a drive-thru wildlife park down near Mt. Rushmore. Then it's right next door to Reptile Gardens for a visit there.
---
---
For lunch we'll then head back down to Hill City to get our German food fix at the Alpine Inn, Then maybe back to the Dinosaur Museum nearby, before heading back home.
Supposedly I have an Amazon order coming into the park tomorrow afternoon. I ordered a Samsung Wireless Charger for my Galaxy S8+.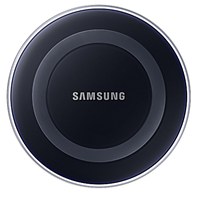 You plug it into a power source and then all you have to do just lay your phone on the circular pad. No connecting it up. And even better it charges faster than the regular way. And it should also work on Jan's S5 too.
And it's only about $17.
---

Thought for the Day:
"The bravest are surely those who have the clearest vision
of what is before them, glory and danger alike, and yet
notwithstanding, go out to meet it." – Thucydides
kljljlkj