Daily Archives:
May 18, 2017
Finishing up on yesterday's trip from Bend/Sunriver to Hermiston.
---
---
One reader asked why we were traveling with full waste tanks, and what we would do if we had to boondock along the way if our tanks were full. Well, there were several reasons for doing that.
1. Due to all the wet/snowy weather recently at the Bend/Sunriver TT, there was only one dump station available for use for the entire park, and people were complaining of 30-60 minutes waits to dump when everyone was leaving in the morning.
2. I wasn't feeling very good and we were already running late anyway.
3. I use times like this as an excuse to clean my black tank. Before we headed out I dumped two big scoops of cheap, powdered laundry soap, a capful of Calgon water softener to help cut the grease, and several big squirts of Dawn in the toilet and flush it down.
Then all this sloshes around during the trip, breaking everything loose. And no, I don't put a bag of ice in the tank. A 10# bag of ice in 40 gallons of room-temp liquid will be gone in just a few minutes.
Then when we get to the next park, I hook up to the sewer and dump the black tank. When it's about finished, I connect the shore water hose to our rig's built-in flush system and turn it on full blast. I have a clear 90° elbow in my system and I'm always amazed at how much more 'stuff' comes out as I'm doing this that didn't come out by dumping alone. I do this once a month or so.
4. Although I said the tanks were full, and effectively they were, we still could have gone another day or so boondocking if necessary with no problems.
---
---
Despite my not feeling well, it actually was a very nice trip with a lot of great scenery along the way. The only downsides were a couple of really long climbs and the very gusty high winds swirling around through the canyons. You never knew which direction the next gust was going to come from.
I guess the high winds explains the miles of wind generators we saw along the way, all flailing around like pinwheels.
But finally at Biggs, OR, US97 dumped us down into the Columbia River Gorge and I-84E. And there we encountered one of those rarest of rarities. Something that some RV'ers brag about, like the size of the fish they caught, and none of their friends believe them.
It was a genuine tailwind.
I first noticed it when I looked at my Silverleaf display and saw I was getting over 30mpg, and we were running level at 60mph. Then a few minutes later I pulled over to take some photos and when I opened the door the wind pulled me out so hard it almost dumped me on my face in the dirt.
But we did have some spectacular views.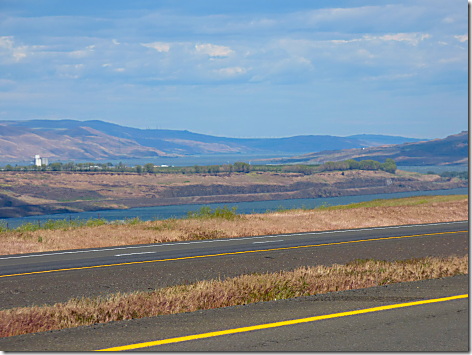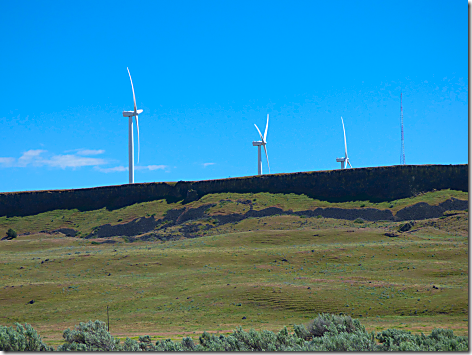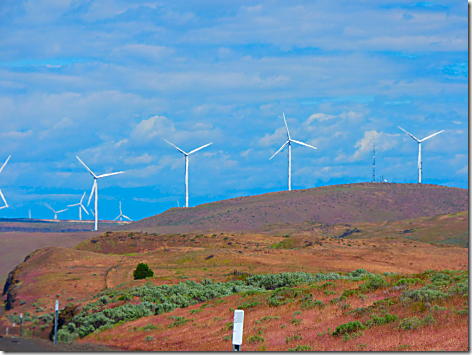 We never did figure out why this is planted this way. No sign of a house or anything else.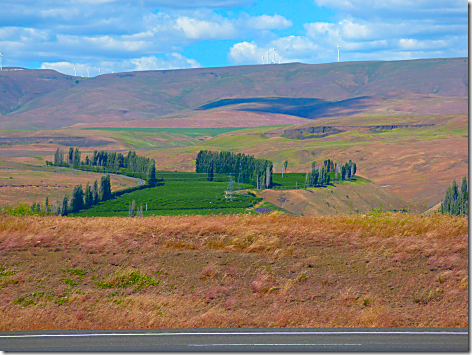 We pulled into the Pioneer RV Park in Hermiston about 3:30 and I got us set up in a nice long pull-thru so we didn't have to unhitch. Then after we had our left-over Baldy's BBQ for supper, I took some aspirin and went to bed for a few hours.
When I woke up about 8:30 I was feeling a lot better, but just washed out. Don't know if I had some stomach bug, or what, but Jan was just fine.
I did feel OK this morning, so I guess it's passed, whatever it was.
---
---
After a nice night, we pulled out of the Pioneer RV Park in Hermiston a little after 10am and were quickly out on I-82 and heading north toward Coeur d'Alene about 205 miles away.
As several people had told us, Pioneer is a very nice park, $20 per night Passport American with 50amp full hookup pull-thrus, long enough that we didn't have to unhitch the toad. Since we didn't plan on going out for dinner, that worked fine.
And be sure to call ahead to let them know you're coming. They're either full, as they were last night, or almost full, every night.
Our trip today turned out to be a very smooth, very scenic trip with good roads the entire way, passing through 3 states, Oregon, Washington, and Idaho along the way.
I'm still kind of confused by this dump station located at one of the rest areas we stopped at along the way.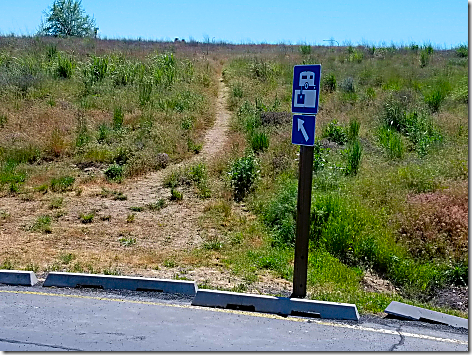 Guess you need a really long hose and a good pump.
We pulled into the Coeur d'Alene Elk's Lodge about 2:30 and were quickly greeted by the on-site host and led to a nice grass-covered site, a pull-thru with 50amps and water, but no sewer.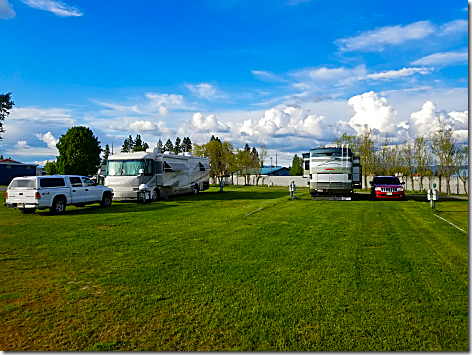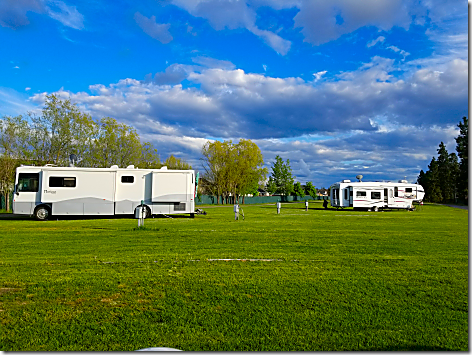 But since we dumped last night at Pioneer, that won't be a problem.
We plan on staying here two nights before heading on to Garrison, MT for a night, and then on to Billings, MT.
On our way here we had planned to have dinner at The Cedars, a high-end steakhouse that floats on the Spokane River. We last ate here in 2010 and it was really, really good. Well worth the high price.
But when I went on Yelp this afternoon to check their times, I was struck by all the bad reviews, leading to only a 3-1/2 star rating. Reading further, I found that they were now under new ownership, and things had gone downhill quickly after that – bad food, cold food, bad service, being seated an hour later after getting there 15 minutes early, and a 9" hair in the salad bar.
Considering that their Ribeye is almost $40, we quickly had second thoughts. Scrolling down the Yelp listings, I came across the Texas Roadhouse listing. Besides being only about 2 miles away, it had a higher rating than the Cedar's.
So Texas Roadhouse it is.
We've never had a bad steak, or a bad meal, at Texas Roadhouse, and tonight was no exception.
Jan got her standard 12 oz. New York Strip while I got my go-to 16 oz. Ribeye.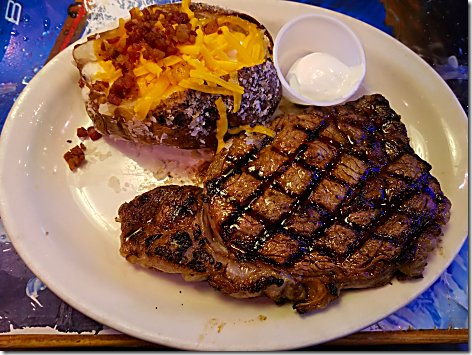 Great salads to, as well as great service. And Jan's and my steak together were the same price as my Ribeye alone would have been at the Cedar's.
A great choice. And a lot cheaper.
Coming home we got maybe the best car wash we've ever had, getting a lot of built-up dirt off.
Tomorrow we may head up to Sandpoint and drive around the area some. Plus Jan wants eat at Tomato Street Italian Restaurant once again.
---
Thought for the Day:

A Boy and his Dog.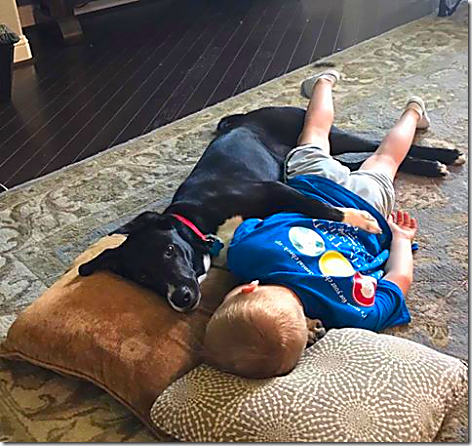 Or is it A Dog and his Boy.
dfgsdfgsg