Daily Archives:
May 6, 2017
It was down to 34° last night, with a high of only 47 today, but it was sunny and pretty nice.
---
---
Tonight however is probably another story. No snow, but depending on who you listen to, it's either going down to 27 or 25°. Either way I'm disconnecting shore water this evening before the freeze.
So for that reason I went outside and topped off our fresh water tank this morning to get ready for tonight. I also unloaded the backseat of the truck before we head out for lunch
As I said yesterday, blog reader Mary Burge had recommended The Sparrow Bakery up in Bend, so we had invited our neighbor Dina Pickens to ride along with us.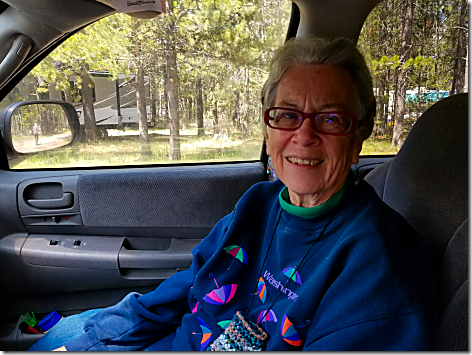 Dina was the Rv'er that I thought was trying to poach the site I was trying to move into yesterday, and she thought I was trying to snipe hers. So we ended up parked next to each other.
We picked her up about noon and made our way into Bend and the bakery.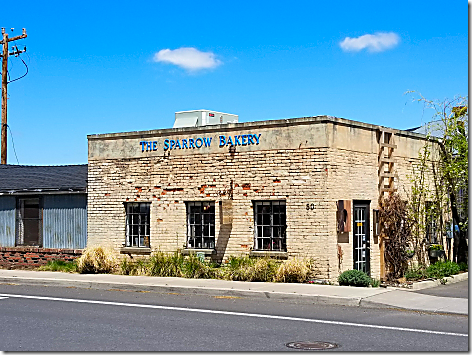 It's a small place and was pretty busy, but we were lucky enough to find an table immediately.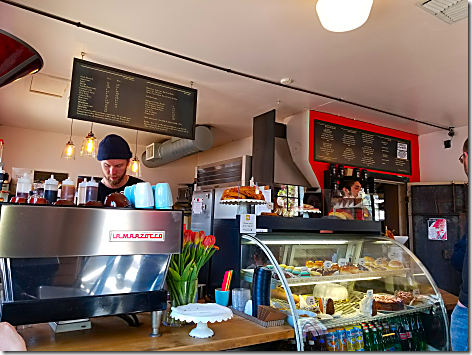 Jan started off with a cup of their Clam Chowder,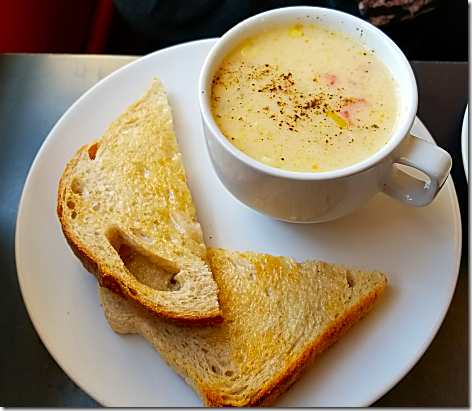 or maybe not. She was pretty sure she actually got their other Soup of the Day, Creamy Chicken. But she said it was good, anyway.
---
---
Dina and Jan both got the Chicken Waldorf Sandwich with grapes, apples, blue cheeses, walnuts, celery, green onion, tarragon, & greens served on a made-in- house croissant.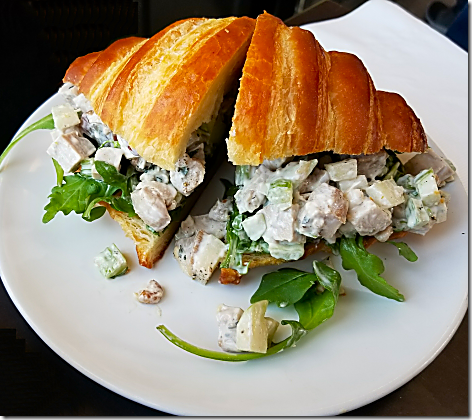 I started out with a large Cardamom Latte, the first latte I've ever gotten with the leaf pattern. And really good.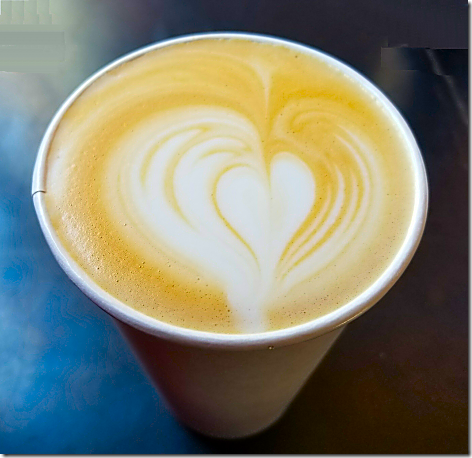 I got their Bacon Breakfast Sandwich with a poached egg, bacon, avocado, arugula aioli, Havarti cheese, and served on a made-in- house croissant..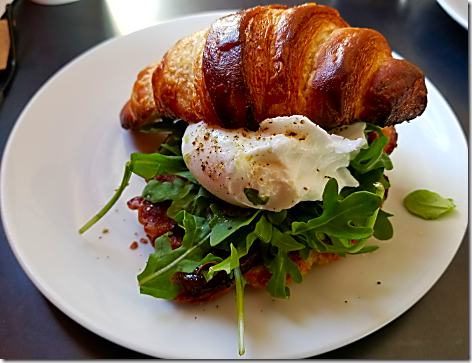 As Mary had said, the food was delicious, and we had a great time getting to know Dina (pronounced like Dinah).
She's a solo RV'er who drives a 36ft Gulfstream Crescendo FRED (FRont End Diesel) and tows a car and has been RV'ing for over 20 years.
---
---
What was really funny was all the same TT parks we had both been to, and all the same people we both know at Colorado River and Lake Conroe in the Houston area.
Finally coming home, we stopped off to get gas for the truck, enjoying the $2.55 price over California. And forgetting I was in Oregon, I started to get out to fill up.
Oregon, along with New Jersey, are the two states that do not allow you to fill your own tank, for gas at least. Diesel RV's are a different story.
About 9 this evening I went outside to disconnect shore water. At that time it was already 33°.
For dinner tonight we had mugs of last night's delayed Bean with Bacon Soup.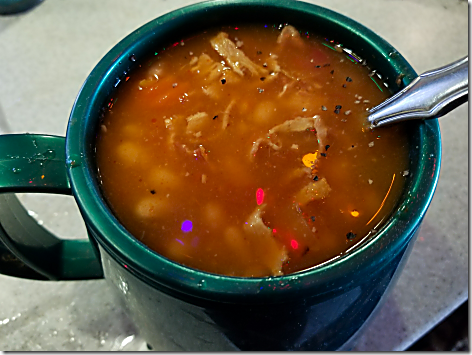 It was delicious and worth the wait.
This afternoon I took down our Sony rear camera monitor to find out why it rattles when we're on the road.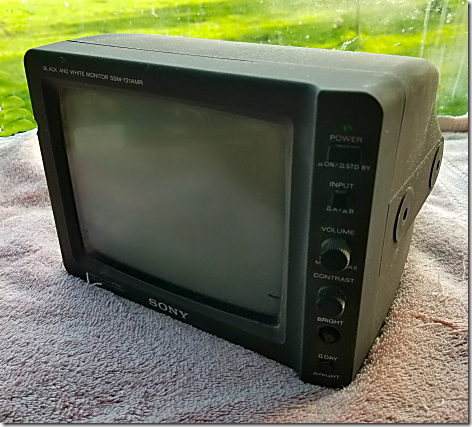 Shaking it or wiggling it didn't make a sound, nor does shaking the monitor itself. So I going to shockproof everything with rubber washers to see if that helps. I've kind of been waiting for it to die so I could replace it with a LCD monitor, but it just keeps rocking along. Now if I can just make it quieter.
---
Thought for the Day:

Beer Is Better Pain Reliever Than Tylenol, Study Finds
Comments found online:
They had to run a study to learn this?
It still hurts. You just don't care anymore..
It makes women prettier too.
Is there anything it can't do.
gsfgsdfg