Daily Archives:
May 16, 2017
Please remember, Our RV Adventures is an Amazon affiliate. When you do your shopping through any of the Amazon links here, including the Search Amazon box in the right sidebar, it won't cost you any more, but we'll get a small commission on everything you buy. Just click on the Amazon link, then shop as usual. Thanks.
Plus, many of you are sharing our blog with others using the "Share this:" buttons at the bottom of each blog. Again, Thanks.
---
---
It has been really windy all day, as high as 30mph. And since the temps just barely made it up to 45°, the wind chill stayed down in the low 30's.
We had more snow forecast for this evening, but it came early, around 2pm this afternoon, It only lasted about 10 min, and since it was 41°, it didn't stick. So we'll see how it goes this evening.
And now a little before 8pm it's snowing hard, and sideways due to the high winds. So far it's been going on for almost 45 minutes. And some of it actually stuck. A little.

I spent the morning adjusting our upcoming travel schedule, adding a day here, deleting a day there, to try and match up our PassPort America stays with the valid PPA days for that park. Mostly this consists of staying away from Fridays and Saturdays. But there are a few that are different.
About 4pm we headed into Bend to have one last dinner at Baldy's BBQ, whose large servings will give us leftovers for tomorrow night's dinner in Hermiston, OR. Nice since we'll be in a long pull-thru and won't have to unhitch.
On the way I was glad to see that the weigh station was closed to trucks, so hopefully it will be available for us tomorrow on our way into Bend.
---
---
One thing I did along the way was to pick up a bottle of Diesel Kleen from Auto Zone. Since we're getting diesel at Fred Meyer's tomorrow before we leave Bend, I wanted to add it then.
One thing that jogged my memory to do this, which I do about every 3rd tank, was a radio ad that said that Cummins now approves and recommends Diesel Kleen for its engines. So I assume that's the same for you people running CATs too.
I've been using it for 4 or 5 years since several oil field truck drivers recommended it to me and said their company used it in all their trucks.
At Baldy's Jan got her usual full rack of ribs,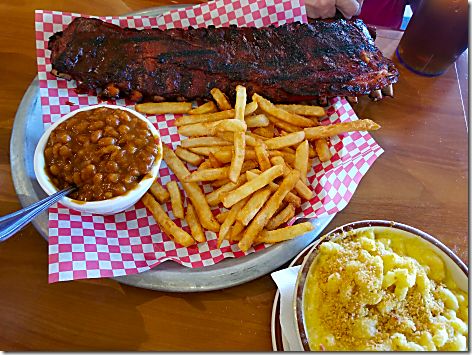 while I changed course and went with the Beef Brisket Platter with Salad, Chipotle Potato Salad, and Baked Beans.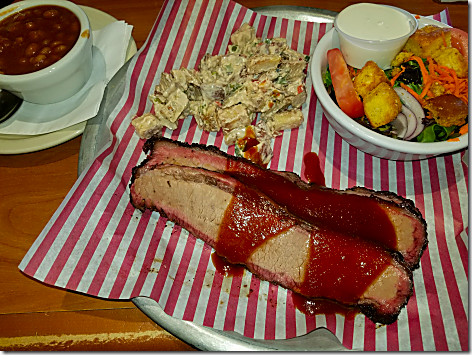 Just as good as always.
Coming home we stopped by the Fred Meyer's to get gas for the truck and double-check our routes in and out for the rig tomorrow when we fuel up and hitch up. But getting gas reminded me of one of the few reasons I don't like Oregon.
You can't fill your own tank. In this case it took us over 20 minutes to fill up. They only had two guys handling 24 pumps (4 lines x 3 pumps per line x 2 sides to each pump), and since they had the lanes coned off, there was no way to pass around the rear vehicle still gassing up, so you got to set there and watch the two front pumps set empty.
In Texas I would have been in and out in 5 minutes. Just stupid.
---
---
The other thing I finding frustrating concerns Bend itself, and the problems with the signage they allow. Apparently their zoning only allows very small signs, and none in store windows it seems, Which makes it very hard to find the address you're looking for, especially since many streets are lined with trees, making it even more difficult.
We drove pass one place 3 times before we were able to see the small sign.
Readers will remember that about three weeks ago, right before we left Las Vegas, I upgraded my Galaxy S5 to an S8+, and my 3G aircard to a Jetpack 4G MiFi, all with unlimited data.
Of course everyone knows that 'unlimited data' only means 10GB at 4G before you are throttled back to '3G' for the rest of your billing cycle. But I have this covered because once my MiFi maxes out at 10GB, I switch over to my S8+ for another 10GB, and then Jan's S5 for another 10. So I'm covered for a total of 30GB.
Now that should be more than enough because on my old 3G aircard I normally used 20 to 25GB per month. So why is it that in my first 8 days, I used 10GB on my MiFi without any change in my usage. And this is something I've heard other people complain about.
Why are they using more data on their 4G MiFi even though they're doing the same things as on their 3G aircard?
So when is 3G not 3G?
Apparently it's when Verizon throttles your 4G back to '3G' speeds at the end of your 'unlimited data'.
Since I have 4 lines as part of my package, I actually still have my 3G aircard for my use. So noticing that my throttled-back 3G seemed slower than my normal 3G, I made a comparison.
Checking several times during the day, I found that under my 3G aircard, I'm showing between 1.0 and 1.3 Mbps, which is pretty normal for me around the country.
But when I access SpeedTest.net using my throttled-back MiFi, I show a consistent 660 kbps, less than 2/3 of the aircard's speed.
Now I wonder why that might be.
---
Thought for the Day:
"The reason for the unreason with which you treat my reason , so weakens my reason that with reason I complain of your beauty." ― Miguel de Cervantes
sdfgsdfg