Daily Archives:
May 11, 2017
Please remember, Our RV Adventures is an Amazon affiliate. When you do your shopping through any of the Amazon links here, including the Search Amazon box in the right sidebar, it won't cost you any more, but we'll get a small commission on everything you buy. Just click on the Amazon link, then shop as usual. Thanks.
Plus, many of you are sharing our blog with others using the "Share this:" buttons at the bottom of each blog. Again, Thanks.
---
---
Jan was still nursing a migraine today, which was why we didn't do Wal-Mart yesterday after the movie and Red Robin. So we just stayed around the rig today, especially since it was rainy and cold, with the temps barely inching into the 50's before quickly falling back into the 40's, heading to the low 30's, maybe 20's tonight.
Our snow for tonight has gone away, but is still a possibility for tomorrow night.
A few days ago, on our way into Bend, we drove through our favorite weigh station to be sure it's still in operation.
When we were first here in 2011 we noticed this weigh station never seemed to be open, and in fact, we've never seen it manned. Though occasionally there will be a truck parked there.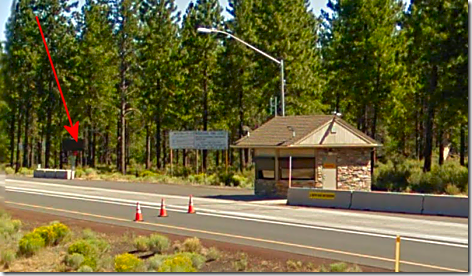 But although it's never open, the electronic scale is always active.and will give you your rigs weight as you drive though. But unlike the CAT scales, it's not full length. So you have to drive onto the scale one set of wheels at a time, front wheels and then the rear ones. If you aren't towing, you could then back up and pull through again, weighing only the right wheels. Thus giving you the rig's side to side weight.
And unlike the CAT scales, it's free. Our kind of deal.
---
---
As I mentioned a few weeks ago, while we were in Las Vegas, I upgraded from our decade-old 3G aircard to a 4G MiFi. And being much faster, we can now consistently stream programs from the internet. We often could on our 3G card also, but it was really hit or miss, depending on signal quality.
But now we've been able to catch on some missing episodes of our favorite TV programs. For example, we were big fans of Rizzoli and Isles and were sorry to see it go off the air. But we had never watched the final episode, though we had recorded it and still had it on the DVR.
But somehow we missed recording the 2nd to last episode. maybe due to bad weather, I don't remember. But the other night we streamed the missing episode and then watch the final one. It was nice to not have to work around commercials, and the video was rock steady with nary a glitch. Nice.
I did nail down one more reservation this afternoon, this one for the Billings Trailer Village RV Park, in, where else, Billings, MT. We stayed here in March 2008 while we were visiting a friend while on our way to Alaska.
And then we stayed here again on our way back. And both times we got snowed in.
Here's the park in March.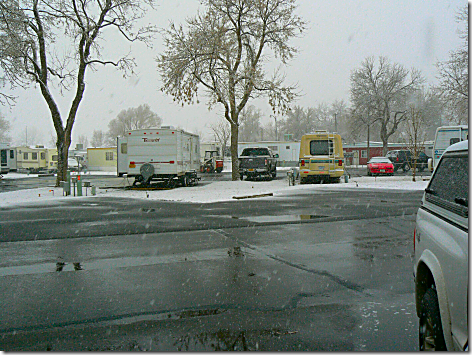 And here we are in October.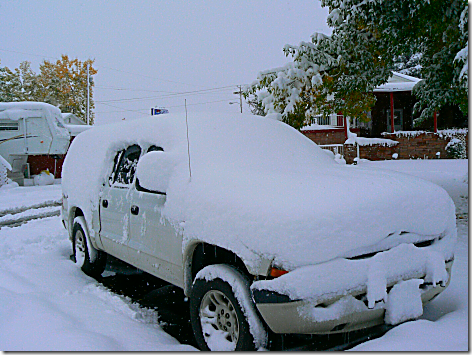 You'd think after all this we wouldn't keep going back, but we've stayed there a number of times since then, even though our friend no longer lives there.
---
---
On the subject of Alaska, our friends Chris and Charles Yust are on their way up to the 49th state and recently posted this from Watson Lake, BC, the home of the Sign Post Forest.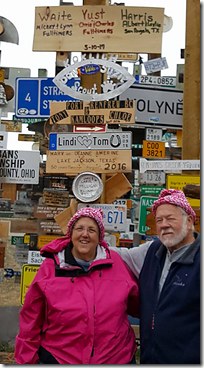 Here's what we saw in April 2008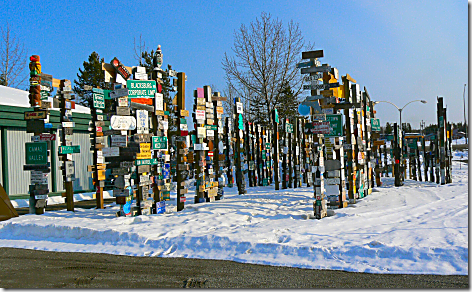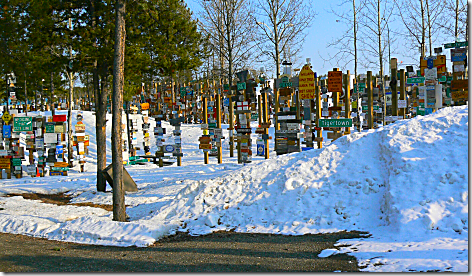 Although we didn't leave a sign, Jan has a sign out there somewhere from1958 when her family drove from Orlando, FL to Fairbanks when her father was transferred to then-Ladd AFB.
But since the snow was several feet deep in places, we didn't go looking for it.
Wrapping up, I've seen several posts on Facebook from RV'ers wondering what to do about the condensation on the windows and other surfaces in their RV during the winter. They said all the windows were dripping, and in some cases, even the cabinets.
We too had this problem when we first started RV'ing, especially in the bedroom. Jan would put out several containers of DampRid trying to control the problem with not much success. If you've got everything sealed up tight, the moisture from cooking, washing, showering, and even breathing lingers and condenses out on every cool surface, windows and outside walls. But finally we discovered the secret.
Leave one or both of your vent fans partially or fully open without the fan running. Yes, you will lose some heat, but you will also lose the moisture. Since we started doing this years ago, no more condensation problems.
About tomorrow, we'll see.
---
Thought for the Day:
"The reason for the unreason with which you treat my reason , so weakens my reason that with reason I complain of your beauty." ― Miguel de Cervantes
ggsfgg