Daily Archives:
May 5, 2017
Last night it went down to 45° here in Sunriver,, peaked at 58° about noon, and then started falling, heading for 31° tonight. And then 24 to 28° tomorrow night. Brrrr!
---
---
On the other hand it was 107° today in Apache Junction. So our temps here don't sound so bad now.
It's easier to be cold and get warm, than it is to be hot and get cool.
About 3pm I decide to use the jacks to level the coach. We were pretty level when we parked yesterday, but the ground was soggy, and with more rain last night, the coach has settled somewhat.
So first I cranked up the rig and then lowered the jacks enough to make a depression in the soft ground, making it easier to position the pads. Next, after getting the pads in place, I lowered the jacks again and got us level. It's nice to not be walking with a tilt again.
Finished with that, I dropped off some garbage at the nearby dumpster and then walked next door to see if our neighbor wanted to go brunch with us tomorrow.
Blog reader Mary Burge told us about Sparrow, a restaurant/bakery in Bend, and after checking on Yelp, decided it was a place we wanted to go.
---
---
About 1pm Jan started a big batch of Bean with Bacon Soup in the slow cooker after soaking the Northern Beans overnight. I cooked up some bacon in the microwave while Jan chopped up the onions. Then she spread out the onions and some sliced carrots on the same pan that I did the bacon in. This utilized some of the bacon grease for extra flavor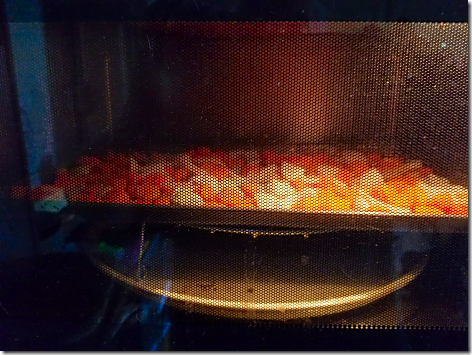 With the bacon chopped and in with the beans and the cooker on High, we started the pan of veggies in the convection oven for about 30 minutes before we added them to the pot. Based on previous batches we thought the soup would be ready to eat for supper about 6pm.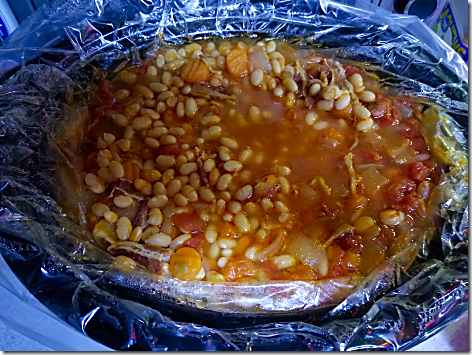 But for some reason they were still pretty crunchy, although very tasty.
So it was quickly out the door and on our way into Bend to have dinner at Red Robin, one of our favorite burger places.
---
---
Jan has been jonsin' for some claw chowder so she was happy to find it on the menu.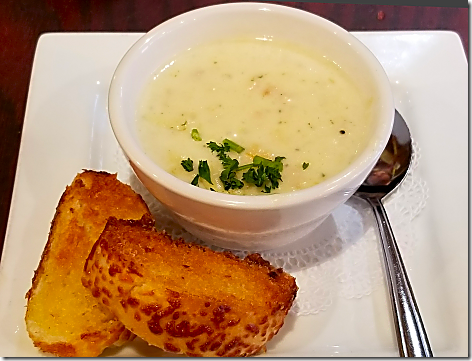 I decided to try their chili,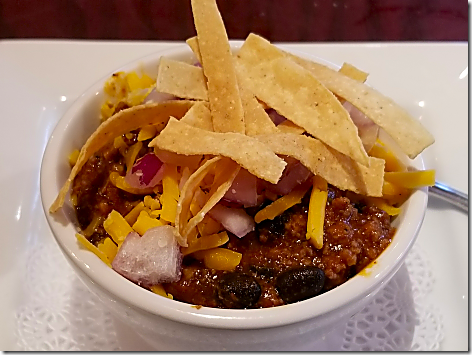 which turned out that, although it was Oregon chili, and not Texas chili, it was pretty good.
Jan got the Shroom Burger with mushrooms and Cheddar cheese,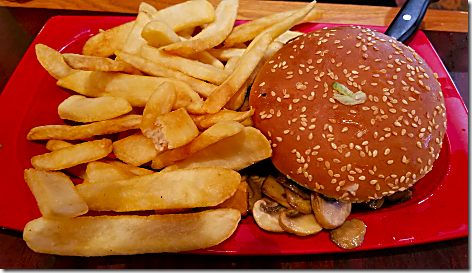 while I got the Burnin' Love Burger with fried jalapeño coins, salsa, Pepper-Jack, lettuce, tomatoes and chipotle aioli on a jalapeño-cornmeal Kaiser roll. That's a grilled jalapeno on top.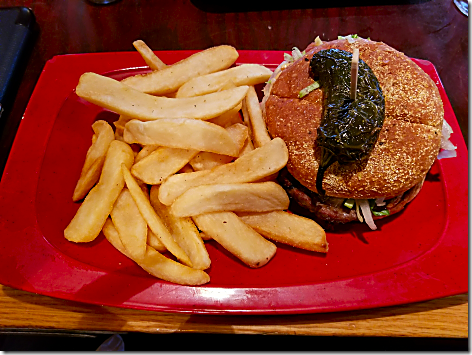 And of course, both with Endless Fries.
Really good.
Coming home a little after dark, I thought I saw something fluttering in the air, but when we gat back to the rig, it was definite.
It was snowing!
Not a lot, and not sleet, but real, actual snow.
---
Thought for the Day:
"The trouble with having an open mind, of course, is that people will insist on coming along and trying to put things in it." ― Terry Pratchett
adfasdf