Daily Archives:
May 20, 2017
We were up about 7 this morning wanting to get on the way by 9 or so. I said in yesterday's blog that we were going back in to Pacific Time today, but I meant from Pacific Time back into Mountain Time.
---
---
Actually we've essentially been in the Pacific Time Zone since we entered Arizona on March 14th. Since DST had started two days earlier, and Arizona doesn't observe DST, they're the same as PDT. But another thing is that Idaho is in two different time zones, but not divided east and west like some states, but north and south, with the north, skinny part in the PDT and the south is in MDT.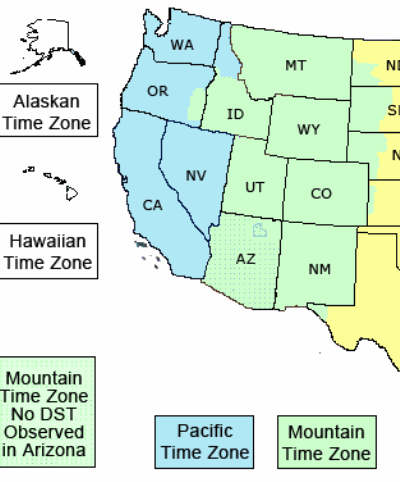 We were out of the park and on US90 by about 10:15 MDT. It was sprinkling slightly when we left and that continued until we entered Montana. One thing noticeable was how much snow was still on the ground, not only on the surrounding mountain tops, but along side the roadway also.
After we entered Montana we started seeing billboards for the St. Regis Travel Center and their signature 'Huckleberry Shakes'. So a little over 30 miles in Montana we took the St. Regis exit. Although the billboards didn't say anthing about RV parking, I was hoping that being a 'Travel Center' meant we could find a place to park.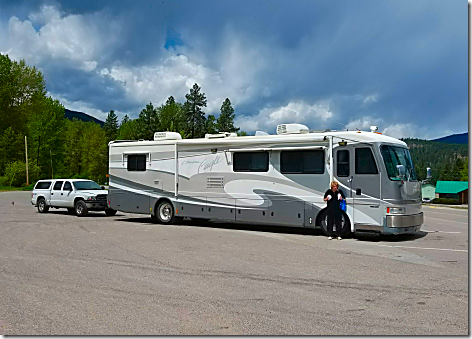 And we did, about a block away in a big rig lot with a couple of other trucks.
---
---
The place turned out to be a casino, a bar, a restaurant, a snack bar, and to Jan's delight, a very large gift shop.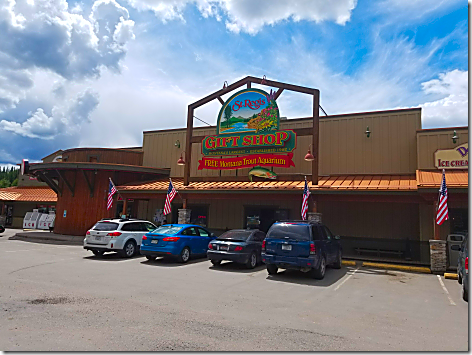 By the time we left 45 minutes later, Jan had a new moose ornament, a bag of Huckleberry Taffy, and we each had a Huckleberry Shake.
---
---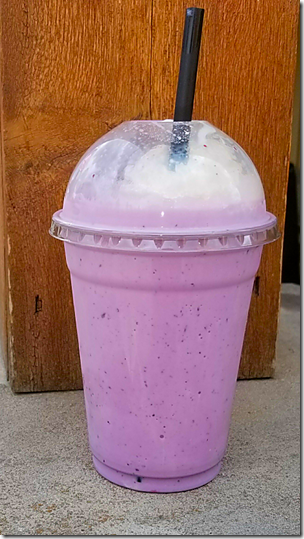 We pulled into the Riverfront RV Park in Garrison, MT about 3:45pm and were met by a camp host in a golf cart who verified my name and led us right to our long pull-thru.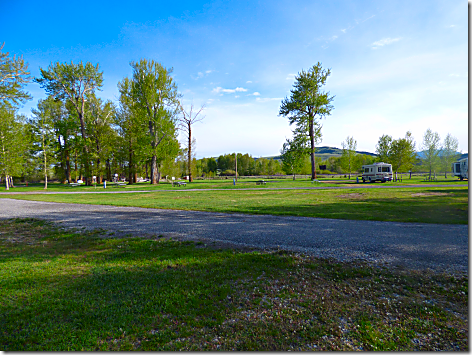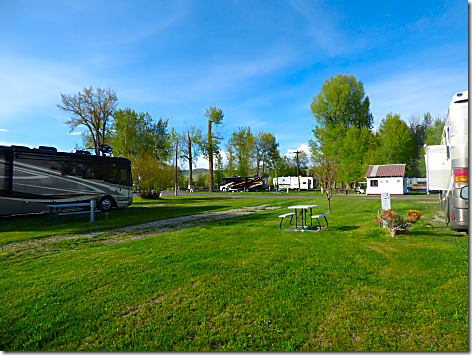 We've stayed here twice before, once in 2010, and once in 2008. And in fact the 2008 visit in early April still holds our record for the coldest night we've ever encountered while RV'ing.
It went down to 6° that night, but with both propane heaters running, as well as our three electric heaters, we stayed nice and cozy. And our next lowest was 17° and strangely enough that was at Galveston RV Park in Dickinson, TX, south of Houston.
But tonight;'s only supposed to go down to the high 30's. Much nicer.
Tomorrow we've got a 270 mile day over to Billings, MT, and dinner at Famous Dave's BBQ.
---
Thought for the Day:
"I laughed so hard, tears ran down my leg."
dgfgsf