Daily Archives:
May 3, 2017
We were up at 7am, later than usual, since we didn't have much to do to get on the road. In fact we didn't even put out the satellite dish last night, but just listened to music on our Amazon Echo.
---
---
We had a nice site that I just treated as pull-in, easy due to how the power pedestals were configured.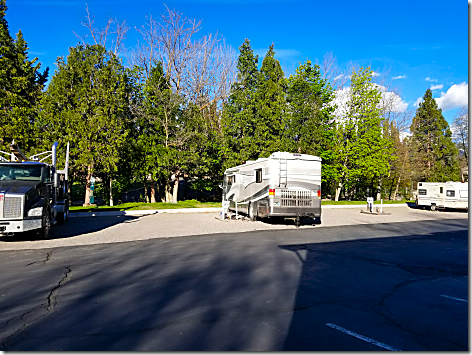 Of course we had to have another breakfast at the Hi-Lo Café once again, especially since it was right up the hill and we had the free tokens for coffee that we got when we checked in the RV park.
Since we both had leftovers from yesterday's breakfast, we decided to go smaller this time.
So rather than the full waffle, we got their 1/2 waffle combos.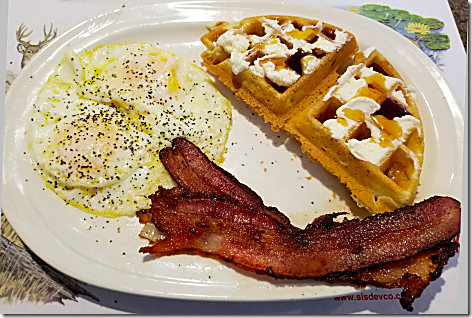 Still delicious, just less of it. And no leftovers to try and fit in the fridge.
The first time we ate at the Hi-Lo in 2011, I noticed this logo on their coffee cups.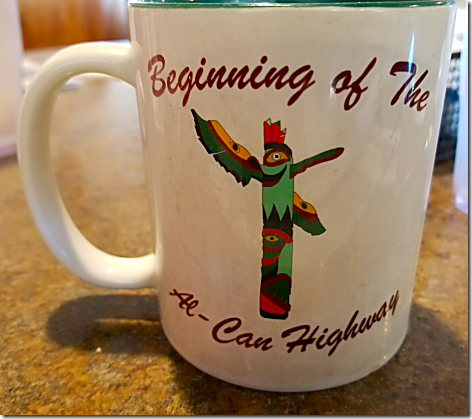 When I ask about it, they said it's true. US97 begins in Weed and runs all the way up to the Canadian border where it becomes PH97. Then PH97 runs up to Dawson Creek where it picks up the Al-Can name. The Al-Can stays US97 until it becomes PH1 as it passes from British Columbia into the Yukon Territory right before Watson Lake..
So I think they make a pretty good case.
---
---
Back at the rig we were pulling out of the park by 9:15, Jan following me in the truck so we could hook up on a side street.
Driving through the park, everything was fine and I had speedometer readings on both the dashboard and the Silverleaf.
That is, until I hit a bump. Then the problem was back.
Bummer!
Jan, as before, said other things.
So I just circled back around through town and right back into our space at the park. Looks like I was going to have to change out the sensor after all.
After I got shore power hooked up and the slide out, I walked up the hill to the office and told her that we were either back for an hour or so, or a day or so until we could get towed to Redding. She said no problem.
I did see this really nice 1949 Oldsmobile coupe parked by the office.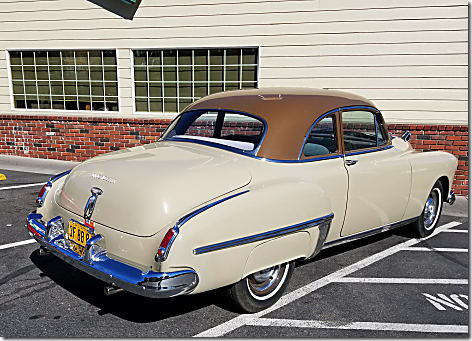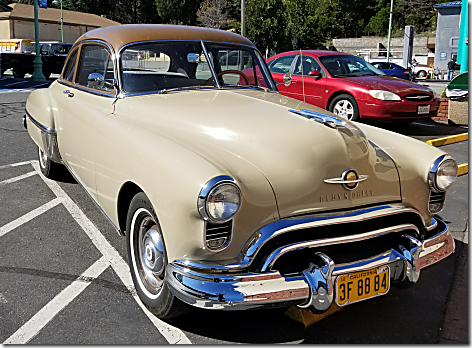 The emblem on the rear deck indicates that the original buyer paid the almost $200 extra cost for the optional HydraMatic automatic transmission,more than10% of the vehicle's cost.
---
---
To make it a little easier to work under the rig I raised it up on the rear levelers as high as I could, giving me plenty of room. Next up I put a call into Jay, the Allison Tech Support guy, to ask him a question.
"When I pull this sensor out, am I going to have 150° Transynd pouring out on my head?"
He said, "Good question. I don't know. Let me check." And when he came back, he said, "No problem. It's dry in there."
Glad to know that I don't have to worry about that.
Gathering all my needed tools, I was under the rig at 10:10 and done at 10:45.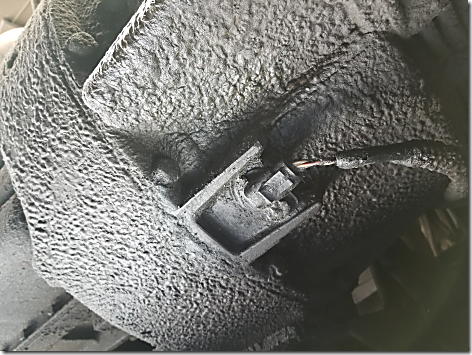 The only slowdown was that I had to come out from under the rig to get my 18" cheater pipe from the truck to break the bolt loose.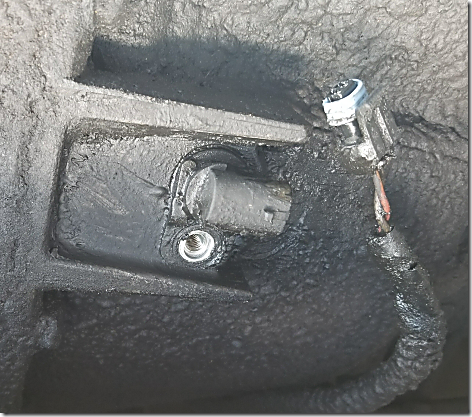 Pulling the old one out, I smeared a little oil from the O-ring on the old one to the new one, stuck it in, and then tighten the bolt back in place.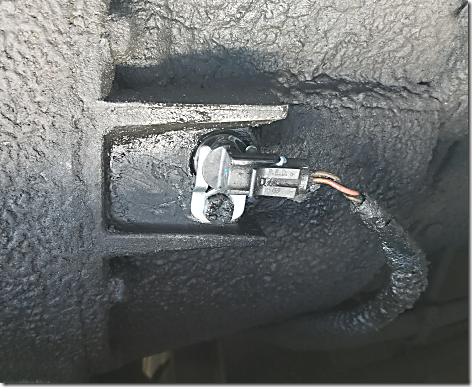 So now for the big test. Either on to Bend, OR, or towed to Redding, CA in disgrace.
After I got cleaned up, we were pulling out of the park by 11:30 with Jan again following me in the truck. I told her that if it was working, I was going to make several loops (about 1/2 mile each) around the town. If the problem returned I would just pull back into the RV park.
Otherwise I would go round and round a few times until I was satisfied, and then pull back into the large parking lot where we were parked yesterday when we drove the truck to Redding for the part. Then we would hitch up there and get on US97 for Bend.
And even though I was deliberately hitting bumps, the problem never returned. And it never returned during our 4 hour trip up to Bend, 195 miles north. Smooth as silk.
We got in to the Bend/Sunriver Thousand Trails about 3:30, parked the rig in the big lot, and drove the truck around looking for a site. We found a nice one with 50 amp and water, and what I though was a good satellite shot. But no luck on that front so far.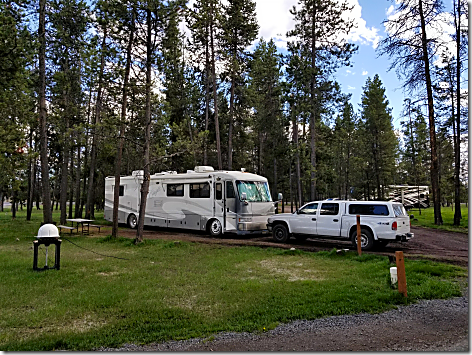 The last time we were here in 2013 all these front sites had sewer hookups, but no longer. The caps are sealed at the sites, and the literature says several times that there are no sewer sites available. Guess they must have had problems with their septic system.
Wrapping up, I found it really funny that all of the techs I talked during this recent unpleasantness were amazed that I was actually working on this problem without hooking it up to a diagnostic computer first.
"How will you know what's really wrong with it?"
As I said yesterday, I was very, very happy to hear it was a sensor problem. Sensor problems are easy. 95% of the time it's one of two things – bad connector/wiring and a bad sensor. That's it.
And I always play the odds.
In addition, I really wanted to keep the rig out of the shop. The one time our rig was in the shop was in 2012 when we were coming into Los Cruces, NM and the engine just quit running.
Towed into a Rush Truck Center, I was already down $500 just in diagnostic costs by the time they found the actual problem. That turned out to be a sensor on the fuel line feeding into the fuel injection system. Another sensor.
Then it was another $200 to actually fix the problem. But in the meantime they're finding a lot of other stuff that "really needs to taken care of." And some of it I did do.
But if I had done everything they suggested it would have been a little over 7 grand. As it was, my bill was almost $3000.00.
Hopefully tomorrow will be a little less hectic.
---
Thought for the Day:

If all the world is a stage, I would like to request better lighting and makeup.
gsfdgsdfg