Monthly Archives:
October 2017
and Woman.
Please remember, Our RV Adventures is an Amazon affiliate. When you do your shopping through any of the Amazon links here, including the Search Amazon box in the right sidebar, it won't cost you any more, but we'll get a small commission on everything you buy. Just click on the Amazon link, then shop as usual. Thanks.
Plus, many of you are sharing our blog with others using the "Share this:" buttons at the bottom of each blog. Again, Thanks.
---
---
This morning's ~30 minute drive into work was really nice, almost over before I knew it.
And because I cut two hours off my round-trip I was able to spend a little extra time wrapping up some projects.
While I was at work, my new LaCrosse Remote Weather Station came in. Several readers already received theirs, and so far the reviews are very favorable.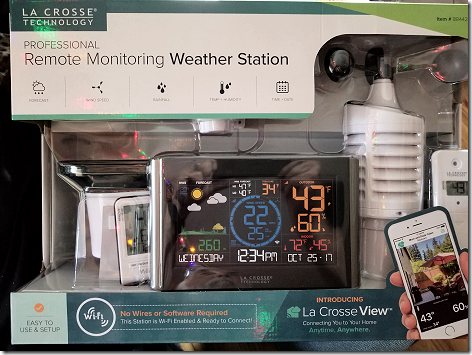 I'll let you know.
Getting home about 4:45, we turned right back around and headed over to Victory Lakes to have dinner at Whataburger. Delicious as usual.
---
---
Then it was a stop by the next door Chase Bank for some cash before hitting the across the street Wal-Mart to get rid of some of it.
Under the heading of "I Warned You."
Check out this Denver TV Anchor take the Carolina Reaper One Chip Challenge and then proceed to throw up on-air.
A Person Gotta Know Their Limitations.
Blog reader Brenda Brown passed this on about Sears.



Sears just went into bankruptcy in Canada last week. They are having their liquidation sales for the next 12 to 14 weeks and then they are gone. Over 15,000 employees out of work and many of them that have worked there for over 30 years have lost their pensions.



Drip, Drip, Drip.
Coming next year the GPS in your new smartphone will be much more accurate, from over 16 feet down to 1 foot. Plus it will work better in the city canyons and use only have the power. Super Accurate GPS
---
---
Earlier in the month when we didn't know we were going to be moving south, I went online to get us tickets to the Texas Renaissance Festival near here in Magnolia. Of course now that we're down here, it's time to go.
So tomorrow we're going to be at Brandi's by 9am, and then we're all going up there. Really looking forward to it.
The Word of the Day is: Guisard
---
Thought for the Day:

"Trust in GOD, but row away from the rocks."

llklklk
For our move down to Santa Fe, we were up about 7:30 to start packing stuff away for the trip.
---
---
We were pretty much down by 9, so we headed out to the Conroe Cracker Barrel for our traditional travel day breakfast.
Jan had her usual eggs, bacon, and hash browns,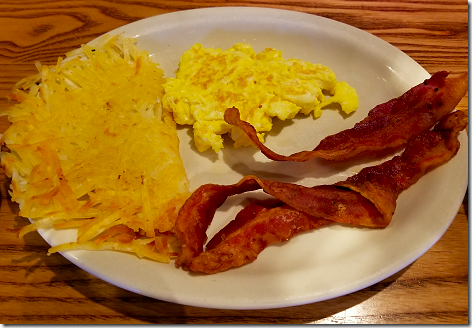 while I had their Oatmeal.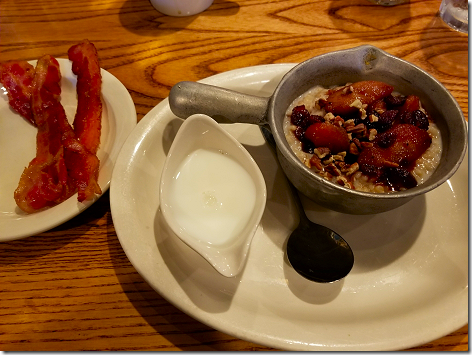 I really wanted bananas rather than the other fruity stuff, but Cracker Barrel doesn't have bananas. I'm sorry but it's not really oatmeal without bananas.
---
---
Back at the rig by 10:30, after saying our goodbyes to Dave and Janice Evans, we were hitched up and on the way by 11:30. and we weren't out of our site for 5 minutes, when someone almost immediately grabbed our site while we still hitching up.
Even through downtown Houston our trip was pretty smooth with no problems at all. Our first stop was the La Marque Buc-ee's about 1:15 to top off our rig's diesel tank at $2.27 a gallon, the cheapest I've seen recently.
After traipsing through Santa Fe neighborhoods, we pulled into the Petticoat Junction RV Park about 1:45. Finding no one around, I put in a call to the park owners and was told to take site #7. Since it was right behind us I unhitched the truck and then backed us right in.
After resting up about an hour, we drove up to Clear Lake, first to my client's to pick up Jan's other birthday present. This: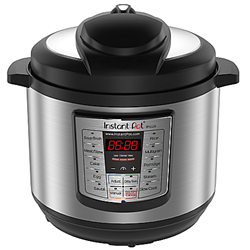 Instant Pot 8 Qt., 6 in 1, Pressure Cooker.
So Jan's the proud owner of an Instant Pot. Now to learn how to use it.
Then our next stop was Floyd's Cajun Seafood, one of our long-time favorite places. We've been coming here since the mid-90's when the place first opened as Thibodeaux's. When it closed under mysterious circumstances, Floyd Landry, who had been a silent partner, and furnished all the recipes, took it over
---
---
Jan, as usual got her favorite Chicken Fried Chicken, with Fries.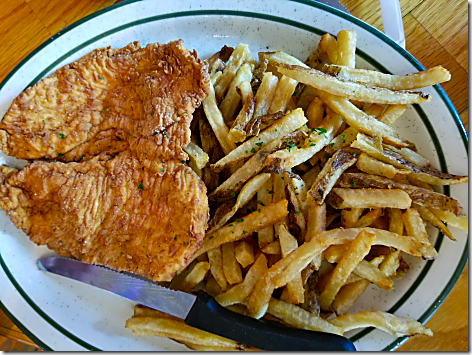 while I went with the Seafood Gumbo and a side of Floyd's Potatoes.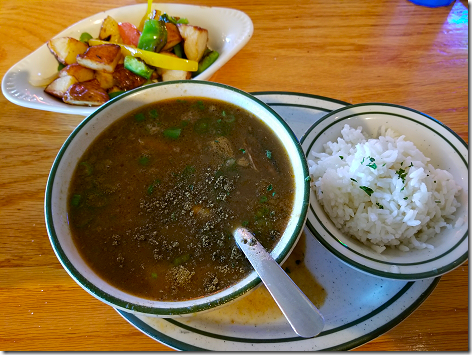 Every time I've been to a Floyd's recently I've been alternating back and forth between the Seafood Gumbo,l which had Shrimp and Crab Meat, and the Shrimp Gumbo, which has, well, shrimp. I think I like the plain Shrimp Gumbo better. Actually I wish they offered Oysters with the Seafood Gumbo, but they don't.
Years ago I tried to talk Floyd into making it that way , and he said it would make the gumbo too expensive. Told him he should just offer it as an extra cost option, then we could order it if we wanted to. But never could convince him.
Tomorrow it's back to work, but with a much shorter drive. Nice.
The Word of the Day is: Vituperate
---

Thought for the Day:
"Don't ever take a fence down until you know the reason why it was put up." – G.K. Chesterton
ghdghdgh