Monthly Archives:
July 2017
We had a nice trip down to Birmingham for the day, checking out old haunts, and checking in with old friends.
---
---
But we didn't get back to the rig in Athens until almost midnight, so I'll post all that fun stuff tomorrow.
Stay Tuned.
We took our time getting up and on the road this morning, not pulling out until about 10:30.
---
---
I think the spaces here at Capitol City RV Park here in Montgomery are some of the largest I've seen. At 85ft x 45ft, you could park a couple of RV's in each site.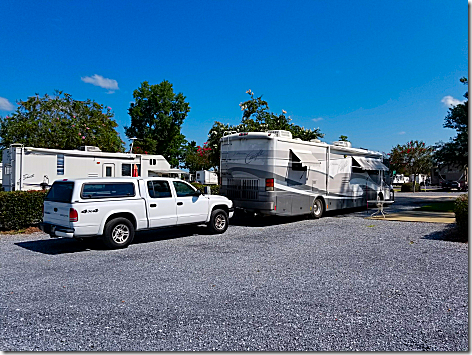 Though these are their 'Premium' sites, I was given a free upgrade when, noticing all the Auburn University stuff on the walls of the office, I told her I had gone to Auburn. Of course I didn't tell her I had also gone to Auburn's arch rival, University of Alabama too.
It took us about 10 minutes to get out on I-65N, heading towards Athens, AL, about 180 miles away.
Based on past trips through Birmingham, I was expecting the same really bad roads, especially coming into town from the south, but they've obviously been doing some work since we were through here last year. Nice and smooth.
And being Sunday, there was really no traffic to worry about, so we just cruised right through, with the only slowdowns being the many hills.
---
---
We pulled into the Northgate RV Park in Athens and were met by my cousin-in-law, Helen, at the park office. After getting in our hello's and hugs, we got parked and set up about 2:45.
About 4pm Jan and I headed to have dinner at Catfish Cabin, our regular 'first night here' restaurant.
One of the best things about this place is that pretty much every thing is homemade. From the salad dressings,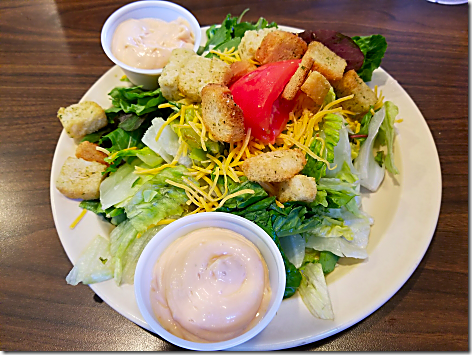 to the Hushpuppies,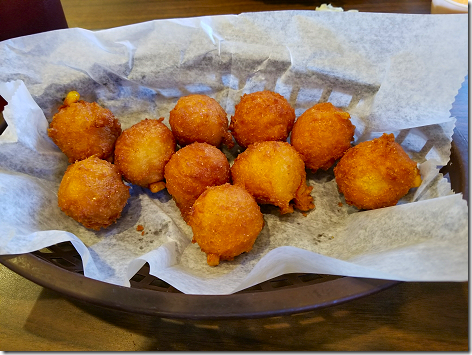 it's all made in-house.
---
---
And all of their catfish, shrimp, and oysters, are all fresh, and then breaded and prepared at the restaurant. The only thing bought pre-prepared are the stuffed crabs like on my Combination Platter.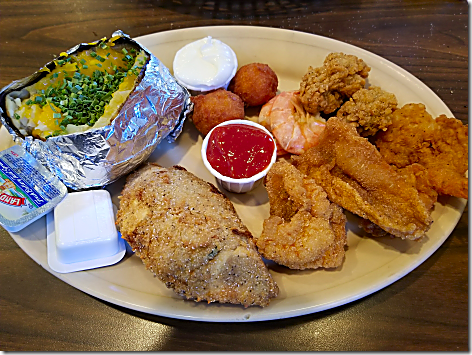 Jan always gets the Cabin Platter, because she really likes the whole catfish on it.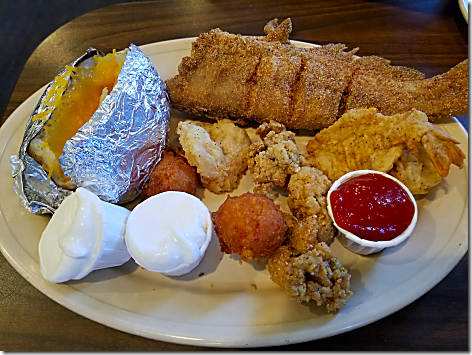 Really delicious as always.
One thing we're enjoying up here is the cooler weather, with highs in the mid-80's, and lows in the low-60's, temps we haven't seen since Rapid City, SD back in May.
Cool.
Tomorrow we're making a daytrip back down to Birmingham to drive around, and then have dinner with our old friend's Bill and Carol Alverson.
Bill and I both worked as broadcast engineers at WBIQ, Ch. 10, the local Alabama Public Television station back in the early 70's, before we moved to Montgomery. We also both worked part-time at WENN, a black radio station in town, also as broadcast engineers.
So we'll have a lot to catch up on.
---

Thought for the Day:
"Men are ruled…by liars who refuse them news, and by fools who cannot govern." G. K. Chesterton
ghdghg