Daily Archives:
May 11, 2022
Back to yesterday's Ramses the Great exhibit.
This is a representation of Ramses tomb.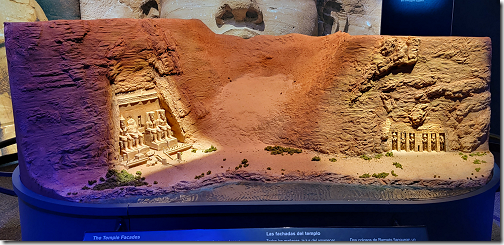 A funeral container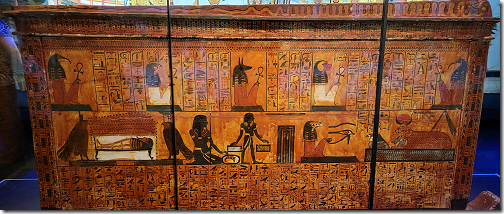 A mural from the wall of a temple dedicated to Ramses.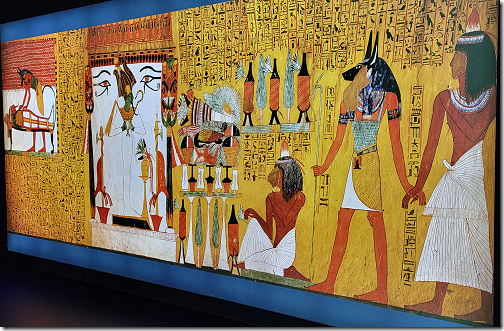 A couple of the many jewelry exhibits.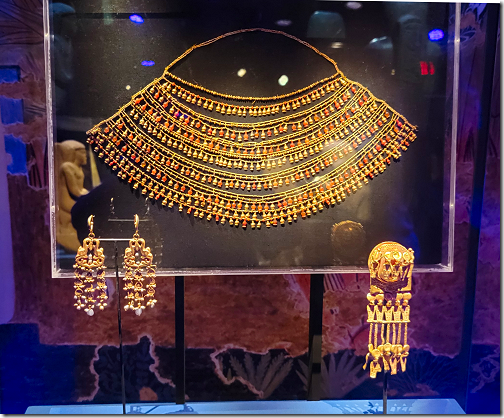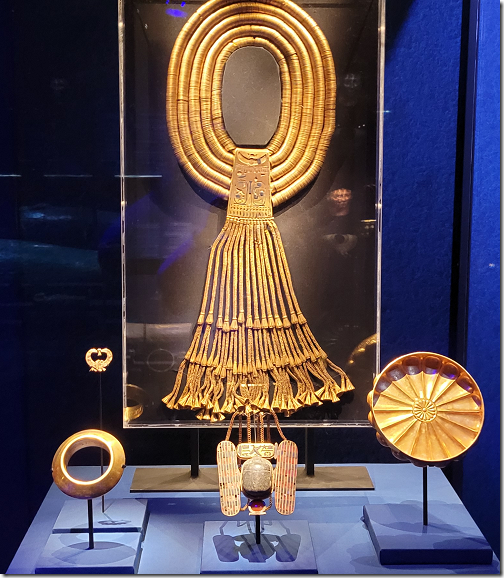 Some of the many statues and icons found in the tombs.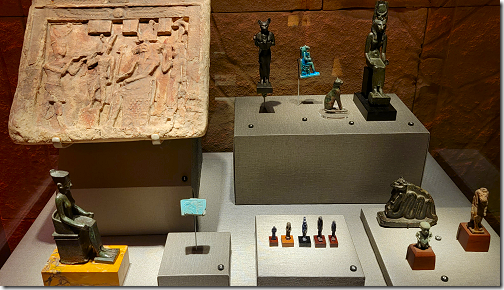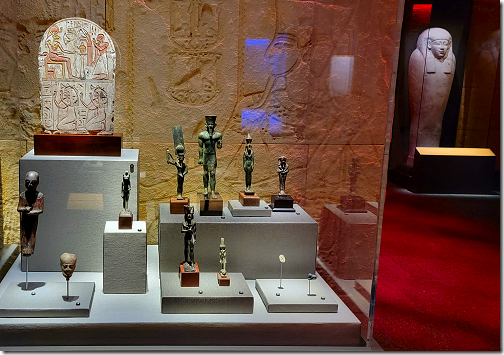 These are golden artifacts used to dress a royal mummy before burial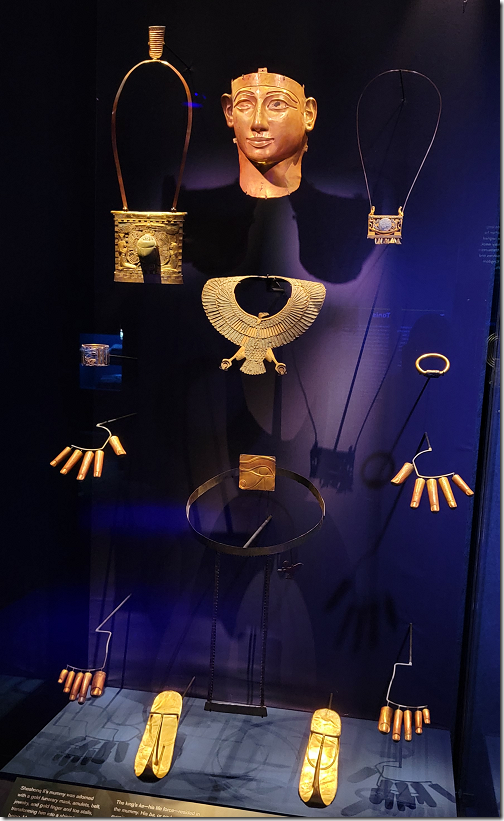 A sharp-dressed man.
A couple of gold burial masks.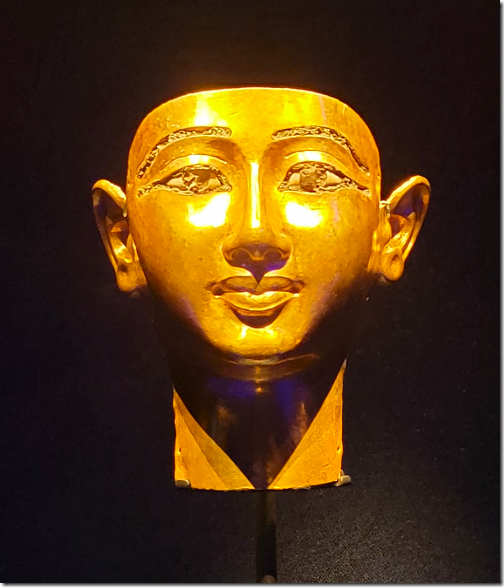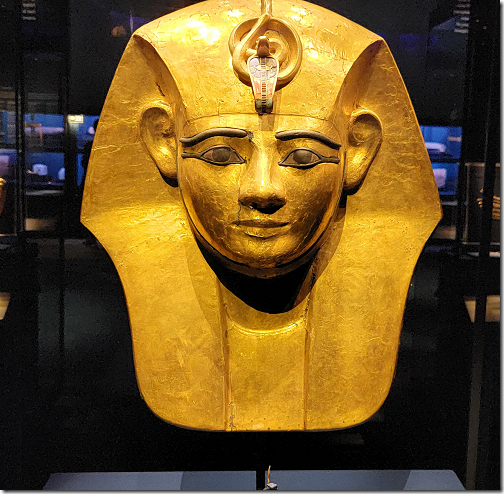 These are canopic jars, used to store the organs of a mummy after they're removed from the body during mummification.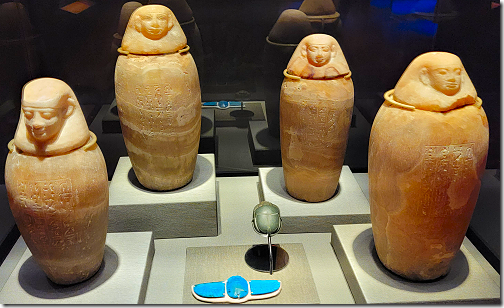 Wooden Sarcophaguses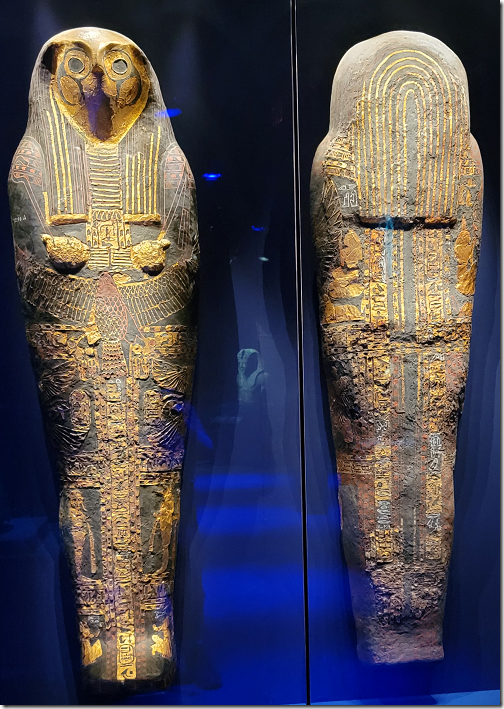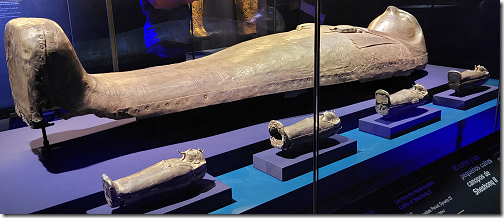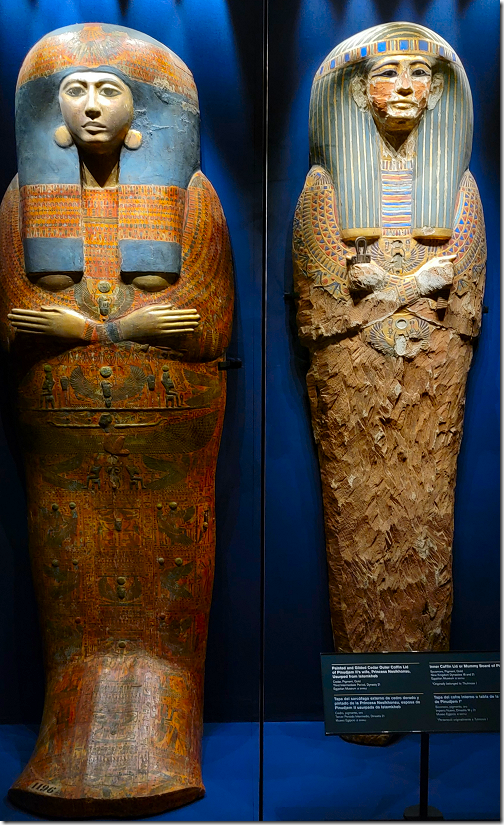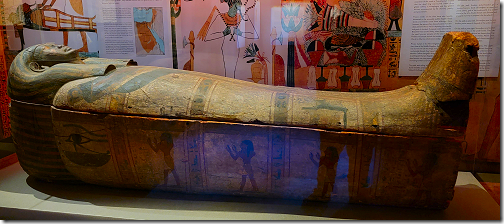 and the mummies that go in them.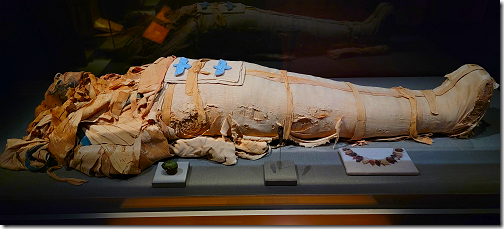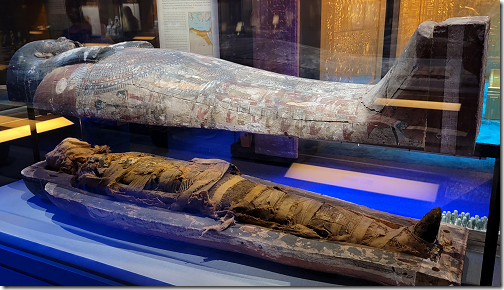 And this is the actual mummy of Ramses II, now displayed in a museum in Cairo, Egypt.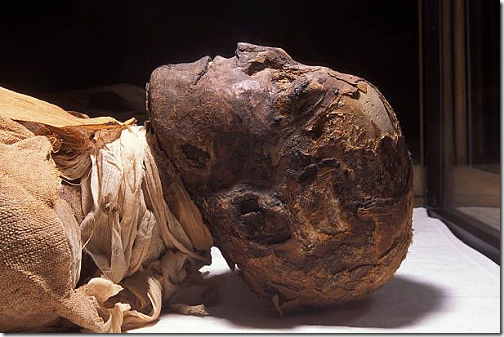 And this is a 3D reconstruction of what he might have looked like near his death.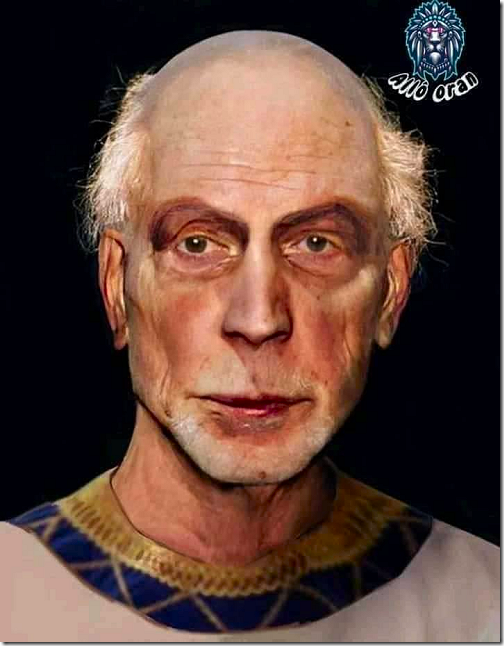 And it seems that according to examination of the mummy and DNA analysis, Ramses was actually a redhead.
Who knew?
A large part of the exhibit's excellence was due to the ambience from lighting and the furnishings.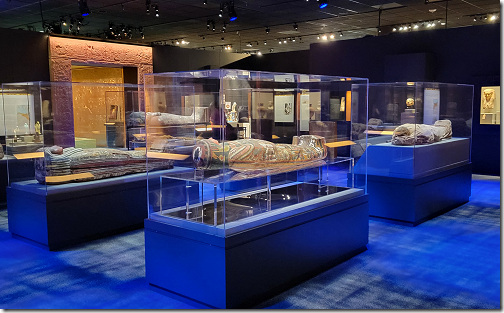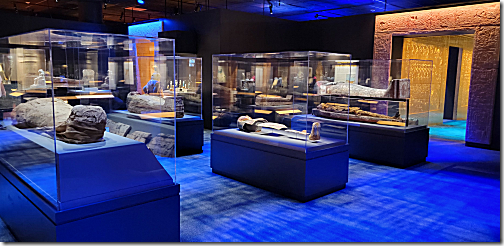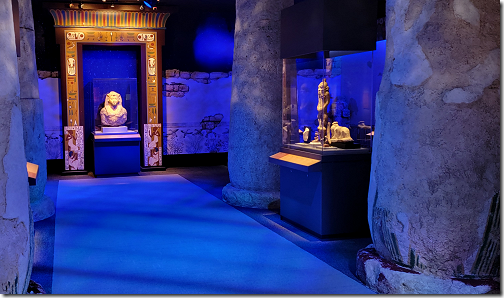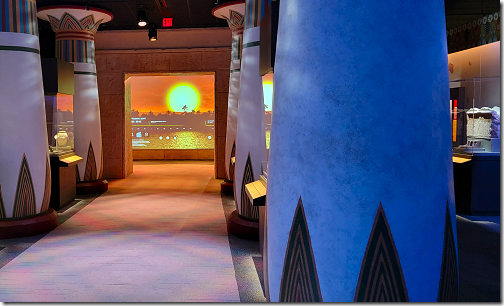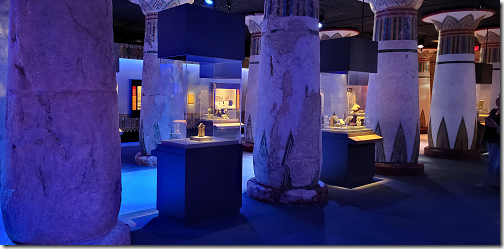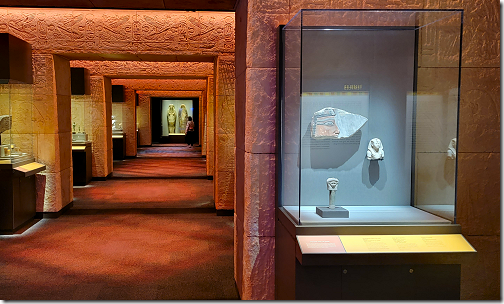 And this is Merenptah, the 50+ year old grandson of Ramses, who became Pharaoh when Ramses died at about 90-91 years of age.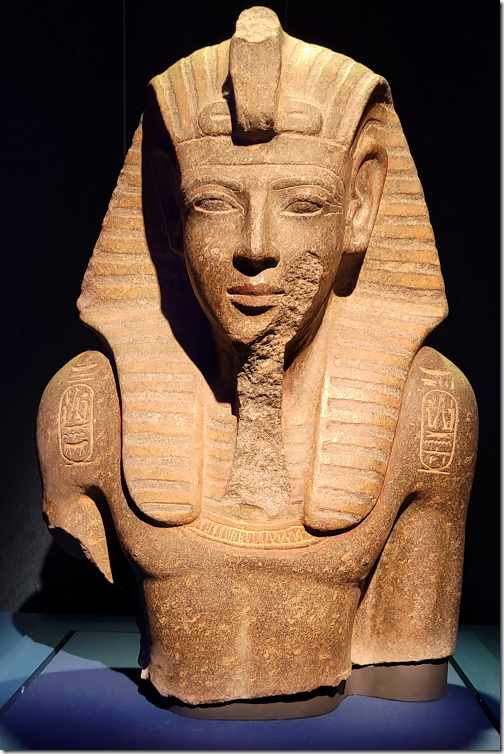 Finishing up, it's not a real museum exhibit if it doesn't exit through a gift shop.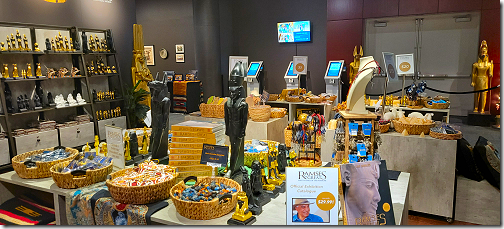 And Jan came home with two fuzzy camel pens and a small blue hippo.
We both really enjoyed this exhibit, much more then the Pompeii one we also saw recently.
Well recommended.
Tomorrow we meeting long-time friends Ed and Debi Hurlburt up at the Longhorn Steakhouse in Spring. Looking forward to it.
Shuttle Launch and Landing
---
May 11, 2009
Now I've got the Complete Set…
Well, it's official.
I now have the complete set.
I got my first one on March 30, 1982 and it took me over 27 years to get the second one. But I finally did it.
I now have been at both a Space Shuttle launch and a Space Shuttle landing.
I worked on the Shuttle program at Johnson Space Center for ten years from 1978 thru 1987, but never was actually at a launch at the Cape.
In March 1982 I was part of the landing crew at the backup landing site, Northrop Strip, White Sands, New Mexico when the 3rd Shuttle mission, STS-3 landed there, the only time a Shuttle has landed somewhere other than Florida or California.
The Shuttle landed at White Sands because the landing strip at Edwards Air Force Base in California was covered with water due to recent heavy rains, and the landing strip at Cape Kennedy in Florida was not yet operational.
Coincidentally, before the landing, a movie called "Wrong is Right" was being filmed at White Sands. The White Sands area was standing in for sands of Saudi Arabia. And the movie crew was staying at the same Holiday Inn in Alamogordo, NM that we were.
It was a real kick to go down to the hotel bar every night after work and sit around drinking with Sean Connery, Katherine Ross, Robert Conrad, John Saxon, and Leslie Nielsen. And later I got to fix Katherine Ross' hair dryer since she was staying in the hotel room next to mine.
And now I have a Shuttle launch under my belt.
We're presently parked in Homestead, FL, about 30 miles south of Miami. Friday we'll be heading down for a few days in the Florida Keys. So we were glad that we were still close enough to try and see a launch.
We left our park in Homestead a little after 6am this morning and got to Titusville about 11:30am, a trip of about 250 miles. We also took some extra clothes with us in case the launch was delayed over the 3 day launch window and we had to stay at a motel. But we lucked out.
The launch went off as scheduled at 2:01:56pm and we had a great spot to view it from. And one that had a lot memories for Jan and I.
Jan and I met in Titusville almost 42 years (now almost 55 years ago) where she lived and I was working for the summer. We were both working at a small amusement park there, and we would go out to this fishing pier outside downtown Titusville and make out. We spent a lot of time there making out.
Unfortunately there is not a lot of the old pier left, but Jan and I are still going strong, and it made a great viewing area for the launch.
And we had a lot of company!
Here are some pics of the launch. The first one is from NASA. The rest are mine.
Shuttle Launch from NASA
And about 30 seconds after the launch, the shock wave and the roar from the engines washed over us. It was fantastic.
Well, that was it. A real thrill for Jan and I, I tell you.
And tomorrow, if the weather holds, we plan an airboat ride thru the Everglades.
Duck Boats and an SR-71
---
May 11, 2010
Quack, Quack, DUKW, DUKW…
Today we headed into San Francisco about 8:50 am, with a quick detour to a gas station to get some air in one of my tires. Yesterday my tire pressure monitor told me my passenger front tire was down about 10# so I aired it up. Then this morning it was down again. So I've got a slow leak. I'll have to get it fixed tomorrow.
We got to our Duck Tour pick up point, but then found a problem. We were supposed to be picked up at the corner of Powell & Ellis, but there was nothing there to indicate this was a pickup point. When we've done these tours before, there's always a ticket booth or sign or something. But nothing here.
After making a couple of phone calls and getting no more info, we just hoped that we would be picked up at noon on schedule.
We had about a hour before our supposed pickup so we decided to take a Cable Car ride down to Fisherman's Wharf and back.
While we waited for the cable car, I saw this sign and just had to shake my head.
It's really a shame that they just don't teach spelling in American schools anymore.
We started our cable car ride at the Market St. Turnaround.
The turnaround is a turntable that allows the cable cars to reverse direction.
Once the car is on the turntable the crew turns it by hand.
This is the Grip, the guy who controls the cable car. The cable runs underground, kind of like an upside down ski lift.. The cable is constantly running at about 9.5 mph. A gripper extends below the car into the slot between the tracks. The lever in the Grip's left hand grips the cable that pulls the car along. Releasing the grip lets the car coast. The lever in the Grip's right hand controls the car's brakes.
And good brakes are really needed on some of these hills.
We got back to our DUKW pickup point about 10 minutes before noon, and looking around, suddenly, our DUkW was there. The DUKW's are WWII amphibious 6 wheel drive trucks used in the D-Day landing at Normandy and others. The DUKW name is not a military acronym, but the designation given to it by General Motors Corporation, the builder. The D indicates a vehicle designed in 1942, the U meant "utility (amphibious)", the K indicated all-wheel drive and the W indicated two powered rear axles.
And it was a special tour. We were the only two people on the tour, so we had the DUKW all to ourselves.
The driver/tour guide noticed I was wearing an SR-71 Blackbird T-shirt. It turns out that he was stationed at RAF Mindenhall in England as a SR-71 support officer in the USAF. Since I had worked on the SR-71 once when I was working for the Department of Defense back in the early 70's, we had fun trading our favorite Blackbird stories.
We started with a tour of the sites of SF. Here's San Francisco's iconic Transamerica Building.
And of course, Chinatown.
Our driver said there is no natural level ground in San Francisco. The only level spots are from hills being leveled off, or valleys filled in. This really illustrates that.
After about a hour we drove into San Francisco Bay and started the water part of our tour. This is AT&T Park where the Giants play.
And here's the Bay Bridge…and the back of Jan's head.
Our DUKW lasted about 90 minutes, so by 1:30 pm we were back where we parked the truck. And after grabbing a Starbuck's coffee and a bathroom break, we got our truck out of the parking garage and head down to Fisherman's Wharf for lunch.
We liked the look of Castagnalo's so we decided to give it a try.
The place was beautiful inside and had a great view of the Wharf.
We started off with a half dozen raw oysters, and then Jan had the Fried Shrimp and I had the Lobster Bisque in a sourdough bread bowl. Both were delicious.
Leaving Castagnola's, we walked down a couple of blocks and turned a corner. And suddenly I wished we had eaten somewhere else
What I saw was Fisherman's Grotto.
And I remembered this as the place my family and I ate in 1964 when we did our big western vacation. Bummer!
It would have been neat to eat here again after 46 years.
Leaving the Wharf area we headed over to Lombard St. to drive the 'Crookedest Street in the World". It consists of a 27% grade with 8 hairpin turns, and looks like this.
Here's what it looks like going down.
And here's what it looks like from a couple of blocks away looking back up.
Lombard St. may be the crookedest, but certainly not the steepest, at a 27% grade. Here's a list of steeper streets. A couple of these we took. And I'm glad our truck had good brakes and a V-8 engine.
The Steepest Streets in the City
1. (tie) Filbert between Leavenworth and Hyde (31.5% grade)
1. (tie) 22nd between Church and Vicksburg (31.5% grade)
3. Jones between Union and Filbert (29% grade)
4. Duboce between Buena Vista and Alpine (27.9% grade)
5. Jones between Green and Union (26% grade)
6. Webster between Vallejo and Broadway (26% grade)
7. Duboce between Alpine and Divisadero (25% grade)
8. Jones between Pine and California (24.8 grade)
9. Fillmore between Vallejo and Broadway (24% grade)
Source: San Francisco Bureau Of Engineering
Supposedly there is another street with a 34% grade, but I wasn't able to locate it.
Some of these streets are so steep that it's like driving off a cliff. When your vehicle is level before you start down the hill, you can't see the roadway in front of you. You just have to take it on faith that the road is still there.
Before heading home Jan wanted to drive past the famous "Painted Ladies" near Alamo Square. They are on so many postcards that the street is known as Postcard Row. The street was also featured in the credits of the TV show "Full House".
Heading home, we crossed the Golden Gate Bridge and decided to stop at Vista Point, a viewing area overlooking the bridge.
Here we got our last look at the Golden Gate.
We got home about 6 pm and Jan heated up what was left of last night's crockpot King Ranch Chicken. I forgot to mention yesterday that we had it cooking for us when we got home. Jan's King Ranch Chicken is always great.
Tomorrow is our last day in San Francisco, and we have some things to get done before we leave on Thursday for the Redwood National Forest about 295 miles north.
More Storage
---
May 11, 2018
Walking Away . . .
Since we had a lot to do today, we started early, well, 10am is early for us, first heading over to Denny's for breakfast.
It's been a good while since we've eaten at a Denny's, probably late last year up in Conroe. It's always pretty good, but for some reason it seems we usually end up at IHOP.
Jan got an Veggie Omelet with fruit, and a English muffin,
while I got two eggs over easy, bacon, grits, and an English muffin.
One thing about today's visit was how good the coffee was. Bold, smooth, but not burnt or bitter. Almost as good as mine.
Guess that's why I had three cups.
Next we headed down to Dickinson and the Extra Space Storage location to sign up for our storeroom. And that's when things started to fall apart.
When I called the office the other day, I got routed to corporate headquarters in Salt Lake. And I was assured by 'Jean' that they did not require insurance on the contents if we rented a unit.
But when the clerk started to process the paperwork, I was informed that they required me to have $3000 of insurance on my contents at a cost of $16.50 per month. This with unit rent on $23 per month. A 70% increase.
When I told her that I had been told by corporate that I didn't have to purchase insurance, I was told that she had worked for Extra Space for 7 years, and corporate was wrong, and that every unit had to have insurance, no exceptions ever.
So I said I needed to check this out again and we left. And when I called corporate again, this time 'Amber' told me that yes they did require insurance, but that the manager could waive it.
At this point, Jan suggested that I call Challenger Storage up in Webster, where we previously had a storage unit, and see what they had. And as it turned out, they did have a 5 x 5 unit available for only $20 per month, no insurance, and no setup fee. The only possible downside was that it was not climate controlled. But we didn't really see that as a problem.
So we were heading up to Webster and Challenger, when Jan, noting that ESS was a lot closer, suggested that I give them another call. So I did and told them that I just wanted to let them know that I had found another unit that didn't require insurance, and that I wouldn't be needing theirs.
With that, things suddenly changed. Apparently now, exceptions could be made. Turns out that she was 'just getting ready to call me' to tell me that they suddenly could rent me a space without insurance.
So a few minutes later we were at ESS doing the paperwork. And the first thing I noticed was that a place that always requires insurance, no exceptions, actually had a form in the computer for the customer refusing insurance.
I wonder how they got that typed in so fast.
Sometimes it pays to be willing to walk away.
Our storeroom is about what you'd think, four walls and a concrete floor. While we were there we dropped off a few things like our winter heaters and some other stuff.
Our next stop was WalMart to buy some storage bins and a padlock for the door. So coming home we stopped back off at ESS to put the lock on the door and found it wouldn't fit. I got a really heavy Master lock with a long shackle. But between t he length and the thickness of the shackle it wouldn't fit into the slide lock. So it's back to WalMart tomorrow.
Hope someone doesn't steal our three heaters overnight.
---
Thought For The Day:

"Be yourself" is about the worst advice you can give to some people.
.