Daily Archives:
May 6, 2022
I got up to Brandi's in Katy a little after 4pm, and about a hour later Lowell got home from work, so Jan and I were heading back toward home by about 5pm.
We were wondering where to stop for dinner, but burgers sounded good. So we stopped off at the Red Robin down in Webster. It's been a long time since we eaten at one, but it was as good as we remembered.
Jan got the Black and Bleu Burger with the Steak Fries.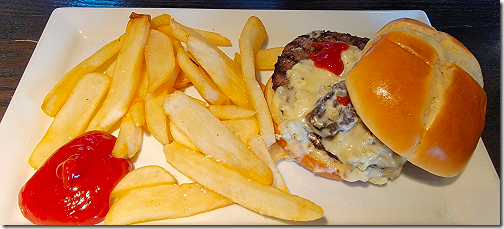 With Sautéed Portobello mushrooms, caramelized onions, creamy cheese sauce, Bleu cheese crumbles, shredded romaine and roasted garlic aioli on a toasted brioche bun, Jan said it was delicious.
I had the Scorpion Gourmet Burger,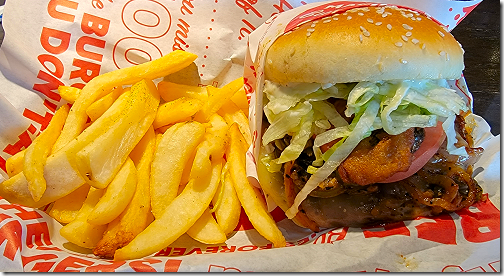 which has a fire-grilled beef burger topped with melted Pepper-Jack cheese, ultra-spicy Scorpion Pepper Sauce, fried jalapeño coins, lettuce, tomatoes, pickles, roasted garlic aioli, and red onions and jalapeños roasted in Scorpion sauce on a sesame seed bun
Getting home a little after 7pm, even Karma as happy to see Jan again, immediately climbing up into her lap, sometime she doesn't do very often.
Tomorrow I'll catch you up on the recent Toilet Wars.
Now reliving the past again.
On to Petaluma
---
May 6, 2010
Rut Roh!
We pulled out of Park of the Sierras about 9:30 am, a little later than we had planned, but no problem.
Heading south on SR 41, we cut across to Madera and up thru Merced and Modesto, then west thru Livermore to Oakland.
The one problem along the way was that both cats got car sick. Our cats had never gotten sick until recently. Don't know what started it.
Heading north along the east side of San Francisco Bay, we could see the Golden Gate Bridge in the distance off to the left.
We took the Richmond-San Rafael Bridge across the upper end of the Bay, passing by San Quentin off to our left as we came off the bridge.
We did have a little trouble getting across the bridge, though. Well, not really getting across it, but getting through the toll booth. I had used the last of our cash, $40, paying the tire guy for his repair work yesterday. CoachNet covered the $100 service call charge, but I had to pay for the actual repair, and he didn't take credit cards. Normally my GPS program alerts me when it routes me over a toll bridge, but for some reason, this time it didn't .
So we pulled into the bridge toll booth and tried to pay the $8.25 toll with a credit card.
Rut Roh!
They don't take credit cards, either.. We have traveled all over the US and Canada, using toll roads and toll bridges and this is the first time we've found one that didn't take credit cards. So Jan and I were digging thru our pockets and purses, still coming up short. Then she remembered her laundry quarters. And after handing the toll lady a large handful of quarters, we were good to go. Leaving the bridge we joined US 101 and headed north.
Note to self: Visit an ATM soon!
We got to Wine Country RV Park in Rohnert Park, CA about 2:15 pm and things went down hill. I had called the park on Monday and made a reservation for a week starting Wednesday. Then when we had tire trouble yesterday, I called them and told them we would not be there until today. We didn't have a real good connection, but he seemed to understand with no problems. But, to be sure I emailed him later in the afternoon, confirming that we were coming in today.
However, when we pulled in to the park, and getting in wasn't easy, I found that we had no site waiting for us. He apparently thought we weren't coming and was now full. And, when I asked about my email, he said he only checked email every few days.
Bummer!
I could think of other words, but I better stick with Bummer!
And getting out wasn't easy either. It's a very tight park with some hard turns getting out.
But finally getting out, we parked right down the street and hit the Internet looking for a new park. We found a KOA park not too far away, but at $425 for a week, it was way too pricey for a park where we would spend very little time, since we'll be spending most of our time down in the San Francisco area.
A little onlining showed that the Sonoma-Marin County Fairgrounds was about 10 miles back down the road in Petaluma, and a quick phone call told us that they had an open site, so off we went.
The fairground's RV park, although OK, is a big step down from our site in the Park of the Sierras we were in for the last nine days.
After getting set up, we headed out to get some supper. Driving around, we came across Pepper's Restaurant and decided to give it try. And it was really good.
Getting back to the rig, I got the satellite dish set up and we settled in for the night.
Tomorrow we'll take care of some shopping before heading down to San Francisco on Saturday.
'People'-Watching in Vegas
---
May 6, 2013
Look, there's one . . .
Today brought us something we haven't seen in months – Rain!
It's actually the first rain we've seen since we left the Houston area back in February. It started around 11:30 and went on for a couple of hours, in fact, heavy enough that it knocked the satellite TV out for about 30 minutes. I think over the course of the day we got about a inch of rain.
But with the rain came cooler weather, with it only making it to 73 today, and staying in the 70's for the next couple of days. And apparently we may still have some more rain coming up.
And on the subject of weather, I was checking the weather in South Lake Tahoe, CA, where we'll be in a little over a week, and the high today was 46 degrees with 35 tonight. And by the time we get there in 10 days we're looking at temps in the 60's and 40's. Perfect weather for us.
About 4pm Jan and I headed out for dinner and a drive around town. Our first stop was the Macayo's Mexican Kitchen on E. Tropicana, a place recommended by one of our blog readers, who wanted to know how it compares with Lindo Michoacan where we ate a few days ago.
And, although Macayo's is good, unfortunately it's not quite up to Lindo. But as a trade-off, It's closer to the park and cheaper too. In fact Lindo is about 50% more expensive, but probably worth it.
Jan had the Poblano Chile Relleno along with a beef taco, and I had the Pork Carnitas, one of my favorite dishes.
My Carnitas was good, better than what I had in Apache Junction, but not as good as the Carnitas a la Coca-Cola from Lindo Michoacan the other night.
Leaving Macayo's we heading down to the bottom of Las Vegas Blvd, aka "The Strip". I wanted to check out the Camping World there for those Bulldog cabinet latches that I'm looking for, but we got there a few minutes after they had closed at 6pm. The main reason we were late was that I didn't realize how far down "The Strip" the Camping World was.
But in fact it was so far away that "The Strip" was now a two lane road pretty much out in the desert. So since we didn't make it to the Camping World in time, we used it as an excuse to drive all the way back up "The Strip", taking in the sights and doing some people-watching. Always fun in a place like Las Vegas. In fact, we sometimes make a game out of it.
It's called "Find the Hooker".
Colorado River Thousand Trails
---
May 6, 2014
Picky, Picky, Picky . . .
Today was one of those very nice, do-nothing days that it seems like we don't have enough of. Jan and I still laugh about how we had all these hobbies we were going to start once we retired and hit the road.
And we've done none of them. We're just too busy being retired and on the road.
It was really nice outside and Mister spent most of the afternoon laying out in the shade.
It's funny to watch him move around. Sometimes he'll lay in the sun, and then move into shade. Which kind of makes sense.
But sometimes he lay in the shade for an hour or so, and then move 3 feet away, still in the shade, and lay there for another hour or so.
Picky, picky, picky.
Other than making a run to the convenience store for some ice cream for tonight's dessert, we never left the rig today.
Jan read on her Kindle Paperwhite and napped, while I did Internet stuff. Normally I would be working on my Escapade Gate Guarding Seminar, but that will have to wait until next year's Escapade in Tucson.
For dinner we just had salads, and of course the before-mentioned ice cream.
Tomorrow will be another busy day. First up we have to stop off at the Chinese Consulate and hopefully pick up my niece's visas. Then maybe we'll have lunch at Katz's Deli once again.
Then I've got a client visit out in Algoa, and another couple back in the Webster area, before we finish up with dinner with Chris, Linda, and Piper.
Friday we've got Jan's Oncologist appointment, probably a few more stops, and then dinner with Brandi, Lowell, and Landon.
As it stands now we will probably leave here and head north on Sunday.
Blown Out In Prescott

---
May 6, 2015
Hurry Up and Wait . . . Still
Still haven't heard anything from anybody, so we just wait. But at least we're very comfortable here, with 50 amps and water.
The only problem is the lack of a sewer connection, which is to be expected, I guess, since we're basically in a parking lot. But it looked like today I was going to have to do something about emptying our grey tank. As I mentioned before, we can normally go two weeks on our 40 gallon black tank, but the grey is another story.
I had dumped our tanks on Saturday in Las Vegas before we left so we already had a couple of days on the grey before we even got here. So I thought I'd go ahead and dump my grey tank using the Blue Boy tank here at Affinity.
But I quickly discovered that this type of tote, even at only 15 gallons (almost 125#) is very hard to move. Using the handle it's very hard to pull it without it catching on your heels.
Unfortunately it wasn't one like this which would be much easier to move.
After dragging the tote around to the dump station at the front of the lot the first time, I borrowed one of those metal utility wagons that they use around here. Even with the wagon, I still had to pick up the tote (125#) and put it in the wagon. Otherwise it was up too high for the waste water to flow into it. But it was a lot easier to move, so that helped.
One thing I discovered is that apparently my grey tank is bigger than I though. It's listed as being 60 gallons, (with a 40 gallon black tank) in all my manuals. But I dumped 5 full totes of waste water, (for a total of 75 gallons), and still had a little left in the rig tank. So I guess I have a 75 gallon grey tank. Who knew?
Besides the beautiful scenery, one thing nice about the Prescott area is the price of gas here. Yesterday, as Jan and I were heading out to have dinner at the Golden Corral, we stopped off at Fry's Supermarket right across the street to fill up the truck.
I was very happy to find that Unleaded was only $2.69 vs. the $3.31 I saw in Las Vegas last week. And with the 40 cents a gallon discount from my magic Fred Meyer's Loyalty Card, it was $2.29. Very nice.
And The Golden Corral was really good.
Back At The Colorado River Thousand Trails
---
May 6, 2016
Power Problems?
Sunday afternoon, a little while after we got here, Jan was fixing supper in the microwave, and when the a/c came on, the shore power went off. But in about 30 seconds, it popped back on. Then a few minutes later, it did it again. So I turned off the a/c for a few minutes until Jan had finishing fixing dinner.
Now, since I knew the pedestal breaker didn't pop and reset itself, my first thought was a problem with my Progressive EMS (Electrical Management System). If it senses a problem it will shut down and reset itself, but when it does, it will display an error code.
But no code. So it wasn't my EMS.
So since we were on 50 amps, and this shouldn't have happened, what was causing the problem? Maybe it was the park power itself? But when I checked with the people in the rig two sites over, they said no problem. And since the problem didn't reappear, I left it at that.
But the real kicker is that this same problem occurred two months ago when we were here, and on the same inner circle of 'A' section.
Two weeks, after the first time, when we returned to Colorado River, we were parked across the street, on the outside of one of the 'A' ring circles. And unlike the previous visit, we had no problem at all there.
Yesterday, in the middle of cooking Jan's Cupboard Casserole in the convection oven, we had the same problem again. Twice, in fact. So now we've got the same problem, only in one park, and only in the same small section.
So this afternoon, I called the park office and they sent the electric guy out. My thought was this – since the pedestal breaker wasn't the problem, and Progressive EMS wasn't the problem, the problem must be external.
And the only thing that makes sense with that is that there are auto-reset breakers upstream from the pedestal. I've seen this at other parks, and I suspect it might be the case here.
But when I mentioned this possibility to the electrical guy, he said they didn't have any auto-reset breakers here at Colorado River. But then he stopped and thought for a minute, and then said, "Well, this inside circle was upgraded to 50 amps about 6 months ago so we could put cottages here, and they installed a entirely new panel. And he didn't have any idea what was in it. But as it turned out, it does have auto-reset breakers in it.
And then the kicker. I wasn't the first person to report a problem here in the inner circle.
I told the guy that I suspected that one side of the auto-reset breaker was weak and pops at too low an amperage. But I think it's only one side of the breaker, since it doesn't pop when both a/c's are running. But that's split across both breakers.
And according to my nifty-keen Kill-A-Watt meter, the a/c draws more than the convection oven.
So I think that one side of the breaker is popping and of course taking the other side with it, since they're ganged together. But since we leaving here Sunday, hopefully we won't have any more problems.
About 4:30 Jan and I headed up to Ellinger to have the Friday night buffet at Peter's BBQ. We do this at least once while we're here and it's always delicious.
I posted yesterday's Cupboard Casserole in the Jan's Favorite Recipes area, so check it out, and add your own ideas.
Tomorrow we're heading into Katy about 1pm so I can Landon-sit. Lowell has a trucking show to go to, and Brandi and Jan are going to get mani-pedi's. So this will leave Landon and I to get into trouble all on our own.
Really looking forward to it.
On To Nuremberg
---
May 6, 2019
When Snow White Needs A New Grumpy . . .
Nuremberg 5/6/2019
I mentioned in yesterday's blog on our visit to Regensburg how when we came out of the town museum that it had turned cold and rainy.
Well, today wasn't better. In fact it was worse, with 30° at 4:30 this morning, and only up to 32 by 8:30. So everyone was scrambling, including us, for some warm coats/jackets. Everyone had looked at the average temps this time of the year and packed their clothes according, not planning for daytime temps in the 30's.
In fact the ship sold out of their fleece jackets like the ones we got (on the left)
and had to get the much more expensive ones on the right.
Our Nuremberg walking tour was in the afternoon, so we had lunch up on the Aquavit Terrace which is kind of a light buffet, with both hot and cold dishes. One of which was listed as "Meatloaf".
Well, it was meat, and it is in a loaf, I guess. But it AIN'T Meatloaf. It's more like one of those Hormel canned hams. But I guess that some mushrooms and a little gravy makes it all good. Or not.
Today the Skirnir was docked right in town so we were able to step right off the ship and onto our tour buses.
Looking back at the ship we saw that the Sundeck was still configured for the upcoming low bridges.
Not only does the wheelhouse retract into the the deck when necessary, but so does the 'BBQ Grill' on the left side. There's also one on the right side that's retracted now.
I call them 'BBQ Grills' because that's what they call them, because that's what they look like. I thought that maybe the cooks use them for BBQ'ing, but actually they're Auxiliary Control Panels.
The Skirnir has thrusters that can actually move the ship sideways. So they just pull up besides the dock and then move sideways until they're perfectly positioned. And the Auxiliary Panels let them keep a close eye on the dockside as they're moving.
Neat!
Our tour started out by passing by a number of the Nazi stadiums, rally grounds, and buildings, including the Federal Building where the Nuremberg Trials were held in Rm. 600. And trials are still held there today.
Unfortunately I didn't get any photos because of the darkened and curved glass windows on the bus, so just use your imagination.
After our bus tour, we began our walking tour of the old city, including the medieval Nuremberg Castle.
I will have to admit that the Castle tour almost finished Jan and I off. The walk up to the Castle was a very steep climb, with largest cobblestones we encountered the entire trip. They were humped up about 4", very rough, and hard to walk on. And they were wet, due to the on and off cold drizzles we were having.
By the time we were to the top our ankles were screaming for Advil, and we were both hobbling the rest of the day. And we probably wouldn't have made it to the top with some assist from our friends.
But once we were at the top, the view out over the city was great.
Next up was a couple of very old churches, St Sebaldus, which dates from the early 1200's.
and the Frauenkirche (Our Lady's Church), which was consecrated in the mid-1300's.
The clock in the tower has been ticking away since 1509.
Did I mentioned that everything over here is just OLD.
As we walked through town we passed the Albrecht-Dürer house.
Built in 1420, it was the home of Dürer, a noted Renaissance artist.
We also noticed that a number of houses had these intricate statues mounted on the corner. Not sure what the significance is, though.
We ended our guided tour at the Main Market in the center of town next to the City Hall. Our rendezvous point to meet up later to head back to the buses was the Schöner Brunnen.
A 60+ foot high Gothic spire, the fountain dates from the late-1400's, and depicts 40 different colorful figures, ranging from leaders of the Holy Roman Empire, Church Fathers, Moses, and seven of the Apostles.
Don't know why the other five were left out.
Since we were getting a little hungry, we decided to try the nearby Behringer's Bratwursthausle, listed as the home of the original Nuremberg Bratwurst. But we didn't know at the time how 'original' it was. Founded in 1313, the European Union has designated it as the 'First Sausage in Europe'.
Now I'm not sure how the Old Sausage Kitchen in Regensburg feels about this, since they've been around since 900 A.D. Our guide told us that's there's a big rivalry between the two cities over their sausages. I guess now we know why.
Our guide told us that Nurembergers are known for being especially grumpy. In fact she said that if Snow White needed a new Grumpy, she'd come to Nuremberg. And we found this out for ourselves.
We ordered sausages with kraut and bread, and this is what we got.
Note: No kraut.
And though we asked repeatedly, in both English and my halting German, we never got it. And in fact, the more we ask, the grumpier he got.
And before you ask, no, it wasn't just us. Others from our cruise were having the same problem. And when we tried to get our check, it got even worse. He had them all mixed up, with different tables lumped together. And the more we tried to correct him, the grumpier he got.
But finally settling up, we headed over to other side of the market square to buy some of the famous Nuremberg gingerbread. But what we got was kind of disappointing. Turns out that Nuremberg gingerbread has no ginger in it.
Or cinnamon or cloves.
In fact, it pretty much tasted like an moist oatmeal cookie. But it was tasty, anyway. How can gingerbread not have any ginger in it?
Back at the ship, we took the obligatory nap, gobbled down some more Advil, and met up for dinner.
Jan and I both repeated on our Appetizers and Entrees, with the only new dishes, our desserts.
Jan had a delicious Mango sorbet, so good she almost ordered seconds.
And I had the Blueberry Crumble, also delicious.

Tomorrow: Bamberg
---
Thought For The Day: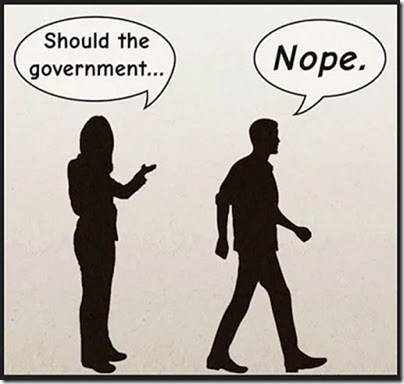 .