Regensburg . . .
As with other towns/excursions along our river cruise, when we woke up we were docked out in the middle of nowhere. Just a dock, some mooring capstans, and a gangplank to the shore.
What happens is that they would dock a ways out from town, let off the people who were going to take the excursion, and then the ship would proceed on into the dock in town where it would be waiting for us at the end of the day.
So today we had a 40 minute bus ride into Regensburg, Bavaria, Germany. Founded in the mid-1200's, it's known for having a higher concentration of bars than any other German city.
Coming into town we passed field after field of what turned out to be mustard plants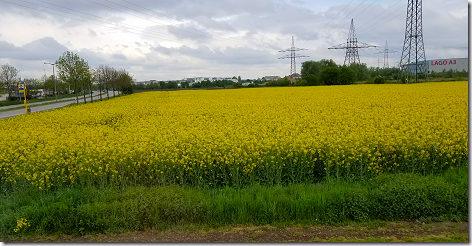 Which turn out to figure in our lunch.
We met our local guide at the bus park and started our walking tour into town, taking in the many sights.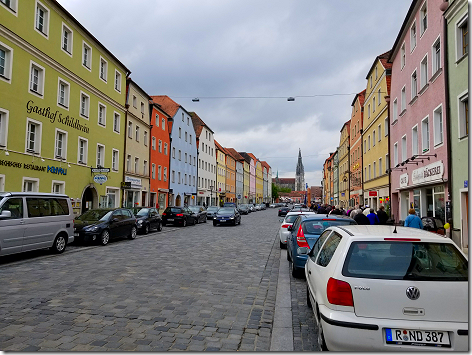 Though the town itself was established in 1245, it had been a Roman settlement since around 100 A.D. It fact this stone arch was part of a wall that was commissioned in 179 A.D.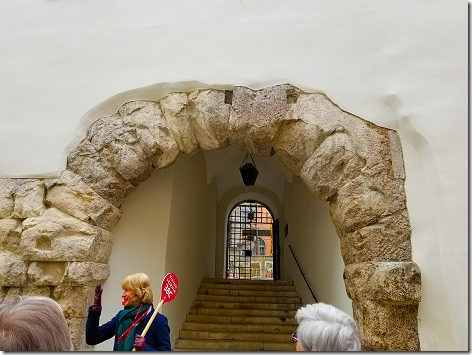 Everything over here is just OLD.
Coming into the main part of town we crossed the Old Stone Bridge.

Built around 1135, it was the only bridge across the river until the 1930's. Originally a toll bridge, two different Crusades to the Holy Land passed over it along the way.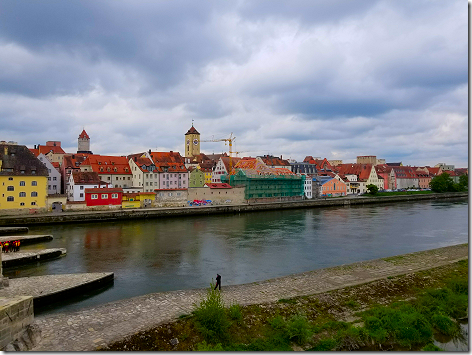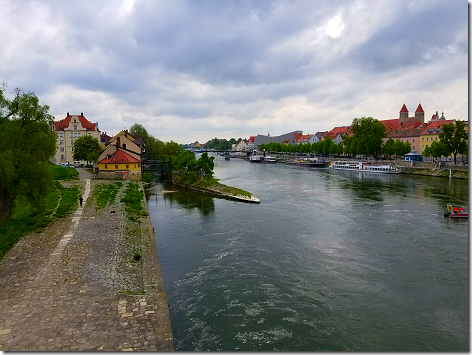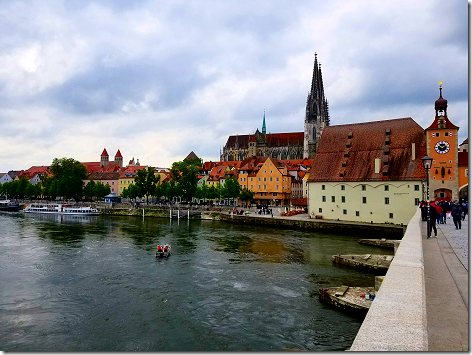 Next up was St. Peter's Cathedral.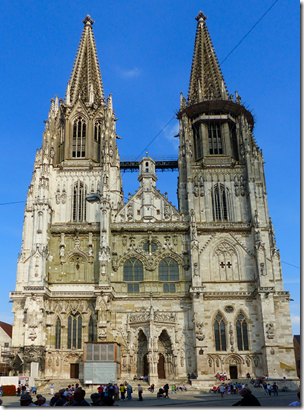 Built in 1280 to replace on that was built in 700 A.D. and burned down in 1273 A.D.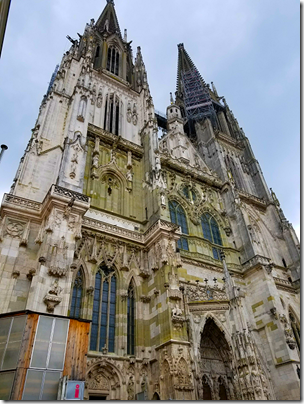 Did I mentioned that everything over here is just OLD.
After we finished touring the town museum, we came outside to find that the temp had dropped into the low 40's and it was sprinkling.
But we had planned to have lunch at the historic Regensburg Sausage Kitchen.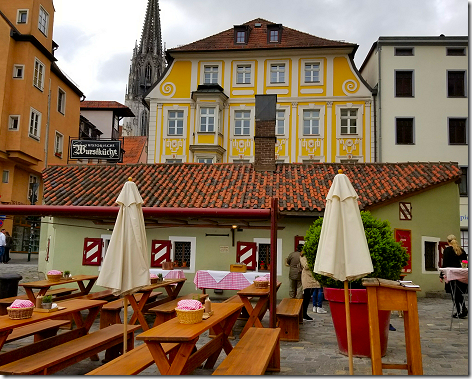 And by historic, I mean the 900 year old Regensburg Sausage Kitchen
Did I mentioned that everything over here is just OLD.
It is said the Sausage Kitchen fed the workers who were building the Stone Bridge right next door.
When we came out, the umbrellas were up, holding off some of the rain, so we ordered "Sechs und Kraut". Or Six and Kraut in English.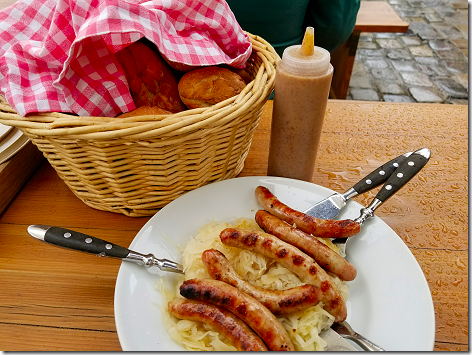 Which means six of their famous sausages, kraut, and rolls (Brötchen), the same thing that they have been serving all these years.
And it was delicious.Even though by the time our order came, it was 37 degrees and sleeting.
Where did this come from?
But the real standout of the meal was their Sweet Spicy Mustard, made from the same recipe all these years. So good that after the meal, I stood in line in the sleeting rain for 10 minutes to buy a bottle to take home.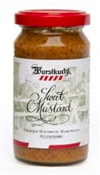 Unfortunately as we were packing our suitcases in London before we came home, and swapping things back and forth trying to meet the weight limits, the bottle accidently ended up in one of our carry-on bags, and is now being enjoyed by a TSA guy in London.
But I discovered that I could order some online from a US company, so two jars are now sitting in our kitchen.
By now it was time for us to meet our ship, and we were told it was waiting for us about a half mile down the river at dock 2. So a bunch of us headed out, only to find that the Skirnir had not yet arrived. So there we all stood in the rain.
But the captain of the Viking ship Tor took pity on us and let us come onboard to wait until our ship arrived.
After getting back on board, dry and warmed up, and a nap, we met up with our usual crowd for another great meal.
Jan and I started with the Sweet Potato Soup,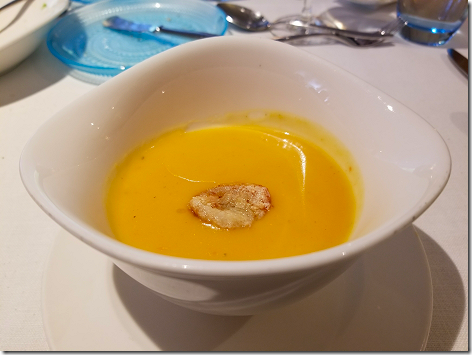 the Veal Scaloppini.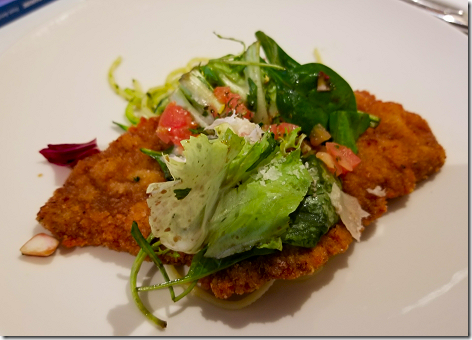 along with Carrot Cake for me,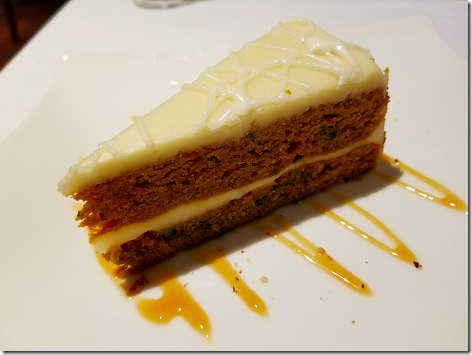 and Tiramisu for Jan for dessert.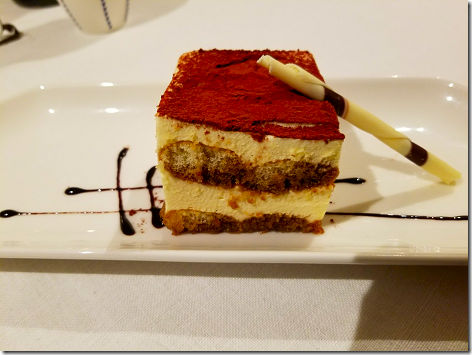 Later, we were given a talk about the many locks and low bridges that we would be encountering in the coming days. And because of this we were told that the Sundeck would be closed for the next week or so.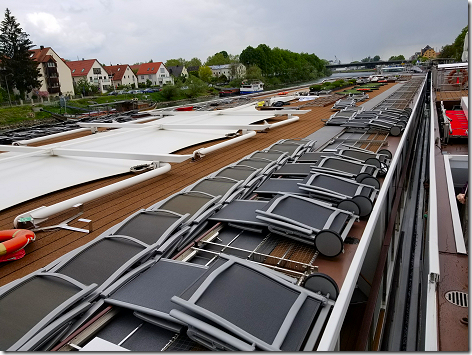 Everything is folded down, including the railings, to allow the ship under the many low bridges. And since it takes over 2 hours to complete the procedure, either way, they just leave them down until they're through the worse of it.
Next up: Nuremburg
---
Thought for the Day:
The American Republic will endure, until politicians realize they can bribe the people with their own money.– Alexis de Tocqueville
fghjfh