Monthly Archives:
June 2019
Wrapping Up Our Waco Weekend.
Our stay at the Marble Falls Motel 6 was OK, I guess, except for the broken WiFi. And flakey cell signal so I couldn't hotspot my phone either. Bummer.
Saturday morning, with Linda working, we met Chris and Piper for breakfast about 9am over at the Grand Central Café in Kingsland.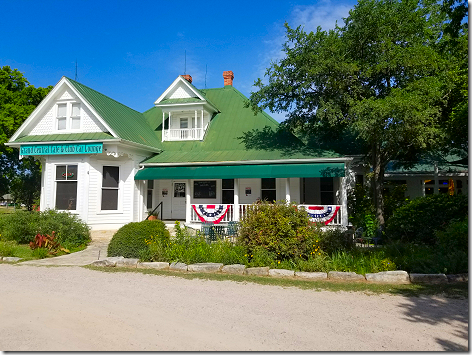 If this place looks kind of familiar, like you might have seen it in a movie or something, you'd be right. It was the setting for The Texas Chainsaw Massacre, shot in 1974. The house, but not the location.
When it was a movie set it was located over near Round Top, Texas, but was disassembled and moved to Kingsland in the late 1990's, where it's now part of the Antlers Inn, a turn of the century railroad resort that sits on Lake LBJ.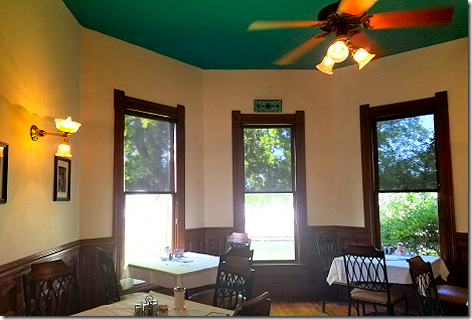 And the breakfast was just as good as the history behind the place.
Jan and I both got the Two Egg Breakfast, with Jan getting the Home Fries and Fruit,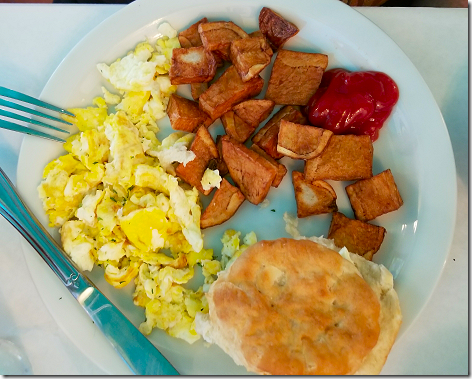 while I got the same thing, but with grits and bacon.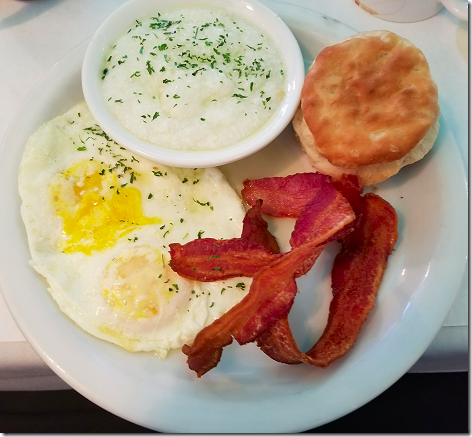 Really good, especially the bacon.
Finally, getting in our goodbye hugs, we were on our way for the 3-1/2 hour trip down to Katy to meet up with Brandi, Lowell, and Landon. We were going to eat at a new place they've heard a lot about, Astor Farm To Grill.
It's kind of an eclectic, fusion type of place, with a combination of South African, Venezuelan, and Argentinean food. Not sure how they came up with that menu, but it is good. Very good.
Jan had the Lemongrass Grilled Chicken Breast with a salad,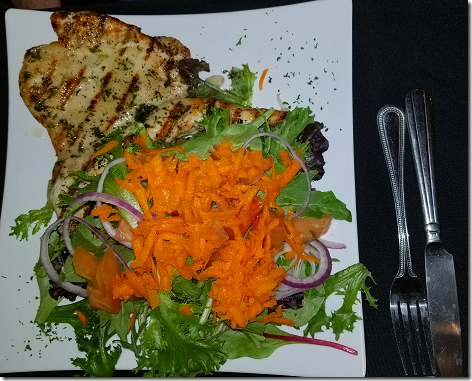 while I got the Gluten Free 8oz Angus Burger with Sweet Potato Fries.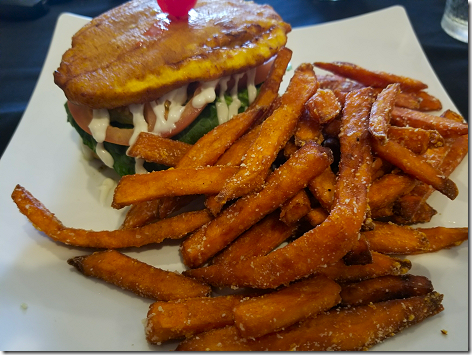 It's gluten free because the bun is actually made from Fried Plantains. Other than that it was a normal, delicious burger. I got it for the plantains, not the GF aspect,.
Everyone really enjoyed what they had, and we'll certainly go back.
We got home about 4:30, got everything out of the car, and then Jan followed me over to the Enterprise office to drop it off.
Then this morning while Jan was unpacking the suitcases, apparently Karma decided that the next time we leave to go somewhere, she's going with us. Even if she has to camp out in Jan's suitcase so she wont' be left behind.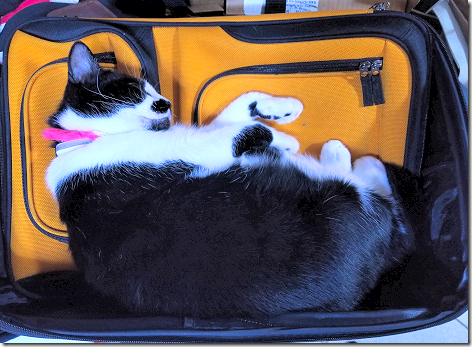 Wrapping up, Landon decided he wanted to do something different with his hair this summer, so he went with BLUE.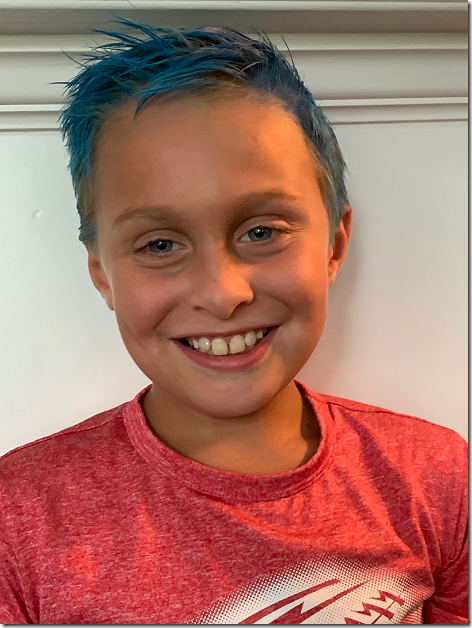 Well, that's certainly different, I guess. It's temporary, and will wash right out if he wants to try something different.
Like GREEN!
We had a great time the last few days, getting to catch up with old firiends, meet a new one, and also see both of our kids, et. all.
Really fun.
---
Thought for the Day:
The trouble with trouble is that it usually starts out being fun.
ghd
Catching Up On Friday.
After our great time getting together with our long-time friends Bill and Carol Alverson, and meeting Bill's cousin June for the first time, on Thursday, Friday was our day to check out Waco's other big attraction, Chip and Joanna Gaines' Magnolia Table and the Silos.
We had decided to go ahead and brave the long lines that everyone had warned us about, and have breakfast at the Magnolia Table, which as it turned out was right across the street from the Comfort Inn where we spent the night.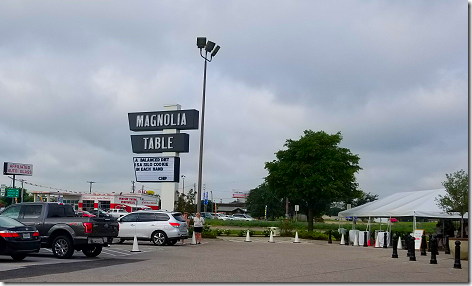 We had been warned by a number of people that we might have to wait for as long as 2 hours to get a table, but we figured we get there about 9 and wait it out.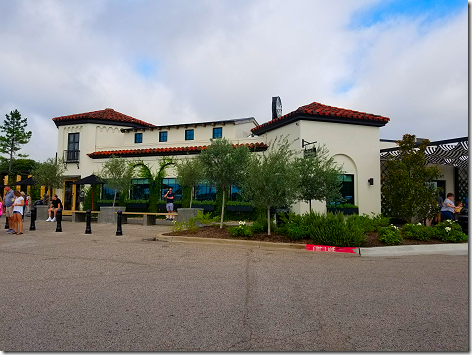 So we figured that we must be living right when we were told it would only be about a 45 minute wait. So we were really surprised, and happy, when we got called for our table before we hardly had time to set down in the waiting area.
It was a whole 12 minutes! And the food was so good it would have been worth the 2 hour wait anyway.
When we signed we had said we were fine sitting at one of the communal tables, but ended up with a two-top all to ourselves.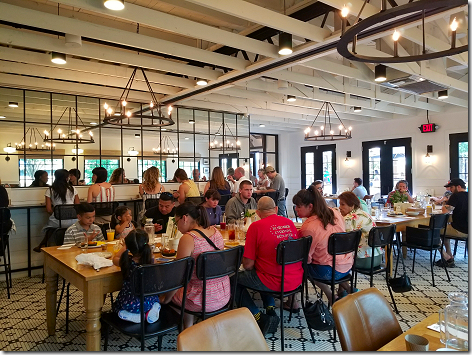 We started off trying some of the things friends had recommended, like the Lemon Lavender Donut Holes,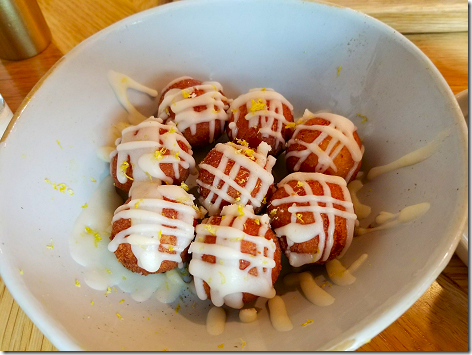 and the Biscuits with Strawberry Butter.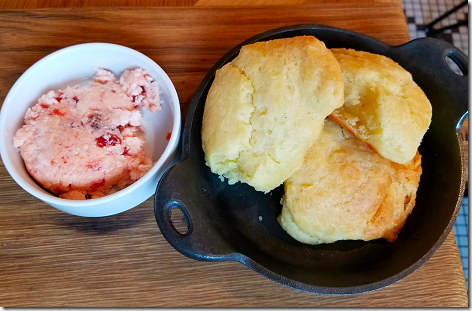 Both really delicious!
Then Jan got her fave, Avocado Toast,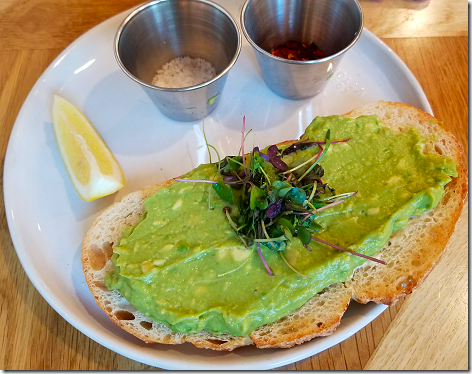 while I got a favorite of mine, a BLT, made with thick-sliced Maple Sugar Smoked Bacon.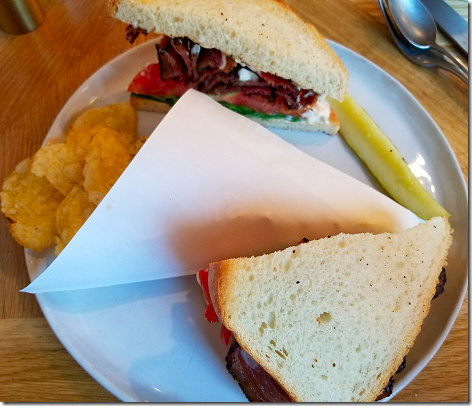 One of the best BLT's I've ever had.
And here's my sweetie, showing off her new You Are My Sunshine cat shirt.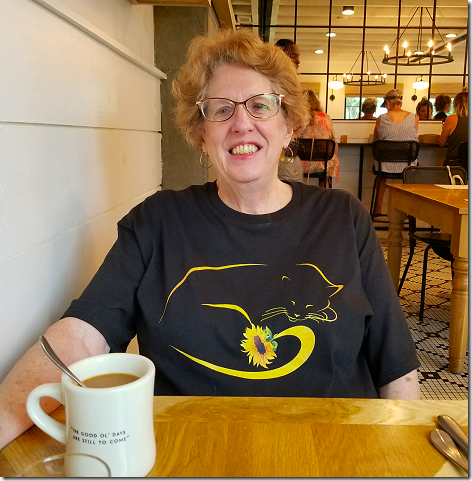 Then since I didn't feel like braving the crowds, I dropped Jan off at the Silos, the other part of the Gaines empire, while I made a WalMart run. And once again the long lines we'd been warned against didn't materialize.
Jan said there was about a 20 wait to get into the bakery, but it moved fast and Jan came out with some delicious goodies.
At this point, after connecting up with our son, Chris, we headed down toward Kingsland, with plans to meet Chris, Linda, and Piper, in Kempner at the Brick Oven, a really good German place.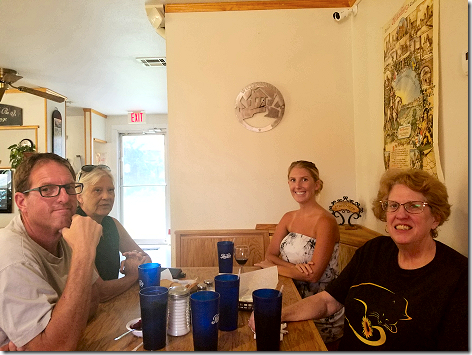 And like last time Jan got her favorite Jaeger Schnitzel,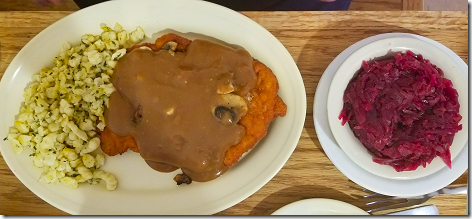 while I also repeated with my usual Sausage Plate.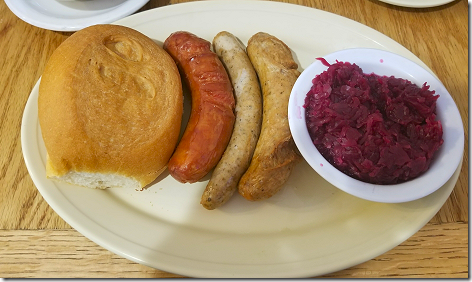 We also had a nice time talking with the owner, Hanzi, who is from Germany, about her recipes.
Finishing up, Chris, et. al, headed back home in Kingsland, while Jan and I drove on into Marble Falls to check in to our room at the Motel 6, before we joined them for a while.
Tomorrow I'll catch with the rest of our trip, and work on the next installment of our recent trip, Cologne, Germany.
---
Thought for the Day:
Why is it acceptable for some people to be idiots, but not acceptable for me to point it out to them?
lhklh