Daily Archives:
June 27, 2019
Jan and I were on our way up to Waco by 9am, right on schedule. And as I had hoped, the morning rush had tapered off, leaving us to breeze right through downtown Houston with hardly a slowdown.
We made a quick bathroom stop at the Pilot/Flying J in north Houston, before continuing on up I-45. We like this for a stop coming and going along I-45 since it's an easy off and on.
The traffic was a little heavy until we got past Huntsville and then it thinned out. And picked up speed. I stayed in the middle of the pack, matching speed with everyone else without paying any attention to how fast we were all going.
Until I looked down to see that I was doing 90! As was everyone else.
I love Texas highways.
Our next, and last stop was at the Buc-ee's at the Madisonville exit. Another easy off and on, and with kolaches.
Then about 25 miles further on, we turned west on TX-164, another example of those Texas rural roads that I love. Straight as an arrow and not much traffic, it's two wide lanes, with wide shoulders, very few towns to slow things down, and a 75 mph speed limit. Which meant cars were passing me doing 85-90.
I love Texas highways.
We got to the Saltgrass Steakhouse about 1:30 and got a table to wait for our friends to show up from doing the Chip and Joanna Gaines Silos/Magnolia Market thing.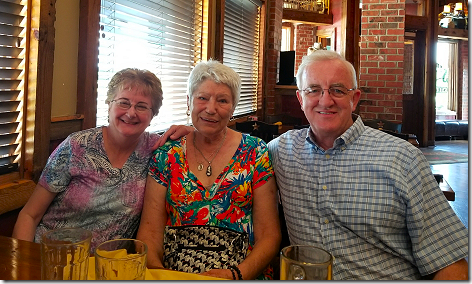 As I mentioned Bill and I worked together back in the early 70's when we were living in Birmingham and we've kept in touch ever since. That's Bill and his wife Carol on the ends (I'll let you figure out which is which) and Bill's cousin June in the middle.
It was a lot of fun dredging up old times, and counting off all the people we worked with who are now death. Well, not fun that they're dead, but more that we aren't, I guess.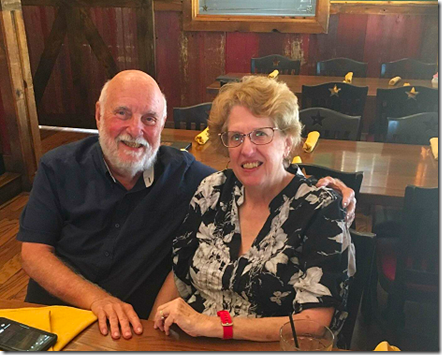 And in our talking, Jan was interested to find out that they were real impressed with the whole Magnolia Market thing, and thought it was over-priced. However I don't know if that will deter Jan from still wanting to visit it or not.
We'll see.
Finally, after a good meal, and several hours of reminiscing, we said our goodbyes, with Bill et. al heading back to the Dallas area, and Jan and I going right down the street to the Comfort Inn & Suites for the night.
Since they noted that we've stayed at Choice/Comfort hotels in the past, they bumped us up to a nicer room than we had reserved. Nice.
Tomorrow we'll check out the area, and maybe do the Magnolia thing, we'll see. Then later in the afternoon we'll head down to the Marble Falls area to meet up with Chris, Linda, and Miss Piper for dinner, and then a Motel 6 for the night.
And after breakfast with them the next morning, we'll head back toward Houston with a lunch/dinner stop with our daughter Brandi and her family,
Very Nice!
---
Thought For The Day:
Five times more people are killed each year while taking selfies than are killed by sharks in the same time period. Remember, Narcissism kills.
adf