Daily Archives:
June 10, 2019
Before I left for work this morning, I put in a call to Kenny at Snider's Transmission to find out the best place to take my truck to get the water pump checked out/replaced. He recommended Mike's Auto Repair right down the road here in Santa Fe, so I checked Google and put in a call. And got no answer.
I'd try again later at work.
At work, I got back on the website problem, and finally started to make some headway. It was up and running, and processing orders, but for some reason it wasn't sending out confirmation emails to the customer, and it wasn't detailing the shipping options correctly.
But I kept at it and finally got in set up and working. So now I started in on prettying the up the site, changing the colors and fonts to match our logo.
I've still got a few things to finish up, but I hope I'll have it back online in the next day or so.
I had called Mike's Auto Repair several times during the day, still with no luck. Maybe they're closed on Monday?
So on my way home, I first headed up Hwy 6 to check out Mike's, and found them open for business.
And after talking to the receptionist, I'm going to bring my truck up there tomorrow, though they may not get to look at it until Wednesday.
Turns out the problem with the phone number is that it's wrong on Google and they haven't been able to get it corrected.
They're only about 3 miles away so hopefully I'll be able to get it up there before it overheats, but I'll carry extra water with me anyway.
This past Friday, when we were going out to eat with Chris and Charles Yust up in Conroe, we ended up behind this extended Nissan passenger van.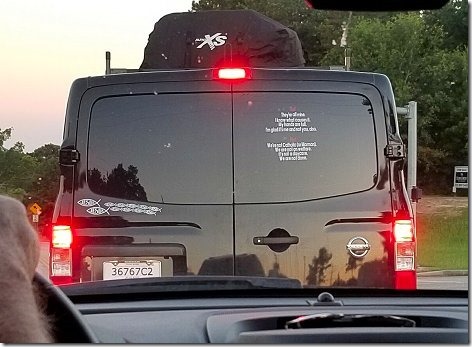 And looking a little closer, we read what was on the back window.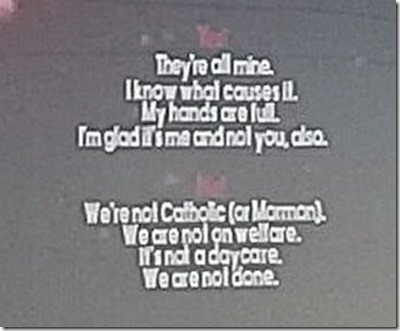 In case it's a little fuzzy, it says –

They're all mine.
I know what causes it.
My hands are full.
I'm glad it's me and not you, also.

We're not Catholic (or Mormon).
We are not on welfare.
It's not a daycare.
We are not done.
And on the other side of the rear doors was this –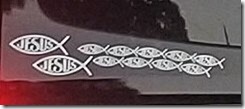 Looks like they might be angling for a TV show. But they've got a ways to go to catch the Duggar's
---

Thought for the Day:
Never believe an atom. They make up everything.

ghdfgh