Daily Archives:
June 1, 2019
First up, I've posted the next installment of my trip. It's Regensburg, Germany, and it's for May 5th.
Today was a pretty quiet day, for a change. After a nice morning, we had lunch at Rudy's BBQ up in Webster, so now we've had the Trifecta of meals we missed on our trip – Chinese at King Food, Mexican at Los Ramirez, and now BBQ at Rudy's.
All's right with the world.
Next up, we made a quick WalMart stop for a couple of things, a quick Sam's stop for a prescription, and then headed back toward home. But when we got down to Dickinson, I made a detour to the Enterprise rental office to see if they could get Jan's seat headrest down.
The last person who used it must have been about 6'8" tall since it's up so high that Jan's head doesn't even touch it. But even reading the manual, I can't get it down. So I thought maybe they could help.
But it seems they closed at noon on Saturday, so no luck. I'll try again Monday on the way home.
With that, we made a stop off at the storage room to drop the suitcases, heaters, and quilts off, and then it was home. Just in time for a nice nap.
It's hard to believe that a long time ago I didn't like naps. Times have changed.
Tomorrow we were supposed to go up to Conroe to meet up with our friend's Chris and Charles Yust, but they had some mechanical problems on their trip here from Florida, so we're putting it off until Wednesday.
---
Random Notes About Our European Trip:
Using the restroom at Rudy's today and using air blower hand dryer thingie, I remember noticing that as we traveled across Europe, every single restroom, except two that I was in, used the air dryers rather than paper towels. And in every case, including today, I saw the person use it for 30 seconds or so, and then end up drying their hands on their shirt or pants. Me included.
I guess if you stood there long enough it might actually work, but who wants to wait that long?
The two exceptions were the public area bathrooms on the ship, and bathrooms at the Chesterfield Mayfair Hotel where we had Afternoon Tea (that blog still to come).
Both of them did it this way.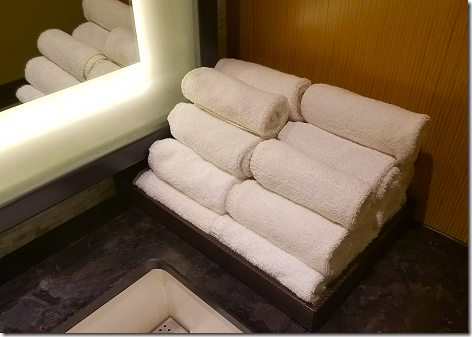 Now that's class!
asdfadf