Monthly Archives:
May 2019
This is one of those blogs that results from the intersection of several recent events – Our recent time in London, and President Trump's upcoming visit there.

The subject is bowing.

There's been several articles about whether President Trump will/should bow to the Queen. For the record, he shouldn't and won't. And neither will the First Lady.

To start with, our President doesn't defer to any other leader, and we're no longer British subjects, anyway. There was that little dustup back in the late-1700's that took care of that.

Last week as we were passing Buckingham Place, we saw a lot of fancy dressed women wearing big hats, getting out of limos, and Jan wondered if Sam was among them.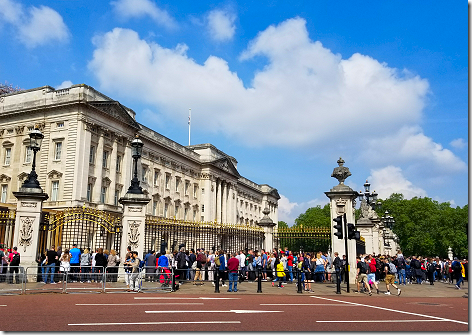 I've talked about Sam, though not by name, a couple of years ago in a long blog post called The Pixelization Of Memory. This part is about halfway down.

The whole idea started when we were visiting my old hometown in north Alabama a few years ago, and I mentioned to Jan, that I had been checking out people around us, wondering if I would run into one of the several old girlfriends that I had back then. But as I told Jan, I realized that I was looking for them like they looked back when they were 16 or so, not in their 60's like they are now.

And that's why Jan brought up Sam as we passed Buckingham Palace.

It all started here.

Beginning when I was 13 we lived in South America for a couple of years, mostly staying at a large old hotel that had both nightly guests, and also residents like us.

Turns out there was a very cute British girl, about 14, also living there. Soft red, curly hair and bright green eyes. Since we were the only English-speaking kids our age around, we naturally ended up hanging out together. She told me her name was Sam (Samantha) and that her father worked for the British government.

After we had been together for a month or so, one day she showed up to where we usually met on the large landscaped grounds, all dressed up for a party, filly dress, hair pileup on her head, the works. A big change from the shorts and T-shirts she usually wore.

She told me her mother wanted to meet me for afternoon tea at 4pm. Told me in no uncertain terms that I was to dress nice, wear long pants and a nice shirt, and comb my hair. (Yes, I had hair back then)

And "DON'T BE LATE!"

As she left, I ask what suite she was in, and she said, "6th floor". And when I ask what room, she smiled slightly, and said, "You'll figure it out." And I did.

When I got off the elevator, there was no hallway, just a vestibule and a set of ornate double doors with a pull rope for a door bell.

A few seconds after I rang the bell, there stood a butler in full regalia, but young and very fit looking, and about 6'6" tall. Looking down at me, he said, "Ah, Master Gregory, right on time, thank you."

Then, after he closed the door behind me, he said, "Please follow me. The DUCHESS and LADY Samantha are waiting for you in the library."

Wait, What?

When I followed Andrews into the library, I found Sam standing behind her mother who was sitting at a writing desk. And I could tell from the look on her face that she was terrified that I was going to screw this up. And knowing me, she had good reason to worry.

After Andrews introduce me, I said, "I've never met a Duchess before. Am I supposed to bow, or curtsy?"

Sam blanched white as the proverbial sheet.

Her mother looked at me very seriously, and said, "In this informal situation, neither is required. Then with a big smile she said, "But I would like to see your curtsy sometime."

With that the ice was broken, and Sam started breathing again.

After that I was regularly invited for tea. The only time the Duchess ever got mad at me was when I made the mistake of referring to Sam as 'Sam' instead of Samantha in front of her.

Her eyes flashed and her voice got cold as she said, "Sa Man Tha"

Turns out that Sam's stepfather was Consul General, and Sam would inherit her mother's title someday, a title that had been in the family since the late-1600's. And with that title came, not one, not two, but three ancestral estates.

And if that's not bad enough, it turned out that both Samantha and her mother were actually royalty, and in line for the throne, though in the double-digits position.

So, was Sam among those limo passengers at Buckingham? I'll never know, and I don't want to know. I prefer to remember her when she was 14.

And I never did learn how to curtsy . . . or bow.

---
Random Thoughts on our Europe Trip:
It seems that Europe doesn't like top sheets on their beds. Every hotel we stayed in, in Budapest, Paris, and London, and even our cruise ship, didn't have a top sheet on the beds, just a duvet cover with a sheet attached.

Which didn't work for me, since I sometimes like to kick off the blanket and just use the sheet.
dghgh
Today I had hoped to take a look at the truck's radiator problem, but the all-day rain that was forecast, and then came along right on schedule, took care of that.
So I spent the morning working on the new website stuff for work, trying to get everything configured and working. Then I've got to get the new theme installed and configured.
Finally about 12:30 Jan and I headed up to Webster to have brunch at Snooze. Delicious as usual.
Then I made a stop by the office to check in on my HD repair, and also pick up the new Digital Photo Frame that finally came in late yesterday afternoon.
And after checking the website computer, my thoughts about the problem were confirmed. The disk scan had completed, but when I rebooted the computer, it went right back to scanning and finding errors again.
It's dead, Jim.
So now Plan B becomes Plan A, I guess.
Leaving the office we made a quick stop for a few things at the nearby HEB, then it was home in the pouring rain, which meant we didn't make our scheduled store room stop to drop off suitcases from the trip, electric heaters that we don't need again to the fall, as well as the winter quilt from the bed.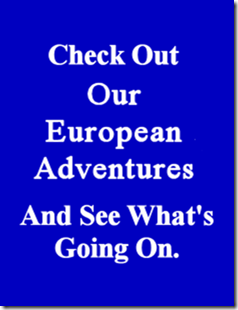 This blog finally catches me up on the latest days, so now I can go back and start filling in the missing days on our trip.
Our friend, Chris Yust flagged us on this collision between a Viking River Cruise ship and a much smaller sightseeing boat on the Danube River in Budapest. Seven people were killed and twenty-one are missing. From the article it seems that the sightseeing boat turned in front of the Viking ship and got run over.
More Here: Viking Collision.
I assume this was the evening river cruise they did on our first night onboard, before we actually headed headed up river on our cruise a day later.
You can read about it on our blog here: Home Sweet Skirnir
Stay Tuned.
gsfgf