Daily Archives:
May 2, 2019
.
Vienna 5/2/2019
We docked in Vienna about 6pm last night, so we were all ready to go this morning for our 4 hour excursion of Panoramic Vienna starting at 9am.
Our bus dropped us off in front of the Kunsthistoriches Museum Wien, or the Vienna Art History Museum. All of these excursions are guided by locals, and we have radio headsets that allow us to hear him with no problems.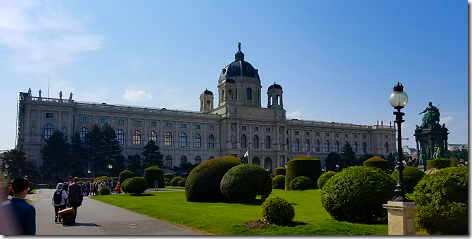 I wish we'd had more time to just wander from room to room, taking in all the fabulous artwork.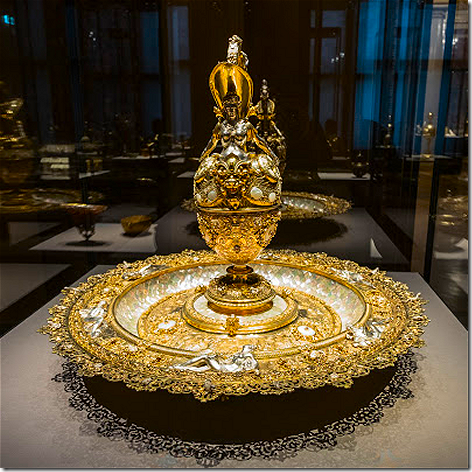 But we had to move on, next to the Hofburg Palace, winter residence to the Hapsburgs, the rulers of the Holy Roman Empire from 1438 to 1740.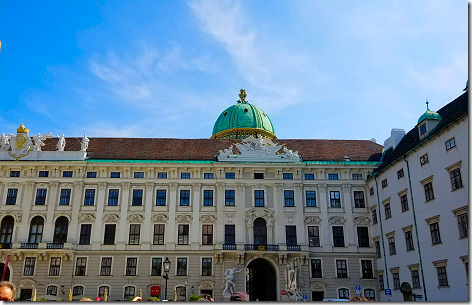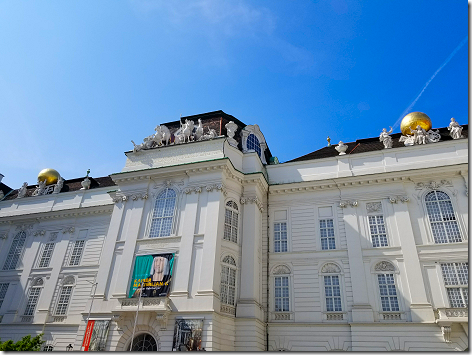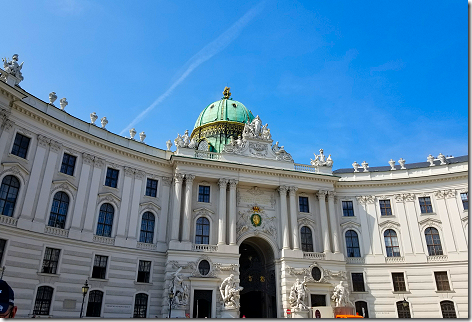 But the Hofburg Palace has another claim to fame. It's also the home of the world-famous Spanish Riding School and the Lipizzaner Stallions.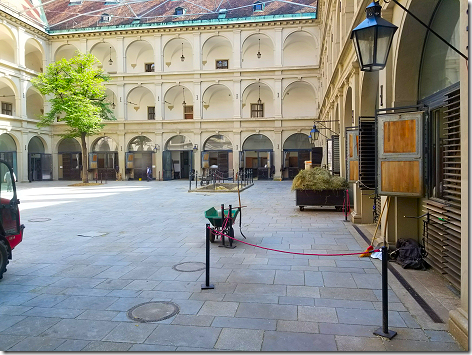 And below is either one very long horse or two regular ones.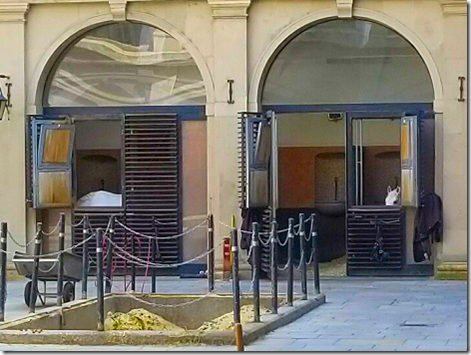 Next up on our tour was St. Peter's Catholic Church, which is right downtown. Built in the Baroque style (sadly enough, we can now tell you the difference between Gothic, Renaissance, Romanesque and Baroque architecture, and expound on the cultural differences that gave rise to each style) and consecrated in 1733, it replaced a series of churches on this location that have been built here since the Early Middle Ages, including one dedicated by Charlemagne around 800 A.D.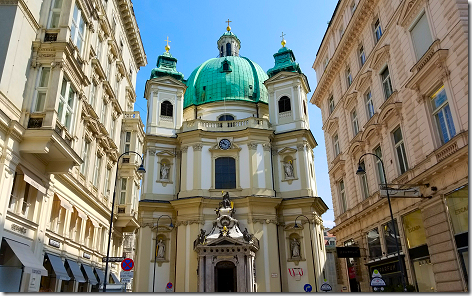 The main part of our tour finished up in front to the main square and the beautiful St. Stephen's Cathedral. Built in a combination of Gothic and Romanesque styles (see I told you we knew the difference), it was constructed over a period of 200 years, starting around 1150 A.D.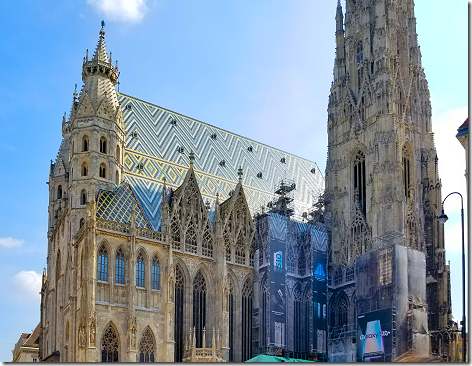 And like other places, there are indications of religious buildings here since Early Roman times. Once they find a place they like, they don't let go of it.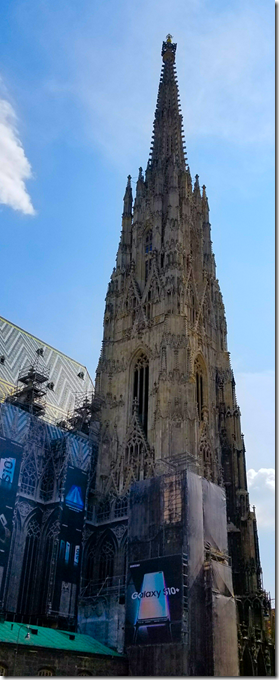 It's really hard to imagine that they were building structures like this almost 1000 years ago. Personally I think Ancient Aliens are involved.
Since we now had some free time before the bus picked us, we decided to check out some of the Viennese specialties – pastries, of course. And coffee.
Several people had recommend Aida's, right across the square from St. Stephen's, so we thought we give it a try. And since they've been right here on this same corner since 1903, they must be doing something right.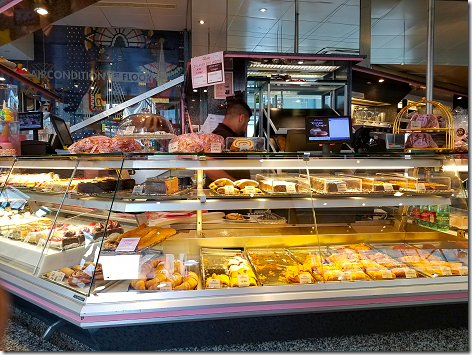 We had so many choices it was hard to decide, but we finally went with a Cremeschnitte,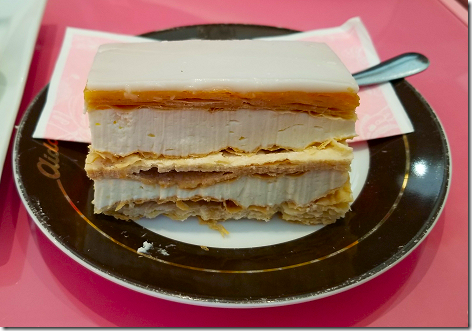 and the Viennese specialty, Sacher Torte. Probably the most famous of Viennese pastries, it's made with Chocolate Sponge Cake, Apricot Jam Filling, and Dark Chocolate Icing, along with a serving of unsweetened Whipped Cream.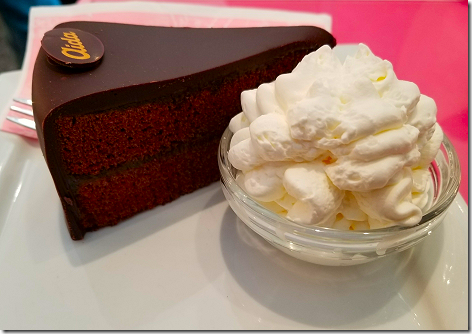 Delicious.
Of course it wouldn't be complete with a cup of Viennese coffee, in this case a Mélange,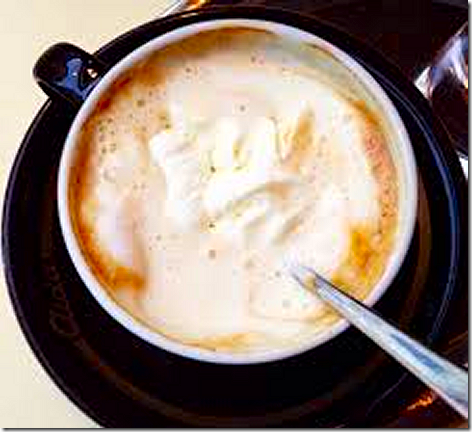 made with an espresso shot served in a large coffee cup topped with steamed milk and milk foam. Very strong and very good.
Looking through the multi-page menu, I came across this ad for cheesecake.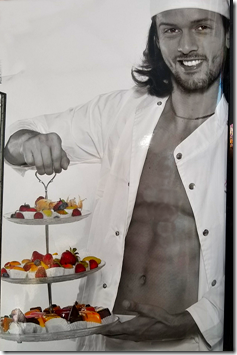 At least I think that's what they're advertising. They certainly don't have any ads using scantily-clad young women.
Getting back to the ship and grabbing a quick bite for lunch, we went forward to sit out on the Aquavit Terrace that overhangs the bow of the ship,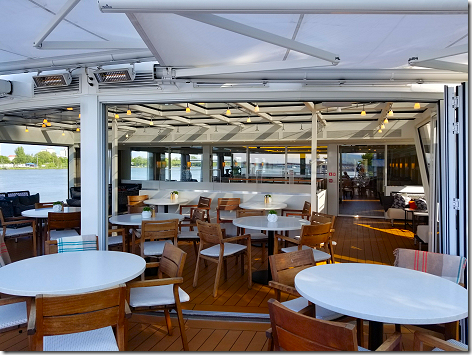 giving us a view like this.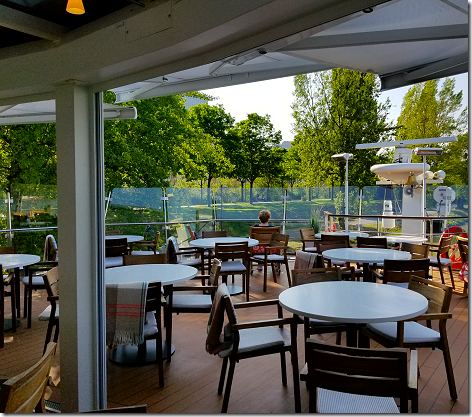 Dinner is served at 7pm, with only one 'seating', and no assigned tables. We've accumulated a group of 6 or 7 couples that we all kind of rotate through. And a pretty diverse group it is.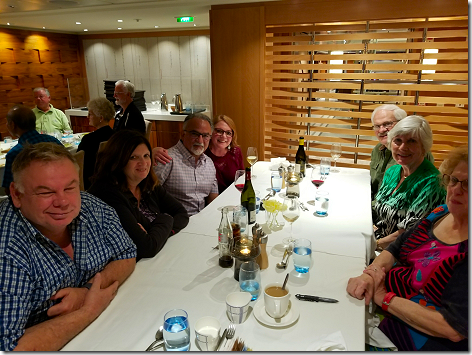 Starting on the left, Rob and Marie are from Perth, Australia, Jim and Deborah are from San Francisco, Larry and Artis are from Illinois, and of course Jan is from wherever we're parked.
Jan and I both had the Caesar Salad, (lucky me, I got her anchovies since she doesn't like them),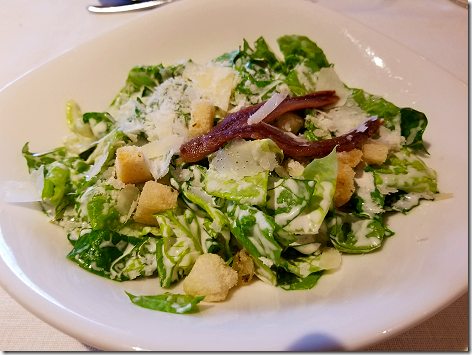 and the Stir-Fried Beef Tenderloin with rice.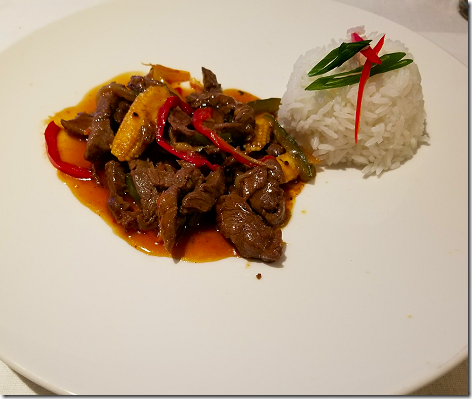 For dessert, Jan got the Raspberry Sorbet,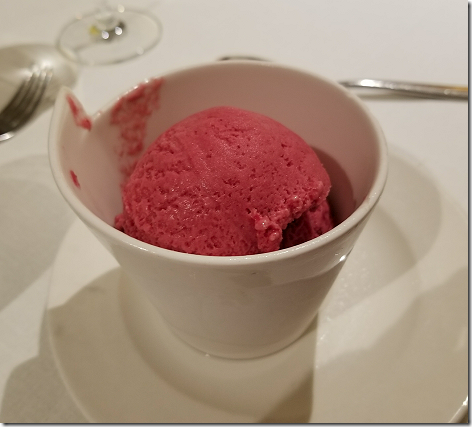 while I got the Chocolate Bombe.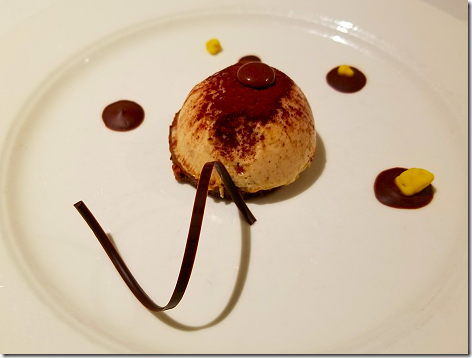 Sometimes these desserts are almost too pretty to eat. But just almost.
---
A few notes to wrap up.
Smoking here is about 20 years behind the US. It seems like about 50% of the people smoke, though many businesses are no smoking.
So far I've not had any trouble using my debit/credit cards over here, whether for purchases or getting Forints or Euros from an ATM. Hope it holds true the rest of the trip.
I've only had one small emergency at work, that luckily I was able to fix remotely. Our online website order processing system decided to lock everyone out, but I always have a backdoor to get in and reset all the passwords. Crossing my fingers that that is the only problem I have in the next few weeks.
It takes me about 90 minutes to upload a blog post due to all the photos and the slow connection. And it's not helped by the fact that every time we go through a lock, our satellite data connection is lost and the signal drops out.
So I have to keep trying until it all makes it through.
---
More Tomorrow, I hope