Daily Archives:
May 19, 2019
It's become pretty obvious to me, and probably everyone else, that there's no way I'm going to be able to catch up with the cruise blogs before we get home next Sunday.
For instance, the last four days in Paris, we were out the door by 8am and didn't get back to the hotel until 10-11pm. So no time to even do a regular blog, much less process all the photos.
So I'm going to get back to doing a daily blog of our time here in London and then started catching up on the older blogs when I can.
This morning we were up at 6am, at the hotel restaurant for breakfast when it opened at 7, and out the door when our ride to the train station showed up at 8am.
We were taking the Eurostar High Speed Train, from Paris Nord, the same station we came into on the Thalys High Speed Train from Amsterdam last week.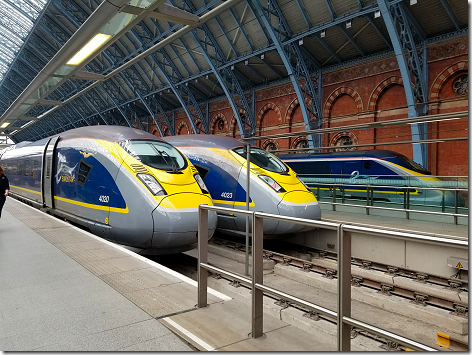 Our train is the one on the left.
These stations are huge with no porters or luggage carts to be found. So Jan and I, and everyone else, were dragging our suitcases hundreds of yards, and then up an escalator, no elevators to be found either.
So I would send Jan up with her small carry-on, and then send her big suitcase up behind her. Then I came up manhandling my two bags. Luckily someone at the top helped her get the big one off and to the side.
Then it was another couple of hundred yards to our check-in point where they actually scanned our tickets. Next we all queued up and went through two sets of Customs, French Border Exit Control, and then 10 feet away, British Customs. The French just checked and stamped our passports, but the British bunch x-rayed our luggage, checked our purses and bags, and wanded us.
What was kind of funny was that we were not checked for anything when we got on the train from Amsterdam to Paris, since it's all part of the EU. The last time we went through any type of customs inspection was after we landed in Frankfurt before we left for Budapest on April 26th.
Then while we were waiting to board I found a Currency Exchange to get rid of the last of my Euros. So far we've cycled through four currencies, US Dollars, Hungarian Forints, EU Euros, and now British Pounds. And somehow I seem to get poorer every swap.
Actually we pretty much only have the cash for tips and the occasional place that doesn't take credit cards. I've never had a problem with using any of our three cards over here.
When we finally boarded it was back down the escalator to the platform, but we found an elevator this time so it was a lot easier. But then it was another couple of hundred yards to our assigned car, which was #5. And when the train stopped, we were standing next to car #25. This is a long train.
Astonishingly these trains are over 2500 feet long.
After dragging our luggage up the steps, we stowed it away, large bags in the area between the cars and the small carry-ons in the overhead racks. On both this train and the one from Amsterdam to Paris, we were warned not to leave our small bags with the big ones due to luggage thieves.
The trip actually takes about two and a half hours, but you gain an hour from France to England, so effectively 90 minutes.
But this ride wasn't as nice as the Thalys train from Amsterdam. Not only was it not as smooth, the well-advertised Wi-Fi didn't work either. And I don't know what the roof was made of, but I was never able get a GPS signal for the Speedometer app on my phone. And I'm not talking under the English Channel either, but out in the countryside.
But it worked just fine on the train from Amsterdam, clocking speeds up to 311 kph, or about 194 mph. The Eurostar is supposed to be just about as fast, but is only allowed to go 160 kph, or 100 mph in the Chunnel.
We got into London's station about 11:30, and again dragged our suitcases another couple of hundred yards to the end of the platform where we found our driver waiting for us, holding up a sign that said, WITE, Gregory. Well, at least the suitcases were his problem now.
I'm beginning to think that it would be easier to just throw everything away except the clothes on your back when you travel, and just buy new stuff when you get to your destination.
An hour later we were checked in and in our room.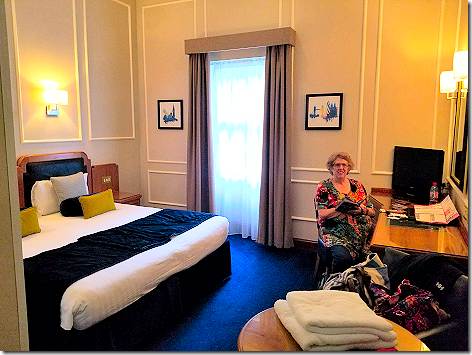 And after doing a little unpacking and catching our breath, we headed down to the hotel restaurant for lunch. And what's the first meal any new visitor to England should have?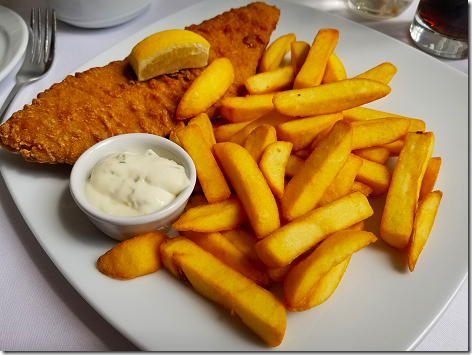 Fish and Chips, of course.
Really good, and a really nice restaurant,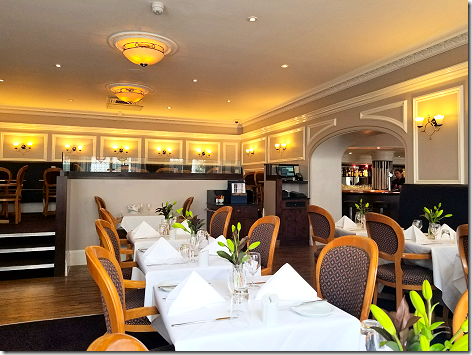 with a very nice view out the window.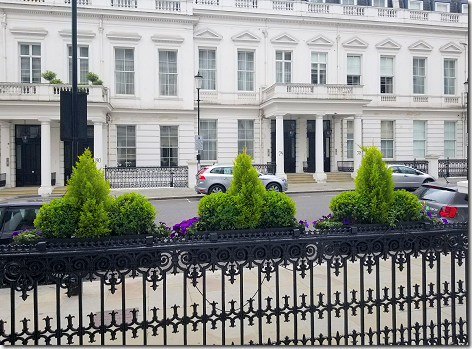 But they don't have Coke Zero, and don't even think about asking for Iced Tea. They get a horrified look on their face liked you have bad-mouthed the Queen, and then they start stuttering.
And I don't know what the problem is with even getting ice in your water or soft drink, but they must be rationing it or something. When they brought my Coke, I got a glass with three small cubes at the bottom. Then when we asked for some ice to add to the lukecold glasses of water we were given, our waitress came over with a glass with six cubes in it, and then spooned out three to each of us.
Back in our room, we unpacked some more, looked over our tour for the next day, The Total London Tour, and then since we'd been up since 5:30, we took a nice long nap, waking up just in time for, what else but dinner.
We decided to dress up a bit for this, but Jan really outdid herself.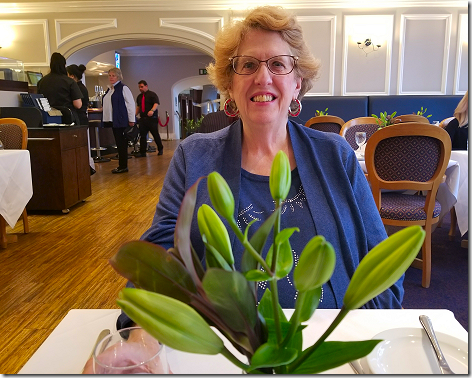 It's hard to believe she's kept me around for almost 52 years.
Jan had the Lasagna, which she said was OK, but wasn't seasoned very well.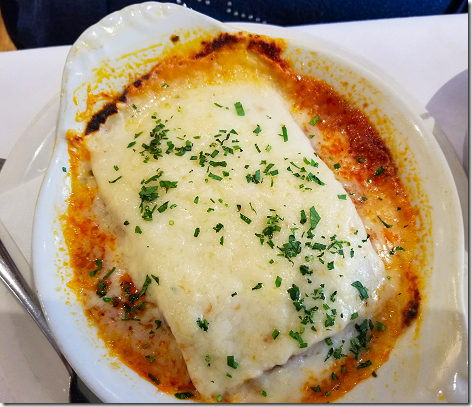 We've noticed that a lot over here, that most foods aren't seasoned as much as we're used to.
But my Chicken Curry was delicious, and had a multitude of flavors.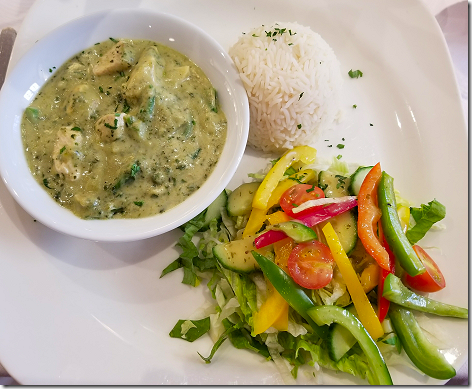 For dessert I had the Red Velvet Cake with Cream Cheese Frosting and Whipped Cream,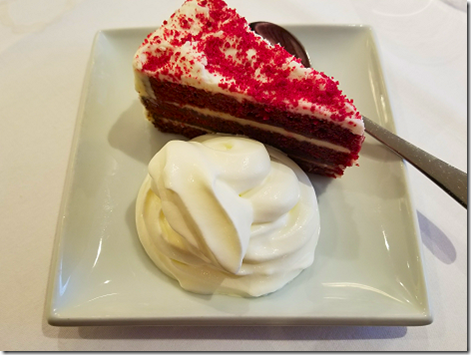 while Jan went old-school with Chocolate Ice Cream.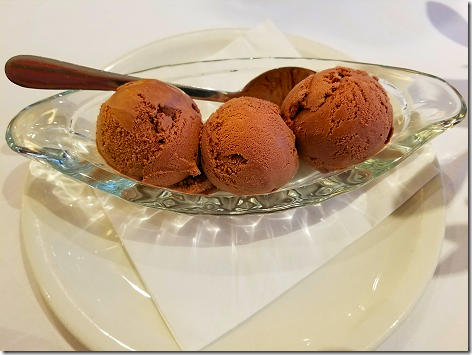 Tomorrow it's up early again for Buckingham Palace, the Changing of the Guard, the Tower of London, and more.