Daily Archives:
May 3, 2019
Melk, Austria 5/3/2019
Our ship left Vienna last night a little before 11pm and when we went up to breakfast this morning at 7am, it was very foggy, with castle after castle appearing out of the mist.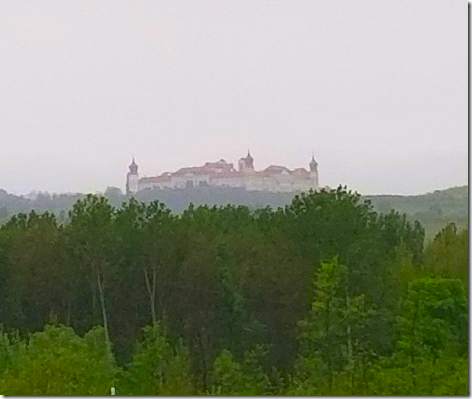 Even this one, that I'm pretty sure must have been home to Dracula at one time. Perched high on a mountain crag, and partially obscured by the clouds, he certainly would have felt right at home.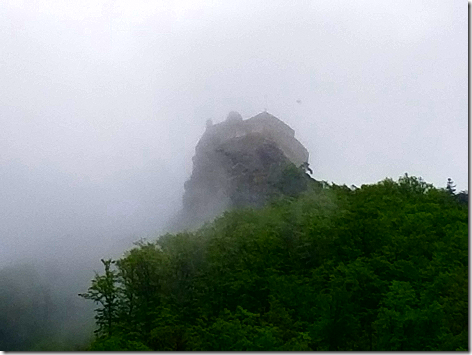 Especially since it looks like the only way to get up there is by bat.
And of course the many churches. Many, many churches. Just church after church after church.
It's amazing they had time to do anything else besides build churches. And FWIW these are all in the Baroque style.
We arrived in Melk about 11am, and after lunch, we were off on our excursion to the Melk Abbey, possibly the most famous Abbey in Austria. And that's really saying a lot since there's a heck of a lot of abbeys over here.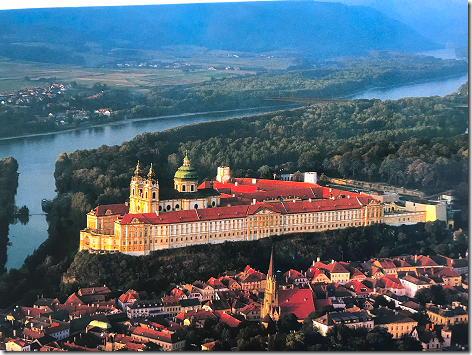 And it becomes more impressive the closer you get.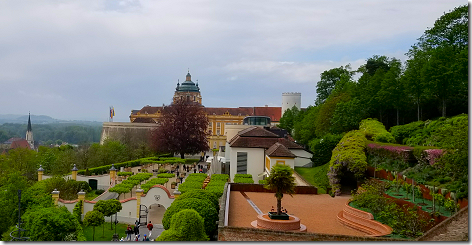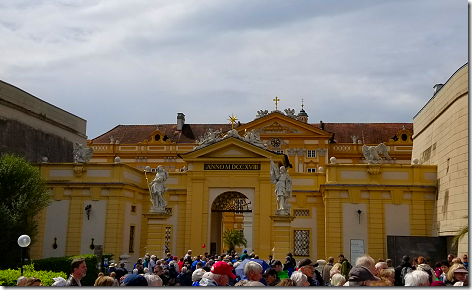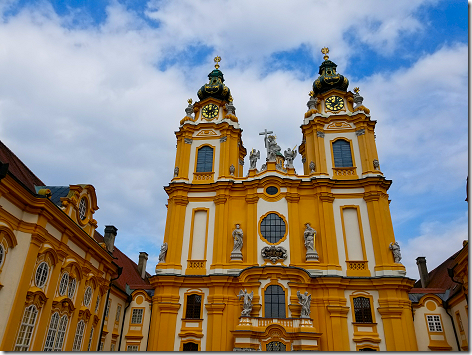 Amazingly this place has been an functioning Benedictine abbey for over 900 years.
Unfortunately we were not allowed to take photos inside the abbey, but obviously somebody was, or did anyway, since there are photos all over the Internet of it. So I thought I would share some of those.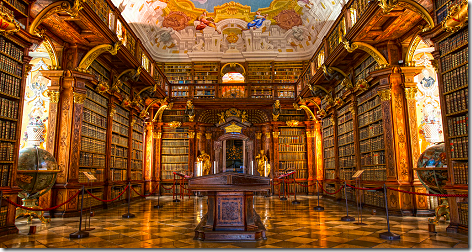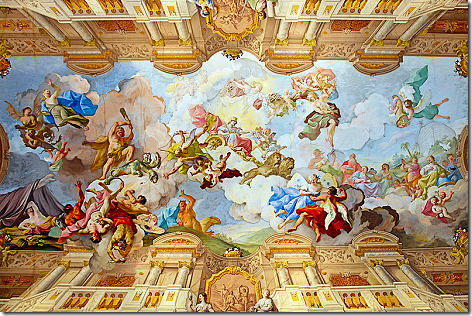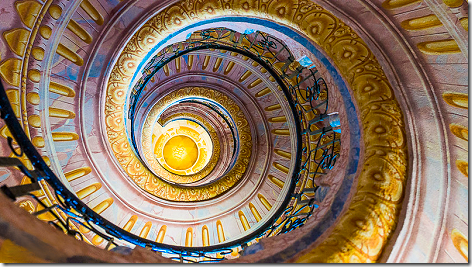 It's really hard to express how beautiful this place, almost overwhelmingly so. But two things bothered me about the visit.
First, they have added some sort of multi-media event, telling you about what you're seeing, but mostly it seems to concentrate on the present Bishop and his background. The whole thing really clashed with the rest of the tour.
Second, adding even more to the 'tourist attraction' feel, is that you exit the tour . . . through the gift shop.
Getting back to the drop-off point for the 200 yard walk back to where our ship was docked, we noticed the high water marks from the Danube flooding the area.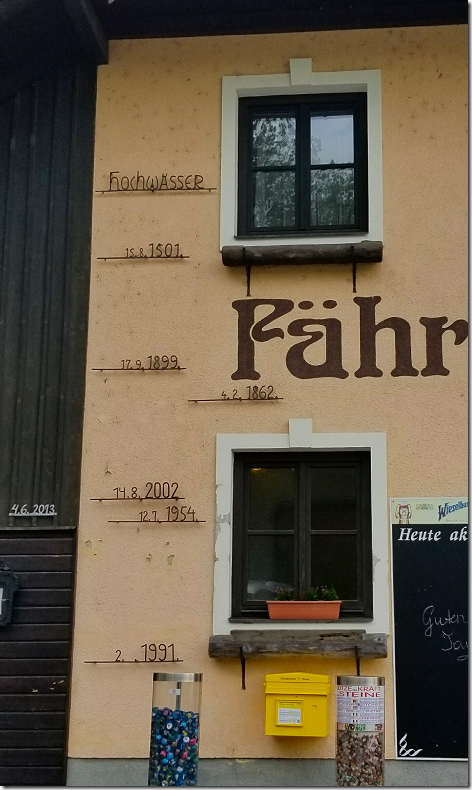 Especially interesting was the one from August 15, 1501.
And just behind this restaurant was a small RV park.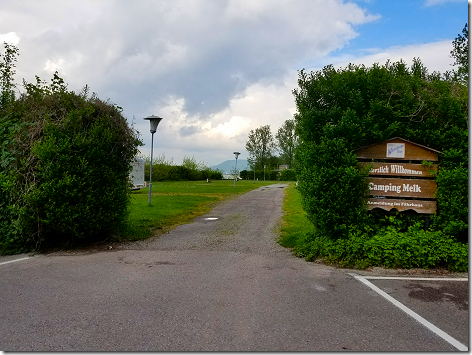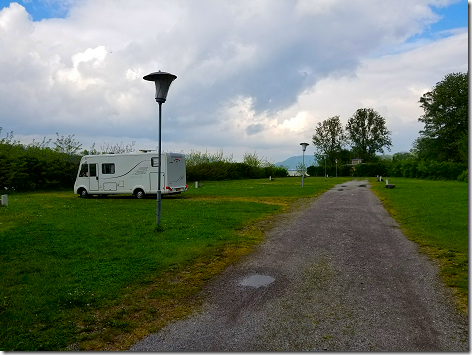 Unfortunately I didn't get a chance to check out the pedestals to see about the hookups, but we were running late getting back to the ship. But we've noticed a number of small RV parks along the river as we've cruised.
The Skirnir cast off about 4pm heading up the Danube to our next port of call, Passau. And it didn't bode well that within the hour, it was raining fairly hard.
Dinner tonight was with our usual group, and as usual, was delicious.
We started off with a real favorite of ours, a Wedge Salad.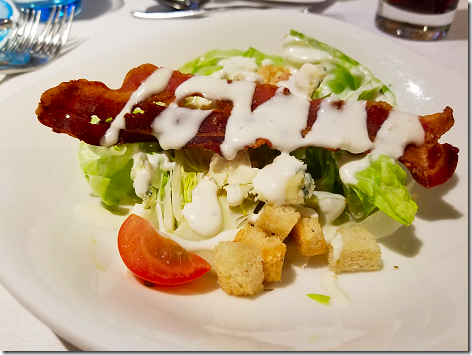 And when they put bacon on theirs, it's two whole strips, not some measly crumbles.
For the entrée, Jan had the Broiled Herb Marinated Jumbo Shrimp with Baby Vegetables,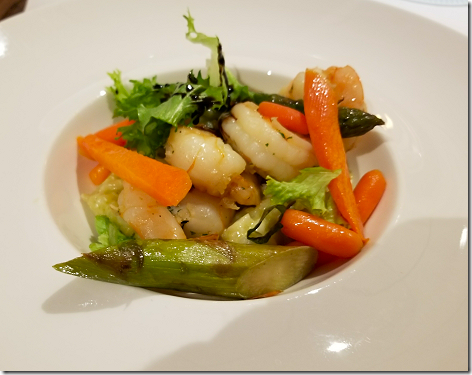 while I got the Krustenbraten, which is Crispy Pork Loin, marinated in beer, with potato pancakes and Steamed Cabbage.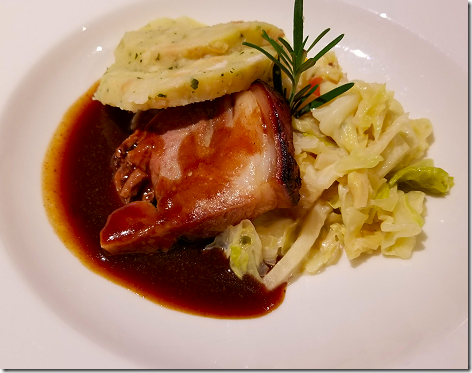 Then for dessert we both got the Lime Cake, with white chocolate and raspberry sauce.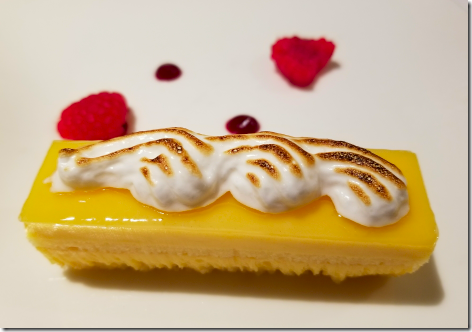 This place is dangerous to your waistline.
You would swear that the 3 other couples at our tables, and ourselves, were all RVer's since the staff pretty much have to close down the dining room around us because we're having so much fun. Of course the free-flowing wine may have something to do with that.
I have become so frustrated trying to use my new laptop with only built-in touchpad, that I had been trying to find a mouse for it. When I bought it in Budapest, the dealer tried to sell me one, and I should have bought it. But I had forgotten how irritating it is to use one.
And I hadn't had any luck locating a computer store near any of our stops to pick one up, so I ask Guest Services if they might had a spare that I could borrow, and they said they would check.
And when I went by later, Monika just handed me one. When I ask if I needed to sign anything, her voice dropped from her lilting Scandinavian accent into a guttural German one as she said, "Ve know vher you live'. And then smiled.
But I'm not taking any chances. I'm definitely be returning it before we disembark.
---
asdfa
Finishing up, the last blog I posted took over 3 hours of starting and stopping to get it uploaded. So we'll see how long this one takes.
More Tomorrow from the Blue (grayish, green) Danube.
asdfa